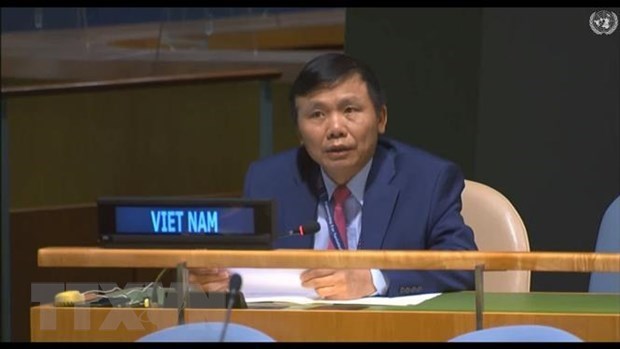 Ambassador Dang Dinh Quy, head of the Vietnamese mission to the United Nations (Photo: VNA)
Attending the United Nations Security Council's virtual meeting on Iraq, the diplomat affirmed Vietnam backs the positive roles of the United Nations Assistance Mission for Iraq (UNAMI), and other UN organisations in addressing the situation in Iraq.
He delivered his positive assessment of the Iraqi government's efforts and hailed progress made in the country over the past time.
He also voiced his concern over the complicated developments of COVID-19, attacks on civilians and the humanitarian issue in the nation, where millions of people are living in extreme hunger and poverty and depending on relief aid of the international community.
Top priority should be given to protecting the people, Quy said, emphasising the need to ensure respect for independence of politics, unity, sovereignty and territorial integrity of the country.
According to Jeanine Antoinette Plasschaert, Special Representative of the Secretary-General for Iraq and Head of the UNAMI, the Iraqi government has strived to realise COVID-19 prevention commitments, recover the economy, and attained significant progress to carry out an election on June 6, 2021.
In the past time, the UNAMI and other UN organisations have worked to help the Iraqi government and people stabilise situation and handle challenges, she added.
At the meeting, UNSC members said they support the Iraqi government to implement necessary reform measures to meet the need of its people, and welcome the early election.
They also expressed their concern over the profound impacts of COVID-19 on the nation, which is encountering a wide range of difficulties. They said Iraq must continue efforts to fight terrorism.
They added the international community should assist Iraq and support efforts of UNAMI and other UN organisations to help the nation, while respecting its dependence, sovereignty, and territorial integrity./.VNA