Vietnam could reopen domestic tourism market soon with vaccine passports
Experts believe that Vietnam should reopen the domestic aviation and tourism market with vaccine passports as the number of people who have received two doses of the vaccine is increasing.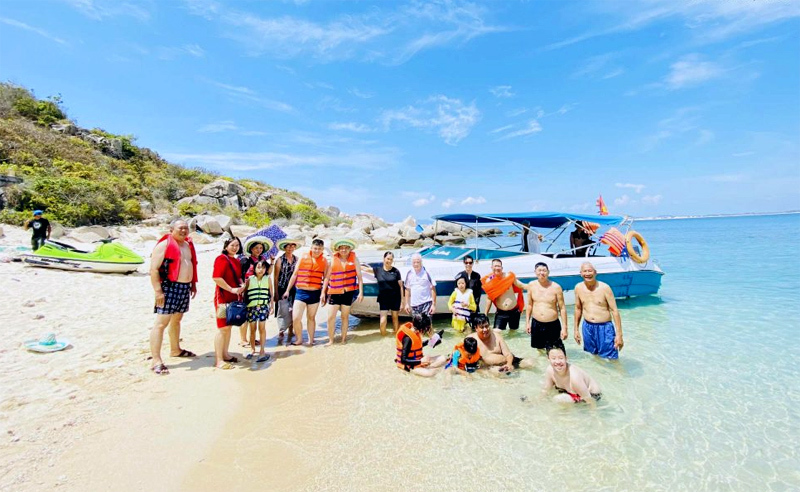 Luong Hoai Nam, a tourism and aviation expert, said that a vaccine passport could be used in Vietnam as other countries have done. Phu Quoc Island would be the first place to receive foreign travelers with a vaccine passport.
Nam said Vietnam should use the vaccine passport to recover the domestic market soon rather than postponing it until the pandemic ends.
As of September 2, Vietnam had given 20.58 million injections and 2.73 million people had received two shots.
"I suggest using a vaccine passport to for the domestic aviation market straight away. There is no need to wait for solutions to deal with pandemic zones. This is within our reach and we don't have to negotiate with any other countries," Nam said.
Experts from Tourism Advisory Board (TAB) , of which Nam is a member, have proposed a pilot Vietnam Green Travel Pass. This would replace the vaccine passport in Vietnam. It will help implement the dual goal of fighting the pandemic and developing the economy.
The Green Travel Pass could be a QR Code on a smartphone, or printed on paper, given to not only those who have had two vaccination shots, but also to recovered Covid-19 patients and people who have had negative testing results within the previous 72 hours.
TAB has also asked the Government to conduct bilateral and multilateral negotiations with other countries and territories to sign agreements on allowing Vietnamese citizens to use Vietnam's Green Travel Pass when entering other countries, and negotiate agreements on mutual acknowledgement among ASEAN countries, the EU and the International Air Transport Association (ITATA Travel Pass).
Agency in charge of vaccine passport
Vo Huy Cuong, vice head of the Civil Aviation Authority of Vietnam (CAAV) said Vietnam needs to have an agency in charge of passport vaccine deployment and define exactly what it is.
A vaccine passport should be understood as software that records a person's conditions (negative PCR test, fully vaccinated, or recovered from Covid-19).
Vietnam has all three but has no regulation on how pilots and stewardesses who have had one vaccination shot, contracted Covid-19 and have recovered will return to work. According to the Ministry of Health (MOH), recovered patients will not be vaccinated because they have antibodies and will receive injections 6-7 months after recovery.
He said the software to be used must ensure privacy and anti-forgery and must be free and not become a burden on society, or users – airlines and air passengers.
Nguyen Huy Nga, former Director of the Preventive Medicine Agency of MOH, also thinks there those who have had two vaccines and apply 5K measures should also be allowed to go back to school, or work and resume business.
He said that MOH needs to release a document on early vaccine passports before Vietnam complete vaccinations for the entire population.
Cuong said if Vietnam could reduce the number of community-transmitted
cases from now to September 30, relax social distancing and obtain an increasingly high percentage of vaccinated people, the country will be able to gradually resume domestic air routes. After that, with vaccine passports, it will step by step resume international travel.
The successful trial of electronic health passports will also help Vietnam open its doors to foreign travelers.
Vietnam Airlines on September 2, 2021 used an electronic health passport (IATA Travel Pass) on a flight from Hanoi to London with 18 passengers. It is expected that the national flag air carrier will fly from Hanoi to Seoul on September 12 and Hanoi to London on September 21, alongside flights from Hanoi to Tokyo every Thursday.
Vietjet has also tried the IATA Travel Pass.
According to the Tourism Information Center, the agency has created a vaccination certification system on https://travelpass.tourism.vn, ready to serve foreign travelers when tourism opens again. The vaccination certification system has been integrated into the Vietnam Safe Travel app.
The system provides procedures for controlling, authenticating and updating medical records of international visitors before their entry, upon entry, during their stay, and when leaving Vietnam.
In related news, the Vietnam National Administration of Tourism (VNAT) reported that the number of domestic visitors fell from 9 million in April to 3.5 million in May and 0.5 million in July. 
Ngoc Ha

A plane carrying 297 passengers with a vaccine passport from Japan landed at Van Don International Airport in Quang Ninh province on September 3.

The Vietnam National Administration of Tourism has developed a digital vaccine certification system, which will be piloted to welcome back international arrivals and ensure safe travel during the COVID-19 pandemic.