Vietnam detects 2nd case of canine fluke cyst in heart
A canine fluke cyst big as a ping pong ball was found in the heart muscle of a 75-year-old woman. This is the second case of heart fluke reported in Vietnam.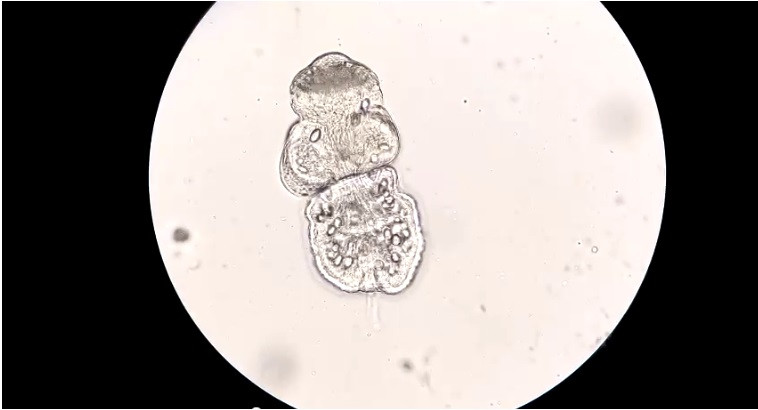 Dr. Nguyen Hoang Dinh, Head of the Adult Cardiovascular Surgery Ward of the University of Medicine and Pharmacy Hospital, Ho Chi Minh City, said that his ward had recently treated a rare case of a canine fluke cyst in the heart.
The patient is from the central province of Quang Nam. For more than a year, the woman had been feeling short of breath and tired when exerting herself. She went to many hospitals in her hometown of Quang Nam and then Ho Chi Minh City for examinations.
The hospitals determined that the woman had a large cyst compressing the heart muscle, which reduced the heart's ability to contract. This caused heart failure-like symptoms. The patient was also tested for parasites, but the results were negative.
She finally went to the University of Medicine and Pharmacy Hospital in Ho Chi Minh City, where the doctors conducted an MRI scan and decided to operate to remove the cyst in the woman's heart.
After the 3-hour surgery, doctors split a cyst of 4cm in size, as big as a ping pong ball, from the left ventricle.
Immediately after the surgery, doctors tested the cyst and found that the fluke was still alive, and was identified as dog tapeworms of the genus Echinococcus.
People can get dog flukes from swallowing dog tapeworm eggs when eating foods contaminated with tapeworm eggs or by direct contact with infected dogs, foxes or ferrets. The most common cysts are in the liver, lungs, kidneys, spleen, heart, brain, or bones.
"Heart cysts are very rare. The patient may have been infected for many years. This is the second case reported in Vietnam. The previous case was treated at Bach Mai Hospital in Hanoi," said Dr Nguyen Hoang Dinh.
Linh Giao