Vietnam Fine Arts Association honours artworks

A woodblock print entitled Stealing the Dream has earned Nguyen Khac Han a Vietnam Fine Arts Association Award 2019.
DEEP: Visitors appreciate Nguyen Khac Han's award-winning work. Photo baovanhoa.vn

The work, measuring 100cm by 210cm, includes three pieces featuring a man with his face covered and many people lying in the background.
"Every child has many dreams and their parents also dream about them," said Han. "I think that when people see my work they will have their own thoughts and they will answer what the dream is about and who steals the dream."
Han was inspired by his children and his wishes for them.
Han graduated from Viet Nam University of Fine Arts's Graphics Department. He found his path to create woodblock prints in his fourth year of study, with pieces that reach a professional level of both ideological content and aesthetic form.
After graduation, he specialised in black and white woodblock prints inspired by social issues.
The artist won the gold medal at the National Fine Arts Festival 2015 and second prize at the 2nd ASEAN Graphic Art Competition.
"Different prizes encourage me to work harder," said Han.
Prizes at the Viet Nam Fine Arts Association Awards 2019 also went to Ca Kao Khai, Ha Phuoc Duy and Le Thi Thanh.
Khai's sculpture Cưới Chuột (Mouse Wedding) took second prize. He was the 2017 association award-winner.
Long An-based Duy picked up third prize for his lacquer painting entitled Đồng Trưa (Field at Noon). In the painting, the field is dry and the ground is cracked.
"There is a thin line between life and death," said Duy, a graduate from the HCM City College of Fine Arts' Painting Faculty.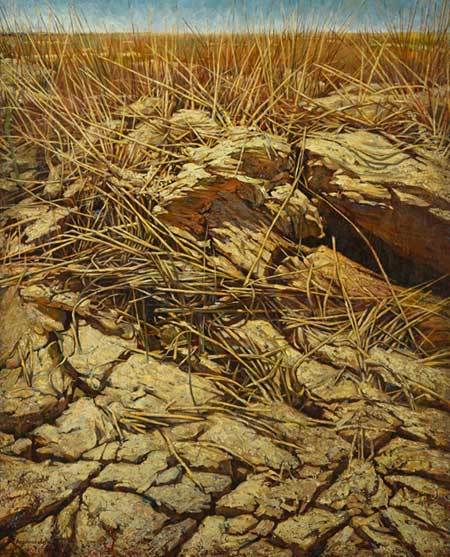 LIFE AND DEATH: Lacquer painting Đồng Trưa by Ha Phuoc Duy. — Photo courtesy of the artist

The artworks were announced at ceremony held on Friday in Hanoi to honour artworks by artists nationwide.
The artworks were displayed at exhibitions held during August in regions including the north, central, Cuu Long (Mekong) Delta and the south.
Art researchers Le Quoc Bao and Nguyen Dang Dung from Hanoi won awards for their books entitled Mỹ Thuật Hiện Đại Việt Nam Từ Góc Nhìn Giảng Dạy, Nghiên Cứu, Phê Bình Mỹ Thuật (Viet Nam Fine Arts – Teaching, Researching and Critic) and Nghệ Nhân Họa Sỹ Nguyễn Đăng Sần và Dòng Tranh Dân Gian Đông Hồ (Artist Nguyen Dang San and Dong Ho Folk Painting).
VNS