The Vietnamese Government plans to allocate VND12.5 trillion (US$509 million) for wage reform, restructuring pension funds, and subsidies.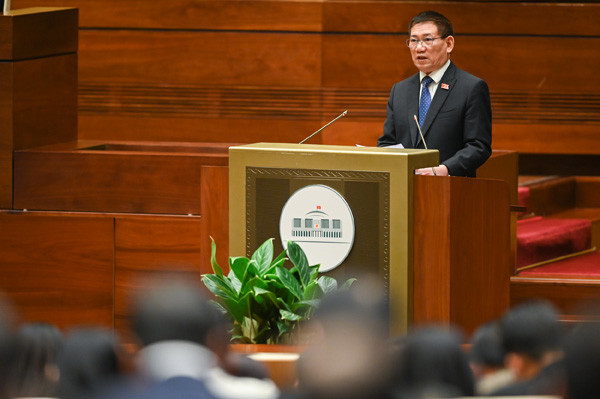 Minister of Finance Ho Duc Phoc revealed the figures as he presented the Government's report on the state budget execution in 2022 and the estimation for 2023 to the National Assembly (NA) on October 20.
Next year, the Government expected a budget revenue over VND1,600 trillion (US$68.2 billion), of which domestic revenue would account for 82% of the total, or VND1,300 trillion ($53 billion), crude oil exports would yield VND42 trillion ($1.7 billion); and export-import duty would earn VND239 trillion ($9.73 billion).
The Government, meanwhile, is expected to spend over VND2,000 trillion ($81.46 billion), up VND291.6 trillion ($11.8 billion) against the 2022 estimate, in which capital expenditure would make up VND 726.7 trillion ($29.6 billion), and regular spending of VND1,100 trillion ($44.8 billion).
According to Phoc, the Government would ensure sufficient funds for the socio-economic recovery program, worth VND350 trillion ($14.25 billion) for the 2022-2023 period.
"Spending would also be focused on raising basic wages for public servants, pensioners, and social benefits," he said.
Phoc noted the basic wage for public staff would increase by 20.8% to VND1.8 million ($73.3) from July 1, 2023, along with a higher allowance for medical staff at grassroots levels.
Under current regulations, the basic wage in Vietnam is the reference for calculating the final wage for civil servants by multiplying it with its corresponding coefficient.
Chairman of the NA's Finance-Budget Committee Nguyen Phu Cuong expressed support for the Government's proposal for a higher basic wage, saying keeping the current level would put pressure on those working in the state sector.
Cuong noted the budget deficit in 2023 would be around VND455.5 trillion ($18.5 billion), up VND82.6 trillion ($3.36 billion) from the previous year.
Meanwhile, public debts would be around 44-45% of the GDP, Government debt at 41-42%, and foreign debts of 41-42%, all stay within the NA's threshold.
This year, the Government expected budget revenue of VND1,600 trillion ($68.2 billion), up VND202.4 trillion ($8.23 billion) or 14.3% against the yearly estimate, in which domestic revenue could surpass the target by 9.8%, revenue from crude oil by 141.1%, and import-export duty by 23.6%.
The expenditure is estimated at VND2,000 trillion ($81.46 billion), assuming the disbursement of public funds reaches % of the target. This would put the budget deficit for 2022 at 4.5% of the GDP, within the NA's limit.
Source: Hanoi Times