Vietnam, ILO co-operate for decent work

Social justice and satisfactory employment based on the respect and protection of workers' and employers' legitimate rights and interests are core values of the International Labour Organisation (ILO).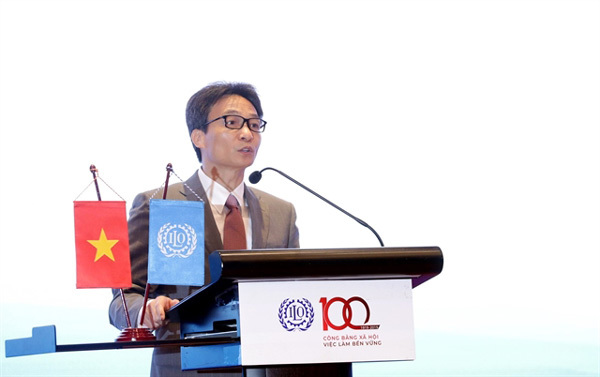 Deputy Prime Minister Vu Duc Dam gives a speech at the International Labour Organisation's 100th anniversary of foundation. — VNS Photo Thu Trang
Deputy Prime Minister Vu Duc Dam made the statement at a ceremony to mark the 100th anniversary of the foundation of the ILO (October 29, 1919), which was held in Hanoi on Tuesday.
The ceremony, with the theme 'Shared ideals of Ho Chi Minh and ILO towards decent work for all', was organised by the Ministry of Labour, Invalids and Social Affairs (MOLISA), the ILO and their partners.
Deputy PM Dam confirmed Vietnam and ILO had co-operated to conduct the ideals of the ILO's founders and late President Ho Chi Minh on social justice, sustainable work, peace and happiness for all.
He said late President Ho Chi Minh's ideals on labour policies and social welfare were profound and complete.
The late President's ideals still retain their value, including ensuring freedom and ownership of the people, honouring labour, creating jobs and providing vocational training, and improving qualifications, material and spiritual life for workers.
Dam said the Fourth Industrial Revolution had changed the labour market. Many jobs would be lost, many others would be less stable whereas many new jobs would require new skills.
"Recognising that, Vietnam is determined to focus on renewing education, renovating human resource training, enhancing skills, self-learning ability and adaptability for workers to be ready with new changes and demands, which are still unpredictable for the labour market," he said.
The Vietnamese Government considered human resources development and decent work an important premise in building socialist-oriented market economy institutions.
The country had also taken advantage of the golden population to serve sustainable development, with people at the centre.
Deputy PM Dam said Vietnam gave priority to social welfare policies for the people's peaceful lives to create a better working atmosphere in the process of international integration.
Speaking at the ceremony, Minister of Labour, Invalids and Social Affairs Dao Ngoc Dung said Vietnam always supported the ILO's targets.
The country was committed to international working norms, he said.
Director of the ILO Vietnam Chang-Hee Lee expressed his happiness with the co-operation of the MOLISA and its partners in creating decent work.
He believed the role of organisations representing workers and employers was becoming more important than ever as Vietnam aimed to become an upper-middle-income country and implement the United Nations' sustainable development goals.
The ILO was founded in 1919 after the Paris Peace Conference. Vietnam joined the ILO in 1992. So far Vietnam has ratified 24 ILO conventions.
VNS