Vietnam in 2020: Resilient and strong integration
Vietnam is no different from other countries in dealing with unprecedented situations. Challenges are many, but we have been very proactive and resilient, and have continued to integrate strongly.
Ambassador Pham Quang Vinh recently talked with VietNamNet about the situation in Asia-Pacific in 2020 and the regional situation in 2021. 
Deep change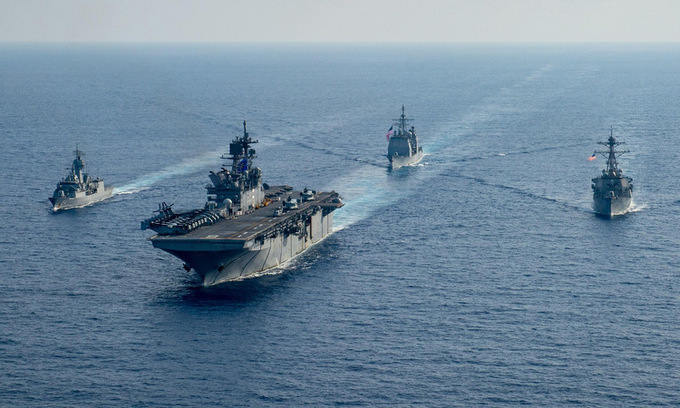 US and Australian warships rehearse in the East Sea on April 18. Photo: US Navy
What do you think about the overall picture of Asian foreign affairs in 2020?
Asia-Pacific and the rest of the world have been engulfed in the Covid-19 pandemic, which has led to profound changes. Covid-19 forces countries to find a new way in external interactions, how to link the supply chain, and use science and technology...
Asia-Pacific is an area affected by competition between powers, especially China – US relations. This competition is not only in economic and commercial fields, but is also one of strategic competition. Obviously, we see its impact in geopolitics, economics, science and technology, and also in issues of ideology and cultural ideology.
The Asia-Pacific region faces great opportunities and challenges from the scientific and technological revolution. Digital transformation brings about many benefits, which enable countries to speed up economic development, overcome the pandemic, and at the same time set out new production methods and governance.
Asia-Pacific is attached to the world, but this region has its own characteristics. When the trend of anti-globalization and anti-multilateralism rises in the world, the vitality of multilateralism, trade liberalization and cooperation in the region remains the main trend.
Despite economic difficulties caused by the Covid-19 epidemic, this region is probably the one that has controlled the epidemic very well, so the growth rate is still positive.
Perhaps Asia-Pacific and East Asia are regions where strategic competition among major countries is the fiercest.
This region is also subject to challenges of non-traditional security, such as natural disasters, climate change, rising sea levels ...
In addition, there are still traditional security challenges, including the Mekong sub-region and East Sea conflicts. Although countries agree that peace, stability, maritime security and safety in the East Sea are very important, there are still acts of encroachment in the continental shelf and the exclusive economic zone of coastal states in the East Sea that are contrary to international law.
How to manage the Mekong River in a sustainable way, especially cooperation between upstream and downstream countries, is also a problem.
The overall trend in the Asia-Pacific region is to promote cooperation, ensure peace, and strongly support multilateralism and trade facilitation.
There were many great changes in 2020. What do you think about the position and role of Vietnam in dealing with common issues in the region, in relations with powers to implement our foreign policy: independence, self-reliance, multilateralism, diversification?
Secretary General and President Nguyen Phu Trong deliver the welcome speech at the opening ceremony of the 37th ASEAN Summit.
Vietnam is no different from other countries in dealing with unprecedented situations. There are many challenges, but I would like to say that Vietnam has been very active and very resilient, and has continued to integrate into the region and the world strongly.
Firstly, Vietnam has prevented and controlled the Covid-19 epidemic and maintained socio-economic activities well.
Vietnam's measures to fight Covid-19 pandemic have been highly appreciated by many countries. We combined testing with social isolation and provided intensive treatment to all patients. We strengthened international cooperation and ensured information transparency to respond well to the pandemic. In a difficult situation, we still shared medical equipment and supplies with other countries, including major ones such as the US, Japan, South Korea, Russia and China.
We maintained international integration. In 2020, we had the Free Trade Agreement with the EU - a new-generation trade agreement of high quality that is effective for both sides. We assumed regional and international positions. As the Chairman of ASEAN, for example, we have maintained regional consultation - the lifeline to create the ASEAN joint agenda of action in the extremely difficult context of the Covid-19 pandemic.
We have maintained high quality performance on all three levels. The first is responding to urgent problems, especially dealing with the pandemic. Secondly, we still stick to priorities set out for 2020: focusing on building the ASEAN Community, ensuring identity, connecting and promoting the central role of ASEAN, and promoting ASEAN's role in dealing with regional issues.
For example, in the East Sea, ASEAN still affirms the basic principles of the region. These are peace, stability, maritime security and safety. ASEAN emphasizes that countries must comply with international law and the UN Convention on the Law of the Sea in all actions, activities and cooperation, and even in sovereignty claims...
At the third level, we have joined ASEAN countries and our partners in their positions toward strategic development in a profoundly changing world situation.
Despite many difficulties in 2020, we have changed the state in a timely manner and actively led ASEAN, with coordinated activities at all three levels.
Fierce competition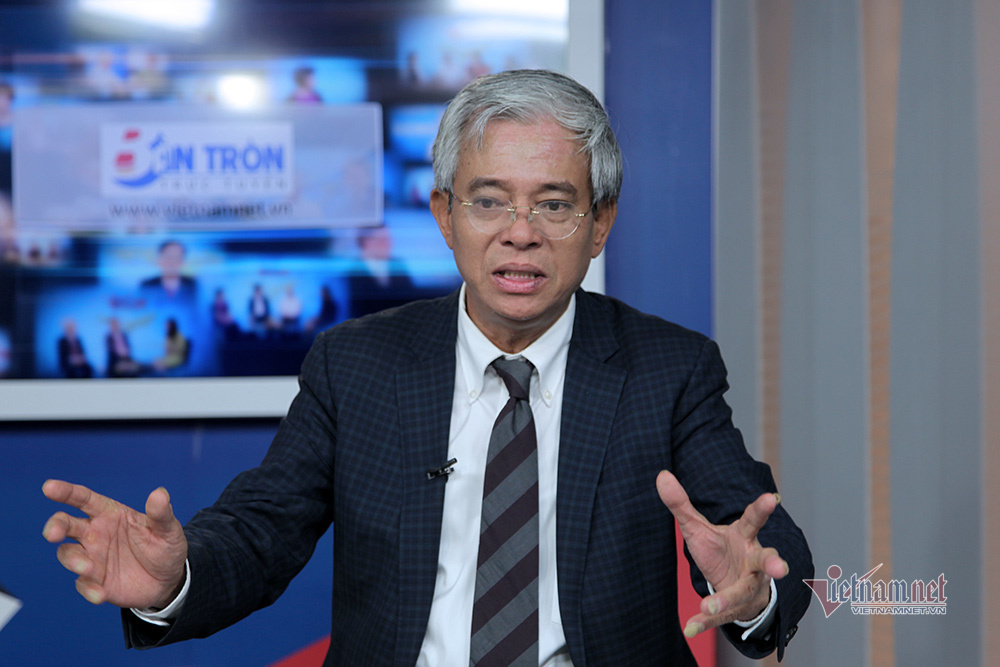 Ambassador Pham Quang Vinh
What will the regional foreign affairs situation be next year? What will the US policy towards Asia be, in your opinion?
The trend that all countries want is cooperation, promotion of peace, development and even cooperation to overcome the Covid-19 pandemic. The difficulties of 2020 will continue to be the challenge of 2021. The pandemic has not been controlled. All countries and the Asia-Pacific region will have to try to control the pandemic.
The story of recovering and maintaining economic activities combined with epidemic prevention and control is a big challenge after a year of reduction and tiredness.
Competition among superpowers, including China-US tensions, will certainly continue on different levels, whether the US changes or not. Non-traditional and traditional security issues will still exist.
In general, Asia-Pacific is improving its the dual mission of pandemic control and economic recovery. The region can be the engine of future economic recovery. Rejoining the broken supply chain will be the beginning of new connections with other regions and major centers of the world.
In relations to the US, Asia-Pacific will certainly be a very important part of US foreign strategy. Perhaps the US will resume traditional diplomacy, increasing consultation with partners and allies, using multilateral tools and institutions.
American foreign policy will be more predictable. The US has transitioned to a period of clearer awareness of China, and China is revealing itself more. China is no longer "hiding and waiting for opportunities" and the US has recognized that China is the leading challenge in both economic development and security.
Thus, competition may still be fierce and increase, but cooperation will also continue.
Thai An - Duc Yen

Foreign media view 2020 as a special year for Vietnam as the country has performed the dual role of ASEAN Chair and a non-permanent member of the UNSC and done a good job of concurrently containing COVID-19 and sustaining economic growth.

2020 was an important milestone in ASEAN's development with the prominent role of Vietnam as chair.