Vietnam remains in a good position to attract foreign direct investment (FDI) despite the unfavorable global economic environment and fierce competition from neighboring countries for investment capital, experts said.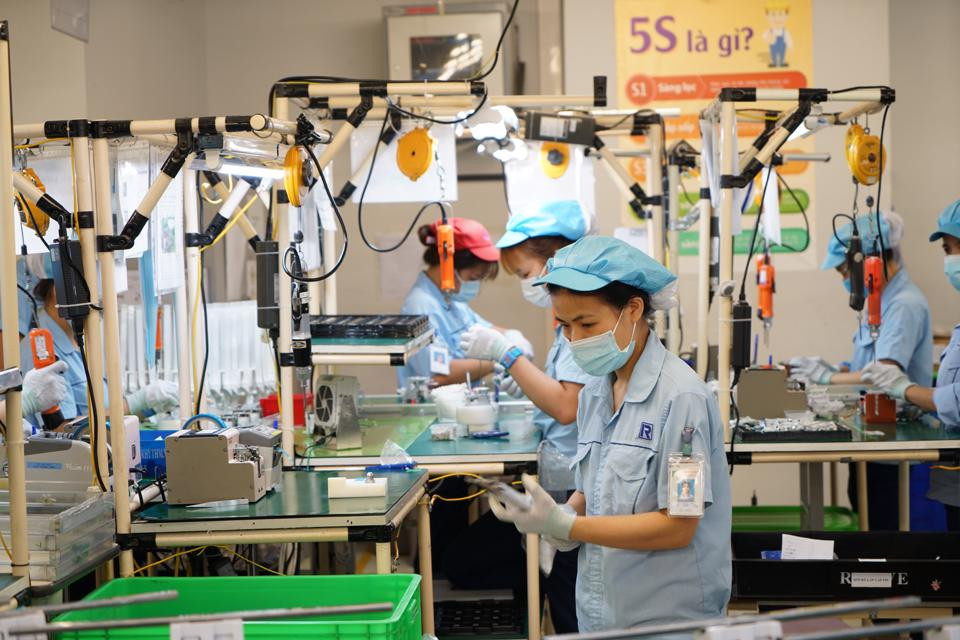 Electronics production at Rhythm Precision Vietnam in Noi Bai Industrial Park, Hanoi. Photo: Pham Hung/The Hanoi Times
Good for now
Statistics from the Ministry of Planning and Investment showed that total FDI commitments to Vietnam in the first two months of this year, including new registrations, adjustments, capital contributions, and purchases of contributed capital, amounted to nearly US$3.1 billion. This figure represents a decrease of 38% compared to the same period last year.
Disbursements also declined, but at a much more modest rate of 4.9% to approximately $2.55 billion.
For many, the results were understandable given the challenging economic environment that makes investors think twice before making an investment decision.
According to Dorsati Madani, Chief Economist at the World Bank, the Covid-19 pandemic has led to a global decline in FDI inflows, exacerbated by the Russia-Ukraine conflict, high inflationary pressures, and weak demand in the world's major economies. "Vietnam is no exception to this trend and has seen a decline in FDI commitments as a result," Madani said.
However, the World Bank economist pointed to a sharp increase in FDI disbursements last year to a 5-year high of $22.4 billion, up 13.5% year-on-year. In the first two months of 2023, the figure fell 4.9% year-on-year to $2.55 billion but is still considered positive given the modest rate of decline.
"While FDI commitments are important, it is the disbursement of funds that really matters for the overall economy as it creates employment opportunities and supports growth," Madani said.
Joosun Park, Head of International Subsidiary Banking and Wholesale Banking at HSBC Vietnam, echoed the same sentiment, suggesting that FDI inflows into Vietnam are "crucial for the growth of both export and domestic consumer markets".
A study by HSBC showed that FDI investors or regional and global multinationals operating in Vietnam effectively contribute to more than 80% of Vietnam's total exports and more than 25% of local investment.
Among these multinational companies (MNCs), intra-Asian MNCs make up the majority, Park said.
Asian investors continue to be the biggest contributors to Vietnam, with Singapore and Taiwan leading the way, injecting nearly $980 million and more than $400 million respectively in the first two months of this year. In fact, over the past five years, the top three foreign investors have always come from Asia: Singapore, Japan, and South Korea are regulars, with mainland China, Hong Kong, and Taiwan making more of an impression lately.
A recent annual business survey by the Japan Trade Promotion Organization (JETRO) found that 60% of Japanese companies plan to expand in Vietnam in the next one to two years, up 4.7 points from 2021. Vietnam also leads ASEAN in this regard.
"Vietnam will remain an attractive market for Japanese firms in the foreseeable future, due to its positive growth prospects and large population of 100 million," said the Chief Representative of JETRO in Hanoi Takeo Nakajima.
HSBC Vietnam's Park noted that there has been interests from several global intra-Asian multinationals operating in a wide range of sectors, including retail, semiconductors, electronics, mobile phone parts, plastics, renewable energy, and logistics, looking to either expand or make new investments in the country.
In particular, Thai investors are looking to invest and expand operations in the feed mill, packaging, retail, manufacturing, and chemical sectors "based on medium to long-term growth prospects in a market with the right elements for growth."
Last month, Central Retail announced its decision to invest around $1.45 billion in Vietnam over the next five years.
Solutions required for long-term
Experts say more needs to be done to make Vietnam more attractive to investors amid fierce competition for global FDI from regional players such as Indonesia, Thailand, and India, not to mention an uncertain global environment. This includes improving both soft and hard infrastructure. Joonsuk Park of HSBC Vietnam suggests that efforts should be redoubled to boost investor confidence in the regulatory framework as part of soft infrastructure.
Meanwhile, JETRO shared the view that while Japanese firms see Vietnam as a developed and promising market in the future, they still face risks related to the efficiency of administrative procedures, tax, and legal systems. Improvements in visa procedures and work permits are also needed.
Madani from the World Bank called for the Vietnamese Government to consider liberalizing the services sector, particularly in telecommunications and logistics, which remain largely untapped.
As Vietnam moves toward becoming a middle-income country, it should focus not only on attracting traditional FDI in industrial production but also on the knowledge and innovation-based investment, Madani said.
"Vietnam should prioritize selecting the right types of FDI that add value, increase productivity, promote innovation, and contribute to the development of a knowledge-based economy. Such an approach will help achieve sustainable long-term growth," she said.
Source: Hanoitimes