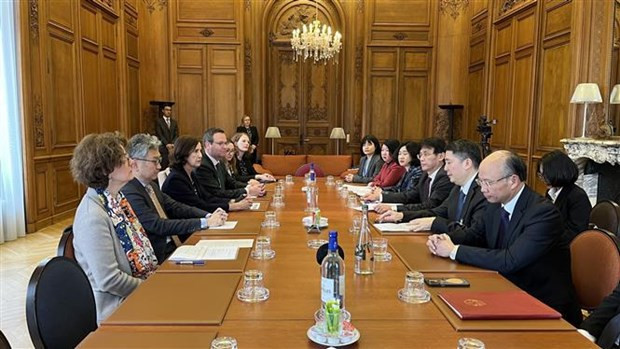 Vietnamese delegation meet with representatives from the Organisation for Economic Cooperation and Development (OECD). (Photo: VNA)
The Organisation for Economic Cooperation and Development (OECD) and Vietnam on March 22 signed the world's most wide-reaching international treaty for multilateral tax cooperation, the Multilateral Convention on Mutual Administrative Assistance in Tax Matters (MAAC), bringing the total number of jurisdictions that participate in the convention to 147.

With the signing, Vietnam joins international efforts towards greater tax cooperation and exchange of information and further strengthens the reach of the convention in Asia. The signing will pave the way for Vietnam to engage in the exchange of information with 146 other jurisdictions, including all major financial centres. These exchange relationships will be added to over 8,000 exchange relationships already in place under the convention.
The convention enables the jurisdictions to engage in a wide range of mutual assistance in tax matters: exchange of request information, spontaneous exchange, automatic exchange, tax examinations abroad, simultaneous tax examinations, and assistance in tax collection. It guarantees extensive safeguards for the protection of taxpayers' rights.

The convention is the primary instrument for the swift implementation of the Standard for the Automatic Exchange of Financial Account Information in Tax Matters (Common Reporting Standard - CRS). The CRS – developed by the OECD and G20 countries – enables more than 110 jurisdictions to automatically exchange offshore financial account information.

Beyond the exchange of information on request and the automatic exchange according to the standard, the convention is also a powerful tool in the fight against illicit financial flows and is a key instrument for the implementation of the transparency standards within the work of the OECD/G20 Inclusive Framework on Base Erosion and Profit Shifting (BEPS).
OECD Deputy Secretary-General Yoshiki Takeuchi welcomed Vietnam's participation in the MAAC, saying that this showed the country's determination to prevent tax evasion abroad, move towards tax transparency, and deal with illegal financial flows.

According to Takeuchi, Vietnam's move, following its decision to join the Global Forum on Transparency and Exchange of Information for Tax Purposes in December 2019, demonstrated Vietnam's commitment to global tax transparency.

Deputy General Director of the General Department of Taxation Dang Ngoc Minh said that in the coming time, Vietnam will step up the building of information infrastructure to exchange and exploit information from other countries, especially information of foreigners and transnational corporations./. VNA