Vietnam maritime strategy: Be careful with under-war-threshold actions

Tensions in the East Sea are still under control, without armed war, but the acts of using or threatening to use force have been recorded with many different forms.
Thuy Anh, a researcher of the East Sea Institute, addresses the new trends and situations in the ocean, which affect the adjustment of Vietnam's maritime strategy.
Changes in situation and trends in the East Sea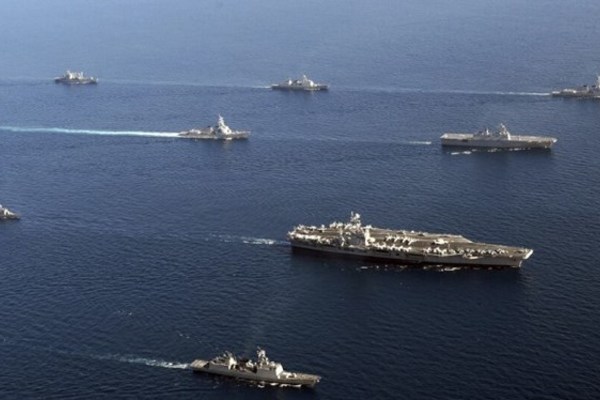 Other countries have also changed their policies, with increasing interest in the East Sea issue.
In recent years, the international and regional situation has changed a lot in terms of comparative power of countries, leading to adjustments in domestic and foreign policies of the parties involved in the East Sea. Since 2013, China has focused on large-scale investment in renovating artificial islands and installing military-civilian equipment at the occupied points in Truong Sa (Spratly) Islands, creating a completely new status quo in the East Sea.
The sea and ocean have been the key areas in geopolitical competition among powers. For a long time, the East Sea has no longer been about disputes over sovereignty and sovereignty rights among the claimant states but an arena for powers, especially the US and China, to fight for influence and to maintain or change the current order.
In the new geospatial space of the Indo-Pacific region, strategic competition between the US and China as well as other powers in controlling and connecting the Pacific and the Indian Oceans will be extremely complicated.
The emergence of other hot issues such as North Korea or the US-China trade war has affected public interest in the East Sea. Meanwhile, China has actively propagandized and sought to influence international rules in its favor in the East Sea.
On the other hand, while tensions in the East Sea have been basically under control, and there is no armed war there, the use of force or threat to use force has been reported in many forms. It is hard to deal with military actions and it is harder to cope with actions below the war threshold, which requires greater skill and alertness.
The rapid development of science and technology related to the sea makes small countries like Vietnam always weaker and lag behind because they lack capacity and resources to invest in research and deploy modern technologies.
This requires Vietnam's new marine strategy to change mindset, focusing on marine science and technology research, as science and technology will not only help increase marine economic resources, but also strengthen national security and defense.
In addition, the depletion of marine resources, environmental pollution and non-traditional security issues are also a concern. The fact shows that international efforts in urging countries to fulfill international legal obligations on cooperation in management of fisheries and marine environment have been increasingly strengthened.
Suggestions for Vietnam's marine policy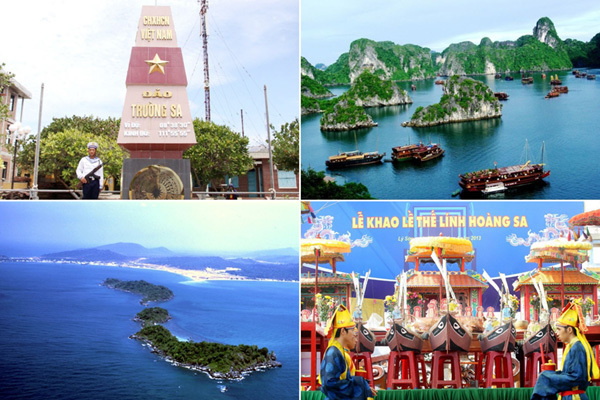 The submission to the Vietnam Communist Party Central Committee the new Vietnam's marine economic strategy for consideration and approval is very important and necessary, confirmed Party General Secretary and President Nguyen Phu Trong at the opening session of the 8th meeting of the 12th Party Central Committee in October 2018.
Mr. Trong affirmed the importance of the sea and islands, saying that this is a very important issue related to the development of the country's marine economy associated with social development, protection of natural resources and environment, coping with climate change, and rising sea levels, and ensuring national defense, security, foreign affairs, and international cooperation on the sea.
"The submission to the Central Party Committee for consideration and issuance of a new resolution on Vietnam's marine economic strategy is very important and necessary, not only from the fact that Resolution No. 09 will be out of time by 2020 but also due to many other objective and subjective reasons. One of them is the change in the international, regional and domestic situation, requiring change in viewpoints and adjustments on specific goals, development orientations for a number of marine-related industries...," Mr. Trong said.
In the new context and new trends, Vietnam's maritime policy needs to change its approach to ensure successful implementation of many basic tasks at the same time: ensuring security, sovereignty and interests of Vietnam at sea, and developing a sustainable marine economy based on the responsibility of protecting the environment and marine resources.
First of all, there must be a harmony and balance between the tasks of maintaining peace and stability in the region, ensuring security and sovereignty, exploration and development of the marine economy, and at the same time building a sense of protecting marine environment and resources, in compliance with the provisions of international law on the use, exploitation and management of the sea.
In foreign relations, Vietnam's maritime policy in the new period needs to pay more attention to international legal issues and communications in a more flexible way. These will be important areas to help realize Vietnam's long-term goals.
International cooperation in relation to the sea should not only be restricted to the fields of politics, security - defense or environmental protection and natural disaster prevention, but also need to be expanded into economic development cooperation, marine-related scientific and technological research, marine management and governance, and socio-cultural fields. This also shows the need to emphasize connectivity as well as the clear roles of different areas in the new marine development plan to ensure effectiveness and efficiency.
In addition, the change of Vietnam's maritime policy should not be limited to the East Sea. This helps Vietnam participate in shaping wider ocean and sea mechanisms while still being in line with Vietnam's long-term development interests.
Thuy Anh

Boasting great potential of marine economy in terms of natural resources, transport, fisheries, tourism and coastal economic zones, Vietnam has set the target to become a powerful marine nation.

Over the years, Vietnam has consistently complied with the 1982 United Nations Convention of the Law of the Sea (UNCLOS) and taken peaceful measures in line with this treaty to safeguard its sea areas, a Foreign Ministry official has said.