Vietnam may grant emergency license for locally-made Covid-19 vaccine
Soon after the phase 3 trial, Vietnam may consider emergency licensing for Nanocovax, a made-in-Vietnam Covid-19 vaccine.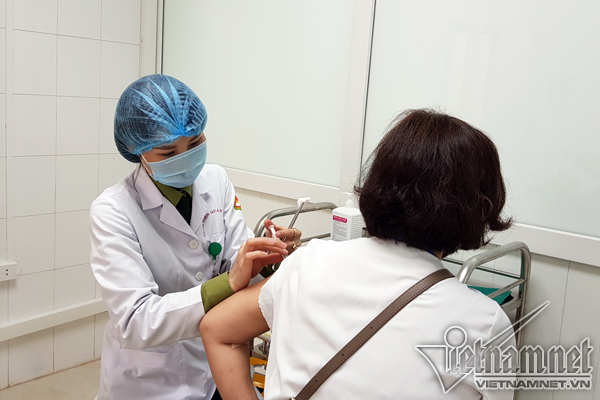 Photo: Volunteers are injected with Nanocovax vaccine at the Military Medical Academy.
Deputy Health Minister Do Xuan Tuyen said that Nanogen's Nanocovax vaccine is currently a candidate with high potential, ready for phase 3 trials in early June.
According to Mr. Tuyen, in this phase of trial, th vaccine will be both tested and evaluated by experts. If the professional and ethics council approve, and with the nod of the Prime Minister and Deputy Prime Minister, relevant agencies can grant a license under a state of emergency to Nanocovax.
Regarding the legal mechanism for the emergency licencing of vaccines, the deputy minister said that vaccines that Vietnam buys and provided by partners are also under the emergency licensing mechanism, so this is completely appropriate.
Nanocovax vaccine will be tested at local centers with about 13,000 participants, aged 18-75. As planned, about 1,000 volunteers will be injected with the vaccine this week.
Instead of three doses like the previous phase, in phase 3, volunteers will receive a 25mcg dose in parallel with a group injected with a placebo.
The results of the phase 2 trial showed that Nancovax vaccine was better than expected. 100% of volunteers produced antibodies, while many other vaccines in the world reached only slightly more than 90%, even only 60-70%.
Antibody levels at the 35th and 42nd day after the first dose rose tens to hundreds of times, while an increase of 4-20 times is considered to be good.
Through two phases of trial, Nanocovax vaccine can prevent the British and South African variants. The effect with the Indian variant will continue to be studied in phase 3.
If it goes well, about two months after the start of phase 3, the Ministry of Health will have data to evaluate and consider whether it is eligible for emergency licencing.
Nanogen, the developer of Nanocovax, has received funds from a domestic unit of hundreds of millions of US dollars to promote the final phase of testing as well as prepare for large-scale production. However, Nanogen has not disclosed specific production plans as well as the supply capacity to the market.
It is expected that this week the Prime Minister will meet with domestic vaccine research units to encourage and remove difficulties and speed up the production of vaccines.
Recently, the Ministry of Health has made great efforts to negotiate with many parties, aiming to get 150 million doses of Covid-19 vaccine this year for mass vaccinations.
Covax has committed to give Vietnam 39 million doses and the Ministry of Health has ordered an additional 10 million doses through Covax. The Ministry has also ordered 30 million doses of AstraZeneca through local vaccine distributor VNVC and has ordered 31 million doses of Pfizer vaccine. In addition, there are donated vaccines, so this year Vietnam is expected to receive 150 million doses of vaccine. However, the actual quantity and delivery time depends on the supplier.
Like the flu vaccine, the Covid-19 vaccine is effective for six months to 1 year, so it will need to be repeated periodically. Therefore, local sources of vaccines will help Vietnam proactively reopen its economy and trade.
Thuy Hanh

Next week, Vietnam will start the phase 3 trial of the Vietnamese-made Nanocovax vaccine on about 13,000 volunteers.

Last week, my friend told me that his daughter, who is studying in the US, had just been vaccinated against Covid-19 just one day after returning in the US to attend college.