Vietnam moves up in ranking of internet speed
The quality of internet service has improved following instructions by the Ministry of Information and Communications (MIC). Vietnam now ranks 39th globally in terms of fixed internet and 52nd in mobile internet speed.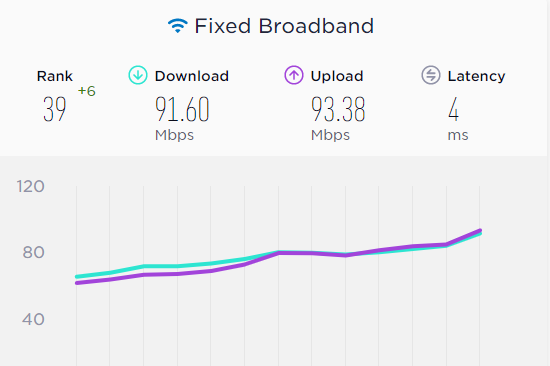 Ookla's February 2023 Speedtest Global Index report shows that Vietnam ranks 52nd in mobile internet speed, a fall of nine grades from the month before. The broadband download in February was 42.67 Mbps, while upload was 18.27 Mbps.
As for fixed broadband internet, Vietnam got a six-grade promotion in the month, now ranking 39th, despite troubles with submarine fiber optic cables.
Ookla reported that the average download speed of fixed broadband in Vietnam was 91.6Mbps, while upload speed was 93.38 Mbps.
The system measuring the internet access speed in Vietnam (i-SPEED) of the Vietnam Internet Center (VIC) under MIC has also reported similar results, with average fixed download broadband speed up and mobile broadband down.
The average broadband download speed in Vietnam in February was 89,73 Mpps, up 4.6 percent over January.
Among the centrally run cities, HCM City had the highest fixed broadband download speed (96.55Mbps). The average fixed broadband upload speed of the whole country was 88.71 Mbps (up 4.7 percent).
In terms of mobile internet, according to VIC, the average download speed of the whole country in February was 36.45 Mbps (down 10.7 percent over January), while average upload was 16.19 Mbps (down 6.7 percent).
The figures from both domestic and international measurements show significant improvement in Vietnam's fixed internet speed in February, a considerable achievement if noting that incidents have occurred with submarine fiber optic cables since late 2022.
To solve the problems, MIC has required telecom carriers to quickly apply measures to fix incidents to ensure smooth international internet connection.
Under the instructions by the Authority of Telecommunications (AOT), mobile network operators have negotiated to buy more mainland optical fiber capacity and share capacity with each other to overcome the crisis.
MIC has also requested telcos to develop more submarine fiber optic cables to better satisfy users' demands.
Vietnam is using five international submarine fiber optic cables, namely Asia America Gateway (AAG), Intra Asia (IA), Asia Pacific Gateway (APG), SMW3 (SEA - ME - WE3), and Asia - Africa - Euro 1 (AAE-1). It is expected that the total number of cable routes Vietnam would use by 2025 may be double.
Telcos said the increase in capacity of international connection on the mainland has helped improve the internet service quality and the complaints about service quality have decreased.
Trong Dat