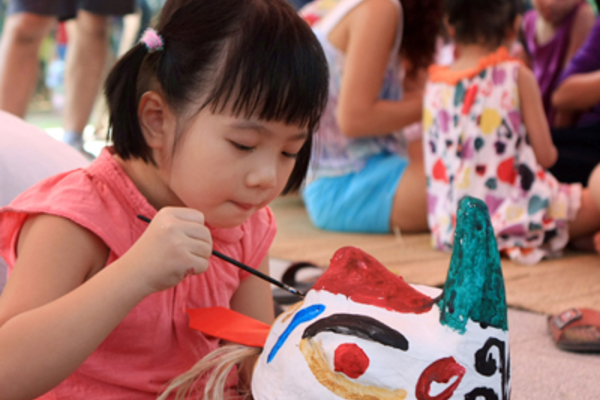 Hanoi Museum to showcase "Colors of Gia Lai Culture" on September 7 and 8, with plenty for kids to enjoy.
The event aims to introduce to the public the cultural characteristics of ethnic minorities in the central highlands' Gia Lai province.
Various activities for children will take place over the two days, including Gong and traditional musical instrument performances, folk singing, basket weaving, wooden sculpture making, and brocade weaving.
The food of the people living in the central highlands will also be available.
Children will also have the chance to join joyful unicorn dances and processions.
They can also experience typical folk toys only made for the Mid-Autumn Festival, such as Mr. Paper doctor, fighting batons, star lights, monk's lamps, troop pull lamps, and flour fruit, etc., under the guidance of craftsmen and volunteers.
Visitors will also have the opportunity to play interesting folk games originating from the central highlands, such as standing statues, stealing cucumbers, and breeding ducks (of the Giarai minority), as well as buffalo fighting, stone kicking, and stilt walking (of the Bana minority).
The Vietnam Museum of Ethnology will also cooperate with the "Discovery Academy" during the Mid-Autumn Festival to organize science experiences through folk toys. For example, children will be able to learn about flying kites.
Through scientific experiments involving wind power and air convection, they will understand why kites can fly. This is also an opportunity for artisans to directly introduce folklore associated with scientific knowledge through making toys, thereby stimulating curiosity among children.
"Children and their families can have interesting experiences with various Vietnamese traditional activities," said a representative from the museum.
"They also have the chance to explore the unique cultural features of the Bana and Giarai people in Gia Lai province right in Hanoi. Organizers hope to bring to the public, especially children, lots of fun and new knowledge, highlighting the colorful cultural personality in this most special holiday of the year for kids."
Entry to the festival is free but visitors must still purchase a ticket to enter the museum, at VND40,000 ($1.8) for adults and VND10,000 ($0.5) for children from 6 to 18 years old. Children under six enjoy free entry. VN Economic Times