VIETNAM NEWS DECEMBER 29
HCM City to provide all public services online at level 4 by 2030
Ho Chi Minh City has set a target to provide 100 percent of public services online at level 4 by 2030. Level 4 is the highest level of online public services, which allows users to fill and submit forms, and pay fees online.
In the first quarter of 2020, Ho Chi Minh City's authorities provided 668 online public administrative services at levels 3 and 4 in various fields, and more than 80 percent of local residents and organisations said they were satisfied with the services.
According to the city's Department of Home Affairs, district and commune-level administrative units handled more than 84 million documents online in the last five years.
On average, more than 16 million documents were handled online each year. The rate of documents processed on time reached 97.5 - 99.9 percent.
Since 2017, processing time for administrative documents fell by 30-50 percent. About 99 percent of total administrative documents were done online on time.
The city is also striving to universalize 4G and 5G mobile networks and smart phones./.
Long An to build new anti-landslide embankment
A landslide along Vàm Cò Tây River in Lợi Bình Nhơn Commune in Long An Province's Tân An City occurred last year, causing six houses to fall into the river.
A new 1.2km-long embankment worth VNĐ300 billion (US$12.9 million) will be built to prevent landslides along Vàm Cỏ Tây River in the Cửu Long (Mekong) Delta province of Long An next year.
Nguyễn Văn Út, chairman of the provincial People's Committee, said the embankment project would help prevent further landslides caused by the impact of climate change and rising sea levels.
It will protect riverside construction sites, as well as the lives and property of people living along the river.
Funding for the project is sourced from both central and local budgets, including construction costs, consultant costs and land clearance compensation.
The new embankment will be 8m wide, running from the market in Tân An City's Ward 2 to the new Tân An Bridge.
The project includes building a water collection and drainage system with eight sewers, nine berths, a 4m-wide separator, and a 6m-wide sidewalk.
Construction is expected to be completed by 2024.
According to the province's Department of Agriculture and Rural Development, landslides along the rivers and canals have been increasing in recent years.
Landslides and erosion have occurred mainly in Tân Trụ, Cần Giuộc, Thủ Thừa and Thạnh Hóa districts, collapsing tens of houses and damage worth tens of billions of đồng.
Tân Trụ District has suffered from the most serious landslides, with four landslide locations near Vàm Cỏ Tây, Nhựt Tảo and Cầu Trắng rivers, and Cây Sáo Canal.
Weekly COVID-19 update: 28 new cases, 34 recoveries
Viet Nam confirmed 28 imported cases of Covid1-9 from December 21-27, raising the patient tally to 1,441 while 34 patients were declared free of the virus. 
The latest cases included three foreign experts who came from Japan, Brazil and South Africa.
The rest are Vietnamese, of whom one brought home from Ukraine, three from Poland, five from Germany, nine from the U.S., and six from the UK.   
With 34 more patients cleared of the virus, the total number of recoveries increased to 1,303. The number of COVID-19 fatalities remained at 35 while none of the current patients is in critical health condition.
The nation is placing 16,799 people who had been in contact with Covid-19 patients or returned home from the pandemic-stricken areas under medical surveillance and concentrated quarantine. Of these, 159 are kept at hospitals, 15,797 at concentrated quarantine sites and 843 at places of residence. 
As the Covid-19 pandemic is still evolving swiftly and complicatedly around the world, the Government ordered subbordinate levels to sustain high vigilance and strictly control borders to prevent illegal entrants.
Prime Minister Nguyen Xuan Phuc on December 27, urged fast contact tracing of those who came in contact with Covid-19 patient numbered 1,440 in order to prevent spread of the virus to communities.
Patient numbered 1,400 is a 32-year-old man who illegally entered Viet Nam on December 24 and was confirmed positive for the virus on December 26./.
Rice farmers benefit from emissions reduction programme
Thousands of rice farmers in the northern province of Thái Bình are benefiting from a programme meant to help them adopt innovative technologies and approaches to increase yields while reducing greenhouse gas emissions, a meeting heard in HCM City on December 25.
Trần Thu Hà, director of the AgResults Việt Nam Emissions Reduction Pilot (AVERP) project, said in the five years since the project started it had helped more than 23,000 farm households in Thái Bình adopt new practices and technologies to increase yields and reduce CO2 emissions by two tonnes per hectare per crop.
"The project targets the dual benefit of socio-economic development and environmental protection."
It aims to reach 75,000 farm households in the province, reduce 375,000 tonnes of CO2 emissions and save small farmers' costs by 15 per cent through lower input use.
Four companies An Định, Thái Bình Seed, Fari-Seed, and Bình Điền Fertiliser participated in a pay-for-results prize competition to develop, test and scale up technologies and tools to reduce GHG emissions. 
"Rice farmers reflected on the challenges they had experienced as early adopters of the farming technologies. They also said how they soon realised these agronomic practices could reduce costs."
Results in terms of increased yields and lower emissions are verified by US firm Applied Geo-Solutions and monitored by non-profit SNV Netherlands Development Organisation and the Thái Bình Province Department of Agriculture and Rural Development.
AVERP, implemented since 2016, has an US$8 million prize. 
It uses results-based incentives to encourage private competitors to deliver packages and training to smallholder farmers. 
These new approaches help lower GHG emissions, protect the environment, and ultimately reduce poverty among smallholder farmers in the province.
Funded by the governments of the US, UK, Australia, and Canada and the Bill and Melinda Gates Foundation, the project focuses on reducing emissions during land preparation and rice cultivation as most occur during these stages. 
"The results of the project will play an important role in the orientation of the project to restructure the rice production sector by 2025," Hà said. 
The conference was co-organised by the Ministry of Agriculture and Rural Development and SNV Netherlands Development Organisation.
Music party at Arcan to celebrate Christmas and New Year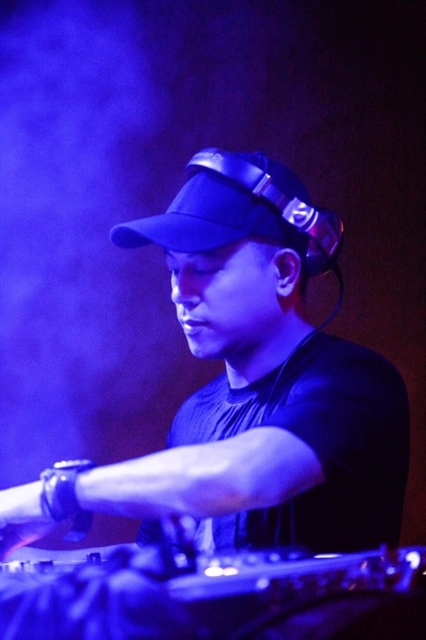 Việt Nam's top DJ Hoàng Anh will perform at a Christmas and New Year party at Arcan on December 25. Photo from the artist's Facebook page
Forty famous DJs of the Vietnamese underground music scene will perform at a party to celebrate Christmas and New Year at Arcan on December 25.
The DJs include Hoàng Anh, Kaiser T, THUC, Bảo Anh and Tiên Lê, who will play house, trance and techno music.
The event will take place from 2pm till late at 29/2H Điện Biên Phủ Street in Bình Thạnh District. Tickets at door are VNĐ500,000. 
HCM City offers free tours to disadvantaged children, adults
Ho Chi Minh City's Department of Tourism and the HCM City Tourism Association have launched a tourism programmes aiming to give free city tours to 5,000 orphans and disabled children, poor households and policy beneficiaries from 24 districts.
The programme offers different routes to adults and children, giving them chances to visit cultural, historical and entertainment sites of the city such as Cu Chi Tunnel, Mot Thoang Vietnam (A glimpse of Vietnam) tourist area, Saigon Zoo and Botanical Gardens, shopping malls, Vietnam History Museum, and Dam Sen Cultural Park.
The programme, which will last until February 5, 2021, aims to support and encouraged the beneficiaries to rise from difficulties, said Director of the Department of Tourism, Nguyen Thi Anh Hoa.
This is also a chance for donors to give practical assistance to the needy, she said.
The programme is part of a tourism stimulation scheme of the city, promoting its image as a safe, friendly and attractive destination, Hoa added./.
Strong cold spell expected ahead of New Year holiday
People in northern Vietnam will brace themselves for a very strong cold spell which is currently moving southward and is forecast to strike the region on December 29.

Temperatures are expected to drop sharply in Sa Pa tourist resort, northern Vietnam, in the coming days as the strongest cold spell of the year hits the region. 
Temperatures are anticipated to fall sharply to between 12 and 15 degrees Celsius on average in the plain and between 3 and 5 in the mountainous region.
Several places will even see temperatures to drop to below zero during the height of the spell. The freezing temperature is expected in mountain peaks.
The strong cold spell will likely cause the temperature to nosedive to below 10 in Hanoi capital alone.
The spell, the coldest this year, is forecast to last four days, according to the national weather forecast authority.
The northern region is getting warmer these days with temperatures rising to 23 and 25 degrees before the cold spell arrives.
Education sector increases supervision at foreign language centers, preschools
The Department of Education and Training in Ho Chi Minh City ordered to increase supervision at private foreign language centers preschools issuing strict punishment on violators. 

In direction yesterday, Department Director Le Hong Son required to supervise foreign language centers, training centers and daily nurseries which operate after official working hours. These establishments violating the regulations including unlicensed facilities will receive harsh penalties.
The Director ordered school managers to learn experience from the past happenings and listen to parents' opinions. Additionally, school managers should publicize all problems and issues relating to collections and spending to teaching staff.
Besides, teachers should understand students' psychologies to have correct solutions.
Regarding supervision at private schools, related education divisions have not paid enough attention to these facilities resulting in illegal activities affecting to learners' rights.
Therefore, the Department Director directed managers to strictly follow all guidelines and directions to implement it carefully for better management as well as creating good working environment in schools.
Moreover, school managers should raise teachers' awareness of using social network.
According to the Department of Education and Training, schools have carried out curriculum strictly and Covid-19 prevention during the academic year 2020 – 2021. The Department highly valued online teaching and learning during Covid-19 pandemic.
In the next time, the education sector will focus on implementation of digital transformation as well as application of IT in teaching and learning and managing records of students and teachers.
Furthermore, educational facilities should take proactive measures to revise condition for the new education program as well as have plan for training teachers for the new textbooks for the academic 2021 - 2022.
US Embassy kicks off "Clean Environment – Green Planet" project
The US Embassy in Hanoi, in collaboration with local NGO Arts Build Communities (ABC), has launched a  project to paint the outside wall of the American Club to mark the 25th anniversary of US.-Vietnam diplomatic relations.

With the theme "Clean Environment – Green Planet," this project will be completed by January 15, 2021.
The environment-focused mural was jointly designed by Vietnamese-American artist Christine Nguyen and four Vietnamese female artists led by artist Ta Thu Huong of ABC.  Covering an area of approximately 100 square meters, the mural seeks to raise awareness about the importance of protecting the environment by featuring vividly painted fauna and flora.
At the launch event, Counselor for Public Affairs Pam DeVolder stated that despite logistical difficulties brought on by the COVID-19 pandemic, "American and Vietnamese artists collaborated virtually to finalize the design and successfully bring the project to fruition." 
She also said that the mural is another concrete example of the US' steadfast resolve to work with Vietnam in raising awareness about the need to protect the environment.  Raising awareness is also part of a broader US strategy to combat illegal wildlife crime in Vietnam. 
Through our International Narcotics and Law Enforcement (INL) Program, and USAID, the US provides more than US$30 million each year to reduce consumer demand, strengthen wildlife law enforcement and prosecution, and improve the legal framework for combating wildlife crime, noted am DeVolder.
Pam DeVolder also joined Vietnamese artists and members of the Young Southeast Asian Leaders Initiative (YSEALI) in painting the mural project's first strokes. Against the backdrop of the 25th anniversary of US-Vietnam relations, this joint project serves to highlight the deepening US-Vietnam partnership and the ever-expanding people-to-people ties that exist between the US and Vietnam.
Huge capital needed to fully develop HCMC's Eastern innovative urban area
 
The Ho Chi Minh City (HCMC) Department of Planning and Architecture has just submitted to HCMC People's Committee a proposal for the project 'Forming and Developing the Eastern highly interactive, innovative urban area in the period 2020-2025'. This area is where the to-be Thu Duc City is located. The project estimates the necessary state budget for infrastructure, economic, and social growth, reaching US$1.8 billion.
The proposed planning for the Eastern interactive innovative urban area of HCMC. (Photo: SGGP)
The Eastern highly interactive, innovative urban area of HCMC, or the upcoming Thu Duc City, consists of Districts 2, 9, and Thu Duc, with a total surface area of over 211km2 and accommodating more than 1 million residents.
The existing advantages of this golden area lie in its prime location – the center of the Southeast are, having synchronous traffic infrastructure to link with neighboring areas for stable economic growth, such as Metro Route No.1 from Suoi Tien in District 9 to Ben Thanh in District 1 (coming into operation from 2021), Ring Road No.3 from My Phuoc – Tan Van – Nhon Trach, HCMC-Long Thanh-Dau Giay Express Way, National Road No.1A, National Road No.1K, several water routes from Saigon River to Dong Nai River.
All of them has enabled this innovative urban area to develop the logistics industry via multi-channel linking methods.
The area's startup ecosystem has been formed successfully, with the participation of many startup supporting centers, international as well as domestic investment funds. Among them, Saigon Hi-tech Park (SHTP) in District 9 and Vietnam National University – HCMC (VNU-HCMC) in Thu Duc District are playing the leading role in boosting startup activities here, making the area the largest startup center nationwide.
SHTP now accommodates more than 10 major prestigious hi-tech corporations like Intel, Nidec, Jabil, Sonion, Sanofi, Nanogen, FPT, Nipro, Datalogic, and Samsung. They all have high research and development value. Meanwhile, VNU-HCMC sites 12 modern member universities, attracting a large number of talented scientists and closely linking to others in neighboring provinces of Binh Duong, Binh Phuoc, Ba Ria – Vung Tau.
One notable component of the Eastern highly interactive, innovative urban area is the establishment of Thu Thiem new urban area in District 2. The land there is ready for large-scaled investments to create international financial centers, trading zones, and high quality residential areas.
In addition, Rach Chiec Sports and Fitness Center, Thuong Tho Port area, and Tam Da area in District 9 are all identified as a part of this innovative urban area.
All of the above infrastructure will help to make Thu Duc City a level-1 urban area inside HCMC. This city will become a key economic zone of the South, experiencing the complete digital transformation process. It is supposed to be a smart city, to attract high-skilled human resources for economic, cultural, and social growth, while still being able to protect the environment.
The upcoming Thu Duc City is expected to have 1.5 million residents in 2030, increasing gradually to 1.9 million and 3 million in 2040 and 2060 respectively.
Therefore, urban planning should be prepared accordingly. Public transport should answer around 50-60 percent of the community's travelling demand in 2040, and the capacity of urban flooding prevention should reach 80 percent (only one serious flooding per 5 years).
10% of this Eastern urban area will be public parks and common open space, 30 percent of which will be regulating reservoir. 20 percent of the total planning surface area is saved for natural cover to allow water infiltration.
In its strategy to establish the Eastern innovative urban area, HCMC has proposed various solutions regarding administration, planning, education, R&D, business ecosystem forming, land and urban property management, investment attraction, infrastructure development, and digital transformation process.
As to administration, the city identifies the management apparatus for the mentioned project, who can continuously monitor it without being interrupted by changes of terms. This is the key factor in the period from 2020-2025 to decide the success of the project. These leaders will be the people to implement reform solutions in investment, construction, land use, and finance.
HCMC is seriously and scientifically preparing policies for the aspects of land collecting and land resource forming; investment and development; project and land use bidding; capital attraction for public infrastructure construction via urban bonds; incentives for key businesses.
The municipal authorities have decided on the 3 development stages for the new Eastern highly interactive innovative urban area. The initial one is from 2020-2022, then the growing one from 2023-2030, and lastly the perfecting one from 2030-2040.
In the first stage, HCMC is focusing on creating a strategic development frame, a stable mechanism-organization; identifying prioritized industry group; establishing a connection among the local authorities – investors – educators; and forming traffic links to neighboring areas.
It is estimated that in this stage, there will be 20,000 job openings for bachelors and engineers, followed by 50,000 and 150,000 more in the second and third ones.
In order to fulfill the above goals, there is a great capital need among state units, coming to VND41,660 billion (approx. US$1.8 billion), including VND30,000 billion ($1.3 billion) on traffic facilities, VND6,400 billion ($277 million) on urban flooding prevention, VND4,400 billion ($190 million) on digital transformation, and over VND288 billion ($12.4 million) on preparing new practical policies.
Youth encouraged to say No to tobacco, e-cigarettes
A communication campaign was launched on December 26 in an effort to raise awareness among young people in Vietnam about the harmful effects of consuming tobacco and e-cigarettes.

The event was jointly held by the Ho Chi Minh Communist Youth Union Central Committee (HCYU), the Vietnam Tobacco Control Fund, and the Global Public Health Organization, with the campaign being named Vital Strategies.
The start of the drive can be considered of great significance in the context of tobacco corporations accelerating the consumption of new tobacco products, including e-cigarettes and heated tobacco products (HTPs) that specifically target adolescents.
Addressing the event, Nguyen Binh Minh, Chief Administrative Officer of the HCYU, emphasised that the campaign equips local youths with knowledge about the harmful effects of cigarettes and helps to build a healthy lifestyle with a smoke-free environment.
Dr. Luong Ngoc Khue, head of the Department of Medical Examination and Treatment under the Ministry of Health, highlighted the crucial role and joint efforts of the youth in disseminating information relating to the harmful effects of consuming traditional cigarettes and e-cigarettes.
At the event's launching ceremony, approximately 1,000 students signed up to the campaign of "Vietnamese youth say no to cigarettes and e-cigarettes". Many did this by scanning a QR code with a link to the website vn0khoithuoc, the official website of the campaign.
Hanoi Brass Band & Friends to perform at JF Garage Concert
Hanoi Brass Band will perform during the 23rd JF Garage Concert on Friday, December 25. Photo Japan Foundation Centre for Cultural Exchange
The Hanoi Brass Band & Friends will take to the stage for the 23rd JF Garage Concert organised by the Japan Foundation Centre for Cultural Exchange on Christmas Day.
Founded in 1998 when the original members were students of the Việt Nam National Academy of Music, the group was named officially as Hanoi Brass Band with some changes of the members in 2008.
The band consists of six professional musicians from the Việt Nam National Symphony Orchestra, Military University of Culture and Arts, Brass Ensemble of Department of Public Security. They are band leader Kim Xuân Hiếu (horn), Trần Hiền (trombone), Lê Minh Chiều (tuba), Nguyễn Thanh Hải (trumpet), Phạm Văn Hiếu (trumpet), and Nghiêm Mạnh Tuấn (drums).
During tomorrow's concert, the band will perform with special guests, Nguyễn Hoàng Việt (guitar) and Bùi Anh Dũng (keyboard).
The concert starts at 8pm in the courtyard at 27 Quang Trung Street, Hà Nội.
For free tickets, register at http://bit.do/JFGarageConcert23_Ticket
JF Garage Concert is a series of concerts at the garage and courtyard of the Japan Foundation aiming to introduce the musical diversity to Hà Nội through master works by international composers and played by distinguished musicians.
Games to entertain festival goers at Bảo Sơn Paradise Park
Bảo Sơn Paradise Park will host the Dino Kingdom programme to entertain adults and children on the occasion of the New Year.
Various Jurassic-inspired activities will be held to celebrate new year such as Dino Carnaval, dancing with dinosaurs and check-in points with dinosaurs. There will also be water puppetry, folk singing, street arts, flashmobs, giant lanterns and seal performances. The site comprises a mini Old Quarter, Kids Town, safari, game zone, Dream Land studio, aquarium and several restaurants.
The programme will take place on January 1-3 at Bảo Sơn Paradise Park, Lê Trọng Tấn Road, Hoài Đức District, 17km from Hà Nội's centre. VNS
"Ghen Co Vy" song wins first prize at propaganda awards on COVID-19 prevention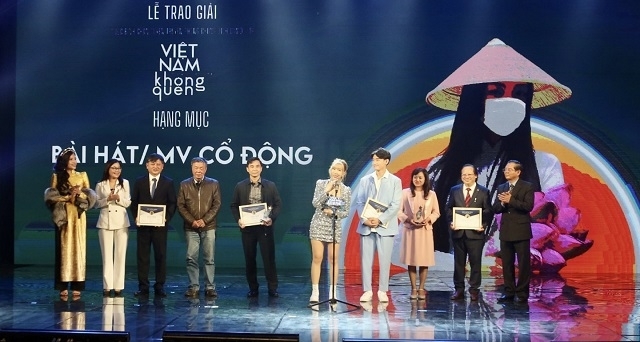 First prize winners of the song/music video category of the propaganda awards. 


The catchy hand-washing song "Ghen Co Vy", which has achieved fame in many countries around the world, won first prize in the song/music video category at the propaganda awards on COVID-19 prevention and control.
The conclusion ceremony for the awards entitled "Vietnam - unforgettable days" was held in Hanoi on December 25, featuring the attendance of Politburo member and Secretary of the Hanoi Municipal Party Committee Vuong Dinh Hue.
The "impressive initiative" prizes went to a research group led by Associate Professor Phan Trung Nghia from the Institute of Chemical Engineering under the Hanoi University of Technology for their "positive pressure stretcher" and to fourth-grader Pham Thi Hoai An from Nguyen Thi Minh Khai Primary School in Dak R'La Commune, Dak Mil District, Dak Nong Province, for her initiative of Doreamon-shaped hand washing machines with music.
The "impressive action" was presented to models including the zero VND supermarket by Apec Group and a convoy of pickup trucks transporting goods in COVID-19 prevention for free by Vietnam Terrain Pickup Truck Club.
Tran Dai Nghia's work "Joining hands to fight COVID-19" received the first prize in the propaganda painting/photo category.
The song "Ghen Co Vy", which was composed by musician Khac Hung, choreographed by Quang Dang and performed by Min, has become a favourite around the world.
Launched on November 3, the awards received hundreds of submissions through various channels such as fanpages, Facebook, emails and posts.
Over VND41 trillion needed to develop Thu Duc City in first five years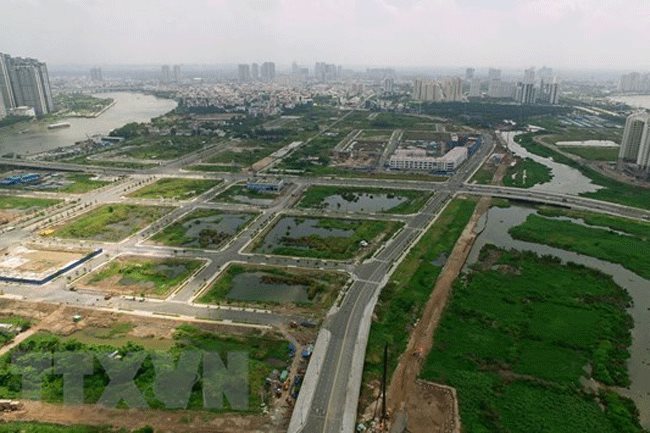 The Thu Thiem New Urban Area project in District 2, part of Thu Duc City that will come into existence on March 1, 2021. VND41.66 trillion will be needed to develop the city in the 2020-2025 period - PHOTO: VNA


The HCMC Department of Planning and Architecture has submitted a plan to the municipal government to develop Thu Duc City in the 2020-2025 period at an estimated cost of VND41.66 trillion (US$1.8 billion).
The capital is expected to be sourced from the city's budget, loans and bond issuance, Tuoi Tre Online newspaper reported.
Of the total, VND30 trillion will be used for traffic infrastructure, VND6.4 trillion for flood control and VND4.4 trillion for digital transformation.
The capital needed in the next periods will be calculated later to match with the city's performance in the 2020-2025 period and objectives in the next periods.
According to the Department of Planning and Architecture's plan, in the first five years, Thu Duc City is expected to see its gross domestic product growth double, have 500,000 square meters of grade-A offices and 20,000 jobs requiring bachelor and engineering degree holders and increase the floor area of educational facilities by 50%.
Under the plan, the development of Thu Duc City is divided into three phases. In the first phase, from 2020 to 2022, management agencies will be established, while special mechanisms, cooperation policies and land use plans will be worked out.
The first phase will need 100 hectares of land, mainly focusing on the Saigon Hi-Tech Park, the Thu Thiem New Urban Area and the Vietnam National University HCMC.
In the second phase, from 2023 to 2030, an additional 500 hectares of land will be needed. Of the total, 150 hectares will be used to develop an innovative industrial park.
The city will invest in all economic sectors, boost the development of priority sectors and build development policies for the eastern region and adjacent areas in the third phase, from 2030 to 2040.
Lam Dong sees more local tourist arrivals than before Covid-19
While the number of travelers to many localities in Vietnam is dropping due to the impact of the coronavirus pandemic, Lam Dong Province is seeing a rise in local tourist arrivals this month compared with before the pandemic.
Statistics from the provincial Department of Culture, Sports and Tourism indicated that in December, the number of tourists to the province, locals and foreigners alike, is estimated at 742,000, down 4.1% year-on-year, with international tourist arrivals estimated at 5,000, plunging by 93.4% year-on-year.
Bucking the downward trend, the number of local tourist arrivals to the province is estimated to rise by 5.6%, against the figure seen during the same period last year, at 737,000, with tourists staying overnight estimated at 450,000, up 9.8%.
This year, after the coronavirus outbreaks, the number of visitors to Dalat City of Lam Dong Province increased. Many hotels in the city have announced that they are fully booked during the upcoming New Year holiday.
Due to a drop in the number of tourists to Lam Dong Province a few months ago, the total tourist arrivals in the province this year will amount to an estimated four million, dipping by 44.1% year-on-year.
The number of international visitors is estimated to plummet by 77.5% at 120,000, while the province will see a year-on-year fall of 41.5% in local tourist arrivals.
The provincial department is mapping out a bunch of plans to improve tourism products and attract more tourists in the coming months.
In early 2021, the department will cooperate with Lien Minh Group to hold the "Flying with Dalat – Tourism Paradise" festival.
Trung Luong-My Thuan Expy project opened to traffic 
The first phase of the Trung Luong-My Thuan Expressway project, which was developed under the build-operate-transfer contract by BOT Trung Luong-My Thuan JSC, was opened to traffic on December 28.
Vehicles were allowed to travel on one side of the road on Sunday, December 27, which were en route from Trung Luong to My Thuan.
The 51-kilometer-long road, which connects the HCMC-Trung Luong Expressway and the My Thuan 2 Bridge project, resumed construction on April 13 last year.
The project's total investment post adjustment was VND12.688 trillion, with at least VND3.4 trillion coming from the investor, nearly VND2.2 trillion from the Government and some VND6.7 trillion from bank loans.
The road in the first phase has four lanes, with each measuring 3.5 meters wide. A report of the BOT Trung Luong-My Thuan Company indicated that 73% of the project had been completed as of this November.
Also, by last month, over VND7.2 trillion had been disbursed for the project, with more than VND3 trillion disbursed by the investor, over VND2.3 trillion by banks and some VND1.7 trillion by the Government.
As of last month, 34 of the 36 construction packages of the project had been implemented. The remaining two, which are a toll collection station and an intelligent transportation system, will be executed based on the progress of the project.
Some 10,000 children suffer from malnutrition in disaster-hit provinces: UNICEF
An estimated 10,000 children under five years of age in Vietnam's central provinces affected by the recent storms and floods are suffering from acute malnutrition and their situation could further deteriorate due to the negative impacts of the Covid-19 pandemic and healthcare service disruptions, according to the United Nations International Children's Emergency Fund (UNICEF).
As much as 10 tons of ready-to-use therapeutic food has been distributed to commune health centers through coordination between the UNICEF, the National Institute of Nutrition and other partners. More nutrition supplies are arriving to treat over 4,000 acutely malnourished children for the next three months.
"There's no time to lose to get therapeutic food to the frontline healthcare workers in communes to treat children suffering from malnutrition," said Rana Flowers, UNICEF representative to Vietnam.
"These acutely malnourished children cannot wait. With the downturn caused by Covid-19, many families in this region were already struggling to provide three nutritious meals a day, and the flooding has dramatically compounded their situation," she added.
To help address the devastating flood emergency in central Vietnam, UNICEF is providing life-saving relief to vulnerable children and women from the affected areas. The fund has ordered a total of 60 tons of food to be shipped to Vietnam in the coming weeks from its Supply Division in Copenhagen.
The food meets international standards and is in the form of a soft biscuit that provides all the energy and micro-nutrients required for the treatment of severe acute malnutrition. The most severely malnourished children will be prioritized, ensuring that they get immediate benefits.
According to Rana Flowers, children have been among the most affected by the recent natural disasters and the pandemic. "UNICEF is working with partners to bring emergency relief to the affected children and women in central Vietnam, prioritizing access to clean water, sanitation facilities, healthcare, nutrition, education, psycho-social support and child protection," she said.
Up to now, UNICEF has mobilized US$2.6 million from the governments of Australia and New Zealand, the United Nations' Central Emergency Response Fund and other supporters in multiple countries to address the urgent needs of the most vulnerable children, their families and communities in the most affected provinces.
Da Nang detects four Chinese nationals illegally entering Vietnam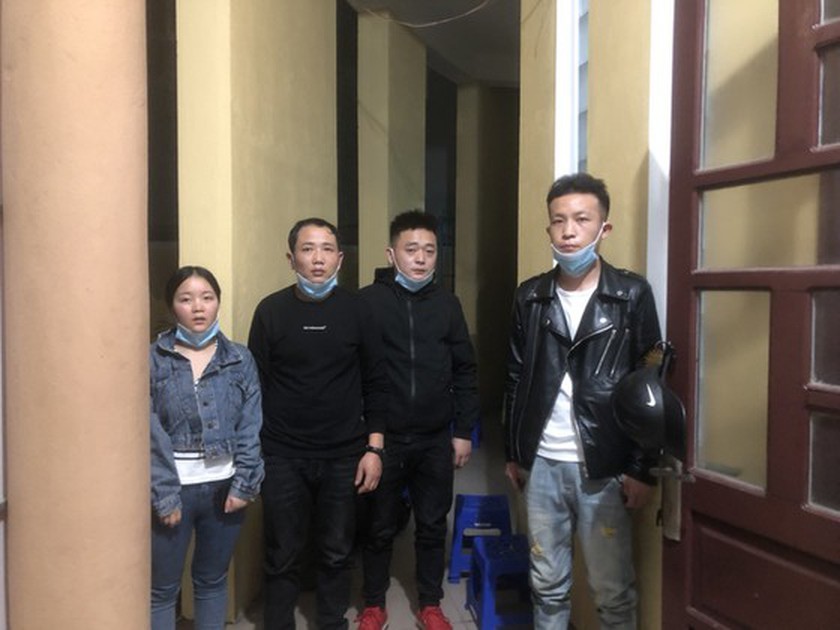 Four Chinese people  have been found illegally enter Vietnam in Da Nang City 
The police force in the Central city of Da Nang found four Chinese illegally entering Vietnam while they were on a car to travel to Ho Chi Minh City on the morning of December 27. 
According to initial information, at dawn of the same day, while going on patrol, the working group at Hoa Hiep Entrance Station discovered a 7-seater car with the registration plate 17A - 178.43 with suspicious signs, so they requested it to stop. The car had just exited from the Hai Van tunnel.
Police officers checked the car and found six people sitting inside including four Chinese nationals (including 3 men and 1 woman) without legal entry papers to Vietnam.
Besides, there were a 31 year old Vietnamese man and a 29-year-old Vietnamese driver from Thai Binh Province.
The driver admitted to have picked up the above Chinese people from Hanoi to transport them to Ho Chi Minh City for VND20 million (US$859).
Initially, the working group wrote a record of violations against the driver regarding passenger transport regulations.
At the same time, the team handed over these Chinese nationals and the car to the police in Hoa Hiep Bac Ward, Lien Chieu District to investigate and handle in accordance with their competence and implement measures to prevent and control Covid-19 as prescribed.
MoT studies conversion of reduced-fee license plates for old business vehicles
The Ministry of Transport (MoT) has just had a feedback official letter to Ho Chi Minh City electorates' proposal related to guidance and assistance of converting license plates for old transport business vehicles. 
According to the proposal, the change of license plates for transport business vehicles would make management of vehicles unified, transparent and equal and ensure fair competition among means of transport business.
However, HCMC electorates suggested that the State should provide guidance, assist or free conversion for old means of transport.
The Ministry of Transport said that the content of this proposal related to the management of the Ministry of Public Security and the Ministry of Finance. Currently, the Ministry of Finance sent an official letter to the Ministry of Public Security to study reduced-fee license plates for the conversion. 
The Ministry of Public Security will collect comments from relevant ministries and agencies to propose amendments of Circular No. 229 on the rate, collection, submission and management of the charges for registration and license plate. 
The Ministry of Finance will base the proposal to consider amending the above circular with more specific instructions and support for the conversion of license plates for old vehicles of the enterprises.
Provinces tighten border controls after Covid-19 patient illegally enters VN
Tay Ninh Province, nearly 100km to the north-west of Ho Chi Minh City, has been entirely sealed its borders with Cambodia after one new case of Covid-19 who illegally entered Vietnam from the province. 
The Provincial Police Department of Tay Ninh has coordinated with the forces of border guard and health have implemented measures to tightly control sources of infection, people entering the province and places in high risk of infection and ensure epidemic prevention in the border gate area, said Chairman of the provincial People's Committee, Nguyen Thanh Ngoc on December 26.
Tay Ninh has currently 29 watch points, 16 border-guard stations and 123 mission teams for inspecting and controlling Covid-19 prevention task in 24 hours in areas in the province.
In addition, the People's Committee of southeastern province of Binh Phuoc has announced to prohibit events and gatherings to minimize Covid-19  exposure and reduce the risks of local transmission.
The Provincial Border Guard headquarter has kept the operation of 62 stations for Covid-19 prevention and control and 11 mobile Covid-19 control stations during 24 hours.
On the same day, Mekong Delta provinces of An Giang, Kien Giang and Dong Thap which share the borders with Cambodia; northern central coastal provinces of Quang Binh and Quang Tri bordering Laos have simultaneously tightened control over any human movements through the borders and set up more Covid-19 monitoring and control stations amid the evolving Covid-19 pandemic, aiming at ensuring that there are not any illegal entry of a person into the country.
The new case of Covid-19 who is the 1,440th patient is a 32-year-old Vietnamese citizen. He returned his home in Vinh Long Province's Mang Thit District by passing through several localities. He traveled from Myanmar to Thailand by truck, illegally entered in Vietnam via a border in Tay Ninh Province. He was tested positive for Covid-19  on December 25 and was sent to a quarantine area, according to Chairman of the People's Committee of Vinh Long Province.
Thu Duc City not to charge fees of altering personal documents
More than one million residents will not be charged for changing and altering personal documents when Thu Duc City is established.
According to the press release sent by the city Party Committee, People Council,  People's Committee and Committee of Vietnam Fatherland Front on December 27, types of required identification documents which are still valid after they were issued by the old administrative units will continue to be able to use.
As planned, an announcement ceremony of the resolution No. 1111/NQ-UBTVQH14 on arranging administrative units at district and commune levels in the 2019-2021 period and establishing Thu Duc City along with the launch of 5G service in the new city will be broadcast live at the People's Committee Head Office of District 2 on December 31.
After establishment, the 'city within city' is expected to donate one-third of the city's GRDP and contribute 7 percent of the country's GDP.
Thu Duc City will be established on the basis of merging three eastern districts of Thu Duc, 2 and 9 with 34 wards, spread over more than 211 sq.km and be home to more than 1 million people.
An Khanh and Thu Thiem wards will be combined into Thu Thiem ward covering on an area of 3.25 km2, having a population of 428. The new Thu Thiem ward will border An Khanh and An Loi wards in District 2 and Districts Binh Thanh, 1 and 4.
Binh Khanh and Binh An wards will be merged into An Khanh ward with the area of 3.92 km2 and 23, 154 residents, locating near wards of An Loi Dong, An Phu, Binh Trung Tay, Thao Dien, Thanh My Loi and Thu Thiem in District 2 and District 7 and Binh Thanh District.
The Standing Committee of the National Assembly has also decided to dissolve the people's courts and people's procuracies of Thu Duc District, districts 2 and 9, and establish the two new units for Thu Duc City.
When the resolution No.1111 comes into effect on January 1, 2021, HCMC will have 22 districts, a reduction of two districts, including 16 inner districts, 5 suburban districts and one city.
Additionally, newly-established administrative units must complete the organizational arrangement within 60 days since the resolution takes effect to ensure the stability and no influence on residents and enterprises' activities.
Functional departments in the city have been asked to instruct individuals and organizations to change personal documents and implement administrative procedures. 
Vietnam to speed up 5G commercialization
 
The 5G technology has become the most sought after to mobile network providers as well as smart device owners. In Vietnam, the three major carriers, namely Viettel, VinaPhone, and MobiFone, have all initiated the process to commercialize 5G-related services.

Statistics from Vietnam Telecommunications Authority (VNTA) reveal that the revenues of mobile services in 2020 are mostly based on traditional ones, especially SMS. This service accounts for 52.56 percent of the total earnings, and has shown signals of saturation.
Meanwhile, the income from data services only occupies 35.17 percent of the total, compared to the global average one at 43 percent.
Therefore, in 2021, VNTA is going to support telecoms businesses to speed up their 5G commercialization process and to expand 5G and broadband hardware construction to each family in the country.
The program to switch from old version smartphones (running 2G/3G technologies) to newer versions that support 4G/5G technologies will also be carried out nationwide, via practical solutions like promoting low-priced 4G smartphone manufacturing and forcing the integration of 4G onto a smartphone.
Nearly 2,300 Vietnamese nationals brought home over last week
Viet Nam repatriated 2,280 citizens from Japan, the Republic of Korea, the U.S., the United Kingdom, Israel, Oman, Australia, New Zealand and Russia from December 21-27, according to the Ministry of Foreign Affairs.
As many as seven flights carrying 2,280 Vietnamese citizens from four continents land in Viet Nam from December 21-27, 2020.
The passengers included children under 18 years old, the elderly, the sick, stranded tourists, students who completed their courses and could not have their visas extended, businessmen, intellectuals and other disadvantaged cases. 
Precautious measures were implemented during these flights to prevent transmission of Covid-19.
Right after landing at local airports, all the passengers received check-ups and were sent to concentrated quarantine sites in line with current regulations on Covid-19 responses.
Since April 24, Viet Nam has arranged 235 "rescue" flights to repatriate 64,912 citizens stranded abroad due to Covid-19.
The repatriation of Vietnamese citizens in disadvantaged circumstances abroad will continue to be conducted in line with their wishes, the developments of the COVID-19 pandemic, and quarantine capacity in Viet Nam.
As of 6:05 pm on December 27, Viet Nam recorded a total of 1,441 cases of Covid-19, of whom 693 were local infections, according to the National Steering Committee for Covid-19 Prevention and Control.
The number of deaths still remained at 35. As many as 1,303 patients have recovered from the disease./.
More expressways in south to be built over next 10 years
A major roadway plan proposes an additional 1,000 kilometres of expressways to be built over the next 10 years in the southern region, including the Mekong Delta.
The expressway projects, which are part of the national road network draft plan for the 2021-2030 period with a vision to 2050, were discussed at a workshop held in Can Tho City in the delta recently.
Under the draft plan, the south would have an additional 670km of expressways by 2025 and 300km by 2030.
Of the figure, the delta would include the 150km Can Tho - Ca Mau, 100km Ha Tien - Rach Gia - Bac Lieu and 64km Chau Doc - Can Tho - Soc Trang expressways.
Speaking at the workshop, Deputy Minister of Transport Le Dinh Tho said the draft plan was basically completed and that localities should contribute more ideas for development of the southern region, not just for one locality.
"The scale and quality of the transport network in the delta are still low compared to other regions, so there should be solutions to remove these bottlenecks soon," he said.
In the 2010-2020 period, about 1,757km of expressways and 6,000km of national highways were completed and opened for traffic across the country.
Of that figure, the Mekong Delta has only 117km of expressways, including the 61.9km HCM City - Trung Luong Expressway operating since 2010, and the 55.1km Trung Luong - My Thuan Expressway under construction.
He said that road surfaces in the Delta should be upgraded and traffic-safety management systems improved. Investment in radial axes connected with national highways is also needed.
The priority should be given to building an axis road linking HCM City with the delta, he said.
A representative of Transport Engineering Design Inc (TEDI), the consultant for the plan, said the plan focused on developing expressway systems by 2030.
The north, central, Central Highlands, southeast and Mekong Delta regions would have 5,414km of expressways in the next 10 years and 8,240km by 2050.
Of the figure, there would be 10 expressways with a total length of 1,258km in the south, and two belt roads in HCM City with a length of 304km.
In addition, 1.969km of 14 primary highways and 3,453km of 25 secondary highways would be developed in the south.
TEDI said the plan would create linkages between regions, industrial zones, urban areas and key economic regions, and use different means of transport.
The plan would help to upgrade highway systems, ensure safety of traffic infrastructure, and handle traffic 'black spots' on national and provincial highways.
Ngo Thinh Duc, Chairman of the Vietnam Association of Bridge and Road Science and Technology, said many planned expressways in the south had yet to start construction.
By 2030, the expressway system must extend to the southernmost province of Ca Mau, he said.
The Dai Ngai Bridge project should be completed by 2025. It is located on National Highway No 60 and is a vital link between the highway and other roads of the southern coastal corridor.
Its construction began in late 2015, but was later delayed due to a shortage of capital.
The bridge, which will reduce traffic pressure on National Highway No 1A, will shorten the travel distance by 70 km between HCM City and the provinces of Tra Vinh, Soc Trang, Bac Lieu and Ca Mau./.
Source: VNA/VNN/VNS/SGGP/VOV/NDO/Dtinews/SGT/VIR