Prime Minister Pham Minh Chinh received Liu Ning, Secretary of the Party Committee and Chairman of the Standing Committee of the People's Congress of China's Guangxi Zhuang Autonomous Region, in Hanoi on March 31.
In the atmosphere of friendship, sincerity and trust, both host and guest acknowledged positive developments in the relationship between the two Parties and countries, especially since the official visit to China by Vietnamese Party General Secretary Nguyen Phu Trong from October 30 to November 1, 2022.
The visit has created a strong impetus for the traditional friendship between the two Parties, and the comprehensive strategic cooperative partnership, and ties between agencies at all levels, sectors and localities of the two countries to continue to develop in an intensive and extensive manner.
Prime Minister Pham Minh Chinh emphasised that in Vietnam's overall foreign policy, the comprehensive strategic cooperative partnership between Vietnam and China always holds an important position.
The two sides need to continue to thoroughly grasp and concretise the common perceptions reached by Party General Secretary Nguyen Phu Trong and Party General Secretary and President of China Xi Jinping on bringing Vietnam-China relations into a new stage of development, he said.
Congratulating Guangxi on its socio-economic development achievements, the Vietnamese Government leader affirmed that generations of Vietnamese people always remember and appreciate Guangxi's great support and assistance to the Vietnamese people in the process of national liberation and development.
The PM thanked Guangxi for respecting and preserving the relic site relating to President Ho Chi Minh's revolutionary activities in the locality.
The PM said he wishes Guangxi and Vietnamese localities will well perform tasks, such as promoting effectively existing cooperation mechanisms, maintaining regular contacts, boosting people-to-people exchange; enhancing the sharing of information on situation, policies, experience in economic development, social management, especially in areas that Guangxi is strong in such as urbanisation and pilot free trade area building.
The two sides should strengthen transport connectivity, multimodal logistics between Guangxi and Vietnam; and study a pilot model of smart border gate. He also urged Guangxi to facilitate the export of Vietnamese goods, especially agricultural products, to China and hasten competent Chinese agencies to raise quota for Vietnamese goods in transit to a third country by China's railway.
Vietnam welcomes Guangxi businesses to increase investments in Vietnam, especially in infrastructure development and transport connectivity projects, he said, adding the two sides should boost cooperation in healthcare, education, culture, tourism, digital economy and green economy.
He said both sides continue to closely coordinate in border management and protection in line with three legal documents on land border between Vietnam and China and related agreements, and step up the prevention of cross-border crime and jointly build the two countries' border line of peace and stability.
For his part, Secretary Liu affirmed that the Party organisation, administration, and people of Guangxi will properly carry out the common perceptions reached between leaders of the two Parties and the two countries, expand and intensify friendship exchanges with Vietnamese localities, and boost connectivity in terms of road, rail, and sea transport on par with bilateral economic and trade ties.
The Chinese locality will carry out the cooperation in trading electricity, improve the customs clearance performance for the pilot "smart border gate" model, implement seaport cooperation, and strengthen ties in fighting cross-border crimes, thereby helping to substantively develop the two countries' comprehensive strategic cooperative partnership to generate practical benefits for localities and people of both sides, he added.
Heritage journey photo contest kicks off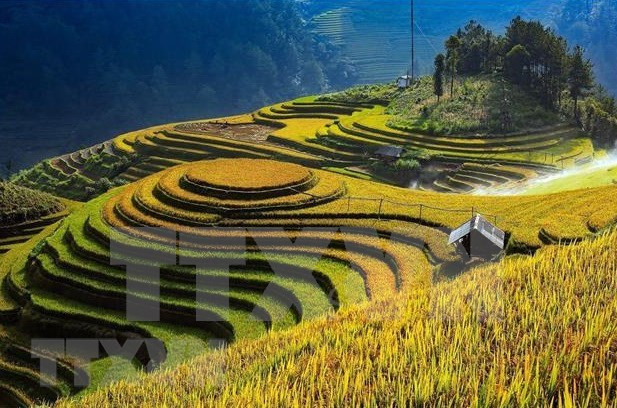 The contest contributes to promoting the beauty of the land and people of Vietnam to the world. - Illustrative image (Photo: VNA)
The Vietnam Association of Photographic Artists (VAPA) and the Heritage Magazine launched the "Heritage Journey" photography contest 2023 on March 30.

The annual contest, initiated by the Vietnam Heritage Magazine in 2013, has contributed to promoting the beauty of the land and people of Vietnam to the world, particularly its internationally-recognized heritages.

The competition is available from April 1 – July 31 for professional photographers living in Vietnam and abroad. Contestants can submit their entries in three categories, including photo series (8-14 photos), cover photo and single photo to email heritagevna@gmail.com.

The photos must not be previously published on the media or have taken part in any other photo competition. They must be captured within the last two years.
Organisers will present a total of 16 awards worth over 250 million VND for all three categories, and 26 award tickets which can be used in the international and domestic air network of Vietnam Airlines.

The award ceremony is slated for the end of September this year, featuring an exhibition of winning photos.
Kien Giang fights IUU fishing
The Mekong Delta province of Kien Giang has intensified concerted measures to fight illegal, unreported and unregulated (IUU) fishing, as the fourth working session with the European Commission's inspection team is nearing.
Vice Chairman of the provincial People's Committee Le Quoc Anh said the province has investigated and punished all fishing vessels that were arrested abroad and violated IUU. All information have also been publicised on the mass media.
The locality also launched crackdowns on violating vessels and those lacking the global positioning system (GPS), he said.
According to the provincial Department of Agriculture and Rural Development, the total number of the fishing vessels with a length of 15m or more that are required to install GPS tracking devices is 3,691. So far, 3,624 vessels, or 98.2%, have installed these devices.
An inspection team of the EC is scheduled to return to Vietnam in April to examine Vietnam's anti-IUU fishing moves. The country is striving to have the EC's "yellow card" warning against this issue removed right in 2023, which depends much on fishermen's cooperation.
A single fishing vessel infringing foreign waters will be enough to ruin efforts to persuade the EC to lift the "yellow card", said a letter issued by the provincial Party Committee and People's Committee to locals calling for support to the fight.
The letter particularly targets fishing vessel owners, executives of fishing, seafood purchasing and processing companies, captains, and fishermen in the Mekong Delta province.
The targeted groups are urged to promptly carry out the Government's 180-day action plan against IUU fishing, implement the EC's recommendations, and not to take fishing vessels to foreign waters for fishing.
Miss World Vietnam 2023 starts
The kicked-off ceremony of the 2023 Miss World Vietnam beauty contest was held in HCMC on March 29.
Before its official launch, the beauty contest's organization board organized a number of promotional activities across the country. Exchanges between the organizers and audiences are scheduled to be held at universities in four major cities in the coming days, announced the organizers at the launching ceremony.
The short-list rounds will take place in May and the final round will be held in June and July.
The Miss World Vietnam beauty contest was held for the first time in 2019, aiming at looking for a Vietnamese representative for the Miss World beauty pageant. Women aged 18 to 27 who are at least 1.65m tall and have had no cosmetic surgery are eligible to enter the contest. Participation is limited to unmarried women who have never given birth or parented a child.
Huynh Nguyen Mai Phuong was crowned Miss World Vietnam 2022. The first and second runner-ups were Le Nguyen Bao Ngoc and Nguyen Phuong Nhi.
Former Haiphong police chief expelled from Party
The Secretariat of the Party's Central Committee (PCC) expelled Do Huu Ca, former director of the Haiphong City Police Department, from the Communist Party of Vietnam at a meeting today, March 28.
The Secretariat took the same disciplinary action against Nguyen Dong, head of the Propaganda and Training Commission of Hoa Binh Province's Party Committee; Truong Minh Hien, former vice chairman of the Ha Nam Province People's Committee; and Vu Huu Song, ex-director of the Ha Nam Province Department of Natural Resources and Environment.
These four individuals violated the Party's regulations and the laws, causing very serious consequences and great losses of the State's finances and assets, as well as negatively affecting the Party's reputation.
Major General Ca, 65, has been charged with taking VND35 billion from a local businessman who asked him for help in an investigation into the illegal trading of invoices and tax documents.
Dong was prosecuted for allegedly abusing powers and positions while on duty in mid-March.
Hien and Song were charged with dereliction of duty that caused serious consequences.
SBV's former senior supervisor prosecuted
Do Thi Nhan, former chief of the Inspectorate and Supervision Department II under the State Bank of Vietnam, has been charged with involvement in the Van Thinh Phat fraud case.
Nhan was accused of abusing power while performing official duties, Major General Nguyen Van Thanh, deputy head of the Investigative Police Department for Corruption, Smuggling and Economic Crimes (C03) under the Ministry of Public Security told a press conference this afternoon, March 28.
C03 has also filed charges against four individuals from the central bank's Inspectorate and Supervision Department II.
Investigation results showed that Nhan and other inspectors had reported untruthfully to the central bank's leaders about their inspection results, leading to delayed supervision and violation handling at the Saigon Commercial Bank (SCB).
Nhan had not served as head of the Inspectorate and Supervision Department II since May 2020 when she was reassigned to a position as a member of the board of a large state-owned bank.
Currently, the police have filed charges against 32 individuals in two cases related to the Van Thinh Phat Holdings Group's alleged bond fraud.
The first four individuals prosecuted on October 7, 2022 were Truong My Lan, founder and chairwoman of Van Thinh Phat Holdings Group Corporation; Truong Hue Van, general director of Windsor Property Management Group Corporation; Nguyen Phuong Hong, an assistant at Van Thinh Phat Holdings Group Corporation; and Ho Buu Phuong, former board chairman at Tan Viet Securities Joint Stock Company and former deputy general director for finance at Van Thinh Phat Holdings Group Corporation.
Lan and the accomplices allegedly committed fraud in the issuance and trading of corporate bonds in order to appropriate thousands of billions of Vietnamese dong from investors in the 2018-2019 period.
Project helps improve pork safety in Việt Nam
Simple and low-cost interventions can reduce the level of pork contamination in traditional markets, which helps solve food safety issues, the results of a SafePork 'Market-based approaches to improving pork safety in Việt Nam' project have shown.
SafePORK (2017-2023) is a project funded by the Australian Centre for International Agricultural Research (ACIAR) and co-implemented by the International Livestock Research Institute (ILRI), the Việt Nam National University of Agriculture (VNUA), the Hà Nội University of Public Health (HUPH), National Institute of Animal Sciences (NIAS) and University of Sydney.
In the agreement between ACIAR and the Ministry of Agriculture and Rural Development of Việt Nam for 2017-2027, food safety was identified as one of six priorities.
SafePORK seeks to reduce the burden of foodborne diseases in informal, emerging and niche markets.
It developed and evaluated simple interventions for improving food safety while safeguarding livelihoods in the Việt Nam pork sector.
At the workshop, the SafePORK team shared key findings and cost-effective and practical interventions to make pork safer along the smallholder pork value chain.
The interventions targeting traditional retail were effective in reducing microbial contamination in pork.
Salmonella is a prevalent foodborne disease. Most cases are mild, but it can be severe and affect anyone. Those most at risk are children under five, elderly aged 65 and above, pregnant women, and those with health issues.
According to research team, in Việt Nam, more than 80 per cent of pork is sold in traditional markets. The sale at the market is potentially spreading risks, and concerns about food safety are increasing.
As well as the potential risk of unhygienic food due to microbial contamination, many pork products in Việt Nam contain antibiotics, even chemicals that cause more harm to health than bacteria.
The team conducted surveys with pork smallholder value chain actors.
Seven key reasons were identified as the leading cause of unsafe pork: poor hygiene, improper preservation and processing techniques, long meat transportation duration, disease, unclear pork origin, and low-quality inputs.
The research team introduced an intervention package to improve hygienic practices. The package includes separating ready-to-eat pork, raw pork and intestines; and frequently washing surfaces, equipment and vendors' hands.
An intervention package was also introduced at slaughterhouses.
This includes using stainless-steel grids to prevent carcasses from contacting the floor, frequent washing of hands and surfaces, and better separating clean and dirty zones to reduce carcass contamination further.
Sports and festivals promote tourism in central province
Around 4,000 runners will participate in the Tam Kỳ Discovery Marathon on June 24-25 along a route winding through the city and beach track of Tam Thanh village.
The race's organisers said it's the first time the city hosts a marathon with crowd participants, and the race is an event of a series of programmes promoting summer tourism in Tam Kỳ City, Tiên Phước district, Tam Thanh beach, Tam Thăng commune and destinations.
The event includes a 2km Kids Run, a 5km Fun Run, the 10km Inspire, a 21km half marathon and the 42km full marathon.
The city will also host the Dalbergia tonkinensis Prain Flower Festival on April 8-30, attracting visitors to Tam Kỳ and surrounding destinations, including the Heroic Mothers Monument, war-time Kỳ Anh Tunnel, and Bãi Sậy-Đầm River Wetland in summer vacation.
Cultural and tourism activities were organised in the ancient Lộc Yên village in Tiên Phước district on March 24-26.
Visitors can enjoy tours through the rural market in Tiên Kỳ town – a new eco-tourism site – and explore centres of aloe wood and essential oil production from the aromatic wood.
The district said the ancient Lộc Yên village, which is known for its centuries-old houses with stone pathways as well as its nature and villagers' lifestyle, will host a photo exhibition marking the 100th anniversary of Tiên Phước District, a local cuisine festival, performances and folk games.
Tiên Phước district, which was established in the central province in late 1816 during the Nguyễn dynasty under the reign of King Khải Định, still preserves dozens of old houses and the memorial house of scholar Huỳnh Thúc Kháng (1876-1947).
The district is connected with the UNESCO recognised world heritages of Hội An ancient town, Mỹ Sơn Sanctuary, Hội An-Chàm Islands World biosphere reserve in a heritage exploring tour in Quảng Nam Province.
Hà Nội's citizens trained in essential firefighting skills
As summer approaches in Hà Nội and the risk of residential fires looms large, many households are operating home-based production facilities that are still not equipped with essential fire prevention and fighting equipment such as fire extinguishers, alarms, lights, or emergency exits.
The use of electrical equipment and fire sources without proper care also increases the likelihood of fire and explosions.
To mitigate these risks and equip locals with the skills and knowledge needed to handle fires, district authorities in Hà Nội have been providing citizens with training on fire prevention and fighting.
Last weekend, police in Hàng Trống Ward, Hoàn Kiếm District, instructed residents on basic skills needed in the event of a fire or explosion and how to use common firefighting tools.
Photos of firefighters in action were also displayed for residents and tourists to understand better and share the hardships and dangers of firefighters at work.
On Monday, Hà Đông District's police trained about 2,500 members of fire prevention teams from 17 wards.
They heard about the causes of fires and explosions, such as electric shocks, gas, alcohol, and burning incense.
Based on practical lessons, the lecturers have given measures to handle fire situations and appropriate escape measures for each case.
To help listeners understand, Thạch Thất District's police coordinated with a local enterprise to organise fire prevention and a fire fighting contest for workers.
The competition included running, extinguishing simulated fires, saving lives, and using water cannons.
Many workers obtained proficient skills in extinguishing fires and saving people quickly.
Nguyễn Thị Lan Anh, a female worker, said: "Through the training, we know the 'golden time' to stamp fire is not more than five minutes after the fire breaks out."
Nguyễn Mạnh Hòa, a resident of Mộ Lao Ward, Hà Đông District, said that through training and drills, they understood the new regulations on fire prevention and fighting, were trained how to use fire-fighting equipment and how to handle fires when they occur.
Hai Bà Trưng District has established models of fire prevention and fighting in residential areas that are operating effectively, such as public fire-fighting points and rescue groups.
These models have helped raise people's awareness of fire prevention and fighting.
Hai Bà Trưng District authorities hope that each household will be equipped with at least one fire extinguisher and have at least one person trained in fire-fighting and rescue skills.
All 217 residential groups of Ba Đình District have established civil fire-fighting teams.
Deputy Chairman of Ba Đình District People's Committee Nguyễn Trung Dũng said according to preliminary statistics, the majority of fires are detected and handled by local people before they cause significant damage to life or property.
This shows that grass-roots firefighting models have proved their effectiveness by equipping people with basic skills, according to Dũng.
Hà Nội authorities identified fire prevention and fighting as important to socio-economic development.
Lê Hồng Sơn, Permanent Deputy Chairman of the city People's Committee, said it will be the responsibility of heads of the district and ward authorities if the facilities with a high risk of fire and explosion still operate.
Vietnamese restaurant named among Asia's best for 2023
Local eatery The Anan Saigon features in the list of Asia's 50 Best Restaurants for 2023, according to CNN.
The Anan Saigon is a restaurant that turns street food flavours into contemporary creations and was the only Vietnamese representative to be ranked among the top 40. Last year saw the eatery placed at 65th in the list.
The restaurant's name comes from the Vietnamese words "an an", meaning 'eat eat', and is located in Cho Cu, the oldest wet market in the centre of Ho Chi Minh City along Ton That Dam street.
Anan Saigon was originally founded by Peter Cuong Franklin, a Vietnamese-American chef who studied at Le Cordon Bleu and trained at world-famous restaurants, including Caprice in Hong Kong (China), Alinea in Chicago, and Nahm in Bangkok.
Other outstanding restaurants to make the list were Le Du of Bangkok, Sezanne of Tokyo, Nusara of Bangkok, Den of Tokyo, Gaggan Anand of Bangkok, Odette of Singapore, Florilege of Tokyo, La Cime of Osaka, Sorn of Bangkok, and Narisawa of Tokyo.
The 'Asia's 50 Best Restaurants' list was originally created by Asia's 50 Best Restaurants Academy, a group of more than 300 leaders operating in the restaurant industry throughout Asia.
This year, the list was revealed through an awards ceremony held on March 28 in Singapore.
Powerledger and Vietnam Electricity launch first blockchain peer-to-peer energy trading project
Australian energy trading technology company, Powerledger, on Tuesday announced it's partnering with Việt Nam Electricity Central Power Corporation (EVNCPC) to launch Việt Nam's first peer-to-peer (P2P) energy trading project at the Australia-Việt Nam Forum on Energy Transition.
The initial 6-month trial will see Powerledger's technology used by so-called "prosumers" with rooftop solar in Đà Nẵng and Quảng Nam provinces to sell electricity directly to consumers.
Việt Nam has become the world's tenth-largest producer of solar power, and is the biggest solar power producer in the ASEAN region.
However, the increase in renewables has created imbalances for the grid which has resulted in intermittency issues.
Powerledger says the trial is expected to demonstrate how technology can be used to reduce energy costs, improve price transparency by establishing a Local Energy Market or LEM.
This approach will in turn reduce stress and strain on the energy grid, reducing curtailment and maintenance efforts, as well as increasing the resilience of the network.
The outcomes of the trial will be shared with electricity regulators and policymakers in Việt Nam, to inform future decisions about technology-led solutions which enable greater proliferation of renewable energy.
Powerledger has more than 30 projects in 12 countries including Europe, Asia Pacific, North and South America, including some of the largest distribution and transmission utilities, businesses, energy retailers and property developers globally.
Southern Dù Kê Theatre Festival to be held in Trà Vinh
The 2023 Southern Dù Kê Theatre Festival will be held at the Cửu Long (Mekong) River Delta province of Trà Vinh next month.
Dù kê is a unique style of musical theatre created by the Khmer people in the South in the early 20th century. It originated from local farmers.
The festival, which is co-oraginsed by the Việt Nam Theatre Artists' Association and the province, aims to preserve and promote the traditional art of the Khmer.
The festival will attract 13 leading troupes in the region such as Ánh Bình Minh and Raskmây Khmer art troupes of the province, the Sóc Trăng Province Khmer Art Troupe, and the Bạc Liêu Province Khmer Art Troupe.
The artists in traditional Khmer costumes will sing, dance and stage plays based on the religions, traditional customs and culture of the Khmer, poetry based on Indian epics such as the Ramayana and the Mahabharata, and even today's social issues.
People's Artist Giang Mạnh Hà, the association's vice chairman, said, "in 2014, the Ministry of Culture, Sports and Tourism recognised dù kê as a national intangible cultural heritage. The 2023 Southern Dù Kê Art Festival is expected to boost activities to preserve and promote the art."
He added that "through the festival, we hope the public, especially young people, can discover our country's culture, learn to love and introduce traditional art to people from all around the world."
The festival will take place at Trà Vinh University in Trà Vinh City from April 1-7.
HBSO to perform classic, contemporary ballets
The HCM City Ballet Symphony Orchestra and Opera (HBSO) will bring classical and contemporary ballet by Vietnamese and international choreographers to the Opera House's stage on April 2.
The highlight of the performance will be the classic ballet Carmen Suite, created in 1967 by Cuban choreographer Alberto Alonso.
The work is based on the 19th-century opera by French composer Georges Bizet to music by Russian composer Rodion Shchedrin, depicting the tragedy of Carmen, a fiery gypsy, who falls in love with Don José.
The HBSO's performance is staged by People's Artist Kim Quy, one of the country's leading choreographers and vice president of the Việt Nam Dancing Artists' Association.
It will feature Nguyễn Thu Trang as Carmen, Hồ Phi Điệp as Don José, and dancers from HBSO's ballet department.
The show will also present French choreographer Julien Guerin's ballet Dépaysement, based on music of Chopin, Satie, Faure, Beethoven and Albioni.
The work was created for HBSO in 2016.
It describes a spiritual journey of a lonely young woman who has a dream of sharing her feelings with other people.
The performance will feature eight of HBSO's talented dancers - Đỗ Hoàng Khang Ninh, Nguyễn Thu Trang, Trần Thị Hồng Vân, La Mẫn Nhi, Thạch Hiểu Lăng, Phạm Thế Phương, Nguyễn Minh Tâm, and Meritorious Artist Đàm Đức Nhuận.
Guerin was a former dancer at the Ballets de Monte-Carlo. He has created and choreographed numerous ballets such as Le temps du Tendre (Heuristic of the feeling of love) for the Ballets de Monte-Carlo in 2021, and Dear Soaring Thoughts for the Czech National Ballet in 2020.
Vietnamese choreographer Nguyễn Phúc Hùng will bring to the stage his contemporary dance Falling Angels.
The performance aims to juxtapose the female dancer's pristine innocence and the male dancer's masculine toughness.
According to Hùng, purity itself can win over one's heart and the dance moves thus explore this virtue with the understanding that contemplation, deep attention and sophistication are required to observe what is most valuable.
The work will be performed by two dancers, Đỗ Hoàng Khang Ninh and Sùng A Lùng, who won the Gold Medal at the 2016 National Young Choreographer Talent Competition and gave the concept for the dance.
Hùng, a graduate in choreography of Fontys Dance Academy in Netherlands, is general director in charge of HBSO's programmes.
He has choreographed several contemporary dances such as Những Mảnh Ghép Của Giấc Mơ (Dream Puzzles), Chạm Tay Vào Quá Khứ (Touching the Past), Đi Qua Tình Yêu (Gone Through Love), and Lub qhov rooj (The Door).
The dance show will begin at 8pm at 7 Lam Sơn Square in District 1. Tickets are available at the venue and at www.ticketbox.vn.
Vietnamese singers launch street performance tour in Korea
A street performance programme attracting Vietnamese singers has just been launched in Gangwon-do Province of South Korea.
The programme called Xin Chào Hàn Quốc - Xin Chào Gangwon-do (Hello Korea, Hello Gangwon-do) is co-organised by the Korea Tourism Organisation (KTO) and its Vietnamese partners.
It aims to introduce Vietnamese and Korean music, along with the two countries' culture and lifestyle through its artists' performance.
The programme attracts pop idol Vũ Cát Tường, and young singers and musicians Cara, Andiez, Phúc Bồ, Lục Huy and Roy.
Korean singer Kisu and the duo HoonDoo are also featured.
Singers offer street performances in famous tourist destinations of Gangwon-do Province, including Kensington Resort Seorak and Yongpyong Ski Resort.
Their performances will be distributed on the KTO's facebook, YouTube and VieOn starting on March 26.
Tường began her career after finishing second in the Voice Vietnam contest in 2013. She has won two Dedication Awards and was included on Forbes Vietnam's 2018 30 Under 30 list, in addition to many other accolades.
She performed in the Asia Song Festival, a music event held annually in South Korea since 2004. The festival has been aired in many Asian countries and territories such as South Korea, Japan, Taiwan and Hong Kong. The participating singers are invited by South Korea's Ministry of Culture, Sports and Tourism and Chairman of the Korea Foundation for International Culture Exchange.
Tường's hits have received millions of views on YouTube, like Mơ (Dreaming) and Yêu Xa (Distant Love).
Roadshows to celebrate 50th anniversary of Việt Nam-Australia partnership
Viet Nam and Australia have great potential to expand cooperation in a range of sectors, especially agriculture and education, said Australian Ambassador to Việt Nam Andrew Goledzinowski.
The ambassador was speaking at an event on Monday in Hà Nội, which was organised to celebrate the 50th anniversary of diplomatic ties between Việt Nam and Australia.
The Australian Trade and Investment Commission (Austrade) is organising two roadshows in localities across Việt Nam, including Hà Nội, Huế, Đà Nẵng in March and HCM City, Nha Trang and Cần Thơ in September.
The roadshows will expand opportunities for Australian and Vietnamese partners in agrifood and education sectors to discuss commercial partnerships, according to Goledzinowski.
AI has important role to play in hydrometeorology: official
An official highlighted the important role of artificial intelligence (AI) in the field of hydrometeorology, while speaking at a webinar held by the Vietnam Meteorological and Hydrological Administration (VNMHA).
Hoang Duc Cuong, Deputy General Director of the VNMHA under the Ministry of Natural Resources and Environment, said the sector has applied information technology, digital technology, and AI for a long time, and that AI plays a very important role in its activities.
About the application of Big Data and AI to hydrometeorology, Vu Hoang Long, an advisor from Viettel Solutions of the Viettel Military Industry and Telecoms Group, said the sector should collect and standardise information and data to serve as a basis for applying Industry 4.0 technology to make precise forecasts. It also needs to gather data from different sources in a concentrated database system.
The sector should build a data architecture matching its specific features, use the Big Data technology for handling monitoring and specialised data, and coordinate with international experts and organisations such as the World Meteorological Organisation (WMO) in AI research and application, he suggested.
Pointing out some difficulties in AI application, Pham Hoang Hung, Deputy Director of the VNMHA's forecasting management department, said the sector's database hasn't been big enough while existing tools are not strong enough either to analyse, assess, organise, and standardise data. A shortage of personnel for AI application and infrastructure upgrade also need attention.
At the seminar, participants discussed measures for promoting AI research and application to hydrometeorology, especially to information and data management, and learn experts' experience and viewpoints in this regard.
Tuberculosis drug resistance poses a severe threat to public health
Việt Nam is one of the 30 countries currently troubled by tuberculosis and its drug-resistant mutations.
Despite efforts from the National Tuberculosis Control Program, tuberculosis is mutating and developing a resistance to antibiotics and drugs, making it difficult to handle this dangerous disease effectively.
Việt Nam is one of the 30 countries currently troubled by tuberculosis and its drug-resistant mutations.
While tuberculosis can be prevented and treated, according to the World Health Organization (WHO), an estimated 10.6 million people around the world are still infected each year, resulting in 1.5 million deaths, equivalent to more than 4,100 deaths per day, and nearly 30,000 new cases.
WHO's report also shows that Việt Nam is currently ranked 11th among 30 countries with the highest burden of tuberculosis and multidrug-resistant tuberculosis.
Each year, there are about 169,000 new tuberculosis cases in Việt Nam, of which 4,000 are multidrug-resistant tuberculosis cases.
This disease also causes about 14,200 deaths each year.
The daunting recent data shows that drug-resistant mutations are prevailing, with about 8,900 new cases of rifampicin-resistant and multidrug-resistant tuberculosis reported annually in Việt Nam.
According to Đinh Văn Lượng, Director of the National Tuberculosis Control Program at the Central Lung Hospital, multidrug-resistant tuberculosis is very serious.
This happens when the bacteria causing tuberculosis undergoes a mutation that makes it resistant to drugs used in treatment, leading to patients not seeing any improvement in their symptoms or worsening symptoms.
Multidrug-resistant tuberculosis bacteria is also very transmissive, posing a significant threat to public health.
According to Lượng, though considered a 'silent killer', ordinary tuberculosis can be completely cured by following protocol and treatment time, with a cure rate of over 90 per cent.
Treating tuberculosis becomes a much more daunting task when dealing with drug-resistant strains though. In addition to strict adherence to treatment with many medications, the treatment time is also longer, and the cure rate is only about 65-70 per cent.
For people suffering from extremely drug-resistant tuberculosis, the road to recovery is tough. Patients must take highly toxic drugs for up to 20 months, with many adverse side effects and long-term harm, which dissuaded many from continuing the treatment.
If patients are not detected and treated early, they can suffer organ damage, resulting in poorer recovery and more complications.
Patients also become a dangerous source of infection for their families and communities, causing many unpredictable consequences. According to estimates, drug-resistant tuberculosis causes hundreds of deaths in Việt Nam every year.
Due to the long and difficult treatment time and the need for more types of drugs, the cost of treating drug-resistant tuberculosis is tens of times higher than treating regular tuberculosis patients.
According to Nguyễn Kim Cương, Head of the Respiratory Tuberculosis Department at the Central Lung Hospital, most tuberculosis patients are affected by the "'disastrous cost' of treatment.
When diagnosed with tuberculosis, patients will face many difficulties, such as job limitations, communication barriers, and loss of working time to earn a living, which affects the patient's overall quality of life.
One estimate puts the cost of treatment for most patients at around 20 per cent of their annual income.
About 70 per cent of tuberculosis patients are of working age, and 20,000 patients are not covered by health insurance. Furthermore, about 70 per cent of patients are classified as being from poor and near-poor households.
On average, a person with tuberculosis must miss three to four months of work.
Since July 2022, tuberculosis drugs have been provided to patients by the Social Health Insurance Fund to solve the above problem.
This is an important milestone in ensuring financial support for tuberculosis treatment programs in Việt Nam, helping to reduce the financial burden on patients and demonstrating the humanity of the policy.
Patients can now use their Social Health Insurance card to visit other clinics and use tuberculosis drugs while their entitlements are still guaranteed.
Although tuberculosis drugs are provided free of charge, due to the prolonged treatment time and many associated illnesses, the cost of treatment for a patient can amount to hundreds of millions in VNĐ.
Therefore, tuberculosis is a problem that greatly affects the economy of each family in particular and the country as a whole.
Lượng, who is also the head of the National Tuberculosis Control Program, believes that to improve the effectiveness of tuberculosis prevention and control, especially drug-resistant tuberculosis, patients must adhere to the following: early detection, effective treatment for sensitive cases, enhanced screening, and early detection of tuberculosis cases, especially drug-resistant tuberculosis.
Lượng also noted that to prevent the spread of the disease to those around them, patients with drug-resistant pulmonary tuberculosis must comply with treatment according to instructions to achieve the highest effectiveness.
Patients must wear masks when interacting with others to prevent the spread of tuberculosis into the community.
People who come into contact with pulmonary tuberculosis patients in general, especially drug-resistant tuberculosis, need to undergo screening to detect tuberculosis actively, receive early treatment to improve treatment effectiveness, and cut off the transmission of tuberculosis and drug-resistant tuberculosis in the community.
Two monkeys plague Hanoi residential area
Two monkeys have appeared in a residential area in Hanoi's Hoang Mai District over the past three months, affecting local people.
The animals have disturbed households in Tan Mai Ward. They climbed onto their altars to eat fruit and destroyed their fruit trees.

Vu Ty Que, a local resident, said that since late January, the monkeys have broken into his house six times to seek food. They even took fruit on the altar. The animals used to come at night so it was not easy to stop them.
One monkey weighs around seven kilos and the other is even larger at around nine kilos.
Some people complained that the two monkeys attacked their family's poultry.
Tran Anh Tuan, who works at Tan Mai Ward People's Committee, said that the ward is facing difficulties in catching the animals due to the lack of specialist tools. The ward is seeking support from the district authorities.
Local authorities have asked people to take preventive measures, including using nets to protect doors and windows.
Where the monkeys came from is not clear.
Source: VNA/SGT/VNS/VOV/Dtinews/SGGP/VGP/Hanoitimes