A tropical low-pressure system quickly intensified into the storm named Mulan Tuesday afternoon, making it the second storm in the East Sea this year's hurricane season.
According to the latest weather news of the National Center for Hydrology Meteorology Forecasting, Mulan was around 300 kilometers southeast of Hainan Island (China) with a speed of up to 110 kilometers an hour.
In the next 24-48 hours, the tropical storm will likely move north and turn toward the northwest and west-northwest. After that, it is expected to begin weakening into a tropical depression on August 11.
Under the influence of the storm, the Gulf of Tonkin including the island districts of Co To and Bach Long Vi will likely experience increased gales and rough surf.
From the nighttime of August 10 to August 12, the Northern region, Thanh Hoa and Nghe An provinces will experience moderate to heavy rainfalls between 100mm and over 250 mm.
Exhibition highlighting ASEAN's cultural colours opens in Hanoi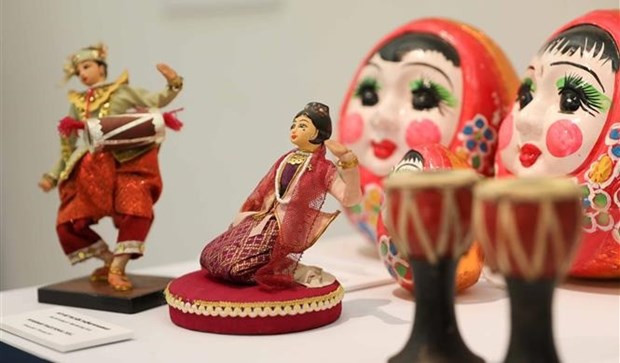 Objects showcased at the exhibition (Photo: VNA)
To celebrate the 55th founding anniversary of the Association of Southeast Asian Nations (ASEAN) (August 8), the Ministry of Culture, Sports and Tourism, in collaboration with the embassies of the ASEAN countries in Vietnam, opened an exhibition themed "ASEAN Cultural Colours" on August 8.

The event, held at the Vietnam National Fine Arts Museum on Hanoi's Nguyen Thai Hoc street, is showcasing traditional costumes of ASEAN countries, as well as photos featuring their landscapes, cultures, and peoples, with a hope to popularise a diverse and rich ASEAN culture.
Delegates cut ribbon to open the exhibition (Photo: VNA)In his opening remarks, Deputy Minister of Culture, Sports and Tourism Ta Quang Dong affirmed that the exhibition is an important artistic and cultural event in celebration of ASEAN's 55th founding anniversary.

It will help enhance mutual understanding among the peoples, and contribute to the expansion of economic and investment cooperation, tourism development, as well as the improvement of connectivity, solidarity and friendship among the ASEAN member states, Dong affirmed.

The exhibition will remain open to visitors until August 12.
PM chairs nationwide virtual conference reviewing digital population data project
Prime Minister Pham Minh Chinh on August 9 chaired a national virtual conference to review six months of implementing a project on developing the application of population database, e-identification, and e-authentication for the national digital transformation in the 2022-2025 period with a vision to 2030 (Project 06).
Addressing the event that gathered more than 130,700 delegates nationwide, Chinh, also Chairman of the National Steering Committee on Digital Transformation, said the project aims to organise public services to serve the people through a digital environment.
The Government leader stated the difficult and far-reaching work requires great concentration, determination, and efforts coupled with drastic actions.
As heard at the function, the Government has so far held 16 meetings, issued one decree, one dispatch, and seven notifications, with four resolutions of its regular meetings involving directions on the project.
As per Project 06, within this year, the old and new versions of citizen IDs will be integrated, enabling the e-identification of all citizens.
The connection and sharing of data between the national population and tax databases are expected to complete in the first quarter of 2022, while personal paper documents, including health insurance card, driving licence, job licence, and vaccination certificate, will be generally integrated into the citizen IDs and the e-identification app VNEID. In 2022, e-authentication will be used for all information provided on the citizen IDs and VNEID.
In the 2023-2025 period, e-identification and e-authentication are expected to be applied on all people conducting administrative procedures at one-stop-shop office at all levels.
Meanwhile, in 2022-2023, the e-identification and e-authentication system will be upgraded, completed and applied in e-transactions serving socio-economic development.
Con Dao airport to be shut over nine months for expansion
Con Dao airport in the southern province of Ba Ria – Vung Tau will be temporarily closed for nine months to carry out its expansion plan, starting in April 2023, according to the Civil Aviation Authority of Vietnam (CAAV).
The expansion and upgrade project, once completed by the end of next year, will enable the airport to receive large aircraft, said the CAAV.
The capital for the project will be sourced from the State budget and businesses. In particular, the investment in expanding its runways to accommodate A320/321 aircraft and equivalent will come from the State budget.
Under the project to be implemented by the Airports Corporation of Vietnam, a terminal will be upgraded in order to receive 2 million passengers a year, or five times higher than the current capacity. In addition, six more parking lots and the airport's road, drainage and lighting systems will be built and upgraded.
Vietnam to face Singapore, India in September friendly football tournament
Vietnam's national football squad is scheduled to meet Singapore and India at an international international tournament held by the Vietnam Football Federation (VFF) this September as part of the FIFA International Match Calendars.
The tournament will be held at the Thong Nhat stadium in Ho Chi Minh City from September 21 to 27. The three teams are set to compete in a round-robin format.
Vietnam will face Singapore on September 21 and India six days later, while the match between Singapore and India is slated for September 24.
In preparation for the matches, Vietnamese players will gather for training on September 17.
The friendly tournament is part of a plan to get the team ready for the AFF MITSUBISHI ELECTRIC CUP 2022, a biennial football competition organised by the ASEAN Football Federation (AFF).
HCM City promotes arts and cultural activities at night
The HCM City Department of Culture and Sports has sent the municipal People's Committee a proposal for street arts performances on Nguyễn Huệ pedestrian street in District 1 for 2022-2025 period, starting this month.
Nguyễn Huệ pedestrian street, one of the favourite destinations for locals, is regularly chosen to organise major cultural events, according to the department.
Street arts performances at Nguyễn Huệ were suspended since July in 2020 due to the COVID-19 outbreak.
In an attempt to diversity arts and cultural activities at night, the District 5 People's Committee last month launched the performance of kylin and dragon dance entitled "Về Chợ Lớn xem múa lân" (Come to Big Market to watch kylin and dragon dance).
The show is organised from 5.30pm to 8pm every second weekend of the month.
PM emphasises digital transformation crucial to an independent, self-reliant economy
Prime Minister Phạm Minh Chính described digital transformation as an important tool for the building of an independent and self-reliant economy and the extensive and effective integration into the world.
He made the remarks while chairing the third meeting to assess the digital transformation pace in the first six months of 2022 and outline the tasks ahead yesterday in Hà Nội. The meeting was held online, linking the Government Office with the People's Committees of provinces and centrally-run cities across the country.
Chính said that in the first six months of this year, the country's digital transformation had achieved basic results, and the awareness of the importance of digital transformation had changed drastically at all levels and sectors.
The Digital Transformation Steering Committee of 22 ministries, branches and 63 localities were established and put into operation.
The Ministry of Information and Communications reported that digital transformation was promoted strongly and reaped encouraging outcomes in the first half of 2022.
So far, 100 per cent of the enterprises have used e-invoices, and e-commerce revenue reached 11.27 per cent of total retail sales (compared to the target of 7 per cent), according to the report.
A total of 66 per cent of the people aged 15 and above have payment accounts (one per cent higher than the target), 70.91 per cent of the adults own smartphones (compared to the target of 85 per cent), and 71.75 per cent of all the households use broadband cable internet (compared to the target of 75 per cent).
Digital infrastructure has continued to be improved, with fixed and mobile broadband internet speeds respectively reaching 71.79 Mbps and 35.29 Mbps, up 32.7 per cent and 4.7 per cent year on year.
Thirty-five national digital platforms have been developed, of which 31 have become operational and four on a trial basis.
Ministries and sectors have also coordinated to build 50 other platforms, including 18 serving the formation of a digital government, 16 for a digital economy, and 16 for a digital society.
Tuyen Citadel Festival to open in Tuyen Quang in September
Thousands of visitors are expected to go to the northern province of Tuyên Quang to join the Tuyên Citadel Festival 2022 in September.
The highlight of Tuyên Citadel Festival this year is the Tuyên Citadel Night Party with a "Sparkling colors of Tuyên Citadel Night Festival" theme in the Mid-Autumn Festival which is the largest lantern festival in Việt Nam.
During the festival, there will be a recognition of the Tày, Nùng and Thái ethnic groups in Việt Nam as intangible cultural heritages of humanity.
In addition, there will be the a Trade-Tourism Fair and "Miss Tuyên Citadel" contest.
Conductor returns home for concert of French music
Conductor Lê Phi Phi, who is visiting from Macedonia, will lead a concert featuring masterpieces from French composers at the HCM City Opera House on August 14.
Phi, who graduated from the Moscow Tchaikovsky Conservatory in 1993, was the principal conductor of the Macedonian Philharmonic Orchestra until 2000.
The "Carnival of the Animals" concert will begin with L'Arlesienne Suite No 1 by French composer Georges Bizet.
The concert continues with Le Carnaval des animaux (The Carnival of the Animals), a humorous musical suite by French composer Camille Saint-Saens.
After the intermission, the HBSO will play Pavane in F-sharp minor, a short work written by French composer Gabriel Fauré in 1887; Danse Macabre written by Saint-Saens in 1874; and Bolero, the most famous composition by French composer Maurice Ravel which premiered in 1928.
The concert begins at 8pm at 7 Lam Sơn Square in District 1. Tickets are available at the venue's box office.
FBI hands over illegally-acquired cultural artefacts to VN
Several illegally-obtained cultural artefacts originating from Việt Nam have been returned to the country by the US Federal Bureau of Investigation (FBI).
The transfer occurred at the Vietnamese Embassy in Washington last week in the presence of representatives from the US Department of State and Department of Homeland Security.
According to the FBI, the US agency took possession of more than 7,000 artefacts illegally acquired by an American citizen during an operation from 2013-14. It is the largest single discovery of cultural property in FBI history.
A year before his death, the man agreed to relinquish these items and wished to return them to their rightful owners. With the help of experts, the FBI has managed to identify several unidentified artefacts from Việt Nam, including a vase/pot, an eight-piece tool kit made of bronze, and a stone axe.
Four provinces complete installation of VMS on fishing boats
The installation of a vessel monitoring system (VMS) on fishing vessels with a length of 15m or more has made progress and reached 93.4 per cent as of June 30, according to the Directorate of Fisheries.
Quảng Ninh, Thừa Thiên-Huế, Ninh Bình and Cà Mau are four out of 28 coastal provinces nationwide completing the VMS installation on all fishing vessels, the directorate said.
But many localities have a rate of VMS installation lower than the national average, such as Quảng Trị with 79.02 per cent, Trà Vinh - with 84.79 per cent, Quảng Ngãi - with 86.68 per cent, and Nghệ An 87.31 per cent.
Installing VMS equipment on fishing boats is one of the decisive solutions to end illegal, unreported and unregulated (IUU) fishing practices, particularly the illegal fishing in foreign waters.
Towards the goal of having the European Commission's "yellow card" on IUU removed, the directorate's deputy director general, Nguyễn Quang Hùng, urged the administrations of coastal localities to speed up the installation of VMS equipment and effectively use the equipment to monitor the operation of their fishing fleets at sea closely.
He also asked localities to coordinate with each other to monitor and timely handle law violations of fishing boats.
HCM City Youth Union 2022 summer volunteering programmes attract 400,000
HCM City Youth Union 2022 summer volunteer programmes and campaigns attracted more than 430,878 participants over the course of 64 summer volunteering days.
The 2022 summer volunteer programmes and campaigns of the Hồ Chí Minh Communist Youth Union (HCYU) of HCM City include the Green Summer Volunteer Campaign, Pink Vacation Campaign, National University Entrance Exam Support Programmes, Green Marching Volunteer Campaign and Blue Shirt Tutor Programmes.
This is the first year the Blue Shirt Tutor Programme was launched with 500 tutors to help children from grade one to twelve that are in need or were affected by the pandemic.
HCYU and Việt Nam Youth Federation Central Committees have given certificates of merit to reward individuals that have contributed to the 2022 volunteers programmes and campaigns.
Abandoned resettlement houses are a waste of State budget
Thousands of resettlement houses worth thousands of billions đồng in HCM City and Hà Nội have been abandoned for many years, causing waste to the State budget.
According to the Hà Nội Department of Construction, there are nearly 18,000 resettlement apartments in the city, most of which were already paid for by homeowners or allocated for resettlement projects, with the remaining 400 uninhabited.
However, Youth newspaper reported that Hà Nội has thousands of resettlement apartments that are still abandoned. Hundreds of apartments have been completed but have not yet been accepted for wastewater treatment and fire prevention and control systems. Most of these resettlement areas are degraded and lack accompanying utilities such as entertainment areas and parks.
Similarly, in HCM City, there are also thousands of resettlement apartments vacant. According to a report by the HCM City Department of Construction, the city has 11,681 resettlement apartments. Of this, 4,000 have been allocated to districts to use resettlement. Over 2,500 are used as backup plans and the remaining are still in the process of being auctioned.
In May, the Ministry of Construction sent a document to the People's Committees of provinces and cities to request localities report and propose solutions on the use and management of resettlement housing projects.
Nhon – Hanoi Station urban railway line delayed again
The operation of the elevated section of the Nhổn – Hà Nội Station urban railway line will not open by the end of this year as planned as many works in the Nhổn depot are behind schedule.
Hà Nội Metropolitan Railway Project Management Board has submitted to the People's Committee of Hà Nội to extend the completion time and supplement capital for the project.
The Nhổn-Hà Nội Station urban railway project covers 12.5km, including eight elevated stations and four underground stations.
The elevated section of the urban railway was scheduled to be put into operation by the end of this year. However, the progress of the elevated section has only reached 95.1 per cent, and the progress of the underground section is only 33 per cent.
The project also needs more capital than planned.
The board said that it now needs an additional VNĐ4.9 trillion (US$209.7 million), bringing the total investment capital to VNĐ34.5 trillion ($1.5 billion).
In a letter to the Prime Minister last June, a consortium of donors, including the Asian Development Bank (ADB) - the French Development Agency (AFD) and France's Treasury department, pointed out that the biggest challenge for the elevated section of Nhổn – Cầu Giấy is that the Hà Nội Construction Corporation Joint Stock Company - the contractor in charge of constructing Nhổn Depot - has stopped construction due to contract-related issues over the past two years.
The sponsors fear that the extension of time for the contract will cause financial consequences beyond the current commitment.
Workers to have four days off for National Day
Workers nationwide will have a total of four days off from September 1 to 4 on the occasion of National Day, according to the Office of the Government.
From 2021, Việt Nam has a total of 11 public holidays, while the number of days off for National Day (September 2) increases from one to two.
If any holiday falls on the weekend, people will be entitled to an extra day off as compensation.
As this year's National Day (September 2, 2022) is on Friday, so workers nationwide will have a total of four days off.
If employees work part-time, they will get at least 150 per cent of the daily wages; 200 per cent on their rest day; 300 per cent on national holidays.
Foreign workers in Việt Nam are entitled to 11 days off for these public holidays, as well as two more for the traditional New Year's Day and National Day of their countries.
Hanoi prepares for $3.7b Ring Road No.4 project
The Standing Committee of the Hà Nội Party Committee, on Friday, had a meeting with authorities of neighbouring provinces of Hưng Yên and Bắc Ninh to discuss the implementation of the all-important Ring Road No. 4 project.
Hà Nội Party Secretary Đinh Tiến Dũng said that the city had set up a steering committee for building Ring Road No. 4 after the National Assembly issued a resolution on the project.
As the governing body, the Hà Nội Party Committee directed offices to draw up a plan of investment for the road's construction.
The plan had been sent to the provinces of Hưng Yên and Bắc Ninh for comment.
According to Deputy Chairman of the Hà Nội People's Committee Dương Đức Tuấn, the investment policy for the project was approved by the National Assembly in Resolution No. 56/2022/QH15 dated June 16, 2022, with a scale of 112.8km and the total preliminary investment was VNĐ85.813 trillion (US$3.68 billion).
The preparation for the project's investment and implementation is scheduled to start this year, complete in 2026 and be put into operation from 2027, Đức said.
The component projects will be carried out similar to Group A projects in accordance with the law on public investment and approved by the People's Committee.
HCM City public spending remains too low, hindering economic recovery
HCM City's public spending was too low in the first seven months of 2022, hindering its economic recovery from a slowdown due to COVID-19 pandemic, a city official said.
Speaking at a meeting on Thursday, Phan Văn Mãi, chairman of the municipal People's Committee, said the city has faced multiple challenges, including slow disbursement of public investment, high inflation and complicated administrative procedures.
The tardy public investment disbursement has caused major public projects to be postponed, according to Mãi, who attributed the tardiness to complicated administrative procedures.
According to a report from the city administration, as of the end of July, the city's total public investment disbursement reached more than VNĐ8.4 trillion, accounting for only 26 per cent of the year's target.
The city will need to speed up disbursement of public investment, especially in three national programmes: poverty alleviation, new rural area development and socio-economic development of ethnic minority and mountainous areas.
It will also need to speed up the progress of major projects such as metro routes, Ring Road No. 3, and invest more in roads connecting sea ports and airports.
HCM City eyes quick completion of traffic works around airport to ease congestion
Traffic congestion has plagued the area around Tân Sơn Nhất International Airport for long, but a solution seems to be around the corner with HCM City authorities finalising procedures for several works to be carried out this year.
According to the city Department of Transport, there is only one road leading to the airport, and the thick traffic means there is often severe congestion.
In November the department will start building a 4km road connecting Trần Quốc Hoàn and Cộng Hòa streets in Tân Bình District leading to the new T3 terminal at a cost of over VNĐ4.84 trillion (US$206.88 million) to ease congestion in the airport's vicinity.
The city People's Committee has instructed Tân Bình District to immediately make land acquisition and resettlement plans.
The city will also build underground tunnels at the intersections of Phan Thúc Duyện and Trần Quốc Hoàn streets and Trường Chinh and Tân Kỳ Tân Quý streets, and a flyover in front of T3 terminal.
Source: VNA/SGT/VNS/VOV/Dtinews/SGGP/VGP/Hanoitimes