VIETNAM NEWS HEADLINES DECEMBER 3
Hanoi Tourism Ao Dai Festival 2022 opens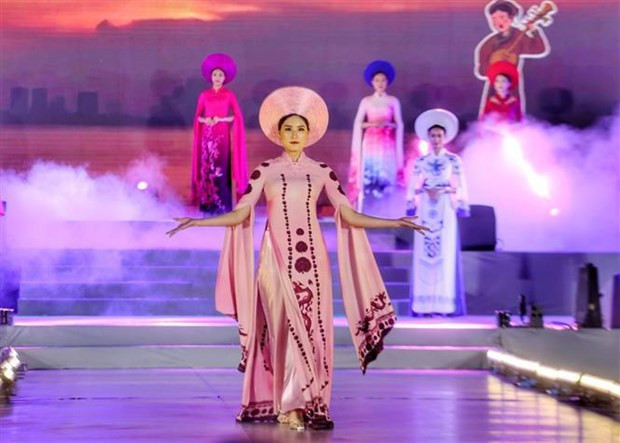 A collection of ao dai by designer Vu Thao Giang. (Photo: VNA)
The Hanoi Tourism Ao Dai Festival 2022 opened around Hoan Kiem pedestrian street in the capital city of Hanoi on December 2 evening.
The three-day event will feature activities to honour traditional and cultural values of traditional long dress (Ao Dai) – an outstanding tourism product of Hanoi which is expected to gradually become an "Ambassador of Tourism" from "Ambassador of Culture".
Visitors to the opening ceremony were treated to music performances and show of ao dai by famous designers and staged by travel, aviation and lodging companies – a highlight of the event.
An exhibition, parade, mass performance and design contest of ao dai are also held, contributing to popularising Hanoi as a safe, friendly, quality and attractive destination.
NA Chairman arrives in Auckland, beginning official visit to New Zealand
Chairman of the National Assembly Vuong Dinh Hue and a high-ranking delegation of the Vietnamese legislature arrived at Auckland International Airport in the late afternoon of December 3 (local time), beginning their official visit to New Zealand at the invitation of Speaker of the House of Representatives Adrian Rurawhe.
The delegation was welcomed at the Auckland International Airport by Vietnamese Ambassador to New Zealand Nguyen Van Trung, the Vietnamese Embassy's staff and representatives of the New Zealand government and Auckland city's administration.
During the visit from December 3-7, Hue is scheduled to hold talks with Adrian; meet with senior leaders of New Zealand; attend Vietnam-New Zealand educational and economic cooperation forums; meet with the embassy's staff and representatives of the Vietnamese community; and have several other activities.
New Zealand is a strategic partner of Vietnam in South Pacific, with the bilateral ties growing in different fields. Due to the COVID-19 pandemic, the exchange of delegations was suspended during 2021-2022 but high-level conversations have been still maintained and bilateral cooperation mechanisms have been deployed in both online and offline forms.
The 2021-2024 Action of Plan with New Zealand to realise the bilateral strategic partnership has seen positive results.
In economic terms, Vietnam and New Zealand are both members of the Comprehensive and Progressive Agreement for Trans-Pacific Partnership (CPTPP) and the Regional Economic Partnership Agreement (RCEP). New Zealand is now the 36th largest trading partner of Vietnam. Two-way trade reached 1.3 billion USD last year, up 26.7% year-on-year. The figure increased by 13.6% year on year to 1.1 billion USD in the first nine months of this year.
New Zealand also approved the supply of ODA worth 26.7 million NZD for Vietnam during 2021-2024, equivalent to the sum in the 2018-2021 period. The country also supplied 30,000 COVID-19 vaccine doses and 2 million NZD in post-pandemic relief aid to Vietnam.
There remains ample room to further boost coordination in national defence, security, education-training, labour and agriculture. In particular, the two countries are interested in new cooperation areas such as climate change response, digital transformation and energy transition.
Though few visits were paid due to COVID-19, leaders of the two legislatures still maintained all-level meetings on the sidelines of regional and international conferences.
At regional and gblobal inter-parliamentary forums, the two countries' delegations of lawmakers regularly discussed and supported each other on regional and national issues of mutual concern. The 15th Vietnamese NA continued to establish the Vietnam - New Zealand Friendship Parliamentarians' Group and maintained information exchange with the New Zealand Embassy in Vietnam.
Aiming to deploy the foreign policy of the 13th National Party Congress, the visit is of important significance as it is the first trip to New Zealand by a senior Vietnamese leader since the two countries fully reopened their doors following the pandemic and also the first made by Hue in his capacity as Chairman of the Vietnamese NA.
NA Chairman busy with various activities in Melbourne
National Assembly Chairman Vuong Dinh Hue was busy with a series of activities in Melbourne on December 2-3 as part of his official visit to Australia.
Attending a Vietnam-Australia economic cooperation forum on December 2 afternoon (local time), Hue was welcomed by Lord Mayor of Melbourne Sally Capp and Victoria's Commissioner to Southeast Asia Rebecca Hall.
Apart from agricultural cooperation, Hall said Australian enterprises are interested in various fields in Vietnam such as health care, maternal and baby care, and preschool education in Vietnam.
As of November 2022, Vietnam attracted 36,109 projects worth 437.52 billion USD from 141 countries and territories, heard the forum.
At the event, Vietnamese Deputy Minister of Planning and Investment Tran Quoc Phuong and Deputy Minister of Industry and Trade Tran Quoc Khanh called for Australia's increased investment in Vietnam in workforce training, digital transformation and hi-tech agriculture. They said Vietnam also encourages its firms to expand operations in Australia in line with the two countries' laws.
Khanh said the Vietnamese Government is offering incentives in the spheres of agriculture, education and logistics, especially amid the fourth industrial revolution.
Hue hoped that more Australian enterprises will come to Vietnam to seek business opportunities. The two governments and legislatures will create favourable frameworks, policies and mechanisms to support businesses, he asserted.
At the event, a number of memoranda of understanding were signed. In particular, a leader of RMIT University – the biggest foreign investor in education in Vietnam, announced to double its investment in the country early next year.
Receiving CEO of Asia Society Australia Philipp Ivanov and three businesspeople joining the Vietnam-Australia Business Champions Initiative in Melbourne in the afternoon of December 2, Hue expressed his readiness to listen to feedback from entrepreneurs and business associations to create the best business environment.
He suggested holding more trips to Vietnam for businesspeople to learn about the business environment and cooperation opportunities under the Initiative.
Stressing that Vietnam is attractive to foreign investors, not just for Australia, the businesspeople vowed to do better to encourage more investment in the country and offer practical recommendations to the two governments to boost bilateral ties.
In a reception for Treasurer of Victoria Tim Pallas and representatives of Linfox logistics provider on December 3, the top Vietnamese leader hailed Victoria for opening a trade and investment office in Ho Chi Minh City, contributing to reinforcing economic-trade-investment ties between the two localities and the two countries as well.
Speaking highly of Linfox's investment in aviation logistics services in Vietnam, Hue wished that Linfox would enhance workforce training and cooperate in a direct flight service linking Vietnam and Victoria state.
Receiving Callum Fraser, founder of Elenberg Fraser and Phil Burns, President of Sinclair Brook on the same day, Hue highlighted Vietnam's potential in real estate, tourism, entertainment, services and information technology.
With their strengths in design consultancy and real estate management, he asked them to partner with Vietnam in building smart cities.
The Australian executives hoped to receive further support to learn about opportunities and seek partners in Vietnam.
Before leaving Melbourne for his official visit to New Zealand, Hue visited Swinburne University where he worked with its leaders and talked with Vietnamese students who are studying and conducting research here.
Tam Dao honoured as world's leading town destination 2022
The People's Committees of northern Vinh Phuc province and Tam Dao district held a ceremony on December 2 to announce the award honouring Tam Dao as the world's leading town destination in 2022.
The title was previously announced at the 29th World Travel Awards held in Oman in November this year.
Addressing the event, Vice Chairman of the provincial People's Committee Vu Viet Van said the award is a recognition of the initial success of the district's tourism sector, helping to improve the position and value of the Tam Dao National Tourist Area, and promoting the development of the tourism industry in Vinh Phuc province.
The Tam Dao national tourism site is located on Tam Dao mountain range, at an altitude of 54 to 1,100 metres above sea level. It boasts majestic mountainous scenery that covers a vast area of the northern delta.
In Tam Dao, there are three mountains, Thach Ban (1,388m), Thien Thi (1,375m), and Phu Nghia (1,400m), rising above the sea of clouds like three islands. That is the source of the Vietnamese name "Tam Dao," meaning "three islands."
Thanks to its cool climate, the town has long been one of the most attractive destinations in northern Vietnam among both domestic and foreign visitors, especially for a summer vacation.
This marks the first time Tam Dao has been awarded the world's leading town destination.
To get the award, Tam Dao overcame many town destinations in the US, Japan, the Czech Republic, Bosnia & Herzegovina, Nepal, and New Zealand.
The annual awards are based on votes cast by travel industry professionals and the public.
The World Travel Awards, launched in 1993, acknowledge excellence in the tourism industry, and have been described as the "travel industry's equivalent of the Oscars.
International Circus Festival 2022 opens in Hanoi
The International Circus Festival 2022 opened in Hanoi on December 2 night with the participation of more than 100 domestic and foreign artists.
The event, which is co-organised by the Ministry of Culture, Sports and Tourism and the People's Committee of Hanoi, see nine art troupes, including five from Canada, Belarus, Laos, Cambodia and Egypt.
Addressing the opening ceremony, Deputy Minister of Culture, Sports and Tourism Ta Quang Dong said the event provides an opportunity for Vietnamese and international artists to exchange experience and promote the circus art of Vietnam, the region and the world as well as strengthen solidarity, friendship and cooperation between Vietnam and other countries.
He said that it is also a chance for Vietnam to popularise its culture and people and spread the image of a beautiful and hospitable country to international friends.
The International Circus Festival 2022 will run until December 7.
Performers will showcase acrobatics, juggling, tightrope walking, magic tricks and others which are imbued with the cultural identity of each country.
Within the framework of the event, domestic and foreign artists will perform on pedestrian streets around Hoan Liem Lake, Hanoi.
HCM City holds first friendship dialogue with foreign localities
The first Ho Chi Minh City Friendship Dialogue (FD HCMC), themed "Resilience Adaptation for Recovery and Development", was held on December 3 with the participation of over 20 foreign delegations from localities worldwide.
The event aims to promote the friendship and cooperation between HCM City and foreign localities as well as popularise the country and people to international friends.
Speaking at the opening, Chairman of the HCM City People's Committee Phan Van Mai said in addition to the rapid expansion of cooperative relations, the city's collaboration activities are diversified, bringing many practical results, contributing to the implementation of the country's foreign policy and serving the city's socio-economic development.
The official emphasised that a "Mayors' conference" that took place right after the opening would be an opportunity to exchange experience and ways to deepen the relations, thus facilitating international integration.
He also said that the presence of leaders from central agencies and foreign guests at the event was not only great support for Ho Chi Minh City, but also reflected the friendship and determination to work together to further promote international cooperation activities in the coming time.
Minister of Foreign Affairs Bui Thanh Son spoke highly of the organisation of the dialogue, saying it demonstrated the city's creativeness and its leading role in implementing external activities at the local level.
He hoped that foreign localities and HCM City will continue to unite and step up cooperation activities in all fields, making positive contributions to the development and prosperity of each country.
The minister thanked the international community, including friends of HCM City, for supporting and providing vaccines for Vietnam and HCM City in the fight against the COVID-19 pandemic. Son said he wished that the spirit of cooperation will continue to be promoted in the post-pandemic recovery.
At the end of the dialogue, the localities agreed to further strengthen the friendship and comprehensive cooperation on the basis of mutual respect and understanding. They also set forth initiatives to enhance people-to-people exchanges and cohesion.
Ho Chi Minh City festival highlights world cultures
The "Ho Chi Minh City - Our Common Home" festival 2022 opened on Nguyen Hue pedestrian street of Ho Chi Minh City on December 2 night.
During the three-day event, cultures of several countries, foreign localities and Ho Chi Minh City will be introduced via cultural spaces. Visitors will also have a chance to visit an exhibition on the city's external activities and display of outstanding hi-tech agricultural products.
They are also to be treated to professional and amateur music and sport performances, and local foods that affirms Ho Chi Minh City as a "common home" where cultures of the world and Vietnamese ethnic groups and regions meet.
The event is also expected to introduce Ho Chi Minh City as an attractive tourism and business destination for international friends while creating conditions for foreign localities to form cooperative and twinned relations with the city.
Vietnamese university, Australian company sign MoU on training, startup
The Vietnam National University of Agriculture (VNUA) and Australian company 4Ways Fresh on December 3 signed a memorandum of understanding (MoU) on cooperation in training and supporting innovative and entrepreneurship activities.
The deal was inked by VNUA Director Nguyen Thi Lan and 4Ways Fresh Director Ly Hoang Duy, within the framework of National Assembly Chairman Vuong Dinh Hue's official visit to Australia.

Under the MoU, the Vietnamese side is responsible for exchanging and providing information in the field, coordinating in the organisation of entrepreneurship and innovation programmes for students and technical support to improve the quality of products of agricultural organisations in the Southeast Asian country.
Meanwhile, 4Ways Fresh will be in charge of all activities in this regard and will offer consultancy services and preparation of procedures and visas for students to study in Australia.
It will also coordinate with schools and organisations in Australia to carry out internship courses so that Vietnamese students can apply the knowledge learned in the programmes and learn more experience on entrepreneurship and innovation activities, among others.
The two sides will cooperate to share information and create the best conditions for students of VNUA to learn in Australian establishments within the framework of collaboration between the governments and localities of both countries.
Roundtable discussion looks into safe migration in new normal
The International Organisation for Migration (IOM) in Vietnam held a roundtable discussion with the Secretariat of the Migration Health Working Group (MHWG) to discuss its 2023 priorities to raise public awareness of safe and healthy migration in adaptation with the new normal in Vietnam.
The event looked into reports of the Vietnamese Ministry of Foreign Affairs, Ministry of Labour, Invalids and Social Affairs and Ministry of Health, focusing on the international migration situation in the context that Vietnam has opened its borders since March following the COVID-19 pandemic, and updates on the implementation of the Global Compact for Safe, Orderly and Regular Migration (GCM) reached in 2018.
In response to the agreement, the Vietnamese Prime Minister issued a decision on the plan to implement the GCM in 2020. Later, the Ministry of Health issued a decision to launch the GCM in the sector, including interventions to ensure the health of Vietnamese workers abroad amid public medical crisis.
With 1.6 million USD in aid from the Japanese Government, IOM supported the resumption of safe international travel in Vietnam via improving public medical capacity at six international border gates and five international airports, including Noi Bai, Da Nang, Cam Ranh, Tan Son Nhat and Phu Quoc. It is estimated that 400 frontline and 50 government officials and 3,000 residents in border provinces benefit from the project.
Earlier this year, IOM introduced the Health Handbook for Vietnamese working in Japan and the Republic of Korea, which provides basic knowledge, advices and guidance to meet the needs of Vietnamese migrant workers. The handbook is currently available for free in electronic format at https://mhwg.org.vn/en/library/
Participants at the event also discussed initiatives and shared experience to build a 2013 action plan for MHWG.
IOM pledged to work closely with the Vietnamese Ministry of Health to collect recommendations for MHWG to ensure rights of migrant workers in the new normal in Vietnam.
Millennium-old well network bears unique culture of Cham group
Beyond just an arterial irrigation channel, the ancient well network in Gio An commune in Gio Linh district, Quang Tri province, holds a great deal of architectural and cultural value for the Cham ethnic people.
According to archaeologists, the wells of Gio An are unique for their multi-component structure.
They were built at the end of the New Stone Age, 5,000 years ago, with large stones arranged in a meticulous manner.
The wells are a vivid illustration of the Cham people's talent in exploiting underground water resources for daily use.
The well network is located at the foot of basalt hills to reach aquifers. The Cham people's reservoir-forming techniques have remained a mystery, as the ancient wells never dry up even in extreme drought. They are still viewed as treasures of the people of Gio An.
Water for irrigating their fields also comes from the reservoir.
Although life has changed in Gio An commune over the years, the ancient wells remain the primary source of water for local residents.
For generations, the well network has been properly preserved, as local people view them not only as a source of water but also as a symbol of local cultural values.
Vietnam faces challenges of aging society
An aging population is presenting many challenges for Vietnam as the country's social security system is still in its early stages and its economic resources are limited, delegates said at the Aging Summit 2022 in Ho Chi Minh City on November 29.
Bui Ton Hien, director of the Institute of Labour, Science and Social Affairs (ILSSA), said ILSSA and the Institute of Social and Medical Studies (ISMS), in collaboration with Prudential, conducted two studies that proposed preparedness measures and actions for people aged 30–44 to ensure income security in their senior years.
The 'Preparedness for independent seniority' and 'Awareness and action to ensure income security for independent seniority of the middle-aged population' studies pointed out that "the level of readiness and preparedness for the independent old age of middle-aged individuals is not high," he said.
Le Thu Huyen at the ILSSA said Vietnam has officially entered the "ageing phase" since 2011 and is projected to become an "aged" society by 2036. Vietnam is one of the most rapidly ageing countries in the world.
The number of older persons (65 years or over) has increased rapidly to reach nearly 7.4 million in 2020, accounting for 7.7% of the total population. It is expected to increase to nearly 11.8 million by 2030, accounting for 12% of the total population, she said.
One of the studies revealed that a large percentage of respondents aged 30 to 44 seek to live independently in old age, however, the percentage of respondents planning to achieve this remains low, at nearly 30%, she said.
This requires a comprehensive policy framework that applies to all population groups to prepare for an aged society in the near future, she said.
Dr. Bui Sy Loi, former vice chairman of the National Assembly's Social Affairs Committee, said the necessity of solving social security problems is similar to finding solutions for economic growth.
He suggested expanding and diversifying types of insurance, combining health insurance and private life insurance to meet people's needs.
"Adapting to an aging population and a sustainable social development are getting more attention from Government agencies, policymakers, businesses, and residents in general," said Phuong Tien Minh, CEO of Prudential Vietnam.
"As a corporation in life insurance, Prudential always cares about social issues. In addition to coordinating activities with specialised research agencies and supporting projects related to aging population, Prudential has always aimed to raise awareness and drive citizens to be proactive in planning and preparing for an independent future."
Held by Prudential Vietnam in collaboration with ILSSA and ISMS, the summit with the theme 'Aging Population – Opportunities and Challenges for the Millennial Generation' was among a series of activities involved in the project "Independent Seniority" initiated by Prudential in 2020.
Vietnamese apprentices win prizes at Japanese eloquent contest
All four Vietnamese apprentices have won prizes at the final round of the third Japanese eloquent contest annually held by the Toda Mirai construction group since 2020.
Accordingly, Nguyen Cao Then won second prize and Nguyen Dinh Thang earned the third prize. Nguyen Trung Nam and Lam Van Tung grabbed consolation prizes.
The organising board said the contest drew 50 foreign apprentices working in the construction sector in Japan, with 29 coming from Vietnam and the remainder from Myanmar, China, the Philippines and Bangladesh.
Top 10 contestants entered the final round, including four from Vietnam.
Workshop spotlights Vietnam-Canada investment opportunities
The Vietnam Chamber of Commerce and Industry (VCCI)'s Branch in Ho Chi Minh City and Intrinsic Innovations Vietnam – a non-profit incubator based in Alberta, Canada – co-organised a workshop on Vietnam-Canada investment opportunities in the southern economic hub on December 2.
Canada is currently Vietnam's second largest trading partner in the American market, while Vietnam is Canada's largest trading partner in the Association of Southeast Asian Nations (ASEAN). Since the establishment of their comprehensive partnership in 2017, trade turnover between the two countries has increased strongly, recording more than double-digit growth over the years.
Between 2017 and 2021, the bilateral import-export value rose from 3.5 billion USD to 6.03 billion USD. In the first seven months of 2022, the figure stood at over 4.27 billion USD.
VCCI Vice President Vo Tan Thanh said Vietnam has great potential in supplying items such as textiles, garments, footwear, farm produce, and wooden products to the Canadian market, while Canada is a reliable manufacturer of such items as machinery, and raw materials for industrial production.
Although trade between the two nations has made positive progress, it is still not commensurate with the potential of their relationship, Thanh noted, suggesting the two sides tackle hurdles and facilitate their enterprises' access to the respective markets.
CEO of Intrinsic Innovations Vietnam Tuan Le said an advantage of Vietnam in approaching the Canadian market is a community of more than 260,000 Vietnamese expatriates there.
Oversea Vietnamese in Canada have been making important contributions to the Canadian economy and connecting the two countries, he added.
Brent Jensen, investment and trade director at Edmonton Global, a Canadian-based FDI and international business development agency, recommended Vietnamese firms take advantage of incentives to approach and learn about cooperation opportunities in fields of their advantages such as agriculture, education, and vocational training, thereby exploiting the potential of the North American market.
NA Chairman receives President of RMIT University
Chairman of the Vietnamese National Assembly Vuong Dinh Hue received Prof. Alec Cameron, President and Vice-Chancellor, and leaders of RMIT University, on December 2 as part of his ongoing official visit to Australia.
At the meeting, the top Vietnamese legislator thanked the university for hosting the Policy Forum and the Vietnam-Australia Economic Cooperation Forum, saying that his visit aimed to deepen the strategic partnership between the two countries in all fields.
Vietnam attaches great importance to educational cooperation with Australia, considering it an important field of cooperation that contributes to further promoting the strategic partnership, he said.
According to the NA Chairman, RMIT University is the first international university licenced by the Vietnamese Government to operate in the Southeast Asian country. About 17,000 students have graduated from RMIT University Vietnam and in the last five years nearly 3,000 Vietnamese students have graduated from the education establishment in Melbourne.
These figures showed the importance of educational cooperation between RMIT and Vietnamese universities, Hue said.
He suggested the university's leadership continue to create favourable conditions for Vietnamese students studying at the institution; share experience with Vietnamese universities in governance, scientific research, and digital transformation, and strengthen cooperation in the exchange of lecturers, PhD students and students in fields where RMIT University has strengths and Vietnamese universities have demand, including science and technology, communications, business administration, design and languages.
He hoped RMIT University will share its experience in quality assurance and ranking of educational institutions, and enhance cooperation with the Vietnamese side to implement joint training and research programmes on mitigating the effects of climate change.
For his part, Cameron spoke highly of the Vietnamese legislator's speech on Vietnam-Australia relations and Vietnam's foreign policy at the Policy Forum of the Australia-Vietnam Policy Institute (AVPI) which was initiated by RMIT University, saying that he was delighted that leaders of the two countries had announced their intentions to upgrade the relations to a Comprehensive Strategic Partnership in the near future.
The RMIT University Council has approved to significantly increase its existing investment in RMIT University Vietnam in 2023, he said, adding that this is the largest investment of RMIT in an overseas institution with the aim of developing RMIT Vietnam into a major international education hub in the region.
RMIT looks forward to working with agencies of the NA and the Government of Vietnam to be able to contribute better to the Southeast Asian nation's education sector, he said.
RMIT is willing to share experience with Vietnam and Vietnamese educational institutions, especially in governance and quality accreditation of higher education.
Source: VNA/SGT/VNS/VOV/Dtinews/SGGP/VGP/Hanoitimes