VIETNAM NEWS HEADLINES FEBRUARY 2/2023
PM chairs monthly teleconference with localities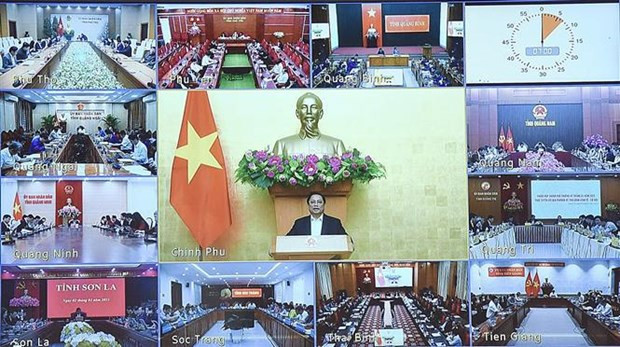 At the event (Photo: VNA)
Prime Minister Pham Minh Chinh on February 2 asked the Government, ministries, agencies and localities to boost production and trade, deal with difficulties to be faced by businesses and people this month to achieve rapid and sustainable socio-economic development.
Chairing the Government's monthly teleconference with localities, PM Chinh said since the beginning of this year, the Government has followed the Party Central Committee's conclusions, the National Assembly and Government's resolutions and Party General Secretary Nguyen Phu Trong's directions on 2023 socio-economic development. Ministries, agencies and localities have also drastically performed their assigned tasks.
In January, macro-economic situation was basically stable. The consumer price index rose by 0.52% month-on-month and 4.89% year-on-year.
As of January 17, credit growth hit 0.65% compared to the end of last year, meeting public demand before and during the Lunar New Year (Tet). The State budget collection reached 11.3% of the estimate for the year, while newly-registered FDI tripled the figure in the corresponding period last year to 1.2 billion USD. The trade surplus was estimated at 3.6 billion USD.
National defence-security was guaranteed while external activities were stepped up. Production and trade was on recovery track thanks to big demand during Tet.
As much as 80.8 trillion VND (3.51 billion USD) for socio-economic development was disbursed as of the late January.
About the disbursement of public investment capital in the past 13 months, the Finance Ministry estimated that it reached 92.97% of the Prime Minister's plan as of January 31, up about 23% year-on-year.
FM to attend ASEAN meetings in Indonesia this week
Minister of Foreign Affairs of Vietnam Bui Thanh Son will attend the 32nd ASEAN Coordinating Council (ACC) Meeting and the ASEAN Foreign Ministers' Retreat Meeting (AMMR) in Jakarta, Indonesia on February 3-4.
The trip has been made at the invitation of Indonesian Foreign Minister Retno Marsudi,
The ACC and AMMR meetings are among the first activities of Indonesia in its capacity as the ASEAN Chair in 2023.
In a speech to members of the diplomatic corps on January 11, Foreign Minister Retno Marsudi affirmed that Indonesia, as the ASEAN Chair 2023, wishes to see a resilient ASEAN that becomes a barometer for cooperation, contributing to peace, stability, and prosperity in the region and in the wider world.
She said by chairing the ASEAN Year 2023 themed ASEAN Matters: Epicentrum of Growth", Indonesia is determined to make ASEAN important and relevant for the people of the region and beyond.
Exhibition displays 500 Buddhist artifacts, images in Bac Giang
A thematic exhibition on "The sacred Buddhist land of Tay Yen Tu - A thousand-year-old relic from the ground" was opened on February 1 in the northern province of Bac Giang with nearly 500 Buddhist artifacts and images being displayed.
The exhibition is part of the province's Culture-Tourism Week launched from February 1-6, featuring 15 cultural, sport, and tourism activities.
Visitors to the exhibition can see artifacts and images of pagodas and towers built from the Ly – Tran Dynasties (11th-14th century), the Le Trung Hung Dynasty (the 17th-18th century) and the Nguyen Dynasty (19th century) as well as images about the process of archaeological excavation at relics, vestiges of ancient religious works associated with Truc Lam Zen Buddhist sect in Tay Yen Tu.
They are said to be important scientific evidence to build a dossier seeking UNESCO world heritage recognition for the Yen Tu Monuments and Landscapes Complex in three provinces of Quang Ninh, Hai Duong, and Bac Giang.
Cultural-spiritual tourism is a key tourism product of Bac Giang that expects to attract about 2 million visitors this year.
Severe cold spells expected to hit northern mountainous provinces late this month
Severe cold spells are expected to hit northern mountainous and midland provinces in the second half of this month, according to the National Centre for Hydro-meteorological Forecasting.
Nguyen Duc Hoa, deputy head of the agency's Weather Forecasting Department, said that in the first half of this month, as intensive cold air tends to be weakened and deviates to the East, northern and northcentral localities from Thanh Hoa to Nghe An will see light rain, drizzle, and fog at night and in the early morning.
Meanwhile, there are possibilities that severe cold and harmful cold will appear later this month in mountainous and midland provinces, he added.
Hoa said that the average temperature across the country this month is at approximately similar to the average of many years. Particularly, in the northwest region, the common temperature is 0.5-1.5 degrees Celsius higher than the average of many years in the same period.
The total rainfall in the northwest region will be 5-10mm lower than the average of many years.
Other areas will see a higher rainfall than the average of previous years, especially this year's rainfalls in the southcentral and southern regions will be 20-40mm higher than the average of many years in the same period.
HCM City leader highly values contributions by Cambodian Consul General
Politburo member and Secretary of the Ho Chi Minh City Party Committee Nguyen Van Nen appreciated Cambodian Consul General Sok Dareth's substantial contributions to the city's relations with Cambodian localities, while receiving the outgoing diplomat on February 1.
Nen spoke highly of the diplomat's performance, which he said has greatly helped enhance the friendship, solidarity, and cooperation between the two countries, including between HCM City and Cambodian localities, the Sai Gon Giai phong daily reported.
He said he believes in new positions, Sok Dareth will continue dedicating to bilateral connections.
Authorities at all levels of Vietnam and Cambodia should act more effectively to implement the guidelines and policies issued by high-ranking leaders so as to lift the two countries' relations to a new height, the host official noted, affirming that HCM City is ready to do its utmost to develop bilateral ties more strongly.
For his part, Sok Dareth thanked the Vietnamese Party and State, as well as authorities and people of HCM City for their support to his office and himself to fulfill duties.
He congratulated the southern metropolis on its achievements and applauded the local administration's provision of the best possible living and business conditions for Cambodian people and enterprises, which he described as a demonstration of the two peoples' bonds.
The diplomat expressed his hope that Vietnam, including HCM City, will continue stepping up investment in Cambodia to help promote the general development in his country.
96% of urban household wastes to be safely processed in 2023
Vietnam targets having 96% of urban household wastes collected and processed up to standards this year, said Director of the Ministry of Natural Resources and Environment's Vietnam Environment Administration Hoang Van Thuc.
Up to 92% of operating industrial and processing areas will have concentrated wastewater treatment systems while 40% of household wastes will be processed through incineration, electricity generation, and recycling models instead of landfilling, Thuc said.
Last year, Vietnam's recycling industry expanded by 11.3% annually, placing the country the 10th globally in terms of metal, plastic, paper and glass recycling, laying a foundation for circular economic development
The Vietnamese Government has set a goal to raise the rate of solid waste collected and safely treated to 100% in 2050 as part of the approved national strategy on green growth for 2021-2030 with a vision to 2050.
Overall, the strategy aims at restructuring the economy in connection with renewing the growth model to achieve economic prosperity, environmental sustainability, social equality towards a green economy, carbon neutrality, and contributing to limiting global warming.
Per the strategy, by 2050, 100% of urban areas will have their drainage systems completed to remove the possibility of flooding. All waste water will be treated following technical standards.
In special-class and first-class municipalities, public transport will handle at least 40% and 15%, respectively, of passenger volumes.
Meanwhile, by the time, at least 45 urban areas will ratify and implement their own master plans on developing green growth city.
Slow land clearance might affect Tân Sơn Nhất Airport's T3 Terminal
According to a Government decree, the Airports Corporation of Vietnam (ACV) is given 14.75 hectares to deploy the T3 Terminal in Tân Sơn Nhất Airport. However, ACV currently has just 8.44 hectares in its jurisdiction.
This information was disclosed in the Ministry of Transport's report submitted to the Prime Minister on important transportation infrastructures and projects.
The T3 Terminal of Tân Sơn Nhất Airport, headed by the ACV, can service 20 million passengers annually, mainly domestic guests. The total funding for this project is VNĐ10.999 trillion from the ACV.
The project has been underway since 2021 and is due to be completed in Q3 of 2023.
HCM City's People's Committee and related authorities have issued a decree to reclaim land for defence purposes to implement the T3 terminal project and approved the plan of compensation and support when the Government reclaims the land of the 370th Airborne Division and the 918th Airborne Brigade.
At the meeting with the People's Committee of HCM City and related authorities on December 23, 2022, the Air Defense Corps of the Vietnamese Air Force agreed to hand over four areas with a total 8.44 hectares in about one and a half months. However, it still allows the ACV to organise construction in congested areas with a total area of 6.32ha.
The 1.29 hectares area, which includes three hangars of Ngôi Sao Việt Company, will be handed over in phase 2 after the Ministry of Defence agrees on the site clearance plan.
According to the Ministry of Transport, ACV selected a contractor to construct the foundation of the T3 terminal on August 26, 2022, broke ground and deployed 222 of 3,265 test piles. On December 24, 2022, ACV officially kicked off the T3 terminal project.
The Construction Investment Management Department of the Ministry of Transport has completed the appraisal of the design documents and estimates of the T3 terminal project and is waiting for the results of the fire prevention plan to issue the final appraisal results.
The Ministry of Transport said that ground clearance has a great influence on the progress of the T3 terminal project. Therefore, the site (14.75 hectares) should be immediately handed over to ACV to implement the project by the Government's direction in Resolution No. 93/NQ-CP.
However, so far, the Air Defense Corps has only handed over 8.44ha and allowed ACV to deploy over 6.32 hectares.
For the remaining area of the T3 terminal project, the Ministry of Transport asked the People's Committee of HCM City to direct the Tân Bình District People's Committee to coordinate with relevant agencies of the Ministry of Defence to continue handling problems.
ACV is asked to prepare funds and compensate for site clearance; closely coordinate with relevant agencies to gather information; promptly report to the Ministry of Transport and the Committee for the Management of State Capital at Enterprises as a basis for reporting to the Government Steering Committee on critical projects; and urgently direct the contractor to construct the foundation of the terminal to meet the project schedule.
Pilot posthumously awarded Fatherland Protection Order
Acting President Vo Thi Anh Xuan on February 1 signed a decision to posthumously award the Fatherland Protection Order to Major Colonel, pilot Tran Ngoc Duy who died in a military training aircraft crash one day ago.
The decision stated that upon reviewing the Prime Minister's proposal dated February 1, 2023, the President decided to posthumously award the third-class Fatherland Protection Order to Lieutenant, pilot Duy, Deputy Squadron Leader - Chief of Staff of Squadron 1, Regiment 921, Division 371 of the Ministry of National Defence's Air and Air Defence Force for his outstanding achievements and sacrifices while performing air combat training missions, contributing to the cause of socialism building and national defence.
Earlier, the Ministry of National Defence decided to posthumously promote him from the rank of Captain to Major Colonel. The Central Committee of the Ho Chi Minh Communist Youth Union also decided to posthumously award the "Brave Youth" badge to him.
On January 31, Duy piloted a military jet SU22 in a training session. At 12:27 pm, while landing, the aircraft encountered a problem.
The pilot was ordered to parachute, but he tried to fix it instead. The aircraft eventually crashed and he died.
Quang Binh: rare wild cat handed over to authorities
Police in Quang Chau commune in Quang Trach district of the central province of Quang Binh on February 1 received a rare wild cat listed in Vietnam's Red Data Book from a local resident.
The wild cat weighing about 3.5kg has yellowish fur with black spots.
According to the local authorities, this wild cat is called marbled cat or spotted cat. This animal of the family of Asian golden cat belongs to the species listed in Group IIB of the Vietnam Red Data Book. It often lives in forests in Southeast Asia.
The same day afternoon, the wild cat was handed over to the Centre for Rescue, Conservation and Creature Development under the Management Board of Phong Nha - Ke Bang National Park which will care and release the wildlife back to nature.
Viettel FC aim for a top three finish in the upcoming V.League 1
As the highly anticipated V.League 1 season is set to kick off this weekend, Viettel FC are preparing to hit the field with determination and a clear target in mind – finishing in the top three of the league.
Viettel finished fourth in the league last season, but they marked their success by contributing to the Vietnamese national team.
They contributed eight players to the senior team, accounting for 31 per cent of the team. The contribution rate of youth players to the U17, U19, and U21 teams is 43 per cent with 27 players.
Nguyễn Hoàng Đức, Nguyễn Thanh Bình, Nhâm Mạnh Dũng and Phan Tuấn Tài all featured prominently on the team that won 31st SEA Games gold. They also received certificates of merit from the Prime Minister.
The team also officially announced the signing of a contract with striker Jefferson Elias from Brazil, born in 1998. Elias is a prominent player from the youth training academy Atletico Minero of Brazil.
He also played for Democrata and Patrocinense. Last year, he scored 11 goals in 18 matches for URT.
Viettel will face defending champions Hà Nội FC this Sunday in the opening match of the national premiere league.
Third political essay contest on protecting Party ideological foundation launched
A press conference was held on February 1 to launch the third Political Essay Contest on protecting the ideological foundation of the Party in 2023 with a view to raising awareness and responsibility of Party committees, organizations, cadres, party members, and citizens in protecting the ideological foundation of the Party, while combating false and hostile views.
The press conference was connected online to 63 localities throughout the nation.
Upon addressing the press conference, Le Van Loi, deputy director of the Ho Chi Minh National Academy of Politics, said that the purpose of the contest is to continue affirming the important role of protecting the ideological foundation of the Party. In addition, it seeks to fight wrongful and hostile views in the new situation, whilst simultaneously raising awareness and responsibilities of the Party committees, party organisations, cadres, party members, and the people in this regard.
The contest is also designed to form a wide network to protect the ideological foundation of the Party, improve the overall quality of political works in newspapers, magazines, radio, television, and social media outlets to disseminate information about the Party's policies and laws of the State.
Eligible contestants can be Vietnamese nationals based both in the country and abroad, as well as foreigners whose political essays match the contest's criteria.
Entries must not have already been published by media outlets or on social networks before the time of launching the contest.
The theme of the entries should focus on basic and central issues such as scientific values, revolution, the era of Marxism - Leninism, Ho Chi Minh's thought, and suggestions for supplementation and development, as well as protection of the Party's guidelines and policies and laws of the State.
The focus is on the cause of innovation, the path to socialism in Vietnam today, identifying struggles, refuting wrong and hostile views against the Party, State, regime, and its practice, as well as experiences in protecting the Party's ideological foundation.
The announcement and award ceremony is set to be held in October.
HCM City keeps close eye on COVID-19 amid surge in travel during Tet
Ho Chi Minh City set up 45 COVID-19 vaccination sites during the Tet (Lunar New Year) holidays, and immunised around 300 people, according to its Department of Health.
Health authorities had a "thoughtful" plan for potential COVID-19 outbreaks since a huge number of people were travelling during the period, Dr Nguyen Van Vinh Chau, deputy director of the department, said.
The city operated field hospital No 13 to provide treatment to COVID-19 patients as part of the response plan, he told a meeting his department held with the Ministry of Health on January 31 in HCM City.
The HCM City Hospital for Tropical Diseases closely coordinated with the Oxford University Clinical Research Unit for surveillance of SARS-CoV-2, the virus which causes COVID, he said.
Nguyen Thanh Dung, Director of the Hospital for Tropical Diseases, said the hospital's Department of Infectious Diseases D, which receives patients critically ill with COVID from other medical facilities in the city, saw a decline in admissions during Tet.
However, the number of dengue fever cases was high, with nearly 300 of them coming to the hospital last week, including 79 children, he said.
Luong Chan Quang, deputy head of the HCM City Pasteur Institute's department of diseases control and prevention, said the COVID-19 response plan focused on high-risk residents, including seniors and people with underlying medical conditions.
The city's authorities needed to step up communications campaigns for providing COVID booster vaccines, he added.
Exhibition honouring General Vo Nguyen Giap kicks off in Quang Binh
A poetry and photographic exhibition on late General Vo Nguyen Giap opened on February 1 in the central province of Quang Binh as part of activities to celebrate the 93rd founding anniversary of the Communist Party of Vietnam (February 3, 1930-2023).
The exhibition entitled "Theo Dau chan Dai tuong Vo Nguyen Giap" (In the Footsteps of General Vo Nguyen Giap) features 110 poems by teacher-poetess- journalist Nguyen Thi My Dung. She had the unique opportunity to meet and write many poems about the talented general over a span of more than 20 years.
The poems introduce to the public stories and images on the historic victory of Dien Bien Phu and the life and career of the general.
The exhibition consists of three themes.
The first theme entitled "The Way to the Historic Victory of Dien Bien Phu" introduces the scenes of the Dien Bien Phu military campaign under the command of Gen. Giap.
The second features the simple and everyday moments of the legendary general. Meanwhile, the third affirms the sentiments of the people for Gen. Giap and pays tribute to his great contributions to national liberation and reunification.
Jointly organised by the Quang Binh Museum and the Vietnam Women's Museum, the exhibition will run until February 20.
Vietnamese university up 97 places in Webometrics ranking
Vietnam National University (VNU) - Hanoi climbed 97 places to rank 661st in the latest Webometrics Ranking of World Universities in 2023, which was announced on February 1 by the Cybermetrics Lab, a member of the Spanish National Research Lab.
The university also remains the No.1 among the top 10 Vietnamese establishments named in the list. Others include Ton Duc Thang University, Duy Tan University, Nguyen Tat Thanh University, Hanoi University of Science and Technology, Ho Chi Minh City University of Technology, University of Economics Ho Chi Minh City, Industrial University of Ho Chi Minh City, Da Nang University and Can Tho University.
Since 2004, the Webometrics Ranking is published twice a year, covering more than 31,000 higher education institutions worldwide.
It is a ranking chart to assess the digitalisation capacity and impact, academic resources of higher education institutions based on indicators of volume of the website content (presence), the extent of website system and online information's impact (impact/visibility), openness on academic resources on Google Scholar (openness), and scientific citation index on Scopus database system (excellence) of a higher education institution.
Completing frameworks for national standards, technical regulations a focus for 2023
With high development goals and increasing international integration, one of the key focus for Việt Nam's Directorate for Standards, Metrology and Quality (STAMEQ) must be to review and perfect the sector's legal frameworks, especially amendments to the laws related to international agreements.
These include the Law on Product and Goods Quality, the Law on Standards and Technical Regulations, and other documents related to the Comprehensive and Progressive Agreement for Trans-Pacific Partnership (CPTPP) or the European Union - Việt Nam Free Trade Agreement (EVFTA), according to deputy minister of science and technology Lê Xuân Định.
The formation of the national standards and technical regulations must pay special attention to technical application, advanced technology and national energy development, the environment, and renewable energy, alongside national and people's interests.
Nguyễn Hoàng Linh, STAMEQ's deputy director general, said: "The amendments of the Law on Standards and Technical Regulations and Law on Product and Goods Quality will make a major impact not only in management but also in the awareness of businesses and consumers."
This adjustment would focus on developing a national standardisation strategy and transparency responsibility following Việt Nam's commitments to free trade agreements.
In addition, the Law on Product and Goods Quality would also have new regulations on increasing the capacity and developing the national quality infrastructure.
This would be the basis that comprises laws, regulations and administrative decisions that aim to recognise qualified products and services according to official requirements.
These legal adjustments were also expected to support companies in enhancing their competitiveness, productivity and international integration process based on technology and innovation.
According to Science and technology deputy minister Lê Xuân Định, in 2022, the system of national standards (TCVN), technical regulations (QCVN) and local technical regulations (QCĐP) had been improved to ensure cohesion, efficiency and make way for trade, higher competency and access to large markets.
STAMEQ has also drafted the National Standardisation Strategy for 2030, which will be submitted to the Ministry of Science and Technology (MoST) and the Government for approval.
Aiming for comprehensiveness and optimisation, the document is expected to become a driving force behind the national quality infrastructure, product and goods quality, and businesses' productivity, competitiveness, and innovation capacity.
In 2022, STAMEQ issued more than 6,700 Global Company Prefixes (GCP) and over 250 Global Location Numbers (GLN).
The Directorate also works on the project of implementation, application and management of the traceability system, also known as Project 100, a move to protect consumers' interests and facilitate exports.
Noting that technical barrier is one of the main obstacles in international trade, STAMEQ has been focusing on providing support to enterprises, especially in meeting the requirements of safety, hygiene, environment, animal and plant quarantine, packaging, as well as traceability and certification.
Transport ministry urges stricter safety compliance on construction sites
Investors and contractors have been told to strictly uphold traffic safety, and occupational safety and health measures at transport infrastructure construction projects, according to a recent directive issued by the Ministry of Transport.
"Contractors are allowed to begin construction work only after their occupational safety and health measures are approved," said directive No.01/CT-BGTVT.
The inspection of the implementation of approved measures must also be strengthened with timely supplements or adjustments when needed, it said.
Construction contractors must be suspended if there are any signs of violations in traffic safety, occupation safety and health, it said.
Noting that despite progress made and improved workplaces for construction workers, the ministry said there were still limitations that led to occupational accidents.
It said the main reason was a lack of awareness from investors/project management boards, inspection consultant units, and contractors.
The ministry noted that warning and prevention measures were absent at many construction sites. Workers had limited knowledge and skills and were still not very proactive in preventing occupational accidents and risks.
The transport ministry requested investors/project management boards to assign competent staff to oversee management and ensure occupational safety and health as well as traffic safety measures in accordance with the law.
Contractors must also conduct technical safety inspections of machines, equipment and materials that have strict requirements on occupational safety measures in accordance with the law, the directive said, noting that they must also be held accountable for environmental protection activities.
The ministry requested supervision contractors to examine construction design documents and safety and health measures before submitting them to the investors for approval.
Supervision contractors must also strengthen the examination work and promptly handle shortcomings on construction sites if any.
Construction contractors must design safety measures and submit them to a supervision consultant and get approval from investors before starting construction work. They must also assign competent staff to carry out occupational measure management work while organising training for staff and workers about safety and health measures.
Fencing must be set up throughout the construction time in construction sites that are at risk of putting people in danger.
In January this year, a 10-year-old boy died after falling down a 35-metre concrete pile at the Rọc Sen bridge construction site in Phú Lợi Commune, Đồng Tháp Province.
73rd anniversary of Viet Nam-Russia diplomatic ties marked
The Foreign Affairs Committee of St. Petersburg City hosted a conference in both online and offline forms to mark the 73rd anniversary of Việt Nam-Russia diplomatic relations in Moscow on Monday.
Speaking at the event, Vietnamese Ambassador to Russia Đặng Minh Khôi highlighted the time-tested relationship between the Việt Nam and Russia in all spheres, saying it is a precious asset of the two countries.
The ambassador said 2023 is a year of great significance to the bilateral ties as the two countries will celebrate the 100th anniversary of President Hồ Chí Minh's arrival in Petrograd (now St. Petersburg). It's also an opportunity for both nations to review their achievements.
Several works will also be inaugurated in the year to celebrate the special ties, including a statue of President Hồ Chí Minh in St. Petersburg, he added.
Russian Ambassador to Việt Nam Gennady Bezdetko confirmed that Việt Nam had always been one of Russia's closest and most reliable partners in the Asia-Pacific region. The Southeast Asian country was still Russia's largest trading partner in ASEAN despite changes in the region and the world.
Chairman of the Foreign Affairs Committee of St. Petersburg City Evgeny Grigoriev said that the conference was the continuation of the sixth project of the committee, under the name "Celebrating the 100th anniversary of President Hồ Chí Minh's arrival in Russia.
He also noted there would be many events organised by the city government under this project during the year.
Spring festival and cultural week to boost Bac Giang's tourism
A series of activities to promote the cultural values and tourism potential of the northern province of Bắc Giang will be held during a culture and tourism week from February 1-6.
Buddha Music Night is one of the highlights of the culture-tourism week, which is reorganised in the province after a three-year pandemic hiatus. With the theme Vĩnh Nghiêm - Hào Quang Trí Huệ (Vĩnh Nghiêm - Aura of Wisdom), the event is held at Vĩnh Nghiêm Pagoda in Yên Dũng District, the cradle of Việt Nam's indigenous Trúc Lâm Yên Tử Zen Buddhist sect.
According to Vũ Trí Thống, head of the Culture and Information Department of Yên Dũng District, the programme has an innovative and distinctive form, telling stories through music about the life, background and the enlightenment process of Buddhist King Trần Nhân Tông (1258-1308), together with the formation and development of the Trúc Lâm Yên Tử Zen Buddhist sect that he founded. Hundreds of actors, monks and students will participate in the programme.
Another highlight of the culture-tourism week is the procession of the printing woodblock set Cư Trần Lạc Đạo Phú, one of the famous works by Buddhist King Trần Nhân Tông, from Vĩnh Nghiêm Pagoda to Thượng Tây Yên Tử (Sơn Đồng) Pagoda.
According to Venerable Thích Thanh Vịnh, deputy abbot of Vĩnh Nghiêm Pagoda, the printing woodblock set was selected among more than 3,000 woodblocks of the pagoda. It includes inscriptions of Buddhist Law, thoughts and philosophies of monks, particularly those throughout the enlightenment process of Buddhist King Trần Nhân Tông, who was also a prominent military leader and poet. Over 100 festival floats will take part in the procession of the woodblock set.
The culture and tourism week will include many sideline activities, including the exhibition "Buddhist sacred mark of Tây Yên Tử - Relics from the ground", displaying 200 artefacts unearthed in Western Yên Tử relic; the opening ceremony of Yên Tử Spring Festival; folk games; a painting contest; traditional singing and ritual performances of local ethnic groups and a marathon to conquer the sacred Mount Yên Tử.
Bắc Giang Province is home to hundreds of architectural sites dating back to the Trần dynasty and more than 2,000 historical and cultural heritage sites, especially pagodas such as Vĩnh Nghiêm, Am Vãi or Bình Long.
Located in the Lạng Sơn – Hà Nội – Hải Phòng – Quảng Ninh economic corridor and bestowed with stunning natural landscapes like the Western Yên Tử Nature Reserve, Bắc Giang has huge potential for tourism development.
The province is expected to receive from 500,000-600,000 visitors this culture-tourism week and has set a target of welcoming a total of two million tourists this year.
Sponsors to double bonuses for football champions
Winners of the V.League 1 and V.League 2 will enjoy nearly double the cash bonuses in the 2023 season as the organisers announced their sponsors in Hà Nội on Tuesday.
The national premier league, V.League 1, will continue its three-year deal with Ngọc Linh Kon Tum Ginseng JSC, which owns Night Wolf energy drink.
It is the second year of the contract. The league is called the 2023 Night Wolf V.League 1.
Meanwhile, the First Division league will be called the Gold Star V.League 2 after the Hà Nội Nghệ Tĩnh Beer Joint Stock Company decided to join with the organising activities this year.
At the signing ceremony, the Viêt Nam Professional Football Company (VPF) revealed that a total of VNĐ12.25 billion (US$523,000), nearly twice more than the previous year, will be awarded to the champions, runners-up and best players of the competitions.
Accordingly, the V.League 1 winner will receive VNĐ5 billion, a remarkable increase from VNĐ3 billion last year.
The second- and third-place teams will take VNĐ2.5 billion and VNĐ1.25 billion, respectively.
The V.League 2 champion will double its take to VNĐ2 billion. The first and second runners-up will pocket VNĐ1 billion and VNĐ500 million, respectively.
VPF General Director Nguyễn Minh Ngọc shared: "Sponsors play a key role in the success of every tournament. The national football season in 2022 had impressive performances and quality, partly due to the support of our sponsors."
The V.league 1 will begin on February 3 with the participation of 14 teams. Defending champion Hà Nội FC will play former winners Viettel on February 5 at the Hàng Đẫy Stadium after the opening ceremony of the tournament.
The V.League 2 will kick off on April 1 with 12 teams.
All matches of these leagues will be aired live by FPT Media after a strategy partnership contract between FPT and VPF signed last November.
'My goal is always the same': Linh aims to be V.League 1 top scorer
Nguyễn Tiến Linh, the star striker for the national team, has set his sights on dominating the V.League 1 this year and ending the season as top scorer.
"My personal goal is always the same in the national premiere league. I always want to score a lot of goals. Hopefully, this year I can become the top scorer," Linh said on Monday.
His nearest competition will be a little bit closer to home this season than last. Linh will be competing alongside last season's V.League 1 top scorer Rimario Allando Gordon, who joined Bình Dương from Hải Phòng where he scored 17 goals last season.
In addition to Gordon, Bình Dương also have Việt Cường, Sỹ Giáp and rookie Neto Nogueira.
"Bình Dương having V.League 1 2022's top scorer Gordon is good news for the team. For Linh, it is an honour to compete with Gordon. We will unite and fight for the club's achievements. Competition to be the leading striker will be fierce," Linh said.
Meanwhile, Bình Dương's target is to compete for accolades this year.
"In the 2023 season, Bình Dương's players have changed a lot, but we will definitely keep the spirit of solidarity and confidence," Linh said.
"I think the goal set by the club's leaders is not too difficult. We are ready to fight and hope to achieve our goal this season." Linh added.
Linh has been nominated for the Golden Ball award 2022, along with other four players: Đỗ Hùng Dũng of Hà Nội FC, Nguyễn Hoàng Đức of Viettel FC, Đặng Văn Lâm of Topenland Bình Định, and Nguyễn Văn Quyết of Hà Nội FC.
"Being in the top five of the Vietnamese Golden Ball 2022 is an honour for me. Last year, I finished third in this award. In my opinion, every Vietnamese player wants to take this title. All players in the top five have had a successful year in their club and national team. Everyone has his advantages, and this year, if anyone is named, I congratulate him. In the short term, I hope to be invited to the awards gala night before being named," Linh said.
In the 2022 season, Linh scored nine goals and was the second-best domestic striker in the league after striker Tuấn Hải (10 goals).
Sinh Village wrestling festival generates excitement among crowds in Hue
The traditional Sinh Village wresting festival opened in Phu Mau Commune, Hue City on January 31, attracting thousands of locals and visitors.
The festival has been observed on the tenth day of the first lunar month every year for the past five centuries in Sinh Village, now Lai An Village.
It aims to pray for a new year with favourable weather conditions, peace and prosperity while promoting sporting movement in the community.
This year's event witnessed the competition of nearly 100 wrestlers from communes and towns in the districts of Phu Vang, Huong Tra and Quang Dien as well as Hue City.
They were divided in two age categories of under 15 years old and above 16 years old.
In the qualifying round, a wrestler has to beat their three rivals to enter the semi-final, in which he has to defeat another rival to advance to the final match. The wrestler who is lifted off the ground or falls on his back loses the game.
Source: VNA/SGT/VNS/VOV/Dtinews/SGGP/VGP/Hanoitimes