VIETNAM NEWS HEADLINES FEBRUARY 8/2023
Vietnam puts children at centre of development policies, strategies: Ambassador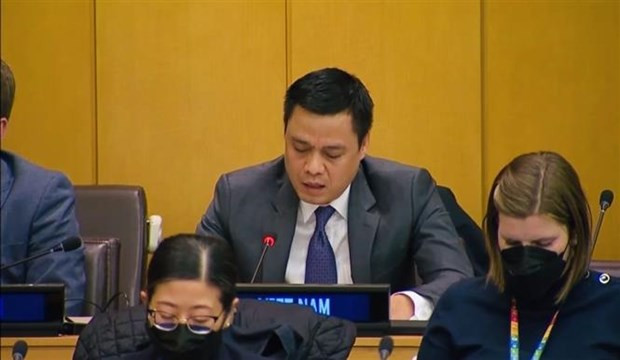 Ambassador Dang Hoang Giang speaks at the session (Photo: VNA)
Children are always put at the centre of all development policies and strategies of Vietnam, Ambassador Dang Hoang Giang, the country's Permanent Representative to the United Nations (UN), has affirmed.

Addressing the first regular session of the UN Children's Fund (UNICEF) Executive Board held in New York from February 7-10, Giang briefed participants on outstanding results that Vietnam has achieved in the past one year since the executive board approved the Vietnam Country Programme in February 2022.

He thanked and appreciated the organisation's effective and timely help and support for Vietnam, especially in providing tens of millions of doses of vaccines against the COVID-19.

In the context that the world is facing many crises, the ambassador emphasised that peace is a prerequisite for the development and prosperity of people, including children. UNICEF needs to work with other UN bodies and member countries to strive for this goal so that children and future generations can live in peace and have the opportunity to develop further.
To ensure that UNICEF has enough resources to complete its Strategic Plan and contribute to effectively responding to global challenges, the Vietnamese representative called on countries to fulfill their commitments to contribute resources to UNICEF.He took the occasion to reaffirm that he will continue to work closely with the UN body to promote and protect children's rights.
Vietnam targets 100 gold medals at SEA Games 2023
Vietnam has set a goal of winning 100 gold medals and coming in third place in the overall tally at the upcoming 32nd Southeast Asian (SEA) Games due to take place in Cambodia this May.
This target was unveiled at a working session to examine Vietnam's preparations for the SEA Games 2023 between the Ministry of Culture, Sports and Tourism and the Vietnam Sports Administration in Hanoi on February 7.
The target was described as 'reasonable' after Cambodia announced to eliminate many of Vietnam's strong sports, such as archery, shooting, canoeing, rowing, futsal, and kurash.
The upcoming regional sporting event scheduled to take place from May 5 – 16 is projected to feature a total of 36 sports, including 583 competitions. According to the Vietnam Olympic Committee, the number of competitions has yet to be finalised and will change in the near future.
The Vietnamese sports delegation hope to participate in 30 sports across 444 competitions.
In 2022 Vietnam played host to the SEA Games 31, winning top position with 205 golds.
Tran Duc Phan, deputy head of the Vietnam Sports Administration, said the Vietnamese sporting delegation has fully prepared for the upcoming regional games with confidence and respect to their rivals.
The event will serve as a preparatory step for Vietnamese athletes ahead of the Asian Games (ASIAD) 2023 to be held in China this September, Phan noted.
Local photographer wins Sony World Photography Awards 2023
Vietnamese photographer Nguyen Ngoc Thien, 35, has been named as the winner of the National Awards category at the Sony World Photography Awards 2023.
According to Thien, the wining photo named "Turtle Dream", was captured in early September 2022, during a scuba diving trip to the Perhentian Sea in Malaysia.
For this particular award, photographers are judged against others from their country of origin, regardless of which of the 10 categories the photo was submitted to. This therefore creates competition across various "open" categories, including portraits, architecture, nature, still life, and travel. Ultimately, the panel of judges must choose the best photo from each country, regardless of its subject matter.
This year, the Sony World Photography Awards 2023 received over 200,000 entries from 200 countries worldwide.
Most notably, 61 National Award winners were chosen from the Open category.
The winners will be presented with a Sony digital imaging kit, as well as gaining visibility through the World Photography Organisation channels.
The winners will also have their photos featured in the Sony World Photography Awards book and an exhibition scheduled to take place at Somerset House in London, from April 14 to May 1.
The Sony World Photography Awards competition has been running for several years and has so far garnered millions of submissions.
Argentina-Vietnam Friendship Parliamentarians' Group debuts
The Argentina-Vietnam Friendship Parliamentarians' Group made its debut at the Argentine Chamber of Deputies' headquarters in Buenos Aires on February 7.
President of the nine-member group Maria Rosa Martinez affirmed that it will actively contribute to strengthening political, economic and trade ties as well as cooperation and solidarity between the two countries' legislative bodies and peoples.
Vietnamese Ambassador Duong Quoc Thanh said that the establishment of the group demonstrates the attention by the Argentine National Congress to promoting cooperation between the two countries. He stressed the significance of this event on the occasion of the 50th anniversary of the bilateral diplomatic relations.
The diplomat pledged to cooperate closely with the group as well as the National Congress in organising more meaningful activities in order to bring the bilateral relationship to a new height.
At the first meeting of the group, Martinez presented the group's orientations of action in the coming time to serve as a bridge contributing to deepening the solidarity, friendship and cooperation between the two legislative bodies. Its members also contributed ideas to bring the two countries.
They also expressed their wish to exchange experience with Vietnam in socio-economic development, poverty reduction, sustainable economic growth, as well as in areas in which the two sides can complement each other for mutual development.
Southern region experiencing high UV index
The Southern part is seeing hot weather, with the highest at 33oC and an UV index of 9, which is extremely dangerous.
Accordingly, the Southern Regional Hydrometeorological Center informed that in Ho Chi Minh City, during the day there is no rain with the temperature between 26-34oC and the average humidity of 40-80. Southeastern provinces have a temperature between 23-35oC, while the one in the Mekong Delta provinces is from 23-34oC.
The National Hydrometeorological Center also forecast that the UV index of major cities in the Central and Southern regions of Vietnam like Nha Trang, HCMC, Can Tho, and Ca Mau will all reach level 9 from 11:00 a.m. to 14:00 p.m.
Experts, therefore, warn that the public should minimize their traveling on streets in the middle of the day. Anyone having to go out must wear sunscreen and protective clothes, face masks, sunglasses to avoid sunstroke.
Flights to, from Thanh Hoa Province canceled due to bad weather
Multiple flights to and fro Tho Xuan Airport in Thanh Hoa Province have their schedules adjusted owing to adverse weather and heavy fog.
Accordingly, Vietnam Airlines must cancel the flights No.VN1272, VN1273, VN1276, VN1277 on February 7 from HCMC to Thanh Hoa Province and the flights No.VN1630, VN1631 on the same day from Buon Ma Thuot City to the province.
Similarly, Vietjet Airlines informed a temporary halt of the flights No. VJ476/477 from Can Tho City – Thanh Hoa Province. Its 10 other flights No.VJ038, VJ040, VJ042, VJ242, VJ244, VJ246, VJ248, VJ250, VJ252, VJ256 had to land in Noi Bai International Airport. Meanwhile, 10 flights No. VJ241, VJ243, VJ243A, VJ247, VJ249, VJ251, VJ251A, VJ253, VJ257, VJ257A from Thanh Hoa Province – HCMC had to have their schedules adjusted to Hanoi – HCMC.
All passengers in the above flights were supported to travel from Thanh Hoa Province to Hanoi by road. Other flights affected by this schedule change have their passengers supported in accordance with the service policy.
It is forecast that the adverse weather continues to affect flights in the North-Central and Northern region, especially Thanh Hoa Province and Vinh City.
Flight schedule changes are frequently updated on formal websites and Fanpage of airlines. Related passengers also receive a notification email or SMS.
In related news, the Civil Aviation Authority of Vietnam yesterday informed of certain cases where domestic flight travellers bought tickets at a higher price than regulated ones, especially during Tet holiday. It advised that people should be cautious when buying air tickets via agencies.
When detecting a case of overpriced airline tickets, citizens can call the hotline 0916562119 of the Civil Aviation Authority of Vietnam to report, and it will be handled in a timely manner.
Young women in HCM City volunteer to enlist in the army
In recent days, people in Long Hòa coastal commune, HCM City's Cần Giờ district, have talked a lot about Huỳnh Trần Diễm Thúy, a graduate who volunteered to join the army this year.
With a bachelor's degree in archivology, Thúy could easily find a suitable job but instead, wants to enlist in the military.
And she couldn't have been happier when she got the go-ahead to join the army.
At first, she was worried that because she only weighed 44kg, she might not meet the criteria for enlistment, but her fears were put to rest when she got the call-up.
For Thúy, her mother who works as a police officer has always been her idol.
The image of the mother in a military uniform, working for the community has been the driving force behind Thúy's decision.
Like Thúy, Phan Vũ Kim Phụng, a 25-year-old woman from District 3 in HCM City, also wrote a volunteer application for military service.
After graduating from university with academic results in economic law, Phụng applied to join the local mobile militia.
Wearing the blue shirt of militia, she actively participated in local movements and social activities. With outstanding achievements in local activities, the young woman became a Communist Party member in 2022.
Phụng's mother Vũ Thị Ngọc Hải Phượng said she encouraged her daughter's ambition, and saw many young people join the military service while she was working in Ward No 13.
Phụng is her youngest daughter and joined the local mobile militia after graduating from university and participating in COVID-19 prevention works.
For Nguyễn Trang Hương Trúc, 22, from Xuân Thới Đông Commune, Hóc Môn District, wearing a blue shirt of the soldier is the fulfilment of her family's 20-year wish.
Nguyễn Văn Cước, Trúc's father said after leaving the army in 1989 and getting married, he wished to have a son and his son would join the army. But he has three daughters only.
Understanding her father's wish, Trúc volunteered to join the army after obtaining a college degree in economics.
Phạm Hữu Nghĩa, military commander of Xuân Thới Đông Commune, said Trúc was the only female citizen representing Hóc Môn District to sign up.
Like other localities around the country, HCM City is scheduled to hand over the new soldiers to army units by February 8.
This year, the city recruited 4,079 citizens to join the military, including three females who wrote volunteer applications for military service.
Of these, 84 people are Party members, accounting for 2.21 per cent. Over 45 per cent of recruits have university and college degrees.
Vietnam among destinations for best slow travel holidays in 2023
Australian travel publication Traveller of The Sydney Morning Herald has recently released its list of the top 20 slow travel holidays for this year, with Vietnam featured in the list of places to visit in 2023.
According to the media outlet, Vietnam represents an ideal destination for a salubrious wellness journey.
"Inside Asia Tours has a wellness-oriented journey through the length of Vietnam that's active thanks to cycling and walking tours, and which involves the likes of sunrise yoga, organic cooking classes, an aromatherapy workshop," says Traveller.
It also suggests that visitor enjoy a stay in Alba Wellness Valley which offers daily spa treatments, before heading for a kick-back beachside finale in Phu Quoc, one of the nation's most hip resort islands.
"Don't miss kick back on a multi-day cruise on Lan Ha Bay, the quieter alternative to Ha Long Bay but with the same humped peaks. Sunrise tai chi on the deck is a good start to the day," it concludes.
Other destinations to make the list include a blissful barge holiday in Europe, a languid long-haul stopover in Hawaii or New Zealand, a peaceful pilgrim trail trek in Santiago de Compostela in Spain, and an unhurried long-distance train journey between Toronto and Vancouver on The Canadian.
Footballers gather for 2024 AFC U20 Women's Asian Cup qualification
Vietnam's U20 team took part in their second gathering of the year on February 7 as they got preparations underway for the qualification round of the 2024 AFC U20 Women's Asian Cup.
Japanese coach Akira Ijiri called up a total of 30 players from Hanoi, Ha Nam, Thai Nguyen, Son La and Vietnam Coal and Mineral FCs for the training camp.
The local footballers will participate in a 20-day training course at the PVF Youth Football Training Center in Hung Yen before they will then travel to Phu Tho where they will host Group F's matches of the 2024 AFC U20 Women's Asian Cup qualification stage.
There will be two rounds of qualification matches, with the first round scheduled to be played between March 4 and March 12, whilst the second round of matches is to be held from June 3 to June 11.
Of the 47 Asian Football Confederation (AFC) member associations, a total of 31 teams have entered the competition, with Japan, the Democratic People's Republic of Korea, and the Republic of Korea automatically making it to the finals as they are the top three teams of the 2019 AFC U19 Women's Championship.
The 31 teams have been divided into seven groups of four teams and one group of three teams. Vietnam are in Group F alongside Indonesia, Singapore, and India.
For the second round, the eight teams will be drawn into two groups of four teams.
In the second round, the two group winners and the two group runners-up will qualify for the tournament.
Ca Mau: clean water project to benefit 63,000 rural residents
The southernmost province of Ca Mau will spend over 74 billion VND (over 3.13 million USD) from the local budget on a project to sustainably provide clean water to rural residents.
The project, which is expected to benefit 63,000 people, aims to better local residents' health, improve the environment, and reduce diseases caused by water sources.
The project will also help improve the management and operation effectiveness of water supply systems in order to ensure sustainability and efficiency of the clean water supply service.
According to the provincial People's Committee, the project, invested by the Department of Agriculture and Rural Development, will be implemented in 2023 - 2025 in the districts of Tran Van Thoi, Cai Nuoc, Dam Doi, Phu Tan, Thoi Binh, Nam Can, and Ngoc Hien, and Ca Mau city.
The fresh water for daily life and production of people in Ca Mau depends on rainwater and water from wells. This situation, together with increasingly severe climate change, is the cause behind the fresh water shortage in the dry season and the flooding in the rainy season.
People in many rural areas are struggling with the shortage of fresh water for daily life because they cannot drill wells.
Statistics show that the number of households in Ca Mau using water from concentrated water supply works remains limited, only about 41,000.
According to the Centre for Clean Water and Rural Sanitation of Ca Mau, as many as 244 concentrated water supply works have been built in the locality but most of them have yet to meet the actual demand.
Ca Mau targets to provide clean water for 65% of rural households, and have 50% of those having access to clean water from concentrated water supply works by 2030.
16 districts in Hanoi record no poor households
As many as 16 districts in Hanoi - 11 urban and 5 rural ones - no longer have any households living under the poverty line, and the number of poor households in the capital city stands at 2,134, making up only 0.095% of its population.
The municipal People's Committee has set the target of reducing the number of poor households to 642 this year. To that end, it has directed districts to concertedly roll out policies and measures on sustainable poverty reduction.
Fifteen out of 18 rural districts in Hanoi have won the new-style rural area status, and 48 communes have met advanced criteria of a new-style rural area, and five others have been recognised as model new rural areas.
The city has also paid attention to the "One Commune, One Product" (OCOP) programme. As a result, 1,649 products have satisfied the standards set under the programme.
Last year, more than 22 trillion VND (931.81 million USD) was earmarked for the new-style rural area building programme, of which nearly 11 trillion VND was sourced from the city budget.
The committee has asked departments, agencies and localities to build and implement plans and solutions flexibly and mobilise all resources for the programme this year.
RoK-funded mangrove restoration project launched in Ninh Binh
The Ministry of Agriculture and Rural Development (MARD) and the People's Committee of Ninh Binh province organised a ceremony to launch an afforestation campaign in Kim Son district on February 7.
The event formed part of the Mangrove Restoration and Sustainable Management Project in the Red River Delta funded by the Government of the Republic of Korea (RoK) through the Korea Forest Service (the KFS Project).
In his remarks, MARD Deputy Minister Nguyen Quoc Tri thanked the KFS for its support in the implementation of the project, contributing to promoting the role of coastal forests in the two target localities of Ninh Binh and Nam Dinh in protecting the environment and biodiversity, and reducing emissions.
The project has also generated income for local residents, and helped to mitigate natural disasters and respond to climate change and sea level rise, the official added.
The implementation has manifested the Korean Government's responsibility for climate change response, he emphasised.
KFS Deputy Minister Sang-seop Lim said the project is significant to the forestry and fishery sector of both nations, noting that it would become an outstanding forestry project between Vietnam and the RoK.
Based on the success, the Korean side would plan to expand its engagement in other fields like forest transformation and deforestation prevention, he said.
Vice Chairman of the provincial People's Committee Tran Song Tung said the project area holds potential for aquaculture and eco-tourism, and called on the investor and relevant units to coordinate with departments, agencies and localities, as well as cooperatives, households and individuals to roll out livelihood models for locals.
The five-year project has total funding of 4.39 million USD, with 3.79 million USD coming from the RoK's non-refundable aid. It targets 250 hectares of new mangrove forests in Kim Son, Ninh Binh, and at the Xuan Thuy National Park in Nam Dinh province.
Deputy PM receives UNDP, USAID officials
Vietnam wishes UNDP will continue to give advice to and support Vietnam in terms of health care, bidding and procurement of medicines and medical equipment, and marine spatial planning, Deputy Prime Minister Tran Hong Ha told UNDP Resident Representative in Vietnam Ramla Khalidi.
During a reception for the UNDP official in Hanoi on February 7, the Deputy PM spoke highly of the effective and practical cooperation between Vietnam and UNDP across the fields of economy, society, climate change adaptation and ensuring the environment.
He highlighted a number of priority areas of Vietnam, including health, natural ecosystem restoration, circular economy, and the environment, while expressing his hope that UNDP will share experience and effective models that have been carried out in other countries.
He suggested UNDP continue its support for Vietnam in governance, technology, and how to receive energy transformation projects in harmony with the socio-economic transition process.
For her part, Khalidi affirmed UNDP's commitment to supporting Vietnam in energy transition, towards realising the country's net zero greenhouse gas emission target by 2050 and effectively responding to climate change.
She said she would work and coordinate closely with Vietnamese ministries, sectors and localities, including the Ministry of Natural Resources and Environment, to enquire about Vietnam's priorities in the field of energy transition.
UNDP will also continue to deploy projects to ensure social security, prevent and control storms and floods in central coastal and Mekong Delta provinces; strengthen infrastructure links between localities; and maintain biodiversity and develop eco-tourism in Vietnam, she affirmed.
The same day afternoon, Deputy PM Ha had a meeting with Aler Grubbs, Director of United States Agency for International Development (USAID) in Vietnam, during which he highly appreciated the US's support for Vietnam in terms of technology, human resources and finance to handle consequences of Agent Orange/dioxin and decontamination.
He said that energy is one of the top priorities in the two countries' cooperation against climate change, noting that Vietnam needs support to achieve development goals in wind power, renewable energy, and smart grid.
The Deputy PM emphasised the important significance of promoting cooperation between Vietnam and the US in the fields of agriculture, education, enhancing linkage between schools and businesses as well as between enterprises and financial institutions, and promoting training, cultural and art exchange.
Grubbs highly valued close cooperation between USAID and Vietnamese ministries and sectors in recent years, while expressing her pleasure with the cooperative achievements and results between the two countries.
She said the two countries will mark the 10th founding anniversary of the Comprehensive Partnership this year, and this is an opportunity for the US and Vietnam to continue promoting the relationship with many important activities, including those via USAID.
Visit Vietnam Year 2023 to officially kick off this March
The Visit Vietnam Year 2023, themed "Binh Thuan - Green Convergence", will be opened with a ceremony in Phan Thiet city on March 25.
The event, to be broadcast live by Vietnam Television, will introduce local cultural, tourism products, and historical activities set to take place during the year. The campaign is expected to help promote tourism recovery and development in the south-central province of Binh Thuan and attract domestic and international investors.
The Visit Vietnam Year 2023 will feature more than 200 inter-provincial, national, and international cultural, sports, and tourism events, including an international culinary festival, a national rowing and canoeing tournament, a fair named Farmer's Market, a national golf championship, and a tourism week.
These activities are hoped to connect travel companies, help open up a new period for tourism cooperation with other countries, and expand tourist markets in ASEAN, Asia, and the world.
Introducing the Visit Vietnam Year 2023 at the recent Travel Exchange (TRAVEX) in Indonesia, Deputy General Director of the Vietnam National Administration of Tourism Ha Van Sieu said the theme "Green Convergence" focuses on promoting green and sustainable tourism so as to improve the competitiveness of Vietnamese tourism in the region and the world.
Overseas Vietnamese in Brazil celebrate Lunar New Year 2023
The Vietnamese Embassy in Brazil has hosted Xuan Que Huong (Homeland Spring) programme in Sao Paulo state to welcome the Lunar New Year (Tet) with the participation of representatives of the Vietnamese community, Brazilian friends and guests.
Earlier, overseas Vietnamese in Brazil joined activities to make banh chung (square sticky rice cake) and nem (spring rolls), and pho (Vietnamese noodle soup) held by the embassy on February 4.
HCM City's tourism products among top unique tours in Vietnam
As a result of Ho Chi Minh City's unceasing efforts to diversify tourism products, several has been listed among the top 20 unique tours promising interesting experiences for travellers in Vietnam.
The list was announced by the Vietnam Record Organisation (VietKings) last month.
Among them, a tour gives travellers a chance to try working as a physician and learn about traditional medicine at the Museum of Traditional Vietnamese Medicine in District 10.
The private museum, opened by the FITO Pharma Co.Ltd, features more than 3,000 precious objects related to traditional medicine of Vietnam, including herb slicers and grinders dating back some 2,500 years, a collection of books with over 100,000 pages in total written in Han (Chinese) and Nom (old Chinese-like script of Vietnam), and hundreds of valuable remedies.
Another tour in the list is a dining-in-the-dark journey at Noir Restaurant, where tourists can enjoy delicate tastes and structures of dishes completely in the dark with services provided by well-trained visually-impaired waiters and waitresses.
It brings about not only dining experiences but also a chance for exchange between the abled and the disabled.
Nguyen Thi Anh Hoa, Director of the HCM City Tourism Department, said that since 2022, the southern metropolis has reaped success in the programme developing one typical tourism product for each district. The department has also been striving to reform products so that the city can become a must-visit destination.
Efforts have proved fruitful, she noted, adding that HCM City now boasts more than 60 tourism products, including 30 new ones of local districts and Thu Duc city.
Top legislator stresses importance of keeping close watch on macro-economic situation
National Assembly (NA) Chairman Vuong Dinh Hue asked agencies of the NA and its Standing Committee to keep a close watch on the macro-economic situation, as well as financial, monetary, stock and real property markets, while meeting their standing members on February 7.
For urgent issues, NA agencies should actively and promptly work with relevant ministers and heads of ministry-level agencies to seek solutions, instead of waiting for question and answer (Q&A) sessions held by the legislative body and its Standing Committee.
Notably, this year, the NA will conduct a vote of confidence for posts it elected and approved. Therefore, the work of preparing for deputies to properly assess their confidence with these positions is also an important responsibility of the Council for Ethnic Affairs, and committees of the legislature and its Standing Committee, Hue stressed.
The top legislator also required the early and good preparations for state budget estimates and settlement, and parliamentary diplomacy, including foreign visits by the NA Chairman and Vice Chairmen, and the organisation of the Global Conference of Young Parliamentarians.
At the meeting, NA Chairman Hue also reviewed the body's two extraordinary sessions held in January, during which it made many important decisions.
He requested agencies to make thorough preparations for a session of the NA Standing Committee scheduled to last for four days of this month.
Da Nang considered ideal year-round destination for Malaysians
Malaysia's media has named Da Nang an ideal year-round destination for Malaysian tourists for its many attractions such as endless beautiful beaches, temples, and a lively night market.
A recent article suggested coming to the central Vietnamese city in February will offer visitors a more relaxing and less noisy atmosphere compared to other times of the year. The weather this time is cooler with sudden rains.
It also introduced a series of Da Nang's popular tourist destinations, including Ba Na Hill, the Golden Bridge, Son Tra Peninsula, Linh Ung Pagoda, and Cham Museum. Hoi An, a UNESCO-recognised world cultural heritage in the neighbouring central province of Quang Nam, was also mentioned.
The author asserted that the trip cannot be complete without famous Vietnamese dishes such as the beef noodle soup, Hoi An chicken rice, and traditional cakes.
F4 Thailand to perform in Ho Chi Minh City
The four main actors from popular Thai drama F4 Thailand: Boys Over Flowers have confirmed that they will perform in Ho Chi Minh City on April 3 as part of their Asian tour.
According to the schedule, the band, made up of Bright Vachirawit, Dew Jirawat, Win Metawin, and Nani Hirunkit, will hold concerts titled Shooting Star Asia Tour in Vietnam, Indonesia, Malaysia, Philippines, the Republic of Korea, Singapore, Taiwan (China), and Japan.
This comes after F4 also released a video clip to send new year wishes to their Vietnamese fans and to express their excitement at visiting the nation for the first time.
Embassy ready to assist Vietnamese affected by earthquake in Turkey
The Vietnamese Embassy in Turkey had by February 6 recorded no Vietnamese citizens dead or injured in an earthquake that devastated the country earlier the same day.
Nguyen Phu Tan Huong, first secretary at the Vietnamese Embassy, said the embassy has contacted local authorities and Vietnamese expatriates to frequently update information about the incident, and stayed ready to take citizen protection measures in case there are Vietnamese victims in the quake.
To seek support, Vietnamese citizens can contact the embassy through its Facebook page or hotline 90 545 7858548 or the citizen protection hotline 84.981848484, she advised.
There are a few Vietnamese citizens living in the areas affected by the earthquake. In the days to come, the embassy will send staff to these localities to keep update on the situation and provide prompt assistance, Huong said.
Hanoi to host Kimono-Ao Dai Fashion Show in early March
The InterContinental Hanoi Westlake Hotel in Hanoi will host the first ever Kimono-Ao Dai Fashion Show on March 4.
The event is scheduled to be held at 2 p.m. and 7 p.m. on March 4, with each show lasting for one hour.
A total of 20 kimonos by Japanese designer Kobayashi Eiko will be introduced at the show. In addition, models will perform in the Vietnamese Ao Dai (traditional long dress) created from fabric materials used to make kimono.
The event is being jointly organised by BRG Group, the non-profit cultural organisation Be-Japon, and the Embassy of Japan in Vietnam.
It will be one part of activities held to mark 50 years since the establishment of diplomatic relations between Vietnam and Japan which first happened on September 21, 1973.
Source: VNA/SGT/VNS/VOV/Dtinews/SGGP/VGP/Hanoitimes