VIETNAM NEWS HEADLINES JANUARY 24
National museum's exhibition features spring landscapes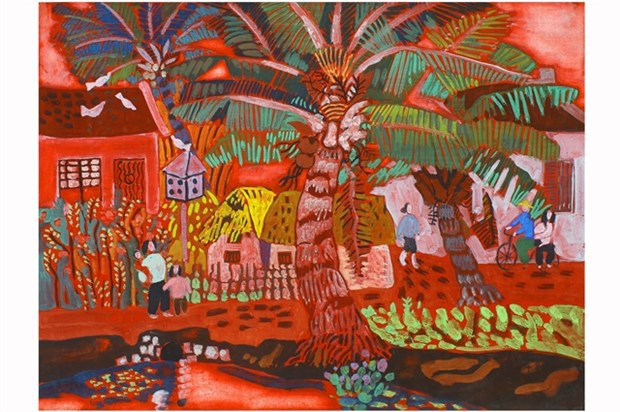 A painting exhibition at the Việt Nam Museum of Fine Arts offers art lovers a chance to see the beauty of the spring in different regions across the country.
The exhibition, entitled Spring Colours, includes nearly 60 paintings selected from the Modern Art Collection of the museum and is held to celebrate Tết (Lunar New Year).
"Through the artists' perspectives and artistic language, typical features of spring in different regions across the country are vividly depicted," said Nguyễn Anh Minh, the museum's director. "The country's natural landscapes are poetically portrayed in these works showing the love for the homeland of the artists."
The paintings were created in different periods of history and by various popular artists from the Indochina Art generation including Trần Văn Cẩn, Nguyễn Văn Tỵ and Trần Đình Thọ, to the younger generations such as Nguyễn Trọng Kiệm, Phạm Viết Hồng Lam, Nguyễn Bá Thi and Võ Lương Nhi.
Exhibition goers will notice popular destinations in Hà Nội like Hàng Mã Street, Ngọc Hà Flower Village or Đống Đa Mound, as well as familiar scenes in the countryside like small villages, trees and coconut groves, from the mountainous provinces of Lạng Sơn and Cao Bằng with famous historical sites including Karl Marx Mountain, Bản Giốc Waterfall and Pắc Bó Cave to the midlands and coastal areas.
Gouache painting Dừa Kiến An (Kiến An Coconut) by veteran Phạm Viết Hồng Lam is eye-catching at the exhibition with hot oranges and bright and bold pinks.
Dừa Kiến An was displayed at National Fine Arts Exhibition in 1986 and the museum collected it after the exhibition.
Spring and country themes are endless inspirations for artists. Spring gives people the colours of joy and vitality with the plants sprouting.
Artist Võ Lương Nhi has a chance to see her work after nearly 30 years in the museum collection.
The exhibition is a pleasant and auspicious gift that brings best wishes and good luck for the New Year to everyone, according to museum director Minh.
The exhibition runs until February 15 at 66 Nguyễn Thái Học Street.
National Hospital of Obstetrics and Gynaecology welcomes first babies born in Year of Cat
The National Hospital of Obstetrics and Gynaecology announced that Tran Dang Duong, born at midnight on Lunar New Year's Eve, became the first baby to be born in the Year of the Cat in Vietnam.
After her successful delivery, Duong's mother, Tran Thi Thu from Bac Ninh province, said that she was surprised that her child was born on Lunar New Year's Eve.
20 minutes after Duong's birth, a 3-kg girl was delivered by Hoang Thi Duyen from Hanoi.
Speaking about the deliveries, Assoc. Prof., Dr. Tran Danh Cuong, Director of the Hospital welcomed the babies to the world, expressing his hope that the babies will both live healthy and happy lives.
For his part, Deputy Health Minister Tran Van Thuan congratulated the hospital and the mothers on the successful deliveries.
Netflix releases date and first look images for A Tourist's Guide To Love
Netflix has released the first images of A Tourist's Guide To Love - the first international production filmed in Việt Nam since the pandemic.
Featuring an international cast including producer and star Rachael Leigh Cook, Vietnamese-American actor Scott Ly, as well as popular local actors Meritorious Artist Lê Thiện and rising talent Quinn Trúc Trần, A Tourist's Guide To Love is set to premiere globally on 27 April 2023, only on the streaming giant.
It follows the story of a travel executive (Rachel Leigh Cook) who, after an unexpected breakup, decides to accept an assignment to go undercover and learn about the tourist industry in Việt Nam. Along the way, she finds adventure and romance with her Vietnamese expat tour guide (Scott Ly) when they decide to reroute the journey in order to explore life and love off the beaten path.
The first images offer a first glimpse of A Tourist's Guide To Love, showcasing many exquisite localities in Việt Nam to a global audience. These include the sparkling Thu Bồn river in Hội An, the ancient and majestic Mỹ Sơn sanctuary, the bustling Bến Thành market, and a peaceful village in the Hà Giang countryside.
Rachael Leigh Cook said: "Việt Nam is insanely beautiful, and the landscape is so incredibly diverse, and that's why I think it's so important that we set the movie in so many different places...the topography varies so greatly and it's such an asset to the movie and to everyone who is able to see it."
The images also tease the rich and vibrant Vietnamese culture reflected in the romantic film. In a festive Tết celebration, Rachael Leigh Cook dons a traditional 'áo dài', while Meritorious Artist Lê Thiện welcomes international guests into her cozy village home, dancing joyfully and filling the room with warmth and festive cheer.
Sharing her inspiration behind the script, Vietnamese-American writer Eirene Trần Donohue said: "It was really important to me to tell a story about life in Việt Nam now. One that was full of joy and love and celebration.
Drink driving cases surge on Tet Day
Drink driving surged on the first day of the Lunar New Year, or Tet, January 22, 3.5 times higher than last year.
Local traffic police handled 2,091 cases of traffic violations, with 729 of them involving drink driving and 122 related to speeding. They detained 75 automobiles, nearly 1,100 motorcycles, and 12 other vehicles.
Fines for those cases amounted to VND4.2 billion, and 405 driving licenses of all kinds were suspended.
The same day saw 17 traffic accidents, leaving 11 people dead and 16 injured.
Compared to the same period last year, the number of accidents dropped by one case but the number of injuries increased by 5.
Most of the violations and accidents occurred on the roads, and one accident on the railways.
Tuồng shows aimed at visitors in Bình Định Province
The city of Quy Nhơn of Bình Định Province is offering new shows and performances of tuồng (classical drama) for visitors as part of its long-term project to preserve the traditional theatre.
The shows are staged by talented artists from leading troupes of Bình Định, including the State-owned Bình Định Traditional Theatre.
Highlighted shows include extracts from famous plays such as, Ông Già Cõng Vợ Trẻ Đi Xem Hội (The old man carries his young wife to see the festival), Hồ Nguyệt Cô Hóa Cáo (Hồ Nguyệt Cô turned into a fox) and Ôn Đình Chém Tá (Ôn Đình beheaded Tá).
The artists also talk about the history of tuồng, which consists of singing, dancing and music, and its development during various periods, including its evolution from a folk art into a royal art in the 17th century.
Performances of bài chòi (folk singing), an Intangible Cultural Heritage of Humanity by the UNESCO in 2017, are also included.
Bài chòi originated almost 400 years ago under the reign of the Nguyễn Lords (1558-1777). The art entertained the community during the post-harvest time.
It literally means a deck of cards (bài) and bamboo huts (chòi), and is half game and half theatre performance.
The art combines music, poetry, acting, painting and literature.
Bình Định attracted 4.2 million visitors last year. The province is making every effort to turn tourism into a spearhead economic sector by 2025.
One of the province's leading art troupes, Bình Định Traditional Theatre, celebrated its 70th anniversary last year. The theatre has 70 performers and music players.
Dũng's theatre has co-operated with the HCM City Tuồng Theatre to expand their art. Artists from both theatres have worked together to perform, record, shoot and release their performances online.
Shows by Bình Định Traditional Theatre are staged at Nguyễn Tất Thành Boulevard in Quy Nhơn.
Israel - Vietnam Friendship Association comes into being
The Israel - Vietnam Friendship Association has been established with a view to increasing people diplomacy between the two countries.
The establishment ceremony was held at the Israeli Foreign Ministry's headquarters on January 22, one of the activities ahead of the 30th anniversary of bilateral diplomatic ties this year.
The association gathers generations of Israeli ambassadors, deputy ambassadors, and diplomats who used to work in Vietnam over the last 20 years. Some of them have retired or moved to the private sector but still maintain their special sentiment towards the Southeast Asian nation.
Association Chairman Amikam Levy, who served as Ambassador to Vietnam from 2001 to 2003, said the organisation hopes to further promote and intensify relations between the two countries, which boast a number of similarities, particularly in culture.
Former Deputy Ambassador Eyal Buvilski said the time he worked in Vietnam was a great experience for not only himself but also his family.
As bilateral ties are flourishing at the governmental level, it's time for the people diplomacy to develop correspondingly, and the founding of the association is to do so, he noted, expressing his hope that more Israeli and Vietnamese people will visit each other's countries.
Vietnamese Ambassador Ly Duc Trung said Vietnam attaches importance to the people diplomacy, which has a crucial role to play in creating and maintaining a peaceful and stable environment for developing the country and raising its stature.
He added businesses of the countries have enjoyed thriving partnerships, but more cooperation between the two peoples is necessary for fostering bilateral relations.
Trung expected the association will become a common home for all to contribute to the reinforcement of these ties.
Feng shui meaning of Cat symbol
The Lunar New Year 2023 is the Year of the Cat. It is believed that if feng shui cat figurines are placed appropriately, they will bring about good fortune, prosperity, and good luck to owners.
The Cat is the fourth animal symbol in the 12-year cycle of the Vietnamese zodiac.
People born in the years of the Cat are typically composed, patient, kind-hearted, and esteemed by many others. They are also said to be optimistic and, thus, a source of inspiration for people around them.
Meanwhile, the feng shui cat or fortune cat is a favourite symbol of many people as they believe it can beckon good luck, happiness, optimistic spirit, and good health while warding off bad lucks in the daily life.
Therefore, many choose feng shui cat figurines as gifts or decorations in their homes.
New Year celebrations in Switzerland, Czech Republic
The Vietnamese Embassy in Switzerland held a programme celebrating the Lunar New Year (Tet) festival on January 22, the first day of Tet, with overseas Vietnamese, students and trainees taking part.
Speaking at the event, Ambassador Phung The Long said two-way trade hit 2.3 billion USD last year, up nearly 2% year on year, with Vietnam enjoying a surplus. The country is now the third biggest economic partner of Switzerland in Southeast Asia.
The two countries are pushing on with negotiations for the signing of a free trade deal between Vietnam and the European Free Trade Association grouping Switzerland, Norway, Iceland and Liechtenstein, he said.
The diplomat wished the Vietnamese community in Switzerland a new year of good health, happiness and success.
The same day, leaders of the Vietnamese Embassy and the Vietnamese association in the Czech Republic visited and extended New Year wishes to the Vietnamese in Sapa, the largest Vietnamese enclave, trading centre and market in Prague.
Ambassador Thai Xuan Dung wished that the Vietnamese community living would continue staying united together to overcome difficulties and welcome the New Year.
On the occasion, they visited Vinh Nghiem pagoda there to pray for a new year of peace and prosperity.
Viet Nam active in realizing Global Compact for Safe, Orderly and Regular Migration
Viet Nam has been very active, especially in Asia, and regarded as one of the top models in realizing the Global Compact for Safe, Orderly and Regular Migration (GCM), emphasized Park Mihyung, Chief of Mission of the International Organization for Migration (IOM) in Viet Nam.
In a recent interview with VGP, Park Mihyung said that international migration as well as internal domestic migration in Viet Nam has long played a very important role in the nation's socio-economic development of Viet Nam and it will continue to do so.
Up to 5 percent of Viet Nam's GDP comes from remittances from international migration and that's only recorded remittance. The actual remittance is a lot more.
When migration is done in a safe, orderly and regular manner, the Vietnamese migrants who will go overseas, whether is for work, they will be able to make more money and be more productive and they be able to make skills and knowledge that they can bring back.
Meanwhile, Vietnamese migrants make great contribution to the destination countries so it is very important that is done in the right way.
The GCM is a very important achievement for the international community, which is the first inter-governmentally negotiated agreement, when all countries agreed that migration is a very sensitive issue.
That Viet Nam becomes the member of the UN Human Rights Council is a great achievement. It actually shows that Viet Nam is now really recognized at the international level. So international communities are looking at Viet Nam to see what they are doing in terms of human rights.
Chief of Mission of the International Organization for Migration (IOM) in Viet Nam Park Mihyung refers to significance of migration on Viet Nam's socio-economic development
Awareness raising is key to promotion of safe migration
According to Park Mihyung, still not only in Viet Nam, but in many places, some of the migration happens in an irregular manner and they are all vulnerabilities and risk involved with that.
"It is very important to ensure that migration is done right so more benefits that can come to the Viet Nam and the migrants", she stressed.
Chief of Mission of IOM suggested that Viet Nam should foster cooperation and collaboration with the destination countries to do more on emphasizing the importance of rights of Vietnamese migrant workers.
And obviously, one very important aspect is trafficking in persons, she said, adding that trafficking in persons requires a lot of commitments from the Viet Nam government side, not only prevention but prosecution and protection policies.
Therefore, it is crucial that Viet Nam should provide more capacity and resources for the provinces as well as the relevant ministries to fight against trafficking in persons, she recommended.
Park Mihyung highlighted the significance of proper data in terms of trafficking in persons and other areas of migration as well as enabling legal framework that are updated in line with international standards in promoting safe, orderly and regular migration.
Meanwhile, Viet Nam should enhance capacity building of the provinces and ministries as well as increase expertise, resources and personnel to actually roll out and implement these legal policies.
Migration is all encompassing, so it is very important that there is good coordination, effort and collaboration among all localities, ministries and agencies to deliver good results.
Another is to include non-government actors, like international agencies, such as NGOs and others, because they also play a very important role.
The most important aspect is awareness raising, she stated, adding that Vietnamese who want to go abroad and Vietnamese who have returned or are already overseas need to be aware of their rights, what are the services that are available and what they can benefit.
IOM vows to support the Vietnamese Government as well as all relevant actors and migrants that they conduct safe, orderly and regular migration, told Park Mihyung.
IOM works on many areas such as a labor migration, trafficking in persons, health of migrants and also areas related to climate change.
Migration has to be and will be one of the crucial mechanisms in coping with climate change and the IOM is carrying out researches relevant to the issue.
In addition, IOM is working very closely with the communities so that they know safe migration, how to conduct safe migration and also working on legal framework related to labor migration or trafficking person.
IOM has carried out a project on migrant health component and expects to promote it. The organization joined hands with the Vietnamese Ministry of Health to develop a handbook for Vietnamese migrants, especially ones going to the main destination countries such as Japan and Republic of Korea.
"Not only IOM, but the whole UN family is very committed to supporting Vietnamese Government to achieve the goals and plans that the Government has made", she pledged.
Preserving unique writing on "Buong" leaves of Khmer people
The People's Committee of the southern province of An Giang has approved a project on preserving and upholding cultural values of "Buong" leaf scriptures of the Khmer ethnic group by 2030.
The project is significant to conserving cultural heritage in general and intangible cultural heritage in particular in An Giang province.
According to the State Records and Archives Department, the Khmer people first carved scripts on "Buong" leaves, known as Satra, in the 19th century to record Buddhist teachings, folk stories, descriptions of festivals and folk games, and lessons.
More than 100 Buddhist scriptures, written in ancient Khmer or Pali language on "Buong" leaves, are now kept at 30 out of 65 Khmer pagodas in Tri Ton and Tinh Bien districts.
Each "Buong" leaf prayer book comprises 20 to 60 leaves, with five lines containing 150 words on each leaf. A book weighs less than one kilogramme and its thickness depends on the content.
The scriptures have technical and art values, and play a significant role in the spiritual and religious life of Khmer people.
The manuscripts on "Buong" leaves are carved with an iron stitch, then absorb a mixture of coal and turpentine through a sheet of cloth. Thanks to the leaves' durability and the writers' skills, manuscripts can be written on both sides of the leaves.
Monk Chau Ty, head of Xvay Ton Pagoda in Nui To commune, Tri Ton district, said young leaf sprouts are chosen and pressed between two boards for three to five months before being exposed to the sun until they are withered.
Writing prayers on leaves is not an easy job, as it requires patience and must be performed by those who master Buddhist teachings and have a tranquil mind, he said.
It takes artisans several months to complete each prayer book, said Chau Chenh from Co To commune, Tri Ton district, who used to join the writing.
With its unique value, the Ministry of Culture, Sports and Tourism in 2017 recognised the art of writing on "Buong" leaves as national cultural heritage.
Through ups and downs, the "Buong" scriptures have been on the verge of oblivion. Currently, only Monk Chau Ty knows how to write the ancient Khmer language on "Buong" leaves. He is striving to pass down the art to Khmer monks and nuns in the region.
Due to wars, only a small number of Buddhist scriptures have been preserved at large ancient pagodas. This preservation work has also met a wide range of difficulties given environmental impacts.
Previously, the writing was passed down to the best monks and nuns. However, the teaching is now expanded to other groups, helping to promote the art.
Moreover, it is now not as easy to find "Buong" leaves as it was in the past, says Monk Chau Son Hy from Sa Lon Pagoda in Luong Phi commune, Tri Ton district, An Giang province. "We have to buy materials collected from Cambodian forests."
An Giang's Department of Culture, Sports and Tourism has established a provincial management board to preserve and promote the "Buong" scriptures of Khmer people.
The project on preserving and upholding intangible cultural values of writing on "Buong" leaves of the Khmer ethnic group by 2030 is necessary and matches policies and guidelines of the Party and the State regarding traditional culture preservation and promotion.
Under the project, from 2022 and 2026, An Giang will focus on researching, collecting, verifying, classifying and restoring this heritage.
It will also digitise the "Buong" scriptures, and make variants of some books to serve educational and tourism services, thus promoting the heritage to attract more resources in the preservation work.
Meanwhile, during the 2028-2033 period, the province will build a dossier on the "Buong" scriptures, seeking recognition of the Memory of the World Committee for Asia and the Pacific.
Efforts to preserve five-tone musical ensemble of the Khmer in Soc Trang
The five-tone (Ngu am) musical ensemble or Pinn Peat orchestra, a form of orchestral music for religious rituals, is closely associated with Theravada Buddhism in pagodas and hamlets of Khmer people in the Mekong Delta province of Soc Trang.
The five-tone music is a popular and long-standing traditional musical genre of the Khmer in the Southern region in general and in Soc Trang in particular.
Through the process of formation, existence and development, the performance folk art form has been imbued with special values and meanings.
Today, despite many changes, the vitality of the musical genre is still preserved and developed.
This genre of music is influenced by the royal court and religion of India as well as some countries in Southeast Asia such as Cambodia and Thailand but still reflects the unique characteristics of the Khmer group in general and those in Soc Trang in particular.
The 5-tone musical ensemble is an orchestra composed of five tones of musical instruments made from five different materials, which creates five distinct timbres.
Each Pinn Peat orchestra consists of nine or ten instruments, mainly wind, string, and percussions including several varieties of xylophones, drums, cymbals, gongs, and fiddles namely Srolai Pinn Peat, Roneat Ek, Roneat Thung, Roneat Dek, Kuong Vong Toch, Kuong Vong Thum, and Chhung, Sampho, and Sko Thum.
There are similarities in the orchestra's structures of Khmer people in Soc Trang and the Khmer in other localities, as well as the Pinn Peat orchestra of the Khmer in Cambodia, the Sebnai orchestra of Laos, the Piphat orchestra of Thailand, the Saing Waing (Patwaing) orchestra of Myanmar, and the Gamelan orchestra of Malaysia.
The Pinn Peat orchestra expresses the feelings and attitudes of the Khmer towards genies, nature, and other people. Almost every Khmer pagoda has a musical ensemble. In the past, the ensembles only performed in pagodas. Now they play at festivals and parties.
An orchestra must have roneat – xylophones, which are considered the lead high-pitched instrument in the ensemble – and Skor-thom - two big drums played with drumsticks. There are also flutes, fiddles, and cymbals. To play in the ensemble, the musicians must have a deep understanding of the Khmer music, tradition, and culture.
The folk art genre has become a cultural identity closely linked and deeply imprinted in the consciousness and daily life of the Khmer people.
When the sound of Sko Voth drum along with the five-tone musical ensemble resounds at Khmer pagodas, the people in hamlets know that it is time to hold religious ceremonies in their localities.
The Pinn Peat orchestra was recognised as a national intangible cultural heritage in December 2019 by the Ministry of Culture, Sports and Tourism.
Authorities and relevant agencies, and the Khmer community in Soc Trang have taken many specific actions and made great efforts to preserve and promote the unique culture value of this traditional musical genre.
Many Khmer pagodas have musical clubs and classes for children. They aim to inspire the children to learn the Khmer music as a way to preserve it.
Currently, the performing art of the musical genre is no longer limited in pagodas, at religious ceremonies, or at funerals. The musical genre has been performed and taught at the province's Khmer art troupes, most junior high schools and boarding high schools for ethnic minorities in the province.
In an effort to preserve the five-tone musical ensemble, local authorities have also organised competitions find talents, thus encouraging learning and playing the musical genre.
National park promotes biodiversity conservation to lure tourists
Covering an area of about 31,000 hectares, Nui Chua National Park in the central province of Ninh Thuan features forest, sea and semi-arid spaces, and it has made efforts to conserve its rich biodiversity and fully tap its tourism potential.
The Nui Chua National Park, which is located in Ninh Hai district, is like a "gem" in a desert as it habours blue sea, white sand, colourful coral reefs, as well as magnificent caves.
The national park is known as an attractive '3-in-1' eco-tourism destination as it is the confluence of forest, sea and semi-arid areas with rich biodiversity, providing the habitat for 1,511 plant species and 345 animal species, many of which are named in Vietnam's Red Data Book and the IUCN Red List of Threatened Species.
Nui Chua lies on an uninterrupted mountain that is shaped like a turtle with its head turning to the south and the tail being the part of Xop Cape that stretches to Cam Ranh Bay. Looking from a distance, this mountain is like a turtle moving from the sea to the mainland.
Thanks to the combination of forest, sea and semi-arid spaces, the park habours 1,532 vascular plant species of five phyla. Among them, Michelia species number 1,237, accounting for 96.64 percent of the total, followed by Pteridophyta (25 species), and Pinophyta (12 species).
Scientists have also recorded 330 land vertebrates, 84 mammal species, 163 bird species, and 83 amphibian and reptile species in Nui Chua.
In particular, it is home to two species endemic to Indochina, black shanked douc langur and Germain's peacock-pheasant, along with one endemic to Vietnam, Rhacophorus annamensis (a species of frog).
Besides, about 350 coral species and 188 seaweed species have been found in the Nui Chua National Park, which is also one of the few places in Vietnam providing nesting sites for sea turtles, including green sea turtle, olive ridley sea turtle, hawksbill sea turtle, and leatherback sea turtle.
With such diverse ecosystem, the Nui Chua National Park boasts huge potential for developing eco-tourism.
A leader of the park's management board said to bring into play the values of the local biodiversity and natural landscapes, many eco-tourism activities are being designed and organised such as tours to explore the sea, the forest or the semi-arid ecosystem that is the most unique of its kind in Vietnam.
The development of eco-tourism generates funding for biodiversity conservation. Aside from sightseeing tours, the park has continued to create new tours in the forest and the sea such as coral diving trips, visits to turtle nesting sites, bird watching tours in the submerged forest, and tours of the stone blocks, Rai Cave and Vinh Hy Bay.
The formation of eco-tourism trips and sites must comply with the principle of not changing landscapes, causing negative impact on flora and fauna resources, decreasing biodiversity, or polluting the environment, and it must ensure genetic resources and biodiversity conservation in the Nui Chua National Park.
Additionally, the management board has paid attention to popularising knowledge about eco-tourism to its staff, visitors and local residents to help improve public awareness of environmental protection.
To develop eco-tourism sustainably, the park has focused on protecting natural and planted forest ecosystems, preventing forest fires and conserving marine biodiversity.
It has boosted the study of several endemic and rare plant species, built an area for rescuing and conserving rare marine animals, stepped up waste treatment and provided livelihood support for residents in the national parks buffer zone, according to the management board.
Da Nang to host Miss Vietnam Business 2023
The Miss Vietnam Business 2023 pageant is scheduled to take place from March 15 to March 22 in Da Nang City.
According to details given by the organisers on January 5, the beauty contest will be open for businesswomen aged 25 to 55 living and working all over the country.
The grand final of the event is set to get underway in Da Nang City on March 22 and will be live broadcast on Vietnam Television's VTV8 channel.
The beauty pageant was first held back in July 2022, with the occasion also taking place in Da Nang City.
The purpose of the function is to create a platform for talented and beautiful businesswomen nationwide, thereby providing opportunities for them to participate in the current period of economic integration and join in activities for the community.
Hailing from the northern province of Hai Duong, Mac Thi Minh surpassed 30 other contestants to claim the title of Miss Vietnam Business 2022 during the pageant's finale held on July 14 last year in Da Nang City.
The winner received a crown worth VND1.5 billion.
Bac Giang impresses visitors with savory signature local dishes
Once coming to the northern province of Bac Giang, tourists should try some mouth-watering local dishes like goi ca (raw fish dish), nom ca (fish salad), luon om (simmered eel) and other specialties made of frogs.
Frogs can be cooked into various dishes. Stir-fried frog is easy to make and is palatable to people with various tastes. For the dish, frog legs are mainly used and cooked with blumea lanceolaria, piper sarmentosum and tuong (fermented bean paste).
Meanwhile, the whole frog is minced and mixed with eggs, cloud ear fungus, scallion, salt and pepper to make fried chopped frogs. The mixture is then rolled into balls, which are then deep-fried. This dish is served with various kinds of veggies and dipping sauce.
Stuffed frog is made of the same ingredients with fried chopped frogs; however, its recipe is a little bit more intricate. Frogs' skin is removed deftly while frog meat and bones are finely chopped up and combined with eggs, cloud ear fungus, scallion, salt and pepper. The blend is used as belly stuffing, which will be steamed and deep-fried.
"Goi ca me", a raw fish ceviche made of Osteochilus fish, requires an experienced and meticulous gourmet to cook it right. The cook needs to carefully prepare the ingredients. They have to soak raw fish fillets in rice alcohol for 2-3 minutes, take them out to let dry, remove all the bones, drain and wrap them with paper towel, and keep them inside rice storage for 2-3 hours.
The well-drained fillets are then sliced into thin, big pieces with a sharp knife, with the skill removed. The fillets are put in a large bowl, well mixed with galingale powder and roasted rice flour mix, and wrapped in paper to marinate.
Not only making the dish but also enjoying it is an art.
The dish is served with rice papers or leaves of loc vung, sung, and vong cach trees. The fish piece is rolled with a rice paper or the said-above leaves and dip into a special thick sauce, which is made from finely-chopped fish head, galingale extract, tuong (fermented soybean paste), me (fermented rice) and salt. It will be even better when having the dish with a cup of traditional rice wine made in renowned Van village.
Meanwhile, "nom ca" is a raw fish salad made of Osteochilus fish or carp fish. The clean fish has all of its bones removed and its fillets are cut into strips, which are mixed with chopped tram den (black fruit fillings), young banana bulb, ginger leaves, sour star fruits, tuong and other seasonings. The dish is served with sung leaves to increase the taste. It is usually made during the season of tram den in August and September as the fruit is the key, indispensable ingredient that creates the delicious signature flavour of the dish.
To make simmer eel, fried soya curds, sliced pork belly, slashed bananas, cintronella, fermented soybean paste and other seasonings are needed. Eels are cleaned, cut into short pieces then simmered with the accompanying ingredients. When served, the dish should have the aroma of cintronella, fermented soybean paste, fermented rice, and mouthwatering eel pieces.
Nem nuong, or grilled pork sausage, is made of lean meat and pork rind. Thin strands of pork rind and lean meat are mixed with roasted rice flour, salt and ground pepper. Young guava leaves are rolled between meat and vong leaves. The pork sausage is wrapped in dried banana leaf as the inner layer and fresh banana leaf as the outer layer and left for one day. It must be grilled finely before being served.
Source: VNA/SGT/VNS/VOV/Dtinews/SGGP/VGP/Hanoitimes