VIETNAM NEWS HEADLINES JANUARY 31/2023
Prenn Pass leading to Dalat to be closed for expansion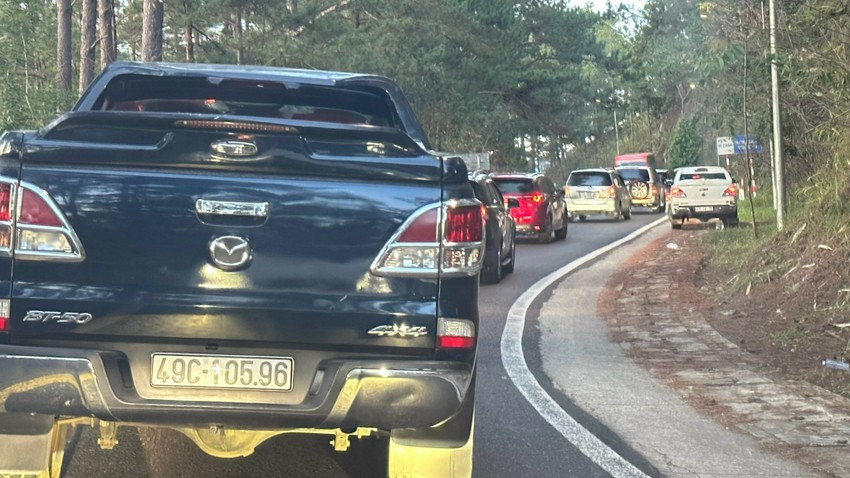 Vehicles will be banned from using the seven-kilometer-long Prenn Pass to travel to Dalat City as work on the pass upgrade and widening project begins on February 6.
The Lam Dong Department of Transport today, January 30, announced the closure of an 8-km section of National Highway 20 passing through the Prenn Pass for road expansion.
The VND552-billion project is scheduled to kick off on February 10 for completion after one year. When complete, the pass would be 12 meters wide, double the current width.
There will be four rest stops along the to-be-upgraded pass, with each being 40-69 meters long and 4-5 meters wide, and two observation points, with each being 32-43 meters long and 4-5 meters wide.
Vehicles to Dalat are advised to use the Mimosa Pass and a connecting road from the Lien Khuong – Prenn Expressway to the Tuyen Lam tourist site as an alternative route, excluding trucks, after the closure.
The provincial Department of Transport will implement traffic divergence in Ward 3 in Lam Dong Province's Dalat City, near the Prenn Pass and open two-way traffic movement for the section from Datanla to the Truc Lam Yen Tu T-junction.
Trans-national drug-trafficker arrested by police in Lao Cai
The police in Lao Cai, a northern Vietnamese locality that borders Laos, have successfully broke up a transnational drug-trafficking ring, apprehending a man and seizing 20 cakes of heroin.
The local police in collaboration with the Police Department for Investigation of Drug-Related Crimes caught in red Vang A Chang possessing 20 cakes of heroin hidden in his black backpack on Tran Hung Dao street of Binh Minh ward.
The suspect, 39, resides in Muong Ly commune of Muong Lat district in the north-central province of Thanh Hoa that also borders Laos.
At the police station, Chang admitted he had been hired to transport the drugs from Laos to Lao Cai and then deliver them to an unknown person.
The case is currently under further investigation.
World Wetlands Day 2023 to be observed in Vietnam with various activities

The Ministry of Natural Resources and Environment has issued a document, calling for response to the World Wetlands Day 2023, celebrated annually on February 2.
World Wetlands Day aims to raise global awareness about the vital role of wetlands in the life of the people and its importance to the planet. This day also marks the date of the adoption of the Convention on Wetlands on February 2,1971, in the Iranian city of Ramsar.
This year's theme is "It's Time for Wetlands Restoration" which highlights the urgent need to prioritise wetland restoration.
With high biodiversity, wetlands in Vietnam have played an important role in the agriculture-based economy as well as socio-economic activities.
In the document, the ministry urged communication activities to promote values and significance of wetlands, and called on people to commit to protecting and using wetlands sustainably.
The activities would be celebrations, competitions, exhibitions and drives in line with the theme of World Wetlands Day 2023, according to the document.
Decree No. 109/2003/ND-CP was the first legal document directly stipulating the conservation and sustainable use of wetlands, contributing to the effective implementation of Vietnam's commitments as a member country of the Ramsar Convention.
The Prime Minister approved Decision No. 1975/QD-TTg in November 2021 regarding the issuance of a national action plan on the conservation and sustainable use of wetlands for 2021-2030.
Vietnam expects to complete a survey of wetlands nationwide and build a database on the wetlands by 2025, and effectively control important wetlands and further promote eco-tourism by 2030.
To that end, the country will work to perfect relevant policies and legal documents, improve the efficiency of wetland management, diversify resources for the sustainable use and preservation of wetlands, step up the information work, enhance research studies and boost international cooperation in this regard.
Vietnam became a member of the Convention on Wetlands, known as the Ramsar Convention, in 1989. So far, nine wetlands in the country have been recognised as Ramsar sites – wetlands of international importance, namely Xuan Thuy National Park – important bird sanctuary, Bau Sau Wetlands and Seasonal Floodplains – habitat of Siamese crocodiles, Ba Be National Park – green jade of northeastern mountains, Tram Chim National Park, Mui Ca Mau National Park – three sides bordering the sea, Con Dao National Park – first maritime Ramsar site in Vietnam, Lang Sen Wetlands Reserve, U Minh Thuong National Park, and Van Long Wetland Nature Reserve – habitat of biggest langur community in Vietnam.
Science, technology, innovation to contribute over 50% to agricultural growth by 2030

The Ministry of Agriculture and Rural Development (MARD) is striving to increase the proportion of science, technology and innovation's contributions to the sector's growth by over 50% by 2030 through research, transfer and application activities.
The number of businesses engaged in innovation will account for 60% of the total working in the sector by 2025, and 85% by 2030.
The sector will support the construction and development of at least 200 hi-tech agricultural enterprises nationwide, and 50-100 high-tech agricultural zones in the agro-ecological ones.
More efforts will be made to turn science, technology and innovation into a breakthrough to strongly develop Vietnam's agricultural economy; transform to a green and environmentally sustainable growth model; and improve productivity, quality, efficiency and competitiveness of the industry.
The MARD will also strengthen public-private partnership in scientific research technology development and innovation; and mobilise resources from state budget, businesses and the community for these works.
At the same time, it will create conditions for enterprises and economic sectors to participate in research, complete technology and transfer or purchase technology inside and outside the country.
New expressways in Mekong Delta expected to create socio-economic breakthroughs
A number of expressways have been built or are under construction in the Cửu Long (Mekong) Delta, enabling the region to keep up with the rapid socio-economic development momentum of the rest of the country.
In April last year the Trung Lương-Mỹ Thuận Expressway opened to traffic after 13 years of construction and frequent delays.
Part of the incomplete 196km HCM City-Cần Thơ Expressway and passing through Tiền Giang Province, the six-lane road is 51km long and cost VNĐ12.7 trillion (US$539 million) to build.
It plays an important role in enabling nearly 20 million people to travel to and trade with HCM City and other south-eastern localities, and reducing the congestion on National Highway 1A.
Trần Văn Đạm, director of Lộc Phát Company Limited, a cargo transporter on the Cần Thơ - HCM City route, said the expressway has helped reduce travel time by 1.5-2 hours, cut fuel and other costs and ease congestion, especially during the Tết holidays.
The 23km Mỹ Thuận - Cần Thơ stretch of the HCM City-Cần Thơ Expressway is set to be finished this year, finally marking the latter's completion.
Pre-feasibility study for a 135km high-speed rail route between HCM City and Cần Thơ city will be done this year.
Many more traffic works are scheduled to start in the first quarter of this year.
They include the 110km Cần Thơ- Cà Mau expressway costing VNĐ27.5 trillion ($1.2 billion), the 188km Châu Đốc-Cần Thơ-Sóc Trăng expressway costing VNĐ45 trillion ($1.9 billion), and the 15.2km Đại Ngãi Bridge worth more than VNĐ8 trillion ($340 million) on National Highway No. 60 over the Hậu River between Trà Vinh and Sóc Trăng provinces.
Construction of the 17.6km Rạch Miễu No 2 Bridge over the Tiền River between Tiền Giang and Bến Tre provinces started in March last year.
It is budgeted to cost VNĐ5.2 trillion ($221 million).
EVN ensures safe, stable power supply during Tết holidays
Electricity of Vietnam (EVN) reported no incidents affecting the nation's power supply during the Tết (Lunar New Year) holiday.
Data from the National Load Dispatch Centre shows that between January 20 and 26, the highest power consumption capacity of the whole national power system was about 24,300 MW daily. The average daily electricity consumption was about 440.6 million kWh.
The electricity consumption across the country during the Tết holidays decreased by 30.3 per cent compared to the week before Tết.
The average daily electricity consumption during this Tết was 9.2 per cent lower than the last Tết.
With low electricity consumption, many types of power sources are forced to deflate following load demand to ensure the safe operation of the national power system, the EVN said.
The National Load Dispatch Centre and regional Load Dispatch Centres have already separated some high voltage and super high voltage power lines from operation to meet the requirements of safe operation.
Thanks to proactive warnings on security and safety issues in the operation of the power system before and during the Tết holidays, as well as the coordination of the power operating units, the national power system was operated safely and effectively, the EVN said.
Investors in power generation sources, including rooftop solar power, obeyed dispatching orders to ensure the safe operation of the national power system without causing incidents and affecting the power supply, the EVN said.
The EVN also arranged for staff to be on duty to prevent problems from occurring during the Tết holidays.
During the Tết holidays, there were no electrical occupational accidents, electric fires, or explosions.
Nội Bài and Tân Sơn Nhất airports continue to experience high passenger numbers
Nội Bài Airport in Hà Nội and Tân Sơn Nhất Airport in HCM City are still recording high passenger numbers, despite the official end of the Tết (Lunar New Year) holiday.
Statistics revealed that there were over 540 flights at Nội Bài International Airport, 169 domestic and 376 international, on Friday. The total number of passengers during the day was estimated at 86,000.
During the holiday period, the highest number of flights and passengers was recorded on January 18, with 550 flights carrying 92,500 passengers.
It is expected that these figures will continue on the rise until Sunday this week.
Reports from Tân Sơn Nhất International Airport said that the facility recorded nearly 150,000 passengers on Friday, a record since the Tết (Lunar New Year) holiday began.
A representative from the airport said: "According to the plans and data from airlines, the growth in the number of passengers will continue for the next two days."
There were 916 flights, 459 departures and 457 arrivals, at Tân Sơn Nhất on Friday.
Regarding road transport, Hà Nội Transport Station JSC said that during the peak Tết period from January 11 to 26, the capital city's major coach stations - Giáp Bát, Mỹ Đình and Gia Lâm - saw over 23,489 operating vehicles, an increased of 170 per cent compared to last year.
The stations also added 989 more coaches in response to the rising demand.
The total number of passengers recorded during this peak period was 239,602, nearly five-fold the number last year.
The number of coach passengers peaked on January 19, with 29,957 people across the three coach stations.
HCM City aim to fill stands, finish in top three of V.League 1
HCM City Coach Vũ Tiến Thành has set an ambitious dual target of a top three finish in next season's V.League 1, and drawing absent fans back with an exciting style of play.
"I will select players to fit the team's style of play. Our goal this season is to be in the top three," coach Vũ Tiến Thành said.
As well as winning games, coach Thành wants his players to demonstrate a style of play that will convince fans to return to the stadium.
Last season, Thống Nhất Stadium only had around 2,000 spectators watching each match. The fans' indifference comes from the weak performances of the two teams (HCM City and Sài Gòn).
According to Thành, HCM City must show their ambition to play serious football, starting by developing youth training and then building a game style that suits the personality and culture to satisfy the fans.
In terms of youth training, HCM City signed a training cooperation agreement to receive 17 young players from the U21 team of Nutifood JMG Academy. It is hoped that this will be an abundant source of young talent for the team in the future.
"Last time, the teams in HCM City did not really participate in the training of young players. They do football with a business mindset. They are willing to spend a lot of money to bring back the stars instead of training people. Therefore, the inherent identity also fades away," expert Đoàn Minh Xương said.
"It is necessary to change the previous mindset and training model. It is the promising young talents who are the factor that helps build the image of city football sustainably. If we do not plant trees, it is difficult to pick fruit," Xương added.
For the first time in six seasons, HCM City only has one side in V.League 1. Sài Gòn FC were relegated after finishing bottom of the rankings in the 2022 season.
HCM City have changed their squad drastically after successfully staying up. In the 2021 season, after a similar shakeup, Sài Gòn FC dropped into the relegation race. Most of the current HCM City club players lack experience in V.League 1.
However, coach Thành has faith his team will play well this season because of his success with the Sài Gòn FC in the 2020 season when their modest squad won an unexpected bronze medal.
U20s to travel to Saudi Arabia ahead of AFC Cup finals
Việt Nam's U20s will test their skills against Saudi Arabia ahead of the 2023 Asian Football Confederation (AFC) U20 Asian Cup finals in Uzbekistan in March.
The team gathered yesterday in the PVF Youth Football Training Centre in Hưng Yên Province. They will have three weeks of training there before travelling to Saudi Arabia, where they will play friendlies with the hosts' U20 side.
The core of Việt Nam's U20s remain unchanged from last year, including names such as Cao Văn Bình, Nguyễn Công Phương, Nguyễn Văn Trường, Khuất Văn Khang, Nguyễn Quốc Việt and Nguyễn Đình Bắc.
Coach Hoàng Anh Tuấn has also summoned many other new players. From the preliminary list of 36 players, Tuấn will whittle them down to the 23-man squad attending the Asian tournament.
Việt Nam, who are one of the five second-placed teams with the best results in the qualifying round, will be in Group B with Iran, Australia, and Qatar.
The Vietnamese team are set to play their first game at the Asian Cup against Australia on March 1, then Qatar on March 4 and Iran on March 7.
Group B won't be easy for the men in red; Qatar won the tournament in 2014, Iran triumphed four times in 1973, 1974, 1975 and 1976, and Australia were the runners-up in 2010.
The four teams advancing to the semifinals will qualify for the 2023 FIFA U20 World Cup. As there are five places for Asia at the World Cup, if Indonesia, hosts of the World Cup, make it to the Asian Cup semi-finals, the two best-performing teams that lose the quarter-finals will compete in a playoff for the remaining slot.
"Việt Nam's U20s used to attend the U20 FIFA World Cup, and the players made many career advancements. The current national senior Vietnamese team have a lot of good players who played in the U19 team in the 2016-2017 period, such as Hồ Tấn Tài, Nguyễn Quang Hải, Nguyễn Tiến Linh and Nguyễn Hoàng Đức. Therefore, I have high expectations for the current U20 players who will continue to gain success," chairman of the Việt Nam Football Federation Trần Quốc Tuấn said.
Central region faces heavy rain
The central region of Vietnam is facing heavy rain with strong winds, while some localities in the southern region are being affected by the light cold weather.
According to the National Centre for Hydro-meteorological Forecasting, the weather is hitting central localities from Ha Tinh to Binh Dinh. Whirlwinds, thunder and violent wind would accompany the rainstorms.
Meanwhile, some southern central localities are experiencing cold weather.
The northern region has continued struggling with the bone-chilling cold weather after the Tet Lunar New Year with low temperatures of below three degrees centigrade.
High mountainous areas in the northern regio would see frost due to the sharp temperature fall.
Moc Chau plateau – Land of flowers woos visitors
Son La - Moc Chau plateau in the northern province of Son La is considered as the land of flowers. Come here at any time of the year, visitors can also admire the beautiful flowers blooming.
It boasts a range of stunning landscapes year-round. The region's scenic beauty is at its best during late winter and early spring when apricot, plum and peach blossoms begin to fully bloom, creating a picturesque scenery in the north-western region.
Late winter sees apricot flowers in bloom in almost every corner throughout the region. Similar to plum flowers in appearance, apricot blossoms have distinguished small white petals.
Despite their immense beauty, local people state that the apricot flowers are often only in full bloom for a week before quickly fading away.
Apricot trees are often planted in large gardens and along the mountain slopes. The beauty of the apricots and apricot forests makes them must-visit destinations for those who come to Moc Chau plateau.
Normally, in January and February, the white color of the apricot blossoms covers all in the plateau, charming visitors right at the first sight.
Apricot blossoms in Moc Chau often bloom in the area of Long Sap border gate. Across the communes of Chieng Son and Muong Sang, and Moc Chau township, the hillsides are covered with the white flowers.
Many people describe the pure beauty of this flower as "a muse in the Northwestern mountains and forests." Compared to many other flowers in Moc Chau, the apricot blossoms give a different feeling.
Located about 200km to the west of Hanoi, at an altitude of over 1,000m, Moc Chau plateau in Moc Chau district, Son La province is an ideal destination in the journey of exploring the Northwest region thanks to its cool and fresh atmosphere, endless green tea hills, gardens of plum and apricot trees and various flowers, etc.
Located in Son La province, 180 kilometers from Hanoi, Moc Chau, one of the biggest plateaus in the country, stretches some 80km long and 25km wide, and stands about 1,050m above sea level.
As a result, its average temperature is a cool 16-26 degrees Celsius. In the winter, from Pha Luong and Van Ho peak, visitors can view the beautiful 50,000-ha plateau through a thick fog.
Moc Chau is home to many tourist attractions, such as a floating market on Da River, Doi Cave, Son Moc Huong Cave, Ang village pine hill, Dai Yem waterfall, five caves in On Village, Xuan Nha National Nature Conservation Area and the 1,500m-high Phieng Luong peak.
The system of archaeological sites along the Da River, including Tang Me burial cave, animal fossils at Chieng Yen, and marks carved in stone of Xuan Nha area, as well as other historical sites, are a well-known tourist destination in Moc Chau. Besides the sites, Moc Chau also has many hot springs in Muong Khoa, Phu Mao, Bo Village and Hua Pang.
Moc Chau is also the gateway to the Northwest, and the stopover for inter-regional tours such as Hanoi-Son La-Dien Bien Phu-Sapa-Lao Cai; and the transnational tourism routes such as Hanoi-Son La-Luang Prabang (Laos) - Thailand; and Son La-Lai Chau-Yunnan (China).
Tourists visiting Moc Chau will discover diverse and unique cultures of the indigenous ethnic groups, including White Thai, Muong, Mong, Dao, Xinh Mun and Kho Mu. With different customs, ethnic groups have created a wide range of cultures and festivals.
Bac Ninh offers special treat for visitors
The northern province of Bac Ninh is home to "banh cuon Mao Dien" (Mao Dien steamed rolled rice pancakes) - a special treat for visitors. The fine combination of rice, fried onion flakes and tangy sauce makes the pancakes unforgettable to anyone who tastes them.
Mao Dien commune in Thuan Thanh district, the northern province of Bac Ninh, is renowned for its top students, barley-sugar and the delicious "banh cuon" – steamed rolled rice pancakes.
None of the local residents remember when the dish dates back to. They only know that it is a long-standing tradition that has been passed down from generation to generation.
In the past, the production mainly involved women. "Banh cuon" was made by hand, and required many stages of preparation.
The eye-catching thing about the pancakes is fried opinion flakes, so preparing the topping is meticulous work. Firstly, the skin of the onions, more specifically shallots, is removed, and then they are washed and fried until they release pleasant fragrance.
Later, the fried onions are ground up, and then sprinkled over the pancakes when they are cool.
Previously, local women had to select the best rice grain, soak them in water for several hours, grind the soaked rice in a stone mill, and filter the mixture of rice and water to remove any sourness before applying a thin layer of the liquid to a cloth atop a pot of boiling water to steam.
To make a basket of 35 – 40kg of "banh cuon", people had to work continually for 5 – 6 hours. All the steps required care, patience and speed.
Every day, at 2-3am, local women began carrying "banh cuon" to villages and markets far and wide to ensure people had a delicious breakfast to start the new day.
Making "banh cuon" was a strenuous work but did not generate much income. Locals had to use by-products like unwanted dough or rice bran to farm pigs to improve their families' incomes.
In recent years, machinery has been used in the production process, helping to raise the productivity by 10 – 20 times compared to the manual method, while saving effort, time and materials.
Mao Dien commune is now equipped with 12 modern machines which produce "banh cuon" for more than 200 households to sell. Each machine produces 350 – 400kg of "banh cuon" per day in winter and 600 – 700kg per day in summer, generating 7 – 8 million VND (300 – 340 USD) in profit every month.
Whether the food is sold well or not depends on each person's sales skills. Each household can sell from 50 – 70kg to 200 – 300kg of "banh cuon" a day, earning an average monthly income of 2 million – 9 million VND.
To meet consumers' growing demands, residents in Mao Dien now produce two types of "banh cuon", one with fried onion flakes and another with wood ear mushroom. The dish is now sold not only in Bac Ninh province but also other localities.
A number of famous restaurants in Hanoi and the nearby provinces of Hung Yen and Hai Duong sell the famed specialty of Mao Dien. Enjoying this dish, many people confuse it with "banh cuon Thanh Tri" (Thanh Tri rolled rice pancakes), which is a popular delicacy of Hanoi.
"Banh cuon" has long been an indispensable gift for every visitor to Mao Dien. Realising the economic effectiveness of producing "banh cuon", many local households have expanded production and made the dish better known among consumers in Bac Ninh and other localities.
There are about 200 households producing and doing business in rolled rice pancakes in the commune, creating jobs for hundreds of people with an average per capita income of 5 billion – 6 million VND each month.
However, the craft is also facing numerous difficulties, especially in terms of manpower, as experienced makers are becoming fewer and fewer while most young people choose other jobs to follow.
Besides, "banh cuon Mao Dien" has yet to have its own trademark, so advertising the dish to consumers in other localities remains modest.
Facing this fact, the local administration has devised several solutions to maintain and develop the craft, including boosting communications to raise residents' awareness of ensuring food safety, improving product quality and teaching the younger generation how to make the pancakes. It is also coordinating with relevant agencies to build a trademark for the specialty and ensure stable sales.
In the short term, authorities will continue to promote the dish to visitors in Bac Ninh who will become "ambassadors" and help to popularise the local delicacy far and wide.
Binh Lieu's untouched beauty lures visitors
Binh Lieu district in Quang Ninh province, which is well known for its hills covered in ravishing white reeds, is emerging as a magnet to visitors, especially during autumn, the most beautiful season of the year.
Compared to other more famous tourist destinations in Quang Ninh such as Ha Long Bay, Co To, or Quan Lan, Binh Lieu is just an obscure name. But this cannot hide the attractiveness of the region, especially to younger tourists.
Located in the northeast, more than 100km away from the centre of Ha Long City and right next to the border with China, the mountainous district has a peaceful atmosphere and spectacular landscapes of untouched beauty.
In July and August, the district is decorated with the golden colour of terraced fields as they enter harvest season, while in March and April, trẩu flowers (Vernicia Montana) bloom, which are only found in Binh Lieu, and the whole region bursts in an array of stunning colours.
Though it is beautiful in every season, many will like it best in the autumn.
When autumn comes, the hills of Binh Lieu are covered with white reeds, creating spectacular romantic views for travellers. Thus the area is known as the 'Reed Kingdom'.
These white reed hills can be found on border patrol road at an altitude of 700m, just west of Binh Lieu. To get there, tourists have to travel from Binh Lieu Town to Hoanh Mô, and then to Ngan Chuong Village in Luc Hon Commune.
From here, tourists can start the journey to visit the border route, which is about 16km long. Many majestic landmarks are numbered and prove popular places for young travellers to take photos.
Along the way, visitors can enjoy wonderful views of terraced fields, small villages hidden behind mountains and clear blue skies.
The small road leading to the reed fields is right on top of a high hill, and it is likened to walking on a back of a giant dinosaur. It is known locally as 'the spine of the dinosaur'.
It is also considered the biggest challenge of the whole journey as it leads to the peak of the highest mountain of Binh Lieu.
In the past there there was no road and travellers had to walk through many hidden dangers. However, a more than one-metre wide road was completed in 2018 and it is now more convenient, including 2,000 steps and guard rails on both sides.
To reach the landmark, it takes about 2 hours.
Besides natural beauty, tourists can also experience and witness the lives of local ethnic minorities.
A total of 96 percent of Binh Lieu's population are ethnics, the highest concentration of minorities in the whole country. The Tay accounts for the majority, 51.27 percent. Others include the Dao (28.21 percent) and San Chay (15.25 percent).
Each ethnic group retains its own cultural values and unique dishes elaborately cooked with local ingredients. Some outstanding local dishes are five-colour sticky rice, black chicken, arrowroot noodles, and stir-fried wild bamboo shoot.
The patterns on the clothing of each group also vary, with the Dao embroidering using colourful thread, while the Tay and San Chi preferring to dye their fabrics in indigo and blue.
The mountainous district also has its own intangible cultural heritage, notably festivals including the Luc Na festival and the singing festival in March. During the festival, visitors can watch locals playing folk games like tug of war, and enjoy their unique traditional songs.
Relatively unspoilt by development, the cultural features of the ethnic communities in Binh Lieu are mesmerising, and the untouched landscapes make it an amazing place for tourists to explore.
Source: VNA/SGT/VNS/VOV/Dtinews/SGGP/VGP/Hanoitimes