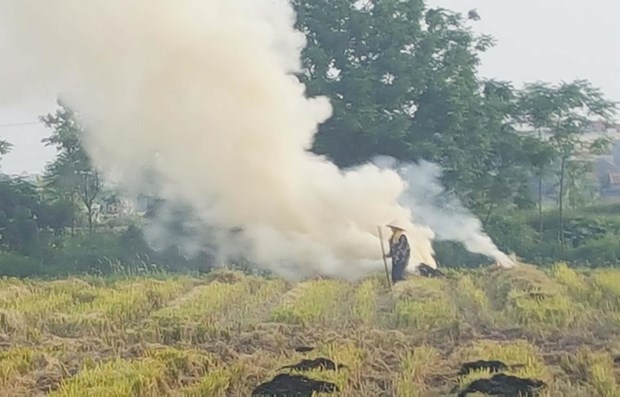 The habit of burning straw is causing smog in Hanoi, affecting the city's environment and people's health.

Hanoi needs to tighten control over waste sources and pushed up the application of environmental management to improve its air quality, said Hoang Anh Le, research team leader of the University of Natural Sciences under the Hanoi National University.
He gave the advice during a virtual workshop themed "Air quality management in Hanoi – pollution source and solution" held on June 30.
The workshop was jointly organised by the Centre for Living and Learning for Environment (Live and Learn), the Hanoi Department of Natural Resources (DONRE) and Environment in collaboration with the World Bank in Vietnam.
It offered opportunity for domestic and foreign experts, managers, businesses to share effective solutions to improve Hanoi's environment.
Regarding fine dust emissions from burning rice straw in the city, Le said in 2021 winter-spring crop the amount of dry straw left in the fields was 1,936 tonnes and up to 43.2 percent of this amount was burned.
Pollutants from straw burning can spread through the air, affecting local people who don't live near the burning site, he said, adding that the main polluted area located in the south of Hanoi namely Dai Nghia town (My Duc district), Van Dinh town (Ung Hoa district) and Kim Bai town (Thanh Oai district).
"It is necessary to strengthen inspection and supervision of waste sources, especially large waste sources. An automatic emission monitoring system and continuously transmit data to the DONRE for monitoring, he said.
He also emphasised the need to promote solutions to apply information technology on environmental management and develop environmental-management software for production and service establishments to strictly control air pollution.
Katelijn Van den Berg, a World Bank's senior environmental expert, said that the highest PM2.5 concentration was measured on the days of biomass burning.
The concentration of organic carbon from biomass combustion accounts for 20 percent. Lead and tin-related industrial emissions account for about 10 percent of PM2.5 dust emissions. However, this source of emissions is partly mixed with other compounds of industrial origin.
In order to improve air quality, World Bank experts suggested the city's authorities create a mechanism to encourage businesses to apply clean production models.
In addition, agencies and localities need to strengthen control of air pollution caused by industrial activities, supervise and strictly punish violations of regulations on environmental protection. The construction of advanced waste treatment plants should be sped up and tree planting should be promoted at the same time.
Participants at the workshop proposed that in the coming time, Hanoi should tighten control over transportation activities, checking the emissions of vehicles and banning the ones that don't meet the emission standards.
It was essential for the city to quickly develop public transport network to restrict private vehicles in downtown and accelerate the relocation of universities and offices out of the inner city to reserve land for green space, they said./
Gov't convenes regular meeting to review activities in June, first half
The socio-economic situation in June and six months, and reviewing regulations hindering COVID-19 prevention and control are among matters for discussion at the Government's regular meeting chaired by Prime Minister Pham Minh Chinh on July 1.
Delivering an opening speech, Chinh highlighted the meeting's importance to assessing socio-economic development between January and June and discussing tasks and solutions for the second half of the year.
Such key issues as COVID-19 prevention and control and measures to boost production and business will also be tabled, he noted.
The one-day meeting will hear and mull over six reports on a range of issues in the first six months including the socio-economic situation; the Government's direction and management; the implementation of key tasks for business climate and national competitiveness improvement; and laws and ordinances that causing obstacles for COVID-19 prevention and control.
A draft decision on criteria for classifying state-owned enterprises and their peers under ownership transformation, rearrangement, and divestment in the 2021-2025 period will also be touched upon./.
Vietnam adds over 320 million USD to buy COVID-19 vaccines
The Vietnamese Government will spend an additional more than 7.65 trillion VND (320 million USD) on the purchase of 61 million doses of COVID-19 vaccines.
According to a decision issued on June 30, Prime Minister Pham Minh Chinh approved the funding supplement for the Ministry of Health's procurement of 30 million doses produced by AstraZeneca and 31 others by Pfizer.
The additional fund will also be earmarked for the transport, distribution and storage of as well as the purchase of vaccination supplies for vaccines sourced from the COVAX Facility and foreign funding and sponsorship.
The Ministry of Health is in charge of purchasing and using COVID-19 vaccines.
Vietnam has so far granted emergency use authorisation for five vaccines - A2D1222 by AstraZeneca, Sputnik-V by Gamalaya, Comirnaty by Pfizer, Vero-Cell by Sinopharm, and Spikevax by Moderna./.
Vietnam attends CISM's 76th General Assembly
A Vietnamese delegation on June 30 attended the virtual 76th General Assembly of the International Military Sports Council (CISM) from Hanoi.
The delegation was led by Colonel Bui Hong Quang, Deputy Director of the Department of Military Training under the General Staff of the Vietnam People's Army.
Gathering representatives from more than 100 member states, the event aims to promote the spirit of sport and friendship among militaries of the member states.
During the event, delegates were provided with reports on the CISM's activities in 2020 and the first half of 2021 as well as its plan for the 2021 – 2023 term; and the results of the election of the council's new executive committee.
They also discussed and reached consensus on the time and venues for a number of the world's CISM sports events next year./.
Defence minister holds telephone talks with Indian counterpart
Minister of National Defence Sen. Lieut. Gen. Phan Van Giang held talks on the phone with his Indian counterpart Rajnath Singh on July 1.
Minister Giang expressed his deep sympathy over the losses that Indian people have suffered due to COVID-19 pandemic, stressing his belief that with drastic measures, India will overcome this hard time soon.
The two ministers noted that since 2020, the complicated COVID-19 developments have greatly affected the implementation of the cooperation plan between the two countries. However, both sides have found collaboration measures suitable to the situation, and gained practical outcomes in some contents, including transferring credit support from the Indian Government to the Vietnam National Defence Ministry, personnel training, and supporting each other in pandemic prevention and control.
They agreed that in the future, both sides should strengthen exchanges at both high and working levels to fully implement all the established cooperation mechanisms and signed agreements, focusing on personnel training, credit package implementing, coordination among armed forces, defence industry, UN peacekeeping operations, COVID-19 fighting, and coordination in settling common security issues at multilateral forums.
Vietnam supports India's Act East Policy as well as the country's stronger cooperation with the ASEAN, contributing to maintaining peace, security, stability and development in the region and the world on the basis of respect to international law, stated Minister Giang./.
Japan's Aozora Bank donates 5 million JPY to Vietnam's COVID-19 vaccine fund
The Tokyo-based Aozora Bank, on July 1, handed over the Vietnamese Embassy in Japan a token of 5 million JPY (45,000 USD) worth of its donation to Vietnam's COVID-19 vaccine fund.
At the handover ceremony, Ito Takeshi, Managing Executive Officer at Aozora Bank, lauded the Vietnamese Government's idea to set up the fund and hoped the donation will help the country promptly supplement its vaccine supply.
Lam Thi Thanh Phuong from the Vietnamese Embassy in Japan considered the donation one of important driving forces for the Vietnamese Government to accelerate its vaccination drive and soon place the pandemic under control.
The embassy then guided Aozora to directly transfer its financial assistance to the fund's public bank account.
Compared to Japan, Vietnam, in overall, has better controlled the pandemic and logged less number of infections, Ito Takeshi told Vietnam News Agency correspondent. This was thanks to the Government's quick and drastic implementation of prevention measures like quarantine, he added.
He shared that Aozora with its close relations with Vietnam decided to make its contribution when learning that the country is facing a shortage of vaccines, hoping that the local socio-economic activities will get back to normal as early as possible.
Founded in 1957, Aozora joined the Vietnamese market in 1997 as a founder of the Vietnam International Leasing Company (VILC), the first of its kind in Vietnam.
In June 2020, it became a shareholder of Vietnam's Orient Commercial Joint Stock Bank (OCB)./.
Construction of Long Thanh Airport's terminal, runway slated for Q1 2022
The construction of a passenger terminal and a runway of the Long Thanh International Airport in the southern province of Dong Nai will begin in the first quarter of 2022 once ground clearance is completed, according to the Airports Corporation of Vietnam (ACV).
The ACV expects to start the work on ground levelling and construction of the passenger terminal and runway in September and the first quarter of next year.
The Ministry of Transport has urged investors of the four component projects to complete the construction by the first quarter of 2025 and put the first phase of the project into operation in the fourth quarter of the year.
The ACV has to date completed bomb and mine clearance for more than one quarter of the total area of the first phase and constructed more than 1,750m of boundary walls. It is expected to complete the construction of all 8,668m of walls surrounding the area in September and bomb and mine clearance in December.
The rate of ground clearance so far has reached 50.7 percent.
The Dong Nai authorities are asked to accelerate ground clearance and handle recommendations of the State Audit Office of Vietnam on the field so as to meet the assign disbursement schedule in 2021.
The project is being carried out primarily with investment of the ACV of at least 36 trillion VND (1.56 billion USD), and the remainder of about 63 trillion VND will come from loans.
The Transport Ministry has requested additional mid-term capital in 2021-25 for the implementation of the project.
According to the ACV, Long Thanh International Airport will be built in three phases over three decades. In the first phase, one runway with a length of 4,000m, taxiways, an apron, and a passenger terminal with other auxiliary works sprawling 373,000sq.m will be built to serve 25 million passengers and 1.2 million tonnes of cargo each year.
The airport, which was expected to cost 336.63 trillion VND, is designed to have four runways, four passenger terminals, and other auxiliary facilities to ensure a capacity of 100 million passengers and 5 million tonnes of cargo a year by 2040.
Located 40km to the east of Ho Chi Minh City, Long Thanh airport is expected to relieve overloading at Tan Son Nhat international airport in the southern metropolis, now the country's largest airport./.
TV host-turned-actress cast in new thriller
Young actress Thảo Tâm has been cast as the leading lady in a new thriller by director Phan Gia Nhật Linh.
The movie Mặt Nạ Fanti (The Fanti Mask) will start filming at the end of this year.
Thảo Tâm, a popular TV host, made her silver screen debut in the role of teacher Hồng in the 2019 movie Mắt Biếc (Dreamy Eyes) by Vietnamese-American director Victor Vũ. The drama is among the local industry's top 10 blockbusters with more than VNĐ127 billion (US$5.5 million) grossed at the Vietnamese box office. 
After the blockbuster hit, the 21-year-old starred in some music videos, including Chờ Ngày Lời Hứa Nở Hoa (Longing for the Day When Your Promises Come True) and Sau Này Hãy Gặp Lại Nhau Khi Hoa Nở (Meet Again When Flowers Bloom) both by singer Nguyên Hà.
Unlike the black comedy Tiệc Trăng Máu (Blood Moon Party) by director Nhật Linh which had a cast of big-name stars including Hồng Ánh, Hứa Vĩ Văn, Thái Hòa, Kaity Nguyễn, Kiều Minh Tuấn, Đức Thịnh and Thái Hòa, Mặt Nạ Fanti will feature only young and lesser-known actors.
The thriller is about a social media influencer who wants to become a famous actress. However, her life becomes dark when is stalked by a mysterious man. Alongside revealing lesser-known angles of showbiz life, the movie also portrays the huge pressure that many young people face when they rise to fame.
Mặt Nạ Fanti, inspired by the phrase word 'anti-fan', is the debut production of the Vietnamese-American director and scriptwriter Andy Nguyễn, who holds an MA degree in cinematography from Columbia University in New York.
In 2012, Andy Nguyễn caught the Sundance Film Festival spotlight when his short film Boomerang was presented at the event. The short film cost only US$200 to produce was shot in one day using equipment borrowed from Columbia and won the first Imaginative Filmmakers Spotlight contest.
In 2015, he was a co-producer of the movie My First Kiss and the People Involved which won the Audience Award at the New Orleans Film Festival and the Ultra Indie Award - Honorable Mention at the Woodstock Film Festival in 2016, following the Gerald Hirschfeld A.S.C. Cinematography Award at the Ashland Independent Film Festival in 2017.
In 2015, he decided to return to Việt Nam to develop his career. He edited the scripts of two other big box-office movies, Em Là Bà Nội Của Anh (Sweet 20, 2015) and Người Bất Tử (The Immortal, 2017). 
Hanoi pilots urban administration model since July 1 
Mechanisms are in place to ensure democratic and supervisory rights of the people as ward-level people's councils are set to be abolished under the pilot urban administration model.
Hanoi is now ready to pilot the urban administration model in 12 districts and Son Tay Town on July 1, the timeline stipulated under the parliament's resolution.
The city's preparation has been conducted right after the 14th National Assembly ratified Resolution No.97/2019/QH14 on piloting the urban administration model in Hanoi in 2019, in which specific tasks and responsibilities have been assigned for each department, unit, and district.
Under the plan, each unit is tasked with assessing the current state of staff and providing suggestions for the finance-operation mechanism of ward-level apparatus.
Under the pilot administration model, Hanoi will abolish the people's council in 177 wards of 12 districts and Son Tay Town. As such, the metropolitan area will have only two levels of people's representation: city and district. Rural areas still retain the model of three levels of people's representation (city, district, and commune).
This pilot civil service model is expected to streamline the local apparatus, accelerate the decision-making process and solve urgent issues faster, as well as better define leaders' responsibilities. 
The Hanoi People's Committee has assigned the Department of Planning and Investment to work with related districts in assessing the possible hurdles in the process while pushing for greater decentralization in making decisions at district- and ward-level people's committees.
In response to a concern that whether people's democratic and supervision rights continue to be maintained without ward-level people's councils, a representative of the Department of Internal Affairs, who requested anonymity, said the public could exercise their rights directly or indirectly via different social organizations and entities in the locality.
"Party bodies, Vietnam Fatherland Fronts, socio-political organizations, and the locals would supervise state agencies' compliance to the constitution and laws; district-level people's councils will ensure ward-level people's committees adhere to the tasked designated to them," he noted, saying twice per year before the regular session of the district-level people's councils, leaders of the ward-level people's committees are expected to hold dialogue with citizens to address their concern.
Bui Dinh Thai from the Department of Internal Affairs said to date, all wards under 12 districts and Son Tay Town have set up a plan to carry out the urban administration model, adding "no concern or difficulty has been reported so far."
Having completed the process of reassigning staffs from ward-level people's councils to units and departments in the district, Head of the Internal Affairs Office of Long Bien District Nguyen Thu Hang said the locality "stands ready to kick start the urban administration since July 1."
At Dong Da District, Vice Deputy of the Internal Department Vu Tra Vinh said all 21 wards under the district have completed the preparation process.
"We are waiting for detailed instruction on the working mechanism between ward-level agencies to ensure the urban administration model is implemented as planned," she stated.
Chairman of the Hanoi People's Committee Chu Ngoc Anh on June 23 signed off decision No.2696/QD-UBND on the working mechanism of the ward-level people's committees under the pilot urban administration model.
Vietnam attends virtual meeting of Int'l Military Sports Council in Asia
A Vietnamese delegation attended an online meeting of the International Military Sports Council (CISM) in Asia, which was held on June 29.
It was led by Colonel Bui Hong Quang, Deputy Director of the Department of Military Training under the General Staff of the Vietnam People's Army.
In his opening remarks, CISM President Colonel Hervé Piccirillo said the ravaging COVID-19 pandemic poses a major challenge to the holding of military sports, adding that the organisation will stay in touch with member nations to devise a suitable plan in the coming time.
Delegates cast votes online to elect Colonel Mohammad Rezaul Karim of the Bangladesh Armed Forces to represent CISM Asia at the Board of Director.
Outcomes of the virtual meeting will be delivered at the 76th General Assembly of the CISM, slated for June 30 (Vietnam time).
Founded in 1948 in Nice (France), the CISM is one of the largest multidisciplinary organisations in the world. The council organises various sporting events for the armed forces of its 140 member countries and is one of the global sports organisations in which the largest number of disciplines is represented./.
Chinese Ambassador highlights consistent direction for China-Vietnam ties
Chinese Ambassador to Vietnam Xiong Bo has highlighted the leadership role of the Communist Party of China (CPC) in the cause of national liberation and development, as well as the cooperative ties with the Communist Party of Vietnam (CPV) during an interview recently granted to Vietnam News Agency on the occasion of the 100th anniversary of the CPC.
Xiong stressed that over the past 100 years, the CPC has stayed united to lead the Chinese people to establish the People's Republic of China and the basic socialist regime in China. It has carried out reform, opened up the road to socialism with Chinese characteristics, brought the socialism with Chinese characteristics into a new era, so that the Chinese people have made a great leap forward, from getting rich to getting stronger.
During the period, the CPC has been steadfast in its goals, constantly explored a path for socialist modernisation suitable to China's situation, and set forth one goal after another, from the "Four Modernisations" and "Three-Step Development Strategy" to "Two Centenaries" (100th anniversary of the CPC and the 100th anniversary of the People's Republic of China), with a vision of basically completing the modernisation of socialism by 2035, building a modern socialist power that is rich, strong, democratic, civilized, harmonious and beautiful in the middle of 21st century. The CPC has continuously enriched and perfected the path, theory and regime of socialism with Chinese characteristics, and continuously stepping up the modernisation of the governance system and the country's governance capacity.
Within a few decades, China passed through the industrialisation journey that lasted hundreds of years in developed nations, opening up the path of Chinese-style modernisation with a harmonious combination of material and spiritual civilization, and the harmonious coexistence between humans and nature. The country has followed the path of peaceful development, bringing a completely new choice for many developing countries towards modernisation.
The ambassador added that the CPC has steadfastly followed the principle of putting the people above all, implemented the most extensive people's democracy in a country with a history of thousands of years of feudalism. With reform and opening up, China accounted for more than 70 percent of the number of people escaping poverty in the world in the same period, fulfilled the United Nations' poverty reduction goals 10 years earlier than schedule. Facing the COVID-19 pandemic, the CPC has been consistent with its principle of placing people's lives and health above all and reaped important results in the fight. China has so far given 1.1 billion shots of COVID-19 vaccine, which is the most vivid demonstration of the CPC's stance on ruling for the sake of the people that has won over approval and support of the Chinese people.
Asked about relationship between the CPC and the CPV over the past years, especially amid the COVID-19, Ambassador Xiong said the history of friendly exchanges between the two parties has lasted for nearly 100 years. The two sides have always offered mutual support in the fight against invading colonialism and imperialism as well as in seeking the way to build socialism, sharing a destiny of strategic significance.
"Entering a new era, under strategic planning and direct guidance of Party General Secretaries Xi Jinping and Nguyen Phu Trong, ties between the two parties and nations have been developing in the right direction," he said, noting that following the 13th National Congress of the CPV, Party chief Xi held phone talks with his counterpart Trong and State President Nguyen Xuan Phuc, thus maintaining close strategic exchange at the high level to protect the prosperous development of the socialism cause, maintain peace and stability in the region and the world, and uphold the role of orientating the development of China – Vietnam ties at present and in the future.
Xiong went on to recall that during a phone talk between Chinese Premier Li Keqiang and Vietnamese Prime Minister Pham Minh Chinh and an online talk between Chairman of the Standing Committee of the National People's Congress of China Li Zhanshu and National Assembly Chairman Vuong Dinh Hue, the two sides reached important common perception on persistently following the political direction of the two parties' leaders, strengthening political trust, accelerating strategic development linkage, expanding result-oriented cooperation in various areas, and enhancing collaboration in regional and international issues.
The ambassador highlighted that under the strategic direction of leaders of the two Parties, bilateral ties have grown steadily, especially amid the COVID-19 pandemic. Under the drastic leadership of each Party, they upheld the motto of placing the people at the centre, thus reaping great strategic achievements in pandemic prevention and socio-economic development, reflecting the outstanding superiority of the socialist regime. In accordance with the common perception of the two Parties and countries' leaders, a batch of COVID-19 vaccines, donated by the Chinese Government, has arrived in Hanoi. China is willing to continue well implementing the common perception between the two countries' leaders, strengthening ties with Vietnam in pandemic prevention, vaccine research and development and production, thus giving practical and effective assistance to Vietnam to achieve the dual goal of fighting the pandemic and restoring socio-economic development. 
He said that both China and Vietnam have started a new journey to build socialism. Amid unpredictable developments in the world and the pandemic, the two Parties, more than ever,  need to inherit the brainpower and strength from the nearly 100-year history of their friendly exchanges, consistently follow the strategic directions of the two Parties' leaders to deepen ties in various areas in the post-pandemic period, and carry the cause of socialism forward./.
Foreign Minister: cyber security crucial for peace, prosperity
Vietnamese Foreign Minister Bui Thanh Son delivered a speech at the United Nations Security Council (UNSC)'s online open discussion on maintaining international peace and security on cyberspace hosted by Estonian Prime Minister Kaja Kallas, UNSC President for June 2021.
In his speech, Son said the boom in information and communications technology has been creating strong and deep impacts on every aspect of life globally, contributing to promoting the exchange of human knowledge, increasing mutual understanding as well as sustainable development in each nation.
However, more and more terrorists and trans-national criminals are taking advantage of technology to infiltrate banking and financial systems, destroy essential infrastructure, incite social disorder, spread extremist ideology and distorted information in the community, causing huge damage to the global economic development, seriously threatening sovereignty, security and development while eroding trust among nations.
In such circumstances, the Vietnamese FM affirmed that cyber security is crucial for peace, security, development and prosperity on national and global scales. Sovereignty and interest of each nation on cyberspace must be fully respected.
He suggested the international community establish a global framework with rules and a code of conduct on cyberspace based on consensus and the wide and full involvement of countries. Every activity on cyberspace should be in accordance with the United Nations Charter and international law, especially basic principles such as respecting nations' independence and sovereignty, not interfering into internal affairs, not using force, and settling disputes peacefully.
The minister expressed concern and objection to the use of harmful ICT technology to attack medical, electricity, water and food facilities. He called on all countries to actively engage in and contribute to enhancing international cooperation, building trust and ensuring security on cyberspace.
The explosive development of ICT technology is an irreversible trend which will be a launch pad for humans on the journey towards prosperity. Aware of that, Vietnam has built a national digital transformation strategy and is striving to have its digital economy account for 30 percent of the gross domestic product by 2030, he said.
He added that in Southeast Asia, Vietnam actively and proactively joined regional cyber security mechanisms, including the ASEAN Cybersecurity Cooperation Strategy. The country also formed effective partnership with many nations and international partners in the field.
Vietnam is ready to work with partners to build a cyberspace of peace, stability and safety for the people and sustainable development, he stated.
Participants highlighted a need to uphold international law and the United Nations Charter in maintaining peace, security and stability on cyberspace, apart from measures to build trust, improve capacity and coordinate actions among countries./.
Poverty reduction programme exceeded targets: official
The poverty reduction programme in 2016-20 exceeded targets assigned by the National Assembly (NA) and the Government, contributing to ensuring social security, promoting economic growth and sustainable development, a top legislator has said.
Vice Chairman of the NA Trần Thanh Mẫn made the statement on Tuesday while presiding over the 21st plenary session of the NA's Committee on Social Affairs.
However, he said, poverty reduction results were not sustainable and the risk of falling back into poverty was still high, while the income gap between the rich and the poor was still large.
Some policies had not been effective in practice and investment resources for poverty reduction had not met practical needs.
Mẫn said that going forward, the poverty reduction programme should ensure consistency with the 10-year socio-economic development strategy 2021-30, the five-year socio-economic development plan, and the national target programme on building new rural areas for 2021-25.
The programme should be implemented with multi-dimensional poverty reduction solutions to renovate the approach to poverty reduction and encourage the poor to rise out of poverty, especially in areas with a large number of ethnic minorities.
Politburo Resolution 21 issued on November 22, 2012, on strengthening the Party's leadership in social insurance and health insurance for 2012-20 has emphasised the importance of social insurance.
Social insurance has since become the main policy of the national social security system.
Over the years, Việt Nam's social insurance policy has gradually improved, with coverage expanded and opportunities created for all people to access, participate in and benefit from the policy.
However, said Mẫn, there were still issues that need to be considered when participating in compulsory social insurance, the implementation of social insurance policies, the management and use of the social insurance fund, late payment, debt payment, evasion of payment and profiteering of social insurance and unemployment insurance.
Mẫn said inspections were very important as a basis for amending and supplementing the Law on Social Insurance. The issues the committee considers in the meeting would be an important basis for the 15th NA deputies to give opinions on approving investment policies in the national targeted programme for 2021-25.
During the session, participants also commented on the National Target Programme on Poverty Reduction and Sustainable Social Security for 2021-25. 
HCM City plans to improve the water supply system after groundwater restriction.
HCM City is making adjustments to its Water Supply Plan to 2040, with a vision to 2060, to adapt to climate change and maintain local residents' access to clean water.
Numerous water companies in HCM City have joined the project, including Sài Gòn Water Supply Corporation (Sawaco), Thủ Đức Water B.O.O Corporation, Tân Hiệp Water, and Sai Gòn Clean Water Business and Investment Joint Stock Company (SWIC).
Sawaco is making plans to apply hi-tech techniques to freshwater production and supply management models to make use of natural and human resources.
Exploiting other sustainable and safe water sources is also a must to maintain freshwater supply for all residents. Rainwater and brackish water are considered potential alternative sources.
Other water companies will work on sludge treatment plans to find suitable techniques for water supply plants. 
To avoid freshwater losses, water supply plants are asked to carefully keep track of the flow rate at night, change the old pipes and use pressure-reducing valves. 
The tap water leakage rate is expected to be under 18.93 per cent by 2040.
In addition, a free drinking-water system will be piloted at public places such as schools, parks and hospitals. This is a joint project of the Department of Health, Department of Construction, Sawaco, and SaigonWater. 
Experts have warned that the main sources of water have become seriously polluted due to the impact of socio-economic development along the Sài Gòn – Đồng Nai river system. 
According to Sawaco, the city aims to increase the average supply of clean water per capita per day by 165 litres, and provide 100 per cent of residents access to clean water. 
Shopee, Garena donate $1m to Govt Covid vaccine fund
SEA Group's Shopee and Garena Vietnam have donated US$1 million to the Government's Vaccine Fund for COVID-19 Prevention and Control.
They said with the expanded vaccination strategy and public consensus, Viet Nam would contain the pandemic and restore economic growth.
SEA Group is a Singapore company with a presence in Singapore, Malaysia, Thailand, Taiwan, Indonesia, Việt Nam, and the Philippines.
In Việt Nam it has two companies, Shopee, one of the largest e-commerce platforms, and Garena, an organiser of major eSports tournaments and events in Southeast Asia.
Vice President works with Ha Giang
Vice State President Vo Thi Anh Xuan had a working session in the northern province of Ha Giang on June 30.
She also laid wreath and offered incense to martyrs at the Vi Xuyen National Martyrs' Cemetery and a monument dedicated to fallen soldiers of the Vi Xuyen battlefield in the province's Thanh Thuy commune.
The Vi Xuyen National Martyrs' Cemetery is home to 1,847 graves of martyrs nationwide who laid down their lives to safeguard the country's northern border.
During her meeting with leaders of Ha Giang and Vi Xuyen district in particular, Xuan underlined that there is a national border gate and various border crossings in Ha Giang province. Therefore, it needs to capitalise on the economic potential of the border areas and bolster trade with its neighbouring Chinese localities.
Of note, with its advantages, Ha Giang is also asked to further promote its images and foster infrastructure development and human resources training for tourism, in an attempt to turn tourism into a spearhead economic sector.
The Vice President presented 100 aid packages to poor families and policy beneficiaries, along with 200 gifts to disadvantaged students in Vi Xuyen district.
She took the occasion to visit officers and soldiers at the Thanh Thuy international border gate post.
Amid the ravages of COVID-19, Ha Giang border guard must take the initiative in carrying out border protection duties in a timely and concerted manner, contributing to realising the dual targets of safeguarding the country's sovereignty and border security and curbing the spread of the pandemic in border areas, Xuan stated./.
French official interested in Vietnam's choices for development
Secretary General of the France – Vietnam Friendship Association Jean-Pierre Archambault has expressed his interest in Vietnam's sound choices for development, which were mentioned in an article on several theoretical and practical issues on socialism and the path towards socialism in Vietnam by General Secretary of the Communist Party of Vietnam Central Committee Nguyen Phu Trong.
In an interview recently granted to the Vietnam News Agency in Paris, Archambault said Trong pointed out that Vietnam's development path is "national independence and socialism", "not choosing capitalism", and "development of socialist-oriented market economy". He said these are sound choices that were decided early and have been maintained continuously since the 20th century.
Commenting on Vietnam's renovation cause and development of socialist-oriented market economy, Archambault said Vietnam has achieved considerable progresses. Over the past decade, Vietnam's economy has grown by 6-7 percent annually with low inflation rate. The rate of poor households was reduced to below 5 percent from 58 percent in 1993. In 2010, Vietnam became a middle-income country with an average income of 2,100 USD per capita.
According to him, it is necessary to review the history to gain an insight into Vietnam's beginning, thus better understanding its efforts.
He added that Vietnam is still facing challenges such as improving production capacity and competitiveness, uneven development in urban and rural areas, mitigation of climate change impacts.
In the near future, he suggested Vietnam pay more attention to vocational training, application of artificial intelligence and tap strengths in health care.
In his opinion, Vietnam succeeded in regional and global integration thanks to strong political determination of high-ranking leaders. The country formed diplomatic ties with nearly 200 nations and engaged in trade with over 200 countries and territories, and signed strategic partnership agreements with many countries worldwide, including France.
Vietnam has played an active role in the Association of Southeast Asian Nations (ASEAN) and the Asia-Pacific Economic Cooperation (APEC) and was hailed as one of the most dynamic economies in the region, contributing to propelling the global economy, he said.
The Secretary General added that Vietnam's election as a non-permanent member of the United Nations Security Council for the 2020-2021 tenure with 192 out of 193 votes has affirmed its stature on international arena and the community's trust on the country's foreign policy.
With closer ties in tertiary education and health care, he expressed his belief that bilateral ties will further grow in the near future, particularly in economy./.
National COVID-19 vaccine fund receives over 7.95 trillion VND
The national COVID-19 vaccine fund received over 7.95 trillion VND (344.5 million USD) as of June 30 afternoon, its management board said.
The sum was raised by 355,496 organisations and individuals, according to the board.
It said that in July, it plans to use nearly 2 trillion VND from the fund to buy vaccines following a request by the Ministry of Health. The remaining will continue to be sent to commercial banks in line with regulations.
The board has opened 21 bank accounts for donations in Vietnam dong, US dollar and euro at the State Treasury of Vietnam, and the six commercial banks of BIDV, Vietcombank, VietinBank, HDBank, Agribank and TPBank.
The use and management of the fund and the opening of accounts at the State Treasury is publicised on the mass media daily.
Vietnam will need 22.5 trillion VND to buy 150 million doses of COVID-19 vaccine to inoculate 75 million people in order to achieve herd immunity./
Wanted anti-State propagandist arrested
Le Van Dung, alias Le Dung Vova, who was charged with anti-State propaganda, have been arrested a month after his wanted notice was issued, the Hanoi Department of Public Security said on June 30.
The arrest took place in the morning of the same day when Dung was hiding in the capital city's Ung Hoa district.
Dung was accused of "making, storing, distributing or disseminating information, documents, items against the State of the Socialist Republic of Vietnam" under Article 117 of the 2015 Penal Code.
He was said to have joined in anti-State activities and protests disrupting security and order since 2011. He took part in several subversive groups as well as some "movements" launched by domestic and overseas reactionary elements.
Since 2018, Dung led the so-called "Phong trao chan hung nuoc Viet" (Movement to revive Vietnam) and publicly set up some channels and pages like "Tieng dan tivi", "Eva tivi", and "Chan hung tivi" on Youtube and Facebook, frequently posting videos that distorted and defamed the administrations and leaders of localities so as to attract likes and support for reactionaries.
His case is being handled by the Hanoi Department of Public Security in line with law./
Dak Lak should give top priority to Buon Ma Thuot-Nha Trang expressway: NA leader
Politburo member and National Assembly Chairman Vuong Dinh Hue has asked the Central Highlands province of Dak Lak to give top priority to the Buon Ma Thuot-Nha Trang expressway project in its plan for the next five years.
At a working session with the provincial Party Committee's Standing Board on June 30, the NA leader said that Dak Lak should give high political determination to the implementation of the project, thus creating a motivation for its development.
Along with speeding up preparations for the project, Dak Lak should actively build its regional and provincial planning, especially on transport, he asked.
Secretary of the provincial Party Committee Nguyen Dinh Trung proposed that the Government add the Buon Ma Thuot-Nha Trang to the Vietnam road planning in the 2021-2030 period with a vision to 2050 and allocate about 10 trillion VND (433.7 million USD) from the central budget to the 19.5-trillion-VND project.
He also suggested the addition of three expressways to the planning – Kon Tum - Gia Lai- Dak Lak - Dak Nong - Binh Phuoc, Buon Ma Thuot-Lien Khuong, and Buon Ma Thuot-Phu Yen, together with a number of other infrastructure projects.
Deputy Minister of Finance Ta Anh Tuan said that the Buon Ma Thuot-Nha Trang expressway project can be implemented in the form of public-private partnership.
NA Chairman Hue lauded Dak Lak for successfully organising the May 23 general elections and its socio-economic achievements in the first six months of this year.
In the first half of 2021, Dak Lak posed 9.11 percent economic growth, 1.61 times higher than the average figure of the country. It has completed 60 percent of its yearly plan for budget collection, while the number of newly-established companies also rose 59 percent year on year.
The top legislator reminded the province to work harder to strengthen COVID-19 prevention and control and make careful preparations for the allocation of the upcoming support package, while showing stronger performance in land management and security-defence protection as well as crime combat.
At the working session, the Vietnam Fatherland Front Central Committee presented Dak Lak 1 billion VND, while the Ministry of Health gifted the province with medical supplies worth 5 billion VND, and the Long Thanh Golf Investment and Trading JSC also handed over 5 billion VND to the locality to build schools.
Also on June 30, NA Chairman Hue visited and presented gifts to poor workers in Alumin Nhan Co Company in neighbouring Dak Nong, and visited the Alumin Nhan Co Complex./.
Military makes great contributions to national achievements: PM
Prime Minister Pham Minh Chinh hailed contributions by the army to the country's achievements at the national political-military conference for the first six months of 2021 that was held virtually in Hanoi on June 30.
PM Chinh noted that in the first half of this year, many important events were organised such as the 13th National Party Congress and the elections of deputies to the 15th National Assembly and all-level People's Councils in the 2021-2026. Amid the complicated COVID-19 developments, Vietnam has effectively conducted the dual targets of combating the pandemic and boosting socio-economic development.
With the efforts of the whole Party, army and people as well as the political system, the country has recorded considerable and comprehensive achievements in fields, he said, adding that the results have been partly contributed by the Ministry of National Defence as well as all officers and soliders.
According to the PM, amid the advantages and challenges to the implementation of defence and military missions, the Vietnam People's Army has fulfilled all assigned tasks.
He underlined that the military should promote its self-reliance and self-resilience, solidarity and consensus and creativity in implementing its missions, while persistently and resolutely struggling to firmly protect the national independence, sovereignty and territorial integrity in parallel with the socio-economic development and maintaining political stability and an environment of peace for national development.
It is necessary to continue to strengthen international cooperation and external relations in defence, thus creating position and strength to safeguard the country./.
Cambodia appreciates Vietnam's support in difficult times: King
Cambodia always appreciates Vietnam's assistance during its difficult times, King Norodom Sihamoni said while receiving outgoing Vietnamese Ambassador to Cambodia Vu Quang Minh, who came to bid farewell on June 29.
The King affirmed that the two nations have stood side by side during their struggles for independence and are now trustworthy partners for development.
He said Minh has made great efforts during his tenure in contribution to the Vietnam – Cambodia friendship.
He also took the occasion to send his greetings to Vietnamese Party General Secretary Nguyen Phu Trong, State President Nguyen Xuan Phuc, National Assembly Chairman Vuong Dinh Hue, and Prime Minister Pham Minh Chinh.
As part of the meeting, the Vietnamese Embassy presented King Norodom Sihamoni and Queen Mother Norodom Monineath 10 tonnes of specialty rice and 50,000 face masks for distribution for Cambodians in need./.
ASEAN nations seek COVID-19 vaccine supply sources
ASEAN member nations, including Myanmar, Malaysia, Philippines, Thailand and Indonesia, are actively working to obtain COVID-19 vaccines from different sources.
Myanmar is negotiating to buy seven million doses of Russia's Sputnik COVID-19 vaccine after initially planning to buy two million doses, Senior General Min Aung Hlaing of Myanmar said in an interview with Russia's RIA news agency.
The move aims to tackle a new wave of coronavirus infections in the nation.
Aung Hlaing, who recently returned from a trip to Russia, said his country's neighbouring India, which had initially supplied the bulk of Myanmar's vaccines, was unable to provide more doses due to its own outbreak.
According to him, China has also sent Myanmar some vaccines and Myanmar will continue negotiations with China in this regard.
Meanwhile, Malaysia will receive 1 million AstraZeneca COVID-19 vaccines donated by Japan on July 1 and another 1 million doses of the Pfizer-BioNTech vaccine donated by the US on July 2.
Japan has also agreed to donate similar amounts of the AstraZeneca vaccine to the Philippines, Thailand and Indonesia.
Zuellig Pharma, Moderna's supply partner for COVID-19 vaccines in Southeast Asia, has said that regional orders for the mRNA vaccine are almost fully booked for this year, highlighting procurement challenges for countries slow off the mark.
Singapore, the Philippines, and Thailand are among those that have sought or signed deals for Moderna or have already begun receiving vaccine batches./.
Face masks presented to Vietnamese community in Laos
As many as 20,000 medical face masks were presented to the Vietnamese community in Laos during a ceremony held in Vientiane capital on June 30.
Speaking at the handover ceremony, Vu Tu Oanh, a counsellor at the Embassy of Vietnam said that the gift was sent by the Vietnamese Government as the COVID-19 pandemic is dealing a blow to the lives of people in Laos, including Vietnamese.
It reflects the sentiments towards overseas Vietnamese, including those who are living in Laos, as they are an inseparable part of the country, Oanh said.
In addition, the Prime Minister has approved to assist 40,000 USD from Vietnam's COVID-19 prevention and control fund for Vietnamese people in Laos, according to Oanh.
Chairman of the General Association of Vietnamese in Laos Nguyen Duy Trung expressed his gratitude to the Party, State and people of Vietnam, pledging to distribute the aid to all people in need.
The Vietnamese Government previously sent 75,000 medical masks to the community in Lao./.
Source: VNA/VNS/VOV/VIR/SGT/Nhan Dan/Hanoitimes

80% of Covid-19 patients in HCMC have no or mild symptoms