VIETNAM NEWS HEADLINES JULY 25
Support policies effectively implemented for pandemic-hit workers: Minister
All policies supporting workers affected by the COVID-19 have been implemented in an integrated and effective way, ensuring people's life, Minister of Labours, Invalids and Social Affairs Dao Ngoc Dung told the 15th National Assembly on July 25 morning.
The strong surge in COVID-19 cases since April 27 has put enormous pressure on the economy and society, he said, citing the fact that employment rate reached 2.52 percent, with the services sector being the hardest hit. Some industries are shrinking further this year, such as travel, lodging service and transportation. About 70,000 enterprises in the economy have suspended operation or gone bankrupt.
The pandemic has also been attacking industrial parks and export processing zones where a large number of workers are employed, Dung continued. He stressed that HCM City, Hanoi and many other localities have imposed full or partial lockdown and social distancing measures with most services, business and production activities shut down, severely impacting livelihoods of millions of people.
He said in the face of such impacts, the Party and State have adopted various policies to aid affected employees and employers, for example, water and power bill discount, Value Added Tax (VAT) deferral, fee waiver, and emergency reliefs for workers and enterprises in need.
Some 168.8 trillion VND (7.3 billion USD) has been provided to aid the affected, the minister said, adding that close to 39 trillion VND of the 62-billion-VND support package has been used to help a total of 14.4 million people.
Financial support has also been promptly given to workers without contracts, particularly those living in cities and provinces practicing social distancing orders, he said./.
Hanoi allows shipping of retail deliveries
The delivery staff of e-commerce platforms (like Lazada or Tiki) and supermarkets will be allowed to continue to work in Hà Nội, under a decision made by the municipal Department of Transport.
Vũ Văn Viện, director of the transport department, said that under social distancing restrictions, deliveries of retail goods and groceries will be allowed however the delivery of take-away food and beverages will remain banned.
The department on Sunday also issued a document requesting registration of employees allowed to transport essential goods for supermarket services and postal businesses by motorbikes.
Under Document No 3462/SGTVT-QLVT, which was sent to the Hà Nội Department of Industry and Trade (DIT) and post and telecommunications units, the department is compiling a list of delivery workers for supermarkets in the city, along with a list of parcel delivery staff, including their full name, address, mobile phone number, vehicle plate number and working area.
Units that register employees to be allowed to work must be responsible for managing and monitoring the pandemic prevention work of staff, and responsible if cases of the disease occur.
Based on the list, the Department of Transport will send a confirmation message to the delivery staff's mobile phone number so that they can show it to the police in case it is needed. 
VinGroup's request to "borrow" 5,000 vaccine doses "reasonable": HCM City
HCM City authorities have confirmed that they have agreed to VinGroup's request to "borrow" 5,000 doses of Moderna COVID-19 vaccine to give to their staff who are involved in the COVID-19 fight in the city.
Dương Anh Đức, Vice Chairman of HCM City People's Committee, explained the reasoning for the permission to the press in Sunday briefing that since the outbreaks began, the private conglomerate has mobilised a huge amount of human resources to assist the city's authorities to battle the virus and that it is also one of the larger donors to Việt Nam's COVID-19 response in general.
Đức said the group has donated VNĐ160 billion (US$6.96 million) and made a financial commitment equal to the value of four million doses of COVID-19 vaccines to the National COVID-19 Vaccine Fund. They have also provided 2,000 advanced ventilators that are in critical need as cases are rising in HCM City, the country's current epicentre.
He remarked that the supporting units from VinGroup are actually qualified to get early vaccination but "due to conditions in HCM City, the group wants 5,000 doses in advance to urgently administer to its employees supporting the city in logistics and testing roles."
The city is conducting another mass inoculation drive for its population with nearly 1 million doses of vaccine, for priority groups including people over 65 years old, economically challenged groups, and medical forces.
Vingroup has also deployed medical units to help the city with PCR testing using biological products, machinery and equipment from its Vinmec Hospital chain.
"The city has allowed the group to borrow COVID-19 vaccine to help inoculate these units. We consider this reasonable and helpful to the city's fight against COVID-19," Anh Đức said.
The city official noted the authorities could also consider requests from other entities who provide critical COVID-19 support for the city, depending on the availability of the vaccine supply for HCM City. 
NA deputies propose giving PM more power in COVID-19 fight
National Assembly deputies on July 25 expressed their concern about unpredictable developments of the fresh COVID-19 outbreak and proposed the legislature the Government and the Prime Minister to decide on unprecedented measures against the pandemic.

For the first time measures against COVID-19 have been included in the legislature's working agenda. 
Deputy To Van Tam of Kon Tum province agreed that the legislative body should consider and remove difficulties and obstacles, creating a legal corridor for the Government to apply a number of special measures that have never been seen in the legal system to make disease prevention more effective.
Deputy Nguyen Truong Giang of Dak Nong province shared Tam's view, noting that the fresh outbreak, starting in late April, has made a negative impact on business production and people's life, and the implementation of social distancing rules in many localities will certainly affect the realization of the government's dual goal of epidemic prevention and economic recovery.  
The deputy, who is also vice chairman of the NA Committee for Legal Affairs, proposed that the NA grant the Prime Minister the power to decide on measures which are yet to be prescribed within the law or different from current regulations, in order to proactively, flexibly and promptly respond to the current outbreak.
Deputy Vu Thi Luu Mai of Hanoi agreed to the proposal, saying special COVID-19 measures should be adopted given the the complex evolution of the current pandemic. In her opinion, parts of the measures may not be consistent with the Law on State Budget, but fighting COVID-19 needs flexibility in execution.
However, she reminded that such proposed measures should only be applicable to the COVID-19 fight to avoid losses to State budget in other cases.
Voicing his support for the proposal, deputy Tran Van Lam of Bac Giang province emphasized the need to bring the fresh outbreak under control as soon as possible.
"Losses will be huge if we respond late," said the deputy.
Also at the plenary session, NA deputies raised VND500 million in support of the ongoing fight against COVID-19.
Transport departments to ensure smooth circulation of essential goods
The transport departments of HCM City and all provinces must work to ensure the smooth circulation of essential goods, while the ministries of Industry and Trade, and Agriculture and Rural Development will maintain supply chains during social distancing regulations under Government Directive 16.
Speaking at an online meeting between the ministry and 63 provincial transport departments on Friday, Minister of Transport Nguyễn Văn Thể asked HCM City and all provinces to follow the Ministry of Health's guidelines to control people and trucks travelling between cities and provinces while ensuring circulation of goods.
According to Thể, only trucks with essential goods are allowed to travel during the lockdown period under Directive 16. Vehicles must have QR codes when traveling through HCM City's gateways and other provinces under Directive 16.
Thể ordered HCM City and surrounding provinces to provide favourable conditions for truck drivers to get tested and ensure smooth movement between cities and provinces.
Local authorities must also oversee businesses that transport goods and conduct rapid COVID tests or RT-PCR tests for truck drivers and their helpers.
According to the city's transport department, while traffic volume at the city gateways has fallen by 70 per cent compared to the time before Directive 16, traffic congestion has eased.
On July 22 and 23, traffic at the city's gateway checkpoints moved smoothly, according to the Directorate for Roads.
In 19 southern cities and provinces under Directive 16, trucks are currently required to carry logos and QR codes that allow access to their medical declarations before they are permitted to enter or leave pandemic checkpoints.
According to the city's transport department, as of 12am on July 23, more than 53,000 QR codes had been issued to vehicles to facilitate the transportation of essential goods. 
The country's largest city on July 9 reopened 12 pandemic checkpoints at city gateways when it started the social distancing period, which has been extended to August 1. The checkpoints are operated by local police, army forces, health staff and interdisciplinary forces.                                                  
Police forces have been mobilised to ensure security and order at the checkpoints, and in isolation and lockdown areas in the city. They are also working with medical staff to trace suspected COVID cases. 
Logistics firms wait for QR codes 
The Việt Nam Logistics Business Association (VLA) has asked the city government and agencies to remove difficulties for logistics businesses as all drivers must have QR codes when passing through pandemic checkpoints at city gateways.
According to VLA, more than 70 per cent of container trucks have not been issued QR codes, although most of them have registered for them.
The delay in issuance of the QR codes will cause serious disruptions to the supply chain of goods, as well as congestion at seaports and industrial parks, according to VLA.
VLA asked the Department of Transport to speed up the process and set up a hotline to support transport businesses. It should temporarily suspend the rule to have QR codes when passing checkpoints until the Department of Transport issues all QR codes for registered vehicles.
Businesses cooperate to transport goods 
During the recent difficult period of goods circulation between HCM City and surrounding provinces, transport enterprises said that container trucks from HCM City to other provinces in the central region, Central Highlands, and Mekong Delta region often ran empty when they travelled back to HCM City.
Nguyễn Ngọc Thanh, director of Kim Phát Transport Company in District 12, recommended that empty trucks should transport agricultural products and vegetables from the provinces back to HCM City. They would then be gathered at wholesale markets or transshipment points for delivery within the city.
Each container truck can carry up to 30 tonnes of farm produce, he said.
A goods container truck from HCM City to Vĩnh Long Province, more than 100km from HCM City, can cost VNĐ5 million (US$220) one way (but the truck carries nothing on its way back to the city). 
Businesses are willing to reduce freight rates by 50-60 per cent or even lower to transport farm produce on the way back to the city. Container trucks travel non-stop mainly at night, so farm produce cargo can arrive in HCM City early morning the next day.
Lâm Đại Vinh, director of Lâm Vinh Co., Ltd in District 7, said that transport businesses were ready to transport farm produce on the way back to HCM City to help reduce the scarcity of essential goods in the city. 
Bùi Văn Quản, chairman of the HCM City Cargo Transport Association, said the association has been working with the city Department of Transport and the Department of Industry and Trade on a plan to use empty containers trucks to transport essential goods, mostly fruits and vegetables, from HCM City to other provinces and vice versa.
Businesses that want to transport essential goods to and from HCM City can contact the association to coordinate with other transport businesses that carry essential goods.
Kid painter sells artworks to raise VND3bln for COVID-19 fight
Kid painter Pho Van Anh, alias Xeo Chu, has decided to donate nearly VND3 billion raised from selling his artworks through an online auction to the ongoing fight against COVID-19 in Ho Chi Minh City.

Anh's parents said they have collected nearly VND3 billion after a week of organizing an auction of his son's paintings at the online exhibition "Pandemic Paintings" from July 16-22.
The proceeds have been transferred to University Hospital of Medicine and Pharmacy in Ho Chi Minh City to purchase medical equipment, including ventilators, external defibrillators, protective gear, and N95 masks, they said.
"I am happy to make a small contribution to the fight against COVID-19," confided the 14-year-old boy. "I hope the doctors and nurses are always safe and in good health to help us overcome the pandemic."
HCM City, the largest coronavirus hotspot in Vietnam, has implemented social distancing measures to halt the spread of the virus in the community.
Without going out, Xeo Chu spent time pursuing his hobby at home. The young artist and his family decided to hold an auction of his paintings through an online exhibition to support the COVID-19 fight.
This is not the first time Xeo Chu has contributed to charity programmes in Vietnam. Last November, the child artist used all his proceeds from selling his paintings to help disadvantaged pupils at seven schools in the central province of Quang Tri.
He opened his first exhibition at the George Berges Gallery in New York in late 2019.
For his talent, Xeo Chu has been known internationally as Vietnam's Jackson Pollock – a famous American painter in the 20th century.
Former mayor of Hanoi prosecuted for illegally interfering in bidding activities
The Investigation Police Agency under the Ministry of Public Security on July 24 executed a decision on commencing legal proceedings against Nguyen Duc Chung, former Chairman of the Hanoi People's Committee, for the charge of "abusing position and power while performing duties" in the case related to the municipal Department of Planning and Investment and relevant units.
This case is under the supervision and direction of the Central Steering Committee for Anti-corruption.
According to the Investigation Police Agency, Chung had abused his position and power to illegally interfere in bidding activities for the package deal on digitization of business registration documents in 2016 at the municipal Department of Planning and Investment.
The agency is expanding investigation into the case of "violating regulations on bidding, causing serious consequences" at the department and related units, which was separated from the case occurred at the Nhat Cuong Technic Co. Ltd.
Based on investigation results and collected documents and evidence, the police agency issued a decision to additionally prosecute the case and take legal action against Chung on the charge of "abusing position and power while performing duties" in line with Article 281 of the 1999 Penal Code.
The decision was approved by the Supreme People's Procuracy./.
Vietnam's naval ships join Russian Navy Day parade
A detachment of Vietnamese naval vessels took part in a parade celebrating the Russian Navy Day in Vladivostok city on July 25.
The detachment consists of Vessel 015-Tran Hung Dao and 016-Quang Trung from Brigade 162 of Vietnam's Naval Region 4, along with a delegation led by Deputy Commander of Naval Region 4 Col. Trinh Xuan Tung.
Admiral Sergei Avakyants, Commander of the Pacific Fleet of Russia, chaired the parade, which featured seven participating ships.
This is the second time the Vietnamese navy has sent vessels to join a Russian Navy Day parade.
The first time was in 2019, when 016-Quang Trung and a delegation from the Vietnamese navy took part in a parade also in Vladivostok. Admiral Sergei Avakyants then expressed his hope that the Vietnamese navy would send vessels to visit the Pacific Fleet annually.
The active and responsible participation by the naval vessels of Vietnam in the parade helped affirm the Ministry of National Defence and the Vietnam People's Navy's support for international events held by their Russian counterparts. It was also meant to acknowledge the Russian navy's support for the activities organised by the Vietnamese navy in 2020, when Vietnam held the ASEAN Chairmanship.
Other parades marking the Navy Day have also been held in other port cities of Russia on July 25./.
US-donated vaccines delivered to Vietnam
The second lot in the latest batch of over 3 million doses of COVID-19 Moderna vaccine granted by the US through the COVAX Facility was handed over to Vietnam late July 25.
The ceremony to receive the lot of 1,500,100 doses of vaccine was attended by Deputy Health Minister Tran Van Thuan and Deputy Foreign Minister To Anh Dung, along with UN Resident Coordinator in Vietnam Kamal Malhotra, UNICEF Acting Representative in Vietnam Lesley Miller, and Chargé d'Affaires, a.i. of the US Embassy in Hanoi Christopher Klein.
Addressing the ceremony, the two deputy ministers appreciated the timely and significant support of the US through the COVAX Facility for Vietnam, especially amid complicated developments of the COVID-19 pandemic in the country and the serious shortage of COVID-19 vaccine around the world.
They called on countries and international organisations to continue sharing vaccine, medical supplies and medicine in order to early put the pandemic under control and bring life back to normal.
The UN Resident Coordinator, the UNICEF Acting Representative and the Chargé d'Affaires, a.i. of the US Embassy in Hanoi pledged to continue supporting Vietnam, the region and the world as a whole to access vaccine and repel the COVID-19 pandemic.
The batch is part of the 80 million doses of COVID-19 that US President Joe Biden has committed to sharing with the world.
So far the US has supplied Vietnam with more than five million doses of COVID-19 Moderna vaccine, which are part of the 23 million doses it committed to 20 countries/territories in Asia.
Vietnam has received more than 11 million doses of COVID-19 vaccine from countries and partners, including the COVAX Facility./.
Over 30,000 children equipped with water safety skills in two years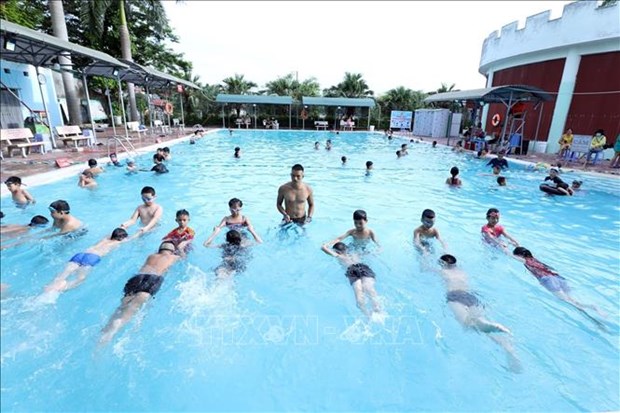 A swimming class for children in Lang Son province (Photo: VNA)
Nearly 14,000 children aged 6 - 15 have been equipped with swimming safety skills, and more than 30,000 with water safety skills over the last two years thanks to classes held by the Global Health Advocacy Incubator (GHAI) and relevant agencies in Vietnam.
In a recent interview with the Vietnam News Agency, GHAI Country Director Doan Thu Huyen said drowning remains one of the leading causes of death for under-15 children in Vietnam, with about 2,000 children aged under 16 losing their lives to water every year.
Drowning increases in summer, when children have finished their school year and spend most of their time at home and in their community, causing not only losses to the country, the community, and their families but also uncompensable grief and pain to their parents and relatives, she noted.
Since 2018, with support from the Bloomberg Philanthropies, the GHAI at the Campaign for Tobacco-Free Kids of the US has coordinated with the Ministry of Labour, Invalids and Social Affairs (MoLISA) and the World Health Organisation to carry out evidence-based interventions that suit the Vietnam context so as to help minimise drowning deaths among under-15 children.
Huyen said the child drowning prevention programme has been piloted in over 100 communes of eight provinces with the highest drowning mortality rates in Vietnam. It provided swimming safety skills for nearly 14,000 children aged 6 - 15 and water safety skills for more than 30,000.
As a result, the rate of children getting swimming lessons has almost doubled, from 14.7 percent to 25.5 percent, in the beneficiary areas, higher than the average national rate.
In the time ahead, she added, the programme will be expanded to 12 provinces, from eight at present, with priority given to disadvantaged districts and communes with high drowning mortality rates in children.
The GHAI will also keep working closely with the MoLISA, relevant sectors, local authorities, and schools to organise swimming classes for children aged 6 - 15. It hopes to equip about 50,000 children with swimming skills by the end of 2022.
Teaching water safety skills is also one of the programme's priorities, Huyen went on, noting that the skills are necessary for children to grow up safely and healthily.
She said the efforts could prove useful only when they receive support from local authorities, families, and schools, and that the GHAI is happy that the programme has helped make substantive improvements to ensure water safety and prevent drowning for children./.
COVID-19 vaccine coverage remains low in Vietnam
In a report submitted to the National Assembly on July 24, Minister of Health Nguyen Thanh Long admitted that Vietnam's vaccine rollout is slow and the national vaccination rate remains low at 5%.

According to Minister Long, approximately 10.2 million doses of COVID-19 vaccines have been delivered to Vietnam, of which 6.2 million doses have been distributed to localities for vaccinations. (Data updated by July 23).
The vaccines were sourced from AstraZeneca and Pfizer under commercial contracts, and from COVAX, Japan, China and Russia through sponsoring and donations.
Vietnam is set to receive an additional 6.8 million doses from Pfizer, AstraZeneca, the United States and the United Kingdom in July.
Minister Long attributed the slow vaccine rollout domestically to a desperate shortage of vaccines globally. Vietnam is one of the countries benefitting from the COVAX-sponsored vaccine programme, but priority is given to severely hit countries.
In addition, Vietnam has to accept conditions set by manufacturers in negotiations, such as no price negotiation, a possible delay in delivery, and exclusion of liability among others which are unprecedented in the country's public procurement.
The minister also said Vietnam has reached agreements and contracts with foreign partners to secure 130 million doses in 2021 and is negotiating to get an additional 45 million doses from Moderna and Sputnik V manufacturers.
However, Long pointed to the fact that in the context of global vaccine scarcity, Vietnam is still encountering difficulty in vaccine supply domestically. More than 30 million doses are set to arrive in the third quarter and more to come in the fourth quarter.
Long anticipated that the situation would be improved in 2022 when more vaccines are approved globally and vaccine production lines are put into operation locally.
Meanwhile, the vaccination rate remains low across the country. The number of COVID-19 vaccination doses administered per 100 people rose to 5 as of July 24. About 4.07 million people have received the first shot, while nearly 335,000 people have been fully vaccinated against the virus.
The rate is rather low compared to about 40% recorded in Singapore, and 17% in Cambodia.
The Ministry of Health is ramping up vaccine rollouts and vaccinations in all localities, especially in coronavirus hotspots.  
The ministry aims to inoculate 70% of the population, or 75 million people, by early 2022 to achieve the herd immunity target.
Sacrifice for national freedom is always remembered: PM
Prime Minister Pham Minh Chinh hosted a reception on July 24 for a delegation of 50 revolution contributors and relatives of martyrs, who represented nearly 10 million people who rendered services to the revolution across the country, on the occasion of the 74th War Invalids and Martyrs Day (July 27).
The revolution contributors highly valued the Party and State's efforts to care for them, expressing their determination to continue aserving as good examples in the society.
PM Chinh expressed deep gratitude towards revolutionary veterans, Vietnamese Heroic Mothers, Heroes of the People's Armed Forces, wounded and sick veterans, relatives of martyrs and revolution contributors.
He said that although the war ended a long time ago, there remained the pains it caused. Millions of people left their youth, dreams and desires under the soil, while millions of others left parts of their bodies in the battlefields, he said.
"Everywhere across the Vietnamese nation, their great sacrifice for the cause of national independence and reunification is always being remembered," PM Chinh stressed.
The Government leader affirmed that taking care of the health as well as the living conditions of the revolution contributors is a special matter as well as an important and regular political task of the Party, State and the entire political system. Policies related to revolution contributors have been completed, while priority in resources has been given to the work, he said.
PM Chinh noted that last year, the National Assembly approved an ordinance on the completion of policies and support for them.
Currently, more than 9.2 million people who rendered services to the nation have benefited from the policies, while thousands of Heroic Vietnamese Mothers are living with the care of the society. Their living conditions are ensured to be at least equal to those in their residential areas, he added.
At the same time, the Government is making efforts to effectively implement policies stated in the 13th National Party Congress' Resolution and the Party Central Committee Secretariat's directive regarding the enhancement of the Party leadership over the caring for revolution contributors and social policy beneficiaries, said the PM.
He requested the Ministry of Labour, Invalids and Social Affairs to continue to complete policies related to revolution contributors and social policy beneficiaries, and give solutions to remove difficulties in the work.
Relevant agencies should continue to mobilise resources for the search and repatriation of martyrs' remains, while stepping up the application of science and technology to define their names, PM Chinh added./.
AstraZeneca scours supply chain for more vaccine doses for Southeast Asia
Pharmaceutical company AstraZeneca on July 24 said it is "scouring" its global supply chain to try and boost COVID-19 vaccine supplies to Thailand and Southeast Asia, Reuters reported.
The statement came after leaked letters showed last week that the drugmaker had offered to supply 5-6 million vaccine doses a month to Thailand, contradicting assertions by Thai officials that the government is owed 10 million a month and 61 million doses by end-2021.
AstraZeneca is scouring over 20 supply chains in its worldwide manufacturing network to find additional vaccines for Southeast Asia, including Thailand, said James Teague, managing director of AstraZeneca Thailand.
"We are hopeful of importing additional doses in the months ahead," he added.
Teague said AstraZeneca has delivered 9 million does so far to Thailand and will deliver 2.3 million more next week.
Thailand has fully inoculated just 5.56 percent of its population of more than 66 million so far, while 18.62 percent have received at least one dose, government data shows.
The drugmaker had previously said vaccine doses for Thailand and Southeast Asia would come from a plant of its Thai partner Siam Bioscience, owned by Thailand's king.
Siam Bioscience has not commented on reports of production shortfalls or delivery timelines.
Pressure has been mounting on the company after Thailand said it was considering imposing limits on exports of locally manufactured AstraZeneca COVID-19 vaccines to shore up domestic supplies, a move that could hit its neighbours, some of which are battling similar or more severe COVID-19 crises./.
Party chief's writing on socialism in VN inspiring: Indian scholar
Indian scholar Prof. G. Jayachandra Reddy highly spoke of Party General Secretary Nguyen Phu Trong's writing on Vietnam's socialism and path towards socialism, calling it an "inspiring piece of article at the appropriate time."
Prof. Reddy is former Director of the Centre for Southeast Asian and Pacific Studies at Sri Venkateswara University in the Indian state of Andhra Pradesh. He is a co-author of the book "Ho Chi Minh with India" published in 2019.
The article has appeared at the right time to mark the 131st birthday of President Ho Chi Minh as well as on the eve of elections of deputies to the 15th National Assembly and all-level People's Councils, he told Vietnam News Agency correspondents in India regarding Trong's article "A number of theoretical and practical issues on socialism and the path towards socialism in Vietnam".
This certainly helps the Vietnamese leadership to alert and prepare the party cadres to meet the emerging challenges and opportunities, he said.
He is particularly impressed with the article's direct comparison between capitalism and socialism with reference to Vietnam's political requirements, saying it is certainly the best part of this paper, giving specific and logical reasons which may clarify many doubts of the common man of Vietnam that why we should follow socialism to realize all the dreams of the country.
No doubt that Doi Moi (renewal) process has been the center of attraction and a key political development in the history of independent Vietnam, he said, noting that before Doi Moi, which was launched in 1986, Vietnam was labeled as a country sustained simply with foreign aid but the current global perception is totally different. Vietnam is now one of the countries of ASEAN with high GDP growth and is expected to be the strongest economy of the region within a couple of decades.
On the other hand, Vietnam is also emerging as a key player among the ASEAN members, he continued, evidently Vietnam has been instrumental in addressing many issues, specifically the South China Sea (known as East Sea in Vietnam) claims, as the chair of the ASEAN.
Reddy highlighted a prediction by many scholars that the 21st century is of Asia, and no doubt that a country like Vietnam has been burgeoning with its dynamic domestic and international economic policies. He pointed out that no one would have predicted that Vietnam would become one of the largest consumer markets in the world by 2020. Vietnam is one of the very few countries which have registered nearly 3.0 percent of GDP growth rate, whilst surprisingly, the world GDP growth rate is -3.6 percent, as per World Bank data.
He moved on to point out specific challenges facing Vietnam in building and promoting the economy and creating an international market. He suggested Vietnam improve multiple areas to come over the challenges, some of which are the economic framework for growth and poverty reduction; creating a supportive climate for entrepreneurship; transforming the rural economy; enhancing human capital with international competence; providing efficient infrastructural facilities and services; improving environmental quality; building modem governance with IT support; and confidence building at global level./.
State leadership to be elected during second week of 15th NA's first session
The election of key positions in the State leadership will be the focus of the second and also the last working week, from July 26 to 28, of the 15th National Assembly's first session.
On July 26, the NA is scheduled to elect the State President, the Prime Minister, the Vice State President, the Chief Justice of the Supreme People's Court, and the Prosecutor General of the Supreme People's Procuracy.
Lawmakers will also made decisions about the structure and the number of members of the Government, and vote on the appointment of deputy prime ministers, ministers, and other members of the Government; the vice chairperson and members of the National Defence and Security Council; and justices of the Supreme People's Court.
Deputies will look into the implementation of the socio-economic development and State budget plans during the first six months and tasks in the latter half of this year to fulfill the yearly plans; the socio-economic development plan for 2021 - 2025, which includes the intensification of the COVID-19 fight; and investment policy for the national target programmes on sustainable poverty reduction and new-style rural area building for 2021 - 2025.
These debates will be broadcast live on radio and television.
Other issues on the working programme in the coming days include the financial plan, the public borrowing and debt repayment plan, and the medium-term public investment plan for 2021 - 2025; the approval of the 2019 State budget balance; and the thrift practice and wastefulness prevention in 2020.
The NA is also set to vote on many important resolutions during the final working days of its first session.
The session's closing ceremony on July 28 will be broadcast live on radio and television./.
NA talks socio-economic development in 2021, next five years
The 15th National Assembly (NA) is spending the entire day on July 25, on discussing the implementation of the socio-economic development and State budget plans during the first six months, solutions for task performance in the year's latter half, and the development plan for 2021 - 2025.
The plenary discussion, part of the 15th parliament's first session, is broadcast live on radio and television.
Earlier, Deputy Prime Minister Pham Binh Minh reported on the socio-economic and State budget situations in the first half of 2021, noting that the economic growth of 5.64 percent during the period was relatively high compared to other countries, many localities hit by the COVID-19 pandemic still posted growth, the macro-economy stayed stable, inflation was kept low, while the major balances of the economy, the monetary market, credit, exchange rates, and interest rates were also stable.
For the remaining months of 2021, the Government is determined to keep macro-economic stability, guarantee the major balances, closely coordinate fiscal and monetary policies with other policies, facilitate production and business activities, and support economic recovery.
It will also continue working to control inflation, ensure reasonable credit growth, and eliminate unnecessary expenses, he said, stressing that the Government is resolved to realise the "twin targets", but the current priority is containing COVID-19 so as to promote production and business and achieve the set targets at the highest possible level.
Meanwhile, the proposed socio-economic development plan for 2021 - 2025 features the overall goal of securing fast and sustainable economic growth on the basis of enhancing sustainable macro-economic stability, developing science - technology and innovation, and fully optimising the country's potential and advantages.
It targets a five-year growth rate higher than the average figure of the 2016- 2020 period, and that by 2025, Vietnam will become a developing country with modernity-oriented industry and escape from the lower-middle income status. It also looks to improve the economy's productivity, quality, efficiency, and competitiveness, uniformly take solutions to effectively address the COVID-19 pandemic's impact, and swiftly recovery and develop the economy.
During the discussion, Government members will also give more information about issues mentioned by legislators.
The NA is set to vote on a resolution on the parliament's supervisory programme for 2022 in the afternoon./.
Vietnam receives extra 3 mln COVID-19 vaccine doses from US via COVAX
Vietnam receives additional 3,000,060 doses of COVID-19 Moderna vaccine donated through the COVAX Facility by the United States Government, of which, 1,499,960 arrived in Ho Chi Minh City on July 24 and 1,500,100 doses will arrive in Hanoi the next day.
This is the second batch of Moderna vaccine to be delivered to the country this month, bringing the total donation from the US Government to Vietnam to more than five million doses, according to UNICEF Vietnam.
To date, Vietnam has received 7,493,300 doses of COVID-19 vaccines in four shipments through the COVAX Facility, the global risk-sharing mechanism for pooled procurement and equitable distribution of COVID-19 vaccines. They include 5,000,100 doses of Moderna vaccine from the US Government and 2,493,200 doses of AstraZeneca.
Since the arrival of the first shipment of vaccines from the COVAX Facility in early April, close to 4.5 million COVID-19 vaccine doses have been administered in Vietnam, among them 353,601 second doses. The additional vaccines will help the Ministry of Health to expand coverage and reach more people from priority groups, contributing to attaining the country's target of vaccinating more than 70 percent of population by the end of the first quarter of 2022.
"These vaccines arrive at a critical time for Vietnam as the country experiences its fourth and most devastating wave of COVID-19," said UNICEF Vietnam Acting Representative Lesley Miller. "The doses donated by the US Government through COVAX will boost Vietnam's vaccination campaign to protect health staff, frontline workers, the elderly and other priority groups defined by the Government."
The COVAX Facility is co-led by the World Health Organization (WHO), Coalition for Epidemic Preparedness and Innovations (CEPI), GAVI, the Vaccine Alliance, and UNICEF as the key delivery partner. The donated vaccines are provided through the COVAX dose-sharing mechanism, which allows well-supplied countries to share vaccine doses with other countries to help protect the most at-risk populations globally. The vaccines will contribute to the aim of reaching 20 percent coverage in low- and middle-income countries, as part of the Phase 1 vaccine allocation.
For several months, COVAX partners, WHO, CEPI, GAVI and delivery partner UNICEF, have been supporting the Government of Vietnam in readiness efforts and the national rollout of COVID-19 vaccines. They have been especially active in developing a National Vaccination Plan, as Vietnam is benefiting from the Advance Market Commitment (AMC), an innovative financial mechanism to help secure global and equitable access for COVID-19 vaccines./.
State President expresses deep gratitude to revolution contributors
State President Nguyen Xuan Phuc has extended best regards, warm sentiments and deep gratitude towards people who rendered services to the nation on the occasion of the 74th War Invalids and Martyrs Day (July 27).
In a letter sent to Heroic Vietnamese Mothers, Heroes of People's Armed Forces, Labour Heroes, wounded and sick soldiers, martyrs' relatives and revolution contributors on July 24, the State leader recalled their great sacrifice to the fatherland and paid tribute to late President Ho Chi Minh.
When he was still alive, President Ho Chi Minh once said: "The brave sacrifice by fallen combatants helped the nation enjoy the fruits of independence and freedom. The Vietnamese people always remember the merits of the martyrs," President Phuc wrote.
The President underlined that over the past 74 years, the Party and State have paid great attention to caring for war invalids and people who rendered services to the nation with many practical activities that have received support and engagement from the entire society.
Meanwhile, with the spirit of self-reliance, many war invalids and wounded veterans have overcome difficulties to rise in the life, becoming outstanding examples for the community and society, he noted.
The President expressed belief that war invalids, wounded veterans, martyrs' relatives and revolution contributors will continue to join hands with the Party and people to defeat the COVID-19 pandemic.
President Phuc said he hoped the party committees and administrations at all levels, as well as ministries, sectors and localities will actively engage in caring for war invalids and wounded veterans.
He wished war invalids, wounded veterans, martyrs' relatives and revolution contributors good health and more successes in patriotism emulation moevements, contributing to firmly safeguarding the fatherland.
The Party, State and people of Vietnam will forever remember the sacrifice of the heroes, martyrs, war invalids, wounded veterans and revolution contributors for the cause of national liberation, construction and protection, he stressed./.
Optimal conditions to be given to localities in COVID-19 fight: PM
The Government will continue to provide the most optimal conditions for Ho Chi Minh City and pandemic-hit localities to stamp out COVID-19 and promptly resume production, said Prime Minister Pham Minh Chinh.
The PM made the affirmation while chairing a meeting on July 23 between the government's permanent members and leaders of 21 southern central and southern provinces and cities to review the implementation of the Government's directive on social distancing measures and solutions to strengthen pandemic prevention and control activities.
He stressed the need for to increase efficiency in conducting pandemic prevention and control measures in the localities, asking participants to point out shortcomings and solutions in the work in all aspects.
According to the Ministry of Health, after five days of applying social distancing measures following the Government's Directive 16/CT-TTg, the pandemic developments have still complicated in the southern localities. The Health Ministry attributed the rise in the number of infections to the speeding up of testing, mostly in quarantine, locked-downed and high-risk areas.
Participants said that the implementation of the measures have still been ineffective in some localities, stressing that HCM City and southern localities should work harder to ensure strict implementation of the directive.
The localities should mobilise more resources and forces for pandemic prevention and control, while continue to rolling out measures to ensure social security, smooth transportation of goods and support to the needy, they said.
PM Chinh asked HCM City and other localities to give consistent directions at all levels, while applying pandemic prevention and control measures in a flexible and creative manner and working to raise public awareness in the field.
The government leader requested the localities to show strong performance in implementing the vaccination strategy.
Meanwhile, it is necessary to strengthen operations of pandemic prevention and control teams in the communities with close coordination with competent forces, thus tightening the pandemic control measures and dealing with arising problems in a timely manner, he said.
Relevant ministries, sectors and agencies should work together to support employees and employers to overcome difficulties, conduct vaccination campaigns, step up technology application in the work, and increase communications on pandemic prevention and control measures, he requested./.
Lawmakers debate five-year public investment plan
Legislators discussed in groups the medium-term public investment plan in the 2021-2025 period as part of the first session of the 15th National Assembly on July 24 morning.
Earlier, Minister of Planning and Investment Nguyen Chi Dung presented a proposal on the medium-term public investment plan in the 2021-2025 period.
He said it is necessary to make the investment synchronously, focusing on prioritised sectors, areas playing a motivation role in economic development, poor areas and areas affected by natural disasters and pandemics.
Dung said that the ministry will continue to complete mechanisms, policies and legal regulations related to public investment, while reviewing investment projects to eliminate ineffective ones.
Chairman of the NA Budget - Finance Committee Nguyen Phu Cuong said that the public investment in the 2021-2025 period expected to rise 1.43 times compared to that in the 2016-2020 period is a positive sign.
The committee agreed on the allocation of about 104.53 trillion VND for national major projects, he said.
In group discussions, the majority of deputies held that amid complicated developments of the COVID-19 pandemic, the budget and finance allocation has been conducted effectively, contributing to boosting socio-economic development and ensuring defence-security.
However, Lai Xuan Mon, a representative of northern Cao Bang province pointed out that there are still shortcomings in the work. He stressed the need to make investment basing on the real situation in each region, with priority given to infrastructure and transport projects, which will help create sustainable incomes for localities.
Deputy Tran Hoang Ngan from Ho Chi Minh City pointed to the need to focus on improving the efficiency of site clearance for projects by strengthen communications and information supply to reach public consensus, while adjusting the bidding procedures and increasing supervision over the disbursement of public investment.
Agreeing with Ngan, deputy Nguyen Van Huy of Thai Binh province held that the Government should roll out more effective measures to remove obstacles in disbursement, including those from dispensation, resettlement and site clearance.
He stressed the need to deal with the overlapping in land use planning and planning schemes of construction and sectors./.
President presents gifts to invalids in Ha Nam

State President Nguyen Xuan Phuc visited and presented gifts to war invalids and sick soldiers in the northern province of Ha Nam on July 23, on the occasion of the 74th anniversary of Day of Invalids and Martyrs (July 27).

At a local nursing centre for invalids, the President expressed his gratitude for war heroes and those who dedicated their lives to national independence and freedom.
He also hailed them for contributing to national construction and development, overcoming difficulties and setting bright example for later generations.
The Party and State always attach importance to providing care for those who paid merit to the nation, and strive to improve policies and mechanisms for them, he said.
He handed over VND50 million (US$2,170), a television and gift packages to the centre. The Minister of Labour, Invalids and Social Affairs and leaders of the province also granted VND20 million and other gifts on the occasion.
The same day, Phuc also visited and offered gifts to heroic Vietnamese mother Nguyen Thi Mon and invalid Hoang Van Tuyen, Director of the Hoang Tuyen apparel company.
Vietnam prescribes Asian herb Andrographis for COVID-19 treatment
The Ministry of Health (MoH) has decided to use Andrographis, an Asian herb, to treat COVID-19 patients on a trial basis.

The ministry has added the drug extracted from the herd to the treatment regimen of COVID-19 patients who show no or mild symptoms, according to Nguyen The Thinh, director of the Traditional Medicine Administration under the MoH.
Thinh says Andrographis is popular in Vietnam and many other Asian countries. The plant is used to treat colitis, cough, dysentery, fever, influenza, and sore throat.
Thailand, China and some countries have used Andrographis and found this drug can inactivate the SARS-CoV-2 virus.
Vietnam expects the drug will help treat patients with early symptoms and reduce the severity of COVID-19, Thinh says.
He reveals that only one firm in Vietnam is producing this drug and the Traditional Medicine Administration is considering licensing one or two more firms to engage in this production process.  
"We are encouraging the firm to speed up production so that about one million pills will be delivered to Ho Chi Minh City next week," Thinh says.
According to the health official, Vietnam needs at least five million pills of Andrographis to treat tens of thousands of COVID-19 patients at present.
"It's hard to supply such a large amount at present, but the problem will be solved out in the coming months when more producers are licensed and materials are in abundant supply in September or October," he states.
Á ò 06am July 24 Vietnam has logged 83,242 new cases following the resurgence of the virus in late April, and 86,957 cases since the onset of the first outbreak in the country.
COVID-19: Expats try to navigate array of fake news in HCM City
Ho Chi Minh City is home to a large expat community, with many falling victim to fake news regarding COVID-19. A group of zingnews.vn correspondents sets out to find out how expats are dealing with the current spread of incorrect information.  

Approximately a month ago, Nick, a 30-year-old Brazilian citizen living in Thu Duc City, received a message offering him a COVID-19 vaccination at a cost of VND1 million per dose. Due to the increasing threat of the virus spreading among the local community he planned to contact the sender to enquire about the details.
Fortunately, when he told one of his colleagues the story, they explained that everyone living in Vietnam will be able to receive the COVID-19 vaccine for free, leaving Nick relieved that he wouldn't lose any money to a stranger.
The goal of fake news is to attack unsuspecting people with false information, often for the purpose of scamming them. For foreigners, it is harder to decipher fake news from real news because of the language barrier and a small network of friends able to verify information for them.
Confused by rumours
Satou, 40, resides in Binh Thanh district of Ho Chi Minh City and is a senior insurance employee who has come forward to share his story about fake news on Facebook. A few days ago he received a message from one of his friends saying that they were shopping to stock up on food and were standing in a long line of people waiting to pay.
"He asked me if I heard about rumours that the whole city was about to be locked down and the Vietnamese government announced that people should store as much food at home as possible," Satou recalls.
He asked one of his Vietnamese colleagues to verify the information. After a while, his colleague replied that it was fake news and the local administration had hit back at those rumours.
For Nick, he recalls that two weeks ago he rushed to a nearby supermarket to purchase some essential items after hearing news that Ho Chi Minh City would close its borders in order to combat the ongoing spread of COVID-19. As soon as he arrived, he was unable to purchase anything as the supermarket was running out of essential goods.
A few moment later, Nick received a notification from his company's human resources department that unfounded rumours had been spreading on social media, adding that people should be wary of unverified information spread by word of mouth.
"They reminded me that the local government has pledged to provide a sufficient supply of food for local people for many days to come. They suggested that I should avoid gathering in big crowds in public places and that I should consider suitable times to go out to ensure safety," Nick adds.
Unlike Nick and Satou, Ivan, 45, living in District 3 of Ho Chi Minh City, tells a different story about fake news. A group of foreign friends had been sharing ways of self-treating COVID-19 at home, including administering paracetamol three times a day. They also suggested drinking as much lemon, lemongrass, and ginger juice as possible as they claimed the juice contained substances capable of destroying the virus in the body.
Having previously worked as a paramedic in the UK, Ivan knew that taking in such a high dose could cause an overdose and even poisoning, not to mention the lack of scientific evidence to support the argument that using antipyretics helps to cure COVID-19.
Tedros Adhanom Ghebreyesus, director-general of the World Health Organization, has described the problem as an 'infodemic', saying, "We're not just fighting an epidemic; we're fighting an infodemic," and warning that, "Fake news spreads faster and more easily than this virus, and is just as dangerous."
A lack of information in English
"I expect the local Government will find a way for me and my foreign friends to access notices in English so that we are less anxious about information floating on social media," Nick explains.
For the expat community living in Ho Chi Minh City, many don't know how to access the Government's information about COVID-19 or any of its latest instructions.
Coming from Germany and living in Thu Duc City, 26-year-old Fran is a student majoring in linguistics. He says that he hardly follows any news websites about the pandemic situation in Vietnam, with the majority of information he gets coming from his Vietnamese friends.
"As far as I know, there is still no information channel for foreigners in Vietnam," says Fran.
In these cases, the German student says he always cross-checks sources based on scientific research or solid evidence.
For Alexandra, a 28-year-old French citizen residing in District 1, he has just arrived in Ho Chi Minh City and often uses Google Translate to find out information about Vietnam.
However, every day he has heard various pieces of different information from his neighbours. Such notices include the hospitals in Ho Chi Minh City running out of capacity to accept more F0 patients, or F0 cases having to be treated at home with ventilators. Sometimes he hears rumours that people should not go out in the morning but are free to walk around at night.
However, Alexandra says he expects to receive specific and accurate notices from the local Government through, for instance, handouts, emails, or notice boards for foreign residents in the apartment complex.
"Hopefully, expats like us can access official and timely information about the developments of the COVID-19 pandemic," Fran expresses.
Currently, the local administrations in areas where many foreigners live have received comments and are actively trying to solve the problem.
An official of Thao Dien ward in Thu Duc City points to the fact the expat community account for a quarter of local population, thereby making it difficult for them to provide information.
For the time being, the local Government has distributed pamphlets in both Vietnamese and English, along with dispatching interpreters to remind the expat community to comply with social distancing regulations.
New checkpoints to ease congestion entering capital city
The capital city's functional forces are deploying a number of  solutions to prevent congestion at gateways to the capital, Trần Hưng Hà, Director of the No.1 Road Administration Department has said.
On the first day under stricter social distancing measures required under Directive 16, congestion had been reported at a number of checkpoints leading into and out of the city, notably the Pháp Vân-Cầu Giẽ Highway.
Hà said that because the city implemented the stricter social distancing requirements from the early hours of the morning, many vehicles that were not allowed to enter the city were forced to turn around at the checkpoints creating congestion.
On social media, a number of drivers complained about the snap decision saying that they did not have enough notice to rearrange their plans.
Hà did however note that by early afternoon the capital city's checkpoints had mostly cleared.
To relieve congestion at hot spots like the Pháp Vân-Cầu Giẽ toll station, a representative of the Department of Transport said a new checkpoint would be set up in the area bordering Hà Nam Province.
Vehicles that are not eligible to enter the city will also be allowed to turn around immediately, according to the official.
The transport department will set up more checkpoints from the bridgeheads to Vĩnh Tuy, Thăng Long, as well as eight more checkpoints in the city area.
Only priority vehicles carrying essential goods are allowed through COVID-19 quarantine checkpoints. These are identifiable by QR codes.
Hà said the No.1 Road Administration Department had proposed to the Hà Nội Department of Transport that they organise separate lanes for priority vehicles. He said that the Hà Nội Department of Transport and the transport departments in the northern provinces needed to grant QR identification codes soon so that vehicles that needed to enter the city could gain access.
People travelling in personal vehicles that wish to enter Hà Nội, need to prepare their citizen identification, a negative test for COVID-19 issued within 72 hours, a certificate of vaccination, documentation confirming the expiration of their quarantine period (if applicable), and to fill out a medical declaration form on the Hà Nội Police Portal. 
Hà Nội prepared for multiple scenarios in latest COVID-19 outbreak
Hà Nội has developed plans to respond to a range of possible scenarios as the number of local COVID-19 infections increases, Deputy Secretary of the Hà Nội Party Committee Nguyễn Văn Phong has said.
The city's agencies including health, industry, trade, education, and transportation have actively developed plans at different levels to deal with the pandemic if the situation becomes more complicated, he said at a press conference on Saturday morning.
Nguyễn Đình Hưng, director of the city's Health Department, said Hà Nội recorded an additional 50-60 new COVID-19 cases a day and this number was predicted to increase due to a number of cases being detected in the community through increased screening. There were also a number of infected cases that had been detected with no symptoms.
At present, the department has 1,000 beds prepared for treatment and can increase this to up to 50,000 beds in the worst-case scenario, according to Hưng.
The city has also prepared a field hospital at the Capital Military School as well as in the student housing area, in three buildings, at Pháp Vân-Tứ Hiệp isolation area. Each building can accommodate up to 700 beds.
"With these plans, together with the direction of the City Party Committee and People's Committee, Hà Nội is completely ready to respond to each specific situation," Hưng said.
The city's testing capacity is currently 48,000 samples per day.
As of July 23, 201,965 people had received one dose of vaccine and 9,443 people have been fully vaccinated. These are mostly frontline workers.
Hà Nội aims to inject 100,000-200,000 people a day under the national vaccination campaign.
The city has set up 1,000 to 1,200 vaccination sites throughout the city, that are both mobile and fixed.
In order to prevent the further spread of the COVID-19 pandemic, Hà Nội also suspended motorbikes from transporting passengers and delivery services from earlier today, Saturday, July 24, according to the Department of Transport.
The suspension is for motorbikes and ride-hailing services.
The agency also requested the Department of Information and Communications monitor and handle violations if ride-hailing service providers failed to comply with the decision. 
Source: VNA/VNS/VOV/VIR/SGT/SGGP/Nhan Dan/Hanoitimes
Lawmakers debate five-year public investment plan