Hanoi City has asked residents to refrain from going out for non-urgent and non-essential reasons and continue to follow Covid-19 safety protocols as the city has detected two new coronavirus clusters in My Duc and Dong Anh districts.
Besides, residents who return to the city from other localities must make health declarations.
Chairing an online meeting on July 6, Hanoi Vice Chairman Chu Xuan Dung asked the city's districts and departments to strengthen anti-virus safety measures to quickly fight off the Covid-19 pandemic.
The municipal Department of Health said that on July 5, Hanoi City reported two new Covid-19 clusters and 10 fresh Covid-19 cases, wherein Dong Anh had four, My Duc had five and Hoang Mai had one after eight consecutive days without any locally-infected cases.
Some 2,000 people were found linked to these clusters and new positive cases, the local media reported.
The Covid-19 situation in the city has basically been brought under control, but the risk of community transmission remained high, said Deputy Director of the municipal department Tran Van Chung.
The city's health sector has quickly locked down areas related to Covid-19 cases and conducted contact tracing and Covid-19 testing as well as quarantined direct and indirect contacts to prevent the spread of the disease, Chung added.
Concluding the meeting, Vice Chairman Dung asked the Hanoi Department of Industry and Trade and other relevant agencies to check compliance with Covid-19 infection prevention regulations at commercial centers which gather many people.
In addition, the district-level steering committees for Covid-19 infection prevention and control and the authorities of districts and towns were told to regularly inspect the Covid-19 prevention and control operations.
The competent forces were tasked with closely monitoring concentrated quarantine centers and making 40,000 beds available for the fight against Covid-19.
Related to the two clusters, the first Covid-19 case in Dong Anh District was found violating the health declaration regulation. The patient had close contact with a positive Covid-19 case in Bac Giang Province on June 26 and 27, but failed to make health declarations.
400 domestic cases added to Vietnam's COVID-19 tally
Vietnam recorded 400 new COVID-19 cases from 6am to 12pm on July 7, of which 277 were found in quarantine sites or sealed off areas, according to the Ministry of Health.
Among the infections, there were 347 in Ho Chi Minh City, 19 in Long An, 13 in Quang Ngai, six in Bac Ninh, four in Phu Yen, three each in Tra Vinh and Bac Giang, two in Nghe An, and one each in Ca Mau, Ba Ria-Vung Tau and Dak Lak.
As of July 7 noon, Vietnam had recorded 20,459 domestic cases and 1,882 imported ones. The number of infections since the fourth wave of outbreaks hit the country on April 27 amounted to 18,889.
Thirteen localities nationwide have gone through two weeks without new cases in the community.
As many as 8,077 patients have been given the all-clear, while the death toll has reached 102.
Of those still under treatment, 311 tested negative with the coronavirus once, 133 twice and 72 thrice.
To contain the pandemic in the "new normal" situation, the Health Ministry called on all Vietnamese citizens to follow 5K message, including khau trang (facemask), khu khuan (disinfection), khoang cach (distance), khong tu tap (no gathering), and khai bao y te (health declaration)./.
Vietnam among 10 countries with largest number of smartphone users
Vietnam was the 10th country in the world in terms of smartphone users in 2020 with more than 61 million, according to a recent report on the global mobile market.
In Asia, the Philippines, the Republic of Korea and Thailand are also major smartphone markets with 41 million, 39 million and 38 million users, respectively.
China currently has the largest number of smartphone users worldwide with nearly 912 million.
The figures come from the annual Global Mobile Market Report by Newzoo, a trusted source for games and e-sports analytics and market research.
They are based on a model which takes into account a country's economic progression, population, online population, demographic makeup, and accessibility to wireless networks.
Accordingly, a smartphone user is defined as anyone using the device at least once a month./.
Hanoi poses high risk of community COVID-19 transmission
Deputy Director of the Hanoi Health Department Tran Van Chung warned of a high risk of COVID-19 infection in the community, especially the outbreak in Dong Anh district where new cases had close contacts with many people.
Speaking at an online meeting on COVID-19 situation in Hanoi on July 6, Chung noted that the city has also recorded infections who contacted confirmed cases in other localities.
According the department, Hanoi confirmed 10 new COVID-19 infections in July 5, including five in My Duc district, four in Dong Anh district, and one in Hoang Mai district.
Tracing and zoning off areas accommodating people at high risk of infection have been carried out, aiming to minimise the number of new cases, Chung said.
For his part, Vice Chairman of the municipal People's Committee Chu Xuan Dung called on people to strictly follow COVID-19 prevention measures, and ordered chairpersons of People's Committees of districts and towns, and the local steering committees for COVID-19 prevention and control to pay attention to inspecting the pandemic prevention work in their localities.
The city needs to ensure enough 40,000 seats in concentrated quarantine areas, Dung stressed.
He also requested ensuring absolute safety for the national high school graduation exam on July 6-9./.
More localities in An Giang begin social distancing
Chau Doc City and Tinh Bien District in the Mekong Delta province of An Giang began social distancing in line with the prime minister's Directives 15 and 16 starting today, July 6, in an attempt to cushion the spread of Covid-19.
Tran Quoc Tuan, vice chairman of the city's government, yesterday signed an announcement imposing social distancing restrictions in the city, reported Lao Dong newspaper.
This is considered one of the drastic moves that the local authorities have adopted to cope with the complicated developments of the disease.
During the social distancing period, meetings and events with over 20 people in one room, festivals, cultural, sports and religious activities are required to stop.
Non-essential services such as gyms, hair salons, karaoke and massage parlors have to cease operations. People have to keep a distance of at least two meters from each other in public places. Moreover, gatherings of more than three people outside offices, schools and hospitals are banned.
Besides this, eateries and coffee shops are only allowed to offer take-away services. Meanwhile, essential businesses offering food, medicines, electricity, water and fuel products will remain in operation but have to follow anti-virus measures.
In Tinh Bien District, the authorities will impose social distancing in line with Directive 16 in Tinh Bien Town and the Nha Bang market area in Nha Bang Town. Meanwhile, the communes of An Nong, An Phu, Nhon Hung and Nha Bang Town, except for the Nha Bang market, will practice social distancing measures on par with Directive 15, which is less stringent than Directive 16, from 5 p.m. today to 5 p.m. on July 13.
Earlier, the province's An Phu District imposed social distancing restrictions in many localities.
To date, An Giang Province has reported 45 domestic infections in the fourth coronavirus wave, which began on April 27.
HCMC seen taking more aggressive measures to stop spread of Covid-19
The central Government has signaled that HCMC can take more aggressive measures such as lockdowns to stop the spread of Covid-19 as new daily cases in the city and its neighboring provinces have continued to surge.
A Government Office statement issued yesterday said Prime Minister Pham Minh Chinh made clear that the trajectory of Covid infections in HCMC is still unpredictable and the disease had begun spreading to a number of provinces surrounding HCMC. 
More aggressive measures must be adopted to prevent Covid from spreading, stressed the PM.
Early in the nation's fourth coronavirus wave, which started on April 27, the government of HCMC put the entire Go Vap District and District 12's Thanh Loc Ward on lockdown and imposed social distancing rules on other parts of the city. Later the lockdowns on Go Vap District and District 12's Thanh Loc Ward were lifted and then the laxer social distancing rules were applied to the entire city.
Even though the city later on issued stronger restrictions on social mixing as indicated in Directive 10, new daily infections have kept escalating, with the number of Covid positive cases in HCMC from April 27 to July 6 amounting to 7,385.
PM Chinh called for the public to sympathize with HCMC and other provinces to take measures such as large-scale lockdowns and restrictions on social mixing, according to the Government Office statement. But he noted these measures should have minimal impact on people's lives.
When lockdowns, including large-scale ones, come into force, local authorities must speed up testing to detect and isolate carriers of coronavirus as soon as possible to prevent community spread.
PM Chinh told HCMC to focus on fighting the disease now and take tougher measures when applying the prime ministerial Directives 15 and 16 on Covid prevention and control but the city should take responsibility for whatever it does.
"As the country's economic center with many industrial parks and big factories, (HCMC) should practice prudence and caution, and consider the order of priorities because any strong anti-pandemic measures will interrupt production and supply chains," said the statement.
Deputy Prime Minister Vu Duc Dam, who is also head of the national anti-Covid steering committee, said in a teleconference with HCMC yesterday afternoon that the city would have to take stronger action to stop Covid from spreading.
The social distancing order has been in place for five weeks but there is little sign of community spread abating.
Deputy PM Dam said, "HCMC must join hands and get ready for a tougher life in a short period of time so that it could get back to normal."
There are currently more than 14,000 people put under mandatory quarantine at state-run isolation centers and over 37,000 others self-isolating at home.
HCM City sets up more COVID-19 treatment hospitals
Ho Chi Minh City has established another two temporary hospitals for COVID-19 patients to handle a surge in infections in the southern metropolis.
The hospitals are converted from two resettlement apartment buildings in district 12 and Thu Duc city.
With 2,000 beds, the hospital in district 12 began to admit patients as from July 5 afternoon, while the 3,000-bed hospital in Thu Duc is scheduled to open three days later, according to Deputy Director of the municipal Department of Health Tang Chi Thuong.
The department also plans to turn another resettlement site in Binh Chanh district into a COVID-19 hospital with about 3,000-5,000 beds, raising the total number of beds for COVID-19 patients in the city to 15,000.
As of July 6, HCM City counted 13 COVID-19 treatment hospitals.
The city is now the country's current largest hotspot with 710 new cases detected during 24 hours to 6pm on July 6./.
Three more COVID-19 patients die of complications
Three more COVID-19 patients, all elderly e people with underlying health problems, have died of complications over the past several days, raising the death toll of the coronavirus to 97.
The 95th death is a 68-year-old woman from HCM City, who tested positive for SARS-CoV-2 on June 30 and was taken to Binh Chanh District Hospital a day later for acute respiratory failure, severe pneumonia, severe hypokalemia, SARS-CoV-2 infection.
She died on the evening of July 3. Her cause of death has been recorded as pneumonia due to SARS-CoV-2 infection's complications, progressive respiratory failure, suspected acute myocardial infarction or pulmonary embolism.
The 96th death is a 64-year-old woman from the southern province of Dong Thap, who died on July 4 at Sa Dec General Hospital with her cause of death recorded as pneumonia due to SARS-CoV-2 complications, progressive respiratory failure, heart failure, type-2 diabetes and Cushing's syndrome.
The 97th death is a 64-year-old man also from Dong Thap. He died at the early hours on June 4 and his cause of death was noted as pneumonia caused by SARS-CoV-2, and progressive respiratory failure in patients with ischemic heart disease as well as hypertension./.
Prime Minister orders more drastic actions to fight COVID-19
Prime Minister Pham Minh Chinh has said that pandemic prevention and control efforts should continue to follow his previous instructions but in a more rigorous and united manner.
His instructions were detailed in a notice issued by the Government's Office on July 6, summing up the PM's online meeting with Ho Chi Minh City and seven provinces in the southern key economic region on COVID-19 prevention and control recently.
PM Chinh said more temporary hospitals for COVID-19 should be set up if necessary, vaccination should be accelerated in line with plans, and stressed that there is no such thing as relaxing control to reach herd immunity and letting only the strong to survive like groundless rumours said.
In the economic sphere, the PM ordered efforts be focused on curbing inflation and spurring growth, and avoiding extreme behaviours that would hurt the national economy and disrupt production.
He asked the localities to proactively and flexibly adjust their leadership mechanisms to optimise the strength of the entire political system in COVID-19 prevention and control.
The first and foremost priority must be given to protect the health and safety of the people, the PM said, suggesting the localities strengthen forces on the frontline of the pandemic combat, and step up the delegation of authority and assign specific responsibility to each individual at every level and in every aspect in the combat.
HCM City and other localities need to work together to agree on measures to manage the movement of people and vehicles to and from pandemic-hit areas to prevent pandemic spread while still ensuring smooth transport and trade activities, Chinh said.
The Government leader ordered ministries and agencies to actively remove obstacles in the pandemic fight and socio-economic development in HCM City and the seven localities in the southern key economic region.
For the vaccination drive, the Government encouraged localities to take the initiative in accessing vaccine supply sources and enhance the communications work to raise public awareness and involvement in the pandemic combat, the PM said./.
COVID-19: 277 new cases raise national tally to 22,341
The Ministry of Health (MoH) reported 277 more COVID-19 infections, including one imported cases in the past 12 hours to 6am on July 7, pushing the national count to 22,341.
Of the new local-transmitted cases, 270 were found in Ho Chi Minh City, two each in Phu Yen and Dong Nai, and one each in Ba Ria – Vung Tau and Ha Tinh.
To date, Vietnam has logged 20,459 domestically-transmitted infections and 1,882 imported ones. As many as 18,889 cases have been confirmed since the fourth wave of outbreaks hit the country on April 27.
Thirteen provinces which were previously hit by the pandemic have gone through 14 consecutive days without new infections.
The MoH said the number of recoveries reached 8,022, while the death toll related to the disease was at 94.
Among the active patients, 311 have tested negative to coronavirus SARS-CoV-2 once, 133 twice and 72 thrice.
On July 6, an additional 21,067 people received COVID-19 vaccine shots nationwide. So far, 3.9 million COVID-19 vaccine doses have been injected. The number of people fully getting two shots is 226,858./.
Lam Dong expands organic farming by 1,600 hectares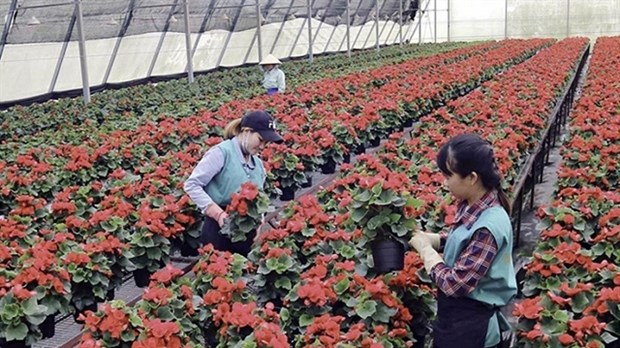 Lam Dong province plans to expand organic farming areas. (Photo: nhandan.vn)
The Department of Agriculture and Rural Development of the Central Highlands province of Lam Dong is working on a project to develop organic agriculture in the 2020-2025 period with the goal of creating about 1,600ha of organic farming area.
Da Lat city and Don Duong, Lac Duong and Duc Trong districts have suitable soil, climate and population level for organic vegetable development.
In addition, districts like Cat Tien, Da Teh, Dam Rong, Lam Ha are suited to organic rice production, while Bao Loc city, and Bao Lam and Di Linh districts can develop organic tea and coffee.
Lam Dong is the leader in the country in high-tech agricultural production and smart agriculture development. The province's hi-tech agricultural land area covers nearly 62,000ha.
For agricultural land using smart technology, the province has about 50ha of hydroponic vegetables and 195ha of cropland that uses automatic sensing technology for temperature, humidity, and nutrition management.
In particular, the vegetable growing areas with high technology have an average production value of 400-500 million VND per ha per year, and flower production is 800 million to 1.2 billion VND per ha per year./.
President decides on gifts to revolution contributors on war invalids, martyrs' day
President Nguyen Xuan Phuc has signed Decision No. 1142/QD-CTN on presenting gifts to those who rendered services to the nation on the occasion of the 74th War Invalids and Martyrs Day (July 27).
Under the decision, Heroic Vietnamese Mothers, war invalids and veterans contaminated with chemical toxins and losing at least 81 percent of working capacity, and relatives of martyrs each will get 600,000 VND.
There is also another kind of gifts with a value of 300,000 VND each, to be presented to war invalids and veterans losing 80 percent or less of their working capability, and martyrs' relatives.
This year's gift value is 50 percent higher than that in the previous year.
Total value of the gifts is about 480 billion VND (20.85 million USD)./.
Vietnamese class gains popularity despite pandemic

Teaching the Vietnamese language to Vietnamese children overseas has received the ongoing attention of the Party, State, and the Vietnamese people at home and abroad. With COVID-19 continuing to spread, many feared teaching activities may be interrupted. But a Vietnamese class in Malaysia has proven the opposite.
 
Starting from an idea of some members of the Vietnamese Women's Association in Malaysia, a Vietnamese class for Vietnamese children in the country has now been conducted for five years.
Students attend the class once a week and study from basic to advanced levels so they can speak and write their mother tongue fluently.
Prior to moving to Malaysia, Nguyen Thi Lien graduated with a Pedagogical Literature Major. She therefore knows how to inspire her students' love for learning Vietnamese.
The class receives support from the Vietnamese Embassy in Malaysia, the Vietnamese Women's Association in the country, and expat Vietnamese parents. Lessons have continued to be taught online during the pandemic.
Teaching Vietnamese is not only about the language but also about the culture. Once the children understand their roots and feel a sense of pride, they are expected to be ambassadors representing Vietnam overseas.
With ongoing efforts by domestic organisations and the Vietnamese community in Malaysia, the quality of the classes has improved each day, contributing to preserving the language and creating a bond between Vietnamese people overseas and their roots./.
Da Nang doctors sent off to support Ho Chi Minh City in COVID-19 fight
Hospital 199 (Ministry of Public Security) based in Da Nang city on July 5 sent its police doctors to Ho Chi Minh City to assist the current hotbed of COVID-19 infections in its fight against the pandemic.
The medical team includes 53 people, consisting of 17 doctors, 28 nurses, six technicians, and two pharmacists. The entire group has received at least one dose of the COVID-19 vaccine. Before that, staff had been training on treatment regimens, caring for patients with COVID-19, personal protection measures, and infection control.
On the same day, a volunteer team of 50 medical staff from the Cho Ray Hospital in Ho Chi Minh City continued to support COVID-19 testing at Binh Dien wholesale market in District 8,. Previously, the hospital also dispatched 150 medical staff to assist in taking samples for the testing of locals in the district.
Also on July 5, in Ho Chi Minh City's Tan Binh district, overseas Vietnamese entrepreneurs in the city launched a campaign to support poor households facing difficulties due to the pandemic, to the value of VND1 billion. The campaign will offer a "Zero Supermarket" and "Zero VND Meal" model for poor workers and people facing difficulties amid COVID-19 in Tan Binh and surrounding areas.
As of July 5, the total amount of money given and registered to support COVID-19 prevention and control in Phu Yen province had reached over VND3.3 billion, along with thousands of quick tests and medical supplies. The provincial relief fund has transferred more than VND1 billion to its nine administrative units to prevent and control the COVID-19 epidemic.
On July 5, the Phuong Trang Group presented 50,350 SARS-CoV-2 antigen rapid test kits to Lam Dong province.
On the same day, Dong Nai province started receiving COVID-19 patients for treatment at Dong Nai Dermatology Hospital. This is the second local hospital to be converted to treat COVID-19 infection cases after the Dong Nai Lung Hospital in 2020.
As of 12:30pm today, Vietnam logged 247 more local COVID-19 infections, as announced by the Ministry of Health.
Ho Chi Minh City, the country's current largest pandemic hotspot, recorded most of the infections, with 196 cases.
It was followed by the provinces of Binh Duong with 17 cases, Long An 13, Phu Yen six, Bac Giang four, Vinh Long and Dong Thap three each, Quang Ngai and Ha Tinh two each, and Bac Ninh with one.
Of the new infections, 220 were found in quarantine sites or sealed-off areas.
The new cases brings the national tally to 20,508, including 18,650 domestic and 1,858 imported cases.
17,080 cases have been recorded since April 27, when the fourth outbreak began.
A total of 7,819 patients have been given the all-clear from coronavirus SARS-CoV-2, while the death toll now stands at 90.
The four latest deaths, all confirmed on July 5, consisted of three women and a man aged between 68 and 88 with serious underlying health conditions.
Among active patients still undergoing treatment, 313 have tested negative to the virus once, 132 twice, and 74 thrice.
Khau Vai love market becomes national intangible cultural heritage
The social customs and beliefs of the Phong Luu Khau Vai Market in Khau Vai commune, Meo Vac district, Ha Giang province have been recognised as a national intangible cultural heritage by the Ministry of Culture, Sports and Tourism.
 
The 100-year-old market is a famous event which is held once every year.
Both men and women dress in their most beautiful outfits and head to Khau Vai market on the 27th day of the third lunar month annually.
The market serves as a place for locals to find lovers, give ex-lovers the chance to meet each other again, and offer traders the opportunity to exchange agricultural products.
The market is now organised within the framework of the annual Khau Vai Culture and Tourism Week, which often lasts for three days with assorted cultural activities, in order to attract more visitors to Ha Giang province./.
Vietnam wants to help OIF enhance role in region: Ambassador
Vietnam wants to become a bridge to help the International Organisation of La Francophonie (OIF) enhance its role in the region and develop for the sake of peace and stability, Vietnamese Representative of the State President to the Permanent Council of the Francophonie (CPF) and the OIF Ambassador Dinh Toan Thang has said.
Thang made the statement while presenting his credentials to OIF Secretary-General Louise Mushikiwabo on July 6.
Mushikiwabo spoke highly of Vietnam's achievements in economic development and multilateral diplomacy. 
She highly valued Vietnam's engagement in activities in support of peace and security in the world as well as the country's measures to respond to COVID-19 while ensuring economic growth.
In reply, Thang affirmed that Vietnam always treasures cooperation with the OIF and is determined to work together with the organisation and other member countries to foster the use and teaching of the French language, therefore promoting cultural diversity and economic cooperation amid various challenges in the world.
The diplomat stressed that Vietnam supports efforts by the international community and the OIF in ensuring equitable access to COVID-19 vaccines for all people, and stands ready to cooperate for economic recovery and stronger attachment in the Francophonie. 
He also welcomed extensive reforms of the OIF over the past time, in both contents and methods of operation, therefore fostering the efficient use of resources in the new context.
The OIF Secretary-General highly evaluated Vietnam's role and position on the international arena and in its relations with the OIF in the recent past.
She said Vietnam and Asia-Pacific have an important strategic geographical location for the OIF and voiced her hope that the Southeast Asian nation will continue to play its role as the motive force of the Francophonie in the region, and support a trade and investment promotion event of the OIF slated for early October in Vietnam and Cambodia./.
Vietnam underlines increasing important role of Indo-Pacific region
Deputy Minister of Foreign Affairs Nguyen Quoc Dung underlined the increasingly important role that the Indo-Pacific region is playing in promoting development cooperation and global economic connectivity, in his remarks at the inaugural session of the 2021 Indo-Pacific Business Summit, which was held virtually on July 6.
The event was jointly organised by India's Ministry of External Affairs and the Confederation of Indian Industry.
Dung said that the region, which is home to major and most-dynamic economies of the world, is, however, facing traditional and non-traditional challenges such as climate change, terrorism and diseases, particularly the ravaging COVID-19 pandemic.
He added that it is an urgent need to pursue and build an Indo-Pacific region of peace, cooperation, freedom, openness and inclusion in order to bring equal development benefits to the majority of people and countries in the region. 
He asked regional countries to boost cooperation, share and ensure COVID-19 vaccine supply, maintain the supply chain and restructure the economy along an innovative and modern direction. 
The nations also need to push ahead with digital connection and e-commerce, expand entry into each other's market, and bolster maritime connectivity and trade facilitation.
Speaking highly of the role and position of India in the order of the region and the world, along with the country's contributions to enhancing economic connectivity, upgrading infrastructure and raising people's living conditions, Dung expressed his belief that with strengths across multiple spheres, India will serve as one of the locomotives which help developing economies repel the pandemic and recover.
He took the occasion to underline Vietnam's extensive and inclusive international integration policy and accomplishments of the country in renewal and building the economy based on science-technology, innovation and digital transformation.
The official also spoke highly of the Vietnam-India comprehensive strategic partnership, calling on both countries to foster cooperation in information-technology, digital economy and supply chain diversification, and seek deeper participation in the global supply chain, thereby benefiting people in their countries and the region./.
Vietnam attends 25th ASEAN-RoK dialogue
Vietnamese Deputy Minister of Foreign Affairs Nguyen Quoc Dung has asked the Republic of Korea (RoK) to continue helping ASEAN countries improve their medical capacity at the 25th ASEAN-RoK Dialogue at the deputy foreign ministerial level held in the form of teleconference on July 6.

Dung, who is also head of Vietnam's ASEAN SOM, called on the RoK to coordinate in vaccine research and production, and ensure the fair supply of vaccines.
He appealed to the RoK to assist the ten-member group in promoting equitable and sustainable development in ASEAN's sub-regions, including the Mekong.
Dung emphasised the need to maintain and boost multilateral cooperation, step up dialogues and trust building, uphold international law, and peacefully settle disputes, especially in the context of more and more emerging challenges, so as to ensure a peaceful, stable and favourable environment for development.
He affirmed that ASEAN supports the RoK's efforts in promoting the peace process on the Korean Peninsula, calling on relevant sides to resume peace dialogues and make more contributions to gain peace, long-term stability and full denuclearisation on the peninsula.
ASEAN stands ready to facilitate dialogues between concerned sides at ASEAN-led mechanisms, he said.
Dung used the occasion to reiterate ASEAN's principled stance on the East Sea, and expressed his hope that the RoK will continue to play a constructive role and support the bloc's efforts to turn the East Sea into waters of peace, friendship and cooperation, as well as ASEAN's role in supporting Myanmar.
At the event, ASEAN and the RoK highlighted the positive developments in their cooperation, including their effective coordination in pandemic response and an increase of 9 percent year-on-year in trade that amounted to around 53 billion USD in the first four months of this year.
Deputy Foreign Minister Yeo Seung-bae, who is head of the RoK SOM, said the RoK attaches importance to the strategic partnership with ASEAN, noting the grouping is a priority in the country's New Southern Policy Plus strategy.
The RoK backs ASEAN's centrality in the regional architecture, as well as the ASEAN Outlook on the Indo-Pacific, he noted.
The RoK informed that it has contributed additional 200 million USD to the COVAX Advance Market Commitment (COVAX AMC) and pledged to further assist ASEAN in the pandemic fight through implementing the 10-million USD COVID-19 rapid response programme and establishing a dialogue channel between the two sides.
The two sides agreed to continue prioritising cooperation in the COVID-19 combat, and coordinate in mitigating the pandemic's socio-economic impact for comprehensive recovery and sustainable growth.
The countries also stressed efforts for the early ratification and enforcement of the Regional Comprehensive Economic Partnership (RCEP) agreement.
Regarding regional and international issues of shared concern, the countries agreed on the need to maintain an environment of peace, security and stability to facilitate anti-pandemic and recovery efforts.
They called on relevant parties to soon resume dialogues, fully implement resolutions adopted by the United Nations Security Council (UNSC) and reached agreements, promote dialogues and cooperation, and maintain peace, stability, denuclearisation on the Korean peninsula.
The RoK affirmed its support for ASEAN's stance on the East Sea issue and lauded the grouping's role in forging cooperation, dialogue and trust building in the region, and in building an effective and efficient Code of Conduct in the East Sea (COC) in accordance with international law and the 1982 United Nations Convention on the Law of the Sea (1982 UNCLOS).
As for the Myanmar situation, the RoK welcomed outcomes of the ASEAN Leaders' Meeting on April 24, saying it backs ASEAN's role in promoting dialogues and helping Myanmar seek solutions to stabilise the situation./.
Engagement in UN peacekeeping operations raises Vietnam's prestige: officer
Vietnam's engagement in UN peacekeeping operations over the past seven years has helped raise the country's prestige and position in the world and win praise from the UN, international friends and local people, according to Major General Hoang Kim Phung, Director of the Vietnam Department of Peacekeeping Operations.
The officer made the affirmation at a working session on July 6 with Deputy Foreign Minister Dang Hoang Giang, who is head of the inter-sectoral team on Vietnam's tenure as a non-permanent member of the UN Security Council and deputy head of the inter-sectoral team on Vietnam's participation in UN peacekeeping activities.
Phung appreciated the close and effective coordination of the Foreign Ministry with the Department of Peacekeeping Operations from the initial stage of survey and research to making decision and deploying Vietnamese forces to the field.
Deputy minister Giang affirmed that participating in UN peacekeeping activities is a major policy of the Party and State, reflecting an important new point in the thinking on international integration and marking a step forward in the country's integration process in the field of national defence, contributing to the joint effort to prevent the threat of war and conflict and effectively implementing the strategy on safeguarding the Fatherland early on and from afar during peaceful time.

Such practical contributions also helped Vietnam be elected as a non-permanent member of the UN Security Council in the 2020-2021 with a record number of votes, and created favourable conditions for the country to perform its role in the council.
Giang suggested that the Department consider expanding Vietnamese peacekeeping forces' participation to more locations and fields, while taking advantage of international cooperation and external resources to enhance the forces' capacity and expertise.
He also urged the Department to intensify research in peacekeeping operations so as to advise the Party and State in issuing measures to facilitate and improve Vietnam's contribution in this regard.
The deputy minister affirmed that the Foreign Ministry will continue to instruct its units to coordinate with the Department to effectively implement relevant plans and tasks, first of all a plan on sending sappers to a suitable peacekeeping mission. /.
COVID-19 forces 90% of hotels in Da Lat to suspend operations
More than a thousand hotels and seven tourist sites in the resort city of Da Lat have suspended operations due to COVID-19, according to Lam Dong province's Department of Culture, Sports and Tourism.
As many neighbouring localities are also struggling with the COVID-19 outbreak, most hotels and tourist sites in misty city of Da Lat that are still open are expected to close in the days to come, resulting in hundreds of more workers in the tourism industry losing their jobs.
Lam Dong province has also stopped most entertainment services, including gaming centres, night markets, and other activities that draw crowds.
Given the increasing number of infections in neighbouring localities, the provincial health sector has warned of the risks of the disease spreading if the province does not apply strict control over visitors and their compliance with the health ministry's recommendations./.
Nearly 1.3 million poor, near-poor households provided with social policy bank loans
Nearly 1.3 million poor and near-poor households had got access to loans from the Vietnam Bank for Social Policies (VBSP) to cope with COVID-19 in the first half of this year.
VBSP General Director Duong Quyet Thang said the bank's total credit loans stood at 247.34 trillion VND (10.3 billion USD), up 13.91 trillion VND from the previous year.
The bank granted loans worth 48.21 trillion VND (over 2 billion USD) in the first two quarters to serve production and business, improve people's living standards, and deal with the impacts of the pandemic, contributing to poverty reduction, new-style rural area building and social welfare.
The loans have also helped to create jobs for nearly 249,000 labourers, including 1,600 guest workers, and provided support for over 16,000 students in difficult circumstances.
Up to 879,000 water supply and sanitation facilities, and 3,600 houses for social policy beneficiaries were also built with the loans./.
Second working day of 13th Party Central Committee's third plenum
The 13th Party Central Committee on July 6 looked into the implementation of the medium-term plans for socio-economic development, national finance, and public investment in the 2016 - 2020 period, along with draft plans for 2021 – 2025 during the second working day of its third plenum.  
After the plenary session in the morning, delegates discussed in groups draft working regulations of the Party Central Committee, the Politburo and the Party Central Committee's Secretariat and the Party Central Committee's Inspection Commission in the 13th tenure.
Later, under the chair of Party General Secretary Nguyen Phu Trong, the Party Central Committee considered disciplinary measures against two incumbent and former members of the Party Central Committee.
The Party Central Committee decided to expel Vu Huy Hoang, former member of the Party Central Committee, from the Party.
Tran Van Nam, member of the Party Central Committee, Secretary of the Party Committee of southern Binh Duong province and head of the provincial delegation of deputies to the 14th National Assembly, was also removed from all his Party posts during the 2010 - 2015, 2015 - 2020 and 2020 – 2025 terms./.
Vietnam treasures UNCTAD's backing for developing countries' sustainable recovery
Vietnam treasures and backs the role of the United Nations Conference on Trade and Development (UNCTAD) in supporting developing countries, including Vietnam, to boost trade and sustainable development, especially to reduce impacts of the COVID-19 pandemic and improve capacity towards green and sustainable recovery.
The statement was made by Ambassador Le Thi Tuyet Mai, Permanent Representative of Vietnam to the UN, the World Trade Organisation and other international organisations in Geneva, while attending the 68th session of the UNCTAD's Trade and Development Board, held in both in-person and online formats from June 21 to July 2.
Ambassador Mai also emphasized that Vietnam supports and joins the efforts of the international community in ensuring equal access to COVID-19 vaccines and response tools, expanding production and ensuring equitable distribution of vaccines.
The country is also working with the international community in promoting financial and technical support and international cooperation for the transition to the digital economy and green growth, transferring technology and know-hows to developing and under-developed countries, supporting small- and medium-sized enterprises and narrowing inequality between countries to achieve the 2030 Sustainable Development Goals, she added.
The 68th session of the UNCTAD's Trade and Development Board aimed to prepare for the 15th session of UNCTAD (UNCTAD-15) slated for October 3-7, 2021 in Barbados and the Fifth United Nations Conference on Least Developed Countries (LDC-5) in January 2022 in Qatar.
The session included two high-level debates on the impact of the pandemic on trade and development and the LDC's priorities./.
Chinese journalist: CPV chief's article reflects strategic vision about revolutionary cause in Vietnam
The article "Several theoretical and practical issues in socialism and the path toward socialism in Vietnam" holds significance, reflecting a strategic vision, brainpower and dedication of General Secretary of the Communist Party of Vietnam (CPV) Central Committee Nguyen Phu Trong to Vietnam's revolutionary cause based on the application of Marxism-Leninism and reality in the country.
It was stated by Rui Wei, head of the Vietnamese section at China Radio International, in an interview recently granted to Vietnam News Agency correspondents in Beijing.
Rui said the article has received special attention from China's political circle and ideologists, contributing to further enriching Marxism-Leninism and contributing to the ideological system of socialism in the world.
In the article, Trong delved into the nature of capitalism, saying that capitalism itself could not remedy its own existing basic contradictions.
Chinese journalist: CPV chief's article reflects strategic vision about revolutionary cause in Vietnam hinh anh 2
Vietnamese people of many ethnic groups hold the national and Party flags (Photo: tuyengiao.vn)
The CPV stays consistent with its stance that the State is "of the people, by the people, for the people", with people as a centre. Every thought and action should originate from public interests which are also the highest goal. It also coincides with the Communist Party of China's ruling stance on "looking toward the people", he said.
Rui added that achievements in economic development and improvement of people's life in both Vietnam and China, especially during the COVID-19 pandemic, have proved the superiority of the socialist regime.
Over the past years, China has been Vietnam's top trade partner for 16 consecutive years while Vietnam has also been the largest trade partner of China in ASEAN. In the first five months of this year, two-way trade surpassed 64 billion USD, up 44.3 percent year-on-year, according to him.
About opportunities and challenges faced by Vietnam, Rui said under the leadership of the CPV, concentrated management of the State, and consensus of the entire political system and people, Vietnam has reaped great achievements, basically looking towards a strong country with wealthy people, democracy, equality and civilisation, striving to accomplish national development goals on the occasion of the 100th anniversary of the CPV.
To such end, he highlighted a need to have a favourable international environment./.
Vietnam's average monthly income in 2020 down 1 percent
Per capita monthly income of Vietnamese people was averaged at 4.2 million VND (182.7 USD) in 2020, down 1 percent year-on-year, according to a survey conducted by the General Statistics Office (GSO).
Speaking at a press conference on July 6, GSO deputy head Nguyen Trung Tien attributed the decrease to the impact of the COVID-19 pandemic.
The office data also released that last year the monthly income in urban areas was 1.6 times higher than that in rural areas.
Tien said that in the first six months of 2021, over 1.1 million people in the working age were unemployed, 101,700 people higher than the same period last year.
In the second quarter, Vietnam saw nearly 1.2 million people jobless, 87,100 people than that of the previous quarter, and 82,100 people lower than the same period in 2020.
Tien said that the fourth wave of COVID-19 outbreaks caused the unemployment rate of people in the working age in urban areas to increase in a higher level than that in rural areas (2.8 percent and 2.49 percent respectively)./.
Training course raises awareness of climate change in coastal areas
An online workshop and training programme on community-based disaster risk management in coastal localities is taking place on July 6-8.
Jointly held by the Vietnam Disaster Management Authority (VDMA) and the UN Development Programme (UNDP) in Vietnam, the events are part of activities in the project "Improving resilience of vulnerable coastal communities to climate change in Vietnam" funded by the Green Climate Fund (GCF), UNDP and the Vietnamese Government.
In his opening speech, Deputy Head of the VDMA Nguyen Van Tien underlined the importance to raise awareness of officials and people in coastal areas through training programmes and assessment of disaster and climate change risks, saying that this is the main foundation to ensure stable life and safety for coastal households frequently affected by natural disasters.
Such training courses also contribute to the Government's efforts to raise awareness of and strengthen resilience of community, he noted.
The project will expand training activities and information sharing to 21 coastal provinces and cities of Vietnam, including Quang Ninh, Hai Phong, Thai Binh, Ninh Binh, Nghe An, Ha Tinh, Quang Tri, Da Nang, Binh Dinh, Phu Yen, Khanh Hoa, Ninh Thuan, Binh Thuan, Ba Ria - Vung Tau, Thanh Ho Chi Minh City, Tien Giang, Ben Tre, Tra Vinh, Soc Trang, Bac Lieu and Kien Giang.
Senior Technical Advisor of UNDP Vietnam Khusrav Sharifov emphasised that it is important to strengthen capacity from the community level in the context of Vietnam's vulnerability to climate change and impacts of natural disasters.
Through the partnership with VDMA and provinces, UNDP is focusing on increasing resilience at all levels in order to mitigate negative impacts of cyclones, storms, floods, drought, and saltwater intrusion in vulnerable coastal communities.
UNDP has been closely cooperating with the authority to effectively implement the project "Raising public awareness and community-based disaster risk management" launched by the Vietnamese Government in 2009.
By the end of 2021, the project is expected to access 520 communities in seven coastal areas to help them assess risks and develop their own climate and disaster risk reduction plans.
More than 10,000 people are hoped to have access to more information on risks of climate change and natural disasters as well as activities to strengthen resilience and climate change adaptation in the coming time.
Since 2018, training courses on community-based disaster risk management have been organised for more than 44,000 people in 373 coastal and near-coastal communes in Nam Dinh, Thanh Hoa, Quang Binh, Thua Thien-Hue, Quang Nam, Quang Ngai and Ca Mau./.
US delivers more than 2 million doses of Moderna vaccine to Vietnam
The United States has rolled out more than two million doses of the Moderna COVID-19 vaccine to Vietnam and the vaccine is due to arrive on July 7-8, according to the Ministry of Health (MoH).

More than two million doses of the Moderna COVID-19 vaccine supplied by the US and channeled through COVAX is due to arrive in Vietnam on July 7-8. (Photo: Reuters)
The vaccine has been channeled through the COVAX Facility, said the MoH.
It remain unknown when and where the batch of the vaccine arrives in Vietnam,
MoH Deputy Minister Truong Quoc Cuong signed a decision on June 29 to conditionally approve the Spikevax COVID-19 vaccine known as Moderna for emergency use in Vietnam.
Moderna is a vaccine for preventing coronavirus disease 2019 in people aged 18 years and older. It is a suspension for intramuscular injection administered as a series of two doses (0.5 ml each) 1 month apart.
The vaccine contains a molecule called messenger RNA (mRNA) with instructions for producing a protein from the SARS-CoV-2 virus that causes COVID-19, according to European Medicines Agency.
Moderna is said to be 94% effective against symptomatic SARS-CoV-2 infections. Its safety profile is also similar to Pfizer's, with fatigue, headaches and pain at the site of injection among the most often cited side-effects.
Moderna is the fifth COVID-19 vaccine that has been approved for use in Vietnam, after AstraZeneca, Sputnik V, Pfizer and Sinopharm.
The first batch of the Pfizer vaccine numbering more than 97,000 doses is due to arrive at Vietnam's Noi Bai International Airport on July 7.
Close to 4 million doses of COVID-19 vaccines, mostly the AstraZeneca vaccine, have been administered in Vietnam so far this year, with 235,570 people fully receiving two shots.
Viettel FC ousted from AFC Champions League by Thai opponents
V-League champions Vietel FC lost their chance of entering into the knock-out stage of the 2021 AFC Champions League following their 1-3 defeat by BG Pathum United of Thailand in a Group F match on July 5.

Viettel FC of Vietnam were eliminated from AFC Champions Leafue 2021 after a 1-3 loss to BG Pathum United of Thailand on July 5.
Their 2-0 loss to BG Pathum United in the first leg match several days ago gave coach Jurgen Gede's men an valuable lesson in this match.
Pedro Paulo footed shot from the centre of the box to the bottom left corner, scoring the opening goal for Viettel on 23 minutes.
However, everything changed too quickly after the break. Diogo of BG Pathum United made world-class performances by assisting his teammates Chaowat Weerachart and Andres Tunez to level the score and put BG Pathum United ahead.
It was Diogo again who headed from the centre of the box to the bottom left corner.
Viettel conceded three goals in just six minutes. The V-League champions' defence line was easily defeated by the opponents' excellent kicks and crosses.
The 1-3 defeat means Viettel are definitely eliminated from the AFC Champions League even though there are still two matches left. The V-League representatives just won three points from their victory against Kaya Iloilo of the Philippines and temporarily ranked third in Group F.
Famous writer's teen tales reprinted this summer
Three books for children by writer Đoàn Thạch Biền, who was famous in the 1980s-90s, have been reprinted by the HCM City General Publishing House. 
The books include Tình Nhỏ Làm Sao Quên (Don't Forget Your First Love), Tôi Hay Mà Em Đâu Có Thương (I Knew You Were Not Mine) and Tôi Thương Mà Em Đâu Có Hay (You Don't Know How I Love You), which were selected from many of the writer's books. 
All of the books feature teen loves, hopes and dreams, written with the author's typical imagination and flair. Urban life and family are also highlighted. 
The culture and lifestyle of southern people are featured. 
The novel Tình Nhỏ Làm Sao Quên was released in 1993. It later was adapted into the film by director Lê Hoàng Hoa of HCM City. The film attracted movie stars Mỹ Duyên and Diễm Hương, leading actresses of the south in the 1990s. 
"I'm a fan of Biền's books. I first read his books when I was at school. I think his writing style will be popular with teenagers today because they are a mix of reality and romanticism," said Nguyễn Phạm Khánh Vân, a resident of HCM City. 
"Young readers will see themselves in every single page of Điền's books. The writer knows what young readers think and dream." 
In 2016, Biền released two new books after a hiatus of several years.
While the book called Chao (Fermented Tofu) includes eight short stories, Mùa Hè Khắc Nghiệt (Hard Summer) is a novella. Both tell stories about girls and boys at high school.
Điền told his fans at a book-signing ceremony in HCM City that he was involved in writing books aimed at teenagers because he "wanted to create a dreamlike world for youngsters, who believe in the best things about life and people".   
More than 11,000 copies of the two books have been printed and distributed by the HCM City Culture and Arts Publishing House and Phương Nam Books.
Phương Nam Books has signed an exclusive contract to republish a series of Biền's books, some of which were released before 1975 and featured teen characters. 
Hà Nội to restore lake in Temple of Literature complex
The management centre of the Temple of Literature complex in Hà Nội has announced a plan to restore the cultural values of a lake known as Hồ Văn (Literature Lake) within the site.
The management board will kick off a project this month to restore a now-defunct pavilion on the islet in the lake.
The project includes the restoration of the Phương Đình building and Kim Châu Islet.
The Literature Lake is an important part of the Temple of Literature, covering a total area of 12,000 square metres, including the water area, surrounding gardens, and an islet in the heart of the lake called Kim Châu.
Due to the ravages of time, this space has been damaged and encroached multiple times throughout history, making the preservation work particularly difficult, experts said.
According to Professor Đỗ Văn Trụ, chairman of the Việt Nam Cultural Heritage Association, preserving and promoting the value of the Literature Lake will greatly contribute to the protection of the Temple of Literature site.
However, for a long time, this relic was neglected and seriously affected by environmental pollution, illegal encroachment and construction, said the historical and cultural expert.
Lê Xuân Kiêu, director of the Centre for Cultural and Scientific Activities at the Temple of Literature, said that in recent years, besides some preservation work, the relic has faced serious encroachment, especially around the area near Kim Châu Islet.
"We have 200 days to complete the work of upgrading and restoring the lake," Kiêu said.
"There will be a lot of work to be done such as embellishing the roads in the area of the lake and constructing works to beautify the landscape around it," he added.
In the past, the pavilion on Kim Châu Islet was a venue for scholars in the Thăng Long Imperial City to gather to discuss literary works. 
In 2006, the lake was transferred to the management of the Temple of Literature Cultural Centre.
It wasn't until 2016 that cultural and art activities such as painting, book exhibitions and festivals were held by the lake site, turning it into a popular destination for Hanoians.
However, experts said to make it a proper space for cultural and artistic activities to serve the community and promote the value of the monument, there should be more work carried out to ensure the restoration and preservation of its historical and cultural values. 
The project, which is scheduled to take about 200 days to complete, is under the guidance of the Ministry of Culture, Sports and Tourism and the People's Committee of Hà Nội.
Kiêu said the restoration of Phương Đình building and Kim Châu Islet are essential for the overall Temple of Literature Heritage site as the lake area that plays an important role in the architecture of the whole temple complex and is a promising events site.
Major transport projects to get underway this year, others to be completed
The Ministry of Transport plans to begin work on nine major infrastructure projects in the south this year to reduce traffic congestion and improve connectivity.
In the third quarter, it will begin work on two sub-projects in the eastern section of the North-South Expressway, between Nha Trang and Cam Lâm in Khánh Hòa Province and between Cam Lâm and Vĩnh Hảo in Khánh Hòa, Ninh Thuận and Bình Thuận.
Construction of the 8.7km Tân Vạn-Nhơn Trạch section in Đồng Nai Province, part of Ring Road No 3, will begin this quarter. It will run between Provincial Highway 25B and the HCM City-Long Thành-Dầu Giây Expressway.
Work on terminal T3 at Tân Sơn Nhất International Airport in HCM City and a bypass around Long Xuyên City on National Highway No 91 in the Cửu Long (Mekong) province of An Giang will begin in October.
Construction of a bypass around Cà Mau City on National Highway No 1A, the second phase of upgrades to the Hậu River in the Mekong Delta and the Chợ Gạo Canal in Tiền Giang Province and upgrade of a section of National Highway No 1A between Ngã Bảy Town in Hậu Giang Province and Châu Thành District in Sóc Trăng Province will begin in the final months of the year.
The ministry also wants to complete a number of ongoing major transport projects this year, such as two sections of the North-South Expressway between Cao Bồ and Mai Sơn in Ninh Bình Province and between Cam Lộ in Quảng Trị Province and La Sơn in Thừa Thiên Huế Province.
It has also called for the completion of the Trung Lương-Mỹ Thuận Expressway in the south, upgrades to runways at the Nội Bài International Airport in Hà Nội and Tân Sơn Nhất International Airport in HCM City, construction of the Mai Dịch-Nam Thăng Long Overpass in Hà Nội, and an upgrade to the north-south railway. 
HCM City's largest wholesale market closed after dozens of COVID cases detected
The Bình Điền wholesale market in HCM City's District 8 was closed at 8am on Tuesday until further notice after the city's largest wholesale market recorded at least 39 locally transmitted cases through mass COVID-19 testing.
Speaking at an unannounced inspection at the market on Tuesday, Nguyễn Văn Nên, secretary of the city Party Committee, said: "We have no choice but to suspend the largest wholesale market to curb the spread. More cases are expected in the coming days as more people will be tested."
"The situation remains complex," said Nên, adding that market management must work with local health forces to speed up the tracing of F1 cases (close contacts of COVID patients) and F2 cases (close contacts of F1).
"Delay in the tracing process causes huge challenges in stopping the spread." 
"If there is a shortage of medical staff, the management must report to the city so the city can arrange the personnel," Nên added.
Nên urged District 8 authorities to focus on tracing, zoning and rapid testing to ensure safety so that the market could reopen as soon as possible.
The Department of Industry and Trade must learn a lesson from Bình Điền wholesale market and ensure COVID prevention measures are being followed at city markets. 
Phan Thành Tân, director of Bình Điền market management company, said the market had established a steering committee for Covid-19 prevention and control, which was working with the local health sector to develop a pandemic prevention plan, requiring medical declarations and body temperature checks for everyone entering the market.
The management is using advanced technology such as monitoring equipment, facial recognition and automatic temperature measurement devices that operate remotely via a camera system.
As many as 8,000 small traders and workers at the market were vaccinated during the city's fourth round of the vaccine scheme, according to Tân.
Trần Thanh Tùng, chairman of District 8 People's Committee, said the district had been working with the Department of Industry and Trade to inspect pandemic prevention and control.
Bùi Tá Hoàng Vũ, director of the Department of Industry and Trade, said the market was ordered to stop receiving goods and release all existing goods at the market. 
The department is working with retailers to buy goods to reduce cost damages to small businesses and ensure consumers' needs.
Small traders have been urged to sell goods online or by phone to maintain customers, according to Vũ.
The Bình Điền farm produce wholesale market has a total of 1,880 shops with total daily trade volume of 2,200 - 3,000 tonnes and total sales of VNĐ4-4.5 trillion a month, according to the department.
The market imports goods from 37 provinces and cities to be transported to 19 provinces and cities nationwide. 
About 5,000 cars, cargo trucks and 2,000 three-wheelers enter the market every day. 
The market has about 20,000 people working every night, posing a risk of infection. During the social distancing period, only 9,000 to 12,000 people have been working there. 
HCM City, the largest pandemic hotspot in the country with more than 7,100 cases as of Tuesday afternoon, continues to apply citywide social distancing under Directive No 10 until further notice.
Tropical depression brings heavy rains for northern, central regions
The northern and central regions of Vietnam would face heavy rains from this afternoon, July 7, due to a tropical depression.
According to the National Centre for Hydrometeorology Forecasting, at around 4 am today, the tropical depression was around 100 kilometres from China's Hainan Island. By 4 pm today, it would arrive in the Gulf of Tonkin with the strongest wind power of 50-60 km per hour.
In the next 12 and 24 hours to come, the tropical depression would move towards the northwest and it would be centred in the south of the northern delta and northern central regions by 4 pm on Thursday.
The tropical depression has been forecasted to weaken in the next 24-36 hours to come.
Between this afternoon and the end of Thursday, many localities in the northern and northern central regions would see downpours with the rainfall of 100-250 mm or even 300 mm. Hoa Binh, Son La, Phu Tho, Yen Bai, Lao Cai, Thanh Hoa and Nghe An would be affected the most.
Finding way to solve vaccine problem
From the end of 2020, the Covid-19 epidemic became more and more complicated, and governments in Europe and the Americas soon became aware that only vaccination is the fundamental and long-term solution to help them escape the Covid-19 epidemic.
Therefore, from the end of 2020 and especially in the first quarter of 2021, countries ordered manufacturers to produce a large amount of vaccines. Thanks to early and large orders, the rate of COVID-19 vaccination in Europe and Americas is the highest in the world.
The percentage of people who have received the full dose of Covid-19 vaccine (two doses) in Europe is 25.8% of the population, this rate in Northern America is 32.87%, while in Asia it is 8.22%. In the ASEAN region, Singapore has the highest rate of full-dose injection at 35.8%, followed by Cambodia at 18.24%, 8 out of the 10 remaining countries with a rate not exceeding 8%.
Vietnam is the only country where less than 1% of the population has received a full dose of vaccine. On average, as of June 30, 2021, 11.04% of the population had received a full dose of vaccine. Some countries have a high rate of vaccination for people such as the US (46.61%), the UK (48.68%), Mongolia (53.39%) and Israel (57.2%).
Analysis of the number of countries that have ordered the production of Covid-19 vaccines shows a very disproportionate distribution to the global population of the current vaccine production supply. While the number of vaccines administered worldwide is equivalent to 34.71% of the world population, (11.04% of the population has received two doses; while 12.63% of the population has received one dose), the number of vaccines the UK has ordered for production is 517 million doses, equal to 755% of the population.
This means that on average, the UK's government ordered 7.55 doses per citizen. Meanwhile, 7.65 doses were ordered per resident in Canada, 3.95 doses in the US, 5 doses in the European Union (EU), 4.5 doses in Japan and Australia, 3.07 doses in Israel, 2.18 doses in the Republic of Korea (ROK), and 2.1 doses in Brazil.
The Covax Mechanism also ordered 1.55 billion doses and the African Union ordered 670 million doses. A total of 47 countries (which have publicly announced the number of vaccines they ordered); Covax and the African Union have ordered production of 9.312 billion doses.
In fact, as of June 30, 2021, more than 3.12 billion doses of vaccine have been produced and distributed worldwide, fulfilling only about one-third of all orders. According to experts' forecasts, by September 2021, the world can produce 5 billion doses of vaccine, still 4.3 billion doses short of the ordered number. It can be estimated that by December 15, 2021, the world will have produced about 6.5 billion doses of vaccine, still short about 2.8 billion doses compared to the number ordered by 47 countries, Covax and the African Union. As such, other countries that have placed orders late will find it very difficult to receive their vaccines by the deadline stated in the contract.
The question is if the countries that ordered early receive enough vaccines, what is their real need? How many doses of vaccine will they have left over, and not used this year?
If it is estimated that in 2021, the 32 countries with the largest vaccine hoard will have enough vaccinations for 70% of their population (two doses per person) and two doses per person in reserve for 2022, meaning that each person can be guaranteed four doses in 2021. Thus, they will need 3.003 billion doses, while they have ordered 5.012 billion doses. That is, with the total population of these 32 countries at 1.036 billion people, they cannot use all of the 5.012 billion doses, but will have 2.009 billion left over.
Vietnam is facing its fourth wave of the COVID-19 epidemic. Although it has not yet reached the peak, this is the longest and heaviest wave so far. In the context of the Covid-19 pandemic continuing to be complicated, in order to achieve herd immunity, it is necessary to use vaccines to strongly and quickly prevent infection in the six current hotspots, then in 45 provinces and cities where the epidemic is spreading, and finally in the 12 localities without epidemic.
With the goal of vaccinating about 70 million people, it is necessary to inject 68.32 million people, with a total of 136.64 million doses (two doses per person). To date, Vietnam has signed contracts with partners to buy or supply Vietnam with 110 million doses of vaccines, but most of these producers will not be sanctioned if they do not deliver at the scheduled delivery time as stated in the contract.
So far, it is not possible to know exactly when 110 million doses of this vaccine will arrive to Vietnam. Up to now, Vietnam has injected about 3.8 million doses out of a total of 4.9 million doses received. Of which, the number of people who have received one dose is about 3.5% of the population; and the number who have received two doses is about 0.2% of the population. Thus, compared to the world's average vaccination rate, Vietnam's vaccination rate is among the very lowest and is indded the lowest in ASEAN. Compared to the requirement that 70% of the population receive two vaccine doses in 2021, the current rate in Vietnam is too low.
Thus, the problem is how to get about 100 million vaccine doses in the next two to four months, and 30 million more doses in the last two months of the year, to achieve the goal of vaccinating 70 % of the population, achieving herd immunity. From current practice, it is necessary to find a vaccine source that can be purchased quickly or swapped, and then return them a new vaccine ordered delivered later. Through the above analysis, the real demand of 32 countries, which have ordered 5.012 billion doses for 2021 (including reserves for 2022), is only 3.003 billion doses; a 2.009 billion dose excess.
Therefore, if Vietnam negotiates with the leaders of the EU (27 countries) and the governments of the UK, the US, Canada, Australia and Japan to buy back or swap new vaccines , we can quickly get about 100 to 130 million doses. The EU and these five countries both have a comprehensive cooperative partnership or strategic partnership with Vietnam. The acquisition or partial swap of the vaccine would be considered beneficial for both parties.
Measures to manage web drama carefully
Web drama is a familiar term in this current era of the information technology boom, especially amidst the complicated outbreak of COVID-19 pandemic when audiences cannot enjoy movies at the cinemas but must do so instead via online platforms.
However, the management of web drama both in terms of content and quality is a matter of concern, notably as the time for submission of the Draft Law on Cinema (amended) to the National Assembly is approaching.
There are a variety of apps for watching moves online such as Netflix, Apple TV+, Prime Video, Viki, Galaxy Play, FPT Play, Zing TV and MyTVNet. It can be said that the demand for web drama is taking up the majority of internet traffic in households, making the market more vibrant. According to data from the Ministry of Information and Communications, as of November 2020, Vietnam had 35 businesses operating in the field of providing online streaming services with around 14 million subscribers and total revenue of up to VND9 trillion.
The leading platform is Netflix with up to 200 million users worldwide, including around 3.5 million in Vietnam. Other apps in the country such as FPT Play and Galaxy Play have continuously seen growth, showing the strong development trend of screening movies via the Internet. With just a phone or a computer connected to the network, consumers can access entertainment products, even watching the latest movies, regardless of distance.
However, from the perspective of cultural management, the proliferation of web drama apps has caused a lot of trouble, especially as a number of provisions in related laws have gradually become outdated and no longer suitable. In addition to high-quality movies, a lot of movies with unhealthy content, images of violence, objectionable behaviours and distortions about Vietnam are featuring. They have adversely affected the perception and psychology of viewers, especially young people. The ultimate problem is how to censor web dramas to leave out movies with unhealthy content and those lacking a healthy aesthetic and harming viewers?
Facing the increasing trend of activities to satisfy entertainment needs by watching movies via online platforms, many countries have adjusted their censorship regulations to match reality. In the Republic of Korea, since 2012, films or music videos and game shows have been subject to strict censorship before they are posted on the internet. Both domestic and foreign movies must be censored and licensed by management agencies. Even websites or apps for web drama must be also licensed for operation by the government. Similarly in China, movies that want to be posted via the internet must be licensed by the state agency through the Netcast Service Association - a specialised government agency empowered to censor and penalise websites with signs of violation.
Turkey has been also tough on Netflix, the world's most-used online movie streaming platform, blocking access to movies that the country considers inappropriate. However, in Vietnam, there are currently no specific regulations on censorship of movies screened online. The Law on Cinematography 2006 (amended and supplemented in 2009) only mentions exploitation and dissemination of movies via the internet in a limited manner. Meanwhile, technology is changing daily, so the censorship of movies in general and web drama in particular must change.
The confusion of management agencies, and the fragmented and petty handling of violations have revealed many inadequacies. Many individuals and organisations have taken advantage of this to continuously produce and publish non-artistic products with objectionable content that is incompatible with customs, causing violations of ethical principles and even of law. Some movies still leave segments that were previously cut out by the censorship boards. In addition, very few online movies have been labelled with their appropriate age groups, leading to chaos in the online environment.
The lack of control measures for web drama has also created unfairness in the movie market itself. Web dramas are not subject to any controls, while movies screened in cinemas are censored strictly by the Cinema Department under the Ministry of Culture, Sports and Tourism and TV series controlled by televisions. Recently, several cases related to web dramas have been handled mainly thanks to the strong voice of the viewer community.
Moreover, this handling is only possible for movie screening platforms in Vietnam. The relevant agencies find it difficult to intervene in movies provided on cross-border platforms with servers in foreign countries.
Another fact is that it is very difficult to distinguish what exactly a web drama is. Although much content, screened on online platforms, are called movies, they are not appropriate considering the nature and characteristics of the genre. In the past, cinematic works were often put on the internet after being screened in cinemas. Today, many cinematographic businesses consider the internet as a distribution channel. The Galaxy Media & Entertainment Group has invested VND100 billion to produce 20 exclusive movie projects that will be only screened online via the Galaxy Play platform. Thus, businesses clearly define the movies they produce which will be screened on technology platforms, and not in cinemas. They are free to put any content into the movies without being pressured by the management agency.
Accordingly, it is crucial to quickly complete legal regulations to create a strict mechanism on the classification and censorship of web dramas. The regulations also need to be detailed and tight, without loopholes for businesses to abuse advertising The problem that needs to be solved now is how to quickly complete legal regulations to create a strict classification and censorship mechanism for films produced online. The regulations also need to be detailed and tight, without loopholes for businesses to abuse advertising, evade taxes or put objectionable content in movies.
Recently, the Cinema Department has organised seminars to collect comments on the Draft Law on Cinema (amended) to be submitted to the National Assembly for approval (expected in October 2021). Many opinions emphasise the control of web dramas because this is a new and complicated issue. Many experts have proposed additional options to Article 19 of the Draft on dissemination of web drama.
There are currently two proposed options on pre-check and post-check. Pre-check means that web dramas will be censored and licensed before being circulated like movies in cinemas. However, the disadvantage is that the number of web dramas is so high that it is difficult for the authorities to set up corresponding censorship boards. The post-check plan focuses on strengthening the responsibility of self-control of content according to the laws of the producers and units distributing the movies online.
Accordingly, the provisions of the Law need to be very strict, requiring the commitment and the responsibility of businesses trading in web drama. Either way, it is necessary to affirm that the proposal and adjustment of the strict provisions in the Law on Cinema and related regulations to manage web dramas are in line with current practice.
New Chairman of Committee for Foreign NGOs Affairs named
Deputy Prime Minister Pham Binh Minh has signed a decision to assign Deputy Foreign Minister To Anh Dung as new Chairman of the Committee for Foreign Non-governmental Organizations Affairs (COMINGO).
The committee is responsible for supporting the Prime Minister on issues related to foreign non-governmental organizations in Viet Nam, coordinating with the Ministry of Foreign Affairs in drafting and submitting to the competent authority for the promulgation of legal normative documents on the operations of foreign NGOs in the Southeast Asian country. 
The committee shall take lead in the appraisal of foreign non-governmental organizations in order to forward documentation to the Ministry of Foreign Affairs for the purpose of granting, extension, supplement, amendment and revocation of the Certificates of Registration of foreign NGOs in Viet Nam.
It shall perform inspection, monitoring and supervision of the operation of foreign NGOs and coordinate with relevant agencies in handling with complaints, accusations and violations related to the operation of foreign NGOs./.
HCMC, neighboring provinces agree on truck driver exchange at border
Ho Chi Minh City People's Committee yesterday reached a consensus with leaders of neighboring provinces in the Southeast region on solutions to better monitor inter-provincial traffic flow in order to minimize negative impacts on goods transport and maintain goods flow.
Accordingly, drivers and other people on a truck must show a negative Covid-19 test result to pass checkpoints in and out HCMC. If a driver into the city cannot display such a certificate, an alternative method of having another certified driver control that truck is possible.
The HCMC Department of Transport proposed that functional state agencies nationwide link their test result databases as soon as possible and issue a QR code for test-takers to display at all checkpoints.
Before that, in an online meeting with HCMC leaders on July 5, Deputy Prime Minister Vu Duc Dam pointed out a need for HCMC to closely cooperate with other regions to strictly monitor entrances to and departures from the city, but to ensure a smooth conveyance of products and groceries.
In related news, after the third wholesales markets in HCMC – Thu Duc Wholesale Market – was ordered to suspend operations from 8am July 7 until all Covid-19 prevention conditions are met, the HCMC Department of Industry and Trade has promised to do their best to regulate goods flow around the city.
Statistics reveal that the merchandise amount reaching HCMC saw a decrease to 6,000 tonnes per day, a drop of 3,000 tonnes compared to other times. Thanks to modern distribution methods and independence from wholesale produce markets, supermarkets and convenience stores will witness a sales rise of 50-100 percent in the upcoming time.
With a temporary close of wholesale markets, traders in traditional markets are instructed to continue their business activities via the Internet, telephone, and smart device.
At the same time, HCMC assigns three specific locations in Binh Chanh District, Cu Chi District, and Thu Duc City as transit points between the city and other provinces.
Here warehouse owners, shipping companies, and wholesalers can exchange truck drivers to continue transporting goods to the final destinations. These are also the place for loading and unloading merchandise, strictly observing social distance rules.
The HCMC Industry and Trade Department will collect updated information on operating goods selling points like traditional markets, convenience stores, supermarkets, large grocery stores of all districts and Thu Duc City. This useful information will then be published widely.
Meanwhile, this department is working with Saigon Co-op, Satra, Vissan and other modern distribution companies to prepare suitable locations as a selling point for traders when needed.
Source: VNA/VNS/VOV/VIR/SGT/Nhan Dan/Hanoitimes

Notice for automatic stay extension for foreigners stranded due to COVID-19