Vietnam recorded 145 new COVID-19 cases, including 139 domestically-transmitted and six imported, in the past six hours to 6pm on June 28, the Ministry of Health has announced.
Of the domestic cases, 62 were detected in Ho Chi Minh City, 20 in Quang Ngai, 12 in Bac Giang, 11 in Dong Nai, eight in Binh Duong, eight in Bac Ninh, seven in Ha Tinh, six in Binh Thuan, two in Hung Yen, one each in Hai Phong, Dong Thap and Dak Lak.
By June 28 afternoon, Vietnam had confirmed 14,263 domestic and 1,778 imported cases. The number of local infections since the fourth wave of COVID-19 outbreaks hit the country on April 27 amounted to 12,693, of whom 3,745 have recovered.
Among active patients undergoing treatment, 319 have tested negative to coronavirus SARS-CoV-2 once, 143 twice and 158 thrice.
The number of recovered patients was 6,519 while the death toll reached 76.
In the context of complicated developments, the ministry called on citizens to follow the 5K message, including khau trang (facemask), khu khuan (disinfection), khoang cach (distance), khong tu tap (no gathering), and khai bao y te (health declaration), to help contain the outbreaks./.
HCM City reports highest infections at 94 over previous six hours
Ho Chi Minh City, the second worst-hit locality in the latest coronavirus wave recorded 94 out of 149 new COVID-19 cases detected during the six hours to midday on June 28, said the Ministry of Health.
Among the newly-detected domestic infections across the seven localities, HCM City  accounted for the most at 94, Binh Duong (32), Bac Giang (12), Bac Ninh (4), Nghe An (2), and one each in Hoa Binh and Danang, of which 137 were recorded in quarantine facilities or sealed off areas.
Most of the domestic cases in Ho Chi Minh City came into contact with confirmed patients or are associated with previous outbreaks, while the cases occurring in other provinces are either F1 contacts of infected patients or were detected in locked down areas relating to industrial parks.
In addition, the Ministry of Health also confirmed three more imported infections positive for the SARS-CoV-2 virus in Kien Giang province, thus bringing the overall number of imported cases to 1,772.
Among the patients currently receiving treatment, 647 have since tested negative at least once for the virus.
As of 4 p.m. on June 27, over 3.38 million vaccine doses have been injected nationwide, with the number of people who have had both jabs being 157,136.
Furthermore, 14 localities have gone 14 days without any new infections and 10 localities have recorded no new secondary infections.
Vietnam has recorded a total of 14,117 domestic infections so far, including 12,547 across 48 cities and provinces nationwide in the last wave of COVID-19, with the majority of current cases registered in southern localities.
Top Lao leader's Vietnam visit crucial to bilateral great friendship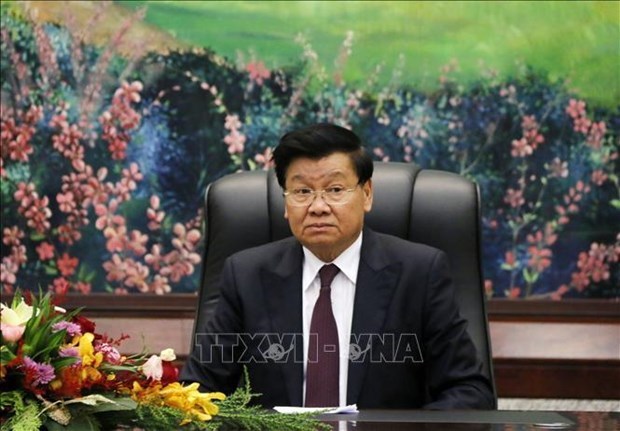 General Secretary of the Lao People's Revolutionary Party (LPRP) Central Committee and President of Laos Thongloun Sisoulith (Photo: VNA)

The official visit to Vietnam by General Secretary of the Lao People's Revolutionary Party (LPRP) Central Committee and President of Laos Thongloun Sisoulith, from June 28-29, is a significant event in the great friendship and special solidarity between the two countries.
This is the first overseas trip by Thongloun Sisoulith in his capacity as Lao Party General Secretary and President for the 2021-2026 tenure. This is also the first high-ranking Party and State delegation of Laos to visit Vietnam after the 13th National Congress of the Communist Party of Vietnam (CPV).
It contributes to affirming the two countries' foreign policies of attaching great importance to preserving and continuously developing the great friendship, special solidarity and comprehensive cooperation, and deepening the close and trusting relations between leaders of the two Parties and countries in the time ahead.
Over the past more than eight decades, the traditional relationship and close-knit, faithful ties between Vietnamese and Lao peoples, founded by Vietnam's President Ho Chi Minh and Presidents Kaysone Phomvihane and Suphanouvong of Laos, and promoted by generations of the two countries' leaders and peoples, have become an invaluable asset shared by the two nations.
The two countries signed the Treaty of Friendship and Cooperation on July 18, 1977, creating a firm legal foundation for the enhancement and expansion of the special ties in the new period, and a foundation for the two sides to reach a range of cooperation agreements later.
Vietnam and Laos have also provided mutual support in their reform process, and both have reaped significant achievements in economy, and social and foreign affairs. Notably, the bilateral political ties have developed more intensively, extensively and firmly.
Despite the complex developments of the COVID-19 pandemic in 2020 and early 2021, the two countries maintained a number of high-level meetings in suitable forms.
Cooperation in national defence and security has also been enhanced and proven more fruitful.
Vietnam is one of the three biggest investors in Laos. Two-way trade in the first five months of this year when the COVID-19 was still ravaging exceeded 570 million USD, up 25 percent year-on-year.
The two countries have continued to prioritise cooperation in education and training. Vietnam grants up to 1,220 scholarships to Lao students this year.
Thongloun Sisoulith's selection of Vietnam for his first overseas trip after he was elected as the top Party and State leader of Laos will help consolidate and deepen the great friendship, special solidarity and comprehensive cooperation, bringing pragmatic interests to peoples of both sides./.
323 cases of COVID-19 confirmed on Sunday
A total of 323 new cases of COVID-19 were reported in Việt Nam on Sunday, bringing the country's total caseload to 15,643 so far, according to the Ministry of Health.
Nine of them are imported cases who were quarantined after entering Việt Nam in Kiên Giang, Tây Ninh and Khánh Hòa provinces.
The remaining 314 cases are domestic, including 200 in HCM City, 36 in Bình Dương, 20 in Bắc Giang, 15 in Hưng Yên, 15 in Quảng Ngãi, eight in Phú Yên, seven in Long An, six in Bắc Ninh, four in Nghệ An, two in Đà Nẵng and one in Bắc Kạn.
Bắc Giang Centre for Disease Control confirmed an additional 45 cases which were previously detected in locked down areas.
Fourteen provinces and cities have not seen any new cases in the past 14 days.
As many as 182 patients were given the all-clear on Sunday, meaning 6,319 patients have now recovered from the disease.
76th death related to COVID-19 recorded in Viet Nam
Another death related to COVID-19 has been confirmed in Việt Nam, according to the Ministry of Health.
Patient No 14,656 was a 53-year-old woman living in Bình Tân District, HCM City. The country's total number of deaths now stands at 76.
She tested positive for SARS-CoV-2 on June 24. She was moved from the Phạm Ngọc Thạch Hospital to the Bình Tân District Hospital in a comatose state.
She was given emergency treatment, intensively resuscitated by endotracheal mechanical ventilation, sedation, muscle relaxant combined with antibiotics, vasopressor drugs and anti-inflammatory medicine. However, her condition progressed rapidly although doctors tried their best to save her.
She died at 9.30am on Friday.
Cause of death was recorded as severe pneumonia caused by SARS-CoV-2, acute respiratory failure and septic shock. 
Highest priority given to ongoing COVID-19 fight in HCM City
Prime Minister Pham Minh Chinh has requested that the Ministry of Health immediately transfer rapid antigen test kits to Ho Chi Minh City in order to boost extensive COVID-19 testing, while taking a fact-finding trip to the southern city on June 26.

PM Pham Minh Chinh inspects anti-coronavirus measures in Ho Chi Minh City.
The highest priority must now be given to Ho Chi Minh City, PM Chinh told the Minister of Health during their trip to a quarantine facility located at the Vietnam National University's Ho Chi Minh City branch.
The southern metropolis, the nation's busiest and most populous locality, is currently under great pressure as the SARS-CoV-2 virus has spread to all 22 of its districts and towns, with more than 100 positive cases recorded on a daily basis.
The local administration has said that many chains of transmission of unknown origin caused by the mutated Delta strain, which was first identified in India, have been discovered among the local community, with many cases being asymptomatic.
PM Chinh requested that Ho Chi Minh City strive to speed up its testing campaign whilst simultaneously tightening epidemic prevention and control measures in crowded areas, including quarantine facilities, alongside ramping up its vaccination campaign.
It is therefore imperative to avoid cases of cross-transmission occurring in concentrated quarantine facilities, said the PM, citing valuable lessons learnt from the outbreak in Bac Giang, where concentrated quarantine areas are crowded and many people share services, resulting in cases of cross–transmission.
The same day saw PM Chinh pay a visit to Nanogen Pharmaceutical Biotechnology JSC which is currently developing Nano Covax, a locally-made COVID-19 vaccine.
At present, Nano Covax is entering the third phase of its human clinical trial, whilst the firm has recently asked the PM for permission to license its vaccine for emergency use in the nation.
HCM City proposes airport metro line extension
HCM City authorities have proposed the extension of the Metro 4b line to link Tan Son Nhat International Airport and Long Thanh International Airport.
The proposal has been sent to the national railway development plan for the next decade with vision until 2050.  
Under the recommendation, the railway would run along Pham Van Dong Street to the Trang Bom-Hoa Hung railway and Ring Road 2 in Thu Duc City and connect to the Thu Thiem-Long Thanh railway at an intersection of Ring Road 2 and the HCMC-Long Thanh-Dau Giay Expressway.
Besides this, city authorities also suggested connecting Metro line 4b with terminals 1, 2 and 3 at Tan Son Nhat International Airport.
The proposed route is expected to strengthen connectivity between the two localities and HCM City's newly-established Thu Duc City.
The 3.2-kilometre metro line was designed to be underground one and have three stations, linking the Gia Dinh Park in Phu Nhuan District with Lang Cha Ca intersection south of Tan Son Nhat in Tan Binh District.
The first phase of Long Thanh International Airport was started early this year with investment of VND109 trillion (over USD4.6 billion). Work on the first phase was scheduled in 2025 with a passenger capacity of 25 million.
Online extra classes boom as summer holiday arrives
Many parents in Vietnam are choosing online extra classes for their children amid the ongoing Covid-19 pandemic.
Nguyen Van Khoi from Nam Dinh Province said, "Both of my children are staying home as the school-year ended two weeks earlier than previous years. I registered for an online English class and a life-skill course for my children. The courses last for 60 days and cost VND2.3m. The kids will take a 60-minute class three to four days a week."
Hong Phuong from Hanoi said her kid will be in fifth grade, the final grade in primary school, so she wants her kid to be prepared for the exams for secondary school.
"I registered maths, literature, and English classes for him so he will learn everything early and have more time to revise," she said. "Online courses are the best option during the ongoing pandemic."
However, parents are also warned about online scams. Hong Phuong said she had to research carefully before choosing a course for her children. Another parent, Ngoc Oanh, said she also searched for online extra classes for her children last year. The centre advertised that there would be a free computer class besides the usual English classes.
"After making the payment, I realised that the fee already included the computer class. My kids also said the classes were very boring," she said.
Tran Thuy Duong, a teacher from Hai Phong City, said, "Since outdoors and entertainment activities are curbed because of the pandemic, the children mostly stay home with the TVs and computers. That's also one of the reasons why more and more parents register their children on online extra classes. Many people have become more familiar with online classes in the past year. Parents can save time they'd have spent on traveling too."
However, Duong went onto say that the effectiveness of online classes depends on the children's self-discipline. Since it's summertime, many children will not want to study. Parents should make clear what they want from online classes to choose the best option.
"A large number of online classes have appeared now and many of them lack teachers with experience and skills. Art and English classes are the most suitable options," Duong said.
Children in remote areas learn to swim with portable pool
A portable swimming pool to teach children about water safety and how to swim for free has been brought to various villages in Cu Mgar District, Dak Lak Province.
Dinh Thi Yen, a resident from Hiep Hoa Village, carried her daughter to the swimming class that opened near her house before going to work.
"We all have to work so the children stay with their grandparents. I already told them to avoid dangerous places, but they're just children so I still feel worried, especially when there is a lot of news about children drowning and my neighbourhood has lots of lakes and ditches," she said. "Those classes are useful and the children know each other."
The classes are held by the Youth Union of Quang Hiep Commune and Vi Dan Em Than Yeu Club under the Cu Mgar District's Youth Federation. About 90 children age seven to 15 are joining the training course. For two weeks, the children will be taught basic swimming skills, water safety and what to do when someone is drowning.  
Mai Van Chuyen, head of Vi Dan Em Than Yeu Club, said they were able to raise VND50m from the private sector to buy equipment and asked local PE teachers to volunteer to teach the course. The portable swimming pool is 5.1 metres wide, 15.6 metres long and 1.2 metres deep. The water is from the wells of local households. The course has received good responses from the local people and authorities.
"In previous years, we held the swimming courses at Ngo May Secondary School but we couldn't reach enough of the children in remote areas. A portable pool is much better," Chuyen said.
Vo Thi My Trinh, deputy secretary of Cu Mgar District Youth Union, said this was a part of a summer volunteer movement in Cu Mgar District.
"The portable pool is being piloted in Quang Hiep Commune and will be expanded to Ea Mdroh and Cu Mgar communes. We'll work with district authorities to call for more funding to expand the movement further," she said.
Statistics from Dak Lak Province Department of Labour, Invalids and Social Affairs show that there have been 31 drownings, killing 39 children in the province so far this year, double the numbers of 2020.
"In the near future, Dak Lak Youth Union will invite experts to train our leaders and propose swimming as an extra-curricula activity in primary and secondary schools," said Tran Doan Toi, deputy secretary of Dak Lak Youth Union.
Localities nationwide ready to organise national high school graduation exam
As of 6pm on June 25, 63 cities and provinces across the country are ready for the organisation of the 2021 National High School Graduation Examination, scheduled for July 7-8, according to the Quality Management Department under the Ministry of Education and Training (MOET). 
The MOET said that localities have been actively preparing for the event, while designing feasible plans to organise the exam in the context of the pandemic, ensuring it takes place safely and seriously.
Specifically, localities have screened candidates who are F0, F1 and F2 cases and are taking measures suitable to the reality of each locality. The exam councils have prepared backup exam sites and rooms to stand ready for unusual situations if any arise.
In particular, localities have implemented synchronous solutions to ensure pandemic prevention and control such as spraying disinfectant at exam sites and arranging face masks, antiseptic water, and hand soap. A medical division has been set up at each exam site. In addition, localities have also issued propaganda to limit mass gatherings at exam areas.
Candidates unable to take the first phase of the exam due to COVID-19 will sit the second phase, the date for which will be decided by the MOET and based on suggestions from localities and the reality of the pandemic.
From now until the exam dates, the MOET proposes localities continue to closely monitor the COVID-19 situation and constantly update information regarding the officials and teachers participating in the exam as well as the candidates.
Quang Ngai fishing port faces severe pollution
Sa Huynh fishing port in the central province of Quang Ngai's Duc Pho Town has been facing serious pollution for years.
Huynh Tinh, a local fisherman, said that the port now looks like a sewer covered with rubbish.  
"The port is full of litter and wreckage along with the wastewater discharge from some nearby seafood firms which specialise in purple back squid processing. Due to the lack of dumping sites, many people often throw litter into the port. It is easy to feel the terrible odour when going through the port," said Phan Thanh Dung, another local resident.
Currently, seafood processing companies near Sa Huynh fishing port are at peak operation, so they usually discharge fish viscera directly into the port.
Dang Thi Ngoc Anh, head of Sa Huynh fishing port, said that the port infrastructure which was built in 2008 has seriously deteriorated, failing to serve the hundreds of fishing boats.
"We hope that the port will be upgraded in line with the standards of the Law on Fisheries," Anh added.
Quang Ngai Province is now home to five fishing ports namely Sa Huynh, My A, Tin Ky, Tinh Hoa and Ly Son which can accommodate 2,300 boats in total. The ports were built many years ago, therefore, their facilities have deteriorated.
Tran Phuoc Hien, vice chairman of Quang Ngai People's Committee said that the Department of Agriculture and Development is checking the condition of local fishing ports to upgrade.
Police at Nghệ An's COVID checkpoints work around the clock in scorching heat
In scorching temperatures of up to 45 degrees Celsius, police officers on duty at COVID-19 checkpoints in Vinh City, central Nghệ An Province, have been working around the clock.
The city's authorities have set up 13 checkpoints at gateways and dozens of checkpoints outside lockdown areas to control people leaving and entering the city.
Local soldiers, transport inspectors and other forces have joined the police team. Their task is to check COVID-19 documents, tell drivers not to enter restricted areas if they do not have the right documents, and ask them to make health declarations.
Lieutenant Hồ Sỹ Nam, a traffic police officer working at a checkpoint on the Bến Thủy Bridge connecting Nghệ An and Hà Tĩnh provinces, works under the sun for six hours per day, leaving his skin red and burnt.
The Bến Thủy checkpoint has 14 officers working in four six-hour shifts a day.
Nam said: "We feel like the sun is burning us when working between noon and 6pm. But if we stop working for a while, the road section will be congested and many drivers will have to wait for their turn. Most of the officers on duty do not have time to shelter from the sun."
Nguyễn Trọng Long, a member of the local civil-defence force, starts his shift at 7am and finishes at 3pm.
His task is to help police officers stop drivers to check their documents and ask them to make health declarations. He has to stay outdoors for most of his shift.
"It's hottest from 10am. The sun and heat from the road surface make the real temperature rise to 43-45 degrees Celsius. In spite of the heat, we encourage each other to complete our tasks in order to contain the pandemic soon," he said.
Lieutenant Trần Hải Hoàn, a police officer of Nghệ An, has been dispatched to work at a checkpoint in Hưng Hòa Commune, which is located next to a field far from the city centre and does not have any tree shade. They have erected a small tent as a shelter for officers to rest when there are few people and vehicles passing through.
"Although there are not many drivers passing, it does not mean our work is not hard. The checkpoint is on a dyke section with no trees around. We have to open all tent windows to make ourselves less stuffy. Sitting inside the tent, everyone sweats," Hoàn said.
A local woman named Tạ Thị Hằng, who lives on Phùng Khắc Khoang Street, Vinh City, has given iced water and free meals to the officers on duty to encourage them.
Colonel Trần Ngọc Tuấn from the police department of Nghệ An Province said local authorities have arranged places for the officers to eat and rest. At key checkpoints, containers and buses with air-conditioners have also been set up as temporary resting places. However, most of the officers and soldiers do not have time to rest because of the heavy workload. 
Congratulations to CPP on founding anniversary
The Central Committee of the Communist Party of Vietnam (CPV) has extended congratulations to the Central Committee of the Cambodian People's Party (CPP) on the 70th anniversary of the CPP (June 28).
In the message, the CPV and Vietnamese people congratulated the CPP and Cambodians on major achievements they recorded across spheres in the past time.
"We believe that with the tradition and achievements, the CPP will continue to lead the country to reap new, greater attainments in implementing the Party's Platform for the 2018-2023 period and the Rectangular Strategy – Phase 4 of the Cambodian Government, soon contain the COVID-19 pandemic, ensure socio-economic development, and successfully build a Cambodia of peace, independence, democracy and social progress," the message read.
"We are very pleased at and proud of the fine neighbourliness, traditional friendship, and comprehensive, sustainable and long-term cooperation with Cambodia, which is thriving."
The Vietnamese Party, State and people will make every effort to work, together with their Cambodian counterparts, to preserve and cultivate the bilateral relations, for the sake of the two countries' peoples, and for peace, stability, cooperation and development in the region and the world, the message wrote.
The Vietnamese Party, State and people also thanked the CPP, State and people of Cambodia for their valuable support during Vietnam's past struggle for the liberation of South Vietnam and national reunification, as well as the present cause of reform, national construction and defence.
Party General Secretary Nguyen Phu Trong also sent flowers to the CPP President and Prime Minister of Cambodia Hun Sen, and CPP Honorary President and National Assembly President Heng Samrin.
Le Hoai Trung, head of the Party Central Committee's Commission for External Relations also extended congratulations to Prak Sokhonn, Chairman of the CPP Central Committee's Commission for External Relations./.
New TV dance shows entertain audiences amid pandemic
Local television stations are working to bring more new entertainment shows to stay-at-home audiences during the COVID-19 pandemic.
Among these are dance shows which have not been popular on TV in recent years.
The HCM City Television (HTV) is presenting Sàn Đấu Vũ Đạo (Best Dance Artists) where 12 favourite Vietnamese celebrities pair up with 12 talented choreographers to create dances.
The show features vlogger Hậu Hoàng, singers MLee and Thiều Bảo Trang, and rappers TLinh and Hành Or. The choreographers include Lâm Vinh Hải, Toàn Trung, B.O.P, and Dương Anh Mỹ.
"I'm happy. It's a long-waited return to the small screen," choreographer and dancer Hải said.
The 32-year-old artist won the first season of Thử Thách Cùng Bước Nhảy, the Vietnamese version of the US TV dance show So You Think You Can Dance, in 2012.
He appeared on TV as a supporter of competitors in the next four seasons until the show ended in 2016.
"For the TV comeback, I am doing my best to send audiences and my fans nice performances," said Hải, who pairs up with actress Katleen Phan Võ.
The duo has presented a strong routine to show their feminine energy on the first episode featuring freestyle dance, broadcast on HTV7 last Saturday.
The performance received praise from the judges, including Vietnamese-Canadian choreographer John Huy Trần, and pop stars Đông Nhi and Noo Phước Thịnh.
The 12-episode Sàn Đấu Vũ Đạo is being broadcast at 7:30pm on HTV7 every Saturday, and can be watched on YouTube at Studio79 channel.
Meanwhile, the Việt Nam Television (VTV) has introduced Nhóm Nhảy Siêu Việt (Vietnam's Best Dance Crew), which is adapted from the US show Best Dance Crew.
It highlights famous groups like Mania Family, Saigon Kiddiez, 218 Dance Crew, and M.U.G who follow jazz, contemporary, and hip hop.
A member of Saigon Kiddiez said: "We feel lucky to have a playground for street dance crews to introduce our lifestyle and culture to nationwide audiences."
During the show, the dance crews present performances reflecting social issues and young people's life, receiving a warm welcome from audiences, especially young ones.
"The show helps TV audiences know about Vietnamese dance crews who have contributed to popularising dance with performances of positive energy," choreographer Tuyết Minh, a member of the jury consisting of choreographer and director Việt Max and a guest judge, said.
Rising to fame after a dance contest in 2001, Minh established the Khám Phá (Discovery) Dance Company four years later.
The company staged famous Vietnamese and international works like Carmen, Quan Âm Thị Kính (Goddess of Mercy Thị Kính), Con Tạo Xoay (Spinning Top) in 2014, Tình Yêu Hà Nội (Love for Hà Nội) in 2015, and S-Tour in 2016.
In 2020, Minh worked with the Việt Nam Dancers' Association and the HCM City Ballet Symphony Orchestra and Opera (HBSO) to stage Ballet Kiều, a new ballet based on Truyện Kiều (The Tale of Kiều), the 18th century literary masterpiece by the great poet Nguyễn Du, in HCM City and Hà Nội.
Nhóm Nhảy Siêu Việt is broadcast at 8pm on VTV3 every Saturday.
Southeast Asian nations maintain vigilance against COVID-19
Laos recorded 10 new cases of COVID-19 over the past 24 hours, including one community infection in Vientiane and nine imported cases, the Lao Health Ministry said on June 27.
The local case was reported after Laos had gone through two consecutive days without new infections. Its COVID-19 case count now reaches 2,110, with three fatalities.
Given the complex developments of the pandemic in neighbouring countries, the ministry has urged people to maintain vigilance against the disease and cooperate with competent forces in the combat.
Meanwhile, the Philippines' Department of Health (DOH) reported on June 27 6,096 new COVID-19 infections, bringing the total number of confirmed cases in the Southeast Asian country to 1,397,992.
The death toll climbed to 24,372 after 128 more patients died from the viral disease, the DOH said.
Health Undersecretary Leopoldo Vega urged people to be vigilant amid the threat of more infectious coronavirus variants such as the Delta variant first found in India.
"We are not out of the woods yet. There is a gradual decrease of cases in Metro Manila but only slowly," Vega said in a radio interview, warning that some central and southern Philippine areas are experiencing a surge of infections.
Thailand also ordered restaurants in its capital city Bangkok and nearby provinces to suspend dine-in services for a month as authorities tightened curbs to tackle the nation's deadliest wave of COVID-19 outbreak.
The ban on dining in from June 28 is in addition to the previously announced sealing of residential camps of construction workers in the Bangkok metropolitan areas and four other provinces after they became major clusters of infections.
Shopping malls in Bangkok and its neighbouring provinces must be closed by 9pm. All gatherings of more than 20 people, seminars and conferences are banned in Bangkok and the five provinces, according to a Royal Gazette statement late June 26.
Thailand reported 3,995 new infections in the past 24 hours, taking the cumulative caseload since the pandemic began to 244,447, official data showed on June 27. Total fatalities topped 1,900 with the addition of 42 new deaths.
Malaysia will extend a national lockdown beyond June 28 to curb the spread of COVID-19, state news agency Bernama reported on June 27, citing Prime Minister Muhyiddin Yassin.
Lockdown measures were set to end on June 28. But Muhyiddin said they will not be eased until daily cases fell below 4,000, Bernama said.
Malaysia reported 5,803 cases on June 26./.
PM inspects COVID-19 prevention and control in Binh Duong
Prime Minister Pham Minh Chinh on June 27 led a Government delegation to inspect the COVID-19 prevention and control and treatment for COVID-19 patients in southern Binh Duong province that houses numerous industrial parks.
Binh Duong should actively roll out the present COVID-19 prevention and control measures, he said, suggesting the province impose social distancing and maintain on-the-spot production and business at the same time.
Reiterating the dual goals of pandemic containment and socio-economic development, Chinh asked the province to take suitable quarantine measures and pilot home quarantine for F1 cases.
Although the changes are important, they must be carried out in line with regulations, the leader said.

Earlier the same day, Chinh and the Government delegation inspected COVID-19 prevention and control, and treatment at the Binh Duong General Hospital in Hiep Thanh ward, Thu Dau Mot city.
Local medical facilities are providing treatment for 228 COVID-19 patients, including 226 cases found in the community, one relapse case from the central province of Khanh Hoa, and one imported case.
He also visited a factory of Vietnam Dairy Products JSC (Vinamilk) at the My Phuoc 2 Industrial Park in Ben Cat town, where he lauded the company for its pandemic response and efforts in maintaining production./.
Embassy, association comfort Vietnamese hit by tornado in Czech Republic
A delegation of the Vietnamese Embassy and Vietnamese Association in the Czech Republic have visited and comforted Vietnamese households affected by a strong tornado and hailstorm in South Moravia.
During the visit on June 25, the delegation launched a fund-raising campaign to aid the affected people. More than 200,000 CZK (over 9,300 USD) were raised by Vietnamese in the Czech Republic within a day along with essential goods and foods.
Tran Ngoc Dung, Vice President of the Vietnamese Association in Brno and South Moravia said right after the tornado and hailstorm ended, he visited the affected families.
The tornado and hailstorm, considered the strongest over the past century, on June 24 (local time) swept through several villages in South Moravia where many Vietnamese families are living.
As of June 25 night, the natural disasters killed five and injured hundred others, according to local authorities.
The association said nearly 30 Vietnamese families in the villages were hit hard by the natural disasters, with six suffering serious property losses./.
Long An seeks funding for freshwater reservoir
The Department of Agriculture and Rural Development of southern Long An province has proposed building a freshwater reservoir project in Thanh Hoa district to ensure water supply in the dry season.
The department, which has completed zoning and procedures for the project, said it would cost more than 718 billion VND (31 million USD). The reservoir will store fresh water in the rainy season.
Long An has been severely affected by saltwater intrusion and drought in recent years.
The reservoir project and existing irrigation works will secure irrigation water for 1,500ha of hi-tech farming areas, as well as water for households, industrial production, and fire prevention for 3,300ha of protective forests in border areas.
Nguyen Thanh Truyen, Director of the department, said that in 2016 the Prime Minister asked the province to submit its reservoir plan for consideration.
The province's budget for public works for the 2021 – 25 period cannot cover all construction costs for the project, so the department asked the provincial People's Committee to petition the Government to allocate funds to build the reservoir.
The project will cover 140ha and have two lakes with a combined area of 106ha, and a 4.8 km dam.
The project includes four water regulating sluices with pumping systems, a water transport canal system, a management building, and new trees. It will also have a water plant and an ecotourism resort.
In the 2019- 20 dry season, saltwater intrusion and drought damaged more than 2,700ha of rice and caused a shortage of water to 3,500 households.
In addition, the low level of floodwaters in the delta caused by the rising water level of the Mekong River during the rainy season in recent years has caused freshwater shortages.
In 2016 the province decided to set up four different areas for freshwater reservoirs in the Dong Thap Muoi (Plain of Reeds) region, including the one in Thanh Hoa district's Thuan Binh commune. The other three reservoirs will be located in Tan Hung and Vinh Hung districts and Kien Tuong town.
Of the four projects, the freshwater reservoir project in Thanh Hoa district's Thuan Binh commune will be given priority./.
Viettel slump to 1-0 defeat against AFC defending champions Ulsan Hyundai
Vietnam's V-League winners Viettel FC suffered an unfortunate 1-0 loss to defending champions Ulsan Hyundai of the Republic of Korea in their opening 2021 AFC Champions League Group G match on June 26.

Without stars Trong Hoang and Ngoc Hai in the line-up, Viettel still performed well in the first half, keeping up with the pace of the K League club. Meanwhile, the RoK representatives possessed the ball most of the time, but could not break up their rivals' defense line in the first 45 minutes.
In the second half, the K League team sent in two more foreign players and veteran midfielder Lee Chung Yong, but they could not make it difficult for Viettel's defense.
Ulsan Hyundai broke the deadlock when the match went into extra time. From a corner pass, striker Hinterseer put pressure on national player Nguyen Thanh Binh who kicked his own goal, earning Ulsan Hyundai three points.
Viettel FC's coach Jurgen Gede expressed his regret that his players lost in the extra time in their first ever game of the AFC Champions League and said they had learnt a lesson from the game.
Viettel players are in Thailand for the group matches of the 2021 AFC Champions League.
After losing 1-0 to Ulsan Hyundai in the opener, Viettel are scheduled to take on Sanghai Port or Kaya FC on June 29 and Thai League champions BG Pathum on July 2.
HCM City sets up two more field hospitals to receive COVID-19 patients
The Ho Chi Minh City Department of Health has decided to establish two more field hospitals to receive and treat COVID-19 patients.

Under a decision signed on June 26 by Nguyen Tan Binh, director of the municipal Department of Health, two students dormitories of the Vietnam National University – Ho Chi Minh City branch in Binh Duong province and Thu Duc city will be converted into the two field hospitals.
Both hospitals will have a combined total of 5,000 beds.
The fresh coronavirus outbreak in HCM City has yet to show signs of waning, and the number of positive cases has increased considerably over the past days, reads the decision.
HCM City is currently the epicenter of the fresh outbreak in southern Vietnam. The hotspot has logged more than 3,000 cases in the community in less than two months since the resurgence of the virus.
Director Nguyen Tan Binh predicted that the caseload would rise in the coming days as many chains of transmission are of unknown origin and many cases are asymptomatic.
With two more field hospitals to be established, HCM City will have 11 hospitals that are able to receive and treat COVID-19 patients, with a total capacity of 10,000 beds.
Gia Lai veteran helps fellow farmers prosper
Phạm Văn Xây has helped farmers in his homeland in the Central Highlands region prosper by combining plant farming with raising livestock and fish.
The 64-year-old lives in Đăk Rong Commune, Kbang District, Gia Lai Province, and is also Vice Chairman of the commune's Veterans' Association.
He supports local farmers by providing young trees, seeds and fertiliser for them.
Currently, his family's 4,000sq.m of ponds and lakes provide water for 10ha of coffee and macadamia trees, not only for his family but some neighbouring households.
He is also raising 15 cows, 50 pigs and 200-300 swans, chickens and ducks on a 100sq.m area. These animals create the fertiliser for the family's garden.
According to Xây, the success of his combined farming model came from trial and error and using advanced technology.
He has renovated and turned eight hectares of old coffee plants into a lush coffee garden, that currently yields 8-10 tonnes of beans per hectare.
He intercropped 800 macadamia trees in the coffee garden and now macadamia has entered the harvest season.
He also built a nursery of fruit trees to provide seeds and young trees for local people. The combined farming model, after deducting expenses, brought VNĐ1 billion (US$43,400) to his family in 2020.
As Vice Chairman of the communal Veterans' Association, he regularly encourages members to join social movements to improve the local area.
He also provided 800 bags of manure, 500 coffee trees, 100 baby chickens and many varieties of fruit trees for local households in 2016-2021.
His family's agricultural model has created regular jobs for four members of the Veterans' Association and about 50 seasonal labourers, who are responsible for harvesting coffee and macadamia.
As a soldier who returned home, he has always been willing to help poor and underprivileged people improve their incomes. Early this year, he took the initiative to provide technical guidance on how to care for trees and livestock for some poor households in Kon Lanh Village.
He has also suggested local authorities replicate his combined farming model to help poor households with the goal that by 2025, Đắk Rong Commune will no longer have poor households.
He has called on local people to help out and donate money and land to build roads and a cultural house. His family led by example by donating 400sq.m of land to build rural roads.
Đỗ Khắc Vũ, Vice Chairman of the Kbang District's Veterans' Association, said Xây was an exemplary official who was trusted and respected by local people.
"He is actively supporting local residents to develop the household economy," said Vũ.
Xây has received many certificates of merit from Gia Lai provincial authorities for his contributions to his community.
Hà Nội father and son test positive for COVID-19, source unknown
A father and his son from Đông Anh District in Hà Nội have both tested positive for COVID-19.
They are the first community transmissions in the capital for 11 days. Both men live in the Việt Hùng area.
The father works as a security guard outside North Thăng Long General Hospital where a number of people are being treated for coronavirus.
His son is a police officer and also works as a taxi driver.
On June 24 the father, aged 66, developed a fever and cough. He was transferred to the isolation unit at Đông Anh General Hospital and test results confirmed he was positive.
His son, aged 32, tested positive on June 26. The source of the infection is unknown at this time and investigations are being carried out.
The authorities have traced a number of F1 and F2 contacts of both men, and the area where they live has been cordoned off and sprayed with disinfectant. 
Vietnam Fine Arts Museum offers online events
The Vietnam National Fine Arts Museum has opened an online exhibition themed "Mach Noi" (connection), displaying famous works by various artists working at the museum.
The event is to celebrate the 55th anniversary of the museum's establishment on June 24, 1966-2021.
The exhibition is diverse in topics and forms (oil painting, lacquer, wood, ceramic, silk, do (poonah) paper...), introducing to the public many famous names such as Nguyen Do Cung, Duong Huong Minh, Ta Quang Bao, Nguyen Trong Doan, Nguyen Van Chung, Cao Trong Thiem, Nguyen Xuan Tiep and Nguyen Khac Quan.
Also on this occasion, its 3D Tour section was officially launched, helping viewers explore 24 rooms in the museum's regular display system.
Visitors can explore the online tours by accessing vnfam.vn.
Dong Nai proposes certifying four more hospitals as eligible for Covid-19 testing
The Dong Nai Department of Health has proposed the Ministry of Health certify four more hospitals as eligible to conduct Covid-19 tests to meet the province's testing needs if Covid-19 rages.
The four comprise the Dong Nai Children's Hospital, the Long Khanh Regional General Hospital, the Dinh Quan Regional General Hospital and the Hoan My Dong Nai International Hospital, the local media reported.
The province has had three testing labs certified as eligible by the ministry, with a capacity of 5,000 samples each day, according to the provincial department.
If the four are certified for testing, the capacity of Covid-19 testing will be raised to 20,000 samples each day.
Dong Nai Province has as many as 20 concentrated quarantine centers with 2,112 beds and is planning to requisition seven education facilities as quarantine centers to raise the capacity to 5,000 beds.
Besides, the province has 220 beds for Covid-19 patients. If additional Covid-19 cases are detected in the province, it will convert the functions of some hospitals into those meant for Covid-19 treatment.
Sentences for former Hanoi CDC, accomplices upheld
The Hanoi People's Court has rejected all appeals and upheld jail sentences for former director of the Hanoi Center for Disease Control (CDC) Nguyen Nhat Cam and his accomplices for their price gouging on real-time PCR detection systems used for Covid-19 testing.
Thus, Cam was sentenced to 10 years behind bars for violating bidding regulations. Nguyen Vu Ha Thanh, head of the Hanoi CDC's financial and accounting department; and Dao The Vinh, director of Vietnam Trading and Material Science Company, received jail terms of 6.5 years each, the local media reported.
Meanwhile, Nguyen Thi Kim Dung, former head of the Hanoi CDC's administrative organization department; and Nguyen Tran Duy, general director of Nhan Thanh Property Valuation and Auction JSC, were handed down prison terms of six years each.
Moreover, Nguyen Ngoc Quynh, former head of the planning and operation department at the Hanoi CDC, must stay behind bars for five years.
According to the court, these defendants' violations were serious, damaging the prestige of the State management agencies. While the entire country is striving to curb the pandemic, the defendants failed to fulfill their assigned tasks and violated the regulations.
Cam was determined as the mastermind of the case.
Certain train services from HCMC suspended due to low passenger numbers
Saigon Railway Transport JSC (SRT) has suspended a number of train trips from HCMC to Nha Trang, Danang and Phan Thiet, which are popular destinations in the central region, due to a decline in the number of passengers.
SRT suspended the SE21/SE22 trains on the HCMC-Danang rail route, the SNT2/SNT1 trains on the HCMC-Nha Trang route and the SPT1/SPT2 on the HCMC-Phan Thiet route until July 15.
Passengers that want to travel to these three destinations can take their trips on the SE3/SE4 and SE7/SE8 trains that offer daily services on the Hanoi-HCMC route.
The passengers of suspended trains can return their tickets to the railway stations before the time of departure and will not be charged any fee.
Meanwhile, in the north, the Hanoi Railway Transport JSC will operate one more pair of trains—LP5 and LP6---on the Hanoi-Haiphong route starting from today, June 25, due to the high travel demand among passengers.
Passengers are required to make health declarations and wear masks during the trip, as well as limit traveling between carriages amid concerns over the pandemic.
Earlier, in mid-May, the local railway sector had to suspend passenger train services linking Hanoi with Haiphong, Lao Cai and Dong Dang due to a surge in domestic infections in Hanoi. Only freight trains remained operational.
Khanh Hoa seeks to develop expy linking Dalat
Khanh Hoa Province has proposed the Ministry of Transport add the 85-kilometer Dalat-Nha Trang expressway project to Vietnam's road system plan in the 2021-2030 period.
The expressway project will be developed in the 2021-2025 period under the public-private partnership format, with the State capital accounting for 50% of the total cost, according to the Khanh Hoa government.
Once in place, the expressway will help shorten the travel time between the province and the Central Highlands province of Lam Dong and boost the socioeconomic and tourism growth of the two provinces.
For its target to develop Khanh Hoa Province into a centrally-governed city in 2030, the province also proposed the ministry consider and allocate State capital for the construction of the expressway project, the local media reported.
Khanh Hoa Province had earlier got approval from the ministry to add the Buon Ma Thuot-Nha Trang expressway project, with a total length of 113 kilometers and the 83-kilometer Nha Trang-Van Phong expressway project to the road system plan in the 2021-2030 period.
Meanwhile, the 49-kilometer Nha Trang-Cam Lam subproject of the North-South Expressway project is under construction and will be completed by 2024.
La Nga protection forest severely deforested

La Nga protection forest in the territory of Thanh Son and Ngoc Dinh communes in Dinh Quan District of Dong Nai Province and a part of Dac Lua Commune in Tan Phu District of Dong Nai Province, managed by La Nga Forestry Company Limited (Vinafor La Nga), with a total area of more than 23,000 hectares, have been harmed by locals, including the family members of some company leaders.

On June 23, traveling along the trails deep into the protective forests of Ngoc Dinh Commune, we could not help but feel painfully for the sight of hundreds of hectares of protection forests being mercilessly destroyed. Hundreds of hectares of teak and hopea odorata forests, which were grown many decades ago from the State budget, have been replaced by lush mango and tangerine orchards interspersed with private melaleuca forests. Even in many large areas, trees have been completely exploited, leaving only jagged stumps undulating on the ground.
Mr. U., a resident in Ngoc Dinh Commune, one of the people who filed a denunciation to the authorities about Vinafor La Nga's leaders selling protection forest land for illegal profits, led us to the watershed protection forest of Tri An Lake with an area of about 13 hectares in Sub-zone 155 in Hoa Trung Hamlet in Ngoc Dinh Commune. In 1976, this area was planted with teak trees. By around 2010, most teak trees were cut down and replaced by private melaleuca forest, leaving only about 100 trees. Recently, all melaleuca trees have also been exploited, leaving only large teak stumps.
A part of this area is allocated to a leader of Vinafor La Nga to manage, take care of, and intercrop fruit trees under the forest canopy. However, in a short time, most teak trees were chopped down and replaced by melaleuca trees without being punished by the authorities. Recently, this man even sold the allocated protection forest land to another person to pocket the money for his own.
Especially, in 2011, Vinafor La Nga assigned Luong Tuyet Mai, wife of Mr. Nguyen Manh Cuong, Deputy Director of Vinafor La Nga, to manage and cultivate 8.22 hectares of protection forest in Lot 2b of Plot 2 in Sub-zone 40, the central area in Ngoc Dinh Commune. On this area of protective forest land, there were 1,105 large teak trees, with heights of 8-16 meters, grown in 1979 from the State budget. According to Vinafor La Nga's justification, to manage forests and forest land closely, the unit assigned Mrs. Mai to sign contracts to take care of and protect 1,105 teak trees and intercrop with forestry and fruit trees into the forest glades, but must not affect the growth and development of teak trees.
However, according to the recent minutes of the Department of Natural Resources and Environment of Dong Nai Province, the current situation is that there are barbed wire fences around this land, concrete pillars, gate pillars, and a large iron gate. There is also a single-story house of about 70 square meters, livestock sheds, and a pond, with a total area of about 1,000 square meters. The remaining area is planted with melaleuca trees, banana plants, jackfruit trees, and other perennial plants, while many teak trees are dead. The above teak forest now only has about 400 dying teak trees because their stumps were pierced and burned.
The announcement on inspection conclusions of the Government Inspectorate on the observance of the law in the management and use of land originating from State-owned agricultural farms and plantation forests according to Directive No.11/CT-TTg dated on April 4, 2016, by the Prime Minister, shows that in the management and use of land at agricultural farms and plantation forests, including Vinafor La Nga, there are still many wrongdoings.
Specifically, Vinafor La Nga's forestry land was encroached by households with more than 492 hectares and arbitrarily intercropped with agricultural crops and short-term fruit trees under the forest canopy with an area of more than 1,156 hectares. Moreover, by December 31, 2017, Vinafor La Nga had signed 2,444 contracts with households on an area of more than 3,763 hectares of land according to Decree No.01/CP of the Government and has not signed contracts again following Decree No.135/2005/ND-CP of the Government, which is not in accordance with the provisions of law.
Mr. Do Manh Thang, Director of Vinafor La Nga, admitted that due to the large and complex area, the management of forest land of the company faced many difficulties, resulting in the company's forest land allocated by the State for management and exploitation having been encroached and used for wrong purposes by local people.
He denied the accusations that Vinafor La Nga's leaders appropriated forest land to give to their family members and sold it to local people. As for the case of Luong Tuyet Mai, Mr. Thang admitted that the allocation of protective forest land of Vinafor La Nga to her in 2011 was not following regulations. The company had also repeatedly asked her to return the forest land but failed. Until May this year did she return it. Mr. Thang affirmed that the wrongdoings of her family in forest land management and use were partly the responsibility of Mr. Nguyen Manh Cuong, Deputy Director of Vinafor La Nga. Therefore, currently, the company has asked Mr. Cuong to report the incident for consideration to handle his responsibility according to the provisions of law.
HCMC strives to have sufficient Covid-19 vaccines for citizens
On the morning of June 25, at a press conference, providing information on the progress of Covid-19 vaccination in the city, Prof.-Dr. Nguyen Tan Binh, Director of the Department of Health of Ho Chi Minh City, informed that the city has been deploying the vaccination campaign of more than 800,000 doses phase 4 granted by the Ministry of Health to priority subjects according to Resolution No.21.
The injection campaign started on June 19, and by the end of June 24, 438,502 people were allowed to be vaccinated. After screening examination, 404,700 people have been vaccinated, and 40,412 people have been postponed vaccination due to various reasons, such as high blood pressure and fear or other cases of postponement decided by doctors. Cases of postponed vaccination will be rescreened and vaccinated. In the near future, the city will continue to be allocated more vaccines by the Ministry of Health and actively seek vaccine sources so that there will be 15 million doses available by the end of the year. The city will ensure sufficient vaccines for citizens.
By the end of June 24, HCMC had reached more than half of the number of vaccines that need to be injected in the 4th time. Among the injected cases, 1,109 cases had post-injection reactions. Of which, there were 73 cases of anaphylactic shock, including 20 people with grade 1, 26 people with grade 2, 15 people with grade 3, and two people with grade 4 who had had cardiac arrest, requiring intensive resuscitation. All cases had been handled well.
"On June 25 and 26, the city will increase its maximum vaccination capacity to complete the injection of more than 800,000 doses of the allocated vaccines and vaccinate the remaining cases on June 27," Prof.-Dr. Nguyen Tan Binh affirmed.
On the afternoon of June 25, Ho Chi Minh City Center for Disease Control (HCDC) said that it had just recorded 59 suspected Covid-19 cases in District 4 in the blockade areas at Alley 76 in Ton That Thuyet Street and Alley 830 in Doan Van Bo Street. These 59 suspected cases are related to the chain of infection at the De Tham waste buy-back center in District 1. On June 25, authorities took samples for an expanded community screening for about 3,000 people living in surrounding wards near this alley.
On the afternoon of June 25, Mr. Tran Phi Long, Chairman of the People's Committee of District 11, said that after the municipal People's Committee assigned the district to organize the coordination of Covid-19 vaccination at Phu Tho Gymnasium, the situation of people gathering as crowded as on June 24 no longer happened.
Accordingly, on June 25, at the Covid-19 vaccination point at Phu Tho Gymnasium, the district's authorities controlled the number of people to be vaccinated and allocated by the hour, not letting people wait in the yard. In case people come in large numbers, they will close the door and not let them in. According to Mr. Tran Phi Long, the district has the right to assess the situation proactively. If the number of people is large, it will actively stop them. Therefore, on June 25, the situation at the vaccination point of Phu Tho Gymnasium was controlled stably, safety was ensured, and no congestion occurred.
Police to investigate passenger bus spreading Covid-19 in Hai Phong
Hai Phong City Police have been requested to investigate and find the health check-up points responsible for letting a passenger vehicle through from Thu Duc City which had spread Covid-19 in Hai Phong City.
Accordingly, the passenger coach with plate number BKS 15B-036.84 carrying Covid-infected passengers departed from Thu Duc, HCMC and passed through several checkpoints on National Highway 10 in Vinh Bao District, Hai Phong City.
The Hai Phong City People's Committee requested Hai Phong City Police to investigate and verify the parties responsible while strengthening supervision along existing entry points to Hai Phong and closely inspecting vehicles and individuals from Covid-hit areas.
Hai Phong City People's Committee also requires passenger cars and vehicle owners to present travel schedules and passenger lists as well as perform health declarations and self-isolation according to regulations.
Previously, Hai Phong City People's Committee established checkpoints to Hai Phong city to monitor entries by individuals from epidemic areas and ordered to cease fixed passenger transport routes from Hai Phong to HCMC and vice versa.
However, the Nghin Bridge checkpoint on June 17, 19 and 21 allowed the passenger coach with plate number BKS 15B-036.84 to transport passengers from HCMC to Hai Phong City, leading to Covid-19 cases in Vinh Bao district.
Notably, both the driver and attendant were tested positive to Covid-19. There have also been new cases in Thai Binh and Quang Ninh provinces related to the passenger coach.
More home-bound citizens fell victim to cryptocurrency scammers: HCMC police
Cryptocurrency exchanges and trading platforms are on the rise since citizens' livelihood got affected by Covid-19, creating more opportunities for scammers to target home-bound office workers and gullible housewives.
An anonymous Vietnamese woman in District 11, HCMC reported that she had been scammed out of over US$11,000 at the beginning of June by a self-proclaimed cryptocurrency trader she met online.
The alleged Chinese business person had talked the woman into wire transferring US$11,000 to them with promises of helping her invest in cryptocurrency. The woman stated that she bought into the lies after having earned small sums of interest by trading with the person previously.
Vietnam's law as of now does not recognize virtual money as a currency or legal means of payment, said a member of the HCMC Bar Association.
However, since it does not prohibit trading or investing in virtual currencies either, people taking part in such activities might face huge risks of losing their savings on scammers.
Many cryptocurrency exchanges in Vietnam are branching out using high commission rates in the same way as pyramid marketing does to entice people, said Head of District 11 Police Colonel Pham Xuan Thao.
Also according to the HCMC Bar Association, cryptocurrency platform founders who shut down their site with evident attempts at deceit could be charged with "fraudulent appropriation of assets" under Vietnam's law. At the same time, people who knowingly trade cryptocurrency on illegitimate sites with factors of gamble could be prosecuted for illegal gambling.
However, reporting frauds through virtual currency platforms is currently complicated due to the lack of criminal evidence, said the HCMC Bar Association.
Citizens warned to tighten information security during Covid-19 pandemic
 
As Covid-19 pandemic is becoming more complicated and people increasingly switching to online activities, information safety has been more critical than ever. Citizens are warned to be exceptionally careful with online transactions to avoid scams and money stealing.
According to Matthew Glitzer, Vice President of IBM Security – Asia Pacific, people have a tendency to gradually changing from offline to online activities. Since online shopping becomes a new fashion, cyber security is more and more vital to any business. Therefore, in order to optimize the highest security level, businesses and organizations need to apply and adapt to the Zero Trust architecture.
This security model suppose that any device is not to be trusted by default. It continuously advocates mutual authentication, including checking the connection conditions, data, and resources to identify the authentication and demand of personal information.
In the last two years, in Southeast Asia, Vietnam has been one of the most targeted nations of hackers for bitcoin mining (accounting for 80 percent and 71 percent of the total cyber attackers in the region in 2019 and 2020 respectively).
Kaspersky has warned any businesses experiencing an abnormal rise of electricity bill, even when their staff is working from home, that they may be the victim of bitcoin mining.
Information leaks are also a thorny issue at present, especially when people become gradually dependent on the online platform of a third party, leading to a higher potential risk. When obtaining confidential information, hackers are able to fake victims' identity or trick them to reveal more sensitive login data.
Cashless transactions are wholeheartedly encouraged in Vietnam to avoid close contact during Covid-19 pandemic. Statistics reveal that 85 percent of Internet users at least own one electronic wallet or install a payment app. Over 42 percent of them are making contactless payment via a mobile device.
Obviously, these people are ideal targets of cyber criminals, who love to attack Internet banking users. Those attacks are forecast to be on the rise in the near future. Hence, smart device owners need to be fully aware of the risks in a digital society and implement proper prevention methods.
Experts in the field warn that Internet users should be careful with announcements of discounts and coupon exchange. Financial organizations and sales agencies will never send a text message asking them to update their account information or confirm their ATM card number. This can only be from scammers.
Kaspersky firmly believe that the Vietnamese Government has done a good job in both fostering cashless transactions and raising the public awareness about the dangers of information stealing as well as implementing suitable methods to fight against cyber criminals. With proper habits of network using, the Vietnamese are able to protect their own information on the online environment.
Source: VNA/VNS/VOV/VIR/SGT/Nhan Dan/Hanoitimes

Vietnam opens office for Odessa honorary consul