Vietnam recorded 175 new COVID-19 infections, including 172 domestically-transmitted and three imported cases, in the past six hours to 6pm on June 29, the Ministry of Health has announced.
Of the domestic cases, 43 were detected in Ho Chi Minh City, 24 in Binh Duong, 22 in Tien Giang, 21 in Dong Thap, 21 in Quang Ngai, 12 in Bac Giang, 12 in Nghe An, four each in Long An and Dong Nai, two each in Bac Ninh and Phu Yen, one each in Binh Thuan, Lang Son, Hung Yen, Ha Tinh and Ba Ria-Vung Tau.
To date, Vietnam has confirmed 14,624 domestic and 1,789 imported cases. The number of local infections since the fourth wave of COVID-19 outbreaks hit the country on April 27 amounted to 13,054, of whom 3,990 have recovered.
Among active patients undergoing treatment, 284 have tested negative to coronavirus SARS-CoV-2 once, 121 twice and 84 thrice.
On June 29, 245 patients were given the all-clear, bringing the number of recoveries to 6,764./.
HCM City to test 5 million people for COVID-19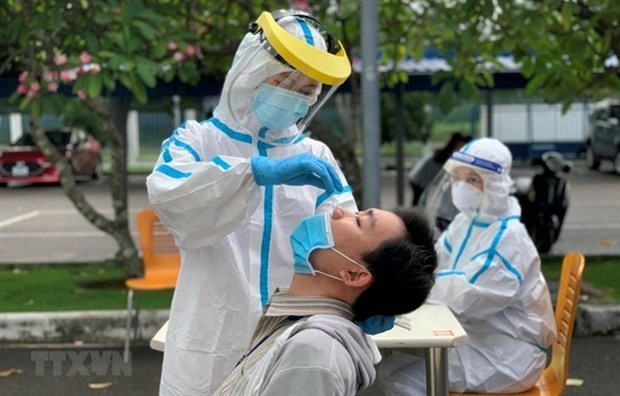 HCM City is set to take samples from five million people to test for COVID-19 by July 5.

Ho Chi Minh City aims to take samples from five million people by July 5 for COVID-19 screening as more and more people are found to be infected thanks to screening at hospitals, according to its People's Committee.
The task began in residential areas, industrial parks, export processing zones, and hi-tech parks on June 26.
Districts 8, Binh Tan, Tan Phu, Hoc Mon, and Binh Chanh, which have a large number of patients, are first on the radar.
People in Thu Duc city and other districts will have samples taken from July 1.
According to the People's Committee, the screening will help detect infections in time and prevent further spread.
Also, through the screening, the city could evaluate the risk level in the community and take preventive measures, it said.
The Department of Education and Training has suggested that the city should allow all candidates to sit the upcoming national high school graduation examination starting on July 2.
Teachers and invigilators supervising it should also be tested, it said.
There will be 88,774 candidates at 155 venues, and more than 18,000 teachers and proctors.
The city Department of Health on June 26 put up one more COVID-19 treatment hospital at the Defence and Security Education Centre at the Vietnam National University - HCM City.
The 1,000-bed hospital will treat new COVID cases detected through screening at high-risk locations in the community and quarantine areas.
If the patients start having symptoms, they will be transferred to the COVID-19 treatment hospitals in Cu Chi, Can Gio, Binh Chanh, and Thu Duc.
If someone's condition worsens, they will be transferred to the Hospital for Tropical Diseases, Pham Ngoc Thach Hospital, Trung Vuong Hospital, Cho Ray Hospital, Children's Hospital No.2, or City Children's Hospital.
The city has immunised 710,773 people in the fourth phase of its vaccination drive as of June 27, according to its Steering Committee for COVID-19 Prevention and Control.
More than 93,000 others could not get a shot because of their health condition, it added./.
Additional 102 more Covid-19 infections recorded in Tuesday noon report
Vietnam has recorded 102 more Covid-19 infections in the past six hours, raising the total number of patients in the country to 16,238, the Ministry of Health reported at noon on Tuesday.
According to the ministry's report, 94 of the newly-confirmed patients are locally-transmitted cases most of whom were detected in quarantine sites or areas under lockdown in some localities including 54 in Ho Chi Minh City, 14 in Hung Yen, 11 in Bac Giang, eight in Ha Tinh, three in Bac Ninh, two in Hai Phong, and one each in Dong Thap and Lang Son.
Authorities in Ho Chi Minh City admitted that the virus fight in the city is facing great challenges as more chains of transmission of unknown origin have been uncovered, and many cases are asymptomatic.
As of Tuesday noon, 12,881 locally-transmitted cases have been reported since the new outbreak occurred in the country on April 27, including 5,678 in Bac Giang Province and 3,548 in Ho Chi Minh City. The outbreak has so far spread to 48 cities and provinces nationwide.
Eight imported patients are all Vietnamese people who recently return from Japan and Cambodia. They had been sent to a quarantine area in Kien Giang, An Giang, and Khanh Hoa provinces upon arrival and are now being treated at local hospitals.
With these new infection cases, the number of Covid-19 patients in Vietnam has increased to 16,238 including 14,452 locally-transmitted cases.
As of 6 pm on June 28, a total of 6,519 Covid-19 patients had recovered and been discharged from hospital.
So far there have been 78 deaths, most of them being the elderly with serious underlying diseases.
At present, over 200,000 people who had close contact with Covid-19 patients or returned from virus-hit areas are being monitored at hospitals, quarantine facilities, and at home.
On June 28, an additional 112,344 people were given Covid-19 vaccine in Vietnam, raising the total number of vaccine doses used in the country to nearly 3.5 million. The number of people who have received two doses has risen to 172,994.
All arrivals in Vinh airport must be tested negative for COVID-19
From July 1, anyone flying into Vinh International Airport must present negative COVID-19 test results.
The People's Committee of Vinh City in central Nghệ An Province announced  the new guidelines on Tuesday.
Passengers must be tested three days before arriving at the airport and can be tested for COVID-19 by using the confirmatory RT-PCR method or rapid testing.
Those passengers who do not have test results must undergo rapid tests at the airport and cover the costs themselves.
 The move was made as part of the city's efforts to prevent further spreading of the COVID-19.
The city detected their first COVID-19 cases during the fourth wave on June 13 and it started to apply social distancing on June 19.  
In another move, the health department of central Đà Nẵng City calls for all people who visited Thọ Quang Fish Port in Sơn Trà District from 10pm of June 23 to 2am of June 23 to contact their nearest medical establishments for health declarations.
Those who had had contact with five COVID-19 patients who had sold fish at Thọ Quang Fish Port during that time are also encouraged to contact local medical facilities for further instructions.
The five patients come from central Quảng Ngãi Province's Đức Phổ District.
Quang Ngai City starts social distancing on Tuesday
The central city of Quảng Ngãi in the province of the same name imposed social distancing measures from Tuesday after the province reported dozens of new COVID-19 community cases in recent days.
Sixty-two new cases were confirmed in the province between June 26 and 28.
From 3pm on Sunday to 3pm on Monday, the province reported 21 new cases, all from Phổ Thạnh Commune, Đức Phổ Town, according to the local health department.
The provincial Department of Health has publicly announced locations linked to the new positive cases and requested those who visited those locations to contact the nearest medical facility.
Earlier some areas in the city launched social distancing. Đức Phổ Commune started social distancing on Sunday following the Prime Minister's Directive No 15 while Phổ Châu Commune and Phổ Thạnh Ward in Đức Phổ Town started on Saturday following Directive No 16 rules.
Directive 15 bans gatherings of more than five people in public. Events and meetings with more than 20 people in one room are not permitted.
People must keep a two-metre distance from others in public, and transportation from COVID-19 hit areas must be limited.
Directive No 16 requires people to keep a distance of at least two metres from others. Gatherings of more than two people in public are banned. Production factories must ensure a safe distance between workers and disinfect their working space. Workers must wear masks. 
Korean groups contribute millions of USD to Vietnam's COVID-19 vaccine fund
The Republic of Korea (RoK)'s Ambassador to Vietnam Park Noh-wan has told Vietnamese Health Minister Nguyen Thanh Long that the RoK will help Vietnam effectively carry out the dual goals of pandemic prevention and control, public health protection, and economic development.
During a recent meeting between Long and representatives from several Korean groups, General Director of Samsung Vietnam Choi Joo Ho expressed his hope to cooperate with Vietnam in the field of medical equipment.
He affirmed that Samsung has paid attention to and assists Vietnam's COVID-19 prevention and control efforts.
According to Choi, Samsung donated 40 billion VND (1.7 million USD) to Vietnam's COVID-19 vaccine fund, and an additional 16 billion VND (nearly 700,000 USD) to the northern provinces of Bac Ninh and Bac Giang.
Long proposed Samsung cooperate in building hospitals in Vietnam.
At the meeting, the SK Group – the RoK's third largest group – contributed 1 million USD to the vaccine fund.
Long welcomed the group expanding investment in the production of pharmaceuticals, medical equipment and vaccines in Vietnam, affirming that the health ministry will create all favourable conditions for the group to produce COVID-19 vaccines in the Southeast Asian country.
Many Korean groups and companies have also contributed to the pandemic fight in Vietnam. The LG Group presented 1.55 billion Won (1.37 million USD) to Hai Phong city, while CJ donated 320 million Won and Shinhan Bank contributed 290 million Won to the COVID-19 vaccine fund.
As of 5pm on June 28, the national COVID-19 vaccine fund received over 7.8 trillion VND (340 million USD) raised by 352,562 organisations and individuals, according to its management board./.
Vietnamese representative agencies abroad study Party Resolution
The Ministry of Foreign Affairs held an conference in Hanoi on June 28 to introduce the Resolution adopted at the 13th National Party Congress to Vietnamese representative agencies abroad.
The online conference, the first of its kind, was connected with 81 overseas locations.
Minister of Foreign Affairs Bui Thanh Son said studying and implementing the resolution will be a major task in 2021, urging officials and Party members in the diplomatic sector to grasp views, main contents and new guidelines in the document, especially those regarding external affairs.
On the basis of the conference's outcomes, the agencies will promptly build and roll out action programmes to soon put the resolution into reality, and organise communication activities to promote the Vietnamese Party's and State's guidelines and policies on national construction and development among international friends./.
382 new community cases confirmed on Monday
The Ministry of Health reported 391 new cases of COVID-19 on Monday, with 382 community cases and nine imported that were quarantined upon arrival.
Among the 382 local cases, 340 were detected in centralised quarantine zones or lockdown areas.
HCM City recorded the highest number of new cases with 218, followed by Bình Dương Province (40 cases), Bắc Giang Province (26 cases) and Quảng Ngãi Province (20).
Cases were also recorded in Bắc Ninh, Nghệ An, Đồng Nai, Phú Yên, Hà Tĩnh, Long An, Bình Thuận, Lạng Sơn, Quảng Ninh, Hưng Yên, Hòa Bình, Đồng Tháp and Đắk Lắk provinces, as well as Đà Nẵng and Hải Phòng cities.
Authorities in Hà Tĩnh Province are tracing the epidemiological history of seven new cases that were reported on Monday evening.
The cluster in the central province's Thạch Hà District was first traced from a couple, while the five other patients are their neighbours.
A total of 200 COVID-19 patients were given the all-clear on Monday.
Thirteen localities have gone 14 days without new community infections, namely Yên Bái, Quảng Trị, Thừa Thiên-Huế, Tuyên Quang, Sơn La, Ninh Bình, Thanh Hóa, Thái Nguyên, Bạc Liêu, Điện Biên, Vĩnh Phúc, Hải Dương and Phú Thọ.
The country's total caseload now stands at 16,041, with 6,519 recoveries and 76 deaths. 
Việt Nam reports two more COVID-related deaths
The Ministry of Health reported the 77th and 78th COVID-19 related deaths on Tuesday morning. Both were men from HCM City with severe underlying conditions.
The 77th patient, 77 years old, lived in Bình Tân District. He tested positive for the virus on June 26 and was transferred to Trưng Vương Hospital for treatment while he was in a coma and had difficulty breathing.
Prior to the virus, he was suffering from sequelae of cerebrovascular disease for four years, weakness in the right half of his body, unable to speak, and had high blood pressure.
He died on June 20. The cause of death was recorded as severe pneumonia caused by COVID-19, complications of multi-organ failure and septic shock.
The 78th patient, 54 years old, lived in District 1. He tested positive for the virus on June 19 and was transferred to Trưng Vương Hospital for treatment on June 24. He died on June 26.
Prior to the virus, he was suffering from hypertension, type 2 diabetes and chronic kidney disease.
The cause of death was recorded as severe pneumonia caused by COVID-19, respiratory failure, multi-organ failure and septic shock. 
190,000 COVID-19 quick test kits arrive in Vietnam from Germany
As many as 190,000 COVID-19 quick test kits presented by authorities and people of some German states arrived at Noi Bai International Airport in Hanoi on June 28 afternoon.
The test kits were transported free of charge by the national flag carrier Vietnam Airlines.
The gifts came from a campaign launched by the World University Service (WUS) on the basis of a proposal raised by Vietnam Airlines, aiming to call on German states to help Vietnam with test kits.
Dr. Kambiz Ghawami, WUS President, lauded the national flag carrier's role in the campaign, saying the test kits are significant as Vietnam are stepping up efforts in testing.
Currently, Vietnam Airlines is maintaining flights between Vietnam and Europe to ensure trade and connectivity between the two sides' organisations and communities./.
WB always contributes to Vietnam's socio-economic development: PM
The World Bank (WB) is a very important development partner, which always supports and actively contributes to Vietnam's socio-economic development, Prime Minister Pham Minh Chinh has said.
Welcoming visiting WB Regional Vice President for East Asia and the Pacific Victoria Kwakwa on June 28, PM Chinh appreciated the bank's effective macro policy consultancy that conforms with the country's development orientations and goals in different periods.
He thanked the WB for supporting Vietnam to delay quick repayment of IDA loans to have more resources for fighting COVID-19 and sustaining economic growth, and spoke highly of the bank's initiative to back countries, including Vietnam, in the fight against the pandemic.
Kwakwa agreed to help Vietnam have equal access and negotiate contracts with COVID-19 vaccine producers in the world quickly and economically; give priority to providing financial sources for vaccine purchase and domestic vaccine production technology transfer; and promote the implementation of contracts signed with partners such as Pfizer and AstraZeneca to deliver vaccines to Vietnam as soon as possible.
The two sides discussed and reached consensus on the implementation of cooperation programmes and projects in the coming time to handle challenges, promote green growth, innovation, digital transformation and inclusive growth.
They also discussed solutions to maintain innovations and overcome limitations and shortcomings in the construction on ODA programmes and projects and in ODA disbursement in Vietnam.
PM Chinh mentioned some development orientations and proposed the WB to support and provide consultancy to perfect and promote the green growth strategy. He affirmed that Vietnam definitely does not exchange social progress and equality for economic growth alone.
Kwakwa said she was impressed by the achievements gained by Vietnam in carrying out the dual targets of pandemic prevention and control, and economic development.
She thanked the Vietnamese Government for working closely with the WB in implementing cooperation programmes over the past years and emphasized that it will continue to accompany the government.
The official also expressed her trust in PM Chinh's views on the green growth strategy, pledging to give priority to supporting Vietnam in this field with specific cooperation projects and programmes, providing policy consultancy and helping the country develop the 2045 Report to achieve its set strategies and plans towards the goal of building Vietnam into a developed and high-income country by 2045./.
Ninety-five new COVID-19 cases raise national count to 16,136
An additional 95 domestically-infected COVID-19 cases were recorded in the last 12 hours to 6am on June 29, raising the national tally to 16,136, according to the Ministry of Health (MoH).
Among the new cases, 58 were found in Ho Chi Minh City, 18 in Phu Yen, eight in Long An, four in Bac Giang, three in Ha Tinh, two in Nghe An, and one each in Tra Vinh and Vinh Long. Of them, 89 were detected in quarantine sites and sealed off areas.
To date, Vietnam has logged 14,358 domestic infections and 1,778 imported cases, the MoH said.
Among the active patients undergoing treatment, 319 have tested negative for the coronavirus SARS-CoV-2 once, 143 twice and 158 thrice. The death toll related to the disease was 76.
Thirteen provinces and cities that were previously hit by the pandemic have gone through 14 consecutive days without new infections.
On June 28, an additional 112,344 people received COVID-19 vaccine shots nationwide. So far, nearly 3.5 million vaccine doses have been injected. The number of people fully getting two shots is 172,944./.
Ministry of Public Security fosters ties with relevant Indonesian agencies
Politburo member and Minister of Public Security General To Lam hosted a reception in Hanoi on June 28 for new Indonesian Ambassador to Vietnam Denny Abdi, during which he expressed his hope to boost cooperation with Indonesian agencies.
Lam stated that in 2020, Vietnam closely cooperated with and received active support from ASEAN member states, including Indonesia, to fulfill its roles as the ASEAN Chair and a non-permanent member of the United Nations Security Council to promote ASEAN's goals in a challenging context, especially amidst the COVID-19 pandemic.
He emphasized the cooperation between the Vietnamese Ministry of Public Security and Indonesia's relevant agencies has developed positively through the exchange of high-level delegations, the sharing of information on prevention and control of transnational crimes such as drug smuggling, human trafficking, and high-tech crimes, and coordinating in ensuring security and safety for the other country's citizens. The Vietnamese ministry and the Indonesian National Police established a security dialogue at the deputy ministerial level.
After the pandemic is completely put under control, the Ministry of Public Security wishes to cooperate more closely with relevant Indonesian agencies so as to further deepen the Vietnam-Indonesia Strategic Partnership, and contribute to ensuring national security in each country for peace, stability and prosperity in the region and in the world, he stressed.
The minister also affirmed that his ministry is willing to cooperate with and create all favourable conditions for the new mbassador to fulfill his assigned missions.
The Indonesian diplomat asserted to do his utmost to contribute to consolidating the traditional and comprehensive collaboration between the two countries.
He also showed his hope for further cooperation between the two nations' law enforcement agencies in the coming time./.
HCMC ramps up vaccination drive to administer 806,000 Covid-19 dozes on schedule
Professor Nguyen Tan Binh, Director of the Health Department of Ho Chi Minh City, yesterday afternoon revealed the southern city has ramped up its inoculation drive predicting that administration of 806,000 doses of Covid-19 vaccine will finish on schedule.
He said that out of 718,999 people in priority groups arriving at inoculation venues, 643,411 people have received Covid-19 jabs while 82,205 people with underlying diseases, high blood pressure, psychological disorder did not receive the vaccine temporarily but later in the next round.
The southern metropolis also recorded many people have suffered from side effects from the shots, a natural reaction to vaccination while others have had anaphylactic reactions. All were detected early and are in stable health now.
Immunization is available to anyone who meets current vaccine eligibility. In the fourth vaccination campaign, the Department of Health has added 8,000 students of medical schools; 5,000 young volunteers; 10,000 employees in ports; 3,500 staff members of Tan Son Nhat Airport, service suppliers for medical clinics, staff members of private medical facilities, and employees in centralized isolation camps and newly-established hotels used as quarantined venues.
The city Center for Disease Control (HCDC) said that the city recorded 200 cases of Covid-19 on the evening of June 27. Of 200 cases, 184 cases are contacts with previously announced patients who have been isolated or are in the blocked area; 12 newly discovered cases have been detected through epidemiological investigation and four people were exposed to infected patients while they were on duty. One hundred and eighty-four cases were detected to be contacts through contact tracing measures.
Viet Nam's multidimensional poverty rate dropping
The multidimensional poverty rate in Việt Nam was 4.5 per cent last year, down from 9.9 per cent in 2016, according to the General Statistics Office (GSO).  
The rate in rural areas is higher than in urban areas, but the gap is reducing gradually. 
Multidimensional poverty in 2016-20 in Việt Nam was calculated using data from the Việt Nam Household Living Standard Surveys in 2020 conducted by the GSO in co-operation with the United Nations Development Programme (UNDP).
During 2016-20, the proportion of households deprived of basic social services showed declines year after year in almost all indicators, reflecting Vietnamese households' better access to services.
In 2020, due to the impact of the COVID-19 pandemic, the downward trend was disrupted in some indicators.
Health insurance, which was the indicator with the highest deprivation, showed the fastest reduction, from 40.6 per cent in 2016 to 19 per cent last year.
Child healthcare and education indicators saw low deprivation levels and remained almost unchanged.
The outcomes also showed high income does not automatically mean good access to basic services, as seen in the Mekong Delta and the southeastern region. 
Nguyễn Văn Đoàn, head of the research group, said from 2020, the result of multidimensional poverty calculations in Việt Nam will be announced quarterly, instead of yearly as previously.
Prof. Dr  Jonathan Pincus, UNDP Senior Economist, lauded the GSO's timely release of the report, which, he said, is important to policymaking, especially in the context of COVID-19.
Such detailed and timely information would help to adjust policies, making them match changes from the socio-economic impact of the pandemic, he said.
Multidimensional poverty during 2016-2020 is calculated using the Alkire-Foster methodology, which includes five dimensions (education, health, housing, living condition and accessing ICT) and 10 indicators (adult education level, schooling, accessing health services, health insurance, quality of dwelling, space of dwelling, water source, improved sanitation, assets and ICT access).
Since September 2020, the UNDP has assisted the GSO in improving its capacity for designing and conducting surveys on Vietnamese households' living standards. 
President's message marks 20th Vietnam Family Day
State President Nguyen Xuan Phuc has delivered a message marking the 20th anniversary of Vietnam Family Day (June 28, 2001 – 2021).
In the message, he warmly greeted Vietnamese families in the country and abroad, affirming that Vietnam Family Day is to honour family values, and for Vietnamese expatriates to remember their home country and loved ones at home.
Families are a key part of society and a firm foundation of the nation's strength from the past to the present, he stated. The Party, State and people always respect and are grateful to those who have contributed to and sacrificed for the Fatherland, Phuc said.
He said amid the COVID-19 pandemic, families have been a source of encouragement for frontline military and medical personnel as well as the donors and contributors to the nation's related prevention and control work.
The President took the occasion to commend all sectors, localities, organisations and individuals across the country, and overseas Vietnamese communities for their contributions to building happy, progressive, and sustainable Vietnamese families.
He also requested Party committees and authorities at levels and localities effectively implement policies of the Party and State on family development, particularly in nurturing the younger generation, caring for the elderly and beneficiaries of social welfare, curbing domestic violence and inequality, and protecting vulnerable groups in society./.
ASEAN, Russia to hold security consultations online on June 28
Russian Security Council Secretary Nikolai Patrushev will attend a video consultation with his counterparts from ASEAN member states on June 28, said the Russian Security Council press service.
The event is part of activities marking the 30th anniversary of relations and 25th anniversary of dialogue partnership between Russia and the bloc this year.
The Association of Southeast Asian Nations (ASEAN) consists of 10 member states - Brunei, Cambodia, Indonesia, Laos, Malaysia, Myanmar, the Philippines, Singapore, Thailand and Vietnam.
Russia has prioritised developing bilateral security ties with ASEAN member nations. In March, Nikolai Patrushev paid a visit to Vietnam./.
Ben Tre seeking ways to cope with drought, salinity
To cope with drought and saltwater intrusion, the southern province of Ben Tre has come up with a range of different solutions. The province has also encouraged local people to store rain and tap water for production and daily needs.
During the severe drought over past years, Cho Lach district, known as the land of ornamental trees and fruits, was among the localities most affected by saline intrusion.
Local people have introduced many solutions to store fresh water, including storing it in ditches, gardens, bags, and ponds, among others.
Over recent years, many important works within the North and South Ben Tre irrigation network projects have received investment, including Ba Lai Dam, Kenh Lap Reservoir, and dykes, among others, to prevent saltwater intrusion and store fresh water.
In the time to come, Ben Tre will continue to implement projects to basically complete the North and South Ben Tre irrigation networks by 2025./.
Over 300,000 people escape illiteracy in eight years
Literacy classes have been organized for more than 300,000 people aged 15 – 60, over the last eight years, the Ministry of Education and Training has unveiled.
The ministry said thanks to the project on building a learning society from 2012 – 2020, the network of educational establishments was expanded nationwide.
There are also more than 10,000 community learning centres across the country.
In the next phase from 2021 – 2030, the project aims to help Vietnam develop an open, flexible and connected education system and make sure all people will have an equal opportunity to access high-quality life-long education.
Vietnam met the national standard for literacy in 2000, with 94 percent of the population aged between 15 and 35 literate, compared to more than 95 percent of the population being unable to read or write in 1945. The literacy rate in this age group increased to 98.1 percent in 2016, according to the Ministry of Education and Training./.
Vietnamese doctors help Laos fight COVID-19
In early May, 18 leading Vietnamese medical experts were sent to Laos' healthcare facilities to aid the neighbouring country in the fight against COVID-19.
The team has completed its mission and has returned to Việt Nam after treating many COVID-19 patients in Laos.
In April, Laos witnessed the resurgence of COVID-19 community cases after a year without reporting any new cases. The infections started from bars, karaoke venues, massage parlours and entertainment areas and spread to markets, offices and public areas.
It was 8.30pm on May 13. When Vietnamese medical experts working in Laos were having dinner, they received a call reporting an emergency case of a 21-weeks pregnant woman who had suffered severe respiratory failure and tested positive for the coronavirus.
Immediately a team of five Vietnamese doctors and experts headed to Pholthong Hospital in Champasak Province.
Dr Nguyễn Tú Anh from the Intensive Care Unit of Việt Nam's Bạch Mai Hospital said: "The young pregnant woman was gradually getting weak. Her eyes were full of fear and anxiety."
The 31-year-old woman was very weak as she was suffering from respiratory failure with shortness of breath and decreasing level of oxygen concentration in the blood. The level was acceptable for the mother, but was affecting the fetus, she said.
Upon arriving at the hospital, Vietnamese intensive care and emergency doctors consulted with Lao doctors to come up a plan to save the fetus.
Dr Anh said" "If the case had been in Việt Nam, everything would have been easier. But the patient was sent to a district-level hospital without a specialised intensive care and emergency department."
The Pholthong Hospital is in charge of receiving asymptomatic COVID-19 patients so it lacks medical equipment and human resources for emergency and intensive care. Techniques like dialysis and mechanical ventilation cannot be performed, she said.
Without assisting machines, the doctors had to use a non-invasive ventilator from a military hospital located 40km from Pholthong Hospital, she said.
Luckily, the pregnant woman responded well to the ventilator.
Also on May 13, the Pholthong Hospital received a male COVID-19 patient with lung damage. After an examination and an X-ray screening, the patient was given nasal oxygen.
Days after that, Lao and Vietnamese experts exchanged screenshots of parameters on oxygen ventilators and X-ray results with each other to consult on treatment for the patients.
Three to four days after the emergency, the pregnant woman did not need the ventilator.
Both patients recovered from critical condition thanks to the help of Vietnamese doctors.
"It was an indescribable feeling when we could save both mother and child. When the team finished our trip in Laos, during a 21-day quarantine period in Hà Tĩnh, we received news that the pregnant woman was in a good state of health and the male patient was discharged from the hospital," Dr Vũ Tưởng Lân from the Emergency Centre of Bạch Mai Hospital, a member of the working group to Laos, said.
But the Vietnamese doctors weren't able to save every patient.
Dr Lân said: "That were two severe cases we received when we were packing our luggage to leave Laos."
One patient showed signs of limb necrosis, a complication of COVID-19, so the doctors and nurses unloaded their luggage and put on protective suits to hold a medical consultation, he said.
"Unfortunately, this patient's case was difficult to intervene in because the hospital's equipment and human resources were limited. We couldn't deploy advanced techniques and we felt very sorry for that," he said.
Dr Vương Ánh Dương, deputy director of the Department of Medical Examination and Treatment under the Ministry of Health, led the delegation of Vietnamese medical experts in Laos. He said the team members were experienced doctors and nurses of leading hospitals who worked in Việt Nam's COVID hotspots.
"Our team of 18 people worked in different fields and different units and even didn't know each other before. We only got to know each other during a trip of hundreds of kilometres to Laos," he said.
The team visited and inspected COVID prevention and control at two central hospitals, two military hospitals, three provincial general and specialised hospitals, testing centres, quarantine sites, villages with high infection risks and other district-level and field hospitals in Laos.
Vietnamese experts joined consultations and treated some severe local cases. They also organised training seminars to share treatment and infection control experience.
"We tried to propose recommendations relevant to Laos' existing conditions. To deal with dangerous new variants such as those from the UK and India, the Vietnamese team proposed to their Lao colleagues the appropriate period between testing times to avoid a situation in which patients test positive after 14 days of quarantine," Dr Dương said.
They also proposed Laos prepare a scenario to respond to different levels of the pandemic in accordance with political, economic, social conditions and health response capacity in each region, and set up a team of experts to assist the National Steering Committee on COVID to collect accurate, complete and reliable multi-disciplinary information for decision-making purpose and community interventions. 
Female singers release albums on YouTube
Love, hope and belief are the themes of new albums by female artists Hoàng Thuỳ Linh and Suboi who have released their music on YouTube to encourage fans during the Covid-19 pandemic. 
Pop idol Linh's MV, Em Đây Chẳng Phải Thuý Kiều (I'm Not Yet a Woman), features melodies in folk music that shot her to fame last year. 
The single is a song from her latest album, Hoàng, released in 2019. The album includes eight songs, composed and mixed by young musicians such as Triple D and DYTAP. Two songs, Tứ Phủ (Four Palaces) and Để Mị Nói Cho Mà Nghe (Let Me Tell You), from the album were released as single MVs and became big hits. 
Tứ Phủ (Four Palaces), released in August 2020, features electronic and folk music with old words used in Đạo Mẫu, a form of worship of Mother Goddesses in Việt Nam. It attracted more than three million views in three days after its release on YouTube.  
Để Mị Nói Cho Mà Nghe (Let Me Tell You), released in June 2019, has attracted over 147 million views on YouTube.
The two works use elements from folk music.
Em Đây Chẳng Phải Thuý Kiều released earlier this week and has attracted nearly 600,000 views. The lyrics of the song are vivid and funny, celebrating love and women.
Linh hopes her music will continue to "infuse a passion in my fans", said the pop idol.  
"Women are my endless source of passion in music." 
 Linh earned four top prizes, including the year's Best Album for Hoàng, at the 15th Cống Hiến (Devotion) Music Awards last year. The award is held annually by the Vietnam News Agency's Thể Thao & Văn Hóa (Culture & Sports) newspaper to honour music producers and artists who have made significant contributions to the industry.
Rapper Suboi has announced on her Facebook page that her new album, called No Nê (None), is scheduled to be released on YouTube on July 15. 
No Nê features 10 songs, including the rapper's hits Cho Không (To Give), N-Sao? (N-Why?) and Bet on Me. 
The record No Nê was her first after seven years since her previous album RUN, which was released in 2014. 
Suboi wrote on Facebook: "No Nê will feature my soul and mind that I never show to fans."
"I love music by Suboi, a woman of fire. Hearing her voice, I was moved," said a fan of HCM City.
Suboi, whose real name is Hàng Lâm Trang Anh, has been singing hip hop for more than 15 years.
She released her debut album, WALK, in 2010, featuring a rap style that blended English and Vietnamese lyrics. She has four albums and several single MVs. 
She was the only Vietnamese artist to compete for the Best Southeast Asia Act category at the MTV EMA (European Music Awards) in 2019. 
Hà Nội promotes agricultural cooperative development
Hà Nội's agricultural cooperatives have developed well in recent years, gradually increasing incomes for members and contributing to the overall socio-economic development of the capital.
Statistics from the Hà Nội Department of Agriculture and Rural Development show that the city currently has 1,284 agricultural cooperatives.
These cooperatives have created jobs and significantly contributed to the poverty reduction programme and construction of new rural areas in the localities.
As an example, the 100-member Đức Phát Hi-tech Cooperative in Thanh Trì District produces and sells hydroponic vegetables. The members farm on an area of ​​about 120ha, with a contracted output of 450 tonnes per month. Thanks to farming together and their contracts, life for the members of the cooperative has improved.
In addition, the Quảng Phú Cầu Agricultural Service Cooperative in Ứng Hòa District works with the Đoàn Kết Agricultural Production and Business Cooperative to organise rice production in a chain from production to consumption, bringing higher economic efficiency.
Director of the Hà Nội Rural Development Sub-department Nguyễn Văn Chí said: "In recent years, agricultural cooperatives have played an important role in organising production in the capital. Hà Nội currently has 70 cooperatives participating in chains with production associated with consumption. As many as 50 cooperatives apply high technology."
Agricultural cooperatives have always been an important component in the socio-economic development of Hà Nội, he said.
Hà Nội regularly issues cooperative economic development plans and promotes education to raise awareness about cooperatives, in addition to spreading advanced agricultural cooperative models, especially in new business fields.
It also creates good conditions for cooperatives to expand their operations and prioritises the development of agricultural cooperatives associated with the value chain, cooperatives for seeds and agricultural products preservation and processing of agricultural products, said Chí.
Thanh Hà Agricultural Cooperative is one of the units supported by the Hà Nội Rural Development Sub-department. Its members have participated in many training classes to improve management and operations. Since then, the co-operative's sprouts products have been trusted by more and more domestic and foreign consumers.
Deputy director of the Hà Nội Rural Development Sub-department Hoàng Thị Huyền said: "In 2020, Hà Nội has supported five agricultural cooperative models with production linkages and chain linkages, and at the same time organised 25 training courses for agricultural cooperative managers."
In 2021, along with strengthening training and support for good examples, Hà Nội aims to perfect mechanisms and policies to promote agricultural cooperatives to develop with a combination of high technology and rural tourism.
Tạ Văn Tường, deputy director of Hà Nội Department of Agriculture and Rural Development, said: "Hà Nội will promote the development of agricultural cooperatives associated with new rural construction."
It also aims to build through consulting and guiding activities to establish new cooperative groups and cooperative unions.
In addition, the capital city will develop processing, perfect products, develop consumption channels for consumers and attract businesses to work with cooperatives to develop value chains.
Minister of Agriculture and Rural Development Lê Minh Hoan said Hà Nội needed to improve the quality of cooperatives so they not only produce but also create links in the processing and consumption of products to increase efficiency.
At present, there are many brands of rice, he said, but good rice with beautiful designs would be more welcomed by the market. Therefore, cooperatives need to renew their thinking about farming and marketing to improve production and business efficiency. 
Local fruit and vegetable sector sets export target of US$3.6 billion
Vietnam's fruit and vegetable exports are anticipated to prosper ahead in the fourth quarter of the year and are likely to achieve the export target of between US$3.5 billion and US$3.6 billion, according to forecasts made by the Agro Processing and Market Development Authority.
The country raked in a total of US$1.77 billion from exporting fruit and vegetables during the opening five months of the year, representing an annual increase of 18%.
In terms of the Asian market, China continues to be the largest consumer of Vietnamese fruit and vegetables, accounting for over 60% of the market share, followed by the Republic of Korea (RoK), Japan, and ASEAN member countries.
Local fruit and vegetable exports to these markets therefore enjoy numerous advantages, including a large market size, huge consumption power, similar consumption habits, and a convenient geographical location for transportation.
Furthermore, the import tax rate placed on Vietnamese fruit and vegetable products has also been slashed to 0% due to the enforcement of various Free Trade Agreements (FTAs).
With regard to the European and American market, tariff commitments set out in new-generation FTAs ​​such as the Comprehensive and Progressive Agreement for Trans-Pacific Partnership (CPTPP) and the EU-Vietnam FTA (EVFTA) state that import tariffs placed on fruit and vegetables will be completely abolished.
This move is expected to create greater opportunities for Vietnamese fruit and vegetable exports moving forward due to the country's fruit and vegetable products in these markets still only accounting for a small proportion.
Nguyen Quoc Toan, director of Agrotrade, said that the export of fruit products such as durians, lychees, mangoes, and dragon fruit will prosper in the near future thanks to the recovery of the consumption demand in the post-pandemic period, coupled with the impact of the implementation of FTAs and trade promotion schemes.
According to expectations set out by the Ministry of Industry and Trade, Vietnamese fruit and vegetable exports are expected to face plenty of hurdles ahead in the third quarter due to the fourth outbreak of the COVID-19 pandemic in the country.
Furthermore, China has just entered their seasonal fruit harvest season, thereby causing a decrease in import demand which may hinder the growth momentum of Vietnamese vegetables and fruits being exported to this market.
Especially, the sector will face numerous challenges due to limited processing capacity, high transportation costs and stringent requirements in terms of Good Agricultural Practices (GAP) certification and planting area codes set by demanding markets such as the EU, the US, Japan, the RoK, Australia, and New Zealand. 
1,000-bed field Covid-19 hospital put into operation in HCM City
Another makeshift Covid-19 hospital with 1,000 beds has been put into operation in Ho Chi Minh City, the municipal Department of Health announced on June 28.
The hospital which was set up inside the dormitory of the Vietnam National University - Ho Chi Minh City started receiving patients last weekend and would focus on treating those who show no or mild symptoms, the department said.
The establishment of the hospital came after the number of cases in the city exceeded 3,000 and is forecasted to continue rising in the coming time.
According to the department's director, Nguyen Tan Binh, this hospital will receive all Covid-19 patients who have shown no or just mild symptoms and so will help ease the burden on other existing Covid-19 treatment hospitals.
"We are going to set up more such hospitals to serve the rising number of infections," the doctor said. "Those who develop more serious symptoms will be transferred to the existing Covid-19 treatment facilities in the city."
Vietnam has confirmed a total of 15,740 Covid-19 patients as of Monday morning with Ho Chi Minh City becoming a new hotspot with 3,280 patients recorded since late April.
Authorities in Ho Chi Minh City admitted that the virus fight in the city is facing great challenges as more chains of transmission of unknown origin have been uncovered, and many cases are asymptomatic. The city is carrying out the biggest vaccination campaign with about 800,000 people getting Covid-19 vaccine last week.
Quang Nam Island faces serious pollution
Tam Hai Island Commune in Quang Nam Province's Nui Thanh District has been flooded with rubbish coming from upstream of Truong Giang River. 
Ban Than tourist spot is also one of the polluted locations. The 1km beach was full of rubbish and there is no suitable solution yet. Most of the rubbish is plastic bags and household waste discharged upstream of the Truong Giang River and washed ashore in Tam Hai Commune.
Pham Minh Dan from Thuan An Village said the local authorities and volunteers had cleaned up the beach many times but it only lasted for a few days before the rubbish was washed ashore again.
"Everyone wants a clean beach for tourism development. I hope the authorities will have more effective solutions," he said.
In addition, many households in Dong Tuan Village, Tam Hai Commune, also throw the rubbish into the sea. Nguyen Cong Luong from Dong Tuan Village said they had no dumping site.
"I and other people even put up a ban sign but it's no use. People don't know where to dump their rubbish. The authorities should set up a dumping site with rubbish trucks and have strict punishments for the litterers," Luong said.
Nguyen Tan Hung, vice chairman of the Tam Hai Commune People's Committee, admitted that this is a tough problem for them. Besides the rubbish coming from upstream, the local people in Tam Hai Commune discharge eight tonnes of rubbish a day.
They will clean up the beach more frequently and asked Nui Thanh District People's Committee to allocate fund to buy rubbish bins for small alleyways.
Over 1,000 hotels, tourist sites in Dalat close despite no Covid-19 cases

The lack of tourists has forced some 1,000 hotels and seven tourist destinations in Dalat City in Lam Dong Province to shut down, although no Covid-19 cases have been detected in the city in the current fourth wave of the coronavirus, which began on April 27.
While these hotels, including large ones, are suspending their operations, only some in the Tuyen Lam tourist area remain operational to mainly serve families for 7-10 days, according to the Lam Dong Department of Culture, Sports and Tourism.
The city has seen room occupancy rates reach 6%-7%, while almost all hotels in Dalat City are expected to close by next week.
Nguyen Duc Thuan, director of the provincial department, said that as several neighboring provinces had reported Covid-19 cases, the risk of Covid-19 infection, mainly from tourists arriving from these provinces, was high.
As the disease is raging in other parts of the country, Dang Tri Dung, vice chairman of the Lam Dong government, on June 26 issued an urgent dispatch to the districts, cities, the departments and agencies asking them to strengthen anti-Covid-19 measures.
Following the dispatch, Dalat City suspended many non-essential services and activities such as bars, karaoke and massage parlors, night clubs, game shops, cinemas, night markets, sporting and cultural events and weddings and birthday parties from June 27.
The city also banned mass gatherings at public places, including squares, parks and lakes, until further notice, the local media reported.
Lam Dong Province also suspended some services such as beauty salons, spas and sporting clubs, while asking restaurants and eateries not to serve more than 20 guests at a time to prevent the risk of Covid-19 community transmission.
3,000 residents in Ha Tinh put under lockdown
The competent forces of Ha Tinh Province have locked down two hamlets in Thach Ha District, with 3,000 residents, after one was found infected with Covid-19.
The provincial Center for Disease Control this morning, June 28, said that the new Covid-19 case is a 71-year-old woman who lives in Dong Ha 2 Hamlet in Thach Long Commune.
The woman on June 25 developed some symptoms of fever and tiredness. On June 27, she was taken to the Thach Ha District Healthcare Center for Covid-19 testing.
Her samples were sent to the Ha Tinh Center for Disease Control for PCR testing and the result came back positive for Covid-19.
As such, the Dong Ha 1 and Dong Ha 2 hamlets, with 628 households, were put under lockdown to prevent the spread of Covid-19.
Besides, the competent forces found over 20 people had come into close contact with the woman, the local media reported.
Since June 16, this is the first locally-infected Covid-19 case to be detected in Ha Tinh Province, while since June 4, the province has reported 92 domestic cases.
Tenth grade entrance exam to take place in July only when Covid-19 under control
According to a new document from the office of the People's Committee of Ho Chi Minh City, tenth grade entrance exam will possibly take place at the end of July 2021 only if the epidemic is under control.
Accordingly, Ho Chi Minh City will keep the plan for the tenth grade entrance exam and the survey for the sixth grade examination at Tran Dai Nghia High School for the Gifted in District 1 but the exam date will be adjusted.
Specifically, these two exams are expected to take place after the high school graduation exam in 2021 according to the Ministry of Education and Training's regulations.
The People's Committee of Ho Chi Minh City assigned the city Department of Education and Training to organize the high school graduation exam in 2021 base on the Ministry's direction and the actual situation in the locality.
Above all, the Department must take heed of the implementation of the Covid-19 epidemic prevention and protective measures.
Simultaneously, the Department of Education and Training continues developing measures in response to suddenly emerging situations ensuring officials, teachers, and candidates' safety in the examination.
Thus, according to the document of the municipal People's Committee, if the high school graduation exam in 2021 takes place on July 7 and 8, 2021, the tenth grade entrance exam will take place at the end of July.
On the contrary, if the city can't control the epidemic in the coming days, the city authorities will delay all examinations.
The Department of Education and Training continued developing plans in preparation for unexpected emerging situations to protect officials, teachers, and candidates. 
 Lotus flowers blooming in Hanoi amid sweltering summer
Thousands of lotus flowers have come into full bloom. The pristine beauty, simplicity, gentleness of lotus flower always charm people amid sweltering summer. 
Ending wars and bringing peace to all regions in the world is a prerequisite to protect children, Vietnamese Deputy Minister of Foreign Affairs Dang Hoang Giang said at the United Nations Security Council (UNSC)'s online open debate on June 28.
Winners of contest on stopping violence against women announced
Ten outstanding works were honoured at the awards ceremony of the contest "Men take action – Stop Violence against Women" held at the Green One United Nations House in Hanoi on June 28.
The contest was organised from May 24 to June 24 by the Centre for Studies and Applied Sciences in Gender, Family, Women, and Adolescents (CSAGA) with the technical and financial support from the UN Population Fund (UNFPA) and the Bread for the World.
It attracted the participation of 139 entries. The organising board then chose one first prize, one second prize, two third prizes, five consolation ones, and one for the entry with the highest interaction rate.
Speaking at the ceremony, Naomi Kitahara, UNFPA Chief Representative in Vietnam, emphasised that UNFPA expressed her wish that women and girls will not be left behind during Vietnam's development process due to gender violence.
On this occasion, UNFPA and CSAGA called for action by the community in general and men in particular in ending violence against women and girls to create an equal and safe society for them./.
National COVID-19 vaccine fund receives 338 million USD
As of 5pm on June 28, the national COVID-19 vaccine fund received over 7.8 trillion VND (338 million USD), its management board said.
The sum was raised by 352,562 organisations and individuals, according to the board.
The board has opened 21 bank accounts for donations in Vietnam dong, US dollar and euro at the State Treasury of Vietnam, and the six commercial banks of BIDV, Vietcombank, VietinBank, HDBank, Agribank and TPBank.
The use and management of the fund and the opening of accounts at the State Treasury is publicised on the mass media daily.
Vietnam will need 22.5 trillion VND to buy 150 million doses of COVID-19 vaccine to inoculate 75 million people in order to achieve herd immunity./
Millennial author compiles historical chronicle
An illustrative chronicle entitled "Dong A Journey" from a young author born in 1996 has been published just recently and attracted public attention for its lively illustrations and clear explanations.

Tran Tuyet Han graduated from the Ho Chi Minh City University of Fine Arts. She was so inspired by Vietnamese history that she decided to create an illustrative chronical as her graduation project in 2018. Her journey, however, was anything but straightforward, as it took her more than three years to finish the book. Her meticulous efforts then attracted the attention of the Kim Dong Publishing House, and they decided to help her sell it under the name "Dong A Journey". The book covers the Vietnamese people's three victories over Mongol invaders as well as historical figures and artistic and cultural traits under the Tran Dynasty.
"Dong A Journey" is different from other chronicles as it is told from a millennial's perspective. It may therefore touch youngsters more deeply.
The 25-year-old author is now working on another chronicle. Both books are expected to inspire local millennials and Generation Z to study Vietnamese history./.
AstraZeneca vows to provide COVID-19 vaccine for SEA nations on schedule
Vaccine producer AstraZeneca affirmed on June 28 that it is on schedule to meet its commitments to supplying COVID-19 vaccine for Southeast Asia, after some initial delays in regional production and delivery.
The British/Swedish company said Thailand, which is manufacturing its vaccine locally, will receive its agreed quota of 6 million doses within this month, while export to other Southeast Asian countries will start in early July.
In a statement, AstraZeneca Thailand said that its partner Siam Bioscience, owned by King Maha Vajiralongkorn, will produce 180 million doses this year, just over a third for Thailand and two thirds for others in Southeast Asia.
Thailand's mass vaccination drive relies heavily on the AstraZeneca vaccine. The country has also used Sinovac Biotech's vaccine, with 10.5 million doses received so far and 37 million on order.
Its health ministry on the same day said two doses of the Sinovac vaccine was shown to be 95 percent effective in reducing instances of mortality and severe symptoms, based on its real-world data study.
The same day, Indonesia's COVID-19 task force also recommended the vaccine made by China's Sinovac Biotech for children above 12, as the country seeks to extend inoculation amid a surge in infections.
Indonesia has reported a record daily rise of more than 20,000 cases recently after the emergence of virus variants and travel after the Muslim fasting month has helped drive a new wave of infections.
The country has been using Sinovac as the main plank for its vaccination programme after receiving about 94 million doses, while it has received about 10 million made by AstraZeneca and Sinopharm.
Task force data shows children aged 0-18 account for 12.6 percent of Indonesia's total COVID-19 infections./.
Ben Tre province works hard on fight against IUU fishing
The number of fishing vessels of the Mekong Delta province of Ben Tre committing illegal fishing in foreign waters in the first six months of 2021 fell 52.4 percent year-on-year, according to the provincial steering committee for illegal, unreported and unregulated (IUU) fishing prevention (Steering Committee 689).
The local authorities have punished eight out of 12 owners of fishing vessels violating foreign waters in accordance with Decree 42/2019/ND-CP on stipulating penalties for administrative violations in the fisheries sector with a total fine of 6.6 billion VND (over 286,000 USD).
In the coming time, the province will continue to drastically implement solutions to combat IUU fishing, in order to remove the European Commission (EC)'s yellow card warning.
Vice Chairman of the provincial People's Committee Nguyen Minh Canh, who is also head of Steering Committee 689, said special attention will be paid to strengthening supervision over fishing vessels operating offshore through monitoring systems, and resolutely sanctioning fishing boats which violate regulations on fishing boundaries and those with no cruise monitoring devices.
The local authorities will also focus on promoting patrolling activities and closely inspecting ships entering and leaving ports.
Communication campaigns have been promoted in coastal localities to raise public awareness of IUU fishing prevention, he said.
According to Doan Van Danh, Director of the provincial Department of Agriculture and Rural Development, the observance of legal regulations by offshore fishing vessel owners has witnessed positive changes.
The dissemination of laws, especially the Law on Fisheries 2017 and related documents, have been implemented regularly, contributing to raising the awareness of fishing ships' owners, he said./.
Road given facelift with people's support in Son La
Since joining the national new rural development programme, people living in upland villages in the northern mountainous province of Son La have taken joint action to build and upgrade transport infrastructure, contributing to giving the area a facelift. 
The road connecting Chieng Hoa and Chieng Cong communes in Muong La district in Son La province stretches more than 5 kilometres. Of particular note, recent upgrades were completed in just a short period of time and site clearance costs were zero.
Before the upgrade, the road was often in poor condition, especially during the wet season, making transport difficult and hindering socio-economic development.
The upgraded road opens up many opportunities for socio-economic development in the locality, allowing farm produce to be transported and sold more easily and improving farmers' earnings.
With joint efforts from the Party and the people, more roads in mountainous Son La province are to be upgraded, contributing to giving the locality a facelift and improving living conditions while boosting socio-economic development./.
Workers in COVID-19-hit provinces receive New Zealand's financial support
The New Zealand Embassy is working with the Việt Nam General Confederation of Labour (VGCL) to provide immediate financial support for 420 female workers from factories in Bắc Giang and Bắc Ninh which have been economically affected by the recent COVID-19 outbreak.
On Monday, New Zealand Ambassador to Việt Nam Tredene Dobson joined a virtual ceremony to officially hand over the financial package to the workers.
Since April 27, 2021, a fourth wave of COVID-19 has affected many provinces and cities across Việt Nam. Bắc Giang, Bắc Ninh and HCM City are among the most impacted locations. As a result, more than nine million workers in Việt Nam have lost their income and many families have fallen into economic hardship.
Each worker will be provided with VNĐ1,000,000 in cash to help cover some of their immediate needs. This initiative aims to mitigate the impacts of COVID-19 among 420 workers in Bắc Giang and Bắc Ninh provinces, whose jobs and incomes have been affected by the recent COVID-19 outbreak. 
 "This project demonstrates the strong partnership between New Zealand and Việt Nam," said Ambassador Tredene Dobson.
"This project is a practical initiative to help ease the economic impacts of COVID-19 on the workers and their families. I am proud to say that through the Head of Embassy's Fund, we have been able to support around 3,000 women throughout Việt Nam impacted by COVID-19 in the last 12 months," she said.
New Zealand and Việt Nam celebrate 46 years of diplomatic relations this year. Over that time New Zealand has worked closely with Việt Nam to develop shared prosperity and stability, drawing on the best of New Zealand's knowledge and skills.
Tây Ninh's infrastructure plan includes highway to HCM City
Tây Ninh Province's 2021-25 infrastructure plan includes the construction of the HCM - Mộc Bài (Tây Ninh) highway and N8-787B-789 road, and expansion of the ĐT 795 road.   
The 53-kilometre highway will include 23.7 kilometres through HCM City and 26.3 kilometres through Tây Ninh Province. It is expected to be completed in 2025.
The highway will extend from Beltway No 3 (Củ Chi) and connect to National Highway No 22. The highway is expected to ease traffic congestion on National Highway No 22.
Tây Ninh Province agreed that the HCM People's Committee would monitor the investment process of the project. The plan will be executed under the PPP (public-private partnership) model. 
The highway construction will have two phases. The first phase will be completed in 2025 with four lanes and cost VNĐ15.9 trillion (US$686 million). State budget funds from provinces will be used for site clearance costs, about VNĐ 7.4 billion (US$302,000).
In the second phase, it will be widened from Củ Chi (HCM City) to ĐT 787B (Trảng Bàng Town) and from ĐT 787B to Mộc Bài Border Gate. 
Nguyễn Thanh Ngọc, chairman of the Tây Ninh Province People's Committee, said that the highway would improve socio-economic development in the region and create favourable conditions for cross-border trade with other ASEAN countries.
The N8 - 787B - 789 road will go through the province's Trảng Bàng Town, Dương Minh Châu District, and Bình Dương and Bình Phước provinces. It will be 48 kilometres long and cost more than VNĐ3.4 trillion (nearly US$148 million). 
The new roads will provide better access for everyone in the southern region.
A highway connecting Gò Dầu - Xa Mát- Tây Ninh is also under consideration.
Traffic infrastructure development has been one of four key projects of Tây Ninh since 2015.
Kindergarten teachers cooking meals for those in quarantine in Bắc Giang
As Cao Thượng Town's kindergarten in Tân Yên District, Bắc Giang Province has been a COVID-19 quarantine area over the last month, many teachers there have become voluntary cooks.
Đào Thị Hằng, principal of the school, said teachers worked meticulously, providing nutritious and delicious meals for those who were undergoing quarantine at the school.
They were silently working in the kitchen, pouring their love into the meals, contributing to the country's goal of beating the COVID-19 pandemic.
At around 5.30am, while everyone was still asleep, teachers were in the school kitchen preparing breakfast. The day's work was divided among 20 teachers. They worked together like a production line.
They had to count the number of meals, calculate the cost of ingredients, prepare ingredients, cook and divide the food into boxes.
After breakfast, they continued preparing lunch and then dinner. The end of a working day was usually at 7 or 8pm.
All housework, like taking care of the children, was taken on by husbands and grandparents, even neighbours. They wanted to spend their efforts for the community's pandemic battle.
To ensure safe and hygienic food, since the school became an isolation area, the management board signed a contract with local clean food suppliers.
In addition to 20 teachers in the cooking team, some others who were not on the list still occasionally joined in enthusiastically.
"We change the menu every day, including dessert. All foods are sampled daily to check safety," Hằng said.
"We are also open to receiving comments from everyone in the quarantine area to adjust the meals to be more suitable and delicious."
"There are elderly people who have toothaches and can't eat rice, so we also provide porridge. In case someone has a special diet, we also give them separate meals."
Meals at the isolation area of Cao Thượng Town's kindergarten always receive positive feedback and praise from everyone. Most of those in quarantine area were in stable health.
In addition to funds contributed by quarantined citizens, the quarantine area also received support from local social groups and organisations, as well as individuals who supply free vegetables and rice.
One person in quarantine said: "Since entering the isolation area, I see that the meals cooked by the teachers are always full of nutrients, the dishes are changed daily, so they are very tasty.
"Thanks to good meals and regular rest, I feel that I am stronger than before, even gaining weight.
"On behalf of those who are quarantined at Cao Thượng Town's kindergarten, I would like to thank the teachers who gave us meals full of love."
Source: VNA/VNS/VOV/VIR/SGT/Nhan Dan/Hanoitimes

Additional 139 domestic COVID-19 cases reported