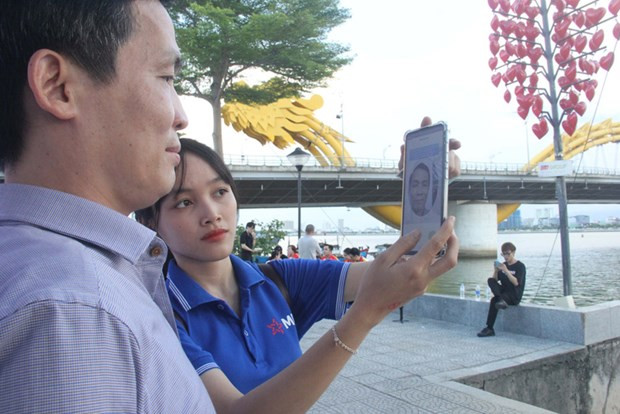 Da Nang locals benefit from digital transformation (Photo: tuoitre.vn)
All public services of Da Nang have been provided online at level 4 - the highest level of online public services, which allows users to fill and submit forms, and pay fees online - since the beginning of this year, enabling all residents in the central city to access the services easily.

Le Kim Dung, a resident of Hai Chau district, submitted his application to get a business licence for his company with an Internet-connected computer even he was away from the district. Having his application accepted, Dung is following the process online.

"It is an easy process without having to queue at the administrative office. I can do it anywhere any time," said Dung.

Like Dung, Le Thanh Tai, the owner of a company in Cam Le district, has his application for business licence approved and delivered to his place only three days after submission. After this successful experience, Tai has guided many of his friends in how to register their business activities and tax code online.

Regularly traveling to Laos for work, K.D. often submits applications for licences for his vehicles to travel between Vietnam and Laos. Taking advantage of the convenience of the online service provided online at Da Nang Department of Transport with simple procedures, in 2022, K.D. decided to move two cars with plates registered outside the city to Da Nang for more convenient process to renew the licence.

According to the Da Nang Department of Planning and Investment, currently, the number of requests for business licenses summited online accounts for 75% of the total.

Business registration is one of 1,476 public services that Da Nang has provided. To date, all the services have been available online.

The department said that one of the breakthrough improvement that the city has made is putting a digital citizen platform into use at https://congdanso.danang.gov.vn or https://myportal.danang.gov.vn, and via mobile app DaNang Smart City. Each citizen is provided with a QR code for making transactions.

Tran Ngoc Thach, Vice Director of the municipal Department of Information and Communications said that so far, the platform has more than 260,000 users, accounting for 46% of local adults.

The DaNang Smart City app also provides smart services enabling locals to search for information such as administrative services, bus routes, traffic law violations, land prices, water and electricity bills and car parks.

Apart from public services, digital transformation has changed locals' habits in many fields such as tourism, retail, and payment.

Ngo Thi Yen, a trader at Han market said that most of her foreign customers use cashless payment, which is accepted widely in local markets and entertainment destinations.

Da Nang has been a leading locality in the country in digital transformation. The ratio of public service requests in the city has reached 55.5%, 1.3 times higher than the country's average.

Da Nang's information-communications sector grew 10.47% in 2021 and contributed 12.57% to the local GRDP. Da Nang has launched an e-commerce platform with the involvement of 1,000 businesses and 2,500 products.

The 4.0 market model with cashless payment has been applied in three major makets in the city. So far, Da Nang has 83.14% of companies using e-contracts, 100% of businesses using e-invoices, and 69% paying tax online.

However, Tran Ngoc Thach, Vice Director of the city Department of Information and Communications said that despite the positive results, digital transformation in Da Nang is now just at the starting point of a decade of action.

The locality is working to create advanced platforms for the development of electronic government and a smart city, Thanh stated.
Children's winning artworks displayed in Hanoi
More than 400 children's paintings that won the National Children's Painting Contest 2023 are on display at the Vietnam Exhibition Center for Culture and Arts, Hanoi, from June 1 to 10.
The paintings are selected from 38,125 entries from 515 schools and art centers in 44 provinces and cities nationwide.
The event aims to provide artistic activities in and out of school, creating a helpful playground for students to develop their painting skills.
The contest's award ceremony and the National Children's Painting Exhibition 2023 opening were held on May 31 at the Vietnam Exhibition Center for Culture and Arts in Hanoi.
Speaking at the event, Ta Quang Dong, Deputy Minister of Culture, Sports and Tourism, emphasized that the contest and exhibition enabled children to express their emotions, views, and life experiences through innocent expressions by conveying meaningful messages.
He added each painting is a story written by their true emotions, helping evoke warmth, humanity, and children's love for their families, teachers, friends, school, homeland, and the universe.
The National Children's Painting Contest and Exhibition is an annual event that attracts the participation of many young artists. Children can unleash their creativity, imagination, and artistic skills through the contest and exhibitions while experiencing new things.
HCMC effectively detects, handles multiple cyber security vulnerabilities
The HCMC Department of Information & Communications and the Information Security Authority yesterday held a summary meeting for cyber security drills in 2023.
This year's drills took place from May 15-19 in HCMC. Participants were able to discover 194 vulnerabilities in information security, 53 of which are serious.
The HCMC Department of Information & Communications highly appreciated the professionalism of both the drill organizer and participating teams. The drills brought about much valuable experience and pinpointed critical aspects in the security maintenance of the city's information systems for administration procedures and other similar systems in general.
All detected security vulnerabilities were successfully eliminated by service and software providers and the HCMC Department of Information & Communications.
Over 50,000 cases of drink driving detected in HCMC in Jan-May
The HCMC Traffic Police have detected more than 50,000 cases of drink driving in the first five months of the year, accounting for 19.12% of total traffic safety violations.
Lieutenant Colonel Le Manh Ha, Deputy Chief of the Advisory Division of HCMC Police, presented the report on traffic safety violations during a press conference on June 1.
During this period, the city recorded over 263,000 cases of traffic violations, resulting in fines exceeding VND291 billion. Among these, 50,439 cases were related to drink driving, accounting for 19.12% of the total.
Lieutenant Colonel Ha highlighted that drink driving remained one of the main causes of traffic accidents in the city between January and May this year.
Fortunately, there has been improved compliance with traffic regulations among citizens, leading to a reduction in alcohol-related violations among road users.
To ensure traffic safety, the traffic police have conducted multiple patrols throughout the city.
English Access Summit to promote leadership and cultural exchange
More than 100 Access students, teachers, English language fellows, and US Mission staff from Vietnam, Laos, and Cambodia will convene in Lao Cai for a five-day Summit aimed at supporting learning and promoting cultural exchange.
The event, organized by Lao Cai College under the auspices of the US Embassy Hanoi's Regional English Language Office (RELO), will take place from June 5th to June 9th, 2023, focusing on the theme of leadership.
The English Access Microscholarship Program, sponsored by the U.S. Department of State, provides 360 hours of free English language instruction to disadvantaged youth aged 13-21 in more than 90 countries.
The program aims to equip these students with essential English language proficiency, IT skills, and soft skills, thereby enhancing their access to educational and employment opportunities upon graduation.
The Access program, along with the US Mission's other English language initiatives, aligns directly with the Mission's goal of expanding English language instruction to promote international integration and economic development. By empowering young individuals with the necessary linguistic and professional abilities, the program actively contributes to their future success and the growth of their respective communities.
The English Access Summit in Lao Cai will serve as a platform for Access students to come together, exchange ideas, and build cross-cultural connections. Throughout the five-day event, participants will engage in a series of interactive workshops, field trips, and cultural activities centered around leadership.
This comprehensive program will enable students to develop their leadership skills, enhance their English language proficiency, and cultivate a deeper appreciation for the diverse cultures represented.
The Access Summit is a testament to the commitment of the US Embassy Hanoi's Regional English Language Office and its partners to empower young individuals through education and foster global citizenship. By bringing together students and teachers from different countries, the event creates a vibrant space for collaboration and cultural exchange.
Children's artwork displayed at HCM City exhibition
Nearly 40 artworks created by children are on display at an exhibition in HCM City.
The exhibition is the result of the art contest We In Me 2023 launched by the Vietnam Contemporary Visual Arts Academy (VCVAA) – an institution founded by international artist and educator Thanh Bùi to nurture young Vietnamese artistic talents.
The contest, which was for children aged five to 18, attracted more than 200 entries.
Thanh Bùi said: "From the ancient times, through primitive drawings in caves, ancient people presented their desire to express their thoughts, observation, and feelings in the connection with the world.
A total of 38 works of various forms including paintings, photo, ceramic and torn paper, have been selected to present to public until June 27.
Using different mediums such as watercolour, newspaper, synthetic, oil and acrylic, they all show vividly the creativeness and perspective of junior contestants about the multifaceted world.
He said that 38 pieces featured in the exhibition are 38 different perspectives and stories by the children, who are representative of the young generation.
All the art at the exhibition will be put up for auction to raise funds for the We In Me Foundation, which supports community art projects, promoting creativity and social responsibility among the young generation.
We In Me is expected to be an annual art contest for children.
The artworks will be presented to public until June 27 at the VCVAA, located within the HCM City's Youth Cultural House, 4 Phạm Ngọc Thạch Street, District 1.
Gymnasts take part in Asian championship, eye world and Olympic slots
Việt Nam will send potential competitors to join a star-studded field at the Asian Artistic Gymnastics Championships at the Singapore Sports Hub later this month.
The Vietnamese squad includes three SEA Games champions Lê Thanh Tùng, Văn Vĩ Lương and Nguyễn Văn Khánh Phong along with young talent Trần Đình Vương and Nguyễn Phước Hải.
At the 32nd SEA Games, Tùng, Lương and Phong won the team event. Phong took his second gold in the men's rings. Tùng bagged silver in the men's individual.
Veteran Trần Đoàn Quỳnh Nam and Phạm Như Phương are accompanied by young faces Lê Thu Thùy and Lê Thị Thanh Phượng as the female representatives.
World champion Carlos Yulo (the Philippines), Olympic medallists Lee Chih-kai (Chinese Taipei) and Yeo Seo-jeong (South Korea) and Asian champion and World Championship silver medallist Ahmad Abu Al-Soud (Jordan) will headline the June 15-18 event at the OCBC Arena.
Yulo was the two-time world championship winner in the men's floor exercise in 2019 and vault in 2021. Aleah Finnegan and Emma Malabuyo will be the star attractions. Finnegan was part of Team USA which won the team gold at the 2019 Pan American Games. She represented the Philippines at the 2021 SEA Games and took home two golds and two silvers.
Malabuyo, who will be making her debut for the Philippines, has been part of the US national team since 2016 and was an alternate for the 2020 Olympics.
South Korea's Yeo is the current Olympic bronze medallist in the vault.
Chinese Taipei Lee is the current Olympic silver medallist in the pommel horse, having also won a silver and a bronze at the 2019 and 2018 world championships respectively.
He could be in for a showdown with Jordan's Ahmad Abu Al-Soud, a double Asian champion and World Championships silver medallist in the event.
Some of the other prominent names are legend Oksana Chusovitina of Uzbekistan, an eight-time Olympian who is still competing at the age of 47, and Indonesia's Rifda Irfanaluthfi, a silver medallist in the floor exercise at the 2018 Asian Games.
China's Yang Jiaxing, a member of the squad that won the team gold at the 2022 World Championships, will also be in Singapore.
The Asian Championships is a key event on the road towards the Paris Olympics. The top five teams at the championships will progress to the world championships in Belgium from September 30-October 8.
From the world championships, nine teams will qualify for the 2024 Paris Olympics.
At the 2022 Asian Championships in Doha, China topped the medal tally with eight golds, three silvers and five bronzes while the Philippines (3, 1, 0) and South Korea (2, 2, 4) were second and third, respectively.
This is the first time that Singapore host a continental tournament. The country will also host the Asian Junior Artistic Gymnastics Championships from June 10-12 at the same venue.
Việt Nam will take seven athletes, four men and three women, to the junior competition.
Causative agent of hand, foot and mouth disease returns to HCM City
Enterovirus 71 (EV71), a virus which most commonly causes hand, foot and mouth disease (HFMD), has once again been detected in Ho Chi Minh City, according to the municipal Department of Health on June 1.
This comes following the southern metropolis documenting 1,670 hand-foot-mouth disease patients since the beginning of the year. The figure stands lower compared to the previous year, although the number of serious patients who are positive for EV71, a type of virus causing easily transmitted infection and severe complications, has increased.
Currently, there are 33 children suffering from HFMD who are being treated at the pediatric hospitals, of which nine cases are in serious condition and four severe cases are confirmed to be infected with EV71.
In order to limit the spread of HFMD, the southern city's medical sector has moved to implement a number of measures aimed at preventing serious outbreaks and minimising the number of infections and deaths.
Hand-foot-mouth disease is common among young children and is transmitted through the gastrointestinal tract, meaning that it is important for children and their caregivers to practice good personal hygiene.
Symptoms of the disease include mild or moderate fever; fatigue; a sore throat; skin rashes occurring on palms, feet, knees, and buttocks; and sores on the lining of the cheeks, gums, and tongue.
Pre-schools are required to sterilise classrooms and toys regularly and report to local authorities when new cases are found. Parents should be encouraged to take their children to the hospital if their child is suffering from a high fever that cannot be reduced by paracetamol, vomiting, convulsions, or an increased heart rate.
Sa Dec flower festival slated to open later this year
The debut Sa Dec flower festival is scheduled to take place from December 30, 2023, to January 5, 2024 in Sa Dec city of Dong Thap province, with the event featuring a wide range of activities.
The highlight of the festival will be an exhibition of flowers and ornamental trees from the Mekong Delta region, along with a fair showcasing One Commune One Product (OCOP) goods.
A contest on flower gate decorations and a beauty contest are expected to attract plenty of participants.
Most notably, a workshop on improving the overall quality of flowers and ornamental trees in the Mekong Delta region will also be held during the event.
Artists from the southern region will perform cải lương (reformed opera), đờn ca tài tử (southern traditional music), and folk songs throughout the course of the festival.
Both a market on paper flowers and a flower arrangement contest are also all on the agenda.
Located by the bank of the Tien River, Sa Dec flower village in Dong Thap province is widely considered to be the kingdom of flowers in the Mekong Delta and supplies a variety of flowers to markets, especially when spring comes.
This marks the first time that the Dong Thap provincial People's Committee will organise the function, aiming to attract large numbers of tourists to the locality.
Ho Chi Minh City hosts southern fruit festival
The largest annual fruit festival opened on June 1 at Suoi Tien Theme Park in Ho Chi Minh City, with the event featuring the debut participation of several friendship associations.
The Friendship Associations of Vietnam-ASEAN, Vietnam-India, Vietnam-Indonesia, and Vietnam-Cambodia will put on art performances throughout the duration of the function, thereby helping to strengthen friendship and solidarity between Vietnam and other regional countries.
The festival introduces hundreds of varieties of delicious fruits from across the southern region, including green-skinned grapefruits and jackfruits of Tien Giang province, melons, Dakado avocados, as well as durians and passion fruits of Dak Lak province.
The event also offers fun activities, including an exhibition of giant and exotic fruits from countries around the world that are planted in Suoi Tien Farm, along with a fruit market and a food fair.
An art carving competition of fruit and vegetables will be held, attracting many craftsmen from Ho Chi Minh City, Dong Nai and Binh Duong provinces, along with some neighbouring localities. The contest will present colourful pieces of works as a means of introducing the traditional culture to the world and deeply portraying national pride.
The festival will last through to August 31, helping to promote Ho Chi Minh City's tourism potential and showcase its advantages to visitors both at home and abroad.
Vietnam congratulates new UN General Assembly President
The UN General Assembly on June 1 elected Ambassador Dennis Francis, permanent representative of Trinidad and Tobago to the UN Office, as new President of the 78th UN General Assembly representing the Latin American Group.
In his speech to mark the election result, Ambassador Dennis Francis underscored the importance of education, investing in people for economic consolidation, social development, and promotion of sustainable development goals (SDGs).
He also pledged to promote a dialogue between nations, multilateralism, and international solidarity, whilst striving to overcome current global challenges during his tenure.
UN leaders, along with representatives of regional groups and countries, delivered congratulatory remarks to the new President of the 78th UN General Assembly.
Ambassador Dang Hoang Giang, permanent representative of Vietnam to the UN, extended congratulations and wish happiness for the new President and the people of Trinidad and Tobago, going on to state that the two countries and two missions will continue to enjoy good co-operative ties.
Ambassador Dennis Francis, permanent representative of Trinidad and Tobago to the UN Office is elected as new President of the 78th UN General Assembly representing the Latin American Group.
On the same day, the UN General Assembly elected vice presidents of the 78th General Assembly and the Executive Board of the General Assembly's main committees.
The UN General Assembly is one of the six major organs of the UN and the most representative body within the UN system, involving the participation of all members.
The UN General Assembly has broad authority across the fields of politics, security, economics, culture, and social affairs. It is entitled to discuss and make resolutions and decisions on issues within the scope of the UN Charter or any matter within the jurisdiction of the organs of the UN, for the purpose of promoting international co-operation on a global scale.
Golf tourney marks 50 years of Vietnam-Italy diplomatic ties
The Italian Chamber of Commerce in Vietnam (ICHAM) held a press conference on May 31 in Hanoi to announce the ICHAM Cup, a golf tournament to be held to celebrate 50th anniversary of Vietnam-Italy diplomatic ties and the 10th anniversary of their strategic partnership.
This year also marks the 15th founding anniversary of the ICHAM. Over the past 15 years the ICHAM has supported Italian and Vietnamese organisations and businesses to seek partners through market research, B2B meetings, and seminars.
The golfing event will provide an opportunity for both sides to strengthen cooperation and exchanges, Italian Ambassador to Vietnam Antonio Alessandro expressed his hope at the press briefing.
The First ICHAM Cup is scheduled to take place in the northern province of Vinh Phuc from June 3 to August 7, drawing the participation of 100 golfers. Competitors will be divided into four groups, including one group made up of only female golfers.
First, second, and, third place prizes will be awarded to winners in each group.
Seminars on the green economy and energy transformation trends, as well as networking parties to connect businesses, will be organised during the golf tournament.
Nine A prizes to be presented at 17th National Press Awards
The National Press Awards Council announced on June 2 that they voted to select nine A, 24 B and 46 C prizes, and a number of consolation prizes to be awarded during a ceremony on June 21, which is concurrent with the 98th anniversary of the Vietnam Revolutionary Press Day.
According to the judging panel, the entries fully and profoundly reflected the political, socio-economic and cultural affairs, defence, security and foreign relations of the country last year. Many works have shown in-depth analysis, critical perspectives, and positive social impact, displaying professionalism, attractiveness, and the spirit of modern journalism.
The National Press Awards is a significant event that attracts special attention from the entire national press community. It is the most prestigious award dedicated to outstanding journalistic works and honours the best authors or groups of authors each year.
With 16 editions so far, it has increasingly established its reputation as the most prestigious professional award for journalists nationwide.
Interesting experiences await visitors at Ninh Thuan grapevine trellis contest
A contest of beautiful grapevine trellises will take place as part of the coming Ninh Thuan Grape - Wine Festival 2023 in the southern central province, promising interesting experiences for visitors.
The Ninh Thuan Grape - Wine Festival 2023 is slated for June 13 - 18.
Dang Kim Cuong, Director of the provincial Department of Agriculture and Rural Development, said the first ever grapevine trellis contest, one of the main activities of the festival, will bring about numerous exciting experiences for grape farmers, local residents, and visitors.
The department has coordinated with localities and farmers to select 13 sites, cooperatives, and farms with beautiful trellises for the contest, he said, adding that they prioritise the gardens growing new varieties and applying high technology.
A farmer tends to his grape garden in Phuoc Thuan commune of Ninh Phuoc district, Ninh Thuan province. (Photo: VNA)
Notably, the contest is open to visitors' voting. Participating farmers will produce videos in which they give detailed information about the addresses, areas and varieties, along with images of their grape gardens. The videos will be posted on the social media fanpage of the contest organising board. Votes and shares from visitors and internet users will be part of the total scores.
The activity is expected to help popularise images of the Ninh Thuan grapes and provide visitors with information on sites with beautiful grapevine trellises. Awards will be presented on June 16.
Ninh Thuan is currently home to more than 1,000ha of grape farming, mainly in Ninh Phuoc, Ninh Hai, Ninh Son and Thuan Nam districts, and Phan Rang - Thap Cham city. It supplies about 26,000 - 28,000 tonnes of fresh grapes to the market each year.
Grape cultivation accounts for only 3 - 3.5% of the total farmland but 20% of the crop production value in the province, statistics show.
Vietnam seeks further cooperation with Germany's Cottbus city
A delegation from Vietnam Embassy in Germany led by Ambassador Vu Quang Minh and Vietnamese Association in Cottbus city, Brandenburg state on June 1 met with Mayor Tobias Schick, discussing cooperation between Vietnam and the city.
Speaking at the meeting, the Ambassador said that the relationship between Vietnam and Germany is growing in all fields, especially after the visit to Vietnam last November by German Chancellor Olaf Scholz. That is a good premise for the two countries, as well as between Cottbus and Vietnamese localities, to continue promoting relations.
Minh said that he expects Cottbus will consider twinning with a Vietnamese city, thereby enhancing cooperation and people-to-people exchanges. In addition, the two sides can also promote cooperation in the field of higher education and vocational training, including nursing.
For his part, Mayor Schick highly appreciated the integration and contribution of the Vietnamese community in Cottbus city, which joins creating the city's diversity and prosperity. The mayor expressed his respect for the hard-working Vietnamese community.
Mayor Schick expressed his desire to promote cooperation between Cottbus and Vietnam, especially in vocational training. He informed the guest that over 80 nurses are being trained and working in Cottbus. He also highly valued the idea of establishing a twinning relationship between Cottbus and a city in Vietnam.
The same day, Ambassador Minh and his wife Nguyen Minh Hanh attended a ceremony to welcome an elephant named "Don Chung" to the city's zoo. The elephant is a gift of Vietnam for Germany. It has been moved from Leipzig Zoo to Cottbus city.
Vietnam's culture, tourism sector takes actions to protect environment
The Ministry of Culture, Sports and Tourism has selected the northern province of Ninh Binh, home to the UNESCO-recognised Trang An Landscape Complex, to organise a training course on environmental protection in the field of culture, sports and tourism.
The course responds to World Environment Day 2023 (June 5) themed Solutions to Plastic Pollution, with a focus on solutions to plastic pollution under the campaign #BeatPlasticPollution.
During the course, scheduled to take place from June 28-30, will equip those concerned with knowledge about environmental protection, and raise their awareness of the matter.
Apart from the Trang An Landscape Complex, Ninh Binh, around 90 kilometres south of Hanoi, was also home to the ancient capital of Hoa Lu during the reign of the Dinh Dynasty (968-980), along with other historical and cultural sites.
In 2019 before the COVID-19 broke out, the province welcomed 7.5 million visitors, of whom 1 million were foreigners. It expects to serve 3.5 million holidaymakers this year.
Like other tourist localities, Ninh Binh is facing environmental issues, including water pollution and plastic waste, which are due to tourism boom and the lack of synchronous planning.
Given this, protecting the environment and raising public awareness of the issue will contribute to the sustainable development of the culture, sports and tourism sector.
On June 5, the ministry will also organise a special art programme on the theme, along with a photo exhibition and film screening, thus calling for practical activities to protect the environment and biodiversity.
Forum highlights RoK firms' corporate social responsibility in central region
The Republic of Korea (RoK)'s Consulate General in Da Nang on June 2 held a forum in Quang Nam province on June 2 to highlight the corporate social responsibility (CSR) that RoK firms have shown in the central region.
Participants noted that since Vietnam and the RoK set up their diplomatic relations, their partnership has grown fast in all fields, especially economy. The RoK is currently Vietnam's biggest investor with total investment of 81 billion USD.
Two-way trade rose over 160 times in 30 years to 81.1 billion USD in 2022, and the two countries have become each other's third largest trade partner.
Although the central region of Vietnam has received less than 10% of the RoK's total investment in Vietnam, it has drawn increasing attention from Korean firms thanks to the Government's policies to ensure equal development among regions and investment attraction efforts of regional localities.
About 250 Korean businesses operating in the region have showed high level of satisfaction about the local business environment.
Over the years, the firms have made positive contributions to the local community by generating jobs as well as charity activities. They have helped improve the infrastructure system and health care services, and provided financial support to disadvantaged people in the society.
Kang Boo Sung, RoK Consul General in Da Nang, said that the forum aims to seek measures to ensure that the regional localities and Korean firms can enjoy benefits during the businesses' operations.
Le Tri Thanh, Chairman of the People's Committee of Quang Nam province, said that CRS activities of RoK companies have not only contributed to the sustainable socio-economic development of the locality but also improved the living conditions for workers in particular and the local community in general.
He noted that RoK firms that are operating in Quang Nam have conducted various CRS activities in the locality. The Hyosun Quang Nam JSC has poured nearly 5.8 billion VND into the activities since 2020, while Panko Tam Thang has spent over 4 billion VND since 2017, he noted.
NA Chairman's gifts presented to Vietnamese in four southern provinces of Laos
A ceremony was held in Pakse city in the Lao province of Champasak on June 2 to present gifts of Vietnamese National Assembly Chairman Vuong Dinh Hue to the Vietnamese communities in the southern provinces of Champasak, Attapeu, Salavanh and Sekong.
Accordingly, the Vietnamese Consulate General in Pakse handed over more than two tonnes of gifts, including eight laptops, one projector, 400 boxes of coloured chalks, 400 boxes of white chalks, 400 checked boards, 2,000 checked notebooks, 1,000 storybooks, 40 sets of Vietnamese learning equipment, 40 sets of primary school math teaching equipment, and 400 schoolbags.
These items will be used to support the teaching and learning of the Vietnamese language for children of Vietnamese people at friendship schools built and managed by Vietnamese people associations in Laos.
Dong Cong Dung, Chairman of the Vietnamese Association in Champasak province, expressed his profound thanks to the Vietnamese Party and State, and especially NA Chairman Vuong Dinh Hue, and promised to use the above gifts appropriately and effectively.
Various events celebrate 50-year Vietnam-Italy ties in Lombardy
The Vietnamese Embassy in Italy recently held a series of political, economic and cultural events in Lombardy, the largest economic and financial hub in Italy, as part of the Vietnam – Italy Year 2023 celebrating the 50th anniversary of bilateral diplomatic ties.
The events include working sessions between Vietnamese Ambassador to Italy Duong Hai Hung and leaders of the Lombardy region and the cities of Milan and Bergamo; the Vietnam-Lombardy economic and investment forum in Lombardy under the auspices of the region's authorities; meetings with various corporations and enterprises to promote investment and open manufacturing plants in Vietnam, a Vietnam photography exhibition, donation of books to the Braidensen National Library in Milan, handover of outstanding Vietnamese films 2022 to the Bergamo Film Theatre, and an introduction about Vietnam at the Rotary Club Bergamo Città Alta.
Meeting Mayor of Milan city Giuseppe Sala and Vice President of the Lombardy region Marco Alparone in the city, Ambassador Hung expressed hope that the events will serve as important bridges to enhance understanding and cooperation in various fields between the two countries, while also contributing to the efforts to honour President Ho Chi Minh in Italy.
He said the embassy held a photo exhibition on Vietnam and its people, presented 50 important publications about President Ho Chi Minh, the Vietnamese history, culture, people, socio-economic development, and foreign policy from the National Political Publishing House and the World Publishing House to the Braidense National Library, and visited the Italian Institute for International Political Studies (ISPI).
The host leaders said the events have opened up specific cooperation opportunities, especially in fields of Lombardy and Milan's strength such as economy, tourism, tertiary education and innovation.
They hailed Vietnam as a priority partner and a strategic market of Lombardy, as its trade with Vietnam accounted for 40% of the total 6.2 billion USD worth of trade turnover between the two countries last year.
They expressed their intention to consider sending business delegations to Vietnam to explore more opportunities in areas of Vietnam's demand, such as transportation infrastructure, renewable energy and high-tech agriculture.
Mayor Sala emphasised the need to launch a direct flight service connecting Milan and Vietnam, which would elevate Vietnam-Italy and Vietnam-Lombardy cooperation in particular to new heights.
In Bergamo, a cultural capital of Italy in 2023, its Mayor Giorgio Gori wished to boost ties with Vietnam in the fields of economy, culture and tourism.
The Ambassador also presented two Vietnamese films that recently joined international film festivals, namely "Hoa nhai" (Jasmine) directed by Dang Nhat Minh and "Dem toi ruc ro" (Brilliant Darkness) by Aaron Toronto, to the Conca Verde cinema. These works will be screened during cultural festivals in Bergamo, promising to provide Italian audiences with a clearer perspective on Vietnam's people, culture, and the development of contemporary Vietnamese cinema.
On the occasion, Hung met and talked with Rotary Club Bergamo Città Alta, with its members interested in learning about Vietnam as an attractive destination for tourism, business and investment.
Power outages to ensure safe operations: EVN HANOI
Power outages that have occurred in some areas of Hà Nội are to ensure the safe operations of the system as electricity consumption has sharply increased due to prolonged, extremely hot weather.
The Hà Nội Electricity Corporation (EVN HANOI) said that the demand for electricity has increased dramatically, posing many risks, even the risks of fires and explosions will be higher than normal.
To ensure the safety of the power system's operation, the company has to temporarily suspend the supply of electricity in some areas for short periods of time.
Statistics from EVN HANOI showed that the average daily electricity consumption across the city was 58,336 million kWh in March; 61,542 million kWh in April; and up to 75,406 million kWh in May.
It means that the average daily electricity consumption in May increased by more than 22.5 per cent compared to April.
EVN HANOI says it sympathises with customers' difficulties and also recommends that customers limit the use of high-capacity electrical equipment during peak times from 10am to 2pm and from 8pm to 11pm.
On May 19, the level of electricity consumption in the whole country increased to a very high level of more than 924 million kWh per day. It is the highest daily electricity consumption since the beginning of this year and it is about 10.5 higher than the same day last year.
In June, it is forecast that the electricity consumption of the national power system will continue to increase, the company said.
In the meantime, hydropower reservoirs also recorded a serious water shortage. By the end of May, the equivalent electricity output in the hydropower reservoirs of the whole system was only 2.35 billion kWh, about 1,736 billion kWh lower than the schedule.
Eight out of 12 hydropower reservoirs in the north recorded water levels near the dead water level.
Some large hydroelectric reservoirs of Sơn La, Lai Châu, Tuyên Quang, Hủa Na and Thác Bà already have very low water levels and face the risk of dead water levels if the hydro-logical situation is not improved.
In addition, some coal-fired power plants have also suffered from capacity reduction or problems due to continuous high operation in hot weather conditions for a long time.
On June 1, coal-fired power plants of Phả Lại 1, S6 Phả Lại 2, S2 Cẩm Phả, S1 Vũng Áng 1, S2 Nghi Sơn 2, S2 Mạo Khê, S1 Quảng Ninh, S2 Thăng Long, S1 Sơn Động, experienced problems.
Currently, the power outage schedule has been updated by the company on the internet. Customers can update the schedule to proactively arrange work.
Source: VNA/SGT/VNS/VOV/Dtinews/SGGP/VGP/Hanoitimes