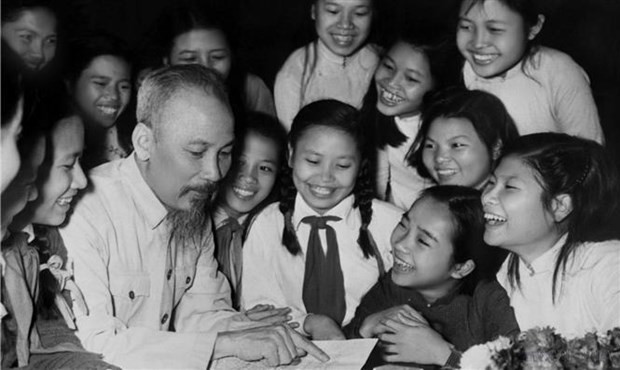 Pupils from Trung Vuong school represent those with excellent study achievements in Hanoi visit President Ho Chi Minh on his birthday on May 19, 1958 at the President Palace. (VNA file photo)
Over 200 documents and objects reflecting patriotic emulation movements will be exhibited at the Vietnam National Museum of History from June 9 to August 9 as a practical activity to celebrate 75 years since President Ho Chi Minh issued an appeal for patriotic emulation (June 11, 1948 - 2023).

The patriotic emulation movements have significantly contributed to the great victories of the Vietnamese revolution over the past seven decades.

The exhibits will be showcased in three parts, introducing images related to 10 patriotic emulation congresses, President Ho Chi Minh's attendance at patriotic emulation congresses at all levels, outstanding movements across the countries in the two resistance wars and the renewal period, as well as localities with good performance in the movements.

The event will also highlight efforts and contributions made by adolescents nationwide in patriotic emulation movements, especially those in protecting the environment.

It aims to affirm the position, role, and effect of patriotic emulation movements in the revolutionary periods of Vietnam, which aroused the spirit of emulation among Vietnamese people to contribute to civilised and prosperous development of the country.
NA adopts resolution on supervision programme in 2024
The 15th National Assembly adopted a resolution on its supervision programme in 2024, with 451 out of 459 votes in favour, at the fifth session in Hanoi on June 8 under the chair of NA Vice Chairman Tran Quang Phuong.
Accordingly, the NA decided to conduct the highest level of supervision on the implementation of the NA's Resolution No. 43/2022/QH15 dated January 11, 2022 on fiscal and monetary policies supporting the socio-economic recovery and development programme, the NA's other resolutions on key national projects till the end of 2023 and the relevant preceding and subsequent periods; and the enforcement of policies and laws regarding real estate market management and social housing development from 2015 to the end of 2023 and relevant preceding and subsequent periods.
The NA Standing Committee was assigned to monitor the enforcement of policies and laws regarding public non-productive units since the issuance of the Resolution No. 19-NQ/TW on October 25, 2017 until the end of 2023 and the relevant preceding and subsequent periods; and the enforcement of policies and laws on ensuring traffic order and safety from 2009 to the end of 2023 and relevant preceding and subsequent periods.
Discussing the NA's draft resolution on piloting special mechanisms and policies for the development of Ho Chi Minh City, a majority of deputies agreed with the need to issue it.
The document features new policies covering investment, finance-banking, land management, and planning and apparatus organisation, under which the Government raised proposals on the city's use of public investment capital sourced from the city budget and its pilot application of the urban development model towards Transit Oriented Development (TOD).
Besides, the city should be allowed to expand investment areas under the public-private partnership (PPP) for sport and culture projects, and apply the Build-Operate-Transfer (BOT) contract in the present road projects and carry out such BOT projects using its budget, and implement regional, inter-regional projects with the local budget.
The draft resolution also stipulates incentives to attract strategic investors in such areas as chip production, semiconductor integrated circuit and new materials, conditions for strategic investors, procedures of project registration, and the selection of strategic investors, among others.
Football: Vietnam readies for AFC U20 Women's Asian Cup finals
With home-court advantage, Vietnamese girls beat Iran, Lebanon and lost to Australia to secure a berth in the finals of the 2024 Asian Football Confederation U20 Women's Asian Cup.
After successfully organising the first qualifying round of the AFC U20 Women's Championship in March 2023, the Vietnam Football Federation (VFF) continued to become host of the second round with Viet Tri stadium in the northern province of Phu Tho chosen as the venue for the matches.
Director of the Centre for Management and Exploitation of the Phu Tho Sports Complex Nguyen Van Ha said that in order to well prepare for the final round of the tournament which will be held in Uzbekistan in 2024, preparations have been carefully arranged.
Director of the provincial Department of Culture, Sports and Tourism Nguyen Dac Thuy said that the office has coordinated with the VFF to regularly check and evaluate the conditions of facilities and accommodations for officials, delegates, AFC members, and teams.
Vietnam, OIF back promoting French language training
Minister of Foreign Affairs Bui Thanh Son on June 7 visited the headquarters of the International Organisation of La Francophonie (OIF) in Paris and met with OIF Secretary General Louise Mushikiwabo.
At the working session with Mushikiwabo, Son affirmed his support for the OIF's endeavours in promoting the use of the French language, cultural diversity, and economic cooperation within the Francophone space.
Vietnam is an active and responsible member of the Francophone community, he said, expressing his appreciation for the OIF's attention to regional matters, including the East Sea issue.
The minister also made a series of proposals to fortify cooperation between Vietnam and the organisation in economy-trade and French language teaching, particularly for Vietnamese officers participating in the UN peacekeeping mission in Africa.
In response, Mushikiwabo stated the OIF highly values Vietnam's role and position in the French-speaking community and wants the Southeast Asian nation to press ahead with leveraging its positive role at international forums and sharing experience with African countries in food self-sufficiency and poverty alleviation.
Taking into account Son's proposals, she said the Francophone community will increase its cooperation with the nation in expanding the reach of the French language and support its strengthening of economic, trade, investment ties with French-speaking countries.
French language training assistance will come to Vietnamese peacekeepers and personnel working in the field of multilateralism, the OIF official noted.
Da Lat hosts consultative workshop on application for UCCN member
A consultative workshop featuring Da Lat City's application for new member of the UNESCO Creative Cities Network (UCCN) took place in Da Lat City this morning.
The event was hosted by the People's Committee of Da Lat City and the Vietnam National Institute of Culture and Arts with the presence of 150 domestic and international delegates.
The workshop aimed at collecting practical comments for building a dossier of Da Lat City serving the application for a new member of the United Nations Educational, Scientific and Cultural Organization (UNESCO) Creative Cities Network in the field of music, thereby discussing the goals, meaning, role and principles of UNESCO Creative Cities Network as well as conducting thorough assessments of the potential, strengths and development of Da Lat, goals and strategies of the city in the coming time.
The statements introduced international experiences in building a dossier serving the application for UNESCO Creative Cities Network; presented a draft of Da Lat's dossiers to join this network in the field of music.
The workshop is to confirm the feasibility of building a registration dossier of Da Lat City for joining the UNESCO Creative Cities Network in the field of music.
Previously, Da Lat City in the Central Highlands Province of Lam Dong and eight other cities participated in the "Developing a creative cities network under the UNESCO creative cities system" project implemented by the Ministry of Culture, Sports and Tourism in the period 2021-2022.
The UNESCO Creative Cities Network (UCCN) was launched in 2004 to promote cooperation among cities that have identified creativity as a strategic factor for sustainable urban development.
The network focuses on seven creative fields of craft-folk arts, design, cinema, gastronomy, literature, media arts and music.
Currently, the capital city of Hanoi is the only city in Vietnam to join UNESCO Creative Cities Network since 2019.
ASEAN discusses maritime protection
The Indonesian Maritime Security Agency (Bakamla) is chairing the 2023 ASEAN Coast Guard Forum in Jakarta from June 6-9 to discuss cooperation in protecting waters from various threats, including illegal fishing.
Speaking at a press conference on June 7, head of Bakamla, Vice Admiral Aan Kurnia said that the forum aims to establish cooperation to maintain security and stability in ASEAN.
He noted that it also encourages information sharing, coordination, and joint training among its member countries. The forum also aims to build trust among coast guards in Southeast Asia.
Running in Jakarta from June 6-9, the forum is being attended by representatives from seven ASEAN member countries, namely Malaysia, Thailand, Singapore, the Philippines, Brunei, Cambodia, and Indonesia, which is chairing the forum for the first time.
Kurnia noted that ASEAN member countries face similar challenges in maintaining maritime security, including illegal fishing, violation of territorial boundaries, and the smuggling of goods.
He stressed that each country must respect each other's sovereignty, territorial boundaries, and laws, but that international cooperation is still essential to protect the waters of each country and region.
The forum is a follow-up to the Technical Expert Group Meeting (TEGM) in Cebu, the Philippines, from May 1-4, 2023.
More trains to tourist destinations
Saigon Railway JS Company will run more train services to tourist destinations to meet increasing summer demand.
The firm currently runs the SE1/2, SE3/4, SE5/6, SE7/8 and SE11/12 services on the HCM City-Hanoi route; SE21/22 (HCM City-Danang), (HCM City-Quy Nhon), SNT1/2/4/5 (HCM City-Nha Trang) and SPT1/2 (HCM City-Phan Thiet).
From June 14 to July 31, the company will operate the SE9/10 train service connecting Saigon and Hanoi. Meanwhile, it will run the SE42 service from Nha Trang to Danang between June 9 and July 29 and the SE43 service from Danang to Nha Trang between June 10 and July 30.
In May, the company ran more trains on the HCM City-Nha Trang and HCM City-Quy Nhon routes.
People who buy train tickets at least 20 days before the departure time will be offered 20-30 percent discounts. Those who buy tickets for a group of 11 or more will enjoy a discount of 3-11 percent. Passengers purchasing round-trip tickets will also receive a five percent discount on the return leg.
Vietnam joins Asia Tech X Singapore 2023
A delegation from the Ministry of Public Security led by Deputy Minister Le Van Tuyen participated in Asia Tech X Singapore (ATxSG) that is taking place in Singapore from June 6-9.
Asia's flagship tech event where technology intersects with society and the digital economy is organised by Singapore's Infocomm Media Development Authority (IMDA) and Informa Tech, and supported by the Singapore Tourism Board (STB).
Attending the roundtable on scams and AI governance, Deputy Minister of Public Security Tuyen delivered a speech themed international cooperation to build trust in the digital age, emphasising the increasing challenges of cybersecurity with more serious nature and severity. In particular, crime using high tech has increased with many new, sophisticated, and dangerous methods and tricks, directly affecting many areas of social life, and causing difficulties in prevention and control, he said.
Tuyen proposed solutions to effectively combat cybercrime, high-tech crime in general, and online fraud in particular in the coming time.
According to him, Vietnam and Singapore as well as countries in the region and around the world need to make efforts to promote the unity of awareness and action, especially in building common legal frameworks; and continue to maintain and expand international cooperation activities.
On the sidelines of the event, the Vietnamese delegation had a meeting with Chng Kai Fong, Permanent Secretary of the Ministry of Communications and Information of Singapore, visited the Vietnamese Embassy, had a working session with representatives from IMDA's Personal Data Protection Council (PDPC).
Also at the Asia Tech X Singapore 2023, a delegation from the Ministry of Information and Communications and about 25 Vietnamese enterprises introduced advanced technology products to about 800 international partners.
Vietnamese Ambassador to Singapore Mai Phuoc Dung visited Vietnam's exhibition area at the event and helped promote development cooperation opportunities on this occasion.
Vietnam, RoK share experience, initiatives on smart city development
The CICON 2023 – the second international conference that combines the initials of Creative Urban, Culture, Convergence, and Industry took place in Ho Chi Minh City on June 7, offering opportunities for Vietnam and the Republic of Korea (RoK) to participate in the smart city and blockchain industry, build a network of businesses from the two countries.
The event was co-organised by Korea CEO Summit (KCS), Ho Chi Minh City Union of Business Associations (HUBA), Young Business People Association of Ho Chi Minh city (YBA HCM), and Imex Pan Pacific Group (IPPG).
Speaking at the event, Chairman of the municipal People's Committee Phan Van Mai said that with a favourable geographical position, large population, and fast economic development, Ho Chi Minh City has full potential to develop into a smart and sustainable city.
However, to turn potential into reality, the city needs the companionship and support of international friends in different fields to create appropriate and effective solutions, he said, emphasising that the RoK is one of the important partners with rich experience in building smart cities and leading corporations.
Ho Chi Minh City aims to build a smart and modern city and Thu Duc city was selected to deploy initial solutions, through which lessons have been drawn, Mai said.
Kwon Young Gull, Chairman of the National Architectural Policy Committee under the Office of the President of the RoK, and Chairman of the Seoul Design Foundation said that Vietnam is known as a country with sustainable growth in the region with the advantages of a young population structure and potential for industrial and high-tech development.
However, like many other countries, Vietnam is encountering problems of climate change, particularly natural disasters. Quality of life and infrastructure are issues that Vietnam is currently facing, especially in big cities like Hanoi and Ho Chi Minh City.
Building a smart city does not stop at building infrastructure, but focusing on businesses that are creative and have advanced science and technology, and encouraging the connection between businesses and individuals in the public and private sectors to create synchronisation and effectively promote technological achievements, he said.
He suggested that Vietnam need to develop a strategy of "Design Vietnam" to synchronously deploy solutions for planning, appearance design, and urban quality like the way the RoK did before when building Seoul into a smart city.
Big cities like Hanoi, Da Nang, and Ho Chi Minh City need to join urban alliances in the region so that they can share and learn experience in designing and implementing smart urban models, he said.
Vietnam, Poland promote trade, IT cooperation
A workshop to promote cooperation in trade and information technology (IT) between Vietnam and Poland was held on June 7 in Ho Chi Minh City by the Investment & Trade Promotion Centre of HCM City (ITPC) and the Polish Investment and Trade Agency (PAIH) in the locality.
According to Vice Director of the ITPC Nguyen Tuan, Poland is the largest trade partner of Vietnam in Central-Eastern Europe, while Vietnam is Poland's fourth largest trade partner in Asia.
Economic cooperation between the two nations has still maintained stable growth with two-way trade in both 2021 and 2022 hitting a record of over 2.5 billion USD.
In the first four months of 2023, the trade reached 841 million USD, with Vietnam's export turnover of computers, electronics, and spare parts to Poland nearing 236.34 million USD.
Trade and investment cooperation between HCM City and Poland witnessed strong growth in 2022, with two-way trade totaling 270 million USD, up 8% year-on-year.
Poland has so far had 10 investment projects worth over 469,000 USD in HCM City, ranking 64th among the 117 countries and territories investing in the southern economic hub.
Tuan said the ITPC will continue to coordinate with relevant agencies to intensify trade and investment promotion activities with Poland, thus facilitating the operation of Polish businesses in HCM City and vice versa.
Representatives of Polish firms said that they are seeking partners and cooperation opportunities with Vietnam in terms of information technology, thus further promoting the relations between Poland and HCM City in particular, and the friendship and cooperation between the two nations in general.
SCMP: Da Nang is the hottest new wellness destination
The South China Morning Post (SCMP) of Hong Kong (China) has named the central city of Da Nang in Vietnam as Asia's top destination for holistic healing.
According to the article written by Karen Tee, a lifestyle and travel journalist of SCMP, Da Nang is the hottest new wellness destination and boasts resorts such as the Bill Bensley-designed InterContinental Danang Sun Peninsula Resort and Tia Wellness Resort.
Tee said that she had travelled to the InterContinental Danang Sun Peninsula Resort in search of an escape from the concrete jungle.
She recommended its new spa, the Mi Sol, which comprises of eight individual spa villas positioned by a tranquil natural lagoon which helps to nurture a sense of solitude.
A meditation session on the beach was also introduced by the journalist.
Tee also suggested that visitors check out the cavernous 43 Factory Coffee Roaster, and explore a slew of other activities, such as enjoying a leisurely cycle through the UNESCO World Heritage-certified old town of Hoi An. Other activities involve an invigorating hike among the Marble Mountains, five limestone peaks harbouring an atmospheric network of caves, tunnels, and pagodas.
She also introduced visitors to Tia Wellness Resort, which was launched as a post-pandemic response to the demand for well-being-centric getaways.
The journalist also mentioned several famous restaurants, including Vietnamese restaurant Citron, Michelin-starred French Restaurant La Maison 1888, and Barefoot.
MMA fighters to compete at famous Angel's Fighting Championship
International mixed martial art fighters will compete at the Angel's Fighting Championship 25 (AFC 25) at The Grand Ho Tram Strip in Bà Rịa - Vũng Tàu Province on June 10.
There will be six elite matches between competitors from Brazil, South Korea and Việt Nam.
Among them, the most anticipated bout will see Brazilian jujitsu champion Robson de Olivera Soares takes on Filipino Rene Catalan Jr in the flyweight (56kg) category.
Soares is a three-time national champion. He has made a name for himself on the international stage with his impressive jiu-jitsu skills. The black belt became famous after a controversial defeat to Vietnamese champion Trần Ngọc Lượng in the Lion Championship 5 on April 22 in HCM City.
Soares was a better fighter on the night but lost to a judges' decision who then were fined because of wrong decisions. A rematch between the two is planned in the near future..
"This match is in my schedule. Personally, I love to be challenged. Challenges and being able to compete make me feel alive. I don't care about the past. I need to let it go and move on," said Soares.
Catalan will be a big obstacle for Soares. The Filipino has won nine out of 10 matches.
"Rene Catalan is a powerful rival who is considered stronger than me," Soares added.
"I have trained hard to prepare for this match. I have received a remarkable assistance from my teammates and coaches. I believe that the match will be great, a match of lions."
Another key match of the AFC25 is between Phan Huy Hoàng of Việt Nam and Pablo Eduardo from Brazil in the bantamweight (61kg) class.
Eduardo has recorded a series of three wins in a row with his excellent Brazil jujitsu (BJJ) skills which helped him make an earthquake win over Uzbek Norov Azizbek by submission at the AFC 23 in March.
Hoàng's best result was the semi-final round of the Lion Championship 2022. He took two knock-out wins on the way to finishing in the top four of the tournament.
"I have prepared both striking and grappling techniques for this high-quality event. My experience at the professional Lion Championship will help me in this match," said Hoàng.
"My coaching board and I watched several of Eduardo's videos. We all agreed that he was strong with submission, wrestling and grappling. I have to find a way to avoid his wrestling technique while making use of my striking skills. Currently, I am in good condition and flexibility ahead of the bout."
Other matches will be between South Korean Han Gil Choi and Brazilian Felipe Negochadle in the bantamweight (61kg); Nosherwan Khanzada from Hong Kong and Jang Bum Seok of South Korea in the light heavyweight (90kg); Rodrigo Caporal of Brazil and Burenzorig Batmunkh from Mongolian in the welterweight (77kg) and Mhar John Manahan of the Philippines and Kim Eui Jong of South Korea in the lightweight (70kg).
AFC 25 is organised by Cocky Buffalo, a leading gym in Việt Nam in managing and training fighters and organising tournaments, and AFC, a South Korean mixed martial arts promotion. All matches will be broadcast live and executively on VTVcab channels, apps and platforms.
Hà Nội police busts large international drug smuggling ring
An international drug smuggling ring, thought to be responsible for importing 62 kilogrammes of illegal narcotics into Việt Nam, has been busted by police.
Four people have been arrested following an operation by the Drug Crime Investigation Police Department in Hà Nội.
Suspected ringleader Hoàng Tiến Dũng, 27, ran a pure water shop, restaurant and transportation service in Hưng Yên Province's Yên Mỹ District.
Police alleged these businesses were just a front for his drug enterprise, which also involved his wife, Lê Thị Huyến, 25.
He is accused of arranging for drugs to be sent from Europe through international postal systems hidden among food and household items.
According to police, Trần Văn Tuấn, 19, from Yên Mỹ District's Yên Hòa Commune, was a key accomplice of Dũng. He had been assigned the tasks of receiving shipments, guarding the drug warehouse and packaging drugs for consumption.
Đào Ngọc Long, 35 years old, in Yên Hòa Commune, was an intermediary, connecting Dũng with foreign individuals to arrange drug purchases.
On March 23 and April 24, Hà Nội Police coordinated with the Hà Nội Customs Department to discover a package sent from the Netherlands and another package sent from the Czech Republic through Nội Bài International Airport.
Police arrested Huyến in Hưng Long Commune, Văn Giang District on May 4 and seized nearly 20kg of various types of drugs hidden in beer cans and coffee makers.
Three days later, the task force collaborated with police in Phú Thọ Province and HCM City to arrest Dũng, Tuấn, and Long and seized more than 42kg of different types of drugs hidden in bubble tea and coffee bags.
During the search of Huyến's late-night restaurant, police seized 0.13 grams of synthetic drugs.
Hanoi businesswoman crowned Mrs Vietnam International Global 2023
Nguyen Thi Han, 52, from Hanoi surpassed 20 other contestants to take the crown in the final round of the Mrs Vietnam International Global 2023 beauty contest which was held on June 7 in Hue city, the central province of Thua Thien-Hue.
As part of her victory she received a crown worth VND1.5 billion and a scepter.
Moving forward, the Hanoi businesswoman is set to represent the nation at Mrs International Global 2024.
Furthermore, another businesswoman from the capital Nguyen Thi Song Thuong won the first runner-up title. The organisers also awarded two second runners-up and three third runners-up prizes to other contestants.
The Mrs Vietnam International Global pageant was first held back in 2022 and is open to businesswomen aged 25 to 55 living and working in the nation.
The purpose of the beauty contest is to create a platform specifically for talented and beautiful businesswomen nationwide, while also helping to promote images of Vietnam and traditional culture to international friends.
Early this year the country sent its first representative to the world pageant, with Tran Ha Tram Anh emerging as the winner of Mrs International Global 2023.
Tan Son Nhat Airport prepares for summer peak season
Tan Son Nhat International Airport in Ho Chi Minh City is expected to serve 150,555 flights and up to 23.9 million passengers in the summer's peak season from June 1 to August 15.
The figure represents an increase of 6.64% in the number of flights and 7.6% in the number of passengers compared with the same period last year.
A representative of Tan Son Nhat International Airport said the airport has prepared plans to meet the high demand.
Accordingly, all units have been asked to pay attention to monitoring the flight schedule, frequency and density of flight operations in each time frame and arrange personnel to ensure airport services.
They have been required to devise a plan to prevent flooding as well as how to handle it in case bad weather affects flights, the representative said.
The airport also arranges youth union members to support passengers at the screening area and passenger hall of the domestic terminal during peak hours.
Passengers line up to complete immigration procedures at Tan Son Nhat International Airport. (Photo: VNA)
The number of passengers going through Tan Son Nhat International Airport has surged in recent years to nearly double its designed capacity.
The airport currently has two terminals, with T1 serving domestic flights and T2 handling international flights. T1 can serve up to 15 million passengers a year and T2, 10 million.
The airport was designed to handle 25 million passengers a year by 2020, but it has been receiving almost 40 million a year since 2017.
HCMC supports linking Beltway No. 3 and planned expressway
HCMC has thrown its support behind a proposal to connect the planned HCMC-Thu Dau Mot-Chon Thanh Expressway with HCMC Beltway No. 3.
Earlier, Binh Duong Province made the proposal to connect the starting point of the planned HCMC-Thu Dau Mot-Chon Thanh Expressway with a section of HCMC Beltway No. 3 passing through the province.
The proposed route is in line with the Road Network Development Plan for the period 2021-2030, with a vision towards 2050, which was approved by the prime minister under Decision 1454.
In a document submitted to the Government Office recently, HCMC suggests studying a suitable plan for the interchange of Beltway No. 3 and the HCMC-Thu Dau Mot-Chon Thanh Expressway to facilitate traffic flow and ensure road safety.
The city authorities also outline their intention to allocate over VND2,000 billion from the city budget for the construction of a road leading to the expressway.
According to Vietnam's expressway network, the 69-kilometer HCMC-Thu Dau Mot-Chon Thanh Expressway is projected to be completed by 2030 and will have six to eight lanes for vehicles.
Players gather together for National and U23 football team

58 players have been called back to both National and U23 football team since June 7.
These include overseas Vietnamese player An Khanh and former Pau FC midfielder Nguyen Quang Hai. Coach Philippes Troussier considered the addition of Quang Hai as a valuable piece in the structure of the team.
As for the women's national team, they were undergoing a 2nd training session in Germany in preparation for the 2023 FIFA Women's World Cup.
The team will play friendly matches against various teams including 2 club teams, U23 Poland team and Germany team during the 3-week training in Europe.
Sufficient supply of blood for treatment in Mekong Delta
Hematology and Blood Transfusion institutions and hospitals pledged to provide sufficient blood for treatment in the Mekong Delta region.
Regarding anemia for treating patients in the Mekong Delta, Director of the National Institute of Hematology and Blood Transfusion Nguyen Ha Thanh yesterday said that in June and the following months, the National Institute of Hematology and Blood Transfusion - Central Blood Transfusion together with Ho Chi Minh City Blood Transfusion - Hematology Hospital, Cho Ray Hospital, Hue Central Hospital committed to a continued supply of certain blood products to the Hospital of Hematology and Blood Transfusion in Can Tho City.
The National Blood Center, the National Institute of Hematology and Blood Transfusion also collaborated with the Hospital of Hematology and Blood Transfusion of Can Tho City, and the Steering Committees for voluntary blood donation in the provinces and cities in the Mekong Delta region to develop a plan for receiving blood as well as transferring chemicals and blood bags from Hanoi to Can Tho City to maintain blood donation in the region. The institute and hospitals are also prepared for the Red Journey 2023 program, the country's largest-scale blood donation campaign, in the region.
To realize the goal of nationwide blood coordination of the Red Journey, the National Institute of Hematology and Blood Transfusion has also suggested that regional blood transfusion centers continue the supply of blood and blood products for the Hospital of Hematology - Blood Transfusion of Can Tho City and medical facilities in the Mekong Delta, especially supporting the supply of some products such as platelets, plasma and rare blood products.
According to a representative of the Can Tho City Hospital of Hematology and Blood Transfusion, which is the third largest blood transfusion center in the country, the Can Tho City Hospital of Hematology and Blood Transfusion highly appreciated the precious support of hospitals across the country over the past time. However, the hospital needs 12,000-15,000 units of blood monthly, the blood supply of hospitals only meets more than 60 percent of the emergency and treatment needs.
Photo Hanoi'23 drives capital's culture and art development
The International Biennale Photo Hanoi'23 attracted 170,000 visitors who came for exhibitions and other activities during the month-long art shows held for the first time in Hanoi.
Notably, more than 200 articles and programs mentioned the event while social media posts earned nearly 5 million views on Photo Hanoi networks alone. Additionally, more than 5,000 posts with #photohanoi hashtags were sent on social media: Facebook, Instagram, and Tiktok.
These are the statistics announced by the French Ambassador to Vietnam, Nicolas Warnery who confirmed the success of the first Photo Hanoi'23.
The French Ambassador affirmed that the event contributes to the professionalization of the entire creative ecosystem and promotes the capital's economic development through participation in UNESCO's Creative Cities Network (UCCN). Hanoi has a well-defined goal to create a dignified place to build culture as a tool for economic development, tourism, and international exchange.
Famous French photographer Sebastien Laval, who has been working in Vietnam since the 1990s and has also taken many great photos of Hanoi, said Photo Hanoi'23 is a rare opportunity for international photographers to exchange. For the public, it is a chance to explore the work of photo artists worldwide with different shooting styles and techniques.
According to curator and photographer Nguyen The Son, the exhibitions at this biennale are presented according to the standards of galleries and museums around the world today but are still very inadequate in Vietnam.
He expects people to have new perspectives and a diversified approach to photography. On the other hand, Photo Hanoi'23 also contributed to improving the photo printing industry and the photo frame and paper business.
Regarding the organization, the French Ambassador said that the active participation of international partners and local actors shows that Photo Hanoi'23 is on the right track.
Art and cultural events like this need coordination between Government agencies, both central and local, to mobilize resources to organize the event. For that reason, Ambassador Warnery called for the long-term support of domestic and international partners for the event, both in terms of finance and technology.
At the closing ceremony, Do Dinh Hong, Director of the Hanoi Department of Culture and Sports, said 22 exhibitions and nearly 20 side events were held in seven districts of Hanoi, attracting about 170,000 visitors to the exhibition and 10,000 people to the face-to-face and online seminars.
Gov't raises credit support for production households in disadvantaged areas
A production and business household in disadvantaged areas nationwide shall be able to borrow up to 100 million VND (US$4,240) at an interest rate of 9 percent per year.
This is part of Decision 17/2023/QD-TTg (Decision 17), dated June 5, 2023 on the adjustment of credit for productive business households in disadvantaged areas recently issued by the Prime Minister.
Decision 17 amends somes regulations of Decision 31/2007/QD-TTg, dated March 5, 2007.
Beneficiaries of this policy shall not include poor and near-poor households and they have no outstanding balance at the Bank for Social Policies.
Borrowers must have business plans or projects certified by the local Commune People's Committees.
Earlier, Decision 31 allows a credit of VND 30 million (US$1,300) at the interest rate of 0.9 percent per month.
HCM City, Cambodia share experience in trade union affairs
The Ho Chi Minh Federation of Labour, the Trade Union of Public Utility Enterprises and Commercial Services of the city, and the National Union Alliance Chamber of Cambodia (NACC) had a meeting in the city on June 7 to share experience in trade union affairs.
The sides briefed each other on their operations, and exchanged the experience in the implementation of trade union movements at the local level.
They shared many ideas to optimise the role of trade unions and give better care for labourers, building a harmonious labour relations and promoting development of businesses and agencies.
NACC Vice President Kim Chann Samnang briefed his hosts on the employment situation, trade unions' activities and policies for labourers.
He said that Cambodia currently has 1.5 million labourers, 80% of whom have joined trade unions. Their average income reaches 250 - 350 USD per month, he added.
The official expressed his hope that the Trade Union of Public Utility Enterprises and Commercial Services of HCM City and the NACC will continue to share experience in trade union affairs and measures to attract more labourers, thus contributing to strengthening the friendship and cooperation between the two sides and promoting the socio-economic growth in each country.
During their stay in the city, the NACC delegation also learned from the city trade union's experience in women's affairs, financial and asset management, protection of labourers' rights and interest, and communications work.
They will tour a number of trade unions in a number of facilities in the city, and visit historical and cultural relic sites in the city and neighbouring provinces until June 10.
Vietnam attends BIO International Convention in US
A delegation of the Vietnamese Ministry of Health led by Deputy Minister Do Xuan Tuyen has attended the BIO International Convention in the US' Boston city from June 5-8.
BIO International Convention is the world's largest, most influential biotech conference, bringing together more than 23,000 delegates from 65 countries and territories worldwide.
Participants touched upon reforms in the bio technology, shared professional knowledge, and sought ways to promote connectivity and open up cooperation opportunities in this field.
In his remarks, Tuyen briefed them on the landscape of the Vietnamese pharmaceutical and bio-pharmaceutical industry, noting a range of solutions and incentives have been taken to spur the sector's growth.
Apart from joining events and programmes within the convention, the Vietnamese delegation had working sessions with Vietnamese scientists, researchers and students in the US, along with US businesses, among others.
They also visited the Harvard Medical School and its Brigham and Women's Hospital.
At those meetings, Tuyen expressed his hope that Vietnam will receive more support and cooperation from partners during the development of its pharmaceutical industry and the bio-pharmaceutical sector in particular.
The official also called on partners to step up investment and technological transfer in the production of drugs, vaccines and biological medicinal products, helping Vietnamese people access pharmaceutical products and modern medical services.
Vietnam finish second in Group A at AFC U20 Women's Asian Cup
The Vietnam national U20 women's football team finished second in Group A of the second qualifying round at the 2024 AFC U20 Women's Asian Cup to secure a place in the finals of the competition.
This comes after the local players lost 2-0 to Australia in the final Group A match held on June 6 at Viet Tri Stadium in the northern province of Phu Tho.
The first half ended goalless, with the Australian team making plenty of changes in the second half.
In the 50th minute midfielder Alana Murphy beat Vietnamese goalkeeper Kieu My from 30 metres to open the scoring.
The Australian side then doubled score just six minutes later thanks to an outstanding goal by Australian football star Alana Murphy. The defeat to Australia comes after Vietnam trounced Iran 3-2 and beat Lebanon 3-0.
With a total of six points, Vietnam ranked second in Group A. The first position went to Australia after they won nine points, with both teams ultimately making the finals of the 2024 AFC U20 Women's Asian Cup.
The top two teams in each group, along with the top three teams from last season, including Japan, the Republic of Korea, the Democratic People's Republic of Korea (DPRK), and hosts Uzbekistan, will compete in the final round next year.
Vietnam, Turkey boast huge potential for future broader cooperation
Vietnam's impressive economic growth over recent years and its great potential are expected to create a wealth of co-operation opportunities for both Vietnam and Turkey moving forward, according to Turkish Ambassador to Vietnam Haldun Tekneci.
The Turkish diplomat made the statement as part of the occasion of the 45th anniversary since the establishment of diplomatic relations between the two countries, adding that Vietnam represents one of the leading partners of Turkey in ASEAN.
He went on to reveal that bilateral trade exceeded US$2.2 billion last year, hoping that this figure will continue to grow over the coming time.
At present, many Turkish financiers are starting to view the Vietnamese market as an important part for their investment activities.
He outlined there remains plenty of room for co-operation in fields such as tourism, defence, education, energy, construction, and health care, adding that speeding up visa procedures and improving market access conditions will play an important role for businesses of the two countries as they seek to strengthen connectivity.
Furthermore, the exchange of trade delegations and the organisation of seminars is expected to help both sides to gain greater insights into about each other's needs and capabilities, whilst also serving as platforms to devise future co-operation solutions, he noted.
According to details given by the Ministry of Industry and Trade of Vietnam, as of December, 2022, Turkish businesses have invested 34 projects throughout Vietnam totally capitalized at US$791.88 million.
HCMC offers free registration of e-signatures for residents
HCMC has opened free registration of e-signatures to residents at the one-door division of Thu Duc City and other districts in the city.
The e-signature registration will enable residents to carry out public services online.
The Department of Information and Communications is now working with certificate authorities (CA) and Thu Duc City and district authorities to offer free digital signature registration service for residents from this month till June 2024.
In order to implement the digital transformation program and build HCMC as a smart city, the city needs to provide 100% public services online by integrating with the National Public Service Portal.
Six Binh Dinh fishermen saved after collision
Six fishermen in the southern central province of Binh Dinh have been saved after their boat was hit by a cargo ship.
The incident happened at around 2 am on Tuesday at 140 nautical miles from the southern city of Vung Tau.
As a result, the fishing boat, captained by Dang Van Teo with six crew on board sank.
Luckily two other fishing boats rescued the men.
The six are currently in a stable condition.
The cargo vessel which hit the fishing boat has not yet been identified.
Source: VNA/SGT/VNS/VOV/Dtinews/SGGP/VGP/Hanoitimes