VIETNAM NEWS HEADLINES MARCH 18/2023
Vietnam Book-Reading Culture Day begins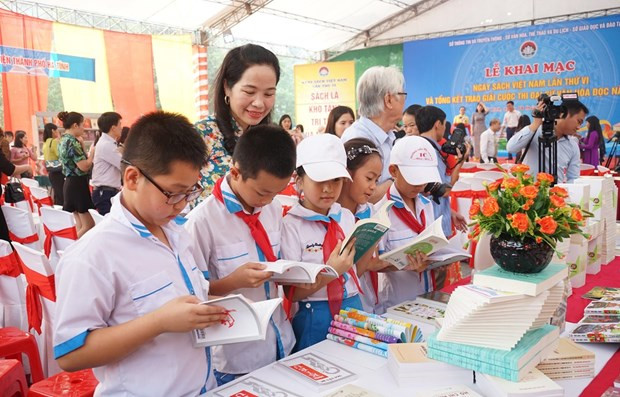 The second Vietnam Book and Reading Culture Day 2023 is taking place from March 16 to April 30, with various activities to promote reading habit among the community, according to the Ministry of Culture, Sports and Tourism.
Carrying major messages of "Book: Awareness - Innovation - Creation" and "Books for me, for you," the event aims to affirm the position, role and significance of books in improving knowledge and skills, developing mindset, educating and shaping human personality, the ministry said.
During the event, reading movements will be launched in families, schools, agencies, organisations and communities, while rganisations and individuals with outstanding contributions to the development of books and reading culture in the society will be honoured.
Activities of book introduction, book narration and drawing following book contents, along with seminars on books and reading culture will be held.
This year, highlight activities of the event will last from April 15-21.
Last year, the Vietnam Book and Reading Culture Day was held in both in-person and online format amid complicated developments of the COVID-19 pandemic.
The Prime Minister's Decision No.1862/QD-TTg on the organising of Vietnam Book and Reading Culture Day annually on the national scale was signed in 2021.
The day is expected to encourage and develop the reading movement among the community, contributing to building a learning society. In addition, it aims to honour readers, authors, publishers, printers and libraries that make efforts to preserve, collect and promote books.
Huge rare turtle found on Thua-Thien Hue beach
A green sea turtle weighing 100 kilos has been found at a beach in the central province of Thua Thien-Hue.
On March 16, a fisherman named Pham Thanh from Lang Co Town saw the turtle stuck in his net. He asked for help from nearby people to bring the turtle ashore.
Thanh then reported the case to local authorities.
Lang Co Town border guards co-operated with local management agencies to release the animal to the sea some hours later.
The green sea turtle is listed among endangered species. In Vietnam, it is rare to sight green sea turtles weighing over 50 kilos.
Vietnam intensifies ties with Germany's Lower Saxony state
Vietnamese Ambassador to Germany Vu Quang Minh paid a working visit to Hannover city, Niedersachsen (Lower Saxony) state on March 15-16.
In meetings with local officials, Minh reviewed the situation and prospects of the Vietnam-Germany relations, affirming that the bilateral Strategic Partnership has been strongly promoted in various fields.
He thanked the state's administration for creating favourable conditions for the 10,000-strong Vietnamese community living and working in the state so that they can contribute actively to socio-economic development in the host country, as well as the two nations' friendship.
Stephan Weil, Minister-President of Lower Saxony, expressed his impression at the dynamic development of Vietnam in recent decades, saying that Vietnam, with its geostrategic position and strong economic growth, has become an attractive destination in the region.
He told the ambassador that he will lead a delegation of the state's enterprises to visit Vietnam in October to connect and seek cooperation opportunities.
He agreed with Minh's idea on the two countries' cooperation potential in renewable and green energies, noting that Lower Saxony has strengths in wind energy and wants to cooperate with Vietnam to exploit offshore wind power.
Vice Chair of the Landtag (State Parliament) Barbara Otte-Kinast stressed that in addition to automobile industry and wind power, Lower Saxony also has great strengths in agriculture and is interested in consumer protection.
She suggested the state and Vietnam can study and cooperate in technology transfer and know-how on agricultural machinery, and product quality control system, adding that the state's agencies in different fields have plans to organise visits in the coming time to strengthen cooperation with Vietnam.
Ambassador Minh showed his hope to continue receiving Barbara Otte-Kinast's support for tightening friendship between the two governments and peoples.
Children affected with respiratory syncytial virus on the rise
Vietnam National Children's Hospital in Hanoi has seen a sharp rise in the number of patients who are affected with respiratory syncytial virus (RSV).
Doctor Le Thanh Chuong, head of the hospital's Respiratory Intensive Care Ward, said that the ward is facing an overload of RSV patients. Many of them have to temporarily stay in waiting rooms before being arranged with sick-beds.
RSV can cause pneumonia for around half of patients. Most children suffering from the disease are sent to Vietnam National Children's Hospital if they show serious symptoms, particularly those with underlying medical issues.
If being treated quickly, patients can recover within 5-7 days without any lingering complications. However, those with underlying medical problems can face fatal issues when struggling with respiratory failure.
Parents need to take their children to hospital early when they display symptoms such as high fever, convulsions, cyanosis and poor appetite and breathing difficulties.
Phu Quoc to host "Fashion Voyage #5" show in April
"Fashion Voagage #5" - a fashion show featuring the latest collections from well-known Vietnamese designers, will be held in Phu Quoc island city from April 7-8 in the southern province of Kien Giang.
The show with the theme "Dating with a Kiss" is set to be organised in Sunset Town, a resort entertainment complex developed by Sun Group.
This is the fifth time the group has worked with director Long Kan, the show's producer, to introduce admirable fashion shows which also helps promote Vietnam's tourism.
A collection with a futuristic style by designer Chung Thanh Phong named "Kiss the Stars" will be staged at the show with multimedia technologies, amidst the majestic sea and sky, the combination of fire, water, light, laser, and music.
On the second night of Fashion Voyage #5, the show stage is the Kiss Bridge - an architectural masterpiece, a symbol of the Vietnamese-Italian cultural interference.
Dong Thi Ngoc Anh, Deputy General Director of Sun Group, said that after the Fashion Voyage, it is expected that many artists will come to Sunset Town in particular, and Phu Quoc in general, to seek inspiration and bring here special events, festivals, art programmes to spread the inspiration.
Sunset Town is expected soon become the land of artists, arts, and festivals. Together with Sun Group's tourism - resort - entertainment ecosystem, it will help attract visitors to Phu Quoc.
Over 200 Lao Cai students infected with Influenza A
As many as 240 students from four schools in the northern province of Lao Cai's Bao Yen District have been found to be infected with the Influenza A virus.
According to the Lao Cai Provincial Health Department, the students developed similar symptoms of coughs, high fever, sore throats and tiredness between March 7-13.
Doctors at the Pho Rang Town Healthcare Centre had taken samples of 45 students for Covid-19 testing and the results came out negative. Meanwhile, three others were tested for Influenza A and showed positive results.
While other students are waiting for their test results, doctors said that it was more likely that they were infected with the Influenza A virus which usually spreads during this spring time.
Bao Yen Healthcare Centre has issued warnings and advice on the spread of the Influenza A virus, especially at public places and large gatherings. Local schools have been instructed to prepare for preventive measures and deal with suspected cases.
Vietnam joins in defence exhibition in Japan
A delegation of the Vietnamese Ministry of National Defence participated in DSEI Japan 2023, the only large-scale, fully integrated defence event in Japan, from March 14-17.
First launched in 2019, the biennial event was suspended until this year due to impacts of the COVID-19 pandemic.
This year, it brought together 292 companies from 24 countries, including big names like BAE Systems, Lockheed Martin, Raytheon, Thales and Rolls Royce, which displayed the most cutting-edge products and technologies in defence.
Within the framework of the exhibition, Major General Pham Truong Son, Deputy Chief of the General Staff of the Vietnam People's Army, who led the Vietnamese delegation, met with Major General Ohashi Satoru, Deputy Director of the Acquisition, Technology & Logistics Agency under the Japanese Ministry of Defence.
Son spoke highly of the Japanese side's professionalism in the organisation of the expo, saying apart from learning about the new defence equipment and technologies, Vietnam had an opportunity to exchange experience with Japan in the organisation of events in preparation for the next Vietnam International Defence Expo (Vietnam Defence).
Last year, Vietnam Defence took place in Hanoi from December 8-10, attracting 174 enterprises from 30 countries.
Coffee shop to be removed from famous Dalat lake
Dalat City Ward 1 People's Committee has urged Lam Dong Provincial Ornamental Creatures Association to return the land of Bich Cau Garden which is being used for the Bich Cau Coffee Shop to local authority management.
The land with an area of over 6,000 square metres, which used to be a public park in the central highlands city's famous tourist site of Xuan Huong Lake, has been leased to the association since 2007 to develop a public park, organise exhibitions and fairs featuring ornamental trees, creatures, and arts.
However, an investigation by the local Department of Natural Resources and Environment showed that the area has recently been used asa coffee shop.
As the lease contract ended on January 5, Lam Dong Provincial People's Committee decided to reclaim the land. The Lam Dong Provincial Ornamental Creatures Association has been asked to remove their coffee shop and return the land to the local authorities before March 18.
Xuan Huong Lake was the first beauty spot in the tourist city of Dalat to have been recognised as a national landscape in 1988.
Viet Nam pledges to closely cooperate with ASEAN, UN in supporting Myanmar
As a member of ASEAN and the United Nations Human Rights Council for 2023-25, Việt Nam will continue its close coordination with the 10-member group and the international community to help Myanmar overcome difficulties, promote dialogue, enhance understanding and narrow differences, the Permanent Representative of Việt Nam to the UN has said.
Speaking at an informal meeting of the 77th UN General Assembly in New York on Thursday, Ambassador Đặng Hoàng Giang noted Việt Nam's concerns over the situation in Myanmar which saw no improvements over the past two years, with a fragile economy and a severe humanitarian crisis which have greatly impacted women and children.
Given this, all relevant sides need to exercise maximum restraint, stop violence and kick-start meaningful, inclusive dialogues in order to reach peaceful, sustainable solutions that match Myanmar people's will and interests, Giang said.
Việt Nam appeals to all parties to fully and effectively implement the Five-Point Consensus on Myanmar approved by ASEAN leaders, ensure the access to humanitarian and medical aid to all, observe the International Humanitarian Law, and particularly protect civilians, the ambassador said.
Regarding ASEAN's role, he stressed that Việt Nam lauds efforts by Indonesia, ASEAN Chair 2023, and backs the close cooperation between ASEAN and the UN in accelerating the settlement of the Myanmar issue, including the collaboration between their special envoys and between the ASEAN Coordinating Centre for Humanitarian Assistance on Disaster Management (AHA Centre) and UN agencies in humanitarian aid.
Việt Nam calls on the international community to assist ASEAN's efforts and promote dialogues and reconciliation on the basis of respect for Myanmar's sovereignty, independence and territorial integrity, he continued.
Việt Nam also calls for greater efforts in addressing the root causes of the refugee situation in Rakhine state, and creating favourable conditions for people to return home safely and voluntarily, and reintegrate into the community, Giang said.
Van Don Island to replace nearly 1 million toxic buoys at fish farms

Authorities in Quang Ninh Province have planned to remove nearly one million styrofoam buoys used at fish farms in the Van Don Island District and replace them with environmentally-friendly alternatives.
Quang Ninh has some 55,000 hectares of sea area that can be used for fish farming and most of the local farmers are using styrofoam for their oyster cages. Many old styrofoam buoys are being left on the bay, causing pollution. Although the province started the plan to replace the styrofoam buoys two years ago, only around half of the buoys have been removed so far due to many local farmers being unable to afford the cost of replacements.
Speaking at a recent meeting on the issue, Quang Ninh Provincial People's Committee Party Secretary Nguyen Xuan Ky asked Van Don District to remove the last 1 million buoys before April 30 this year at the latest.
Millions of the styrofoam buoys were replaced by plastic buoys at fish farms on the Bai Tu Long Bay.
Local farmers said that as the cost of plastic buoys is higher, and they needed time to source replacements.
"Prices for styrofoam buoys range between just VND25,000-35,000 (USD1.10-1.50) while each plastic buoy costs at least VND50,000 (USD2.20)," a farmer named Nguyen Duy Ha explained.
Vice chairman of Van Don District People's Committee, Dao Van Vu, said that most local fishermen have been supported when replacing toxic styrofoam buoys with environmentally-friendly alternatives to ensure sustainable farming. However, they need time due to being affected by the pandemic.
"We're working with some firms to help farmers with preferential loans or buoy supplies so that we can complete the work by the end of this year," the official said.
Three Vietnam Airlines flight attendants arrested for drug transport
Customs forces have just detected and arrested three flight attendants of Vietnam Airlines for the act of transporting ecstasy and drugs from France to Vietnam.
On Thursday afternoon, the Civil Aviation Authority of Vietnam (CAAV) confirmed the information that three flight attendants of Vietnam Airlines on flight VN10 had been arrested for carrying ecstasy and drugs from France to Vietnam.
The case is being investigated and clarified.
The CAAV affirmed that in order to prevent and combat smuggling, commercial fraud and counterfeit goods via air route, the CAAV required relevant units to strengthen checking and monitoring to promptly prevent, detect and strictly handle violated cases.
Specifically, the airlines are required to direct its cabin crew and flight attendants to internally review and regularly control the flight crew on duty in line with legal regulations on preventing and combating smuggling, commercial fraud and counterfeit goods via air-route
Cho Ray Hospital performs over 1,100 kidney transplants in 30 years
The Cho Ray Hospital in Ho Chi Minh City has performed 1,127 kidney transplants since 1992, heard an event held by the medical establishment on March 16.
The event consisted of a ceremony to mark Cho Ray's three decades offering kidney transplants and a seminar on the surgery.
In his remarks, Nguyen Tri Thuc, director of the hospital, said Cho Ray is also a pioneer in implementing measures to expand the source of donor kidneys, including those from brain-dead donors (since 2008), cardiac arrest donors (since 2015), and ABO-incompatible living-donors (since 2021).
The hospital has also cooperated with transplant centers in the Republic of Korea, Japan, Taiwan (China), Australia, the US, and Spain, among others, to send doctors and nurses in study and experience exchange programmes, he added.
Deputy Minister of Health Tran Van Thuan said up to 62,555 people registered to donate organs in 2022, compared to just 265 in 2014; and Cho Ray hospital posted about half of the total registrations.
The operation, which is becoming a routine technique at many hospitals across the country, especially Cho Ray, has contributed to reviving many of those patients with organ failure, he affirmed.
Hanoi leads in prize winners in the contest for gifted students
Results from a national competition for gifted high school students have revealed Hà Nội had the largest number of winners.
Among more than 2,000 award-winning students at the contest held in February this year, Hà Nội topped the country in the number of winners (141), followed by Nghệ An (87), Vĩnh Phúc (79) and Hải Phòng (76).
The localities with the least number of awards include Hà Giang (2), Bạc Liêu (4) and Lai Châu (5).
The capital city also led the way in the top awards, with 22 students picking up the First Prize, including nine from the Vietnam National University of Hà Nội, followed by Hà Tĩnh (8), Nghệ An (7) and Hà Nam (6).
The National Contest has been held each year since 2001. The best students in academic exams will then go on to represent the country at international competitions.
This year, more than 4,500 students from across the country took part. Over 2,000 of them have been awarded the prizes, with 97 first, 520 second, 732 third and 934 consolation prizes.
HCM City picked up 42 prizes, 18 in English and 24 in other subjects.
Prize winners also automatically gain entrance to colleges and universities.
Many of the top students will represent the country at the Olympiads in physics, maths, biology and informatics to be held May, July and August this year.
Bac Giang unveils cultural tourism route linking with Hanoi
A cultural tourism route connecting Hanoi and the nearby province of Bac Giang was launched on March 16.
The route was opened by the SGO Travel Services and Exploitation JSC and the information and tourism promotion centre of Bac Giang.
It features one-day and two-day-and-one-night tours in which visitors will depart Hanoi for cultural, historical and spiritual relic sites, beautiful landscapes, and craft villages in Yen The, Viet Yen, Luc Ngan, and Son Dong districts of Bac Giang.
The tours, available for both domestic and international tourists, are open every day from Wednesdays to Sundays.
Particularly, the "Hanoi - Tay Yen Tu" tour will offer an experience of the path of Buddhism propagation by King-Monk Tran Nhan Tong, founder of the Truc Lam Zen Buddhist sect, and his disciples over 700 years ago. Travellers will have a chance to gain an insight into a set of more than 3,000 Buddhist woodblocks listed by UNESCO as documentary heritage in the Memory of the World Programme for the Asia-Pacific region at Vinh Nghiem Pagoda in Yen Dung district.
Do Tuan Khoa, Deputy Director of the Bac Giang Department of Culture, Sports and Tourism, said the launch of the Hanoi - Bac Giang route was the first step to connect destinations between the two localities, adding that his province hopes relevant units will continue developing more high-quality travel products to boost local tourism development.
Military to hand over land to airport terminal by end-March
The Ministry of Defense has said it will complete the handover of military land to HCMC prior to March 31 for building Passenger Terminal T3 and connecting roads at the Tan Son Nhat International Airport.
The HCMC People's Committee, the Ministry of Defense and relevant agencies conducted a site inspection on the land handover to the Terminal T3 project, according to the Vietnam News Agency.
Phan Van Mai, chairman of the HCMC People's Committee, asked local authorities, especially Tan Binh District, to coordinate with the military to cope with outstanding issues related to the assessment of assets attached to the land, compensation plan and site clearance.
HCMC will carry out site clearance compensation in line with the law and support the affected units, said Chairman Mai.
Deputy Defense Minister Senior Lieutenant General Nguyen Tan Cuong directed military units to work closely with the city's authorities to hand over the military land lot prior to March 31.
As of February 28, the Air Force had handed over nearly 8.5 hectares among the total of 16 hectares required to construct the new terminal.
For the roads leading to T3, which needs 12.5 hectares of land, authorities have determined the boundary and set up landmarks and conducted an inventory of assets on the land.
The HCMC People's Committee and the Seventh Military Region are discussing the compensation plan for site clearance.
Strategies discussed to develop film industry in Viet Nam and the region
Numerous filmmakers, artists, and representatives of management agencies gathered together on Tuesday for a workshop to discuss strategies for growing the film industry in Việt Nam and Southeast Asia.
Policies on promoting and co-producing films internationally, as well as plans to build a national cinema brand, were among the topics debated.
One of Việt Nam's most renowned directors, Đặng Nhật Minh, has spoken out in praise of the Government's greater support for the film sector in recent years.
But Minh argued that the State should pay equal attention to the distribution of films as it does to their development.
As far as he is concerned, the more effort put into a film's distribution, the wider its audience will be.
Filmmaker Phan Đăng Di voiced his hopes the Government will invest effectively in Vietnamese films and for the country's film industry to take a new path.
On March 15, 1953, at the Đồi Cọ Zone, Thái Nguyên Province, the late President Hồ Chí Minh signed the decision to establish the National Enterprise of Cinema and Photography, laying the groundwork for Vietnamese revolutionary films.
From the early days of the country's reconstruction to the present day, revolutionary movies have been there every step of the way, expressing the people's candid and vivid fight to protect the country and advance the nation's building and development.
According to the Việt Nam Film Institute (Ministry of Culture, Sports, and Tourism), for the 70th anniversary of the establishment of Việt Nam's revolutionary cinema industry (March 15, 1953-2023), numerous events will be organised, including exhibits, film screenings, and book releases.
The exhibition "Marks of 70 years of revolutionary film in Việt Nam" is one of the centrepieces, introducing more than 200 photographs of typical events, individuals, and cinematic works from Việt Nam's cinematic history over the previous seven decades.
The exhibition will take place in Hà Nội until the end of March 19 at Ngọc Khánh Cinema, 523 Kim Mã Street, Ba Đình District, Hà Nội and in HCM City from March 23 to April 6 at the University of Culture (campus 2), at 288 Đỗ Xuân Hợp Street, Thủ Đức City.
Ngọc Khánh Theatre in Hà Nội will also be hosting a free film screening programme in celebration of the event through March 16.
Films including Chung Một Dòng Sông (On the same river), Bao Giờ Cho Đến Tháng Mười (When the Tenth Month Comes), Mùa Ổi (Guava season), and Đừng Đốt (Don't burn) have been chosen to be shown as part of this schedule.
Viet Nam, France to hold events to mark 50 years of partnership
A series of commemorative activities will be held throughout the year to mark 50 years since the establishment of diplomatic ties and 10 years of the strategic partnership between Việt Nam and France.
The highlight of the series will be the 12th partnership conference between Vietnamese and French localities scheduled to take place in Hà Nội from April 13 to 15.
The conference aims to enhance cooperation among Vietnamese and French localities, universities and academies.
Nicolas Warnery, French ambassador to Việt Nam, said: "We are working with Hà Nội's authorities, Vietnamese Ministry of Foreign Affairs and other relevant agencies to promote decentralised cooperation."
"We hope this will be an opportunity to establish new partnerships and for partners to share ideas in all sectors including urban development, transport, heritage, and tourism," he said.
Trần Nghĩa Hòa, deputy director of Hà Nội Department of External Affairs, said the conference would have four thematic sessions on sustainable cities; environment and water treatment; culture, heritage and tourism; smart cities and digitisation.
So far about 30 Vietnamese localities and 20 French localities had registered for the event, he said.
Hà Nội would also host the Việt Nam - France Economic Forum slated for April 15 with the expectation to foster post-COVID-19 economic bilateral partnership, he said.
Other activities to be organised within the anniversary programme include high-level conferences between the two countries' universities with the participation of Professor Ngô Bảo Châu in September.
A festival introducing French food and drinks will be held on the pedestrian streets around Hoàn Kiếm Lake in the middle of April.
Other science and cultural events will be also a part of the anniversary schedule including Horizon Innovation, a photo exhibition about Hà Nội on the wall of the French Embassy, fashion shows, Huế with light and heritage shows.
There will be many events held in public spaces and open for everyone.
The French ambassador during a press conference on Tuesday spoke about the importance of Việt Nam in the diplomatic policies of France in the Indian Ocean and Pacific, stressing that Việt Nam is located at the centre of Indian Ocean and Pacific and also centre of ASEAN.
Việt Nam is an important partner of France. Both countries share common values such as respecting international laws, giving priority to economic development, according to the ambassador.
VCCI launches contest to create song for Vietnamese businessmen
The Vietnam Chamber of Commerce and Industry (VCCI) in co-operation with the Việt Nam Musicians' Association have launched a song writing contest to create a theme song for Vietnamese businessmen.
The contest is open to all amateur and professional Vietnamese composers of all ages and from all walks of life, who reside in and outside the country.
Composer Nguyễn Đức Trịnh, chairman of the association, will act as head of the jury.
The entries should express patriotism, nationalism, the will and desire to rise, praise the morals and culture of Vietnamese businessmen, and help spread morality and culture among a new generation of businessmen.
The songs should be associated with the nation's development periods, aiming to build a strong business community, and a wealthy and prosperous nation.
The first prize is VNĐ200 million in cash (US$8,400), while second prize is VNĐ50 million, third prize is VNĐ20 million, and five encouragement prizes will be VNĐ10 million each. The award ceremony will be held on October 13, 2023, the Vietnamese Businessmen's Day.
The entries should be sent to the organisers between March 17 and July 31, 2023.
Phạm Tấn Công, President of VCCI, said the contest aims to choose a common song for Việt Nam's businessmen and enterprises to encourage their spirit and build up cultural identity for the community in the process of making the country a developed and prosperous country.
Composer Đỗ Hồng Quân, President of the Việt Nam Union of Literature & Arts Associations, highly appreciated the contest's significance. He called for the participantion of all amateur and professional composers throughout the country.
"We have had songs that caught the breath of people, including the most popular songs like Tiến Quân Ca (Marching Song) by Văn Cao and Giải Phóng Điện Biên (Liberating Điện Biên) by Đỗ Nhuận. The national spirit has been the guideline for composers in their creativity," he said.
Information about the contest will be published on the websites of VCCI, the association and other media channels.
The winning song will be heard in all ceremonies and events hosted by the community of Vietnamese businessmen and enterprises.
Violators in food safety to be publicized
Health authorities will publicize the name of food establishments that violate food safety regulations.
The Central Inter-agency Steering Committee on Food Safety yesterday issued a plan to implement the Action Month for Food Safety 2023 with the theme 'Ensuring security and food safety' from April 15 to May 15.
During the Action Month for Food Safety, the Central Inter-agency Steering Committee on Food Safety assigned the ministries of Health, Agriculture and Rural Development and Industry and Trade to coordinate with relevant ministries and agencies to organize six interdisciplinary inspection teams to conduct unscheduled inspections in 12 provinces and cities such as Lam Dong, Dak Nong, Binh Dinh, Quang Ngai, An Giang, Dong Thap, Hanoi, Hai Duong, Binh Duong, Ba Ria - Vung Tau, Can Tho and Hau Giang.
Health inspectors will conduct random and unannounced inspections to check whether facilities follow safe food practices. If inspectors detect food establishments fail to meet the food safety regulations, they will issue warnings and publicize the names of these facilities to deter people from breaching the law.
More than 2,500 renal patients benefit from Singapore-Viet Nam haemodialysis project
Since 2018, the Haemodialysis Care Project between Vietnamese and Singaporean partners has worked to improve the overall quality of care for more than 2,500 renal patients in the northern region.
The five-year project was a collaboration between Hanoi Medical University (HMU), Tan Tock Seng Hospital (TTSH) and Singapore International Foundation (SIF).
During the project, a team of Singapore International Volunteers (SIV), comprising doctors, and nurse specialists from the TTSH's Department of Renal Medicine, worked with their counterparts from HMU, as well as Bạch Mai and Việt Đức hospitals and other dialysis centres in Hà Nội.
The SIVs trained close to 260 Vietnamese practitioners. Among them, 12 were then picked to become master trainers, who were taught advanced skill sets with which they trained other healthcare workers.
In addition to enhancing the training of Vietnamese caregivers on safe practices, the project also taught them about the current standards of renal care through a series of interactive components for knowledge exchanges.
Activities included workshops on clinical training, discussions on leadership engagement, developing haemodialysis guidelines, a study visit to Singapore and a symposium among healthcare professionals.
My Tam to release documentary film in cinemas
Vietnamese pop idol Mỹ Tâm is working on the production of a documentary film about her concert tour Tri Âm (Soulmate) celebrating her 20-year journey in music.
The film Người Giữ Thời Gian (The Time Keeper) includes fabulous and emotional performances of Tâm, known as the Vietnamese Queen of Pop, and her friends including singer Hà Anh Tuấn, singer-songwriter Phan Mạnh Quỳnh, composer Khắc Hưng, and rapper Wowy, in front of audiences in HCM City and Hà Nội.
The work also features Tâm and her team's challenges and difficulties when organising the two shows.
The concert in HCM City was held in April 2021 just before the fourth wave of COVID-19 in Việt Nam, while the event in Hà Nội had to be postponed twice due to the pandemic and then finally held in November 2022.
Tâm mentions in the trailer for Người Giữ Thời Gian that, "the movie is about the journey of emotions when I started to organise the Tri Âm (Soulmate) concert, and also about the magical 20 years of love between me and my soulmates".
She said, "after all [difficulties], I believed things would not turn out the way I wanted. But there was the moment of truth. When I entered the stadium, meeting my team, then walking on the stage lift, and appearing on the stage. Right in that moment, I was being myself."
The trailer was released on March 10, attracting more than 23,200 views.
Tâm, a native of Đà Nẵng Province, studied at the HCM City Music Conservatory. She worked as a professional singer when she was at school.
In 1999, she signed an exclusive contract with Vafaco, the city's leading music producer. Her first single album, Nhé Anh (You), became a recording phenomenon in the local market.
Her top hit, Mãi Yêu (Love Forever), helped the singer bring home the Bronze Medal at Asian Golden Singers Festival in Shanghai in 2001.
Tâm, who sings in Vietnamese and English, also works as a songwriter and music producer. She has released nine albums.
Her latest album called "Tâm 9", which includes 13 songs of pop soul, was released in late 2017 and sold 5,000 copies in the first hour of its release. It has sold more than 20,000 copies.
The album ranked 10th on the Billboard's World Albums chart the third week in January 2018, according to sales data compiled by Nielsen Music.
She was the first Vietnamese singer to sign a contract with the Korean entertainment company Nurimaru Pictures.
She was selected as one of "Global Pop Sensations You've Never Heard Of" by ABC News in the US in 2010.
She became the first Vietnamese singer to participate in the Asia Song Festival in Seoul in 2004 and received a Plaque of Appreciation and Best Contribution Award from the Korean Minister of Culture and Tourism.
Tâm was also the first Vietnamese singer to receive the Best Asian Artist at the Korean Mnet Asian Music Awards in 2012 and MTV Europe Music Award's Best Southeast Asia Act in 2013.
She was awarded the World Music Awards' World's Best Selling Vietnamese Artist in 2014, and the Big Apple Music Award's Best-Selling Artist of Asia title in 2015.
Tâm has won many top prizes at the country's leading music awards shows such as Cống Hiến (Dedication) in 2015 and 2018.
Her charity fund, Mỹ Tâm Foundation, was launched in 2008 and has supported many poor children and students.
The movie Người Giữ Thời Gian will premiere on April 8 in cinemas nationwide.
Source: VNA/SGT/VNS/VOV/Dtinews/SGGP/VGP/Hanoitimes