Chief Justice of the Supreme People's Court Nguyen Hoa Binh and Minister of Justice Le Thanh Long cleared up questions regarding asset recovery in corruption cases, at a Q&A session in Hanoi on March 20 as part of the 21st meeting of the National Assembly (NA) Standing Committee.
Binh admitted that the work has yet to be done strictly although 40% of the assets were recovered over the past decade.
The roadblock lies with the process to prove that the assets are acquired from corruption cases, he said, stressing the need to raise the efficiency of investigations and quickly seal off the assets to speed up the work.
For his part, Long reported that as from October 2022, competent forces recovered 17 trillion VND (720.87 million USD), up nearly 12 trillion VND year-on-year.
He, however, pointed to a host of obstacles such as the assets in major corruption cases scattered in different localities nationwide, and the time needed to trace asset origin.
The judicial sector will work to better implement Directive No. 04-CT/TW issued by the Party Central Committee's Secretariat on June 2, 2021 on enhancing the Party leadership over the recovery of assets stolen and lost in corruption and economic cases, while following instructions by the Central Steering Committee on Prevention and Control of Corruption and Negative Phenomena, he said.
He called on people-elected agencies, the legislature and its deputies to enhance their supervisions to prevent asset concealment.
According to a report by the Supreme People's Court, 12,244 corruption and economic cases were handled between 2018 and 2022, with 25,144 individuals involved.
NA Standing Committee holds Q&A session on judicial issues
The National Assembly (NA) Standing Committee held a question-and-answer (Q&A) session about judicial issues on March 20 as part of its 21st meeting.
NA deputies' delegations of localities nationwide also joined the Q&A session via videoconference, which was broadcast live on national radio and television.
In his opening remarks, NA Chairman Vuong Dinh Hue said the court and procuracy sectors have a very important role to play in ensuring the strict enforcement of legal documents to help with the fight against corruption and negative phenomena.
Courts are judging bodies that exercise judicial rights and protect justice, human rights, citizens' rights, the socialist regime, interests of the State, and rights and legitimate interests of organiations and individuals.
With a high sense of responsibility, courts have improved the quality and effectiveness of judging activities.
Meanwhile, the procuracy sector, which exercises the rights of prosecution and investigation procuracy, has made unceasingly efforts to better fulfill the tasks assigned by the Party, State, and people, Hue said.
However, he also pointed out certain shortcomings of the sectors.
The Chairman said the one-day Q&A session covers most of functions and tasks of the two sectors, asking legislators to raise brief and candid questions, and heads of the sectors to give straightforward answers and propose practical, effective, and feasible solutions to improve the sectors' capacity, efficiency, and effectiveness.
It is also an occasion for officials to provide official information about their sectors' performance results, he went on, adding that after the Q&A session, the NA Standing Committee will issue a resolution to serve as a basis for implementation and supervision.
Vietnam win Asian Beach Handball Championship gold medal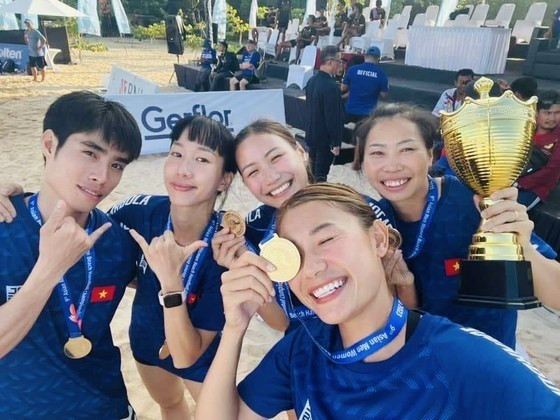 Vietnamese female team win Asian Beach Handball Championship gold medal (Photo: bongnem.vn)
Vietnam have successfully defended their title at the Asian Beach Handball Championship in Bali, Indonesia.
The Vietnamese women won all six of their matches to win the tournament.

They also secured their place at the 2024 World Beach Handball Championship and the 2023 Asian Beach Games.

Joining the March 10-19 tournament, Vietnam faced Hong Kong (China), the Philippines and the hosts in a two-leg round robin format group on their way to maintaining as their status as Asia's No 1.
Hailstorms hit northern, central Vietnam
Hailstorms have hit the northern province of Dien Bien and the central province of Nghe An over the past two days, causing damage to local rice and subsidiary crops.
Thunderstorms accompanied by hailstorms were reported in a number of wards and communes of Dien Bien Phu City and Dien Bien District of Dien Bien Province on March 19 afternoon.
The adverse weather phenomenon lasted for about 25 minutes, with hailstones covering large parts of the hit localities. In Dien Bien Phu City, heavy rain flooded some major arteries, while hailstones damaged rice and subsidiary crops in Dien Bien District.
Relevant agencies dispatched teams to do damage statistics and work out plans to support local people.
Meanwhile, hailstorms lashed Bao Thang, Huoi Tu, Muong Ong, Na Loi, Bao Nam, and Keng Du Commune of Ky Son District, Nghe An Province on March 18 afternoon. No reports on damage have been made.
Weather experts warn hailstorms often occur in the northern and central regions when seasons change between September and November, and between March and May.
Cambodian diplomat visits Vietnam to outline cooperation orientations
Deputy Prime Minister and Minister of Foreign Affairs and International Cooperation of Cambodia Prak Sokhonn is scheduled to arrive in Hanoi on March 20 for a three-day official visit to Vietnam at the invitation of Vietnamese Minister of Foreign Affairs Bui Thanh Son.
The two Foreign Ministers will also co-chair the 20th meeting of the Vietnam – Cambodia Joint Commission on Economic, Cultural, Scientific and Technological Cooperation in Hanoi.
The visit takes place at a time when the neighbourly and friendly relationship and comprehensive cooperation between Vietnam and Cambodia has developed strongly and yielded positive results.
The two sides have maintained regular reciprocal visit exchanges to work out measures to foster bilateral cooperation.
Vietnam is currently Cambodia's third largest trading partner globally and largest trading partner in Southeast Asia. Two-way trade last year rose nearly 11% compared to 2021 to US$10.57 billion.
At present Vietnam has 198 valid projects capitalised at US$2.97 billion in Cambodia, ranking first among Southeast Asian investors and fifth among global investor in the country.
The two sides have completed 84% of the workload of the land border marker planting project, and are now working on the remaining 16%.
In addition, bilateral cooperation in the fields of education-training, science-technology, tourism and people-to-people exchanges has been maintained and boosted.
The 20th meeting of the Vietnam – Cambodia Joint Commission on Economic, Cultural, Scientific and Technological Cooperation is set to exchange orientations and measures to ramp up comprehensive and stable cooperation between the two countries.
"Love Vietnam's seas and islands" club in France established
A club named "Love Vietnam's seas and islands" was launched on March 19 in Paris following the movement "All for Vietnam's seas and islands" that is spreading across Europe.
Tran Thu Dung, a founder of the club, said the club aims to connect the community and French friends who love Vietnam in general and the country's seas and islands in particular.
The club is also expected to promote Vietnamese people, nature, marine culture, and specialties to attract visitors to Vietnam.
Dung said that the club will also engage in fundraising to support students, teachers, schools, community houses, and libraries on Truong Sa islands, contributing to socio-economic development and protecting Vietnam's sovereignty over the seas and islands.
Speaking at the launching ceremony, Ambassador Dinh Toan Thang highly appreciated the initiative, describing the event as a demonstration of the faith of overseas Vietnamese in France in their homeland and its seas and islands.
The diplomat said he hopes that the club will attract more and more members, organise useful and interesting activities towards the homeland, as well as make more contributions to the country in the coming time.
Cao Hong Vinh, Head of the Liaison Department for Vietnamese in Europe "For the sea and islands of Vietnam" and also the representative of the "Truong Sa - Hoang Sa Club" in Poland, said that this is the 5th organisation established by people who love Vietnamese sea and islands in Europe.
On this occasion, the club introduced songs and documentary films about Truong Sa as well as books written by overseas Vietnamese who traveled to Truong Sa. Participants also joined in donating to build schools on islands in Vietnam.
NA Vice Chairman Nguyen Duc Hai pays official visit to RoK
A delegation of the National Assembly (NA) led by Vice Chairman Nguyen Duc Hai is paying an official visit to the Republic of Korea (RoK) from March 18 to 25.
This is the first high-ranking delegation of Vietnam to pay an official visit to the RoK since the two countries elevated their ties to a comprehensive strategic partnership in December 2022.
The trip aims to further intensify the countries' relations, political trust, and cooperation between the two parliaments in bilateral and multilateral aspects. The delegation will have discussions with the RoK to serve the amendment of some important laws such as the Land Law, the Law on Electronic Transactions, the Law on Protection of Consumer Rights, the Law on Price, the Law on Bidding, and the Law on Cooperatives, along with the e-parliament building.
Visiting the Vietnamese Embassy in the RoK on March 19, the NA delegation had a meeting with the embassy's staff and representatives of the Vietnamese community there.
NA Vice Chairman Hai affirmed that the Party and State always view overseas Vietnamese as an integral part and a resource of the country, as well as an important factor helping strengthen Vietnam's cooperation and friendship with others.
He stressed that the Vietnam - RoK relations are flourishing, especially since the establishment of the comprehensive strategic partnership.
The RoK remains one of the leading economic partners of Vietnam. People-to-people exchanges are vibrant with about 200,000 citizens of each country living, studying, and working in the other, including about 80,000 multicultural families.
Vietnamese people in the RoK form a young and promising community that has been growing stably, integrating well into, and contribute to the development of the local society, Hai said.
He expressed his hope that the community, especially intellectuals and students, will surmount difficulties and industriously learn knowledge as well as advanced management and production models of the RoK to contribute to the homeland's development.
Vietnam-Japan cultural exchange event organised in Bac Giang
A Vietnam-Japan cultural exchange event was held in the northern province of Bac Giang on March 19, as one of the activities in celebration of the 50th anniversary of the two countries' diplomatic ties.
Visitors to the event had a chance to experience an AR (augmented reality) technology cherry blossom (Sakura) garden, enjoy typical cuisine of Japan and Bac Giang, wear traditional Japanese and Vietnamese costumes, visit Tay Yen Tu spiritual - ecological tourism complex, and visit booths showcasing OCOP (One commune-one product) products of the province.
On this occasion, the Japan-Vietnam Friendship Association in Chukyo region and Yokoi Mould Vietnam Co., Ltd presented 120 sakura trees to the Vietnamese locality to be planted at the complex.
Japanese Deputy Ambassador to Vietnam Watanabe Shige showed his hope that these trees will grow up well and create beautiful landscapes to serve tourists.
Since 2015, more than 700 sakura trees – a symbol of Japan – have been granted to Bac Giang.
International Day of Happiness observed in Vietnam
A wide range of activities have been held across Vietnam to mark International Day of Happiness that falls on March 20 annually.
Many localities have launched information and communication campaigns to inform the public of the history and meaning of International Day of Happiness, as well as the Government's policies on social security, aiming to build a prosperous, progressive, civilised, and happy family.
A workshop specifically on happiness was recently organised at the Ho Chi Minh City Women's Cultural House, helping participants gain a better understanding of what happiness is and how to achieve it.
Authorities of Quang Ngai, Binh Dinh, and Nghe An provinces also held workshops on ways to build and maintain family happiness for everyone.
Elsewhere, a range of contests, art and cultural programmes, and sport games were held nationwide to enhance public awareness of the significance of the event and call for more practical actions to be taken to bring happiness to each person and each family.
The UN originally designated March 20 as International Day of Happiness in 2012, and the event has been since celebrated worldwide annually. As many as 193 member countries, including Vietnam, have pledged to work together in order to build a merrier world.
International Day of Happiness 2023 is running with the theme of "Be Mindful, Be Grateful, Be Kind". By incorporating mindfulness, gratitude, and kindness into your daily life, it is hoped that people can develop a more positive and fulfilling mindset and improve their overall well-being.
Practical effective activities urged to mark World Water Day
The Ministry of Natural Resources and Environment has asked other ministries, agencies, sectors, localities, and organisations to take practical and effective activities to mark the World Water Day (March 22), the World Meteorological Day (March 23), and the Earth Hour 2023 (March 25).
This year, the World Water Day's theme is "Accelerating Change" which aims to raise awareness and provide education about the global water crisis.
Meanwhile, the World Meteorological Day is themed "The future of Weather, Climate, and Water across Generation" and the Earth Hour 2023 "The Biggest Hour for Earth" emphasises the stronger changes that the world need to take to ensure global goals on environmental preservation and biodiversity.
A campaign to respond to the Earth Hour 2023 will be launched across Vietnam from 8:30 p.m. to 9:30 p.m. on March 25, sending out a message of saving energy, protecting the environment, and adapting to the threat of climate change.
During the Earth Hour campaign, citizens nationwide are encouraged to take a simple but meaningful act of turning off lights and other unnecessary devices in their homes and at their workplaces.
Earth Hour is an initiative launched by the World Wildlife Fund (WWF) and is the largest social event globally. So far it has been observed in 7,000 cities and towns across 172 countries and territories globally.
Vietnam first joined the Earth Hour campaign in 2009. Last year, the country saved 309,000 kWh of electricity, equivalent to 576.1 million VND (over 24,400 USD).
Indian culture promoted in Hanoi
The Indian Embassy in Vietnam held 'India Day- a Festival of Unity in Diversity' in Hanoi on March 18, aiming to promote the cultural features of India to Vietnamese people.
The event aimed to celebrate the 75th anniversary of India's independence, known as "Azadi Ka Amrit Mahotsav", 50 years of India-Vietnam diplomatic relations, India's Presidency of G-20 and the International Year of Millets, reported the Nhan Dan newspaper.
The art programme featured different classical, folk and popular dance forms of India, and yoga demonstrations by experienced practitioners. Ladies and children from the Indian diaspora and Vietnamese students from the University of Social Sciences and Humanities also performed music and dance performances, representing art and culture from India.
At the festival, Indian garments, art and craft, henna, mehndi and many other products were displayed, attracting a large number of both Indian and Vietnamese people. In addition, many photos highlighting the exchanges of high-level delegations and cultural activities between the two countries were also showcased.
Visitors to the event had a chance to enjoy traditional dishes of India at the food stalls, with "Tastes of India" from Kashmir to Kanyakumari.
Notably, the festival introduced different kinds of food items made from millets that are climate-resilient and nutritious. 'Millets' were among the first crops to be cultivated in India, with evidence of its consumption during the Indus valley civilisation 4000 years ago. 2023 is the International Year of Millets, as declared by the United Nations General Assembly.
According to President of the Vietnam Union of Friendship Organisations (VUFO) Ambassador Nguyen Phuong Nga, the imprints and cultural values of India preserved in Vietnam, are an important bridge to tighten the understanding between the two peoples and the festival would contribute to deepening the traditional friendship between Vietnam and India, personally created and cultivated by the two late leaders, Ho Chi Minh and Jawaharlal Nehru.
Measures proposed to ensure ethnic minorities' land use rights
With the amended Law on Land expected to be reviewed and approved this year, experts have been voicing their opinions and discussing measures to protect the land use rights of ethnic minorities.
According to the latest survey on the socio-economic status of 53 ethnic minorities, conducted by the National Assembly's Commission for Ethnic Minority Affairs in 2019, there are 24,532 households nationwide that witness a shortage of residential land among these communities.
Meanwhile, approximately 210,400 ethnic minority households are in need of land support for production purposes.
The causes identified include insufficient solutions for residential and production land, as well as a lack of regulations responding to the traditions and customs of ethnic communities in land use.
A representative from Việt Nam Fatherland Front Central Committee has proposed that the amended law include the issuance of land use rights and transfer certification (called the 'red book') for ethnic minorities' residential and production land.
In the case where a person of an ethnic minority wishes to transfer their land for specific reasons, such as migration with their children, it is suggested that the opinion of the district-level People's Committee or province-level agency for ethnic minorities is required.
Đinh Thị Chuyên San, deputy chairwoman of the Advisory Board on Democracy and Law of Bắc Kạn Province Fatherland Front, agreed that specific regulations are needed for land issues concerning ethnic minorities.
She also voiced her concern regarding Article 52, which stipulates that individuals of ethnic minorities using land allocated by the State or under the State's support policies can transfer or donate their land use rights after 10 years.
In reality, there are cases where poor ethnic households, due to extreme financial difficulties, transferred their land rights or put them up as collateral, after which they cannot afford to reclaim, she said.
Alongside land management, many people also agreed that the amended Law on Land needs to address the current bottlenecks, especially when the State's policies on land recovery, compensation and resettlement are implemented.
Quàng Văn Hương, vice chairman of the NA's Council for Ethnic Affairs said that the amendment needs to include detailed regulations which respond to the specific issues and traditions of ethnic minorities, especially in remote areas.
The document must also ensure that those who have their land recovered will be relocated with an income and living conditions equivalent to, or better than at the old location.
Phạm Hải Hoa, chairwoman of Hà Nội Farmers' Union said the draft amendment stated government's responsibilities for the land areas for ethnic minorities and their cultures and traditions.
This means that the document must also specify the detailed criteria for the 'equivalent' living conditions, she said.
Nguyễn Tiến Thanh, vice chairman of Lào Cai Province's Advisory Board on Democracy and Law also said that the draft has clarified the regulations on building land pricing. He added that the same practices should be applied to the valuation of assets on a particular piece of land.
Thanh added that the amendment should also allow capital contributions through land use rights, which needs legal assistance from legal support centres and farmers' associations to prevent land appropriation.
More bridges to be built in Mekong Delta
Construction of nine new bridges in the Cửu Long (Mekong) Delta is planned to start in September.
According to the Construction Investment Management Department under the Ministry of Transport (MoT) , building the nine new bridges is included in a project raising the navigational clearance height of bridges across national inland waterways, and the first phase is in the southern region.
The project was approved by the MoT last year with a total cost of about VNĐ2.2 trillion (US$91 million).
It is expected to improve the transport infrastructure in the delta and ensure that the delta's waterway transport system is more synchronous.
The new bridges are the Ô Môn and Thới Lai bridges crossing the Ô Môn River, the Đông Thuận and Đông Bình bridges crossing the Thị Đội-Ô Môn Canal, the Vàm Xáng-Thị Đội Bridge crossing the Thốt Nốt Canal, the Sa Đéc (Nàng Hai) Bridge crossing the Lấp Vò-Sa Đéc Canal, the Mộc Hóa Bridge crossing the Vàm Cỏ Tây River, the Hồng Ngự Bridge crossing the Hồng Ngự-Vĩnh Hưng Canal, and the Mỏ Cày Bridge crossing the Mỏ Cày Canal.
The project also includes renovating and raising the navigational clearance height of the existing Giồng Găng Bridge crossing the Hồng Ngự -Vĩnh Hưng Canal and dismantling the old Măng Thít Bridge.
The ministry has assigned its Management Board for Waterway Projects to be the project's investor.
The investor is selecting a contractor to be responsible for providing consultancy on the construction drawing design, which is expected to be completed in May. The appraisal and approval required for the construction drawing design would be done before June 30.
Selecting the contractor for the construction of the project is scheduled to be completed by the end of April.
The project uses state budget funds for medium-term investment plans in the 2021-25 period.
Construction of the project is expected to be completed in 2025.
Local residents use organic waste as a clean fertiliser source
Sorting out household waste is second nature to Lê Thị Hồng.
The resident of Liên Hồng Village in Kim Liêm Commune, Nghệ An Province, takes her family's organic waste and turns it into fertiliser for her plants.
Hồng said the habit was formed after the district deployed a model of turning organic waste into a clean fertiliser to reduce environmental pollution and costs in agricultural production.
She said before the model was deployed, she put all waste including food waste, plastic bags and bottles into a large nylon bag and threw it away.
However, since they were given three-compartment trash cans, she and her family members have followed instructions to classify waste.
The waste is divided into three types; food, recyclable and reusable, and other waste.
She said food waste accounts for the largest amount. Her trash was often full within two or three days when she did not sort out waste.
But now, it takes about 10 days to fill the trash, she said. Because all food waste is used to be clean fertiliser, she said.
Vegetables and guava trees in her garden now grow very well, she said.
Nguyễn Văn Thiện, another resident of the village, said since the day he was given the three-compartment trash, the waste was clearly sorted out, saving time and effort for trash collectors.
In the past, we often threw all kinds of garbage in one nylon bag, causing inconveniences for trash collectors, he added.
Nguyễn Văn Hùng, a resident living Sen 2 Village, said thanks to organic fertilisers composted from food waste, his family harvested 300 kg of zucchini late last year. Other vegetables like cabbage and beans, are always fresh thanks to the organic fertilisers.
Nguyễn Thị Thủy, another resident of the village said when the model has been applied, all food waste of her family has been put into a compost bin and a specialised composting machine to make organic fertilisers for ornamental plants in her 700-sq.m garden, especially for orchids of all kinds with the number of up to hundreds of roots.
Thuỷ said the classification of waste and the use of food waste as clean fertiliser are very helpful and practical.
It not only reduces pollution for the environment but also brings benefits for the households and the whole society, she said.
Nguyễn Thành Lâm, head of the district's Natural Resources and Environment Office said that while the district lacks landfills and does not have a waste treatment plant (currently, waste in the district is transferred to the city's landfill for treatment), the classification of domestic solid waste at source not only contributes to reducing the amount of waste that must be collected, transported and treated, but also creates a source of clean fertiliser for plants.
Vũ Ngọc Tĩnh, director of Centre for Technology and Data for Environmental Pollution Control under the Ministry of Natural Resources and Environment, said that after a period of applying the model, environmental protection and classification of domestic solid waste at source in the commune have shown many positive changes.
Currently, the separation of domestic solid waste at source has significantly made a reduction of domestic solid waste to be treated in the locality, he said.
The practice of sorting waste at source has contributed to bringing a new look to the commune, village roads have become green, clean and more beautiful, he said.
The model will be deployed to many other localities across the country in the future.
Hà Tĩnh continues unexpected run, advances to national U17 semi-finals

Hồng Lĩnh Hà Tĩnh continued its Cinderella story at the National U17 Football Championship after it was the first team to earn a slot in the semi-final round.
Hà Tĩnh beat Huế 4-2 in the penalty shootout after the match finished 2-2 in regular time at the PVF Football Centre in Hưng Yên Province.
After several missed chances, Hà Tĩnh had a threatening attack at the 17th minute. Hoàng Phú sent a ball into the box which came to Huế's defender Hoàng Vũ who tried to clear it but made an own goal by mistake.
Minutes later, Thanh Thảo levelled the result with a smart header from close range.
Đăng Khoa pushed Huế ahead at the 30th minute, sending home a straight shot.
It was tied again during additional time when Đức Quang netted passed Huế goalkeeper Gia Đạt who despite his effort could not block the shot.
In the spot kicks, while Hà Tĩnh were successful with all four finishes, Huế could make it only twice.
Hà Tĩnh entered the tournament as a substitute after qualified Bình Dương asked for a withdrawal at the last minute.
They unexpectedly stood second in Group C, behind title favourite Viettel, after one win, one draw and one loss, and secured a quarter-final berth.
In the semis, they will play Viettel on March 19. Viettel won 1-0 in their meeting in the group round on March 12.
Viettel earlier on March 17 beat Khánh Hòa 3-0. A goal belonged to Công Hậu in the first half and Công Phương in the second while an own goal by Khánh Hòa's defender Lê Quốc Khánh completed the scoring.
In other activities, Sông Lam Nghệ An stormed to the semi-finals after trouncing Hà Nội 4-0.
Văn Linh, Long Vũ and substitute Quốc Hòa scored for Nghệ An and the other was an own goal of a Hà Nội defender.
Nghệ An will play defending champion PVF, who met no difficulty in winning 4-2 over Bình Phước, in the other semifinal.
Scorching heat, tidal wave to simultaneously hit country
The National Center for Hydrology Meteorology Forecasting said that the whole country is sweltering amid the scorching summer heat wave.
The National Center for Hydrology Meteorology Forecasting informed that one more severe heat wave would scorch the whole country owing to the atmospheric circulation of a warm lowland zone in combination with the impact of hot and dry westerly winds from Laos to Central Vietnam.
Until the middle of next week, the localities between Thanh Hoa and Thua Thien-Hue will experience scorching hot days, with the highest temperatures of 35 to 37 degrees Celsius above normal.
Tomorrow, the Southeastern provinces and cities will be on high alert for a scorching temperature of over 36 degrees Celsius.
The unrelenting heat wave and hot and dry westerly winds could cause a high risk of explosive fire in forests and residential areas. Additionally, the experts issued warnings of dehydration, heat exhaustion and heatstroke risks due to prolonged exposure to the sun.
The National Center for Hydrology Meteorology Forecasting said that the tidal level in the Southern region tends to increase and the tidal peaks at Vung Tau station can hit up to 4- 4.1 meters within the next 24-48 hours.
The tidal wave can cause flooding in low-lying areas in the Southeastern localities.
Award-winning movie back to cinemas
The award-winning movie Đêm Tối Rực Rỡ (The Brilliant Darkness!), which focuses on domestic abuse, is being shown in cinemas nationwide to meet the demand of moviegoers who did not have a chance to watch it before.
Directed by American Aaron Toronto, the work opens at the funeral of a grandfather whose family members believe left them a fortune. But his children find out that their father lost a fortune gambling, and the mafia is coming to collect the debt. They must pay by sunrise, or else there will be another funeral.
The movie features veteran actors and actresses such as Huỳnh Kiến An, Phương Dung and Xuân Trang, and new face Lý Nguyễn Nhã Uyên.
The film won Best Feature Film and Best Cinematography at the Golden Kite Awards given by the Việt Nam Cinema Association (VCA) in Nha Trang, Khánh Hòa Province last September.
Nhã Uyên received two prizes for Best Leading Actress and Best Screenplay, while Kiến An was given the prize for Best Supporting Actor.
The movie brought home Best Story and Best Performance (female) awards at the 2022 Santa Fe Film Festival in New Mexico, the USA.
It was also named among 116 submissions for Non-English Language Film at the 2023 Golden Globe Awards.
According to a representative of CJ CGV Vietnam, theatres and distributors will create the best conditions for Vietnamese films, especially quality works, to be appreciated by audiences nationwide.
Starting with The Brilliant Darkness!, many films, which have achieved good results in the past, are expected to return to cinemas.
The Brilliant Darkness! was released last April and earned more than VNĐ20 billion (US$844,000) in ticket sales.
Lam Dong prepares for tourism festival next month
The Central Highlands province of Lâm Đồng will host the second Lâm Đồng Tourism Golden Week from April 27 – May 2 to celebrate the 48th anniversary of National Reunification Day (April 30).
According to the province's Department of Culture, Tourism and Sports, the event aims to introduce the province's history, culture, tradition and natural landscapes to tourists in Việt Nam and from around the world.
It also contributes to the province's social-economic development, and preserving and promoting the cultural values of local ethnic minority groups.
The festival will include 21 major cultural, sports and tourism activities which will be held in 12 cities and districts such as Đà Lạt, Bảo Lộc, Di Linh, and Lạc Dương.
The highlighted event will be traditional music and dance performances and a presentation of traditional costumes by ethnic minority groups in Lâm Đồng and other provinces in the region.
The performances will take place at Lâm Viên Square in Đà Lạt on April 29.
A gong festival called "Tiếng Gọi Đại Ngàn" (The Call of the Highlands) on April 29 in Lạc Dương District will attract hundreds of gong performers and artisans.
An outdoor concert featuring famous Vietnamese singers and musicians such as Tùng Dương and Mỹ Linh, the Maius Philharmonic and conductor Lưu Quang Minh from Hà Nội will be held on May 2 at Lâm Viên Square.
In addition, the festival will have a photo exhibition introducing the cultural heritage of ethnic minority groups in the province and the region, and a street food festival at Xuân Hương Park in Đà Lạt.
Sport competitions such as paragliding and mountain bike racing will be organised as well.
The organisers will hold seminars and forums on tourism promotion to introduce the province's new tourism products and connect local tourism agencies with businesses from other countries.
The Lâm Đồng Tourism Golden Week was first held in 2022, attracting more than 185,000 visitors.
Vietnam's cultural diversity attractive to foreigners: Thai scholar
Vietnam has unique native diversity which is attractive to foreigners, Thai scholar Songrit Pongern said in an interview on Vietnamese culture with the Vietnam News Agency's correspondents in Bangkok.
According to Songrit, Vietnam's beautiful and rich culture is reflected in beliefs, lifestyles, and production methods, and the richness of regional customs, traditions, and art forms.
Vietnam boasts dozens of cultural features recognised by the United Nations Educational, Scientific and Cultural Organisation (UNESCO) as the Intangible Cultural Heritage of Humanity, such as Hue Royal Court Music, cong chieng (gongs) in the Central Highlands, Bac Ninh Quan ho (love duet singing), Ca Tru - a form of traditional ceremonial singing, Phu Tho Xoan singing, Don ca tai tu (amateur music) in the Mekong Delta region, and Nghe Tinh Vi-Giam folk singing.
Songrit said he had the experience like a local during his trip to Ban Lac (Lac village) in Mai Chau, northern Hoa Binh province, 30 years ago, adding that he is still impressed by the beautiful scenery and fresh air there.
He said he learned how to weave fabric and make bamboo baskets, and enjoyed a meal of grilled fish with sticky rice. He recalled the merry atmosphere when dancing together with locals in the sound of drums and gongs.
According to him, this is an example of the strength of culture that Vietnam can widely promote to foreigners so as to help them understand more about the country's cultural diversity.
The researcher also shared Thailand's experience in protecting and promoting cultural values, saying that his country has attached cultural promotion to tourism promotion campaigns.
Thailand has worked hard on promoting its festivals and encouraging foreigners to learn about cultural festivals held year-round, he stressed.
He believed that cultural diversity is an important factor for Vietnam and Thailand to further promote their cooperation in many ways, thus strengthening cultural understanding among ASEAN member countries.
The two nations can jointly organised festivals with similarities such as the lantern festival in Hoi An and the Yi Peng lantern festival in Chiang Mai; and traditional culture and music exchange events, he noted.
If Vietnam and Thailand boost their close cultural cooperation right now, the two Southeast Asian countries will surely witness a bright future in their increasingly close bilateral relations, he said.
Over 1,000 young people join Green Sunday campaign in HCMC
More than 1,000 Youth Union members and young people took part in the 148th Ngay Chu Nhat Xanh (Green Sunday) campaign in HCMC on March 19.
Attending the event was Vice Secretary of the HCMC Party Committee Nguyen Van Hieu, Chairman of the Central Council of Ho Chi Minh Youth Pioneers' Organisation Nguyen Pham Duy Trang, Chairwoman of the Vietnam Fatherland Front in HCMC Tran Kim Yen, Secretary of HCMC's Youth Union Phan Thi Thanh Phuong.
Speaking at the launching ceremony, Chairman of the Vietnam Youth Federation in HCMC Ngo Minh Hai said that the Green Sunday campaign will be associated with the implementation of the youth work called "The Sai Gon River – The River in my city".
The program will focus on environmental protection activities, such as cleaning up Rach Lang canal 2, a section of the Xuyen Tam canal, and a section of the North-South railway running through Go Vap District's Ward 5 and Binh Thanh District's Ward 13; collecting, classifying, treating and recycling garbage, e-waste and plastic waste; promoting active living in young people on social platforms; cutting the use of single-use plastic products and planting more trees.
After the launching ceremony, youth union members participated in cleaning up polluted canals and residential areas.
Vietnam tops Southeast Asia Karate Championship 2023
Vietnamese karate athletes satisfactorily finished their competition at the Southeast Asia Karate Championship 2023 with 23 golden medals.
The number of gold medals helps Vietnam rank first at the Southeast Asia Karate Championship 2023.
In the women's and men's final rounds on March 19, Vietnam earned two gold medals.
Thus, the Vietnam's karate team won a total of 23 golden, 20 silver and 22 bronze medals to rank the first position at the Southeast Asia Karate Championship 2023, followed by Thailand and Indonesia.
Central region fishermen win big with anchovies
Only in one day of March 19, tens of fishing ships from the provinces of Ha Tinh, Thanh Hoa, Nghe An entered Cua Sot Port (Thach Kim Commune of Ha Tinh Province) to unload and sell tons of anchovies to traders.
In the morning of March 19, Cua Sot Port witnessed bustling activities of fishing ships and local residents transferring caught fish and squid, mostly anchovies, ashore where wholesalers were waiting eagerly to buy them to transport to different locations.
After two days working industriously, fisherman Nguyen Van Hung from Thanh Hoa Province came back to Cua Sot Port, bringing along tons of anchovies to be sold at the price of VND15,000-20,000 (US$0.64-0.85) a kilo.
He explained that in the last 4 days, thanks to favorable weather and calm sea, the sea 15-40 nautical miles from Cua Sot Port has seen schools of anchovies. Besides this fish, Hung was able to catch squid and other seafood. After selling this catch, he prepared fuel, essential commodities, and ice for the next trip. Since each successful catch earns tens of millions of VND, both he and his employees have been extremely exciting.
At the port these days, besides wholesalers who use trucks to take the seafood to other provinces for consumption, local residents have also come to purchase anchovies to resell at nearby retail markets or freeze before transporting to food processing facilities, wholesale markets.
Many fishermen informed that this favorable weather could help them catch even more anchovies. Despite low prices, such a large amount still brings them a huge profit. Many freelancers also have a chance to earn extra income thanks to temporary jobs like fish categorizing, unloading, transporting from the port to processing units.
Hanoi's volunteers run in response to Earth Hour 2023
Saving electricity should become a habit to help build a greener future and achieve net zero by 2050.
More than 1,000 professional and amateur athletes participated in a race around Hoan Kiem Lake in downtown Hanoi on March 18 in response to the Earth Hour 2023 campaign.
Organized by the Ministry of Industry and Trade (MoIT), the race was one of the activities held in Vietnam in response to this year's Earth Hour.
Through this race, the organizing committee hopes to continue to raise people's awareness of energy conservation, environmental protection, and climate change by turning athletes into ambassadors who spread the message of "Saving Electricity - Becoming a Habit".
In particular, the communities are called upon to save electricity, save energy and protect the environment not only in one hour but on a regular basis during the 365 days of the year.
Speaking at the ceremony, Deputy Minister of Industry and Trade Dang Hoang An affirmed that responding to climate change and preventing natural disasters is one of the most important issues for any country's development.
Vietnam has issued a series of policies and laws on the economical and efficient use of energy to protect the environment, reflecting its efforts to respond to climate change for sustainable development, An added.
Accordingly, to mark the global Earth Hour on March 25, citizens nationwide are encouraged to perform the simple but meaningful act of switching off lights and other unnecessary appliances from 8:30 pm to 9:30 pm.
This is Vietnam's 14th year participating in Earth Hour to highlight energy savings and raise public awareness on environmental protection and climate change.
In 2022, the country saved 309,000 kWh of electricity, equivalent to VND576 million (over $24,000) during the activity.
In 2009, the first Earth Hour campaign was organized in Vietnam, involving six provinces and cities. So far, the movement led by the MOIT has become an indispensable annual activity that has attracted the participation of many ministries, sectors, and individuals all over the country.
Earth Hour is an initiative launched by the World Wildlife Fund (WWF) and is the largest social event globally. It has been observed in around 7,000 cities in 187 countries and territories worldwide with billions of people joining in.
Hanoi to train 14,700 workers in less than three months
All apprentices must be at least 15 years of age and have educational and health qualifications appropriate to the trade they are learning.
Hanoi has drawn up a plan to train 14,720 workers in less than three months by 2023, including women, rural workers, people with disabilities, and young people doing their military service.
The plan aims to help raise the proportion of educated workers to 73.2%, of which the share of workers with degrees and certificates will reach at least 52.5%.
Accordingly, the Hanoi People's Committee will support elementary-level training for eleven groups of workers in 78 occupations in the 2023-2025 period.
The capital city has also set a target of training more than 21,000 people at the primary level by the end of 2023, of which over 9,000 will be trained in non-agricultural occupations and around 12,000 in agricultural occupations.
All learners must be at least 15 years old and have the educational and health qualifications appropriate to the profession they are to learn.
In addition, trainees may be workers directly engaged in agricultural production and those whose land has been requisitioned by the state.
Employees of small and medium enterprises with at least six months of continuous employment are also entitled to training.
Amnestied persons or persons who have served their prison sentence and have been reintegrated into society are entitled to vocational training in accordance with the legislation in force.
All people who get professional training will receive a subsidy determined by the municipal People's Committee. If the trainee is eligible for different priority subsidies, he/she will be entitled to the maximum training subsidy.
Vocational training centers providing basic training or courses of less than three months must fully comply with the requirements regarding teaching staff, facilities, and equipment. They must obtain a certificate from a competent authority to register for the training in accordance with the regulations. In particular, priority will be given to enterprises that have experience in vocational training, have good facilities and teaching conditions, or are able to find jobs for workers after training.
Previously, Hanoi has set a target to bring the rate of trained workers to 72.2%, meeting the annual target, according to the municipal Department of Labor, Invalids and Social Affairs.
At present, more than 190,000 people graduated from colleges and intermediate and elementary vocational schools, expected to address the shortage of trained workers.
Hanoi is home to 360 vocational schools, including 69 colleges, 59 vocational secondary schools, 54 job training centers, and 128 other educational establishments.
Recently, the city set a plan to train 230,000 people every year. The proportion of educated workers will reach 75-80%, of which trained workers with degrees and certificates will reach 55-60% by 2025 and over 60% by 2030.
According to the labor market development strategy formulated by the municipal People's Committee, the proportion of workers with information technology skills will reach 80% by 2025 and 90% by 2030.
The strategy aims to lay a solid foundation for developing a stable labor market, effectively mobilizing and utilizing human resources to promote socio-economic growth.
Hanoi also expects to have a modernized labor market information system under the strategy. Its data will be linked to other regions in the country and ASEAN countries, especially to major labor exchanges in Vietnam.
To this end, the city authorities will develop a specific mechanism and implement projects to support job creation for specific groups of workers, such as people with disabilities, ethnic minority workers, and new graduates from universities and vocational training institutions.
Attention will also be paid to training programs to improve the skills of new graduates and existing employees to meet job requirements.
Hanoi to hold scientific conference on mobilizing cultural resources for development
The Hanoi People's Committee conducted a press briefing on March 17 to announce the upcoming scientific conference titled "Promoting Cultural Values and Resources towards Developing a Modern – Cultured - Civilized Capital," scheduled for March 21.
During the press conference, Nguyen Thi Diem Hang, the Deputy Director of the Hanoi Institute for Socio-Economic Development Studies, shared that the scientific conference is being held by the resolutions of the Central Committee and Politburo, particularly Resolution No. 15-NQ/TW, which outlines the direction and objectives for developing Hanoi Capital until 2030, with a vision towards 2045.
Hang mentioned that the conference is also intended to implement the Hanoi Party Committee's Resolution No. 09-NQ/TU, which was issued on February 22, 2022, and focuses on developing the cultural industry in the capital region during the 2021-2025 period, with a vision towards 2030 and 2045.
In this regard, Hang expected the conference to address practical issues related to cultural, civilized, and modern development in Hanoi, propose solutions to promote cultural values and resources and shape the capital's development philosophy until 2030 and vision towards 2050.
The conference's Presidium will include leaders from the City Party Committee, Ministry of Culture, Sports, and Tourism, along with renowned experts and scientists. The one-day event will comprise two sessions, and through the discussions and ideas generated, it will contribute to identifying and clarifying the content of civilization - culture - modernity and offer suggestions for the capital's future development.
Nearly 300 delegates are scheduled to attend the conference, including representatives from the central agencies, ministries, People's Committees of provinces in the Red River Delta and Capital Region, experts, scientists, socio-political organizations, enterprises, and city units.
The seminar also invited several international experts who have conducted extensive research on Vietnamese cultures, such as Prof. Dr. Philippe Papin – an expert on Vietnam at the Paris Practice Graduate School and a visiting teacher at the University of Social Sciences and Humanities, and Professor Momoki Shiro from Osaka National University, Japan, who is also a visiting teacher at Vietnam Japan University.
The conference would address four main topics, including the culture of Thang Long - Hanoi and Hanoi as a "Civilized – Cultured – Modern" city; the cultural resources of Thang Long – Hanoi; Hanoi as a heritage capital and creative city with development aspirations; and the conditions, tasks, and solutions required to mobilize resources for developing the "Civilized - Cultured - Modern" capital.
To showcase and promote the traditional cultural values of Thang Long - Hanoi, the seminar would create an exhibition area where several typical traditional handicraft products of Hanoi are displayed, including fine art wood, mosaic, Bat Trang pottery, and Hang Trong painting.
Another area is dedicated to displaying cultural publications of Hanoi. Notably, the History Museum would present an exhibition space featuring bronze arrows excavated from Co Loa Citadel, and a set of products simulating the magic crossbow of King An Duong Vuong.
In conclusion to the press conference, Vice Chairman of the Hanoi People's Committee Ha Minh Hai emphasized that the outcomes of the conference would serve as a scientific foundation for all levels and sectors in the city to specify their programs and action plans under the directions and tasks of Resolution No. 15-NQ/TW of the Politburo on developing Hanoi Capital until 2030 with a vision to 2045, Resolution No. 09-NQ/TU of the Hanoi Party Committee on developing the cultural industry in the capital area from 2021 to 2025, orientation to 2030, vision 2045, and Program 06/CTr-TU of Hanoi City Party Committee on "Developing culture, improving the quality of human resources, building elegant and civilized Hanoi people, period 2021-2025".
Source: VNA/SGT/VNS/VOV/Dtinews/SGGP/VGP/Hanoitimes