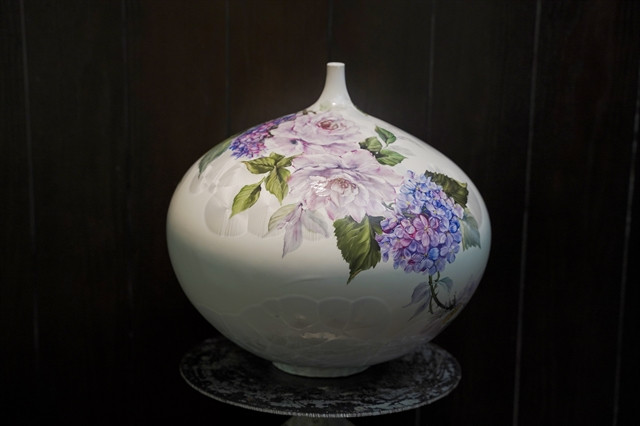 The 'Hoa Trên Hoa Kết Tinh' (Flowers On Crystallised Flowers) exhibition features 13 crystallised porcelain artworks. Photos courtesy of the centre of Vietnam Quintessential Handicraft
An exhibition featuring unique porcelain artworks resulting from the first-ever collaboration between two Vietnamese artisans will be on display at CHỌN de l'Art, located in the centre of Vietnam Quintessential Handicraft at 28 Bát Tràng Street, Gia Lâm District, Hà Nội, from March 25 to 28.
Titled Hoa Trên Hoa Kết Tinh (Flowers on Crystallised Flowers), the exhibition will showcase 13 crystallised porcelain items created by Lê Ngọc Thạch, a famed artisan based in Bát Tràng, and painted by the internationally-acclaimed overseas Vietnamese artist Hồng Đức Thanh.
The much-anticipated event, jointly organised by CHỌN de l'Art and the centre of Vietnam Quintessential Handicraft, is expected to draw porcelain art enthusiasts from all over.
Thanh, also known as Hồng Mễ Xuyên, has garnered international acclaim for his pursuit of the art of porcelain painting, which the Lingnan school influences.
The 65-year-old artist, now based in Norway, has won many prestigious awards at international exhibitions in the US, Spain, Brazil, Italy, Japan, and China.
Collaborating with mainland Chinese and Taiwanese artists, he has created paintings on thin, light porcelain products with an elegant shape and shiny enamel colours, which have stunned art enthusiasts. One of his notable artworks is performed on the world's thinnest porcelain bowl in Taiwan, currently on display at the Shanghai Museum in China.
Thanh is also passionate in spreading the art form to the younger generation. He was invited to teach at Folkeuniversitetet, and then at other schools around the world such as Sweden, Switzerland, Denmark, Japan, and Italy.
He is currently running a class in his studio, Art Thanh Hong AS in Brumunddal, Norway.
Artisan Thạch is the 16th generation descendant of a family with a tradition of crafting pottery products in Bát Tràng Village, Gia Lâm District in Hà Nội. His passion for the craft has begun since a very young age.
After graduating from the Jingdezhen Ceramic Institute, Thạch has regularly come into contacts and collaborated with other renowned artisans and big brands, in addition to attending many famous ceramic fairs in the world.
His enriched knowledge, experiences, desire and chances to witness the development of world ceramic craft have inspired him to create artworks of with his own ambitions that inherit the values ​​of the predecessors but also integrated with global elements.
After several meetings at Bát Tràng Village, which produces one of the most beautiful porcelain works in northern Việt Nam, they decided to have a joint exhibition at CHỌN de l'Art.
According to the organisers, the theme of the exhibition – Flowers on Crystallised Flowers – implies the crystallisation of two Vietnamese artistic souls travelling elsewhere and then gathering again right in the homeland.
This is the first time artist Thanh painted on crystallised enamel on porcelain crafted in Bát Tràng, which marks his beginning in conquering the material.
His vivid flower artworks, performed on blooming porcelain, have winged Thạch's dreams,
"Crystallised enamel takes us on journeys to paintings," he said.
"Through this exhibition, I hope to spread the values of the distinctive porcelain type of Bát Tràng and inspire the next artisan generation's interest in the art form," Thanh said.
Vietnamese culture and silk are topics of event dedicated to women
Culture in all its forms and expressions can accelerate human development, said the UN Women Country Representative, Elisa Fernandez Saenz, at an event in Hanoi on March 21 to honour the role of women in development.
More than 100 female diplomats, representatives of international organisations in Hanoi, and spouses of foreign ambassadors in Vietnam gathered at the event.
The event, entitled Following the Traces of Silk, has been organised by the Ministry of Foreign Affairs (MoFA) in collaboration with the Vietnam Sericulture Research Centre (VIETSERI) and the Vietnamese silk brand De Silk to celebrate International Women's Day (March 8).
The event also aims to introduce to special guests the process of making Vietnamese silk.
Adorned in a Vietnamese ao dai (traditional Vietnamese dress), UN women representative Saenz emphasised the importance of culture in every society.
"Culture can transform societies into more inclusive, resilient and sustainable," she said. "Culture can also be a powerful tool to communicate complex truths about our existence better. It can open minds and hearts to understand diversity better and act against social injustices, inequalities, and climate change."
The UN officer also said the Vietnamese government demonstrated a high commitment to placing culture at the heart of its ambitious development trajectory.
"Currently, there are eight [UNESCO] world heritage sites and 15 intangible cultural heritages in Vietnam," Saenz added. "This capture Vietnam's uniqueness and the country's laudable commitment to protect culture and heritage for future generations to enjoy."
Since arriving in Vietnam five years ago, the UN officer has learned about the great beauty of this clothing and its prominence to those wearing it.
"Traditionally, the ao dai is made from silk, and as you know, silk has played an important role in the cultural and economic life of Vietnam," Saenz said. "It has also been linked to women's movements. For example, as the gender equality movement began to gain momentum in Vietnam in the early 20th century, silk production became a symbol of women's empowerment.
"Women involved in silk production organised themselves into cooperatives and used the income from their work to support social and political causes, such as education for girls."
She said she hopes that Vietnam's silk production will continue to pave the way for greater gender equality and prosperity for all.
Delivering a speech at the event, MoFA deputy minister of the Le Thi Thu Hang said that since the special day [International Women's Day] was founded 113 years ago, the international community had made great strides in protecting and upholding the role and contribution of women.
According to MoFA vice minister, in 2022 Vietnam was among the ten best countries in the world in implementing the United Nations' goals on gender equality and empowering women and girls.
At the event, the participants also had a chance to learn about the origin and development of Vietnamese silk weaving craft through a demonstration from the founder of the silk brand De Silk, Van Hang.
The guests also enjoyed visiting the VIETSERI mulberry field, where they picked with relish the ripe mulberries or fed the silkworm with mulberry leaves.
Some even sit by a loom to experience the weaving craft or to learn how the silk has been reeling.
Wild elephants causes havoc for residents in Binh Phuoc
Concerns have been raised among residents of a small hamlet in the southern province of Bình Phước over the threat posed by wild elephants that have been recently spotted in the region.
According to a report by Dân Việt newspaper, the elephants have caused damage to numerous trees in gardens and farming fields at Thạch Màng Hamlet, located in the Tân Lợi Commune of the Đồng Phú District.
The majority of trees damaged were banana and fruit trees, which had been crushed underfoot to access the fruits.
The agricultural lands of several families residing in the area have been left decimated due to the elephants' destructive activity.
Trần Văn Lý, living in Thạch Màng Hamlet, said it is not the first time this hamlet was visited by wild elephants.
Authorities in Bình Phước Province have recorded the issue and are guiding residents with solutions.
The area is close to Cát Tiên National Park. Wild elephants are one of many endangered, precious, and rare species that need to be protected.
Cát Tiên National Park was recognised by UNESCO as the World Biosphere Reserve in 2001.
Vietnam carries out measures for healthy forests
Viet Nam has been taking practical steps to manage, protect and promote the multi-use value of forest eco-systems and effectively respond to climate change, said Phạm Hồng Lượng, chief of office of General Department of Forestry.
The role forests play is clear in all aspects of our lives, from production to economy and society.
At a forum on the International Day of the Forest on Tuesday in Hà Nội, Lượng stressed the importance of raising awareness about the role of forests in human life to work together in forest protection and sustainable forest exploitation.
This year's International Day of Forest 2023 is themed "Forests and Health" with the message "Healthy Forests for Healthy People".
Planting new forests, preserving existing forests, and expanding forest coverage are signs that a country is achieving sustainable development in terms of natural resources, environment, and overall development.
Climate change, degradation of arable land, and unpredictable floods and storms tend to increase the risk of forest destruction.
The decreasing rate of the forest has been seriously affecting the rapid and sustainable global socio-economic development.
Every year, more than 13 million hectares of forests are lost worldwide, and Việt Nam is no exception.
Over the years, climate change's impact has become increasingly obvious.
The weather is complicated, and natural disasters have become more and more severe and frequent, significantly affecting forest resources and forestry activities.
According to scientists, the project of one billion trees, of which 690 million trees are in urban and rural areas and 310 million trees in protection forests, special-use forests and planting new production forests, is one of the important prerequisites for Việt Nam to move towards sustainable development, bringing environmental and economic benefits.
As a forestry management agency, the General Department of Forestry has advised the Ministry of Agriculture and Rural Development to submit to Government the Forestry Development Strategy for the 2021-2030 period; the Programme for Sustainable Forestry Development for the 2021-2025 period; and Action Plan of implementing the Glasgow Declaration on forests and land use, Lượng said.
While implementing the project of one billion trees, in 2021 and 2022, Việt Nam planted 450 million new trees, including 227 million trees, equivalent to 130,000ha of new plantations, and 223 million trees in urban and rural areas, 7.6 per cent higher than the plan.
According to the National Strategy on Climate Change for the period to 2050, Việt Nam sets a net emission target of "zero" by 2050.
Among five fields contributing to the national target of reducing greenhouse gas emissions, forestry is the only industry that emits negative emissions due to its huge capacity to absorb CO2, Lượng said.
By 2030, the forestry and land use sectors are expected to reduce emissions by 70 per cent and increase carbon absorption by 20 per cent compared to the normal development scenario, with total emissions and absorption reaching at least minus 95 million tonnes of CO2 equivalent.
By 2050, emissions will be reduced by 90 per cent while carbon absorption will increase by 30 per cent and total emissions and absorption will reach at least minus 185 million tonnes of CO2 equivalent, Lượng said.
Nguyễn Song Hà, assistant FAO-Việt Nam's Representative, said the Food and Agriculture Organisation (FAO) pledged to be a long-term partner of the Vietnamese Government, continuously supporting healthy forests in Việt Nam while ensuring equal opportunities for everyone and leaving no one behind.
Over the years, FAO has worked closely with the Vietnamese Government to support activities to promote a healthy and sustainable forestry sector, Hà said.
Since 2009, together with UNDP and UNEP, FAO has supported the reduction of deforestation and forest degradation through local-level planning to reduce emissions in the forestry sector, improve land use regulation, control carbon emissions, and carry out sustainable forest management through community forestry and forest certification and governance, especially in land allocation and land use rights, Hà said.
In addition, to help small-scale farmer households find ways to increase their incomes and use forest resources sustainably, the FAO Farm Forests Programme (FFF) has collaborated with the Việt Nam Farmers' Union (VNFU) to support farmers to establish life-changing co-operatives, Hà said.
35th HTV Cup to cover 3,000km across 31 cities and provinces
The nation's largest cycling tournament, the HCM City Television (HTV) Cup, will begin on April 2, and finish at the city's Independence Palace on Reunification Day on April 30.
In its 35th edition, 11 teams and 98 cyclists will race 25 stages through 31 cities and provinces from north to south.
The first stage will be 25 laps equaling 42.5km around Hoàn Kiếm Lake in Hà Nội.
Cyclists will then pass Hà Nam and Ninh Bình to reach Thanh Hóa Province. They will bike to Nghệ An to reach the central region before going to the Central Highlands. The next stops will be in the coastal provinces with the beautiful beaches of Khánh Hòa and Ninh Thuận.
The peloton will travel to the southwestern provinces such as An Giang, Tiền Giang, Trà Vinh, Đồng Tháp, and Bến Tre, before ending at the Independence Place in HCM City at noon of April 30, National Reunification Day.
At a press conference on March 20, organisers announced that more than VNĐ2 billion (US$84,600) would be awarded to the best cyclists. The overall winner of the 2023 HTV Cup will receive VNĐ200 million.
The best sprinter and 'King of the Mountain' will earn VNĐ50 million each, while the best young rider will take VNĐ30 million. The stage winner will also secure VNĐ20 million.
Teams have set up their intensive training for weeks to prepare for the most important event of the year.
Many of them, such as HCM City, An Giang, Đồng Tháp, the Military, Đồng Nai and Bình Dương have moved to Đà Lạt, which has cool weather and its mountainous terrain mixed with plains are prime for cycling.
In addition, teams have hired foreign athletes.
HCM City's Russian Igor Frolov, who won last year's yellow jersey, will defend his top position. He will be supported by Vladislav Duiunov, also from Russia, who won the domestic road race in 2020.
Đồng Nai re-signed two Mongolian competitors, Baasankhuu Myagmarsuren and Erdenebat Bilguujargal, while Đồng Tháp has put their trust in Loic Desriac from France. Bình Dương is backing former winner Javier Perez from Spain.
Other teams, such as An Giang, have kept their 'foreign weapons' under wraps.
Chung added that the HTV Cup was not only a sporting event but also spread different messages, urging people to protect the environment, encouraging the cycling movement and taking various voluntary and charity activities.
Under the sponsorship of the Tôn Đông Á Company, cyclists will present gifts to families with difficulties in all areas they race through.
All stages of the Cup will be live broadcast on HTV channels, local TV stations, and fan pages of HTV and the cycling federation.
Viet Nam ready for Iraqi challenge at Doha Cup
Việt Nam's U23 team, along with their coach Phillipe Troussier, are gearing up for the Doha Cup, a friendly tournament serving as a warm-up ahead of the 32nd SEA Games.
With high expectations from national supporters and coach Troussier alike, Việt Nam are hoping for some impressive wins.
This will be Troussier's debut tournament with Việt Nam, and he is hoping his players won't be too hard on themselves if they make mistakes. His aim is for them to learn from their errors and never repeat them.
Ten teams are set to participate in the U23 Doha Cup, with each team facing off against two others in the first round. The organisers will determine the match-ups for the second round based on the results.
Việt Nam are scheduled to play Iraq and the UAE on March 22nd and 26th, respectively, in the late evening, as the games fall within the Muslim holy month of Ramadan, a time of fasting, prayer, reflection and community.
With such a high-stakes tournament and a challenging schedule, Vietnam's U23 team and their fans eagerly await the excitement ahead.
To prepare for the late evening matches in the Doha Cup, coach Troussier had his players train during the same hours as the competition, from 10pm to midnight.
Iraqi coach Radi Shenaishel said his biggest problems were that players do not have enough training together and the Ramadan holiday.
During the holy time, Muslims abstain from eating and drinking during the daytime, usually from dawn until dusk.
Of his 25-player squad, Shenaishel has called several who are playing in Europe, such as Evert Baram (Nuremberg, Germany), Mustafa Omran (U19 Atalanta, Italy), Hani Noseir (Trelleborg, Sweden) and Manuel Iylia (U21 Twente, Netherlands).
These players could only join the rest of the team on March 20 and had only two days of training together.
After Việt Nam, Iraq will play South Korea on March 26.
However, Shenaishel is not put much weight on the cup. He said it was an opportunity for him to test players' quality.
Even though a poor result would make his team receive criticism, Doha Cup is just a warm-up for larger events such as the West Asian U23 Championship and the 2024 Paris Olympic qualification.
The tournament will be live broadcast on FPT Play's multi-platforms.
HBSO hosts concert to mark Rachmaninov's birthday
The HCM City Ballet Symphony Orchestra and Opera (HBSO) will host a concert celebrating the 150th birthday of Russian composer Sergei Rachmaninov (April 1) at the city's Opera House on March 26.
Rachmaninov is widely considered one of the finest pianists of his day and, as a composer, one of the last great representatives of Romanticism in Russian classical music.
The concert will feature Rhapsody on a Theme of Paganini, a composition for piano and orchestra that premiered in 1934.
The work will be performed by pianist Nguyễn Việt Trung and HBSO's symphony orchestra.
Hà Nội-born Trung has lived in Poland since childhood.
He was trained at the Academy of Music in Bydgoszcz. He also participated in a master class by Việt Nam's well-known pianist Đặng Thái Sơn.
Trung achieved remarkable awards at international piano competitions such as the National Piano Festival "Chopin Interpretations of the Young" in Konin-Żychlin, the Polish National Fryderyk Chopin Piano Competition in Warsaw, and the Karlovac International Piano Competition in Croatia.
The concert's second part will present Symphony No 2 in E Minor, op 27, one of Rachmaninov's most popular compositions, which will be played by HBSO's symphony orchestra.
The four-movement composition was composed between 1906 and 1907, and premiered in 1908.
The work appeared in the trailer of the 2015 Oscar best movie winner, Birdman, by Oscar-winning director Alejandro González Iñárritu.
The concert will be conducted by Meritorious Artist Trần Vương Thạch, former director of the HBSO.
Thạch studied at leading music schools and conservatories in Belgium and the Netherlands.
He has performed in many countries, such as Germany, Italy, Scotland, Spain, France, Japan, and South Korea.
In 2020, he was granted the title "Knight of Arts and Letters" (Chevaliers des Lettres et des Arts) from the French government for his efforts to promote arts exchange between Việt Nam and France.
The concert will begin at 8pm at 7 Lam Sơn Square in District 1. Tickets are available at the venue.
Transport infrastructure fund needed to enhance Southeast regional linkages
HCM City authorities have proposed setting up a transport infrastructure fund to enhance regional linkages in the southeastern region to help unleash its full potential as the country's economic locomotive.
Speaking at a conference in Bình Phước Province last week, Phan Văn Mãi, chairman of HCM City People's Committee, said funding sourced from local and central budgets, or loans from the private sector, would be used to build inter-regional roads to enhance connectivity among localities in the region.
The region, which includes HCM City and the five provinces of Tây Ninh, Bình Phước, Bình Dương, Đồng Nai, and Bà Rịa-Vũng Tàu, has played a significant role in the national economic growth.
While it is the country's most urbanised and economically vibrant region, it is facing challenges related to traffic infrastructure, he said.
After the Government issued an action plan to implement the Politburo's Resolution No. 24 last year on the development of the southeast region, the city signed cooperation agreements with the provinces in many fields, including urban planning; trade and investment; transport infrastructure, environment; education; health; human resources; science and technology; and digital transformation.
Mãi also proposed establishing a regional committee with enhanced functions and roles for planning and coordinating multi-sectoral programmes and transport projects on a regional scale.
Each locality should have a vice chairman of the People's Committee serving as a permanent member of the committee, he said.
Nguyễn Thị Hoàng, deputy chairwoman of Đồng Nai Province People's Committee, said while the region contributed enormously to Government revenues, the expenditure per capita here was much lower than the national average.
She recommended HCM City and the provinces expand cooperation to speed up major transport projects in the region.
Võ Văn Minh, chairman of Bình Dương Province People's Committee, said with the limited funds allocated from the central government, the establishment of the fund would help the region to invest in infrastructure.
Bình Dương Province plans to build four additional bridges to connect it with Đồng Nai Province and two additional bridges to connect with Tây Ninh Province, he said.
In addition, Bình Dương also plans to build more bridges connecting it with HCM City across the Sài Gòn River, he said.
Also speaking at the event, Nguyễn Văn Nên, secretary of HCM City Party Committee, said it was essential to expand cooperation in transport infrastructure, especially waterways and railways, because this is a bottleneck affecting the development of the region.
Under a plan until 2030, the region will have 970km of highways, but now has only 10 per cent of that due to a lack of public investment and land acquisition challenges, experts said.
Under the 2022 Politburo Resolution, the southeastern region will be developed into the country's leading economic, financial, commerce, education and training, human resources, and science-technology hub.
It will also target becoming an international financial centre for Southeast Asia and the world.
The region has a total area of more than 23,560 square kilometres and a population of 18.7 million (2021).
It contributes 32 per cent of the country's GDP and more than two-thirds of total State budget revenue though it had only 23 per cent of the population.
Solutions needed for 3.3 million hectares of forest managed by communes: experts
Viet Nam needs to develop and implement a programme to effectively manage and use forest land and forests which are temporarily managed by communes' people's committees, said Assoc. Prof. Dr. Nguyễn Bá Ngãi, vice president and general secretary of Việt Nam Forest Association (VIFORA).
Currently, Việt Nam has more than 3.3 million hectares of forest and unallocated forest land which are temporarily managed by commune people's committees.
Finding solutions to effectively manage and use the land area requires the participation of many agencies and sectors as well as large investment to make forests healthy not only in the present but also in the future, he said.
The forests and forest lands which are temporarily managed by the commune people's committees are of low quality, have poor infrastructure and are without forest records. The reason is that the committees do not have enough human and financial resources, and techniques for forest and forest land management.
The fact that the commune people's committees have managed a large area of ​​forests and forest lands for a long time, but has not yet been assigned to local communities, individual households and other forest owners for management was because of the differences in land allocation responsibilities of the natural resources and environment sector and the forestry sector, Ngãi said.
So far, responsibilities between these two sectors are unclear, he said.
Meanwhile, the allocation of forests and forest lands to the community for management brings a lot of benefits, not only having a core forest protection force, but also helping people living near forests to improve their livelihoods and creating more motivation for them to participate in forest protection.
An example of the benefits from community forest management is the project "Strengthening the Role of Communities and Social Organisations in Conservation Work in the Central Trường Sơn Area" (known as LtC/SIDA Project) which was funded by the Swedish International Development Cooperation (SIDA) through WWF-Việt Nam.
After five years of implementation from January 2018 to December 2022, 30 communities and groups of households in districts of Nâm Đông and A Lưới of Thừa Thiên-Huế Province and Đông Giang District of Quảng Nam Province have been assigned to manage more than 7.8 million hectares of natural forest while 1,480 households are paid forest environmental services.
Up to 94 hectares of natural forest were enriched with rattan and ginger plants grown under the forest canopy and three hectares of black turmeric planted on households' land helped create livelihoods and motivated people to keep forests.
At the seminar, experts, managers and local authorities shared and discussed the situation of management and use of more than 3.3 million hectares.
Tô Thị Kim Liên, the CED director, said that the problem of unowned forests has existed for many years, while in fact thousands of households living in mountainous areas, including many ethnic minorities, are very short of productive land.
So, it is necessary to hand over the forests and forest lands to households, Liên said.
One of the important things is to ensure that the allocated forest land areas have real potential for use, generate livelihoods, and bring incomes to forest owners, she said.
Therefore, it is necessary to have the very active participation of many agencies and organisations to be able to come up with supporting initiatives and solutions.
Mechanisms should be in place for households to cooperate with businesses to invest in afforestation to create a supply chain of equality and mutual benefits, she added.
According to Ngãi, the establishment of a community forest management cooperative group is very important.
In addition, it is necessary to amend and supplement a number of regulations on forest and forest land allocation to residential communities as well as the use of special-use forests and cooperation in forest management, he said.
Nhã Tĩnh's solo exhibition showcases journey of self-discovery through painting
In her solo exhibition titled Nhã 23, Nhã Tĩnh showcases the fruits of her two-year-long journey of self-discovery and self-expression through painting.
The exhibition which will open on Thursday, marks the debut of Nhã's paintings and features 65 small and medium pieces, conveying a sense of familiarity and warmth.
Through her artwork, Nhã invites viewers to delve into her inner world and experience the emotions she has poured into each piece. Her paintings offer a glimpse into her worldview, reflecting her personal journey and the growth she has experienced along the way.
With a focus on gentle, carefree, and simple beauty, each painting elicits a primitive emotion in those who view them.
The paintings are mostly self-portraits made with acrylic on canvas, acrylic on traditional dó paper and paper collages.
With paintings from as tiny as her palm to large, square-metre creations, Nhã has been discovering herself – a free individual in a familiar but quite new world, according to artist and fine art critic Trịnh Lữ.
Nhã is currently a senior account manager of FPT Corporation, though she still dedicates up to 13 hours a day to her artwork. She has about 500 paintings in total.
The paintings at Nhã 23 exhibition were made during her work at home due to the COVID-19 pandemic.
2–15.9.2022 acrylic on canvas by Nhã Tĩnh. EYE CONTACT: N2–15.9.2022 by Nhã Tĩnh.
N1 - 23.10.2021 depicts a young girl in a yellow dress next to a black cat with a small bird in her hand.
It is one of Nhã's brightest paintings, aiming to carry positive energy that transmits warm emotions and a certain earnest hope to the exhibition viewers.
Nhã started painting in 2021. From the first brushstroke until now, there has always been a pure and naive spirit in her works, according to the exhibition curator Phạm Long.
The exhibition will run until April 2 at Mây artspace, 36/70 Nguyễn Gia Trí, Bình Thạnh District, HCM City.
Hue, Da Nang to recycle plastic waste at source
In a bid to combat plastic waste, the central city has been developing a crucial strategy for sustainable plastic waste management in three districts: Thanh Khê, Sơn Trà, and Ngũ Hành Sơn. This plan involves linking 125 waste disposal depots and increasing the plastic waste collection rate from 15 to 35 per cent.
According to the city's sub-department of environment protection, the plastic waste recycling formula is part of a project funded by the Danish International Development Agency (Danida) and implemented through International Development Enterprises between 2021 and 2024.
The project has already enlisted 150 households to sort plastic waste at the source, providing additional income for 750 local environmental workers, 500 of whom are women, by classifying the waste. Furthermore, the project launched an online application called Track & Trace in 2022 to monitor plastic waste.
It also set up a reform site, which processes low-value plastic waste for reusable and salable products.
An amount of 7.5 tonnes of low-value plastic waste was recycled for sale, reducing the risk of plastic leaking into the ocean, the sub-department reported.
Deputy Director of the sub-department, Nguyễn Thị Kim Hà said the project would be continuing for a second year in Hòa Vang District and Hòa Nhơn Industrial Park to build a network of 300 waste collectors and 100 waste recycle depots, increasing more 10.5 per cent of plastic recycle ratio in 2023.
The city discharged more than 1,100 tonnes of waste daily, of which 74 per cent was food, garden and park waste, and more than 11 per cent was plastic. Only 10 per cent of total waste is recycled.
The application of the 3Rs (reduce, reuse and recycle) has been carried out in the city since 2012, boosting awareness among the community in sorting recyclable waste (including paper, metal and plastic) from hazardous waste (batteries and light bulbs) and solid waste.
Meanwhile, neighbouring Thừa Thiên-Huế Province has launched a promotion campaign to encourage the community and businesses to find sustainable solutions to plastic waste in the area.
The province aims to reduce 30 per cent of plastic leaks into the environment and increase plastic waste recycling.
It said a feasible initiative solution in plastic waste reduction would be given a cash award of VNĐ500 million (US$20,000).
Huế City, a tourism hub in central Việt Nam, aims to cut its plastic waste by 30 per cent before 2024 and will be a 'zero plastic waste' destination by 2030.
The plastic reduction project, funded by the World Wildlife Fund (WWF-Việt Nam), will help build Huế City into a plastic-smart city in Việt Nam, where 70 per cent of solid waste will be classified 'at source' for recycling in 2021-24.
Huế City's urban and environmental unit reported that 63 tonnes of plastic waste are released each day, while 3.13 per cent of plastic waste is still leaking back into the environment.
Plastic pollution was found in the Tam Giang-Cầu Hai Lagoons – the largest wetland ecosystem in Southeast Asia, the Hương River and lakes.
Illegal pangolin traders arrested in Central Highlands province
Three men involved in the illegal trading of pangolins, a critically endangered species, have been arrested in the Tuy Đức District of Việt Nam's Central Highlands province of Đắk Nông.
The men, identified as Điểu Poi (19), Điểu Nhơn (39), and Điểu Duy (19), were working as contract workers at Bù Gia Mập National Park in the southern province of Bình Phước.
According to a police report on March 1, local police stopped Duy, who was driving a motorbike on National Highway 14C, through Quang Trực Commune. Upon inspection, they found a backpack containing a pangolin weighing 4kg.
Duy confessed that he had caught the pangolin on February 28 and was selling it. The pangolin was later identified as the Java pangolin (scientific name Manis javanica), a species listed as critically endangered by the International Union for Conservation of Nature.
Following Duy's confession, police arrested Poi and Nhơn on March 13. The three men were arrested for violating regulations on the management and protection of endangered, precious, and rare animals, as prescribed in Article 244 of Việt Nam's Criminal Code of 2015.
All three men were working at the forest management and protection office at Bù Gia Mập National Park and were residing in Bù Gia Mập District. Further investigations are underway by Tuy Đức District authorities.
The illegal trade in pangolins continues to be a major problem in Việt Nam. The pangolin is highly sought after for its scales and meat, which are used in traditional medicine and as a delicacy. Wildlife conservation groups estimate that tens of thousands of pangolins are illegally trafficked each year.
OVs in Thailand look towards to homeland's seas, islands
More than 10,000 THB (3,000 USD) was raised by overseas Vietnamese living, working and studying in Thailand's Udon Thani province for the Vu A Dinh Scholarship Fund and its "For beloved Hoang Sa-Truong Sa" Club at a ceremony in the locality on March 13.
At the event, former Vice President Truong My Hoa, who is President of the Vu A Dinh Scholarship Fund, handed over a decision recognising the Vietnamese Association in Udon Thani as a club member and membership certificates to 33 OVs living in the locality.
Hoa expressed her belief that the Vietnamese community in Udon Thani in particular and in Thailand in general will promote their role as "extension arms" of the club.
She also hoped that Vietnamese expats, with love and responsibility, will continue to make more contributions to and join hands with Vietnamese people at home in firmly protecting the national sovereignty over seas and islands.
Luong Xuan Hoa, Chairman of the Vietnamese Association in Udon Thani said that the Vietnamese community here has organised many activities towards the Fatherland, actively participating in campaigns to support and share difficulties with compatriots affected by natural disasters and floods in the homeland, and pays special attention to preserving the traditional culture, and teaching Vietnamese to their children.
On this occasion, the Vu A Dinh Scholarship Fund - the "For beloved Hoang Sa-Truong Sa" Club donated 10,000 USD to support the Vietnamese language teaching and learning programme of the Vietnamese community in Udon Thani; and presented certificates of merit to overseas Vietnamese teachers who have made great contributions to the movement.
Vietnam in group of death at 2023 Asian Women's Volleyball Cup
The draw for the Asian Volleyball Confederation (AVC) on March 16 put Vietnam in an arduous group at the 2023 Asian Women's Volleyball Championships, which is scheduled to take place in September in Thailand.
The draw sees Vietnam placed in Group C with the Republic of Korea (RoK), Taiwan (China), and Uzbekistan.
The RoK is widely considered to be the nation's strongest opponent, despite them losing several key players.
Furthermore, Taiwan (China) also look set to be tough opponents for Vietnam as the Taiwanese players have caused plenty of difficulties for the local team in previous matches. It will therefore not be easy for the Vietnamese women's team to finish among the two leading positions in the group.
Elsewhere, the Vietnamese team have also been drawn in Group D alongside Mongolia and Uzbekistan for the Challenge Cup, which is expected to be held in Indonesia from June 18 to June 25.
Phuong aims to lift performance at SEA Games
At the age of 23, Khổng Mỹ Phượng has been practising weightlifting for more than a decade, already seen many ups and downs in the sport, but never thought of giving up. It is not simply winning medals that is her final target, but trying to go beyond her limits.
The weightlifter has been honoured with the title 'outstanding citizen of HCM City' and is aiming for her first Southeast Asian (SEA) Games gold medal in Cambodia in May.
Phượng was a strong sporting talent from the beginning and took part in athletics, basketball and handball at secondary school.
She was selected to be trained in weightlifting at the age of just 11, deciding to follow the sport that was new to her at the time.
After several weeks of absence, coaches came to persuade her parents. Her mother, who first strongly objected to Phượng becoming an athlete, eventually agreed and drove her to the centre every day.
At the age of 15, she competed internationally and won one gold and one silver at the 2015 International Weightlifting Federation Youth World Championships in Lima, Peru.
It was the best result of Việt Nam at a world tournament for young athletes. 2019 was one of the most successful years for Phượng as she won gold at the Asian Youth Championship and a bronze in the Asian championship before taking a World Cup title.
She not only defended it in 2020, but also took a further silver and one bronze, becoming the top athlete of Việt Nam at the Rome World Cup. Later, she was the only sport person voted as an 'outstanding citizens of HCM City' in 2020.
And she made it. Two years later, Phượng struggled through the pandemic, but secured two golds and one silver at the Asian Weightlifting Championship.
Before the 31st Games in Hà Nội last May, Phượng made an impressive victory as she beat Huyền, the SEA Games defending champion and Olympic qualifier, in the National Weightlifting Championship to secure her slot in the Việt Nam SEA Games Team.
However, on her SEA Games debut Phượng met strong rivals, and could only earn a silver, although she set a new personal record in the 45kg category.
Ly Son Island seen becoming coastal city
Ly Son, an island district off the central province of Quang Ngai, is expected to be developed into a city with an airport and a seaport by 2045 to boost local tourism growth.
According to the adjusted master plan on the development of the Dung Quat Economic Zone by 2045, signed on February 28 by Deputy Prime Minister Tran Hong Ha, 1,000 hectares on Ly Son, a popular tourist destination, and 500 hectares of water surface will belong to the expanded Dung Quat Economic Zone, the news site vnexpress.vn reported.
A 153-hectare airport would also be built on the island. Earlier, the Civil Aviation Authority of Vietnam and Quang Ngai repeatedly sought to build the airport to boost tourism growth in the area, as the island is currently only accessible by boat.
The Ly Son island district is categorized as a grade-5 urban area and is expected to become a grade-4 one during the 2026-2035 period. The island and Binh Son District are poised to become important drivers of economic growth in the northern part of Quang Ngai by 2045.
The Dung Quat Economic Zone was established in 2005 to promote economic development in Quang Ngai and the central region, with the highlight being the Dung Quat Oil Refinery, which accounts for 70-80% of the budget contribution in Quang Ngai.
Source: VNA/SGT/VNS/VOV/Dtinews/SGGP/VGP/Hanoitimes