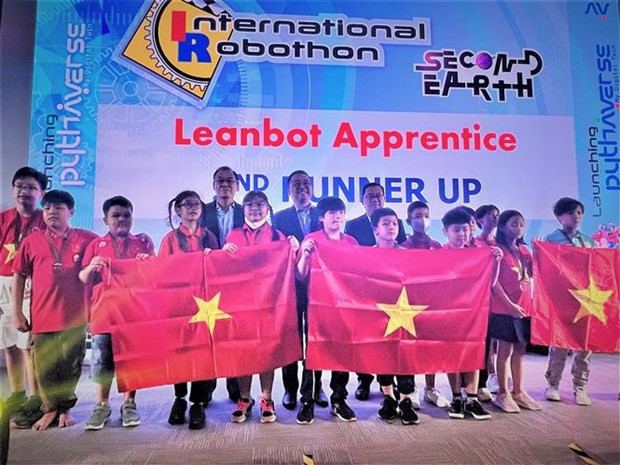 The Vietnamese team wins 17 prizes at the International Robothon 2023. (Photo: VNA)
The Vietnamese team won 17 prizes at the International Robothon 2023 held in Kuala Lumpur, Malaysia on March 26.

Accordingly, 35 Vietnamese contestants, divided into 18 groups all competing in the Leanbot category, brought home the championship title, one first, one second, eight third and six consolation prizes. Notably, the championship went to Binh Thuy Primary School in the Mekong Delta city of Can Tho.

The STEM Robotics toolkit Leanbot was introduced in this year's competition for the first time after it was developed by a team of experts and engineers of DTT Vietnam Technology Joint Stock Company.

Themed "Second Earth", this year's event drew the participation of 258 contestants from primary and secondary schools in Malaysia, Thailand, the Philippines, and Vietnam.

The Malaysian team won the title at the Lego EV3 category, while the championship in the VEX IQ category came to the Philippine team.

Robothon, a thematic challenge competition platform for students to explore real-world issues of today, with creative solutions, was first held 17 years ago. This year, it was resumed after three years of suspension due to the COVID-19 pandemic.

The contest will go to Thailand next year.
PM presides over Government's March law-making session
Prime Minister Pham Minh Chinh stressed the importance of creating an open legal corridor that is suitable to the country's conditions and circumstances while chairing the Government's monthly law-making session in Hanoi on March 27.
In the immediate future, it is necessary to focus on building and completing law-making proposals to submit to the National Assembly (NA) for consideration and approval of the Law and Ordinance Building Programme in 2024, as well as adjustments of the Law and Ordinance Building Programme in 2023 for the NA Standing Committee and the NA for discussion; and draft laws and draft documents to submit to the legislature for consideration and approval at its fifth plenary session.
Government members, ministries and sectors, especially their heads, need to do better in law-making; continue to direct and lead the building of and comment on draft legal documents; and allocate resources in terms of human and funding for the law-building work, the Prime Minister requested.
During this meeting, the Government is expected to give opinions on the National Assembly's draft Resolution on piloting a number of mechanisms and policies to remove difficulties and obstacles in the construction and investment in traffic works; some new policies related to the management of entry, exit, transit and residence of foreigners in Vietnam; a draft Law on Citizenship Identity (amended); and a draft Law on Credit Institutions (revised).
Participants will also discuss a proposal on building a law amending and supplementing a number of articles of the Law on Exit and Entry of Vietnamese citizens and the Law on Exit, Entry, Transit and Residence of Foreigners in Vietnam.
Prenatal, new-born screening improves population health
As prenatal and newborn screening can reduce abnormalities by 95%, ensuring the health of infants, Vietnam is focusing on improving screening technologies to world standards, dedicated to improving the quality of health in the country's population.
On average, each year, Vietnam has about 1.5 million babies born, of whom about 40,000, unfortunately, suffer from genetic diseases, and birth defects.
Prenatal screening allows early detection of many congenital defects and chromosomal abnormalities such as Down syndrome and Thalassemia.
Each year, 1,400-1,800 children are born with Down syndrome, while about 2,200 others suffer Thalassemia.
According to Doctor Le Minh Trac, Director of the Centre for Infant Care and Treatment under the National Hospital of Obstetrics and Gynecology, prenatal and neonatal malformation screening is extremely necessary for early detection, intervention, and treatment of diseases, abnormities, and metabolic and genetic disorders right in the fetal and neonatal periods.
Early detection and treatment will lead to high treatment efficiency, enabling children to develop completely normally, he said.
Doctor Trac advised pregnant women to get examinations at least three times during their pregnancy and receive screenings that reduce the impact on children.
Pregnant women are advised to get examinations at least three times during their pregnancy (Photo: VNA)
Data shows that the investment efficiency of newborn screening is 5.7, which means that for every 1 VND spent on newborn screening, the society will save 5.7 VND in the cost of nurturing and caring for children with disabilities.
For example, the average cost of Thalassemia treatment for a patient with severe Thalassemia from birth to 30 years old is estimated at about 3 billion VND (127,253 USD). According to incomplete statistics, Vietnam currently has about 12 million people carrying the Thalassemia gene and over 20,000 severe cases requiring lifelong treatment. Every year, the whole country needs more than 2 trillion VND for all patients to receive minimum treatment and needs about 500,000 units of blood.
Therefore, the implementation of pre-marital counseling activities and health check-ups, and prenatal and newborn screening will reduce the society's cost for the treatment of these cases. At the same time, it enables early interventions to minimize malformations from the prenatal period, helping children with normal childbirth and avoid severe physical and mental consequences, thereby reducing the number of people with disabilities in the community, and contributing to improving the quality of health and awareness in the population.
HCM City to auction 13,000 seized vehicles
The HCM City Police plans to auction nearly 13,000 vehicles that were seized following traffic violations or as evidence in criminal cases in a bid to free up space as a rising number of vehicles are being left out in the elements.
Colonel Lê Mạnh Hà, deputy chief of the HCM City Public Security Office, said in a recent conference that of this number, 3,955 have already been auctioned while 8,890 are waiting to be auctioned under the regulations.
According to the current regulations, a year after the date of seizure the police get ownership of a vehicle if its owner does not show up to claim it. A committee then evaluates the price of the vehicle to auction it, among other procedures.
The entire procedure for auctioning could take up to two years, while more than 300 new vehicles are seized in the city every month.
With limited storage for the seized vehicles, which is also running out of space, a number of vehicles are left out in the elements, he said.
Many of the vehicles' owners never come to get them back because it is not even worth the fine, he said.
The cost of renting lots for seized vehicles is huge, which will be paid for by the auctioned vehicles, he added.
As of February 28, the HCM City Traffic Police Department (PC08) seized 31,511 vehicles, including cars, motorbikes and bicycles, according to statistics from the HCM City Police.
The department aims to reduce the number of the vehicles by 30-40 per cent this year.
Currently thousands of vehicles, mostly motorbikes, seized in HCM City for traffic violations or crimes are left exposed to the elements for years, many of which have been seriously damaged.
The vehicles are also facing a risk of bursting into flames under hot weather conditions, experts have warned.
More than 90,000 vehicles are currently seized by the city police following traffic violations or as evidence in criminal cases in the city.
Storage areas for seized evidence must comply with safety standards, including firefighting systems and protective fences. They must have roofs to protect the stored items from the elements.
However, most of the storage areas have failed to meet these requirements.
Experts have called for reducing the time for finding the owner of a vehicle from a year to three months to speed up the auction process and free up space.
They also recommended issuing new regulations to discourage owners from leaving behind their seized vehicles, for instance, to make it impossible for them to register a new vehicle.
Meanwhile, the city police have proposed limiting seizing vehicles as a punishment for violations. Instead, driving licences or vehicle ownership certificates should be temporarily seized.
Hanoi striving to preserve, promote national treasures
Hanoi, home to 28 groups of national treasures with 297 items that are closely attached with the Thang Long-Hanoi culture and history, is working hard to protect and promote the values of the treasures and bring them closer to the community.
Vice Director of the Thang Long Heritage Conservation Centre Nguyen Hong Chi said that the centre is building a master plan on the preservation and promotion of the treasures' values following a scientific process suitable to the material of particular item.
A QR code will be created for each item which will be managed with information technology, he said. Currently, the centre is preserving nine national treasures of Hanoi, including five newly-recognised ones.
For those under the management of localities, agencies and individuals, the city Department of Culture and Sports has sent experts to the keepers to give them guidance on the preservation, thus minimising the degradation of treasures.
The department has asked the keepers to build their own plans to protect the treasures, while prioritising the provision of capital to the upgrading and restoring.
At the same time, the city is also focusing on promoting the image and values of the treasures with an aim to reviving them and their preservation space, and raising public awareness of preserving the treasures.
Nguyen Tien Da, Director of the Hanoi Museum, said that the museum is planning to apply 3D technology to showcase the national treasures it is keeping to meet the demand of the public and tourists.
The museum will also promote the treasures in different websites and make video clips introducing them.
Head of the Heritage Management Office under the city Department of Culture and Sports Pham Thi Lan Anh said that along with preservation, the promotion of the treasures' values aims to revive the treasures in the contemporary life.
Many cultural experts held that it is necessary to build special mechanisms for the protection of the national treasures to match their role and position in the cultural life.
Since 2012, the Prime Minister has issued 11 decisions to recognise 265 artifacts and groups of artifacts as national treasures.
Thua Thien – Hue opens third pedestrian street
The Hai Ba Trung pedestrian street in Vinh Ninh ward, the central city of Hue, was officially launched on March 26 to mark the 48th anniversary of the Thua Thien – Hue province's Liberation Day (March 26, 1975 -2023) while helping to boost night tourism activities in the locality.
Chairman of the municipal People's Committee Vo Le Nhat said the street is planned to provide more development resources for the residential community, as well as a venue for product promotion and adding new tourism products to the locality.
The street operates from 6 p.m. – 12 a.m. every Friday, Saturday, and Sunday.
It is a venue where cultural exchange events, art, street music, and so on may be organised to suit the cultural enjoyment demands of locals and visitors.
Moreover, the street will take use of business services to establish a area that caters to the demands of nightlife.
A significant number of citizens and visitors in Hue city enjoyed in the Tourism Colors Carnival event at Hai Ba Trung pedestrian street shortly after the opening.
On the occasion, the city also kicked off a series of activities to welcome the "Hue Summer Festival 2023" and the Hue Festival 2023.
Vietnam's U23 football team to meet U23 Kyrgyzstan in Doha Cup 2023's third round
Vietnam's U23 football team will meet Kyrgyzstan's team at the third round of Doha Cup 2023 - a friendly tournament serving as a warm-up ahead of the 32nd SEA Games to be held in Cambodia.
Vietnam's last match at the ongoing tournament will be held at Al Gharafa Stadium at 0.30 am March 29 (Vietnam time).
According to the coaching board of the Vietnamese team, competing with strong opponents at the Doha Cup 2023 brings a lot of benefits to the preparation of U23 Vietnam for the SEA Games and others in the future.
A 4-0 loss to the UAE in their second game after a 3-0 loss to Iraq in the opening game once again shows a big gap between U23 Vietnam and strong football teams in the continent.
Olympic Run Day takes place in localities nationwide
Olympic Run Day took place on March 26 in localities across Vietnam in response to the 77th anniversary of Vietnam Sports Day (March 27).
In Ho Chi Minh City, more than 30,000 people joined the run held in several venues since early morning.
The capital city of Hanoi launched two events to promote sports among residents. The Olympic Run Day and the Ha Noi Moi Newspaper's 48th Run for Peace aimed to raise awareness of the importance of maintaining good health through physical activity.
To kick off the Olympic Run Day, over 3,500 athletes, students, workers, and residents ran a lap around Hoan Kiem Lake, inviting others to join them.
The annual Run for Peace is scheduled for early October, with more than 170,000 runners participating in the qualifications held in districts, universities, and enterprises in the 2022 season.
In the central province of Thua Thien-Hue, over 1,700 people participated in the Olympic Run Day. On this occasion, the provincial Department of Culture and Sports also launch the annual 31st marathon in 2023.
Also the same day, in the central city of Da Nang, more than 3,000 people participated in the Olympic Run Day – an event to celebrate not only the 77th anniversary of Vietnam Sports Day but also the 48th anniversary of Da Nang's Liberation Day (March 29, 1975 - 2023).
Small ship itineraries in Vietnam amongst best Southeast Asia cruises
Small ship itineraries along Ha Long Bay, the Red (Hong) River and the Lower Mekong River in Vietnam were named among the top four best Southeast Asia cruises by the US travel guidebook series Frommer's.
The four itineraries were listed in an article published on March 11, by Heidi Sarna - the cofounder of QuirkyCruise.com, which is designed to share reviews and news about small-ship cruises around the world.
According to Heidi Sarna, during the 10-day itinerary to explore the Red River and Ha Long Bay, a small ship covers several hundred miles between Ha Long Bay and Hoa Binh province in northern Vietnam, spending a few days in the picturesque and otherworldly limestone karst–studded Ha Long Bay, which is the dramatic backdrop to films like Indochine (1992) and The Quiet American (2002).
Except for a day in frenetic and fascinating Hanoi, which is notable for its colonial architecture, war heritage, and foodie culture, the rest of this route is spent on the Red River and its tributaries, which reach into the rural landscapes and small towns of Vietnam's heartland.
The author also revealed several rewarding ways to spend time off the ship, including village walks, kayaking in Ha Long Bay, watching a traditional water puppet show, taking tours of heritage sites, and getting a close-up look at traditional methods for making ceramics, furniture, rice wine, knives, and noodles.
Meanwhile, on the classic weeklong Mekong itinerary cruises between river points near Ho Chi Minh City, Vietnam, and Siem Reap, Cambodia, the riverscape varies from remote and pastoral on the Cambodian side - where passengers can spot people bathing and slapping laundry against stones at the river's edge - to the more industrial and bustling Vietnam part of the river.
On excursions, passengers can walk through villages and past picture-perfect rice fields and venture into pungent wet markets and floating fish farms.
First Da Nang Asian Film Festival to take place in May
The Da Nang Asian Film Festival 2023 (DANAFF 2023) is set to take place for the first time in the central coastal city of Da Nang from May 9-13.
The event will be co-organised by the Vietnam Association of Film Promotion and Development, the authoroties of Da Nang, and the Network for the Promotion of Asian Cinema.
The festival will select and honor outstanding Asian and Vietnamese cinematographic works with humanistic values, new discoveries and unique artistic expression; encourage new talents of Vietnamese and Asian cinema; and widely introduce to the public new, high-value cinematographic works of Asian and Vietnamese cinemas and selected films of the world.
The opening and closing ceremonies will be held on May 9 and May 13, respectively, with film screenings available at Le Do theatre in Da Nang. Awards for DANAFF 2023 will also be presented during the closing ceremony.
The festival will showcase more than 40 Vietnamese and international films, of which 14 movies will compete in the Asian film category, with grand prizes on offer for the best movie, the best director, the best actor, the best actress, and the best screenwriter.
During the five-day festival, workshops to introduce the cinema industry of both Vietnam and Japan, as well as tours for foreign participants to sightseeing spots in Da Nang, will be arranged.
A series of activities including programmes on introducing contemporary Vietnamese and international films, acting workshops, and seminars as well as tourism promotion activities will also be held.
The film festival is expected to be held annually in the following years.
Seminar seeks experts' advice for Vietnam's green transition
A seminar on green and inclusive transition toward sustainable development in developing nations took place in Ho Chi Minh City on March 25, seeking experts' advice for such progress in Vietnam.
The event was co-organised by the EfD (Environment for Development)-Vietnam, the Economy and Environment Partnership for Southeast Asia (EEPSEA), and the University of Economics Ho Chi Minh City (UEH).
Dr Nguyen Quang from the UEH said, heavily affected by climate change, Vietnam has become one of the pioneering countries in Southeast Asia in green transition.
He noted that Vietnam has come up with many outstanding financial policies concerning taxes, fees and economic tools to help enterprises develop green production, with many local firms switching from traditional business models to smarter and more sustainable, environmentally friendly ones.
Dr Nguyen The Chinh from the EEPSEA pointed a number of existing barriers that make it difficult for companies to implement their green transition, notably a lack of specific and legalised regulations on criteria to identify green businesses, green production processes, and green materials, among others.
The expert suggested a need to complete the legal framework by adding green production criteria serving different sectors as well as to devise suitable support policies and programmes to encourage firms to apply green business models.
Dr Mai Thanh Dung from the EEPSEA recommended engaging more experts, research institutions, and universities in the environment sector in the research for and building of emissions reduction and environmental protection plans in Vietnam and other developing countries.
Enterprises' social responsibility in biodiversity conservation highlighted
The GreenViet Biodiversity Conservation Centre in collaboration with the Gustav-Stresemann Institute of Germany organised a programme in the central city of Da Nang on March 25 to discuss enterprises' social responsibility for biodiversity conservation and environmental protection.
At the event, experts and delegates proposed ideas for enterprises to carry out their social responsibility for environmental protection, and underlined the benefits that it brings.
Nguyen Dinh Phuc, Vice Chairman of the municipal Union of Science and Technology Associations, said more enterprises are willing to use their corporate social responsibility (CSR) fund to finance environmental projects carried out by social organisations. However, the coordination between the two sides still faces certain issues, he said, adding that events like this programme will help the sides find shared values and enhance their cooperation in the future.
The activity was part of a project on pooling financial resources for sustainable biodiversity conservation and environmental protection in Da Nang city, or known as Vietnam Wildlife Conservation Fund project, which is funded by the European Union Delegation to Vietnam.
The project aims to establish a fund for the conservation of wild flora and fauna in Vietnam, mobilise resources and enhance the capacity of local social organisations operating in the field of biodiversity conservation, environmental protection, and climate change response in Central and Central Highlands regions of the country.
Carried out by GreenViet Centre since 2020, the project has so far achieved goals as scheduled. 2023 is the final year of the project and many important activities will be held.
Guyana wishes to strengthen ties with Vietnam in various areas
Vietnamese Ambassador to Brazil and Guyana Pham Thi Kim Hoa recently presented credentials to President of Guyana Mohamed Irfaan Ali.
At a reception for the diplomat, President Mohamed Irfaan Ali said he hopes Vietnam will assist Guyana in agriculture, animal husbandry and cultivation.
Hoa vowed to work to develop the traditional friendship and cooperation between the two Governments and peoples in her position.
On March 21, Hoa paid a courtesy call to Guyanese Minister of Tourism, Industry and Commerce of Guyana Oneidge Walrond who pledged to offer all possible support to Vietnamese firms to access Guyana's market and wished to learn from Vietnam's experience in ecological tourism development.
During a working session with the Vietnamese diplomat a day later, Guyanese Minister of Foreign Affairs and International Cooperation Hilton Todd promised to support Vietnam at multilateral forums and facilitate the exchange of all-level delegations in the near future.
Elizabeth Harper, standing Deputy Minister of Foreign Affairs of Guyana, announced that two countries will soon offer visa exemption to their diplomatic and official passport holders in order to promote bilateral visit exchanges.
The same day, Deputy Minister of Agriculture Madanlall Ramraj said Guyana wishes to expand collaboration with Vietnam in agriculture, mining and textile in the near future. He said Guyana is concerned about global food security issues and hopes to learn from Vietnam's experience in the field through the exchange of experts in agricultural production.
During a working session on March 23, President of the Guyana Office for Investment Peter Ramsaroop said the South American country is strong in eco-tourism, mining and oil exploration so that it will create the most favourable conditions for Vietnamese firms to do business there.
On the occasion, Hoa also visited the Vietnamese community in Guyana.
Ho Chi Minh City leader visits Mexico to boost ties
Vice Secretary of the Ho Chi Minh City Party Committee Nguyen Ho Hai has expressed wish to boost ties between Mexico and Vietnam, and between Mexico and Ho Chi Minh City in particular, stressing that the city always welcomes Mexican delegations and offers all possible support for Mexican enterprises.
Meeting Politburo member of the Mexican Labour Party (PT) and Chairman of the Mexican Chamber of Deputies' Committee on Foreign Affairs Alfredo Femat Bañuelos during his ongoing working trip to the Latin American country from March 22-27, Hai said the Party organisation of HCM City wishes to contribute to maintaining and bolstering fine relationship between the Communist Party of Vietnam and the PT.
He believed that following the visit, both sides will continue holding programmes and events to promote cultural and tourism exchange between Ho Chi Minh City and Mexico.
Bañuelos, for his part, said Mexico desires to step up cooperation programmes between the two Parties in general and with Ho Chi Minh City in particular, especially in acupuncture and personnel training.
He said such programmes not only popularise Vietnam's images in Mexico and Latin America but also enhance the PT's reputation domestically and regionally.
The host vowed to continue expanding the scope of cooperation to other important areas such as economy and investment in the near future.
During a working session with Secretary of Economic Development of Mexico City Fadlala Akabani Hneide, Hai proposed that the two cities offer all possible support to their firms in accessing each other's markets and tapping incentives from the Comprehensive and Progressive Agreement for Trans-Pacific Partnership (CPTPP) to which both countries are members.
Wishing to intensify ties with Ho Chi Minh City, Hneide suggested both sides discuss support policies for small and medium-sized enterprises and learn from each other's experience in issues like workforce training.
In another working session with Director of the Foreign Affairs Division under the Mexican Department of Culture Ariana Aymerich Ordónez, Hai informed that HCM City has partnered with the Mexican Embassy in Vietnam to hold cultural exchange events, notably the "Exploring Mexico" exhibition by famous Mexican painter Diego Rodarte in early March and the display of Olmec colossal heads in the city's Museum of Fine Arts.
He asked the Mexican Department of Culture to create conditions for Ho Chi Minh City to launch cultural exchange activities in Mexico.
Ordónez also suggested both sides continue working closely together to enhance bilateral cultural exchanges.
Earlier, the Vietnamese delegation paid a working trip to Guadalajara city, the capital of Jalisto state, during which they held working sessions with local leaders and businesses.
Vietnam saves 298,000 kWh during Earth Hour 2023
With lights turned off for one hour starting 8:30 pm on March 25 in response to the 2023 Earth Hour campaign, Vietnam saved 298,000 kWh of electricity equivalent to about 555.6 million VND (23,617 USD), according to the Vietnam Electricity (EVN)'s National Load Dispatch Center.
Since the nation first joined the campaign in 2009, the average annual power output saved in the one hour was estimated at about 400,000 kWh. Last year, the figure was 309,000 kWh.
Responding to this year's edition themed "Save electricity - Become a habit", myriad activities took place nationwide on the day with the participation of people from all walks of life.
In Hanoi, the response event was organised by the municipal Department of Industry and Trade at the August Revolution Square. The capital turned off public decorations, billboards, and unnecessary electrical equipment, notably at renowned downtown destinations such as areas around the Hoan Kiem Lake, and the Hanoi Opera House.
In the central province of Thua Thien-Hue, hundreds of locals joined the local response activity that aimed to save power and promoted efforts for a future without plastic waste.
NA Chairman attends opening of National Tourism Year 2023
National Assembly Chairman Vuong Dinh Hue attended the opening of the National Tourism Year 2023 themed "Binh Thuan – Green convergence" in Phan Thiet city, the south central coastal province of Binh Thuan on March 25.
The National Tourism Year has been organised in rotation on national and global scale since 2003, featuring a series of outstanding cultural, socio-economic and tourism activities under a chosen theme. It is intended to introduce and popularise unique Vietnamese cultural values, resources, and tourism products, thus attracting more foreign tourists to the country, strengthening regional connectivity, creating breakthrough development and developing tourism infrastructure.
Speaking at the event, Deputy Prime Minister Tran Luu Quang said with the theme "Binh Thuan - Green Convergence", the 2023 edition aims to promote green and sustainable tourism, in line with the Party's policy of developing economy in harmony with nature and not exchanging the environment for economic growth.
He expressed his belief that Binh Thuan, as the host of the National Tourism Year 2023, will turn its disadvantages to advantages and rise to the spotlight in tourism development in the central region and the country.
On the occasion, the Deputy PM called on ministries, agencies and localities nationwide to build plans and strategies to achieve green tourism development following the theme of the National Tourism Year 2023, step up public-private partnerships in the field, and popularise tourism to the world via various forms under the slogan "Every citizen is a tourism ambassador".
For his part, Minister of Culture, Sports and Tourism Nguyen Van Hung said in order to effectively realise the Politburo's resolution on developing tourism into a spearhead economic sector, all-level administrations, sectors and localities should work to offer unique tourism products and professional services at competitive prices, and create safe, civilised and friendly destinations.
Binh Thuan is home to beautiful natural landscape along the 192km-long coastline, many pristine islands within its vast 52,000 sq. km sea territory, and a unique coastal sand dune ecosystem. In addition to its natural beauty, the province has many historical and cultural relics, along with festivals and folk cultural activities that are intricately interwoven with unique culinary arts, making it an attractive tourist destination.
A special music show was also held at the opening ceremony, during which the province's 300-year history and its journey of sustainable tourism development were introduced.
According to the organising board, over 200 events and cultural-sports and tourism activities on the inter-provincial, national and global scale will be held in Binh Thuan and 41 cities and provinces nationwide throughout the year.
PM inspects major projects in Thua Thien-Hue
Prime Minister Pham Minh Chinh on March 25 inspected a number of works and projects in the central province of Thua Thien-Hue.
Examining the resettlement area for 5,080 households who have to relocate to give space for the restoration of the Hue Ancient Capital, PM Chinh asked the province to continue to invest in the area's infrastructure, ensuring that residents enjoy similar or better living conditions compared to their old place.
He also directed the province to continue to respond to requests of the affected people in the spirit of harmonising benefits.
The PM lauded the residents in the resettlement area for their support to the project, saying it contributes to the preservation of the UNESCO-recognised World Cultural Heritage.
Visiting the Hue Royal Antiquities Museum at Long An Palace in the Hue Monument Complex, the Government leader asked Thua Thien-Hue and the Ministry of Culture, Sports and Tourism to work together to design a plan to construct the museum in a new place to avoid its impacts on the relic site.
He also presented gifts to the officials and staff of the museum.
Inspecting the project to build a bridge crossing Thuan An estuary, which was launched in March 2022 at a cost of 2.4 trillion VND and is scheduled to complete in 2025, PM Chinh said that the project is expected to fuel the maritime economic growth of the province, contributing to turning Thua Thien-Hue into a centrally-run city in the future.
He asked officials and workers involved in the project to ensure the quality and progress of the project.
Earlier on March 24, PM Chinh examined the Terminal T2 project of Phu Bai International Airport in Hue city.
The terminal is designed to have three stories, covering 10,118 sq.m to welcome 5 million passengers per year. Having a total investment of 2.25 trillion VND, it was scheduled to be completed in the fourth quarter of 2021. However, due to COVID-19 impacts, to date, the project has just finished 95% of its workload.
PM Chinh asked contractors to speed up the project, striving for its inauguration in April this year.
On this occasion, PM Chinh also offered incense to General Nguyen Chi Thanh at a museum in Hue city showcasing documents, photos and objects on the life and revolutionary activities of the military official during the nation's struggles against French colonialists and US imperialists.
Khanh Hoa: fisherman suffering from decompression brought ashore for further treatment
A fisherman suffering from decompression sickness due to deep diving was brought ashore from Truong Sa township's medical centre in Truong Sa district, the south-central province of Khanh Hoa for further treatment in HCM City's Military Hospital 175 in the early morning of March 25.
The 51-year-old patient, residing in the central province of Ha Tinh, is a crew member of fishing boat QNg 96-293 TS.
After diving at a depth of 35 metres and coming to the surface suddenly, the man had left chest pain, mild shortness of breath and weak legs. He was took to Truong Sa township's medical centre for treatment at 12:00 on March 23.
Through blood tests and X-rays scanning, the patient was diagnosed with decompression sickness due to deep diving in the 23rd hour. He was placed under intensive treatment but his health condition did not improve.
After consulting doctors of the Military Hospital 175 via Telemedicine, doctors here urgently proposed the Ministry of Defence bring the patient ashore for further treatment.
During the process of transporting the patient to the mainland, the air emergency team of the Military Hospital 175 always closely monitored the patient's vital signs, and cooperated with the flight crew of the ministry's Army Corps 18 to ensure safety for the flight and the patient.
On March 25 morning, after receiving intensive treatment at the Military Hospital 175 in HCM City, the patient showed signs of improvement.
Exhibition highlights historic documents on Da Nang's role under Nguyen Dynasty

The Nguyen Dynasty's policies on the central coastal city of Da Nang have been reflected through the historic "Chau Ban" (official administrative papers) which are on display in the city from March 24-31.
Apart from the nearly 100 documents featuring Da Nang's role under the Nguyen Dynasty (1802-1945), the exhibition also showcases images and maps on Hoang Sa and photos capturing Da Nang's economic activities at present, as well as the operations of maritime forces.
Dang Thanh Tung, head of the Vietnam State Department for Records and Archives under the Ministry of Home Affairs, noted that the exhibits demonstrate that Nguyen Kings highly valued Da Nang's role in economy, trade and national defence.
Chairman of the People's Committee of Hoang Sa island district Vo Ngoc Dong said after King Ming Mang (1791-1841) allowed ships from western countries to enter for trading, Da Nang had become a major trading port and a gateway for trade and diplomacy between Vietnam and western and regional nations.
The historic Chau Ban documents of the Nguyen Dynasty include laws, decrees, and edicts for resolving problems in various fields such as politics, military affairs, foreign affairs, economy, society and culture. The collection was included in the Asian-Pacific Region's Memory of the World Programme in 2014.
PM encourages startup and innovation ideas among students
Prime Minister Pham Minh Chinh on March 25 encouraged students nationwide to develop and realize startup and innovation ideas for the country's development and prosperity.

Startups and innovations are an important driving force behind the development of each country, especially in the era of globalization, international integration and Industry 4.0, Chinh said at the opening ceremony of the fifth national startup day for students (SV_STARTUP 2023) in the central province of Thua Thien-Hue.
According to the PM, the Party and State have over the years paid special attention to and have introduced policies to support and encourage start-ups and innovations. The start-up drive has spread widely from urban to rural areas and to remote, border, island, and ethnic minority areas, with entrepreneurial spirit and aspirations beginning to flourish in people of all social strata, especially among young people.
The annual SV_STARTUP becomes a useful playground for students, where valuable ideas and scientific research projects are formed to promote young entrepreneurial aspirations, and at the same time, create a favourable environment for students to realize startup ideas, said the PM.
He cited statistics, saying the past five years has seen thousands of startup projects in the field of vocational training and education initiated by students nationwide, with many of them granted awards and commercialized in practice.
So far more than 60 venture capital funds have been established, and more than 3,000 business startups have reaped success in their operation. In addition, nearly 100 universities have made entrepreneurship a major subject, while many training institutions have developed start-up student support funds, with 98 startup incubators taken shape in school.
To ramp up the startup drive among students, the PM requested that relevant ministries and agencies revise mechanisms and policies relating to capital allocation, infrastructure development, human resources, taxes, fees, and charges to create favourable conditions for students to develop and undertaken feasible start-up projects.
The PM stressed the need to develop incubation and startup centers for young people integrated into the national startup ecosystem to be formed in future.
It's important that young people dare to think, dare to do, and dare to take risks in order to enjoy success in future, said the PM.
After the ceremony, PM Pham Minh Chinh and delegates visited booths displaying students' startup projects and products.
Conceding semi-final loss, Hoang Nam leaves Indian tennis tourney
Ly Hoang Nam (Vietnam) on March 25 accepted a 1-2 defeat to Eric Vanshelboim (Ukraine) in the semi-finals of ITF M25 Lucknow which is getting underway in India.
Vanshelboim made good use of Nam's mistakes and stunned his opponent 6-1 in the first set before the Vietnamese player flexed his muscle and trounced his Ukrainian opponent 6-3 in the second set.
In the third set, Nam could not take psychological advantage to overwhelm the opponent as he did in the second set. The leading Vietnamese player lost control, letting Vanshelboim come back and outperform him with a score of 6-3 in the final set.
Despite the defeat, his recent matches show Nam has been making progress in returning to the No1 position in Vietnam after he was eliminated just from the first round of the three recent consecutive ATP Challenge tournaments.
After ITF M25 Lucknow, Nam will continue to move to Mysuru city to compete in other tennis tournaments of the M25 series in India.
Police detain four people over poisonings
Four people who gave balloons to more than 30 primary students have been detained by the Krông Ana District Police in the Central Highlands province of Đắk Lắk.
Officers arrested three men and one woman. Two are foreigners and two are Vietnamese.
The district police are working with the provincial Department of Foreign Affairs to conduct further investigations, said a leader of the district police on Friday.
The incident happened at about 1.30pm on Wednesday at Lý Tự Trọng Primary School in Buôn Trấp Town, Krông Ana District.
Four people came to the school and gave balloons to the students.
About half an hour later, 31 students began to show signs of dizziness, headache, abdominal pain, and nausea.
They were then taken to the school's medical room and the case was reported to local authorities.
Among the 31 students, 17 were admitted to the district medical centre. The other 14 with lighter symptoms are being monitored at home.
The students said that there was a kind of white powder on the balloons. They started to have the symptoms when they blew the balloons.
The principal of the Lý Tự Trọng Primary School said that the white powder tested negative for drugs.
All of the students are in stable conditions.
Floating styrofoam buoys in Ha Long Bay collected
The Management Board of Hạ Long Bay in the northern province of Quảng Ninh is carrying out a campaign to collect styrofoam buoys left by illegal fish farms to avoid pollution in the UNESCO-recognised World Heritage Site.
The campaign, taking place from March 24-26, mobilises 20 vessels and 100 people who gather and bring the styrofoam buoys out of the area for treatment.
The styrofoam buoys, which have different sizes, were left by the illegal fish farms that were forced to be removed from the site. They have seriously affected the movements of vessels and the environment around the popular tourist site.
A large number of styrofoam buoys, along with other types of waste, have been cleared from the bay on May 24 and 25.
Located in the northeast of Việt Nam, the bay has attracted visitors from far and wide as it is home to over 1,600 limestone towers and islets covered in tropical trees. Most of the islands are uninhabited and unaffected by humans.
It was named one of the most beautiful places in the world to add to any traveller's bucket list in 2022, according to Canadian travel publication The Travel.
Cuba helps improve community healthcare in HCM City
Cuba and HCM City are cooperating to improve the quality of community healthcare.
The city's Department of Health last week had a virtual meeting with the primary health care board of Cuba's Ministry of Health.
Attending the meeting, Ailuj Casanova Baroto, head of Cuba's primary health care board, said Cuba's public healthcare system is recognised as one of the most effective systems in the world.
The system is operated by the Ministry of Health to guarantee that all Cuban residents can easily access it.
It focuses on disease prevention and enhancing education of public healthcare.
Community health centres are an important part of the country's public healthcare system, which have been established in urban and rural areas nationwide.
It estimated that there is one community health centre for 1,000 households.
The community health centres provide healthcare services, such as vaccinations, regular health checks, and care for pregnant women and newborns.
Medical staff at community health centres are trained to diagnose and treat basic illnesses and provide disease preventive measures.
Groups of specialised doctors of hospitals periodically cooperate with community health centres to give medical examinations and treatment to local residents.
Cuba's public healthcare system also pays attention to studying and developing new healthcare technologies and methods, ensuring the system always provides the best approaches in healthcare to people.
Tăng Chí Thượng, director of the city's Department of Health, said the Ministry of Health of Cuba is willing to support the city in implementing a project of community healthcare development.
Cuba will send two specialised doctors to the city to carry out surveys and come to an agreement with the city's Health Department on content that needs to be developed in the coming time.
The ministry expects to welcome the city's healthcare professionals to visit Cuba to learn about its public healthcare models.
HCM City launches first one-stop model for women, children
Instead of having to go to many places to seek support, women and children who are victims of violence can now go to a one-stop model in HCM City.
Located at Hùng Vương Hospital, the centre offers medical care and psychological and legal counselling.
The model, the first of its kind, opened on Friday and will be piloted from now to 2026.
It will perform functions of receiving, screening, treating, consulting, and providing on-site services to patients who are women and children subject to violence and sexual abuse.
If an emergency shelter is needed, social workers of Hùng Vương Hospital will refer victims to the City Centre for Social Work - Education and Vocational Training for Youth, located at 14 Nguyễn Văn Bảo street, Ward 4, Gò Vấp District, for care, therapeutic intervention and access to other essential services on demand.
According to Lê Văn Thịnh, Director of the municipal Department of Labour, Invalids and Social Affairs, the pilot implementation of the one-stop model at a health facility is an unprecedented solution in Việt Nam.
Experience in responding to gender-based violence shows that health facilities are often the first places to which patients of different age groups, professions and backgrounds visit.
The one-stop shop model is a safe destination, a place to intervene, help, and provide essential closed and suitable service packages for each victim in the area.
The National Survey on Violence against Women in Việt Nam in 2019 shows that nearly two out of three women (nearly 63 per cent) experience one or more forms of physical, sexual, emotional, and economic violence as well as controlling behaviours caused by their husbands or intimate partners in their lifetime.
However, 90 per cent of the women who experience sexual and/or physical violence perpetrated by their husbands do not seek any assistance from the authorities.
Elisa Fernandez Saenz, UN Women Representative in Việt Nam, said that the launch of the model was a result of the tireless efforts of stakeholders in HCM City during the past few years, aiming to provide a coordinated multi-sectoral essential service for women and children subject to violence by meeting their aspirations and needs.
UN Women was committed to continuing to join hands with the city in the coming time to make the model pilot a success, she said, expecting this model to serve as a basis for its duplication nationwide.
Source: VNA/SGT/VNS/VOV/Dtinews/SGGP/VGP/Hanoitimes