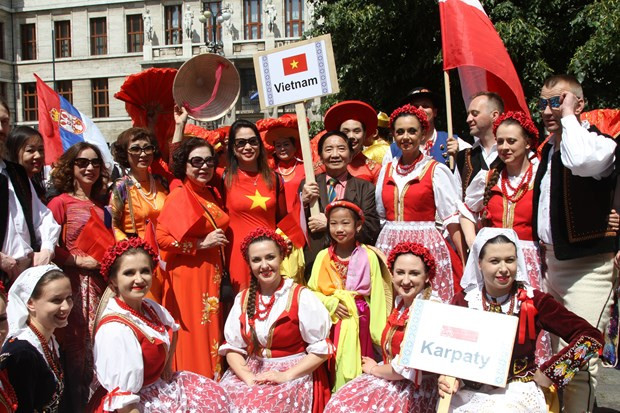 The Vietnamese community in the Czech Republic participated in a festival of ethnic minority groups in Prague on May 27.
They left strong impressions on festival-goers with the big number of participants and special performances highlighting traditional culture.
The festival, which took place from May 25-28, featured art performances, fashion shows and exhibitions. It brought together more than 30 delegations of ethnic minority groups from 20 countries.
The Vietnamese community has been integrating intensively and extensively into the society in the Central European nation, and made contributions to their homeland as well as the relations between the two countries.
The annual festival offered an opportunity for them to promote Vietnamese culture to Czech people and visitors.
Nguyen Thi Huyen, Pham Thi Hue win gold medals at Taipei Open Championships
Vietnamese track and field players Nguyen Thi Huyen and Pham Thi Hue yesterday won two gold medals at the Taipei Open Championships 2023.
Specifically, track and field player Nguyen Thi Huyen successfully competed in the women's 400m hurdles and achieved a score of 58"00 to bring home a gold medal.
Two weeks ago, Nguyen Thi Huyen finished first and grabbed a gold medal in the women's 400m hurdles with a score of 56"26 at the 32nd SEA Games in Cambodia.
On the same day of competition, track and field player Pham Thi Hue qualified in the women's 5,000m final and she had a gold medal with a victory of 17'44"07.
Vietnam joins international student festival at Russian university
Youngsters from the Vietnamese Embassy in Russia have joined an international student festival at the National University of Science and Technology (MISiS) in Moscow, Russia.
The Vietnamese delegation, led by First Secretary for Education at the embassy Nguyen Tuyet Hoa, joined nearly 1,000 students from 20 countries at the event.
First held in 2013, the MISiS international student festival has become a large-scale event providing a chance for students from various countries to meet and exchange with each other. This year, the festival resumed after three years of interruption due to COVID-19 pandemic.
Along with a national flag march, Vietnam performed a traditional dance and a flashmob. The Vietnamese booth at the event showcases folk paintings, brocade art, and traditional dishes.
Currently, about 60 Vietnamese students are studying at the MISiS.
Lawmakers to discuss use, management of resources for COVID-19 fight
Continuing the ongoing fifth session, the 15th National Assembly will spend a whole day on May 29 to examine the mobilisation, management and use of resources for COVID-19 prevention and control, as well as the enforcement of laws and regulations regarding grassroots health care and preventive medicine.
According to the report presented at the 22nd meeting of the NA Standing Committee, over 236 trillion VND (10.2 billion USD) were raised for pandemic prevention and control as of December 31, 2022, more than 189 trillion VND of which were from the State budget and the remainder from other sources, mostly vaccines.
The COVID-19 vaccine fund raised over 15.1 trillion VND. The total doses of vaccines supplied by donors was nearly 160 million, about 150 million of which were from governments with a total value of approximately 24 trillion VND. Millions of volunteers, especially medical workers and military officers were on the frontline of the pandemic response. People from walks of life, business community, governments and international organisations offered material donations and other forms of support to the COVID-19 fight.
The allocated funding and aid resources were promptly distributed to units which generally used them in line with regulations.
Last year, the network of grassroots health care facilities expanded nationwide. All districts had medical centres while 99.6% of communes, wards, and townships had medical stations.
The Government, Prime Minister, Central Committee of the Vietnam Fatherland Front, and relevant agencies are studying and proposing amendments, supplements, or new laws such as a Law on Disease Prevention, revising the Ordinance on the State of Emergency or the Law on State of Emergency, and amending the Health Insurance Law to remove obstacles and limitations in the mobilisation, management and use of resources for pandemic prevention and control and the strengthening of the grassroots health care network and preventive medicine.
Vietnam attends high-level event on ending plastic pollution in Paris
Vietnamese Ambassador to France Dinh Toan Thang attended a high-level event on ending plastic pollution in Paris on May 27, which drew representatives from nearly 200 countries and territories.
The event was held on the threshold of the second session of the Intergovernmental Negotiating Committee to develop an international legally binding instrument on plastic pollution, including in the marine environment (INC-2) that will take place from May 29 to 2 June 2023 at the United Nations Educational, Scientific and Cultural Organization (UNESCO) headquarters in Paris, France.
Participants at the event focused on discussing the promotion of sustainable production, selling and use of plastic products towards a circular economy in the field, as well as the proper management of plastic waste and the minimised release of plastic waste to the environment.
Addressing the event, Ambassador Toan affirmed Vietnam's determination to build a legal framework and policies to encourage the recycling of plastics and minimising the discharge of plastic waste into the environment, and work with other countries to solve the problem of plastic waste pollution.
At the roundtable discussions, participants underlined the need for practical actions to end plastic pollution and shared initiatives in the work. Many also affirmed their hope to reach an agreement on ending plastic waste in 2024.
PM attends groundbreaking ceremony of Tuyen Quang-Ha Giang expressway
Prime Minister Pham Minh Chinh attended the groundbreaking ceremony of the first phase of the Tuyen Quang-Ha Giang expressway as part of his visit to the northern mountainous province of Ha Giang on May 28.
The 104.48km expressway connects Ha Giang and its neighbour Tuyen Quang, with a total investment capital of 3.19 trillion VND (135.84 million USD). Its first phase, 27.48km, that runs through Ha Giang province is expected to be completed in 2025.
In his remarks, PM Chinh said once operational, the expressway will create an economic corridor from Hanoi to Ha Giang, meeting the increasing travel and transportation demand, thus significantly contributing to socio-economic development in combination with national defence, towards comprehensive cooperation between Vietnam and neighbouring China.
He asked Ha Giang and Tuyen Quang to focus on site clearance and resettlement, ensure social order and safety, and prevent corruption and wastefulness during the implementation of the project.
Contractors should optimise technologies to speed up the progress and ensure the project quality, he said, calling on local residents to support the project.
65 outstanding firms honoured for digital transformation
Sixty-five enterprises were honoured for their outstanding digital products and solutions at a ceremony held in the capital city of Hanoi on May 27.
Among the awarded firms are Vietnam Posts and Telecommunications Group, mobile carrier MobiFone, Petrovietnam Drilling and Well Service Corp and TTC Bien Hoa.
During the ceremony, seven provinces and cities were also recognised for their successes in organising and proactively implementing the policy of the fourth industrial revolution and the national digital transformation programme.
They were Da Nang, Hai Phong, Thua Thien-Hue, Quang Ninh, Thai Nguyen, Bac Giang and Ben Tre.
Addressing the event, Chairman of the Vietnam Union of Science and Technology Associations Phan Xuan Dung said businesses and state management agencies were pioneers in the digital transformation which was an imperative and indispensable trend to improve production and business efficiency, enhance competitiveness and successfully implement the strategy of building a digital government, digital economy and digital society in the era of the fourth industrial revolution.
The I4.0 awards aimed to evaluate the effectiveness of digital transformation, and innovation made by organisations and businesses, thus promoting their digital transformation for the development of the digital economy, Dung said.
These awards were granted by the Vietnam Automation Association and the Innovation and Digital Transformation Institute under the Vietnam Union of Science and Technology Associations for the second time.
Vietnamese intellectuals in Japan meet
As many as 100 outstanding Vietnamese intellectuals in Japan gathered at an event held on May 27 by the Association of Vietnamese Intellectuals in Japan (AVIJ), under the auspices of the Vietnamese Embassy, the Ministry of Science and Technology, and the Ministry of Planning and Investment.
In his remarks, Ambassador Pham Quang Hieu stressed that Japan has been a destination for many generations of Vietnamese to work, study and develop their career.
Nearly 500,000 Vietnamese are in Japan, becoming the second biggest foreign community in the East Asian nation, he said.
The diplomat stressed that the Vietnamese Party and State always pay special attention to overseas Vietnamese – an integral part of the nation – and have issued various policies and guidelines for them.
He lauded contributions by Vietnamese intellectuals, including those in Japan, to the success of such events as Vietnam Summits in 2019 and 2021, and symposiums, which attracted crowds of Vietnamese and Japanese intellectuals and businesses.
Hieu expressed his hope that the AVIJ and the intellectual community in general will produce more research studies, and make more proposals and contributions, helping Vietnam apply Japan's cutting-edge technology in socio-economic development.
At the get-together, the intellectuals exchanged information and sought ways to boost cooperation, thus forming a dynamic, united community of Vietnamese intellectuals in Japan, with increasing contributions to the development in their homeland, as well as the collaboration between the two countries.
Buddha's 2567th birthday celebrated in Ninh Binh province
The Vietnam Buddhist Sangha (VBS) in coordination with the executive board of the VBS in the northern province of Ninh Binh celebrated Buddha's 2567th birthday with a ceremony held at Bai Dinh Pagoda.
Thousands of Buddhist monks, nuns and followers, and locals joined the event.
Most Venerable Thich Thanh Nhieu, Standing Vice Chairman of the VBS Executive Council, delivered a message of the VBS's Supreme Patriarch, which called on monks and nuns to do good deeds and make more contributions to the nation.

Do Anh Viet, head of the provincial Party Committee's mass mobilisation board and President of the Vietnam Fatherland Front Committee in Ninh Binh province, extended his congratulations to dignitaries, monks and nuns, and people on Buddha's birthday.
He attributed Ninh Binh's comprehensive achievements to contributions of religious organisations in the province, including the VBS's Ninh Binh chapter.

The official noted his hope that the provincial chapter and each Buddhist monk and nun will materialise the message of the VBS's Supreme Patriarch by specific, practical actions.
Cooking, dance classes help popularise Vietnamese culture in Venezuela
The Vietnamese Embassy in Venezuela and the National Experimental Polytechnic University of the Armed Forces (UNEFA) of the Latin American country held a ceremony on May 26 to wrap up a cooking class and a "non" (Vietnamese conical hat) dance class at the school.
In his remarks, Vietnamese Ambassador Vu Trung My thanked the Venezuelan Ministry of Defence and UNEFA for opening the cooking and "non" dance classes.
He congratulated the learners on completing the courses and expressed his hope that they will help introduce the typical dishes and the iconic "non" dance of Vietnam to Venezuelan people.
For his part, UNEFA Rector Pascualino Angiolillo appreciated the Vietnamese Embassy's assistance for the organisation of the classes, which he described as meaningful activities honouring the cultural identities and values of Vietnam.
He said the classes helped learners as well as lecturers at UNEFA gain a better understanding of the Vietnamese culture, thus helping enhance the friendship and multifaceted cooperation between the two countries.
Vietnam ready for AFC U20 Women's Asian Cup's second qualifying round
The Vietnam national U20 female team are ready for the 2024 AFC U20 Women's Asian Cup's second qualifying round, which will be held in Viet Tri city in northern Phu Tho province early next month.
Vietnam, who topped Group F of the event's first qualifying round, will compete in Group A with Australia, Iran and Lebanon in the second qualifier.
To prepare for the AFC event, Vietnam had an intensive training trip in Japan, where they had three friendly matches with Seisa Academy, JFA Fukushima Academy and Tokyo High School.
According to coach Ijiri, this training was a valuable experience, helping young players make great professional progress in terms of skills, speed and strength.
Vietnam team will be present in Phu Tho on May 28 to continue practising for the tournament.
According to the schedule, the hosts Vietnam will meet Iran, Lebanon and Australia on June 3, 5, and 7, respectively at 7.00pm.
In the second qualifying round, the teams will compete in a round-robin. The top two teams in each group, along with the top three teams from last season, including Japan, the Republic of Korea, the Democratic People's Republic of Korea (DPRK) and host Uzbekistan, will compete in the final round next year.
The organisers will hold a press conference of Group A on June 2 at Sai Gon Phu Tho Hotel in Viet Tri city.
The Australian team will be in Vietnam on May 27 for a short training session at the PVF – Youth Football Training Centre in northern Hung Yen province before moving to Viet Tri on June 1 to participate in the tournament.
While the members of the referee team, supervisors, and Iranian and Lebanese squads will come to Vietnam on May 31.
Tickets are free for the fans to support the teams.
Phú Quốc announced a new host of IRONMAN 70.3 triathlon
The IRONMAN Group has announced that Việt Nam's island of Phú Quốc will play host to the newest IRONMAN 70.3 triathlon in Asia.
The inaugural IRONMAN 70.3 Phu Quoc triathlon is scheduled to make its debut on November 19, taking athletes on a fantastic tour of Việt Nam's largest island with turquoise waters and diverse tropical landscapes in Kiên Giang Province.
The IRONMAN 70.3 Phu Quoc triathlon will begin with a 1.9km swim, starting and finishing from a beautiful white sand beach along the Gulf of Thailand. The 90km bike ride traverses the southern half of the island, before the event culminates with a flat and fast 21.1km run with a seaside finish.
The Phú Quốc's race, sponsored by BIM Group, is organised by Sunrise Events Vietnam, the exclusive licensee of the World Triathlon Corporation for IRONMAN 70.3, 5150 Triathlon and IRONKIDS events in Việt Nam.
It will be held at Phú Quốc Marina Integrated Resort Complex, a large-scale unique resort and entertainment hub built with international standards in the island's centre.
Trịnh Bằng, SEV co-founder, said: "We are thrilled to add a second IRONMAN 70.3 race in Phú Quốc to complement our first event in Đà Nẵng, now one of the most popular IRONMAN 70.3 races in Southeast Asia."
The 2023 IRONMAN 70.3 Phu Quoc triathlon will offer qualifying slots to the 2024 VinFast IRONMAN 70.3 World Championship triathlon taking place in New Zealand.
Phú Quốc is the ideal Southeast Asian destination to race and relax afterwards, with the holiday island known for its white-sand beaches, local delicacies and resorts.
For those looking to spend time in nature before or after race day, more than half of the island is a part of Phú Quốc National Park, featuring mountains, tropical jungles, hiking trails and wildlife, with the park declared a UNESCO Biosphere Reserve in 2010.
The general registration for the event is officially open on May 26. Athletes and supporters can find more information and register by visiting www.ironman.com/im703-phu-quoc.
Thừa Thiên-Huế struggles to solve cemetery planning in urbanisation process
The amount of land for cemeteries in Thừa Thiên-Huế province is large, and urban planning experts have recommended that local authorities rearrange this area to allocate land resources for socio-economic development.
The province currently has over 9,500 hectares of cemetery land. This is an exceptionally large area compared to other provinces and cities nationwide.
The project of a coastal road and a sea cross bridge in Thuận An township started in 2022. This is the largest transportation project in the coastal province of Thừa Thiên-Huế, aiming to promote links between provincial key economic zones and the national coastal traffic system.
However, the project is facing the risk of delays due to complications in compensation and relocation of graves.
According to the Huế City Land Development Centre, residents in Hải Dương Commune and Thuận An Ward have not agreed with the proposed relocation plan of about 900 graves and the compensation price offered by the city authorities, as well as with the new relocation sites.
Bùi Ngọc Chánh, the centre's deputy director, said that Hải Dương Commune is affected by the project, with 600 graves, including 30 complex architectural graves, which were solidly constructed with an approximate cost of VNĐ1 billion (US$42,580) per grave.
Under the current regulations, the maximum compensation for each grave is only between VNĐ250-300 million, which poses difficulties in mobilising people to relocate the graves.
For many years, Huế has struggled to find solutions and resources to implement the Ngự Bình Cultural Park project, as it requires the clearance of over 38 hectares of cemetery land, including more than 176,700 graves.
According to the Huế City Land Development Centre, this project needs over one trillion VNĐ for land clearance and nearly 56 hectares for relocating the graves. Due to the large amount of funds, the city is studying a plan to divide the project into smaller phases and gradually implement the relocation.
Phú Vang District has beautiful beaches and large lagoons for developing tourism and resorts. However, numerous cemeteries in the coastal region affect investment attraction efforts.
The province has agreed on a list of investment promotion projects covering an area of over 2,000 hectares in the district. An estimated 110,000 graves covering 107 hectares need to be relocated to carry out these projects.
Lê Hữu Ngọc, vice chairman of the Phú Vang District's People's Committee, said that residents do not have the habit of cremation. For a long time, they have chosen a convenient land spot, even in their garden, to bury their loved ones.
As a result, small scattered cemeteries have gradually appeared, interspersed within residential areas and agricultural and forestry land. This situation has become a pressing issue for the locality in terms of ensuring water sources for daily living, impacting the environmental landscape, and attracting investment.
Huế Environment and Urban Works Joint Stock Company has been entrusted with managing two public cemeteries in the province, with an area of over 184 hectares. However, only nine remain unused.
The company's deputy general director Lê Vĩnh Thắng said the remaining land reserve for burial in these two cemeteries is currently 14,000 graves. Among them, the north public cemetery in Hương Hồ Ward, Huế, will reach full capacity in the third quarter of this year, while the other in the south of the city can only meet the demand until the end of 2024.
Work on Châu Đốc - Cần Thơ - Sóc Trăng expressway to begin in mid-June
Construction on an expressway in the Cửu Long (Mekong) Delta between Châu Đốc City in An Giang Province and Sóc Trăng Province is set to start in mid-June.
The Châu Đốc - Cần Thơ - Sóc Trăng Expressway project has a total length of more than 188 kilometres, starting at National Highway No.91 in Châu Đốc City, passing through Cần Thơ City and Hậu Giang Province and ending at Trần Đề Port in Sóc Trăng Province.
With a total investment of VNĐ44.7 trillion (US$1.9 billion), the project is separated into four component projects carried out by four localities, An Giang, Hậu Giang and Sóc Trăng provinces and Cần Thơ City, where it passes through.
In the first phase, it will have four lanes and allow speeds of up to 100km per hour.
It is identified as a national project and key to facilitating socio-economic development in the Mekong Delta.
The localities are speeding up site clearance, compensation and resettlement for affected households.
Other planned expressways to be built in the Mekong Delta include Cần Thơ - Cà Mau and Hà Tiên - Rạch Giá - Bạc Liêu.
The delta has only 117km of expressways, including the 61.9km HCM City - Trung Lương Expressway operating since 2010, and the 55.1km Trung Lương - Mỹ Thuận Expressway, which opened to traffic in April 2022.
Vietnam Pediatrics Association signs MoU to improve health care quality for children
The Vietnam Pediatrics Association (VPA) and US drug company Pfizer (Việt Nam) on May 26 signed a memorandum of understanding for enhancing the capacity of paediatric healthcare workers in the country.
Through interdisciplinary co-ordination and instruction on how to use antibiotics safely and effectively, they seek to enhance the capacity of healthcare workers in pulmonary, neonatology, emergency resuscitation, infectious diseases, and surgical departments.
In Việt Nam, some 33,000 children aged under five years die of preventable diseases every year.
The World Health Organization said pneumonia is the leading cause of death of children under five years of age globally.
Trần Minh Điển, president of the VPA, said the COVID-19 pandemic has led to unpredictability in the disease model, creating more difficulties in paediatric healthcare.
The VPA hopes to collaborate with various institutions to enhance the knowledge, skills and attitudes of paediatric doctors and nurses to improve healthcare services for children across the country, he said.
This partnership is expected to promote co-operation and effectively carry out activities to achieve equity in healthcare for children, he said.
Darrell Oh, general director of Pfizer Vietnam, said infectious diseases are a global concern in public health and antibiotics are a primary area of focus for Pfizer.
Pfizer is a leader in areas like infection, oncology, rare diseases, immunology and inflammation, internal medicine, cardiology, vaccines.
HCM City theatre offers summer programme for children
Phương Nam Theatre, one of HCM City's leading private art troupes, will launch a special programme of circus and musical shows for children and young audiences this summer.
The variety show, called Mekong Show, features 50 music, dance, puppet and circus performers.
It tells the stories of southern people and their history, culture and lifestyle in different periods. The daily life of farmers who work hard to develop their land is also highlighted.
Phương Nam artists will use their art to depict images of beautiful rivers, green fields, forests, villages and animals.
They will perform tài tử music, the prototype for vọng cổ (nostalgic tunes) and cải lương (reformed opera) of the South.
Another show is Ba Tư Huyền Bí (Legendary Persia), a musical based on a Middle Eastern folk tale from the popular 18th century collection of tales called One Thousand and One Nights.
The Vietnamese version features the adventure of Aladdin, a street boy in the Arabian City of Agrabah, and his monkey Abu.
Aladdin meets Princess Jasmine, who has fled her sheltered life in her father's castle. He is used by the vizier Jafar to seek a magic lamp hidden in the Cave of Wonders.
He finally becomes rich and powerful and marries Jasmine after facing many challenges.
Ba Tư Huyền Bí features music, dance, pantomime and circus performances.
Phước began his career when he was a school boy. He has faced challenges and made sacrifices to develop his art.
He is also working on Bí Ẩn Nơi Hoang Đảo (The Secrets of the Island), a circus show of music, dance, pantomime and circus performances.
The show will offer new concepts and techniques in circus.
More than 20 artists will perform in water in a pool. They will deliver enough images, colours, action and tricks to keep audiences of all ages entertained.
Four years had passed since Phương Nam Theatre has staged its first circus show in musical style, and the time came to find a fresh performance to impress audiences.
The theatre is looking for ways to attract ticket buyers who may have grown weary of acrobats, trapeze artists, contortionists and clowns.
The summer shows by Phương Nam Theatre will be staged every weekend at the HCM City Circus Theatre on Hoàng Minh Giám Street, Gò Vấp District, starting on June 1.
HCM City will open the Phú Thọ Circus & Entertainment Centre in 2025.
The centre, located in District 11, will have two basements and 12 stories. It will have two theatres with 2,000 seats which cover different theatrical genres and styles. A series of modern function rooms will be included.
The construction began in April. The investment of VNĐ1.4 trillion (US$59.9 million) came from the city's budget.
According to Trần Thế Thuận, director of the city's Department of Culture & Sports, after opening to the public, Phú Thọ Circus & Entertainment Centre is expected to be a modern facility to offer circus and arts performances, exhibitions, and special cultural programmes targeting children and young people.
ASEAN Para Games 12 continues to be free of charge
Cambodia has announced that the ASEAN Para Games 12 will be free to fans to attend.
Tea Banh, chairman of Cambodia's National Organising Committee of the 32nd SEA Games and 12th ASEAN Para Games (CAMSOC-CAMAPGOC), said at the press conference held at Moradok Techo Stadium that Cambodia would ensure the successful organisation of the ASEAN Para Games 12 as they did at the SEA Games 32.
The host country will provide free tickets to all spectators, free accommodation and food services for members of sports delegations, an grant free broadcasting rights to media partners.
Banh said Cambodia would try to organise the event to introduce a peaceful, developed, hospitable Cambodia.
This year, the Games will take place on June 3-9 at Morodok Techo Stadium, Olympic Stadium and some other competition venues in Phnom Penh capital.
Earlier, Cambodian Prime Minister Samdech Techo Hun Sen also said that the opening and closing ceremonies of the coming ASEAN Para Games would be comparable to those of the SEA Games 32 that the country held earlier in May.
The Prime Minister conveyed the message at a meeting with 19,000 workers at the Royal Group Phnom Penh Special Economic Zone in Phnom Penh, calling on workers and the entire people of the host country to support the regional sports event for athletes with disabilities.
Việt Nam team will compete in the ASEAN Para Games with 164 members, including 16 officials, 21 coaches and 127 athletes. The athletes will compete in eight out of 14 sports at the tournament, namely track-and-field, swimming, weightlifting, badminton, table tennis, chess, judo, and boccia.
At the 11th ASEAN Para Games in Jakarta, Indonesia, Việt Nam claimed 183 medals last year, including 65 golds, 62 silvers and 56 bronzes, ranking third on the medal tally.
Hanoi welcomes 1.9 million visitors in Jan-May
Hanoi served nearly 1.9 million tourists between January and May this year, up 2.8 fold on-year.
The figure included over 1.2 million foreign visitors, up 7.9 fold on-year, according to the municipal Department of Tourism.
rrivals from South Korea topped with 178,500, followed by the US with 98,000 and China with 90,600.
In May, the local tourism sector focused on tourism programmes, including the launch of new tours at the Imperial Citadel of Thang Long and Hoa Lo Prison.
The city has also opened Dao Ngoc-Ngu Xa Pedestrian Street in Ba Dinh District and another in Tran Nhan Tong-Thong Nhat Park area in Hai Ba Trung District.
The city has boosted the promotion of its tourism activities on social networks such as YouTube and TikTok.
Hanoi has been named as among the world's top 20 food destinations for 2023 by Tripadvisor readers.
Many wild animals released in Ninh Thuan
As many as 28 wild animals have been released into Phuoc Binh National Park in the southern central province of Ninh Thuan.
The animals consist of two Javan pangolins, turtles and monkeys. They were handed over to the HCM City Forest Management Board.a
The animals were then sent to Cu Chi Wild Animal Rescue Station to be taken care of.
The HCM City Forest Management Board and Phuoc Binh National Park have recently co-operated to free the animals.
Measures proposed to ensure traffic safety, security at Tan Son Nhat airport
The HCMC Road Infrastructure Management Center has submitted a document proposing a plan to reduce congestion and ensure traffic safety in Tan Son Nhat Airport to the municipal Transport Department.
The HCMC Road Infrastructure Management Center previously coordinated with the Southern Airports Corporation and TCP Investment Joint Stock Company (TCP JSC), Tan Son Nhat International Airport to identify locations and routes connecting TCP's parking lot and Truong Son road, open two lanes linking TCP's parking area and A1 road.
The city's Road Infrastructure Management Center proposed the Transport Department suggest the Southern Airports Corporation and Tan Son Nhat International Airport agree with each other about a detailed implementation plan and send a report to the Department of Transport for approval soon.
In addition, the center also suggested a plan on using traffic signals to improve the traffic flow and limit the number of vehicles transiting in the airport, and installing cameras to impose penalties for illegally parked vehicles.
There are currently 51 electronic advertising boards and security cameras installed at Tan Son Nhat International Airport. Under the proposal, around 27 surveillance cameras and eight electronic advertising signs will be equipped for monitoring and managing traffic flow.
HCMC's Ornamental Fish Festival 2023 opens
HCMC's Ornamental Fish Festival 2023 opened at the Youth's Cultural House of the city in District 1 on May 27.
More than 20 enterprises featuring fish breeding equipment and 1,800 ponds for ornamental fish are on display at the event, including foreign businesses from Singapore, Indonesia and Thailand.
Director of the HCMC Department of Agriculture and Rural Development, Dinh Minh Hiep said that the city is facing a loss of agricultural land due to urban expansion with an average land reduction of 1,000 ha per year. Therefore the Department of Agriculture and Rural Development of the city has directed to develop high-tech urban agriculture, biotechnology, and seed production to improve economic value.
There are many support policies to develop the ornamental fishing industry that has a lot of export potential, such as building demonstration models, organizing training courses, and building brands.
The main attractions of the festival are different ornamental fish varieties displayed in aquariums including flowerhorn cichlids, siamese fighting fish, discus, dragonfish and goldfish.
The festival is also a venue for enterprises to meet and exchange experience in aquarium fishing and farming techniques as well as the ornamental fish breeding industry.
The HCMC's Ornamental Fish Festival 2023 co-organized by the Agricultural Industry Association under the municipal Department of Agriculture and Rural Development runs until May 28.
Hanoi gets new community library
The project aims to improve the spiritual life and provide educational facilities for the community, especially children on the outskirts of Hanoi.
The project Commune Cultural Center and Community Library will be built on 17,500m2 in Phuc Tien Commune, Phu Xuyen District, on the outskirts of Hanoi.
The VND13.2 billion (US$562 million) project will start in July 2023.
It is a non-refundable aid from the Good Neighbors International Organization and Kookmin Bank of Korea to improve spiritual life and provide educational facilities for the community, especially children in the suburbs of Hanoi.
Le Van Thuan, Chairman of the Phuc Tien Commune People's Committee, emphasized that the project is a cultural highlight for the commune, serving the learning and research needs of local people, residents, and children from the neighboring area.
According to Du Anh Hao, Head of the Urban Management Department of Phu Xuyen District, the community library is expected to be an architectural highlight of Phuc Xuyen Commune.
Good Neighbors is an international, non-profit humanitarian organization that plans, implements, and raises funds to provide services in child education, community development, health, sanitation, and disaster relief projects.
The organization has been granted the prestigious general consultative status with the United Nations Economic and Social Council (ECOSOC). Since its inception in 1991, the NGO's mission has been to improve the lives of people, especially children, through education, nutrition, shelter, community development, medical care, advocacy, and emergency relief.
Diversified cultural activities for children to take place in June
June is approaching with a wide cultural offer for children throughout Hanoi on International Children's Day, which falls on June 1, and the Summer vacations.
The musical The Old Fisherman And the Shark will start this Summer with a series of performances for children. Inspired by the classic tale of the old fisherman and the goldfish, the musical promises to amuse child audiences.
Scriptwriter Dinh Tien Dung said audiences would recognize familiar characters from the classic tale and be surprised by many new factors.
During the 70-minute performance at the Friendship Cultural Labor Palace on May 30 and 31, the musical used modern music and lighting technology to recreate the world of aquarium fish, which is both vivid and enchanting.
It conveys to all audiences the human message that a dream can come true with hard work and positive living.
The harmony between emotional and educational values is skillfully expressed through humorous incidents and details, bringing a joyful time to the audience.
During June, Tuoi Tre (Youth) Theatre will premiere several shows and launch the "Summer of Love" project, which brings new and vibrant artistic experiences not only for young audiences but also to attract parents to the theatre to promote family and social bonding.
The musical "Bom's Dream" tells the story of Bom, a poor orphan eager to learn. Bom is bullied by a wealthy man (Phu Ong). With a kind heart and the help of good friends, Bom manages to teach Phu Ong a lesson about greed and malice.
The play depicts a peaceful, colorful village with songs, dances, and funny and humorous dialogues.
Another attraction is The Story of a Seagull and the Cat Who Taught It to Fly, based on the masterpiece by Chilean author Luis Sepulveda, directed by Dao Duy Anh.
Caught in an oil spill, a dying seagull scrambles ashore to lay her last egg and lands on a balcony where she meets Zorba, a big black cat from the port of Hamburg. The cat promises the seagull to take care of the egg, not to eat the chick once it hatches, and - most difficult of all - to teach the baby seagull to fly. Will Zorba and his friends keep their promise and give the adopted seagull, Lucky, the strength to discover her true power? It's a moving, uplifting, and life-enhancing story with a strong environmental theme.
The play brings a lesson about unlimited love between strangers, imbued with great human values, inspiring confidence and courage to face challenges through the message: "Only those who dare can fly".
Last but not least, in June, Bao Son Paradise Theme Park will host the Icy Summer Festival with activities based on Hawaiian culture: Moana's Treasure musical, Aloha Carnival, circus performances, and water puppetry. The feast combining Hawaiian dances, and circus acts, including aerial silk dance, spinning poles, acrobatics, and magic show... will be a meaningful treat for children.
In addition to the upcoming plays, the Summer of Love 2023 project will also introduce children to special works that have been performed recently, such as Blue Bird, Virus War, Swans, Then I will Grow up...
Hanoi exhibition showcases 100 traditional branding proposals
An exhibition titled "100 Traditional Brand Identity Proposals for Hanoi" is underway at 93 Dinh Tien Hoang Exhibition House in Hoan Kiem District, Hanoi, and will run until June 4.
Organized by the Hanoi Department of Culture and Sports in cooperation with the Hanoi University of Industrial Fine Arts, the exhibition is expected to be a platform for students to showcase their creativity and ideas and a celebration of Hanoi's traditional and cultural heritage.
The 100 branding proposals were created by students at the Hanoi University of Industrial Fine Arts after conducting thorough research on traditional handicraft villages and products.
The proposals mainly focus on Hanoi's traditional handicrafts and products, such as Dao Thuc Village's water puppet, Bat Trang Village's pottery, Chuong Village's conical hat, Chang Son fan, Dao Xa ethnic musical instruments, Ramé Ao dai (traditional dress), Pho Tu Lun (Tu Lun noodle soup with beef) in Au Trieu Street, and Pho Ganh.
Do Dinh Hong, Director of the Hanoi Department of Culture and Sports, said the exhibition aims to introduce and promote the traditional brand identity designs of industries and handicraft villages created by young fashion designers through innovative and fresh perspectives.
The exhibition results from the "Creative Hanoi" contest, co-hosted by the municipal Department of Culture and Sports and the Hanoi University of Industrial Fine Arts. It aims to fulfill Hanoi's commitment as a UNESCO Creative Cities Network member to create a network of young creative designers.
The "Creative Hanoi" competition provides an opportunity for students to explore, study and research Hanoi's traditional branding, handicraft villages, cultural heritage and history. They can use their acquired knowledge, ideas and creativity to develop innovative branding proposals and products for the city. The competition also encourages young people and students to learn from each other and network with organizations and individuals in the design industry.
In addition to the exhibition, the Hanoi University of Industrial Fine Arts also offers the chance for visitors to have their portraits drawn on May 27-28 and June 3-4.
Viet Nam-Thailand Agreement on Mutual Judicial Assistance in civil matters ratified
President Vo Van Thuong has decided to ratify the Agreement on Mutual Judicial assistance in the civil matters between Viet Nam and Thailand. The ratification was made at the request by the Government on April 27, 2023.
The agreement is expected to create a legal basis for the requests for judicial assistance in civil matters and the timely provision of help for settling civil disputes.
Thereby, it guarantees the rights and legitimate interests of individuals and organizations in the two countries and enhances civil, trade, and economic relations to contribute to socio-economic development in Viet Nam and Thailand along with their traditional friendship.
The approval of this agreement aims to help implement the Party and State's policy on strengthening cooperation with international partners in legal and judicial matters.
Also, it looks to help perfect the legal mechanism for protecting the rights and legitimate interests of Vietnamese citizens and entities abroad, including the 13th Party Central Committee's Resolution No 27-NQ/TW, dated November 9, 2022, on the continuation of building and perfecting the law-governed socialist State of Viet Nam in the new period.
Int'l flight passengers up 680% in five months
Viet Nam's airports served up to 45.5 million passengers in the first five months of this year, an increase of 37.8 percent compared to the same period last year, according to the Civil Aviation Authority of Viet Nam (CAAV).
Of the figure, there were 12 million foreigners and 33.4 million local passengers, marking year-on-year rises of 679.6 percent and 33.4 percent, respectively.
In May alone, airports across the country served 9 million passengers, up 3.2 percent from the previous month.
Between January and May, Vietnamese airlines carried 22.4 million people, a year-on-year increase of 36.9 percent. Of the total, there were 16.7 million domestic passengers, up 5.7 percent from 2022.
The volume of foreign passengers reached 5.7 million, an increase of 5,525.1 percent higher than from the corresponding period last year.
Deputy PM suggests Viet Nam, Sri Lanka open direct air routes
Deputy Prime Minister Tran Luu Quang suggested Viet Nam and Sri Lanka open direct air routes to boost tourism during his meeting with Sri Lankan President Ranil Wickremesinghe.
The meeting took place in Tokyo on May 26 as the pair went there fto attend the 28th International Conference on The Future of Asia.
Tran affirmed the Viet Nam's consistent policy of developing traditional friendship and multi-faceted cooperation with Sri Lanka.
He expressed his wish to promote the bilateral relations more effectively and practically, contributing to maintaining peace, stability and cooperation in the region.
The Deputy Prime Minister urged both sides to bolster collaboration across all sectors, including enhancing all-level delegation exchanges and people-to-people links and effective implementation of bilateral cooperation mechanisms, particularly the Joint Committee chaired by the two Foreign Ministries.
He called on the two nations to double effforts to raise the bilateral trade value to US$500 million as well as continue endorsing close coordination at international and regional forums, including the United Nations and the Non-Aligned Movement.
For his part, Ranil Wickremesinghe pledged to strengthen Viet Nam-Sri Lanka relations, hoping that both sides would bolster collaboration in fields of economy, trade, investment, culture, tourism, climate change adaption and at multilateral mechanisms.
Sri Lanka expects to foster economic ties with ASEAN and join the Regional Comprehensive Economic Partnership (RCEP), shared the President.
At the meeting with Speaker of the House of Representatives of Japan Hosoda Hiroyuki, Tran recommend the Japanese House of Representatives increase delegation exchanges at all levels with Viet Nam, including between young and women parliamentarians.
Highlighting the importance of economic cooperation, he suggested Japan support the development of economic linkages between the two nations, assist Viet Nam in effectively taking part in new supply chains and advocate the implementation of new generation official development assistance (ODA) for Viet Nam.
The Vietnamese leader recommended Japan encourage its small and medium-sized enterprises to invest in and boost technology transfer for Viet Nam.
Hosoda Hiroyuki, for his side, highly valued the crucial role and active contributions to Japan's socioeconomic development by the nearly 500,000 Vietnamese people in the country, welcoming more Vietnamese coming to study and work in his country.
The same day, Tran had a meeting with three co-chairmen of the Viet Nam-Japan economic cooperation committee of the Japan Business Federation (KEIDANREN), namely senior advisor to Resonac Holdings Corporation Ichikawa Hideo, CEO of Sumitomo Corporation Hyodo Masayuki, and CEO of Sojitz Corporation Fujimoto Masayoshi.
The Deputy PM hailed contributions of KEIDANREN in promoting economic, trade and business connectivity between the two nations, especially via the Viet Nam-Japan Joint Initiative.
The Vietnamese Government always protects the legitimate rights of investors and harmonizes the interests of the State and businesses, noted Tran.
He took the occasion to propose KEIDANREN continue investing in Viet Nam and supporting the country in participating in the Japanese enterprises' supply chains in the region, especially in areas of renewable energy, climate change response, clean agriculture, digital transformation, green transition, semiconductors and agricultural product processing.
He suggested KEIDANREN help Viet Nam access capital sources for infrastructure development, the Green Innovation Fund, and the green finance sources of Japan.
HCM City launches summer activities for children
Deputy Prime Minister Tran Luu Quang attended an event in Ho Chi Minh City on May 28 to launch summer activities for children and respond to the Children Month 2023.
Highlighting the significance of the event, Quang said that the Government has implemented many strategies and plans to give better protection, care and education to children, aiming to ensure their rights and make sure that they develop comprehensively and enjoy a healthy and safe life.
However, the country has seen many challenges in child care, protection and education, he stated, stressing the need to continue to fix current shortcomings and problems to give better care for children, the future of the country.
Quang asked ministries, sectors and the administrations at all levels to continue strengthening the communications work and implementation of the Party and State's policy and laws regarding child protection and care, while diversifying summer activities for them.
At the same time, plans and measures for child protection and care should be conducted regularly with stronger State budget and social resources, thus creating a healthy environment for children's comprehensive development.
On the occasion, the Ho Chi Minh Communist Youth Union Central Committee announced a donation of 9.3 billion VND (396,000 USD) to children orphaned by the COVID-19 pandemic in 29 cities and provinces in the second half of 2023, along with gifts worth 16.7 billion VND to children in 25 cities and provinces for summer activities.
Meanwhile, the Ho Chi Minh City administration launched an online cultural space for children, using digital technologies to introduce the history, culture, national sea and islands as well as folk arts to children.
Source: VNA/SGT/VNS/VOV/Dtinews/SGGP/VGP/Hanoitimes