VIETNAM NEWS HEADLINES NOVEMBER 26
NA Chairman Hue to visit Australia, New Zealand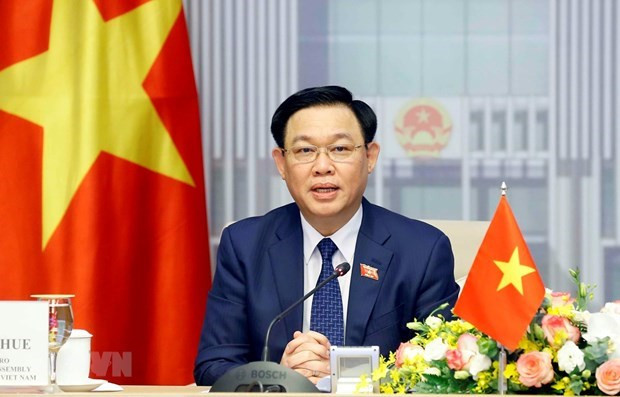 Chairman of the National Assembly Vuong Dinh Hue (Photo: VNA)
National Assembly Chairman Vuong Dinh Hue will pay official visits to Australia and New Zealand from November 30-December 6, announced the NA Foreign Relations Committee.
The visits will be made at invitations by Speaker of the Australian House of Representatives Milton Dick, President of the Australian Senate Sue Lines, and Speaker of the New Zealand House of Representatives Adrian Rurawhe.
Vietnam has two more Asia-Pacific documentary heritage
Two heritage pieces of Vietnam were recognised as part of documentary heritage in Asia and the Pacific on November 26, at the 9th general meeting of the Memory of the World Committee for Asia and the Pacific in Andong city, the Republic of Korea.​
They are a collection of handwritten Chinese and Nom documents in Ha Tinh province and the 78 "ma nhai" steles on Ngu Hanh Son Mountain in Da Nang city.
The steles feature writings of various genres by kings and mandarins of the Nguyen Dynasty, monks, and scholars who used to set foot in the scenic landscape between the first half of the 17th century and the 1960s.
With the two abovementioned pieces, Vietnam now has nine in documentary heritage lists of UNESCO, including three in the world list and six in the Asia-Pacific list.
Drivers test positive for drugs on Noi Bai-Lao Cai Expressway
Five drivers have tested positive for drugs as police intensified their checks on the Noi Bai-Lao Cai Expressway for a week from November 15-21.
The Traffic Police Department announced on November 23 that they had carried out more intensified checks on drivers and vehicles on roads nationwide for a week to prepare for the peak travel time during the coming Lunar New Year Festival.
On the evening of November 22, a 32-year-old driver who was checked while driving on the Hanoi-Thai Nguyen Expressway tested positive for methamphetamine.
A day earlier at 5 pm on November 21, a 30-year-old driver tested positive for drugs when being checked on the Noi Bai-Lao Cai Expressway.
Police also found three other cases in which three drivers tested positive for drugs while running on the Noi Bai-Lao Cai Expressway.
Decree 123 states that drivers testing positive for drugs will be subject to a fine of between VND 30-40 million and have their driving licenses revoked from 22-24 months.
UNDP and Norway support Vietnamese marine spatial planning
The UN Development Program (UNDP) and the Norwegian Embassy signed an agreement on November 23 in Hanoi to support the planning of national marine space for ocean sustainability and climate change response in the country over the next three years.
The new technical package aims to assist the Vietnamese Government to implement the Marine Spatial Planning (MSP), thereby creating and establishing a more rational marine space structure, whilst finding a balance between growth demand and demand for maintaining marine ecosystem and socio-economic goals.
The technical package is expected to assist the country to diversify the economy, respond to climate change, including marine renewable energy, offshore wind power, marine-derived pharmaceuticals, and enhance the production of seaweed in line with environmental protection requirements.
Public awareness key to reducing risks associated with NCDs
A comprehensive approach is needed among all sectors and stakeholders to reduce the risks associated with non-communicable diseases (NCDs), and to promote interventions to prevent and control them, medical experts said.
Speaking at a conference on non-communicable diseases on Tuesday, Prof. Dr. Nguyễn Lân Việt, vice president of the Việt Nam Cardiology Association, said it was important to raise people's awareness about the risks of NCDs for early detection and treatment management.
During the event, the Việt Nam Cardiology Association and Merck Healthcare Vietnam Co., Ltd. signed an agreement to enhance awareness and knowledge about non-communicable diseases for the community and health workers.
Under the agreement, training programmes will be organised for health workers in the 2023-2025 period.
A website (www.01minh.com) will be developed to act as a medical "handbook" about NCDs for patients and medical staff.
Among the problems facing the health sector include the shortage of medical staff in the field of NCDs, especially at hospitals at provincial, district and commune levels.
There is also a shortage of drugs, facilities and equipment, especially at grassroots medical stations.
"Color secret" shows unique paintings by Thai and Vietnamese artists
A painting exhibition titled "Color Secret" and launched by artists Vichit Nongnual of Thailand and Ha Hung Dung of Vietnam has opened in Ho Chi Minh City, leaving a hugely positive impression on art lovers.
A total of 36 artworks are on display at the event, showcasing the combination between traditional artistic values and contemporary global art.
Born in 1971, Vichit Nongnual is well known throughout Asia, Europe, and the United States, having graduated from the faculty of ceramic decorative arts in Silpakorn University of Thailand.
In 2019, an exhibition introducing works by Thai artist Vichit Nongnual took place at Dong A Gallery in Hanoi, with 25 colourful portrait artworks on display depicting typical characteristics of Asian people.
Meanwhile, Ha Hung Dung, a Ho Chi Minh City - based artist, is renowned for his paintings depicting life in rural areas of the country's northwestern region.
The exhibition is held at Luala Art Space & Gallery on 189 C/4 Nguyen Van Huong street of Thao Dien ward in District 2 of Ho Chi Minh City, and will last through to November 28.
Futabusline to start shuttle service to new Mien Dong Coach next month
Phuong Trang Futabusline Passenger Car Corporation will provide passengers with free shuttle services from and to the new Mien Dong Coach Station beginning in December.
The HCMC Department of Transport officially approved Futabusline's proposal for their free shuttle service yesterday afternoon, November 23, with the aim to assist transportation from inner-city areas to the station, and back again.
Saigon Transportation Mechanical Corporation (SAMCO) has been assigned to coordinate with Futabusline in organizing free shuttle services from December 1, 2022 to at least June 30, 2023.
Both units have to ensure the convenience of their passengers, as well as objectivity and transparency in management, administration, and application of information technology.
Previously, SAMCO sought approval for setting up additional transit areas in the inner-city districts. Although SAMCO offered shuttle services to their passengers, the number of transit vehicles has been inadequate to satisfy the current travel demand.
National Traffic Safety Committee has new Vice Chairman
Prime Minister Pham Minh Chinh has signed a decision assigning Minister of Transport Nguyen Van Thang as Standing Vice Chairman of the National Traffic Safety Committee (NTSC).
Minister of Transport Nguyen Van Thang is assigned as Standing Vice Chairman of the National Traffic Safety Committee
The NTSC is headed by Standing Deputy Prime Minister Pham Binh Minh. The other two Vice Chairmen of the committee include Khuat Viet Hung (Executive Vice Chairman), and Deputy Minister of Public Security Le Quoc Hung.
Under the Prime Minister's Decision 22/2017/QD-TTg, dated June 22, 2017, the NTSC is an inter-agency coordinator responsible for assisting the Prime Minister in directing ministries, sectors and localities to implement national strategies and projects on ensuring traffic safety and order as well as deploy interdisciplinary solutions in this field on a national scale.
Food festival helps promote intra-ASEAN friendship
A food festival themed "Unity in Diversity" opened in Ho Chi Minh City on November 24, with the aim of promoting friendship and cooperation between the people of Vietnam and other member countries of the Association of Southeast Asian Nations (ASEAN).
Hosted by the Ho Chi Minh City Union of Friendship Organisations (HUFO), the four-day event features 50 booths of businesses and restaurants which introduce special traditional dishes of Vietnam and other countries in the region.
HUFO Vice President Ho Xuan Lam underlined the significance of the event, saying that it is part of activities organised in 2022 to celebrate ASEAN's 55th founding anniversary (1967-2022).
Within the framework of the festival, an art exchange night, shows of traditional costumes and street art performances will be also organised.
"Ego-Human" exhibition creates an urban space with the soul of the nation
The "Ego-Human" exhibition from artist Ngo Xuan Binh has opened at the Hanoi Museum as a part of 50 events within the Hanoi Creative Design Festival in 2022 with the theme "Creativity and Technology".
This is the largest art exhibition in the artist's career, featuring more than 200 lacquer and oil paintings and more than 100 sculptures from materials such as bronze, stone, and wood.
These works are designed for urban spaces, contributing to creating a colourful cultural life for modern citizens.
According to Binh, it takes humanity thousands of years to form an ego or national identity, but only takes a few decades, or even just a few years, to erase the cultural ties typical of a region or a nation, such as craft villages, customs, architecture, farming methods, and religion. He therefore always takes tradition as the source of his works.
The exhibition will run until the end of March.
"Run for the Heart 2023" charity programme launched
The "Run for the Heart 2023", an annual charity programme which aims to raise funds for children who need heart surgeries, has been launched by VinaCapital Foundation and Gamuda Land Vietnam.
The programme will conclude with a charity-run event on February 12, 2023 with the participation of up to 10,000 people.
Those, who are interested in or want to support the programme, can contribute to the fund by visiting Gamuda Land's offices in Ho Chi Minh City, transfer money to Heartbeat Vietnam programme or participate in Vietrace365, one of the most popular online virtual race platforms in the running community in Vietnam.
Since 2013, the programme has raised over 35 billion VND (1.4 million USD) to help more than 1,300 Vietnamese children receive free heart surgeries.
World Peace Council's 22nd Assembly elect new Executive Committee
The 22nd Assembly of the World Peace Council (WPC), which is underway in Hanoi, elected a new executive committee with 40 members on November 24.
The new executive committee elected Pallab Sengupta, General Secretary of the All India Peace and Solidarity Organisation, as President of the WPC with absolute consensus.
Athanasios Pafilis was re-elected General Secretary of the council, and Iraklis Tsavdaridis was elected executive secretary.
The committee also elected five Vice Presidents representing the Americas, Asia-Pacific, Middle East, Africa, and Europe, and 11 members of the council's secretariat.
The same day, the Vietnam Fatherland Front Central Committee held a meeting with the WPC delegation.
Samsung continues efforts for sustainable investment in Vietnam
Samsung Vietnam organised its third recruitment drive for university graduates in 2022 at the Global Samsung Aptitude Test (GSAT) in Hanoi on November 23 as one of its efforts to demonstrate commitment to long-term and sustainable investment in Vietnam.
Similar tests were also held in March and June this year.
GSAT is a global Samsung competency test for university graduates, consisting of three basic parts: "logical math", "reasoning" and "visual thinking". This is one of the important rounds in the recruitment process of employees who are university graduates for all Samsung Group's companies in the world.
Candidates who pass the GSAT round will move forward to the interview round scheduled to take place on December 10. The outstanding candidates with the best results from the interview round will officially become Samsung Vietnam employees in early 2023 and work at one of Samsung's branches: Samsung Vietnam Mobile Research and Development Center (SVMC), Samsung Electronics Vietnam Company (SEV), Samsung Electronics Vietnam Thai Nguyen (SEVT), Samsung Display Vietnam (SDV), Samsung Electro-Mechanics Vietnam (SEMV), and Samsung SDS Vietnam (SDS).
Ba Ria-Vung Tau hosts 29th meeting of Mekong River Commission Council
The 29th Meeting of the Mekong River Commission (MRC) Council was held in the southern province of Ba Ria-Vung Tau on November 24 under the chair of Vietnamese Minister of Natural Resources and Environment Tran Hong Ha.
The event brought together MRC Council members from Cambodia, Laos, Thailand and Vietnam, and representatives from development and dialogue partners, along with international organisations in the region.
On the occasion, a meeting of the 27th development partner consultative group was also convened.
In 2022, the MRC continued to complete commitments made by high-ranking leaders of the countries by accelerating the implementation of the 2021-2030 Basin Development Strategy for the Mekong River Basin and procedures regarding the use of water resources, heard the meeting.
The delegates approved a plan for the MRC for 2023-2024, focusing on upgrading the monitoring network for water resources and environment, and intensifying the sharing of information and data on the exploration and use of water resources between the member countries and upstream countries including China and Myanmar, among others.
At the end of the meeting, Ha handed over the MRC Council Chairmanship to Cambodia. The 30th meeting of the council is scheduled to take place in Cambodia next year.
Policy toolkit to strengthen ASEAN women's entrepreneurship launched
The Association of Southeast Asian Nations (ASEAN), United Nations Economic and Social Commission for Asia and the Pacific (ESCAP), and the Government of Canada on November 23 launched the Policymakers Toolkit "Strengthening Women's Entrepreneurship in National Micro, Small and Medium Enterprise Policies and Action Plans".
The toolkit was developed by ESCAP in close collaboration with all 10 ASEAN member countries. It was designed to enable policymakers involved in promoting women entrepreneurship, especially the MSME development agencies, assess gaps, take stock of opportunities, and design gender-focused interventions through national policies to advance women's entrepreneurship in the ASEAN region.
It is a priority economic deliverable under Cambodia's ASEAN Chairmanship in 2022 and was endorsed by the ASEAN Economic Ministers at the 54th ASEAN Economic Ministers Meeting in September 2022, and was subsequently acknowledged at the 40th and 41st ASEAN Summits.
Australian professor wins Ho Chi Minh Prize for joint TB research
One of two 2022 Ho Chi Minh Scientific Prize in the area of health care has been presented to a team of 23 respiratory researchers that include three researchers from Australian universities and research institute.
The group of infectious disease experts combating the spread of tuberculosis in Vietnam has been recognised for their tireless research and advocacy, which has spanned over a decade.
Since 2009, the Australian medical researchers have collaborated with the National Tuberculosis Program to work closely with Vietnamese researchers across 135 clinics throughout Vietnam to find effective ways to tackle this challenge. Their work and discoveries range from a ground-breaking innovation to end TB by using modern medical technology to perform community-wide testing for, and treatment of, TB to stop the disease in its tracks, to new effective and shorter treatment regimens for latent TB infection and active TB disease, and digital health as well as social psychological support for TB patients by improving their treatment adherence and better managing their side effects.
In accepting the award, Greg Fox, Professor of Respiratory Medicine at The University of Sydney, Australia, and the Woolcock Institute of Medical Research, said it was an immense honour to receive the award from the Government of Vietnam, in recognition of his work advocating for greater access and equity for Tuberculosis diagnosis and treatment in the country.
The University of Sydney and the Woolcock Institute of Medical Research are key partners to run significant research on tuberculosis area for the last 10 years in Vietnam. Research outcomes were published in prestigious international scientific journals and have been translated into global or national policies. As a result of this work, active case finding to detect TB is implemented widely throughout Vietnam and in many other high burden countries in the world, saving thousand lives.
World champion Duy Nhat to compete in MTGP Vietnam Championship 2023
Local fighter Nguyen Tran Duy Nhat, who rose to prominence after winning a gold medal at the World Games 2022, will compete in the Muaythai Grand Prix (MTGP) Vietnam Championship 2023 which is scheduled to take place in March next year.
Information about the scheduling of the tournament was released at a press conference held on November 23 in Hanoi.
Moving forward, the competition is set to get underway in Ho Chi Minh City in March, 2023.
MTGP Vietnam Championship 2023 will attract the participation of several of the world's leading fighters, including Changpuak Pongtong of Thailand, Jeremy Payet of France, Liam Chirag Patel of Britain, and Duy Nhat of Vietnam.
According to details given by the organisers, MTGP and Vietnam Television (VTVcab), all matches will be broadcast live on VTVcab's channels and social networks.
Athletes will compete in 12 weight categories, including three professional and nine semi-pro events.
Fighters who win in the semi-pro events will receive a cash prize of VND10 million each, whilst the winners of the professional events will be awarded VND35 million each.
In particular, the World Welterweight Title Fight will be held in Ho Chi Minh City on December 29 ahead of MTGP Vietnam Championship 2023.
The occasion will see Huynh Van Tuan of Vietnam take on Wara Yut Wanahamriang of Thailand in the 51kg category, Truong Cao Minh Phat and Liam Chirag Patel of Britain in the 60kg category, and Nguyen Tran Duy Nhat and Ponphitak Sukparised in the 60kg category.
Local tennis ace off to great start at Yokkaichi Challenger 80
Leading Vietnamese tennis player Ly Hoang Nam defeated Japanese opponent James Trotter in the first round of the ongoing Yokkaichi Challenger 80.
The Japanese player, world No.491, proved to be a challenging opponent for Nam, world No.234, during the first set. However, Nam was able to take advantage of his rival's mistakes to successfully beat him with a score of 6-3.
Moving into the second set, Nam continued to dominate the match and produced a stunning display to win 6-1, whilst the Vietnamese player accumulated an additional seven points thanks to the impressive win.
Moving forward, No. 7 seed Nam will face off against another Japanese player Sho Shimakukuro, world No.284, in the next round.
If Nam qualifies for the quarterfinals of the competition, he will play against No. 1 seed in the form of Japanese opponent Kaichi Uchida, who ranks 165th in the ATP rankings.
Prosecution starts in iSchool food poisoning case
The Khánh Hòa Police Department announced on Wednesday they have started the prosecution process in the case of "Violation in food safety regulation" happening at iSchool Nha Trang.
The decision was made after a police investigation into a mass food poising which hospitalised 665 students and teachers and killed a Malaysian-Vietnamese student named Lee Zhe X., aged 6.
He died on the way to an HCM City hospital.
The Khánh Hòa Police Investigation Agency was present at iSchool Nha Trang to investigate and took testimonies from canteen workers.
On November 17, over 800 students had lunch at the campus of iSchool Nha Trang.
The lunch consisted of rice, fried chicken, vegetables and a sauce made from eggs and cooking oil.
After eating, many iSchool Nha Trang students began displaying food poisoning symptoms, including fever, vomiting, and diarrhea.
Hospitals in Khánh Hòa registered 665 cases relating to the food poisoning incident at iSchool Nha Trang. Eighty six cases are currently hospitalised.
A study by Nha Trang's Pasteur Institute found three dangerous bacteria types in the food.
Salmonella, Bacillus cerus and E.coli was present in the fried chicken. Bacillus cerus is also found in the sauce and a toxin that causes hemolysis.
Authorities have identified the canteen manager who provided the lunch as Bùi Phúc Lam, 40.
Lam was registered officially with authorities to run a food catering business in September 2015, and had a food safety certification granted by Nha Trang's Public Health Station on October 19.
The Khánh Hòa Police Investigation Agency ordered the Khánh Hòa Department of Health to gather data on iSchool Nha Trang students who came to the hospitals for treatment.
Medical files and blood samples of patients must also be available for investigative work, according to the Khánh Hòa Police Investigation Agency in their document.
Friendly match against Dortmund important for Việt Nam, says Park
A friendly match against Borussia Dortmund is considered a good opportunity for the national team of Việt Nam to get better in different areas.
Head coach Park Hang-seo spoke to reporters on the first day of his team's practice in Hà Nội. Park said Việt Nam could learn a lot from Dortmund when the two sides meet each other later this month in Hà Nội.
He said although there was a gap between the two teams, his players would not let their supporters leave disappointed.
Meanwhile, the friendly match gives Park a chance to test new players and check his formation ahead of the 2022 AFF Cup in December.
Park and the national team will have one week of practice before they entertain Dortmund at Mỹ Đình Stadium on November 30.
Dortmund, bringing its stars such as Emre Can, Mats Hummels and Marco Reus, will land in Việt Nam on November 29 after playing matches in Singapore and Malaysia.
Supporters will have a chance to watch the team at an open training session on November 29 evening. Meanwhile, those who attend the match will have opportunities to win prizes worth a total of about VNĐ157 million (US$6,350).
Hanoi, Binh Dinh to meet in National Cup final
Hà Nội will defend its National Cup title in the finals against Topenland Bình Định on November 27 in Hà Nội.
Reigning Hà Nội defeated Hoàng Anh Gia Lai 2-0 in the first semi-final match on November 23 in the Central Highlands city of Pleiku.
In the second semi-final, Bình Định trounced Thanh Hóa 4-0 on their home ground of Quy Nhơn Stadium. Rafaelson Bezerra Fernandes made a hattrick with goals at the 15th, 45th and 63rd minutes. The other goal went to Hendrio Da Silva seven minutes to the end.
In the final, Hà Nội will hope for a more positive outcome playing at home as in their latest meeting in September, Bình Định won 3-0 at Hàng Đẫy.
Ha Long to close another open-cast mine
The 917 open-cast mine operated by the Hon Gai Coal Company in Quang Ninh Province's Ha Long City will be closed in December, which is the second of its kind to be closed in over a year in the area.
Earlier Nui Beo, the largest open-cast coal mine in the northern province was completely closed in 2021 following the province's target to switch to more environmentally-friendly coal mining. Nui Beo started to shift to underground mining in 2012 and extracted its first tonnes in 2017. The mine achieved an output of 1.10 million tonnes last year.
Nui Beo used to be the biggest open cast coal source in Ha Long City with an average annual output of five million tonnes.
Quang Ninh plans to close the last open-cast coal mine operated by Ha Tu Coal Company latest by 2028 to transform entirely to underground coal mining.
The province has worked open-cast coal mines for decades, work that has had serious environmental consequences for Ha Long City and Ha Long Bay.
Fujikin Da Nang Research Center launched
Fujikin Da Nang Research, Development and Production Center was officially introduced yesterday. Being a cooperative project between Fujikin Incoporated and University of Science and Technology (member of Da Nang University), it is located in Da Nang Hi-tech Park (in Hoa Lien Commune of Hoa Vang District), with a total surface area of 33,100m2 and total investment of US$35 million.
When in operation, Fujikin Da Nang Research, Development and Production Center aims at boosting scientific research and technological development in the fields of flying and unmanned equipment, hydrogen energy equipment, Nano equipment, AI technology, water filter systems, wireless power transmission, and new materials.
Another focus on the Center is the development of robot versions, medical equipment. It will commercialize successful research results.
Transport experts call for comprehensive roadmap on converting buses to clean fuel
The State and transport enterprises need to conduct detailed studies on challenges in replacing petrol and diesel-powered public buses with electric vehicles.
More research is needed in order to build a comprehensive roadmap for the replacements in each locality, the Institute for Transportation and Development Policy has said.
In that way, the country could achieve the goal of 50 per cent of buses running on clean fuel by 2030, it said.
Results of the institute's recent survey on public transport demand in five big cities showed that the market share of buses was between 8-9 per cent in Hà Nội. HCM City had a rate of 7.5 per cent while the cities of Hải Phòng, Đà Nẵng and Cần Thơ only reached approximately 1 per cent.
The country currently has 854 bus routes and 8,500 buses running on a total length of 32,344 kilometres of roads.
However, only 849 are environmentally friendly vehicles. Of those, 702 buses, or 82.7 per cent, use compressed natural gas (CNG) and the rest are electric vehicles.
Figures from Hà Nội's Department of Transport's Public Transport Management Centre showed that the city currently has 130 bus routes with 1,966 vehicles.
Only 220 buses are electric or run on clean fuel. The majority, accounting for 89 per cent of the total, are petrol and diesel-powered buses.
Many forest rangers in Binh Thuan quit their jobs
The Department of Agriculture and Rural Development of Binh Thuan Province, on November 24, said that from October 2020 to the present time, up to 116 people who are forest rangers and local forest protection forces have resigned.
The Department of Agriculture and Rural Development of Binh Thuan Province has one forest protection branch, ten forest ranger districts, and 17 specialized units for forest protection, with a total staff of 829 people. Forest protection forces quit their jobs partly due to the hard-working conditions, difficulties in many aspects, and low income. In addition, the forest protection forces face lots of pressure and potential dangers, while the tools to support them in performing their tasks are extremely rudimentary.
The Department of Agriculture and Rural Development of Binh Thuan Province has reported to the Vietnam Administration of Forestry, proposing the competent authority to issue specific support policies for officials and laborers, managing and protecting forests, such as occupational preferential allowances, toxic allowances; regime for wounded soldiers and martyrs due to accidents while performing their duties; adjusting and amending wage policies, increasing allowances, and raising wages; equipping support tools with enough deterrent for the specialized forest protection forces so that they are confident enough when doing their duties.
WB education projects prove effective in Vietnam
Many projects on education and training funded by the World Bank (WB) have reported good results, affirmed Minister of Education and Training Nguyen Kim Son during his recent working session with Cristian Aedo, Practice Manager for the Global Practice Education in South Asia at the WB.
Son affirmed that his ministry attaches special importance to its cooperation with the international lender.
The effectiveness of the bank's investment projects such as the construction of the Vietnam-Germany University, the Enhancing Teacher Education Project (ETEP) and the Support for Autonomous Higher Education Project (SAHEP) has had important contributions to the development of education and training in Vietnam, he stated.
The minister expressed his hope for more support from the World Bank in implementing a new preschool education programme, and in support of preserving ethnic minority languages.
Vietnam honoured as Asia's Best Golf Destination 2022
The nation has been named as the Asia's Best Golf Destination 2022 at the ninth annual World Golf Awards which was recently held in Abu Dhabi in the United Arab Emirates.
The awards saw the country surpass strong rivals such as Japan, the Republic of Korea, Thailand, and Malaysia to win the title.
Most notably, it marks the sixth consecutive year that Vietnam has been honoured with the Asian title since 2017.
Asia's Best Golf Destination award is part of World Golf Awards, an event which has been held annually since 2014 and is widely viewed as the most prestigious award in the golf tourism industry.
Most notably, the Vietnam Tourism Golf Association (VTGA) also received the World's Best Golf Association 2022, while Els Performance Golf Academy also won the World's Best Par 3 Golf Course 2022.
UN facilitates women's participation in peacekeeping operations: UN Under-Secretary-General
The United Nations will continue creating a favourable environment for women, including those from Vietnam, to effectively participate in peacekeeping operations, UN Under-Secretary-General for Peace Operations Jean-Pierre Lacroix told a conference in Hanoi on November 26.
Deputy Minister of National Defence Sen. Lieut. Gen. Hoang Xuan Chien, who is head of the ministry's steering committee on Vietnam's participation in UN peacekeeping missions, said that Vietnam has joined the UN's work since 2014. Among 512 Vietnamese officers and soldiers sent to the UN peacekeeping missions, over 70 are women.
Maj. Gen. Hoang Kim Phung, Director of the Vietnam Peacekeeping Department, said that Vietnamese female soldiers hold many different positions such as military observers, doctors and nurses, and have been all assessed by the UN as successfully and excellently completing their tasks.
In addition, Vietnamese female soldiers are also bright spots in many UN activities in field missions, especially in people-to-people diplomacy.
Source: VNA/SGT/VNS/VOV/Dtinews/SGGP/VGP/Hanoitimes