VIETNAM NEWS HEADLINES NOVEMBER 30
UNICEF wants to support more Vietnamese children in far-flung areas: executive director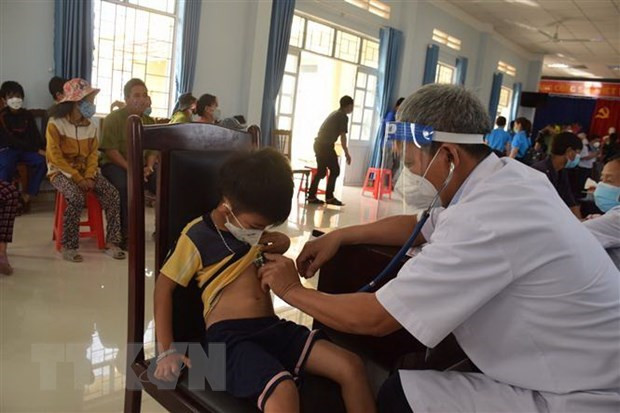 Ethnic boy receives medical check-up (Photo: VNA)
Executive Director of the United Nations Children's Fund (UNICEF) Catherine Russell on November 29 said that UNICEF will stand side by side with Vietnam in supporting children, especially those living in ethnic-inhabited and remote areas, to ensure no one is left behind.
She made the pledge during her working session with Ambassador Dang Hoang Giang, Permanent Representative of Vietnam to the United Nations (UN).
She said she was delighted to witness Vietnam's efforts and achievements in promoting children's rights during her recent visit to Vietnam, and acknowledged the country's contributions to the organisation's works.
Vietnam, Cuba intensify judicial cooperation
Minister of Justice Le Thanh Long is paying a working visit to Cuba starting November 28, with an aim to deepen bilateral cooperation in legal and judicial affairs.
During his stay, Long held talks with his Cuban counterpart Oscar Manuel Silvera Martínez, during which they expressed their satisfaction with cooperation results of the two agencies, and agreed on specific joint activities, including the effective implementation of a collaboration programme for 2022-2023 signed during President Nguyen Xuan Phuc's official visit to Cuba in September 2021, and the application of information technology in carry out cooperation activities.
Long said that on the basis of the minutes of the 39th session of the Vietnam - Cuba inter-governmental committee on economic, scientific and technical cooperation, the Vietnamese Ministry of Justice is preparing a document for a project to provide technical assistance to the Cuban counterpart in building and perfecting the legal system to implement the 2019 constitution.
The two ministers also agreed to continue to sign and implement the cooperation programme for the coming period in order to implement the memorandum of understanding on cooperation between the two ministries in 2013 effectively and substantively.
They then signed a Letter of Intent on the development of a technical assistance project for the Cuban ministry.
On this occasion, the Vietnamese minister presented the insignia for the cause of justice - the highest form of commendation under the authority of the Vietnamese Minister of Justice - for three officials of the Cuban ministry: namely Minister Oscar Manuel Silvera Martínez, President of the National Organization of Collective Law Firms (ONBC) and former Deputy Justice Minister Lilian María Hernández, and head of the Department of International Relations Antonio Israel Ybarra, for their contributions to strengthening and developing bilateral cooperation in legal and judicial affairs.
At his meeting with Prime Minister Manuel Marrero Cruz, Minister Long expressed his hope that the PM and Cuban Party and State leaders will maintain their support for cooperation between the two ministries.
The Cuban PM proposed that the two countries promote comprehensive collaboration in the fields of economics, trade, law and justice, affirming that he always supports and creates favourable conditions for bilateral cooperation.
During his visit to Cuba, Long also had meetings with leaders of the Supreme People's Court of Cuba, the Supreme Procuracy of Cuba, and met with Secretary General of the National Assembly and the Council of State of Cuba Homero Acosta Álvarez.
UNICEF pledges assistance to ethnic children in Vietnam
The United Nations Children's Fund (UNICEF) is committed to working alongside the Vietnamese Government to assist ethnic children and those living in far-flung areas.
UNICEF Executive Director Catherine Russell made the affirmation during her working session with Dang Hoang Giang, Vietnamese ambassador to the United Nations on November 29.
Russell recalled her recent Vietnam visit, saying she has seen with her own eyes the implementation of children-related policies and achievements in protecting children's rights in the country.
She highly appreciated Vietnam's positive contributions to UNICEFand assured that the UN agency would cooperate closely with Vietnam in supporting ethnic children and children living in remote areas to ensure no one is left behind.
Ambassador Dang Hoang Giang, for his part, thanked UNICEF for its support in implementing children-related policies in Vietnam, as well as supporting COVID-19 control and vaccination through the COVAX mechanism.
Vietnam is ready to engage more actively and substantively in UNICEF's strategies, programmes and activities at the global level, affirmed the Ambassador.
PM chairs 2022 National Urban Conference in Hanoi
Prime Minister Pham Minh Chinh on November 30 presided over a national urban conference in Hanoi aiming to make a breakthrough in urban development in the coming years.
In his opening speech, Chinh noted the conference presents a chance for the government, ministries and localities to review the urbanization process in recent times and introduce solutions to better manage urbanization and urban developent in the coming years.
He expressed hope solutions and recommendations put forward at the conference would help improve the quality of urbanization and urban development in the next 10 years with a vision to 2045, with a particular focus on enhancing the efficiency of exploitation and use of resources, and bringing into full play innovation resources as well as comparative and competitive advantages of urban areas in the context of national, regional and international development.
According to the Ministry of Construction, Vietnam has 888 urban areas at present, and the figure is projected to rise to 950 – 1,000 by 2025 and 1,000-1,200 by 2030. Its urban economy is anticipated to make up 75% and 85% of the country's GDP by 2025 and 2030 respectively,
Under the Politburo's Resolution 06 on urban planning, construction, management and sustainable development of Vietnam to 2030, with a vision to 2045, the urbanization rate of Vietnam is required to rise to over 50%, striving to reach the average level of the ASEAN region.
Vietnam will build at least 3-5 international urban brands, and the urbanization rate is in the middle and high group of ASEAN and Asia by 2030.
VOV stories honoured at ABU awards ceremony in India
Three works by the Voice of Vietnam (VOV) were honoured at the 59th Asia-Pacific Broadcasting Union (ABU) General Assembly in New Delhi, India, on November 29.
Among the three works, "Bon Phuc" by Hoang Van An and Tran Huu Hung of VOV1 won the News Reporting category, and "The small alley" by Nguyen Thi Uyen of VOV Online won the Digital Media category,
The remaining work "Overcoming adversity" by Nguyen Sy Hao and reporters of VOV4 clinched the special commendation in the radio perspective award category.
This year, VOV submitted nine works to the ABU competition, including six radio works, two television works and a digital media work. After the preliminary round, six VOV entries were selected for the final round, and three of them won the ABU 2022 Prizes.
Notably, this is the third time VOV has submitted works for the Digital Media category, and this is the first time it has won the award in this category.
Since 2010, VOV has won the ABU Prizes that are the most prestigious programme awards in the Asia-Pacific region that honour the best Radio, Television and New Media contents from ABU member organisations.
APF meeting goes into cooperation against climate change, diseases
The National Assembly (NA) hosted the 10th Asia-Pacific meeting of the Parliamentary Assembly of the Francophonie (APF) in the central city of Da Nang on November 28 and 29, discussing international cooperation in response to climate change, medical crisis, and for socio-economic development.
Participants mulled over responsible and sustainable international collaboration in climate change, which they considered one of the biggest challenges facing humanity in the 21st century, especially in developing countries.
Nguyen Thuy Anh, Chairwoman of NA Committee for Social Affairs, recommended parliaments of Francophone countries soon incorporate international commitments on climate change into domestic law and practice; and strengthen the monitoring of and allocate budget for climate change response.
The countries need to fulfill their national obligations in joining the United Nations Framework Convention on Climate Change, the Paris Climate Accords, and other international conventions, she noted.
Concerning the role of parliaments in health crisis control, reconstruction and socio-economic development, representatives of sub-committees proposed that parliaments of Asia-Pacific and Francophone countries strengthen governmental coordination and supervision in the prevention and control of COVID-19, and new diseases in the future; as well as continue to improve their epidemic prevention methods.
The Vietnamese sub-committee highlighted the importance of parliamentary cooperation and support within the Francophone community to push back epidemics, bolster socio-economic growth, complete institutions and laws, and increase the medical system's sustainability and resilience. It is also necessary to beef up bilateral and multilateral collaboration and experience exchanges between parliaments in disease prevention and control.
NA Vice Chairman Tran Thanh Man said topics discussed at the conference are pressing ones that are vital for the Asia-Pacific region, especially in the context of countries still being heavily impacted by COVID-19 and the extremely complicated climate change situation.
Scientists team up to eradicate tuberculosis
A team of 23 scientists from different hospitals and institutes has conducted a massive scientific research project to help control tuberculosis (TB).
They have saved the lives of thousands who suffered from multidrug-resistant and super-multidrug-resistant TB patients.
The project on research and application of advanced techniques in respiratory diseases diagnosis and treatment in Vietnam, by associate professor Nguyen Viet Nhung, director of the National Lung Hospital and 22 co-authors received the Ho Chi Minh award.
The project includes 23 sub-researches. The research results have been applied over three years to solve very difficult respiratory problems in Vietnam. They applied advanced techniques for TB screening, early diagnosis and detection in the community.
It helped treat TB 44% faster than earlier methods. The project's results have inspired the global TB community with a breakthrough 2X (X-ray and Xpert) screening strategy to improve TB detection. The 2X screening strategy was implemented quickly due to the COVID-19 pandemic, but it diagnosed and further treated 2,854 TB patients in the community.
The proportion of TB patients detected is 1,248 per 100,000 people, much higher than the estimated national rate of 322 per 100,000.
Nhung said that dozens of studies drew up the model over many years. It gave Vietnam the position of a leading country and proposed to the World Health Organization (WHO) strategic advisory council to spread the model on a global scale.
The successful application of advanced techniques for screening, early diagnosis and development of new TB treatment has reduced the burden of TB in Vietnam with a reduction of 4.5% per year compared to 1.5% per year globally.
The death rate in 2020 has decreased by 34% compared to 2015. The reduction of TB disease in the past ten years has saved 8.7 trillion VND (354.2 million USD), equivalent to preventing 284,000 new TB patients if no preventive measures were taken.
National volleyball championship to begin in February
The National Volleyball Championship returns in February with 20 teams competing for titles in both men's and women's tournaments.
At a draw held in Hà Nội on Monday, organisers said the tournament -- the Đức Giang Chemicals Cup -- will have two qualification rounds.
Ten teams in men's and women's categories will be divided into two groups in the first round. Group A (both men and women) will play at the Bắc Ninh Province Gymnasium from February 24 to March 5. Group B (both men and women) will compete from March 10-19 at the Hà Nội's Trịnh Hoài Đức Gymnasium.
In the second qualification, teams that finished first, third and fifth in Group A will meet those that finished second and fourth in Group B.
This group, Group C, will play from November 3-12 in Đắk Nông Province. The remaining teams will make up Group D, who will play in Gia Lai Province from November 2-17.
The four best teams of each group will advance to the finals, which will play between December 14-17 in Quảng Nam for the women's competition, and in Khánh Hòa for the men's teams from December 21-24.
The bottom teams will be relegated to the lower division next season.
The championship has prizes totalling VNĐ2.3 billion (US$92,500), and the champions will pocket VNĐ500 million.
The second and third-placed teams will receive VNĐ300 million and VNĐ200 million, respectively.
Institute serves as cultural bridge between Vietnam, France
The Institute of Cultural Exchange with France (IDECAF) held a ceremony in Ho Chi Minh City on November 29 to mark its 40th founding anniversary.
The institute, under the management of the municipal Department of Foreign Affairs, has contributed to the friendship between Vietnam and France and other countries in the Francophonie Community through an array of activities like French language training, cultural events and overseas study consultation, said IDECAF Director Nguyen Ngoc Lan.
Notably, last year, the institute opened a space that connects those who can speak French with French firms in the city, and cooperated with the French Chamber of Commerce and Industry to organise meetings between Vietnamese students and French enterprises over labour demand.
Vice Chairman of the municipal People's Committee Vo Van Hoan lauded the institute as a cultural bridge between the two countries, helping to bring the French language and culture closer to local residents, and promote Vietnamese culture to foreigners in the city.
Assistant Minister of Foreign Affairs Do Hung Viet urged the institute to uphold its role and reform its operations in the time ahead, thus becoming a vivid demonstration of the good relations between Ho Chi Minh City and France, as well as between Vietnam and the Francophonie Community.
US$2 million spent for renovating, upgrading Phu Quoc Prison Relic
Kien Giang Province extracted around VND50 billion (US$2 million) from the local budget serving renovation and upgrade of the special national historical site of Phu Quoc Prison for the period 2021-2025.
According to Director of the Department of Culture and Sports of Kien Giang Province Nguyen Van Sau, the Provincial People's Council has just promulgated a resolution to allocate a budget of about VND50 billion (US$2 million) to serve the renovation and upgrade of the special national historical relic of Phu Quoc Prison, also known as "Coconut Tree Prison" which was located in An Thoi Town, Phu Quoc City, Kien Giang Province.
The project will concentrate on renovating the subdivision B2, embellishing the relic site of the Sim Hill monument, the prisoner's cemetery relic and the relic site of Kien Van church under the purposes of preserving historical evidences and displaying artifacts related to National Historic Sites, especially Phu Quoc Prison.
After Phu Quoc Prison Relic was recognized as a national relic, VND43,127 billion (nearly US$1.8 billion) was invested in its renovations and embellishments since 1997.
The special national historical site of Phu Quoc Prison is one of the places luring the large number of domestic and international tourists. Each year, the relic received an average of 600,000 domestic and foreign tourists.
List of key energy users in 2021 released
Deputy Prime Minister Le Van Thanh yesterday signed Decision No.1480/QD-TTg to promulgate a list of key energy users in 2021 in Vietnam.
Accordingly, Hanoi has 182 units considered as a key energy user, including Hanoi Beer Alcohol and Beverage Joint Stock Corporation (HABECO), Viettel Network Corporation (member of Viettel Group), Van Dien Fused Magnesium Phosphate Fertilizer JSC. Vinh Phuc Province and Bac Ninh Province have 70 and 127 units, respectively.
The Decision details that the Ministry of Industry and Trade is in charge of and cooperates with related ministries, local authorities in managing energy use activities of the listed key power users in compliance with the Law on Energy Conservation and Effective Use, Decree No.21/2011/ND-CP by the Government on detailing measures to implement the mentioned law.
This Ministry is also responsible for working with concerned state agencies, ministries, and the People's Committee of provinces, cities to update the energy use status to the Prime Minister for the issuance of a list of key energy users by March 31 each year.
The People's Committee of all provinces, cities must direct relevant state departments, agencies to notify key energy users in their areas. The consumption of power must be closely monitored, and energy conservation programs must be launched among these users.
Specialized state units located in each locality are asked to check, review, and prepare a list of key energy users in their area to submit to the Ministry of Industry and Trade by February 1 each year. State groups and corporations must carry out this task by the same deadline as well.
Steering committee to set up for people's travel, goods transportation
Minister of Transport Nguyen Van Thang has just requested competent agencies, departments of transport, and transportation companies to urgently set up a steering committee for people's travel needs and transport goods during the New Year holiday, the Lunar New Year, and the Lunar New Year festival season in 2023.

Accordingly, the Department for Roads of Vietnam is responsible for paying visits to units that provide transportation services during the Tet holiday as well as urging departments of transport in cities and provinces to guide transportation companies and bus stations openly and transparently and comply with regulations on transport charges strictly.
The Department for Roads of Vietnam also needs to regularly coordinate with departments of transport to manage the operation of vehicles to handle violations according to regulations.
Moreover, it should direct inspectors to coordinate with transport authorities in Hanoi and Ho Chi Minh City to strengthen inspection to throw the book at drivers who park illegally and owners of overloaded vehicles.
The Department for Roads of Vietnam was asked to instruct BOT investors to control traffic to curb congestion before entering toll booths. In case of traffic jams, the units must open barriers to clear traffic jams.
The Ministry of Transport required the Civil Aviation Authority of Vietnam, the Vietnam Inland Waterway Administration, the Vietnam Railways Authority, and the Vietnam Maritime Administration to facilitate people's travel needs in addition to dissemination of the law on traffic safety assurance, inspection, and issuance of penalties on violators.
Non-public preschool, primary school teachers receive financial support
Under the decision of Deputy Prime Minister Vu Duc Dam, teachers in non-public preschools and primary schools receive financial support.

Deputy Prime Minister Vu Duc Dam today signed Decision No. 24/2022/QD-TTg on the implementation of policies to support managers, teachers and employees in non-public preschools and primary institutions who are facing difficulties due to the Covid-19 pandemic.
The decision clearly states that the beneficiaries of support are administrators, teachers and staff working at non-public educational institutions, including principals, vice principals, teachers, staff, team leaders, deputy team, professional management, and licensed establishment owners.
This Decision stipulates the implementation of policies to support administrators, teachers, employees working at private and household daytime centers, people-found kindergartens, SOS kindergartens, preschools, Hermann Gmeiner primary school in the SOS Children's Village system of Vietnam which had to be temporarily suspended at the request of competent state agencies to prevent and control the Covid-19 epidemic.
Culture and Tourism Festival opens in Bac Lieu
The Bac Lieu Provincial Culture and Tourism Festival opened on November 27 at Hung Vuong Square, featuring around 500 artists and performers from across the country.
Deputy Prime Minister Vu Duc Dam and leaders of ministries, central agencies and branches; leaders of many provinces and cities throughout the country, along with many officials and residents of Bac Lieu province and neighboring provinces, attended the opening ceremony.
French book space makes debut in Can Tho
A "French book space" was launched in the Mekong Delta city of Can Tho on November 29.
The event was jointly organised by the Can Tho City Library in cooperation with the National Library of Vietnam and the International Organisation of La Francophonie (OIF).
Kaloyan Kolevs, an officer in charge of cooperation programmes of the representative office of OIF in Asia-Pacific, said that the project is part of the support programmes to increase access to French cultural knowledge for promoting French language and cultural and linguistic diversity under OIF.
The project has been implemented from 2020 to 2022 in nine localities nationwide, including Hanoi and Can Tho.
Nearly 10,000 books worth about 180,000 EUR (over 186,000 USD) by authors from French-speaking countries have contributed to increasing document resources at beneficiary libraries.
Communication work on human rights to be stepped up
The Ministry of Information and Communications (MIC) has issued a document asking ministries, ministerial-level agencies, Governmental agencies, People's Committees of provinces and central-level cities, and central committees of mass organisations to implement a number of tasks to materialise a project on communication on human rights in Vietnam.

Accordingly, conferences should be held to popularise the project, approved in the Prime Minister's Decision 1079/QD-TTg, and direction and instructions given to press agencies to enhance the effectiveness of communication work on human rights as well as to counter allegations distorting the situation of human rights in Vietnam.
Ministries, agencies and People's Committees of cities and provinces are asked to assign units and personnel to carry out communication and refutation work.
There will be an inter-sectoral mechanism between the MIC, the Party Central Committee's Information and Education Commission, the Ministry of Public Security, the Ministry of Foreign Affairs and other relevant ministries and agencies to build and implement communication plans, and guide ministries and provincial-level People's Committees in building their own communication plans on human rights.
The MIC will coordinate with the Ministry of Public Security to maintain monthly conferences providing updates on the issue for the press.
The MIC will also organise training courses for officials in charge of external information work, journalists at both central and local levels, and communication officers of political-social organisations.
It will guide international cooperation, launch communication awards, and supervise and assess the implementation of the decision.
Source: VNA/SGT/VNS/VOV/Dtinews/SGGP/VGP/Hanoitimes