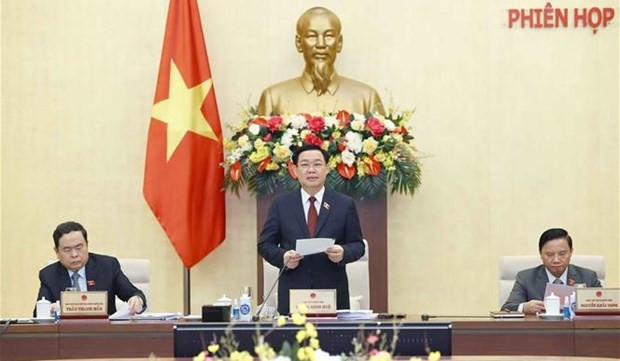 NA Chairman Vuong Dinh Hue addresses the session. (Photo: VNA)
The National Assembly (NA) Standing Committee's 16th session opened in Hanoi on October 10.

In his opening remarks, NA Chairman Vuong Dinh Hue said that this is the final sitting of the NA Standing Committee to prepare for the 15th legislature's fourth session scheduled to open on October 20.

During the three-day sitting, the NA Standing Committee will examine reports presented by the Government and verification reports of the NA's committees on the performance of the socio-economic development plan and state budget plan in 2022; and the goals, targets, tasks and solutions of the socio-economic development plan and the central budget allocation plan for 2023, he said.

At the fourth session, the legislature will decide on the medium-term financial and budgetary plans for 2023 - 2025 in accordance with the Law on State Budget, which is related to the rate of budget regulation of provinces and cities, macroeconomic indicators, fiscal balance, overspending, public debts, and debt repayment targets, Hue added.

The full-time legislators will opine on a draft report summarising opinions and recommendations of voters and people submitted to the NA's fourth session.
The lawmakers will look into reports on the implementation of the NA's resolutions on piloting specific mechanisms and policies for the development of Ho Chi Minh City and on specific financial and budgetary mechanisms and policies for Hanoi.
Measures to handle problems at some toll stations/BOT projects will be tabled at this session, the NA leader said, adding that the NA Standing Committee will also scrutinise a draft resolution on a pilot programme allowing people to select car plates via auctions.

The NA Standing Committee will also give opinions on the personnel work to submit to the NA's fourth session and the personnel work under its jurisdiction, he added.
People and enterprises must be the centre and momentum of digital transformation: PM
Prime Minister Pham Minh Chinh has emphasised the Government's consistent viewpoint that people and enterprises are the centre, key players, target, and momentum of digital transformation.
PM Chinh was delivering remarks at a programme marking the National Digital Transformation Day in Hanoi on October 10.
The date of October 10 was designated as the National Digital Transformation Day by the PM last April.
PM Chinh, who is also chairman of the national committee for digital transformation, said together with green transition, digital transformation is an inevitable and objective trend that is taking place strongly.
It helps bring into play the strength of the country and the era as well as internal and external resources; make three strategic breakthroughs in terms of regulations, infrastructure, and human resources; promote economic growth; improve labour productivity, competitiveness, and production and business efficiency; reduce production costs; streamline administrative procedures, remove bureaucracy, cut down expenses; and help all-level administrations better governance capacity.
Vietnam has reaped encouraging outcomes in digital transformation, but there remains much to be done, he pointed out, noting that digital transformation must enable people and enterprises to benefit from public services and social utilities in a more convenient, fast, and effective manner.
In his message sent on the occasion of the National Digital Transformation Day, the Government leader demanded focus be paid on perfecting mechanisms and policies, effectively implementing the national digital transformation strategy, concurrently developing regulations, digital infrastructure, digital platforms, and digital human resources, and taking measures to promote Vietnam's positions in the global e-Government, innovation, and competitiveness rankings.
He also ordered raising the rate of administrative procedures handled online, improving the quality of online public services, and pressing on with the plan to apply population data, e-identification, and e-authentication.
In addition, the PM called on enterprises to speed up digitalising production and business activities, invest more in research and development, enhance cooperation with international partners in digital transformation, and harmonise their interests with those of the State and people.
He also requested increasing communications to encourage state agencies, people, and enterprises to engage in digital transformation, and further assisting people to use online public services and digital services safely and effectively.
At the programme, PM Chinh presented awards to ministries, sectors, localities, enterprises, and individuals with excellent digital transformation solutions.
Vietnamese Vice President begins official visit to Croatia
Vice President Vo Thi Anh Xuan and a delegation of Vietnam arrived in Zagreb on October 9 afternoon (local time), beginning their official visit to Croatia.
The delegation was welcomed at Zagreb international airport by Croatian State Secretary for Foreign Trade and Development Cooperation Zdenko Lucić, Vietnamese Ambassador to Hungary and Croatia Nguyen Thi Bich Thao, Croatian Ambassador to Malaysia and Vietnam Ivan Velimir Starcevic, and staff members of the Vietnamese Embassy in Hungary and Croatia.
Later on the day, Xuan met with the embassy's staff and representatives of the Vietnamese community in Croatia, during which she briefed them on Vietnam's successes in COVID-19 prevention and control, and economic development, especially in the first nine months of this year.
Regarding Vietnam-Croatia relations, the Vice President noted with pleasure cooperation achievements in different areas like economy, politics and culture, and appreciated Croatia's support to Vietnam in the COVID-19 fight.

She held that Vietnam and Croatia should enhance their bilateral cooperation as the two countries still have substantial opportunities and potential for stronger collaboration.
Vietnam would act as a gateway for Croatia to access other Southeast Asian nations, while Croatia can help Vietnamese businesses step up investment in European countries, the leader noted.
For her part, Thao stressed the significance of Xuan's visit to the bilateral diplomatic ties, and pledged to work, together with the embassy's staff, to contribute to cooperation between the two countries.
Party Central Committee releases announcement of sixth session
The 13th Party Central Committee held the sixth session in Hanoi from October 3 to 9 to discuss the Politburo's proposals, plans, and reports related to some major issues, according to its announcement.
The issues high on the agenda consisted of the socio-economic and state budget situation in 2022, the draft socio-economic development plan and state budget estimates for 2023, and the finance - state budget plan for 2023 - 2025; orientations for the national overall planning for 2021 - 2030, with a vision to 2050; the continued promotion of national industrialisation and modernisation by 2030, with a vision to 2045; the continued building and perfection of the law-governed socialist state of Vietnam in the new period; and review of the 15-year implementation of the resolution on continued reform of the Party's leadership over the political system's operations, issued at the 10th Party Central Committee's fifth session.
Officials also looked into some other important affairs and the personnel work.
Party General Secretary Nguyen Phu Trong chaired and delivered the opening and closing speeches of the session.
The Party Central Committee appealed the entire Party, people, and army to enhance solidarity and unity to bring into play the significant and important results obtained in the first nine months of 2022, exert efforts to surmount difficulties and challenges to successfully fulfill the targets for 2022 and the following years; fruitfully carry out the resolutions and conclusions of the sixth session; and fulfill the socio-economic development plan for 2023, thereby helping implement the resolution of the 13th National Party Congress, the announcement noted.
Four Vietnamese athletes to compete in Asian championships for juniors
Vietnam will send four athletes to compete in the fourth Asian Youth Athletics Championships 2022 in Kuwait from October 13 to 16.
They are Hoang Thi Anh Thuc (girls 400m and 800m), Nguyen Khanh Linh (girls 800m), Bui Thi Kim Anh (girls high jump) and Ha Thi Thuy Hang (girls long jump).
They have qualified for the tournament after meeting the Qualifying Standards at the recent National Youth and Age Groups Championships.
Among them, Thuc finished first in the girls 400m event in an August youth tournament with a time of 54.64 seconds, much better than the standard of 57.05 seconds.
Around 400 athletes from 33 nations will participate in this competition. Earlier in the year, the Asian Athletics Association announced that the championships, which were supposed to take place in Kuwait on March 1, had been postponed due to a new wave of the Omicron virus.
Throughout Vietnam's participation in the tournament since 2015, the best result has been a gold medal by Cao Vo Ngoc Long in the boys high jump in 2017.
Autumn festival in Hue wraps up with art programme
An art programme was held on October 8 night at Thai Hoa Palace (the Palace of Supreme Harmony), part of the UNESCO-recognised Hue Imperial Citadel in the central province of Thua Thien-Hue.
The programme, which wrapped up the Autumn Festival which was part of the Hue Festival 2022, featured autumn songs by well-known musicians like Trinh Cong Son, Van Cao, Ngo Thuy Mien and Pham Trong Cau, among others.
For the first time, the Hue Festival 2022 has been organised throughout the year with a series of attractive activities and events spread over four seasons.
The spring festival, from January to March, included the re-enactment of New Year rituals and a culinary event.
The summer festival took place from April to June with art performances, Ao Dai (Vietnamese traditional dress) shows, and a street carnival.
The autumn festival, from July to September, featured ancient villages, a boat racing in the Huong (Perfume) River, a lantern festival, and a kylin dancing festival, among other activities.
The winter festival, from October to December, will include a music festival and a countdown event on New Year's Eve.
Debuted in 2000, the Hue Festival is held every two years, spotlighting the finest cultural values of the former imperial city of Hue.
Party chief lauds contributions of book publishing, printing, distribution sector
Party General Secretary Nguyen Phu Trong has commended contributions made by the book publishing, printing and distribution sector in his congratulatory letter sent to the sector on the 70th anniversary of its traditional day (October 10, 1952 - 2022).
The Party chief said despite difficulties, the sector had made worthy contribution to the cause of national liberation, construction and defence, which was accredited by the Party and State through many noble awards.
In the letter, the Party General Secretary hoped the sector would further uphold its achievements, ensure a harmony between its political and production-business tasks, and promote the reading culture.
It is also necessary to develop a workforce that can meet requirements of the era of industrialisation, modernisation, and deep international integration, he recommended.
The Party leader wished the sector's staff good health and happiness and hoped that they will make greater efforts to complete all their assigned tasks.
Vietnam attends 6th meeting of CPTPP Commission in Singapore
A Vietnamese delegation led by Deputy Minister of Industry and Trade Tran Quoc Khanh attended the 6th meeting of the Comprehensive and Progressive Agreement for Trans-Pacific Partnership (CPTPP) Commission hosted by Singapore on October 8.
This was the first in-person meeting of the CPTPP Commission since the COVID-19 pandemic broke out in early 2020.
In his opening remarks, Singaporean Minister for Trade and Industry Gan Kim Yong said after the three-year implementation, the agreement has already started to deliver trade benefits to member states.
He referred to a study that found trade in goods among CPTPP members increased by about 15%, from 467 billion USD in 2019 to 535 billion USD in 2021.
Vietnam gains international trust thanks to responsible contributions: Researcher
Vietnam has gained a position and reputation in the international arena thanks to its contributions to the international community, a researcher has said, mentioning the country's engagement in United Nations peacekeeping operations.
Dr. Nguyen Hong Hai, a researcher at the Centre for Policy Futures under the University of Queensland in Australia, told the Vietnam News Agency (VNA)'s correspondent that Vietnam's participation in the UN peacekeeping operations has come from its sense of responsibility.
Therefore, the country has won the trust of the UN, partners and host countries, Hai noted.
According to the researcher, Vietnam is a pioneer in joining international conventions on human rights, adding that Vietnam is the first country in Asia and the second in Asia-Pacific to sign and ratify the UN Convention on the Rights of the Child.
Vietnam has also joined and ratified the Convention on the Elimination of all Forms of Discrimination against Women and the Convention on the Rights of People with Disabilities.
Da Nang welcomes first international cruise ship after COVID-19 hiatus
French-flagged cruise ship Le Lape'rouse with over 200 foreign holidaymakers aboard docked at Tien Sa port on October 9, becoming the first of its kind to visit the central coastal city of Da Nang after a two-year hiatus due to the COVID-19 pandemic.
The passengers, mainly from Europe and the US, were presented with flowers and gifts by representatives of the municipal Department of Tourism at a welcome ceremony held at the port.
They are scheduled to visit tourist destinations in the city, and Hoi An ancient city in the neighbouring province of Quang Nam.
At the ceremony, Huynh Thi Huong Lan, deputy director of the municipal centre for tourism promotion, affirmed the city remains an attractive destination to international tourists.
The local authorities will work with relevant agencies to promote the development of maritime tourism in the time to come, she stressed.
Le Lape'rouse is on a journey to explore the coast and famous landmarks of Vietnam, lasting between 8 and 11 days. This is a new programme for Asia of the five-star cruise ship.
Vietnam Coast Guard combats IUU fishing
The Vietnam Coast Guard (VCG) High Command has said that it will take more drastic measures to fight illegal, unreported and unregulated (IUU) fishing, contributing to maintaining order and safety at sea, and sustainably developing the maritime economy while consolidating national defence and security.
Along with the implementation of directions from the Prime Minister and the steering committee for IUU fishing prevention and control, the VCG has coordinated with ministries and sectors to finalise legal documents, mechanisms and policies on fishing vessel management.
It has also helped build a national database for the management of fishing vessels and fishing permits with a monitoring centre, and install vessel monitoring and GPS positioning devices, helping to create a legal framework and corridor for forces to supervise fishing vessels in Vietnamese waters.
The VCG has also worked closely with other forces to manage, check and verify information of violations to put an end to IUU fishing.
The force has also focused on raising awareness of Vietnamese fishing regulations.
In the first half of 2022, the force worked with local authorities, and domestic and foreign competent agencies to arrest 29 IUU violation cases involving 48 ships and 326 fishermen.
They also applied administrative punishments on 178 vessels that contributed 382 million VND (16,000 USD) to the State budget.
Five new inter-provincial roads to connect HCM City, Long An
HCM City and neighbouring Long An Province have worked together to soon start construction of five new roads to improve inter-regional and provincial transport connectivity.
The city's People's Committee made this announcement at the conclusion of a recent meeting with Long An Province's People's Committee on socio-economic development cooperation, traffic projects, and green environmental technology park projects.
The Long An People's Committee has asked the Department of Transport to update relevant planning and forecast traffic counts to calculate the appropriate scale and technical options for the Ring Road No 4 project.
For the 9.5km-long section from the 826D intersection to the end of Ring Road No 4, the Department of Transport will review and clarify the proposal of an urban expressway or an urban arterial road.
The department and the city's Department of Transport will work with the consulting unit to analyze and clarify the advantages and disadvantages of each option and propose a plan to ensure the technical and investment efficiency of the project.
For the newly opened northwest road in HCM City's Bình Chánh District that connects with provincial road 823D in Long An Province's Đức Hòa District, the city's People's Committee has approved a policy of adjusting the road alignment and updating the relevant planning in Bình Chánh District.
It agreed that the province's People's Committee would invest in the construction of Kênh Ranh Bridge, along with the part of provincial road 823D under construction, to ensure traffic connectivity in the area.
The Bình Chánh District's People's Committee will coordinate with the province's Department of Transport to determine the end point of traffic connection, the scale and scope of site clearance, and advise on the completion of procedures for site clearance for Kênh Ranh Bridge in HCM City for Long An Province.
For the extended Võ Văn Kiệt Boulevard in the city's Bình Chánh District that connects with Hải Sơn - Tân Đô Industrial Park in Đức Hòa District, the city's People's Committee has assigned the Department of Planning and Architecture to coordinate with Bình Chánh District's People's Committee to urgently supplement the alignment of the route and the scale of the section from Ring Road No 3 to the Long An Province border into the city's master planning project and related planning projects, as a basis for implementing the next steps.
For Lê Văn Lương Street in the city's Nhà Bè District that connects with provincial road 826C in Long An Province's Cần Giuộc District, the People's Committee of HCM City assigned the Department of Planning and Architecture to coordinate with the Nhà Bè District People's Committee to urgently update the alignment and scale of Rạch Dơi Bridge into the city's master planning project and related planning projects, as a basis for carrying out the next steps.
For the investment of a road parallel to National Highway No 50 connecting with provincial road 827E, the city's People's Committee has assigned the Department of Transport to propose an investment policy, ensuring a synchronous connection with Long An Province.
For the Green Environmental Technology Park project, the Long An Province People's Committee has sent a report and proposed that the Prime Minister adjust the planning of this project.
Accordingly, the project will have a waste treatment area with a total area of about 200ha. With modern waste treatment technology, the waste treatment area's capacity would meet the solid waste treatment needs of HCM City and Long An Province, and could be used as a backup point in waste treatment.
Landslides increase along banks of Hậu River in An Giang
Landslides in the Mekong Province of An Giang have been occurring more frequently in 2022 as heavy road traffic and heavy rains near the Hậu River soften riverbanks.
In the first nine months of 2022, landslides along 1,505 metres of the Hậu River have appeared across An Phú, Tri Tôn, Châu Phú, Chợ Mới, Phú Tân, Tân Châu and Thoại Sơn districts.
On September 28 to 30, landslides in 10 sections of 288m in length appeared along the river banks and canals in An Phú, Chợ Mới and Tri Tôn districts.
According to An Giang Province's Climate Change Response - Natural Disaster Prevention and Civil Defence Committee, the main reason for the landslides has been because of excess usage of roads and water vehicles next to and on the river.
New version of book series on Vietnamese history released
A new version of Đại Việt Sử Ký Toàn Thư (The Complete Annals of Đại Việt), a national historical series of books in Hán or ancient Chinese characters, has been released by the Văn Học (Literature) Publishing House.
It includes two books of the history of Việt Nam from King Dương Vương's reign (2879 BC) to Lê Gia Tông's reign of the later Lê Dynasty (1675).
The first book was translated into Vietnamese by cultural researchers Ngô Đức Thọ and Hoàng Văn Lâu. It was edited by professor and author Hà Văn Tấn.
The second book is a copy in Hán from the original wood block series in 1697.
"Đại Việt Sử Ký Toàn Thư is the oldest official historical text which remains comprehensive up to now. It also is an invaluable treasure of Vietnamese culture, a rich source of information to research into history and other social science branches," said Võ Thuỳ Trang, a final-year student in literature faculty of the HCM City University of Education.
Đại Việt Sử Ký Toàn Thư was written, carved and printed by different generations of historians under the Lê and Trần dynasties, such as Lê Văn Hưu, Phan Phu Tiên, Ngô Sĩ Liên, Phạm CôngTrứ and Lê Hy.
It was first translated into Vietnamese by sinologist Cao Huy Du, and released in 1967.
The series' highlights include the pages featuring King Trần Nhân Tông, the 4th King of the Trần Dynasty, which lasted for 175 years from 1225 to 1400 with 14 kings.
King Trần Nhân Tông was born and grew up in the capital of Thăng Long, now Hà Nội.
In 1284, being informed of the advance of 500,000 enemy troops from the north, King Trần Nhân Tông summoned a nationwide meeting of elders at Diên Hồng Palace to seek advice on a national defence policy as the situation worsened.
After the great victory over the Chinese Yuan invasion forces, the King ceded the throne in favour of his son Trần Anh Tông, and retreated to the mountain of Yên Tử to practise Buddhism and attain enlightenment, hence the title Royal Buddha.
His contributions to Vietnamese history and culture confirmed his position as a virtuous king and great Buddhist.
Exhibition features veteran paint teacher
Silk paintings by veteran painter and teacher Đặng Quý Khoa of Hà Nội are on display at The World Art Space in HCM City.
The exhibition called Đặng Quý Khoa-Hoạ Sĩ Của Đam Mê Và Nghị Lực (Painter Đặng Quý Khoa-Passion and Energy) introduces more than 200 beautiful works featuring life, love, women and children.
These works are vivid and express emotions.
They were selected from different collections by artists, collectors and galleries at home and aboard.
Khoa, 86, has painted and been involved in training professionally.
He graduated from the Việt Nam College of Fine Arts (now Việt Nam University of Fine Arts) in Hà Nội.
He and his colleagues, such as Vũ Giáng Hương, Lê Thiệp and Phạm Công Thành, played a role in the country's contemporary fine arts.
He worked as a paint teacher for several leading art schools and universities, including Việt Nam University of Fine Arts, Hà Nội University of Architecture and Hà Nội University of Construction.
Khoa loves discovering and capturing the beauty of the country and its culture, lifestyle and heritage. His paintings feature his love for the country and its people.
A photo book featuring 160 silk paintings by Khoa is also introduced. It is entitled Hoạ Sĩ Đặng Quý Khoa (Painter Đặng Quý Khoa) and printed by the Fine Arts Publishing House.
Đặng Quý Khoa - Hoạ Sĩ Của Đam Mê Và Nghị Lực runs till October 15 at 21 Võ Trường Toản Street, Thảo Điền Commune in Thủ Đức City.
Athletes to run in the first national relay championship
The first National Athletics Relay Championships will be held from October 12-13 in Hà Nội.
Athletes will compete in 12 categories ranging from 100m to 1,500m distances for men, women and mixed genders at the Hà Nội Sports Training and Competition Centre.
It will be an important warm-up for the National Sports Games in December.
In the first edition, the tournament will feature nearly 160 athletes from 12 cities and provinces, including athletic powerhouses like Hà Tĩnh, Hà Nội, Thanh Hóa, HCM City and the Military.
National team members such as siblings Quách Công Lịch and Quách Thị Lan of Thanh Hóa, SEA Games champions Nguyễn Thị Hằng of Hà Nội and Nguyễn Thị Huyền of Nam Định, have confirmed their participation.
The championship is also a selection event for the Việt Nam Athletics Federation. The best runners will be picked for the national team to prepare for the 32nd SEA Games in Cambodia next May and the 19th Asian Games in China next September.
Athletic relays are among Việt Nam's strengths at the regional tournaments, including the SEA Games.
At the 31st Games in May, Việt Nam won one gold and three silver medals.
Ironwoman Ngân finishes world championship with new personal best
Vietnamese triathlete Lâm Túc Ngân set a new personal record at the Ironman World Championship 2022 in Hawaii on October 7.
Ngân, who qualified for the world event after winning the 25 to 29-year-old female category at the Ironman Philippines 140.6 in March in Subic, is the first Vietnamese athlete to compete in the competition.
She finished the race (3.8km swimming, 180km cycling and 42.2km running) in 14 hours 21 minutes and 23 seconds, finishing 78 out of 86 athletes in the 25-29-year-old group and 1,000 from the total of 1,202 women.
In overall rankings, Ngân was 1,905 of more than 2,300 competitors.
Her result was 1 hour, 2 minutes and 35 seconds faster than her time in Subic seven months ago.
Ngân, 29, is one of the best triathletes in Việt Nam. She has competed many times in the Ironman Vietnam, winning the 2018 season.
She won the Half Ironman 70.3 Philippines age group in 2019. She also competed in the Ironman 70.3 world championship in South Africa in 2018.
Over 17 million join social insurance
Over 17.24 million Vietnamese people, or 34.84% of the workforce, are joining social insurance, according to the Vietnam Social Security (VSS).
At the sector's recent online conference, the VSS said that as of September, 15.73 million people were participating in compulsory social insurance, while 1.51 million others were joining voluntary insurance.
Health insurance covers over 87.5 million people, or 88.4% of the population, while 14.02 million pay unemployed insurance.
VSS General Director Nguyen The Manh said that the sector's priority tasks in the remaining months of this year are to increase the number of participants and complete the collection of insurance premiums.
To fulfil its target for 2022, the sector needs to attract additional 1.93 million social insurance participants in the fourth quarter.
Quang Ninh to host General Assembly of East Asia Inter-Regional Tourism Forum
The 17th General Assembly of the East Asia Inter-Regional Tourism Forum (EATOF) is scheduled to take place from October 25 to October 27 in the northern province of Quang Ninh.
The event will run with the theme of "Tourism recovery in East Asia in the new normal era" and aims to jointly develop the tourism industry of each province, update information on tourism policies, strive to strengthen the training of staff in the sector, as well as discussing other contents related to multilateral co-operation in tourism.
Pham Ngoc Thuy, director of the Quang Ninh Department of Tourism, emphasized that the event is expected to reaffirm the position of the locality's tourism sector in the region and throughout the world.
Furthermore, the occasion will also provide an ideal venue for the local tourism industry to attract investment resources for further tourism development, whilst also creating a wealth of opportunities for future co-operation and tourism development linkages between EATOF member provinces and countries worldwide.
This will be done in order to promote international integration whilst simultaneously elevating Vietnam's position and its people to the world
Through the event, the locality is seeking to elevate Quang Ninh as a "friendly, safe and attractive destination" moving forward.
Phu Quoc voted among top 10 best islands in Asia
Travel magazine Condé Nast Traveler of the United States has listed Phu Quoc in the southern province of Kien Giang among the best 10 tourist islands in Asia, as voted for by its readers.
With an overall score of 89.77 out of 100, Phu Quoc ultimately ranked sixth in the list, behind Phuket in Thailand, Langkawi in Malaysia, Koh Samui in Thailand, and Bali in Indonesia.
The top position went to Boracay in the Philippines, whilst the other destinations to make the list include Sri Lanka, Palawan in the Philippines, the islands of Okinawa and Ryuku in Japan, and Phi Phi in Thailand.
Phu Quoc is renowned for being the "pearl island" of Vietnam and is famous for its beaches with clear blue water such as Bai Sao and Bai Dai, as well as sightseeing spots including Duong Dong town and the fishing villages of Ham Ninh and Ganh Dau.
The rankings were voted for by thousands of readers from across the globe who submitted their responses and ratings from their recent travel experiences to the world's various countries, cities, islands, hotels, resorts, cruise lines, airlines, and airports.
US Higher Education Fair 2022 opens in Hanoi
The US Embassy has just hosted the EducationUSA Higher Education Fair in Hanoi.
60 US universities and colleges offering undergraduate and graduate programs in hundreds of different majors participated in the event, organized on October 4 by EducationUSA for the first time since the COVID-19 pandemic.
The fair brought together more than 1,000 students, parents and professionals with representatives from US universities, who provided the latest information about degree programs, career perspectives, scholarships, and financial aid for international students.
At the fair, an Embassy officer provided updated information on student visas and optional practical training programs for international students. Prospective undergraduate and graduate students also had the opportunity to learn more about standardized tests used for admissions decisions and merit-based scholarships at US universities and colleges.
Currently, Vietnam is the sixth leading place of origin for international students studying higher education in the US, with nearly 30,000 students on American campuses.
For more information about EducationUSA, visit: https://vn.usembassy.gov/education-culture/educationusa/
Rare turtles at HCM City pagoda rescued
As many as 62 rare turtles in a lake of Ngoc Hoang Pagoda in HCM City have been handed over to a local wildlife rescue station.
On Wednesday afternoon, Cu Chi District's Wildlife Rescue Station received these turtles before releasing them into the wild. The turtles were released by Buddhist followers in the lake. They were taken care of by the pagoda's Buddhist monks and nuns.
The animals had been living in the lake for 5-10 years. Some of them weigh up to 15 kilos. They consist of eight rare species.
Among those, 11 are yellow-headed turtles which are seen as endangered species.
In July this year, many pagodas in HCM City handed over a total of around 40 rare turtles to environmentalists.
Hoi An aims to become dog and cat meat-free city
Hoi An City in the central province of Quang Nam has approved non-refundable aid of USD50,000 from the Four Paws animal welfare organisation for its project to become Vietnam's first dog and cat meat-free city.
The fund is part of a memorandum of understanding signed between Hoi An and the Four Paws in December 2021 on putting an end to dog and cat meat consumption and supporting rabies elimination.
The project to develop Hoi An as a dog and cat meat-free city along with supporting rabies elimination by Four Paws kicked off in September and will finish in December 2023.
Under the project, the city will set up fixed news bulletin boards in public places and release publications to help raise public awareness of the danger of rabies and encourage people not to eat dog and cat meat.
The city will also give financial assistance for the rabies vaccination of local dogs and cats.
Phasing out dog and cat meat consumption and eradicating rabies are part of local efforts to develop an ecological, cultural, and tourism-focused city.
Around five million dogs and one million cats in Vietnam are slaughtered for meat trade annually, affecting animal safety and human health.
Mass fish deaths in Hanoi's West Lake
Lots of fish have been found dead in Hanoi's West Lake over the past few days.
The dead fish were found in the area near Nguyen Dinh Thi Street, causing a bad odour.
Tay Ho District People's Committee Chairman Nguyen Dinh Khuyen, said an estimated 100 kilos of dead fish have been gathered from the lake.
A representative from the Hanoi Water Drainage Company said that the fish deaths started in early October and might have been caused by changing weather.
Earlier in 2016 and 2018, hundreds of tonnes of fish were also found dead at West Lake. Test results from the Hanoi Department of Natural Resources and Environment showed that the fish died from a lack of oxygen.
"Youth with digital transformation, creativity and startup" festival launched
The "HCMC's youth with digital transformation, creativity and startup" festival 2022 was held in Phu Nhuan District on October 9.
At the event, many young participants took part in training courses on digital transformation, creativity and startup, learned about the experience of digital transformation, the use of information technology in business, and introduced new applications for digital transformation to support startups.
Young people also joined an exchange on the application of digital transformation in business and startup activities, promoting creative ideas with speakers and entrepreneurs.
On this occasion, the Vietnam Youth Federation in HCMC launched community digitalization teams of districts and offered tools for making a living to disadvantaged youth.
The Vietnam Medical Association (VMA) and the Vietnam Young Physicians Association signed a cooperation agreement on implementing the "Improving the quality of grass-root healthcare facilities" program.
Under the agreement, the Vietnam Young Physicians Association will use IT in carrying out training programs via the platform "Y360-medical community learns and reads", especially an online training platform featuring a system of learner's ability measurement and evaluation and allowing medical workers post for free.
The program is expected to take place in three years. The first phase running from 2021-2023 will include targets of providing online training courses on improving knowledge and skills of more than 20,000 healthcare workers and granting certificates of training completion.
Fishermen rescue, release one-quintal turtle back to sea
The Con Co Island Marine Reserve Management Board of Quang Tri Province has just said that its volunteer forces collaborated with fishermen and pupils to timely rescue and release a sea turtle weighing nearly 100 kilograms back to the sea safely.
Previously, at around 5 p.m. on October 8, five fishermen and two pupils detected a sea turtle with its shell length of 1.16 meters, shell width of 0.86 meters weighing nearly 100 kilograms. The turtle was swept into the seaside in Tan Mach Hamlet, Vinh Thai Commune, Vinh Linh District, Quang Tri Province.
At that time, local fishermen and pupils promptly announced to the Con Co Island Marine Reserve Management Board to find ways to save it. The board attached an identification card for the turtle and sent its volunteer forces to collaborate with local authorities, fishermen to bring it into the sea environment.
Vietnam works to protect rights of girl child
Vietnam has conducted numerous activities to respond to the International Day of the Girl Child 2022 (October 11), which is themed "Our time is now-our rights, our future".
In mid-September, the General Office for Population and Family Planning under the Ministry of Health issued a dispatch guiding communications activities on the day. Accordingly, this year, the day in Vietnam will be themed "promoting gender equality contributes to reducing sex imbalance at birth".
Communications activities have focused on popularising the policy and laws of the Party and State regarding gender equality and the protection of children such as the Law on Gender Equality, the Law on Domestic Violence Prevention and Control, and the Law on Marriage and Family, aiming to enhance public awareness of the improvement of role and position of girl child and women in general, especially in families with all children being girls.
At the same time, legal regulations banning sex selection by parents and relevant punishments have also been popularised, along with the real situation, reasons and consequences of sex imbalance at birth, thus improving the public awareness and changing outdated perceptions on gender equality.
On December 19, 2011, United Nations General Assembly adopted Resolution 66/170 to declare October 11 as the International Day of the Girl Child, to recognise girls' rights and the unique challenges girls face around the world.
The International Day of the Girl Child focuses attention on the need to address the challenges girls face and to promote girls' empowerment and the fulfilment of their human rights.
According to the Sustainable Development Goals Report 2021, up to 10 million girls will be at risk of child marriage. The profound effects of the COVID-19 pandemic are putting girls at a higher risk of early marriage due to a combination of economic shocks, school closures and interruptions in reproductive health services.
Girls are primarily victims of sexual exploitation (72% of detected girl victims), while boys are mainly subjected to forced labour (66% of detected boy victims), it said.
Source: VNA/SGT/VNS/VOV/Dtinews/SGGP/VGP/Hanoitimes