President Vo Van Thuong on September 20 attended an event to introduce a novel on Vietnamese renowned poet Nguyen Du entitled "Con co ai khoc To Nhu (Who is still crying for To Nhu) by writer Vo Ba Cuong.
The novel features the life of the poet, who is also known as To Nhu (1766-1820) during his time in the northern province of Thai Binh where he got married and lived for 10 years.
Writer Vo Ba Cuong, born in 1940 in Thai Binh, is a famous novelist who has been honoured with many prestigious literature awards.
Participants agreed that the 16-chapter historical novel shows Cuong's strong working capacity despite his old age, giving readers an insight of the life of great poet Nguyen Du and his significant contributions to the national literature.
Poet Nguyen Du was recognised as a world-famous personality by UNESCO at its 37th General Assembly in Paris in 2013.
His literary masterpiece Truyen Kieu (The Tale of Kieu) is regarded as the most significant literary classic of Vietnam. The masterpiece has been translated into more than 20 languages and is cherished for its creativity, independent thinking and distillation of Vietnamese culture.
Record of 100 artichoke dishes set in Lam Dong province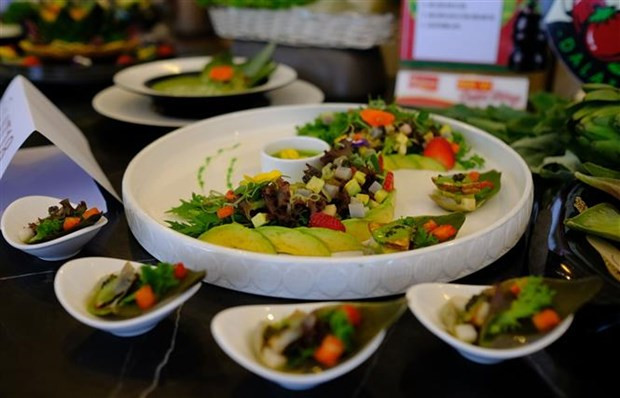 An artichoke dish is introduced at the contest. (Photo: VNA)
Twenty teams with over 60 chefs from localities across Vietnam set a Vietnam record for cooking the largest number of artichoke dishes at one time with 100 dishes using artichoke at a cooking contest in Da Lat city in the Central Highland province of Lam Dong on September 19.
The event was held by the provincial tourism association to celebrate the 130th anniversary of the establishment of Da Lat city. The cooking contest also aimed to promote agricultural products of Da Lat, including artichoke, which has been cultivated in Da Lat for nearly 100 years. The city now has more than 100 ha under the plant.
In early April, the Asian Records Organisation recognised nine new Asian records for Vietnamese dishes and groups of dishes/ specialties, including Da Lat artichokes.
Hanoi to see sunny weather
Hanoi has been forecasted to witness sunny weather for the next ten days, according to the National Centre for Hydro-Meteorological Forecasting.
On September 20-30, the weather in Hanoi and other localities in the northern region would be quite stable with temperatures of 33-34 degrees centigrade.
Hanoi would have the hottest weather on September 21-22 and then the temperature would gradually fall over the following days.
The weather early in the morning and in the evening would be relatively cool due to the impact of the strong southeast wind.
The National Centre for Hydro-Meteorological Forecasting reported that the southern region would face heavy rain on September 24-25.
In October, the country's average temperature would be 0.5-1 degree centigrade higher than the same period last year.
Can Tho inaugurates nine-storey parking centre
A nine-storey car and motorbike parking centre was inaugurated and put into operation in the Mekong Delta city of Can Tho on September 20.
Covering an area of 2,600 sq.m and built with total investment of 158 billion VND (6.5 million USD), the parking centre can accommodate 1,000 cars and motorbikes with smart technology.
This is the first, largest and most modern of its kind in the city. It has two large capacity elevators to lift cars to park on floors while motorcycles have separate ways to the floors in a spiral direction. The parking space is equipped with an automatic foam fire extinguishing system.
Le Van Thong, Director of the Can Tho Investment and Development Fund - the investor of the project, said the parking centre applies smart technology, camera surveillance and specialised software which can identify and provide detailed information about parking locations, time and number plates, among others.
The centre announced a free parking programme from September 20 to the end of November, from 5:00 to 22:00 every day.
After that, parking fees will be charged from 20,000 VND (0.82 USD) to 25,000 VND (1 USD) for each hour and up to 1.5 million VND a month for a car while motorbike parking fees will be charged from 3,000-6,000 per vehicle.
According to a planning project approved by the People's Committee of Can Tho city, 168 parking centres have called for investment with a total area of 29 hectares.
Training project preserves traditional puppet
A new art project preserving Vietnamese puppetry created by veteran puppeteers from private theatres in HCM City has been launched.
The project is led by Hoàng Duẩn, who has 20 years in the traditional art form, and his staff from the Phương Nam Theatre.
It aims to introduce and expose young artists and students from art centres and schools to Vietnamese puppetry.
Training courses and talks by experts about the art, and its history and development during various periods will be included.
Duẩn is working with artists from the Rồng Vàng (Golden Dragon) Water Puppet Troupe to offer training on traditional water puppetry.
In Việt Nam, water puppetry has its origins in the 11th century in the Red River Delta of the North where the wet-rice civilisation took shape. It is performed on a stage in a pool of water.
The performance is often organised in traditional festivals and holidays attracting local villagers, especially children. Colourful puppets are made of wood and covered with red lacquer trimmed with gold, and controlled from the chamber next to the stage by long bamboo rods and strings.
"Puppetry has been performed for about 1,000 years in Việt Nam. Our project will help to increase the number of professional puppeteers as well as keep the ancient art alive," said Duẩn, who is also a theatre playwright, director and producer.
He had a deep passion for puppetry when he was at university. After becoming involved in drama, he began to understand how knowledge and experience in puppetry enhanced his talent on stage.
Duẩn has worked to offer quality puppet shows with sound and light effects, beautiful clothes and accessories suited to the performance's theme.
In HCM City, only two art troupes -- Phương Nam Theatre and Rồng Vàng Water Puppet Troupe -- offer puppet performances.
The Rồng Vàng Puppet Troupe opened in 2015 and has worked with local and foreign tourist agencies in the city to introduce their art to visitors. They have also co-operated with many schools in the region to offer free shows in grade schools.
The troupe has participated in many cultural exchanges and art festivals at home and abroad.
Its shows, such as Tễu (Uncle Tễu), Đánh Cá Trên Sông (Fishing on the River) and Bác Ba Phi (Uncle Ba Phi), tell stories about patriotism and national heroes based on Vietnamese fairy tales.
Phương Nam Theatre offers performances that combine the traditional genres of circus and puppetry as well as folk music.
"We hope young people will learn about the country's history, culture and lifestyle through traditional puppetry," said Phương Nam Theatre director Lê Diễn.
Chesire, Immaculate dominate Techcombank Hanoi Marathon
Kenyan Koros Johnstone Chesire and Ugandan Chemutai Immaculate won gold medals in the second Techcombank Hanoi Marathon on September 17.
Chesire finished the 42km category in a time of 2hr 30.30min in which he passed through the city's most famous landmarks such as Hoàn Kiếm Lake, Opera House and the Mausoleum of President Hồ Chí Minh.
He was followed by Vietnamese former SEA Games champion Hoàng Nguyên Thanh (2:31.43) and Ezekiel Kemboi Kipruto of Kenya (2:32.11).
In the women's race, Immaculate came first in a time of 2:48.30, beating all strong rivals to take the VNĐ70 million (US$2,900) award.
Tsega Desta Mehari of Ethiopia (2:48.30) and Phạm Thị Hồng Lệ of Việt Nam (2:55.32) came second and third, respectively.
In the 21km category, SEA Games duathlon champion Phạm Tiến Sản topped the men's podium clocking 1:16.29.
Filip Jańczak of Poland was second and Lê Tiến Long of Việt Nam was third.
Bùi Thị Thu Hà, Nguyễn Thị Thành and Nguyễn Thị Thanh Phúc were the top three female finishers.
Organisers also presented awards to winners of the men's and women's 10km and 5km categories.
Also at the tournament, the organising board, representatives of Hà Nội and many athletes observed a moment of silence to remember the victims of the recent tragic fire.
Throughout the event which saw 9,000 runners, organisers held a talk show 'Empower Run' to share the difficulties for women on their running journey while also helping promote women's independence and confidence in participating in activities to conquer endurance sports.
Along with that, the 'Kids Talk' workshop gave families the opportunity to bond between parents and children.
Vietnamese designer attracts attention at House of iKons Fashion Week 2023
Vietnamese designer Ho Tran Da Thao presented her collection entitled "Vietnam Heritage Art" at the House of iKons Fashion Week 2023 on September 16, attracting the attention of many designers and fashion magazines in the UK.
The event, which is part of the London Fashion Week, gathered hundreds of international models and designers from Vietnam, the US, Italy, Finland, the UK, Thailand, and the Philippines. It is one of a series of activities to mark the 50th anniversary of the establishment of diplomatic relations between Vietnam and the UK, contributing to promoting the traditional values, culture, and fashion of Vietnam in the UK.
According to Thao, she spent many years studying the beauty of traditional costumes and experimented with patterns in each work.
The collection is expected to lead the audience on a journey through time and space. It incorporates brocade patterns from the 16th to the 19th century and features the use of natural materials such as lotus yarn, silk and linen.
She said that through the event, she hopes more Vietnamese and foreigners will use "Made in Vietnam" fashion products.
Thao has won many domestic and international awards including the Mercedes-Benz Asia Fashion Award in 2004. She also received the International Young Fashion Entrepreneur Award 2008 from the British Council.
Nguyen Thuy Linh wins trophy at Vietnam Open 2023 badminton tournament
Nguyen Thuy Linh, Vietnam's top female badminton player, won the women's singles at the Yonex-Sunrise Vietnam Open badminton tournament after beating her Japanese rival on September 17.
Linh beat Akari Kurihara of Japan in the final match in Ho Chi Minh City, with 21-14, 11-21 and 21-19.
In the men's singles event, Huang Yu Kai of Taiwan (China) won the championship after defeating No.2 seed Takuma Obayashi of Japan. Meanwhile, the men's doubles championship went to Japanese players Kenya Mitsuhashi and Hiroki Okamura after they defeated the Indonesian rivals Hardianto Hardianto and Ade Yusuf Santoso.
Hsieh Pei Shan and Tseng Yu-Chi from Taiwan (China) won the women's doubles championship, defeating their compatriots Hung En-Tzu and Lin Yu-Pei.
In the mixed doubles event, Hiroki Nishi and Akari Sato from Japan won over Ruttanapak Oupthong and Jhenicha Sudjaipraparat of Thailand to win the championship.
The Yonex – Sunrise Vietnam Open 2023 attracted more than 300 athletes from 23 countries and territories.
The tournament was a Badminton World Federation (BWF) Tour Super 100. It had a total purse of US$100,000, of which the men's singles and women's singles champions received US$7,600 while the doubles champion received US$7,900.
RoK's Busan city promotes tourism in Vietnam

The Republic of Korea (RoK)'s Busan port city introduced its tourism policies and plans for Vietnamese firms at a recent event held by the Busan Tourism Organisation (BTO) in Hanoi.
The "2023 Busan Travel Connect in Hanoi", which took place on September 15, is expected to contribute to promoting the friendship between the two countries.
Lee Joung-Sil, BTO President/CEO, cited statistics showing that between January and June, Busan welcomed 190,000 tourists from Vietnam, making the country the fourth biggest source of holidaymakers to the Korean city, and the second largest in Southeast Asia.
Vietnam is an important market that should not be missed, he said, revealing that 20 travel firms of the RoK have come to Vietnam on this occasion.
Ha Van Sieu, Vice Chairman of the Vietnam National Authority of Tourism (VNAT), stressed that the VNAT and the Korea Tourism Organisation (KTO) signed a cooperation document in February 2022, creating a foundation for the two sides to boost tourism collaboration, especially in the exchange of visitors after the COVID-19 pandemic.
After border reopening, the VNAT has launched many tourism promotion activities in the RoK, the official said, affirming his support for similar programmes rolled out by the RoK, including Busan, in Vietnam.
In the first eight months of this year, Vietnam served 7.8 million foreign visitors, 2.2 million of them from the RoK, the biggest source of arrivals to the Southeast Asian nation in the period.
Over 5,000 drivers in HCMC found violating traffic rules in a month
More than 5,000 drivers of passenger coaches and container trucks have been found to violate traffic regulations during the past month. Among those, 246 drivers have had their driving licenses revoked by the traffic police.
According to the HCMC Traffic Police, from August 15 to September 15, among 16,400 cases subject to inspections, nearly 3,200 passenger coach drivers and over 1,900 container truck drivers received administrative violation records. The most common driving violations relate to drink driving, speeding, entering prohibited roads, failing to comply with regulations on passenger numbers or picking up or dropping passengers at wrong places.
Statistics showed that there were up to 3,523 drivers violating regulations on stopping and parking vehicles and 190 drivers failing to show transport contracts upon request.
The traffic police have revoked temporarily 246 drivers' licenses, 67 truck stamps and seized ten vehicles including passenger coaches and container trucks, resulting in penalties totaling over VND4.2 billion.
The inspections starting from August 15 to October 15, 2023 are being conducted by the traffic police to reduce traffic accidents in the city.
Phu Quoc demolishes 14 more illegally-built villas
Phu Quoc City authorities in the southern province of Kien Giang demolished 14 more illegally-constructed villas in Duong To Commune on September 18.
The villas were among 79 illegally constructed facilities on nearly 19 hectares of state-owned land. The constructions by different investors were uncovered in an inspection by local authorities in September last year.
Following the findings, the Duong To administration imposed a fine of VND7.50 million (USD316) each on the investors of two villas, as well as called on them to voluntarily demolish their villas and restore the original state of the land lots.
As the owners failed to follow the request, the city administration sent vehicles and equipment to pull down the two villas, which covered an area of some 500 square metres each, in November the same year.
Local authorities have also summoned the investors of other villas but none have turned up.
Vice chairman of Kien Giang Provincial People's Committee, Le Quoc Anh, said that they would remove all the facilities that were illegally-built in the area and strictly punish the violators.
The provincial police have also imposed charges against three individuals for their alleged involvement in the illegal construction of the 79 villas. The three suspects, whose identity remains unknown, were found to have duped customers into buying state-managed land.
Hanoi struggles dengue fever outbreak
Hanoi has recorded 10,372 dengue fever cases so far this year, up four-fold against the same period last year.
According to the Hanoi Centre for Disease Control, between September 8-15, Hanoi saw 2,010 new dengue fever patients, double the figure of the previous week.
Since early this year, dengue fever has spread to all districts and towns in Hanoi with Thach That, Hoang Mai, Thanh Tri and Ha Dong districts hardest hit.
The city has also detected a total of 730 outbreak clusters so far this year, of which 258 clusters are still active in all 30 districts and towns. The cluster in Phung Xa Commune in Thach That District has been the worst with 439 patients.
The monitoring results at the outbreak clusters indicate that the Breteau Index (BI) based on the number of containers with any larvae or pupae in many areas such as Chuong Duong Ward in Hoan Kiem District, Hiep Thuan Commune in Phuc Tho District and Me Tri Ward in Nam Tu Liem District are quite high.
The Hanoi Centre for Disease Control has been assigned to hold training courses on dengue fever prevention for local medical staff as well as raise community awareness of the disease.
There is no specific treatment for dengue fever. When facing suspected signs, patients need to go to hospital for medical checks, doctors have advised.
VN witnessing increase in infectious diseases
This time of the year is when Vietnam sees a significant rise in infectious diseases like chickenpox, diphtheria, hand-foot-mouth disease, respiratory diseases.
Hundreds of patients have visited HCMC Children Hospital No.1 these days, with a growth in the number of people suffering respiratory and hand-foot-mouth diseases. Level-2 Specialist Cao Minh Hiep from HCMC Children Hospital No.1 informed that since the beginning of this year, the hospital has treated tens of thousands of children with infectious diseases.
In particular, there have been over 3,000 cases of dengue fever, almost 20,000 cases of hand-foot-mouth disease, about 210,000 cases of influenza, (a rise of 60,000 patients compared to this time last year), and 38 hospitalized cases of atypical pneumonia caused by Mycoplasma. In addition, statistics of July and August reveal that outpatient respiratory examinations in HCMC Children Hospital No.2 nearly doubled to 7,000 cases.
The quantity of senior people suffering respiratory diseases is also on the rise. Each booth of the Respiratory Department in Thong Nhat Hospital (HCMC) normally treats 40-50 patients a day, but has lately served about 65-80 people per day. The number of respiratory inpatients in recent weeks has grown by 25-30 percent, falling to the cases with underlying diseases like asthma, chronic obstructive pulmonary disease, heart failure, and diabetes.
Data from the Ministry of Health show that since this January, over 68,000 cases of hand-foot-mouth disease have been reported nationwide, 18 of whom died. This is a rise of about 53 percent. Other diseases witnessing a growth are dengue fever and chickenpox.
Deputy Director Nguyen Tran Nam of the HCMC Children Hospital informed that since this August, atypical pneumonia caused by Mycoplasma among children has risen with such symptoms as high fever, continuous coughing. Without proper treatment, the health conditions of a child might turn worse, leading to severe respiratory failure and possible death. The disease is spread through droplets and fluid containing the virus when a patient sneezes or coughs. There is now no vaccine for this disease yet.
Head Ngo The Hoang of the Respiratory Department in Thong Nhat Hospital shared that since elderly people normally have 4-5 chronic diseases, their health conditions get worse extremely quickly when they get respiratory infection.
Therefore, these people are advised to take a shower with warm water for a short time only, wear warm clothes after shower, limit the use of air conditioning, stay in ventilated rooms, and clean their mouth and teeth carefully before and after sleep. They should also follow nutritious diets with multi-vitamins from vegetables and fruits to boost their immune system. A regular injection of flu vaccine is a sensible act as well. More importantly, their relatives must not use old prescriptions or arbitrarily buy antibiotics when these senior people have high fever or cough.
Children are also advised to have vaccine injections to protect themselves from infectious diseases.
In related news, the Education and Training Department of Ba Ria-Vung Tau Province yesterday reported that since the opening ceremony of the new academic year, at least 14,500 cases of pink eye disease have been detected among educational institutes in the province, mostly in primary and junior high schools.
As a results, all educational institutes are asked to increase sanitation work while allowing infected students to stay home and study online. The Eye Hospital of Ba Ria-Vung Tau Province informed that for the last 7 days, the hospital has treated 80-100 cases of this disease per day, which a 10-time rise compared to normal time. 85 percent of those patients are students (many with complications due to improper self-treatment or slow detection of the disease).
Marine preserve proposed to form in Quy Nhon Bay
The agriculture sector in Binh Dinh Province proposed an establishment of a marine preserve and the recovery of 4ha of coral reefs in a working session with UNDP yesterday.
Accordingly, Director Tran Van Phuc of the Binh Dinh Province Department of Agriculture and Rural Development said that his organization has just cooperated with experts from the United Nations Development Program (UNDP) to conduct a survey for the project 'Smart coastal communities adapting to climate change in Vietnam' in the province.
Seeing the survey results, UNDP is proposed to carry out some important activities in the project:
_Forming a marine preserve in Quy Nhon Bay;
_Restoring 4ha of coral reefs in the Bay;
_Planting 50,000 trees for the mangrove forest in coastal districts of the province like Tuy Phuoc, Phu Cat, Phu My;
_Installing 6-8 stations for early warnings of climate change and introducing models to earn a living for local residents staying in coastal areas of this province.
The project is implemented by UNDP in the provinces of Binh Dinh, Soc Trang, and Thua Thien Hue, with the total expense of CAD20 million from the Official Development Assistance (ODA) capital distributed by Canada. Binh Dinh Province receives an aid of about CAD1.75 million from this.
HCMC donates VND5 billion to help Hanoi fire victims
Vice Chairman of the Vietnam Fatherland Front Committee of HCMC Nguyen Thanh Trung on September 17 handed over VND5 billion (US$206,705) to victims of the tragic fire at an apartment building in the capital city of Hanoi.
Chairwoman of the Vietnam Fatherland Front Committee of Hanoi Nguyen Lan Huong received the support donated by the people, cadres, employees, military officers, and soldiers of HCMC.
Mr. Nguyen Thanh Trung and the HCMC delegation also visited and offered gifts to four families of the fire.
On September 12 night, a fire engulfed the mini-apartment block in Hanoi's Thanh Xuan district, leaving 56 people dead and 37 others injured. Firefighters contained the blaze, but the building's location in a narrow alley caused difficulties in rescue operations. Dozens of people were trapped in the building, police said.
Workshop seeks to develop green workforce for energy transition in Vietnam
Policymakers, labour experts and scientists attended a workshop in Hanoi on September 20 to share experience in developing green workforce for energy transition in Vietnam.
In his opening speech, German Ambassador to Vietnam Guido Hildner highly appreciated Vietnam's ambitious goals of delivering the carbon neutralization commitment by 2050 and joining the Just Energy Transition Partnership (JETP) alongside the group of seven most industrialised nations.
He recalled the first German project on renewable energy in Vietnam in 2009 and said both sides have since planned to implement a number of joint cooperation projects worth more than EUR1 billion.
Germany is a long-term and reliable partner for Vietnam, affirmed the diplomat.
He shared German experience in energy transition, saying this is a complex process but brings about great benefits to the economy and people.
Taking the floor, the Vice Chairman of the National Assembly's Science, Technology and Environment Committee, Ta Dinh Thi, said energy transition would create new opportunities to promote global economic growth in a more sustainable and equitable manner, and at the same time, minimize the negative impact of climate change and improve the quality of human life.
Vietnam has been working on a strategic framework and related policies in order to meet its net-zero commitment by 2050 delivered at the 26th UN Conference on Climate Change - COP26, said Thi.
However, to ensure a successful and effective energy transition, he stressed that seeking green employment opportunities in the labour market requires a roadmap for training and transferring high quality human resources in the field of green energy, to bring into full play existing human resources on the one hand, and promote science-technology advances and new labour skills related to energy transition on the other hand.
Meanwhile, in her speech, Deputy Minister of Labour, Invalids and Social Affairs Nguyen Thi Ha, said her ministry would introduce solutions aimed at promoting employment opportunities and developing skills closely linked to energy transition in Vietnam.
In order to create more employment opportunities, the ministry will perfect mechanisms and policies for developing industries and value chains related to energy transition, work out occupational standards associated with renewable energy industries, and improve the quality of human resource training in vocational education centres to meet human resource requirements for energy transition, Ha revealed.
Delegates shared global success stories and underlined the importance of nurturing the workforce, and formulating policies with a long-term vision to promote the development of new jobs related to energy transition.
They also specifically discussed other topics such as wind energy, solar energy, women's role in the energy sector, energy efficiency, and green transport. They confirmed the urgency of enhancing skills development and employment promotion measures to realize employment potential. They also stressed the need to pay attention to gender equality and promote women's role in the energy transition process.
Peru's bull art introduced at Hanoi exhibition
As many as 18 handmade ceramic Pucara bull statues, one of the most specific symbols of traditional Peruvian pottery, have been put on display at an exhibition which is getting underway in Hanoi.
The exhibition, which opened on September 19, is part of activities to mark 29 years of diplomatic relations between Vietnam and Peru.
It is taking place as part of a cultural promotion project initiated by the Peruvian Foreign Ministry entitled "Torito de Pucará: Ambassador of the Peruvian Highlands".
At the exhibition, local artists Le Huy and Tran Anh Tuan are also introducing their versions of toritos by using the techniques of traditional Vietnamese painting.
Addressing the opening ceremony, Peru's Ambassador to Vietnam Augusto Morelli Salgado shared that the bull art works by two talented artists Le Huy and Tran Anh Tuan are strongly symbolic of the ties between the two countries.
""The Embassy is honored to add some of their works to the national collection titled "Pucará Bull Around the World", which will be exhibited around the world," the Ambassador noted.
Within the framework of the exhibition, a free public torito painting session called "Make your own amule" will also be held on September 23 - 24.
Vietnamese Deputy PM meets with Cuban leaders
Vietnamese Deputy Prime Minister Tran Hong Ha paid a courtesy call on President of the National Assembly of People's Power of Cuba Esteban Lazo Hernández and held talks with First Deputy Prime Minister of Cuba Ricardo Cabrisas Ruíz in Havana on September 18, as part of his visit to the Caribbean nation and attendance at the Group of 77 plus China (G77 China) Summit.
At these meetings, the Cuban leaders expressed their appreciation for Vietnam's participation in the summit, which, they said, showed the special attention of the Vietnamese Party, State, and people to the traditional friendship and special cooperation between the two nations and contributed to the success of the event.
Lazo Hernández said the National Assembly of People's Power of Cuba has continuously learnt and studied reform experiences of Vietnam and brought them into the building and approval of laws in Cuba.
Meanwhile, Cabrisas Ruíz, who is also Minister of Foreign Trade and Foreign Investment, thanked Vietnam for its multifaceted assistance for Cuba, especially when the Caribbean country is facing numerous difficulties from increased blockade measures.
He affirmed that the Vietnam-Cuba relationship is growing very well and expressed his wish to further enhance the effectiveness of their existing cooperation mechanisms via the Party, National Assembly, and Government channels. He also hoped to see more Cuban-invested projects in Vietnam.
For his part, Ha said Vietnam always treasures and is determined to deepen its traditional solidarity and comprehensive cooperation with Cuba. He also affirmed Vietnam's consistent stance on uniting with and supporting Cuba, opposing and calling for the end to the blockade and embargo against Cuba, and joining Cuba's efforts to overcome the current difficulties.
The two sides discussed specific measures to further promote the comprehensive, practical, and effective cooperation between the two nations, including increasing the exchange of visits and meetings at all levels and coordinating in the implementation of the results of the summit, particularly in the fields of science-technology and innovation. They also agreed to step up the bilateral economic, trade, and investment ties, with a focus on aquaculture projects, corn development, rice production, and collaboration in biotechnology and pharmaceuticals.
The same day, Ha and the Vietnamese delegation laid flowers at a park named after late Vietnamese President Ho Chi Minh, visited and presented gifts to Alfredo Miguel Aguayo elementary school in the Cuban capital.
Hanoi, China's Shenzhen look to beef up multifaceted cooperation
Shenzhen city of China wishes to further promote economic and trade relations with Vietnamese localities, including the capital city of Hanoi, especially in investment, 5G technology, new energy vehicles (NEV), wind power, and renewable energy, said Mayor of Shenzhen Qin Weizhong.
During a meeting with Vice Chairman of the Hanoi People's Committee Nguyen Manh Quyen in Hanoi on September 18, Qin, who is also Deputy Secretary of the Shenzhen Municipal Party Committee, briefed the host on the Chinese city's development.
Shenzhen's GDP reached 500 billion USD in 2022, while its industrial production topped localities across China. Shenzhen has also witnessed the formation and development of big high-tech enterprises, such as Huawei, Tencent, and BYD automobile companies. It is also the headquarters of 11 firms in the global Top 500.
Vietnam is the largest trading partner of Shenzhen within ASEAN, and the cooperative relationship between the two sides is on a trajectory of growth and development, Qin stressed.
For his part, Quyen expressed an impression of Shenzhen's development, noting there are many favourable conditions for further stepping up friendship and cooperation in various fields between Vietnam and China, as well as their localities.
With its annual gross regional domestic product (GRDP) growth rate ranging from 7-8%, Hanoi possesses huge potential and room for stronger development, Quyen stressed, adding that the capital city has planned to develop satellite urban areas.
Hanoi has also substantial potential for high-tech agriculture development as it boasts a large agricultural land area, he added.
Hanoi is accelerating the construction of ring road projects, and urban metro lines, including Cat Linh - Ha Dong route, which has collaborated with China, Quyen said.
The host mentioned difficulties related to infrastructure, the environment, and transport facing the capital city, stressing that Hanoi wants to attract investors in high and clean technology, and infrastructure development that connects central areas and satellite urban areas.
Quyen suggested the two localities consider the possibility of promoting long-term development cooperation programmes to maximise each other's advantages, expressing a belief that with Shenzhen's potential and strengths, the two sides can completely expand partnership for mutual development in the coming time.
The two officials also discussed potential cooperation aspects, including Hoa Lac Hi-Tech Park, urban metro lines, and construction of one more airport in Hanoi, and shifting from fossil fuels to clean energy for public transport.
Qin stated that Shenzhen businesses are capable of supporting Hanoi from planning to construction, operation, and management in these areas.
Party delegation learns Canada's innovation experience
A delegation from the Party Central Committee's Commission for Information and Education led by its standing deputy head Lai Xuan Mon held a working session with Canada's MaRS Discovery District - the largest urban innovation hub in North America, as part of their working trip to Canada from September 18-19.
Mon said the working visit will contribute to enriching Vietnam's experience and help the country build more effective science and technology development policies.
The official said his commission hopes to expand research collaboration and exchange experiences with MaRS and policy-making and management agencies of Ontario province in sectors such as culture, education and external information. as well as in the research and application of new technology and digital transformation activities.
MaRS has become the pillar in Ontario's technology ecosystem over the past 10 years. The centre has contributed to creating innovation infrastructure to transform the economy and facilitate productivity and Gross Domestic Product (GDP) growth. Projects supported by MaRS have contributed 29.6 billion USD to Ontario's GDP in recent times.
Science-technology is one of the priority areas stated in the two countries' joint declaration on establishing a comprehensive partnership in 2017. Vietnam is also actively implementing a project to develop the Vietnam-Canada relations for the 2020-2025 period which focuses on this field.
The Canadian Government has supported many projects to improve policy and scientific research capacity in Vietnam.
During his stay in Canada, Mon also had a meeting with outstanding representatives of the Vietnamese community in Ontario.
ASEAN forum on handling disinformation on cyberspace held in Da Nang
The Vietnamese Ministry of Information and Communications held the ASEAN regional forum on tackling disinformation on cyberspace in the central city of Da Nang on September 19, within the framework of the 16th Conference of ASEAN Ministers Responsible for Information (AMRI).
The forum discussed joint efforts by ASEAN countries to combat and address fake news and misinformation, made recommendations on measures to tackle the problem, and share good practice in regional countries and news agencies. It also aimed to promote cooperation in the ASEAN and between governments, localities of ASEAN member countries and social media platforms in the field.
Speaking at the event, Vietnamese Deputy Minister of Information and Communications Nguyen Thanh Lam said since 2017, ASEAN has issued various statements and launched activities to raise public awareness of the harm of fake news. These include programmes, policy sharing workshops and campaigns to enhance digital literacy among the public, and foster mutual learning among electronic information management agencies.
He highlighted that at AMRI-14, the ministers approved a Framework and a Joint Statement on mitigating the impact of fake news, providing a common reference framework for ASEAN member countries to enhance cooperation, share information, and propose feasible solutions to combat the proliferation of fake news which negatively affect the interests of ASEAN citizens. In 2022, the 19th Meeting of the ASEAN Senior Officials Responsible for Information (SOMRI) officially endorsed Vietnam's initiative to establish an ASEAN Special Task Force on Fake News.
However, these activities have primarily focused on sharing policies and experience among government agencies and have not yet extended to involve media organisations (in their role of providing credible information; detecting and correcting fake news) or research institutions and media outlets (in their role as independent research and fact-checking units).
Lam said the forum aims to create an open space for exchange among government agencies, the media, cross-border platforms, and relevant stakeholders. It underscores ASEAN's commitment to reducing the harm caused by fake news and promoting ASEAN's common effort to establish a healthy and trustworthy information space for its citizens.
Gender equality – a focus in peacekeeping evaluation programme: officer
Vietnam and Japan gave a focus to gender equality while mapping out plan for the Competency Evaluation Programme for Prospective United Nations Peacekeepers (CEPPP), according to Matsuzawa Tomoko, Director for Defence Cooperation in the Indo-Pacific Region at the Defence Ministry of Japan.
Women have an increasingly important role to play in peacekeeping activities, she said, highlighting Vietnam and Japan, co-chairs of the CEPPP, arranged an array of scenarios within the framework of the programme to promote women's participation.
She added that the female blue-berets have engaged in the theoretical classes as well as field exercises in which they cast in the role of conflict victims or military observers.
The CEPPP, an activity under the ASEAN Defence Ministers' Meeting Plus (ADMM-Plus) Experts' Working Group on Peacekeeping Operations (PKO-EWG) Cycle 4, is taking place in Vietnam on September 13-21.
The event, drawing nearly 300 experts, trainees and observers from ADMM-Plus member countries, is the last activity of PKO-EWG Cycle 4 within the framework of the ADMM-Plus.
The co-hosting of the CEPPP has shown Vietnam's role and responsibility in multilateral and bilateral cooperation mechanisms in the field of UN peacekeeping operations within the ADMM-Plus framework. Through the activity, Vietnam hopes to make contributions to enhancing the efficiency of UN peacekeeping operations by ADMM-Plus member states.
Hanoi renews tourism products to increase attractiveness
Since the beginning of 2023, Hanoi's tourism industry has achieved impressive growth. However, experts recommended the capital city to continue renewing its tourism products to attract more domestic and foreign visitors.
Director of the municipal Tourism Department Dang Huong Giang said that since the reopening of its door to tourists on March 15, 2022, Hanoi has carried out concerted measures, with 172 activities, including major cultural and tourism events, held to increase the attractiveness of the city's tourism.
According to Giang, the goal of serving 22 million tourists, including 3 million foreigners, this year is reachable. However, in order to quickly match the pre-pandemic level (in 2019, Hanoi welcomed nearly 29 million visitors, including 7 million foreigners), the city still has much work to do.
At a seminar on main solutions to accelerate recovery and effective and sustainable tourism development recently held by the municipal Department of Tourism, participants advised the city to develop more products that meet tourists' needs.
Some proposed building those related to autumn such as Fototour to capture the beauty of the more than 1,000-year-old city in this season.
Many assessed that Hanoi only has "evening" tourism, not "night-time" tourism. General Director of Hanoi Tourism Investment JSC Nhu Thi Ngan said that most of night activities in Hanoi are ended before 12:00am. Only at weekends, bars and restaurants in downtown Hoan Kiem district are allowed to open until 2:00am.
Therefore, Ngan recommended the city to have a more "open" approach and have its own policy on this issue./.
Rare primate returned to nature in Binh Phuoc province
The forest ranging department of Dong Phu district, the southern province of Binh Phuoc, said it joined hands with competent authorities to release a female stump-tailed macaque into the nature.
The animal, weighing 4 kilogrammes, belongs to an endangered, precious and rare species listed in Group IIB of the Vietnam Red Data Book.
The primate was found straying in Thuan Phu commune, Dong Phu district. It was then captured and taken to the department where it received proper care and came back to good health conditions before being returned to the nature.
The stump-tailed macaque (Macaca arctoides), also called the bear macaque, is native to South Asia and Southeast Asia. It lives in tropical and subtropical evergreen forests, with altitudes of up to 2,000 metres. The animal is found across Vietnam, including in Lai Chau's Tuan Giao, Quy Nhai, Kim Son and Muong Te districts; Lao Cai's Sapa and Sinh Ho districts; and Dak Lak's Krong No, Dac Min Ea Sup, and M'Drak districts.
Cuban legislature delegation visits Bac Ninh province
Vice President of the Cuban National Assembly (NA) of People's Power Ana Maria Machado pledged to create favourable conditions for businesses from Bac Ninh to operate in the Caribbean nation, while visiting the Vietnamese northern province on September 19.
The Cuban legislature will work to enhance and tighten relations with Vietnam across spheres, and expand cooperation between Cuban localities and their Vietnamese counterparts, including Bac Ninh, she affirmed.
Secretary of the provincial Party Committee Nguyen Anh Tuan briefed Machado and her entourage on Bac Ninh's geographical conditions, history, culture, and socio-economic development, saying apart from economic development, the locality has paid attention to health care, education and social welfare.
The official expressed his hope that the Cuban delegation's visit will open up and establish new cooperation channels between Bac Ninh and Cuban localities.
Tuan also called on the Cuban side to facilitate cooperation between Bac Ninh-based DABACO Group and Cuban firms in such areas as high-tech agriculture and vaccine production.
Exhibitions featuring Phan Boi Chau, Vietnam-Japan friendship underway
The Department of Culture and Sports of the central province of Thua Thien-Hue on September 19 launched an exhibition on the life and career of nationalist figure Phan Boi Chau and Japanese doctor Asaba Sakitaro, featuring the friendship between the two as well as the Vietnam-Japan relations.
The exhibition is part of the activities to celebrate the 50th anniversary of diplomatic relations between Vietnam and Japan (1973-2023) and the 118th anniversary of Dong Du movement, which was initiated by Phan Boi Chau in early 20th century to encourage young Vietnamese to go East to study and seek ways to salvage the nation.
Meanwhile, Asaba Sakitaro, born in 1910 in Higashi Asaba village, Fukuroi, was a famous doctor who established Odawara Hospital, where he met Chau. The doctor gave Chau great support when he was in Japan.
Director of the department Phan Thanh Hai highlighted the life and career of Chau, describing him as a cultural ambassador connecting Vietnam and Japan and one of the first contributors to the friendship and diplomatic relations between the two countries.
Hundreds of images, documents and items at the exhibition give visitors a deeper insight of the Vietnamese revolutionary as well as his friendship with Asaba Sakitaro, Dong Du movement and the Vietnam-Japan partnership.
They aimed to educate patriotism and national pride among the youth, while contributing to fostering the friendship and cooperation between Vietnam and Japan.
Phan Boi Chau, born in 1867, was a pioneer of Vietnamese 20th century nationalism. In response to the Dong Du movement, hundreds of Vietnamese students went to study in Japan in a hope that they could help reform the country in return. When the movement faced difficulties in 1908, Chau received whole-hearted support from the doctor and other people in Fukuroi.
After leaving Japan, Chau continued his activities in several countries. In 1918, he returned to Japan and learnt that his friend passed away nine years earlier. Chau and people in Fukuroi raised funds for a memorial stele of the late doctor near his tomb, which is now a cultural heritage of the city.
Although the Dong Du movement failed and those students had to go home, what Asaba Sakitaro and Fukuroi residents had done for Chau and his followers remains forever in the Vietnamese people's hearts.
The Phan Boi Chau monument area in Hue city where Phan Boi Chau spent his last years is keeping a large number of documents and items related to the nationalist figure. In 2010, people of Fukuroi and Hue came to the place and build a stele marking Vietnam-Japan relations and the Dong Du movement.
Deputy PM identifies three main tasks for Central Highlands development
Deputy Prime Minister Tran Luu Quang has identified three main tasks for the development of the Tay Nguyen Central Highlands and required provinces in the region to prioritise those tasks, while addressing the first conference of the Tay Nguyen coordinating council held in Da Lat city, Lam Dong province, on September 20.
The Deputy PM said the three main tasks are completing transport infrastructure, enhancing intra-region connectivity, and establishing connectivity with adjacent regions and localities.
Localities in the region should devise mechanisms to coordinate with each other in investment attraction and promotion following the principle of putting the region's common interests first, he said, adding that another important task is to set forth a strategy on developing agricultural production chains to make the best use of regional advantages.

At the meeting, the Ministry of Planning and Investment proposed some special mechanisms and policies relating to infrastructure development, especially in transport; forest-based economy; environmental protection; and agriculture, tourism and human resources development in the region, among others.
Five Tay Nguyen provinces - Kon Tum, Gia Lai, Dak Lak, Dak Nong, and Lam Dong - also proposed mechanisms on transport infrastructure construction to enhance regional connectivity, helping spur economic development, particularly green tourism and circular agriculture.
The Tay Nguyen coordinating council was established under the Prime Minister's Decision No. 827/QD-TTg dated July 11, 2023, with Deputy PM Quang as the head.
It is an inter-sectoral body helping the PM in studying, directing, coordinating, and handling important and inter-sectoral issues on regional connectivity and sustainable development.
The Central Highlands holds strategic importance in terms of politics, economy, culture, social affairs, national defence and security. The region's Gross Regional Domestic Product (GRDP) per capita last year was 11 times higher than that in 2002, yet its economic development has not matched its potential and advantages.
Just energy transition requires higher labourers' skills: Experts
Just energy transition is significant in the development of workers' skills, the labour market and employment due to the high requirements of green and sustainable economic development, heard a conference held by the German Embassy in Hanoi on September 20.
Dr. Guido Hildner, German Ambassador said that in his country, the number of employees working in occupations requiring green skills increased 56.7% to 5 million between 2012 and 2020. This shows that the energy transition is a complex and demanding process, but also provides great opportunities to the people and the economies.
Noting that Vietnam has set a target of net-zero emission by 2050, the diplomat said that Germany has supported Vietnam in employment transition by training Vietnamese workers in the fields of electricity, electronics and roof-top solar power installation. Each year, tens of thousands of students are trained in 11 vocational training facilities, 79% of whom have been employed.
With high labour demand, Vietnam will need long-term decisions from the State, along with the promotion of creativity and innovation in the public and private sectors, and the mobilisation of public and private investment, especially in modernising the power grid as well as increasing renewable energy electricity production, said the ambassador.
Vice Chairman of the National Assembly Committee for Science, Technology and Environment said that strongly committed to achieving the net-zero emissions target by 2050, Vietnam has been focusing on building and promulgating a new strategic framework and relevant policies to realise this goal.
Promoting green employment transition, seeking fair employment opportunities in the labour market related to renewable energy and new energy is also a focal point of Vietnam, he said.
Vietnam is currently a developing country with lower middle income with an economy heavily dependent on fossil fuels, and a population of about 100 million people, of which 51% in the working age, he noted.
Vietnam is one of the countries vulnerable to the impacts of climate change, ranking fifth in the 2018 global climate risk index and eighth in the long-term climate risk index.
According to the draft National Power Development Plan, by 2045, the whole country will have over 75% renewable energy. Current studies also show that, in the fields of wind and solar energy, about 25% of jobs created are for high-skilled workers. Therefore, the official stressed the need for training facilities to adapt to this trend and meet the domestic demand. Deputy Minister of Labour, Invalids and Social Affairs Nguyen Thi Ha said that in the time to come, the ministry will deploy measures to increase job creation and develop labourers' skills following Vietnam's energy transition, including building standards of skills for the renewable energy sector and enhance the quality of vocational training facilities.
Vietnam and Thailand boost defense cooperation
Sen. Lieu. Gen, Nguyen Tan Cuong, Chief of General Staff of the Vietnam People's Army, hosted a welcoming ceremony in Hanoi on September 20 for Gen. Chalermphon Srisawasdi, Chief of Defense Forces of the Royal Thai Armed Forces, who is on a visit to Vietnam.
Cuong, who is also Deputy Minister of National Defense of Vietnam, welcomed the Thai general's visit which he said would help provide fresh impetus to defense cooperation between Vietnam and Thailand.
During talks held shortly after the welcoming ceremony, the two generals maintained that the two armies have brought into full play cooperation mechanisms, including defense policy dialogues, marine police exchanges, young officer exchanges, military cooperation, training cooperation, while consulting and supporting each other at ASEAN-led multilateral forums.
They agreed to further implement existing cooperation mechanisms, with a primary focus on enhancing visit exchanges to share information and experiences regarding human resource training and maritime security in the waters bordering the two countries.
The two sides will examine the possibility of expanding cooperation in a number of potential fields suitable to the needs and strengths of each side, such as sharing experiences in border management and protection; combating illegal migration; and preventing and combating drugs and transnational crimes.
They will promote cooperation in responding to non-traditional security challenges, such as search and rescue, and anti-terrorism prevention.
The two sides will work closely together for the fifth Vietnam – Thailand defense policy dialogue to be held in Vietnam later this year.
The Vietnamese side affirmed its support for events to be organized by the Thai Ministry of Defense and the Royal Thai Armed Forces in 2024, such as and a conference on international security and defense (ICISD), an ASEAN army chiefs conference and other events.
The two sides also exchanged views on regional and global issues of mutual concern. They emphasized the importance of maintaining peace, security, safety, freedom of navigation and overflight in the East Sea, while resolving disputes by peaceful means, in accordance with international law, including the 1982 United Nations Convention on the Law of the Sea (UNCLOS).
The same day, Gen. Chalermphon Srisawasdi paid a courtesy visit to Gen. Phan Van Giang, Minister of National Defense of Vietnam.
Three die of diphtheria in Vietnam
The Vietnamese Ministry of Health has ordered strong actions to be taken in order to prevent the further spread of diphtheria following the country recording three deaths this year.
All three patients are residing in the northern mountainous provinces of Ha Giang and Dien Bien, with the trio passing away after being hospitalised for several days, causing great concern among local residents.
The Ministry of Health has requested that local authorities take more drastic measures in a bid to prevent the further spread of diphtheria, as well as boosting treatment capacity as they seek to minimise the number of fatalities.
Simultaneously, they have been asked to take sample tests from those exposed to the disease and from high-risk groups in order to detect new cases and ensure that people contracting the disease are isolated and receive treatment in order to minimise the number of infections.
According to details given by the health ministry, diphtheria is an infection caused by the bacterium Corynebacterium diphtheria. Symptoms include fever, a sore throat, swallowing difficulties, and white patches forming in the throat that could potentially block the airway. Complications include myocarditis, kidney problems, respiratory failure, inflammation of nerves, coma, and death.
The disease is common among children but can occur in adults with impaired immunity. Although the disease can easily be transmitted from one person to another, diphtheria can be prevented through vaccination.
Source: VNA/SGT/VNS/VOV/Dtinews/SGGP/VGP/Hanoitimes