VIETNAM NEWS JANUARY 6
Hanoi targets to have 17-18% commuters travelling by public transport in 2021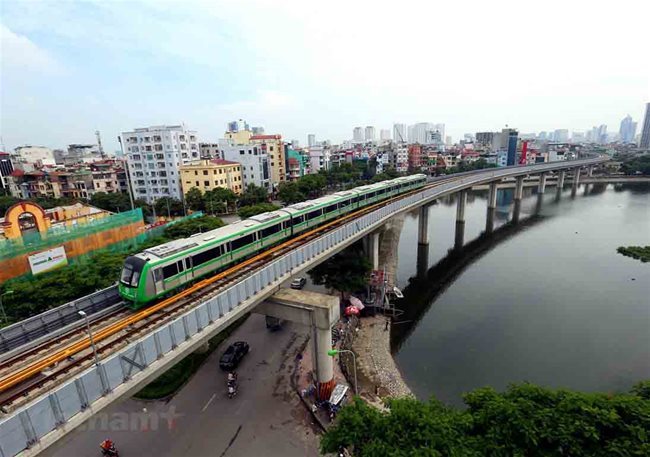 A general view of the Cat Linh-Ha Dong urban railway project, which is expected to be operational in the first quarter of 2021 – PHOTO: VNA


The Hanoi City government has set a target to have 17-18% of commuters in the city travel by public transport next year, according to the city's plan on traffic safety and traffic jam reduction for 2021.
To meet the target, the city will organize more campaigns to encourage citizens to use public transport, expand the bus system, put the first urban railway project into service and increase investment in transport infrastructure.
Hanoi has planned to open 15-25 new bus routes in 2021, taking the total number of bus routes in the city to 45-55. The new bus routes will be prioritized for outlying districts, new urban areas, shopping centers, industrial parks and school zones.
The city would develop bus-only lanes on some streets and prioritize buses on streets where automobiles are banned.
Besides, the city will work closely with the Ministry of Transport to effectively operate the Cat Linh-Ha Dong urban railway project as well as the bus system connected to the project.
The city will also tighten control over ride-hailing services, improve the quality of taxi services, rearrange the stops for shuttle buses transporting workers and students and adjust the routes of interprovincial coaches.
To improve the transport infrastructure, the city will accelerate major transport projects such as the Hoang Cau-Voi Phuc section of Belt Road No. 1, the Vinh Tuy-Cho Mo-Vong Intersection section of Belt Road No. 2, the Ngoc Hoi-Thuong Tin section of National Highway 1A, Road No. 70, the road connecting Nhat Tan Bridge with Thanh Nien Street and the road connecting Mo Lao Bridge with Doi Bridge.
"Hanoi will accelerate urban railway projects, call on private investors to build new interprovincial bus stations, get rid of bus stations in the city center to reduce traffic congestion and speed up transport projects in the central business district," Hanoi chairman Chu Ngoc Anh said.
The local authorities will also increase control over transport violations, apply new technologies in transport management and upgrade the traffic signage system.
"The city is committed to reducing the number of road and railway accidents, fatalities and injuries by 5-10% from 2020, reducing road accidents caused by drunk driving, preventing serious traffic accidents, preventing traffic jams lasting over 30 minutes and addressing traffic accident hotspots," Anh said.
Man leaves quarantine before receiving positive coronavirus test
A Vietnamese man who returned to Việt Nam from the US has been confirmed positive for SARS-CoV-2 by the Hà Nội Centre for Disease Control after being discharged from centralised quarantine.
Authorities of Hạ Long City in Quảng Ninh Province, where the 22-year-old man resides, said the man landed at Nội Bài International Airport on December 20 on a repatriation flight from the US and was sent to a quarantine facility in Chương Mỹ District, Hà Nội.
During his 14-day quarantine, he tested negative for the virus once. On January 2 he was tested for a second time. On January 4, he completed his quarantine and left for his home in Bãi Cháy Ward of Hạ Long City. On the same day, his positive test result came back, but after he had been allowed to leave.
Authorities have traced people who were in contact with him, namely five family members and eight others who were formerly quarantined with the man in Chương Mỹ.
All five family members have been quarantined and tested negative for the coronavirus once, while the eight people he quarantined with have tested negative twice, but will be isolated for another 14 days and continue COVID-19 screening.
On the night of January 4 and early morning of January 5, the local centre for disease control took the man to the Field Hospital No. 2, sprayed disinfectant at the hotel where he stayed, the area where his family resides in Bãi Cháy Ward and the restaurant where close contacts had dinner.
Khổng Minh Tuấn, deputy director of the Hanoi Centre for Disease Control, said the patient being allowed to leave before the second test came back was not in compliance with quarantine regulations.
He added that the man had no contact with anyone in Hà Nội, so there were no F1 cases related to him in the capital.
Seven imported cases of COVID-19 reported on January 5
Seven COVID-19 cases were detected in Vietnam in the past 24 hours to 6pm January 5, all among people quarantined after returning from abroad, according to the National Steering Committee for COVID-19 Prevention and Control.
Among the new patients, six were Vietnamese citizens returning from the US, the Philippines and Japan, and the seventh was a British citizen arriving from Dubai.
The newly found infections raised the national count of COVID-19 cases to 1,504, including 693 locally transmitted cases.
The number of recovered patients is now 1,339 while fatalities remain at 35.
Among patients still under treatment, nine have tested negative for SARS-CoV-2 once, six twice and five thrice.
A total of 19,286 people who had close contact with COVID-19 patients or returned from pandemic-hit areas are being quarantined nationwide.
In the early morning of January 5, border guards in northern Lai Chau province arrested 23 workers when they were illegally crossing the border into Vietnam.
Later on the day, eight Vietnamese people illegally entering China were arrested and handed over by Chinese police to border guards in Lai Chau province.
The Ma Lu Thang border guard post and relevant forces checked up the health of all the 31 people, disinfecting their luggage and then sent them to concentrated quarantine establishments in line with regulations./.
Ministry launches website on 2019 Labour Code
A website on the 2019 Labour Code, at http://boluatlaodong2019.molisa.gov.vn, was officially launched on January 4.
Developed by the Department of Legal Affairs at the Ministry of Labour, Invalids and Social Affairs (MoLISA) with technical support from the International Labour Organisation (ILO), the website provides full information on the Labour Code and documents detailing and guiding its enforcement.
Other information and reference materials are also available to help employers, employees, and related agencies, organisations, and individuals learn more about the new provisions in the legislation, which came into force on January 1.
The website also acts as a platform for the ministry and the public to connect and identify how to remove obstacles to implementation.
The Labour Code was first issued on June 23, 1994 and took effect on January 1, 1995. It was later amended and supplemented in 2002, 2006, 2007, 2012, and 2019.
To meet the new requirements of socio-economic development and international economic integration, the most-recent version was approved by the 14th National Assembly on November 20, 2019, as part of its 8th session.
It consists of 17 chapters with 220 articles and came into force on January 1, 2021.
The 2019 Labour Code aims to create a new and modern legal framework for building harmonious, stable, and progressive labour relations via dialogue and collective bargaining. It also looks to assist enterprises in accessing international labour standards and protecting and harmonising the interests of employees, employers, and the country as a whole./.
Indonesia takes financial, medical measures as COVID-19 cases rise
Given the surging number of COVID-19 cases in Indonesia, local authorities have continued its cash aid programme and issued a plan to increase the number of hospital beds by up to 30 percent.
The number of COVID-19 active cases in Indonesia soared to 110,679 as of January 3.
Indonesian President Joko Widodo, on January 4, kicked off a nationwide launch of a cash assistance programme that was set to reach the country's 34 provinces.
"In 2021, we will continue the distribution of social assistance. In the 2021 State Budget, the government has allocated a budget of 110 trillion Rp (nearly 8 billion USD) for all recipients from Sabang to Merauke and from Miangas to Rote Island," the president remarked as quoted by Indonesia's national news agency Antara.
He said the aid is disbursed to assist the public to tackle the impact of the COVID-19 pandemic, particularly in boosting their purchasing power.
Meanwhile, the Indonesian government is set to increase the number of hospital beds by up to 30 percent to address a rise in COVID-19 active cases.
"The government is encouraging the optimum use of beds at state-owned hospitals, regional government-owned general hospitals, and private hospitals by increasing their bed capacity by 30 percent," Airlangga Hartarto, chief of the country's Committee for COVID-19 Handling and National Economic Recovery, said at a press statement in Jakarta on January 4 as quoted by Antara.
According to Hartarto, the government will increase the number of medical workers employed at health service facilities.
The government will also strengthen the implementation of COVID-19 handling procedures, particularly at non-referral places, and increase surveillance of cases through testing, tracing, and self-quarantine," he added./.
HCM City honours 12 outstanding young citizens
Dr Ngô Việt Anh of Chợ Rẫy Hospital's Emergency and Resuscitation Department was among the 12 outstanding young citizens of HCM City in 2020 who have been honoured last week by the city's Hồ Chí Minh Communist Youth Union.
Anh, secretary of the Hồ Chí Minh Communist Youth Union at the hospital, is one of the hospital's doctors on its COVID-19 rapid response task force. He treated the critically-ill British pilot who had COVID-19 and recovered after months of care by Vietnamese doctors. It was considered a near-miraculous recovery.
Anh also volunteered to go to Đà Nẵng to assist hospitals to treat severely ill patients when COVID-19 broke out. He participated in the union's activities enthusiastically as well.
He said that the greatest happiness was to see COVID-19 patients recover and the country control the epidemic.  
Dr Đỗ Phạm Nguyệt Thanh, who recently graduated from Phạm Ngọc Thạch University of Medicine, also was one of the 12 outstanding young citizens.
Thanh voluntarily took part in COVID-19 prevention and control at the city Centre for Diseases Prevention and Control. She developed documents and brochures to communicate information about the disease and contributed to setting up criteria to evaluate risks for COVID-19 in the city.
The other outstanding young citizen was Khổng Mỹ Phượng who is a student at University of Sport and a professional weightlifting athlete at Phú Thọ Sport Training House.
She started weightlifting in 2001 and dreamed of winning a gold medal in international competitions. She practiced every day. As a result, in 2020 Weightlifting World Cup in Rome, Phượng won one gold medal and two silver medals in many categories.
Vũ Chí Kiên, director of the Architectural Research Centre at the Department of Planning and Architecture, was honoured as an outstanding young citizen for his application of geographic information systems in planning and developing urban areas.
In 2020, the city received 62 applications. Among these, 12 excellent ones were selected. They work in many different sectors and represent the city's young people who are innovative and chased their dreams.
Speaking at the ceremony, Nguyễn Thành Phong, chairman of the city People's Committee, said that the 12 outstanding young citizens have made positive contributions in many fields, especially in urban area development and government. Many of them have connected with others who contributed to COVID-19 prevention and control.
Phong said in 2021, besides COVID-19 prevention and control, the union will carry out more programmes to assist the poor and social welfare beneficiaries. It will also provide assistance for its members and young people to carry out their startup ideas in real life.
In addition, the union will connect with city programmes on entrepreneurs and key products, and those on innovation and startups, to help young people have opportunities to show their creative abilities.
Phong also said the union should give guidance to its units to develop the Hồ Chí Minh Cultural Space, a policy of the city's Party Committee. 
Kiên Giang takes measures against fresh water shortage in dry season
The Cửu Long (Mekong) Delta province of Kiên Giang has taken measures to cope with drought and saltwater intrusion for the coming 2020-21 dry season.
The province, which is the country's largest rice producer, is expected to see a shortage of fresh water for irrigation and household use in coastal areas from Rạch Giá City to Hà Tiên City, areas along the Cái Lớn and Cái Bé rivers, and coastal districts in U Minh Thượng area and islands, according to the province's Department of Agriculture and Rural Development.
The province's two national parks, the Phú Quốc National Park and U Minh Thượng National Park, will also lack water to fight forest fires, and has built dams, and dredged canals and ponds, to preserve water.
If severe saltwater intrusion and drought occur, the province will give fresh-water priority for households, animal husbandry and high value crops, it said.
To secure water for localities affected by drought and saltwater intrusion, the department will operate sluice systems in the Long Xuyên Quadrangle, coastal areas in An Biên and An Minh districts, and dykes in U Minh Thượng and Ô Môn – Xà No area.
In localities where saltwater-prevention sluices are still affected by saline intrusion, the department will work with localities to build temporary saltwater prevention dams.
Hoàng Văn Tuấn, deputy director of the department, said to secure irrigation for agriculture in the dry season, the province will build or upgrade 340 temporary dams.
The dams will help to protect the 2020-21 winter - spring rice crop and the 2021 summer - autumn rice crop, as well as aquaculture and the rice - shrimp farming model.  
The new dams will cost VNĐ33.8 billion (US$1.5 million) from the central and local budgets and other sources.
The department will also set up schedules for growing the 2020-21 winter - spring rice crop and instruct farmers to grow short-term rice varieties to avoid a shortage of irrigation water in the middle and end of the 2020-21 winter - spring rice crop.
It will also raise public awareness about climate change, water shortage and saltwater intrusion.
Around VNĐ17 billion ($735,000) will be spent to implement measures to supply fresh water for household use, especially in rural, remote and island areas.
The province will upgrade deteriorated water supply stations in districts An Biên, An Minh, Châu Thành, Gò Quao and Giang Thành.
It will also store fresh water in reservoirs on islands, including Dương Đông and Thổ Chu reservoirs in Phú Quốc District, and Bãi Nhà and An Sơn reservoirs in Kiên Hải District.
Wells will be upgraded in island communes and in areas that lack fresh water for households, and fresh water for household use will be transported to islands.
Hanoi's highest Tet bonus announced
The highest bonus for the lunar New Year or Tet in Hanoi is expected at VND400 million (USD17,391), representing a slight on-year fall.
According to the Hanoi Department of Labour, Invalids and Social Affairs, the figure belongs to a private firm. Meanwhile, the lowest Tet bonus in Hanoi is from a state-owned company with just VND550,000 (USD23.91). 
The second highest Tet bonus level is VND280 million which is from a foreign direct investment (FDI) company.
Meanwhile, the highest bonus for Tet at the state-owned sector is VND30 million.
The lowest level for state-owned, private and FDI businesses are at VND550,000; VND700,000 and VND750,000 respectively.
The department added that last year, the average salary per employee was VND6 million; VND6.1 million and VND6.3 million at state-owned, private and FDI enterprises respectively.
Hanoi reported the highest bonus for Tet 2020 at VND420 million.
HCM City's highest bonus for Tet 2021 is expected to be much higher than Hanoi with VND1 billion (USD41,666).
Hai Phong receives national historic site recognition for Bach Dang Giang relic complex
The Bach Dang Giang relic complex in Hai Phong was officially recognised as a National Historical Relic Site at a ceremony held in the northern port city on January 2, in the presence of Prime Minister Nguyen Xuan Phuc.
The spiritual architectural complex of Bach Dang Giang was built in the Trang Kenh - Bach Dang area in Thuy Nguyen district, featuring cultural and historical items associated with great naval battles in Vietnam's history defending the nation on the Bach Dang river during the glorious eras of Kings Ngo Quyen and Le Dai Hanh, as well as Grand Prince Hung Dao Tran Quoc Tuan.
The relic complex includes various facilities dedicated to King Ngo Quyen, King Le Dai Hanh, Grand Prince Hung Dao and President Ho Chi Minh, in addition to Bach Dang Victory Square, a display house and models of wooden stakes used in the battles against invading foreign armies on Bach Dang river.
The relics site is one of the few in the country free for visitors.
The recognition of the complex shows the deep gratitude of today's generation to the national heroes who attained great merit in the battles on Bach Dang river, affirming the potential and intelligence of the Vietnamese people as well as the outstanding value of the victories on the river to both the history of Vietnam and the world. 
It is also an opportunity to arouse national pride and promote historical, cultural and patriotic traditions, while propagating the scientific, historical and cultural value of the Bach Dang Giang National Monument.
It offers Hai Phong a good chance to attract domestic and international visitors and promote the typical and unique cultural values of the Bach Dang Giang relic area as well as the long history of Hai Phong with its cultural depth reaching out and integrating into the world.
On the occasion, Hai Phong city will host exhibitions on great victories on the Bach Dang river at the city's Theatre Square and at the Bach Dang Giang relic from now until January 5. 
The awards ceremony also featured a special epic art performance programme with the theme of Aura Bach Dang Giang, with the participation of over 500 artists and actors from various art troupes nationwide, along with fireworks displays on the Bach Dang river.
Party chief of Thu Duc City to be named before Jan 18
The HCMC Party Committee will appoint the secretary of the Party Committee of Thu Duc City before January 18, 2021.
The HCMC government has planned to deploy the National Assembly Standing Committee's resolution on establishing Thu Duc City and arranging administrative units at the district and commune levels of the city, asking the HCMC Party Committee's Organization Board to propose solutions to rearrange the Party's organizations and other agencies in districts 2, 9 and Thu Duc to establish new ones in Thu Duc City.
The HCMC Party Committee will also appoint the executive board, standing board, deputy secretary and members of the Thu Duc City Party Committee by January 18, Thanh Nien Online newspaper reported.
Thu Duc City and its ward-level agencies will officially operate from March 1, 2021. Documents issued by the authorities of districts 2, 9 and Thu Duc before March 1 will continue to be used until alternative agencies are formed.
Local residents will be facilitated to alter personal documents and will not be charged.
The HCMC government has also asked the governments of districts 2, 9 and Thu Duc to review their State apparatus, infrastructure, assets and investment projects before January 10, 2021, and prepare to hand them over to the assigned individuals and units.
By January 20, the HCMC People's Council must choose some members of the People's Councils of districts 2, 9 and Thu Duc to oversee Thu Duc City until the chairperson of the Thu Duc People's Council is elected.
The Thu Duc City People's Council must elect the chairperson and vice chairpersons of the council, heads of boards under the council as well as the chairperson, vice chairpersons and members of the city's government before February 19.
The Thu Duc City People's Committee will work with districts 2, 9 and Thu Duc to receive infrastructure, organization structure, assets and investment projects before February 25.
Kien Giang ornamental trees enter Tet season
It's now the 11th month of the lunar year and chrysanthemums are growing quickly in Hoa Binh hamlet in Giong Rieng district, in the Mekong delta province of Kien Giang. Local people see this as a good start to the Tet flower season, bringing earnings to farmers.

Growing ornamental chrysanthemums for Tet is not a difficult job, but requires that growers closely monitor the growth of each plant. Generally speaking, ornamental flowers bring a good income to local people.
Local growers are now working in groups and joining clubs to support each other, thus expanding the growing area.
Traders come to the area to buy trees, which then find their way to other cities and provinces around the Mekong Delta and the south.
Giong Rieng is now home to a growing area for ornamental flowers of an estimated 16 ha. The trade is contributing to improving local livelihoods and generating jobs, thus sustaining economic development in the district./.
Danang's unemployment rate highest in 10 years
The unemployment rate in Danang reached 8.78% in 2020, the highest in the past decade, said Tran Van Vu, director of the Danang Statistics Office.
On December 29, the office announced the city's socioeconomic performance in 2020, the local media reported.
The labor market has faced multiple difficulties. The second Covid-19 wave has impeded the recovery of the market and the improvement of laborers' incomes after the first wave of the pandemic.
Vu said a survey on nearly half of the enterprises in the city showed a large reduction in the number of employees, with the non-official economic sector facing the same fate.
Despite the difficulties facing the tourism, service, industry and construction sectors, leading to the city's low economic growth, there were still bright spots.
Specifically, the information and communication sector reported a growth rate of 5.24%; finance, banking and insurance at 7.35% and healthcare and social welfare, 18.33%.
Government approves VND100 billion to repair Thai Hoa Palace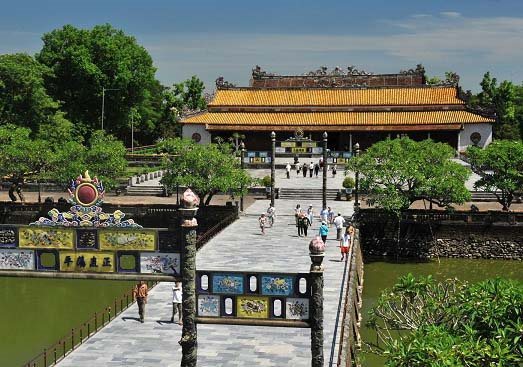 The Thai Hoa Palace in Thua Thien-Hue Province – PHOTO: VGP

HCMC – The Government has approved a VND100 billion (US$4.34 million) emergency package sourced from the State budget to repair the Thai Hoa Palace in the central province of Thua Thien-Hue, which was damaged by the recent typhoons and floods.
Thai Hoa is the major palace of the former Hue Imperial Citadel, which was built by the Nguyen Dynasty (1802-1945). With the throne placed inside, Thai Hoa Palace is the coronation venue of 13 kings of the dynasty.
Vo Le Nhat, director of the Hue Monuments Preservation Center, said the tiles on the western roof of the palace have loosened due to the recent storms. The palace has also deteriorated over time and needs urgent renovation.
The last time the palace was repaired was in 2017.
The Government has also approved the second phase of a project to evacuate people from an area of the Hue Imperial Citadel relic site and renovate some areas on the site. The project requires VND2.06 trillion, which will come from the State budget.
Moreover, the Government has allowed Thua Thien-Hue Province to use money from lottery sales for the preservation of the Hue Imperial Citadel.
Recognized as a World Cultural Heritage site by UNESCO, the citadel is a huge complex, comprising three main components, namely Kinh Thanh Hue (Hue Capital Citadel), Hoang Thanh (Royal Citadel) and Tu Cam Thanh (Forbidden Citadel).
Construction of the Hue Imperial Citadel started in 1805 under the reign of King Gia Long and was completed in 1832 under King Minh Mang, on the northern bank of the Huong (Perfume) River.
The entire site consists of some 50 architectural constructions of different sizes and seven gates to facilitate the entrance and exit. It is also home to many giant green trees and small lakes. 
HCMC introduces new support center for innovation
 
The Ho Chi Minh City (HCMC) Union of Science and Technology Associations yesterday announced the grand opening of the Research, Innovation, Consultation Hub (RICH).
RICH aims at providing necessary advice in the aspects of technology upgrade, micro-economic management, sustainable growth management, cooperation between business – researcher – the market.
RICH is also a place to boost connections among national and international university students, graduate students, scientists in order to conduct scientific research that is highly practical in reality.
The last goal of RICH is to support startup projects and innovative scientific activities.
HCMC implementing digital applications for sustainable growth
 
Ho Chi Minh City (HCMC) is carrying out the digital transformation process in order to make management tasks more transparent, to better support trading, and to more effectively help its residents access necessary information.

HCMC has digitalize its many databases for more efficient state work. Related documents in public services are now managed digitally. Administrative files and reports are processed and stored systematically, making it easier for further analysis, statistics preparation, and conclusion provision. This, in turn, speed up wise decision making.
Take the digitalization of civil status documents as an example. According to Deputy Director of the HCMC Department of Information and Communications Vo Thi Trung Trinh, since the city aims at providing all digital public services, it has until now digitalized 60 percent of its residents' civil status documents.
She estimated that in June 2021, this valuable database will be formally introduced for exploitation in additional to the current one provided by the Ministry of Public Security.
Using this database, other state departments and agencies are able to develop their own specific ones for various tasks of managing local educational status and predicting the number of schools to answer the public's need, medical history documents, forecasting the future population trends and gender balance.
HCMC has introduced a series of useful mobile apps to serve its dwellers. Some notable ones are traffic status report to avoid congestions (developed by the HCMC Department of Transport), urban flooding warning UDI Maps (by HCMC Urban Drainage Co. Ltd), HCMC planning to look up land-related information, SYT TPHCM to search for medical information and clinic or hospital locations (by the HCMC Department of Health).
Obviously, these applications have proved their effectiveness in all aspects of life.
The HCMC Department of Information and Communications is going to finish its data processing platform in order to integrate current databases into one common database and establish the city's open database ecosystem. This will be the first essential step in the digital transformation process of the city to serve its residents.
Thanks to digitalization transformation, residents and businesses in HCMC just need to provide their personal information once for all state agencies to use. What is more, now the interaction between citizens and the local government increases due to helpful apps.
The municipal authorities have set a goal to run 50 percent of level-3 and level-4 public services online in 2025. In the next 5 years, its shared database and open database ecosystem will be linked to the national ones for socio-economic growth.
Other goals are for the city to enter the national top-5 regions as to e-government, to have its digital economy account for 25 percent of its Gross Regional Domestic Product (GRDP), and to increase work performance by 7 percent each year.
In 2030, HCMC will have all level-4 public services provided online via different smart devices, including mobile phones. All city-leveled and district-leveled administrative documents, as well as 95 percent of ward-leveled ones, are processed online.
At that time, the city will be one of the two leading areas in Vietnam as to e-government, with its digital economy occupying 40 percent of the GRDP, its work performance increasing by 9 percent per year. The rate of city dwellers having an e-payment account will be over 85 percent.
99 high technologies prioritized for investment, development
Prime Minister Nguyen Xuan Phuc has just issued Decision No.38/2020/QD-TTg on the category of high technologies prioritized for investment and development and a list of high-tech products to be encouraged for development.
Specifically, 99 high technologies will be given priority for investment and development, including artificial intelligence technology, Internet of things, quantum technology, bioinformatics, aviation, space and remote sensing technology, technology for designing and manufacturing high-resolution screens, and advanced 3D printing technology.
The list of high-tech products encouraged to develop includes 107 technologies, such as smart cards, smart card readers, services of consulting, designing, and leasing information technology systems, smart education and training systems, and equipment, and products and solutions of new-generation gene sequencing technology.
Illicit gold miners receive fine of US$7,799
Three illicit gold miners in the Central Province of Ha Tinh received a fine of VND180 million (US$7,799) for mining gold without permit.
The People's Committee in Ha Tinh Province yesterday announced to impose the administrative fine on three residents including Ho Van Quang in Ky Son Commune in Ha Tinh Province and Ban Tai Long, Duong Quy Lam hailing from the Northern Province of Thai Nguyen's Hop Tien Commune for exploiting gold without permission.
The three people were also forced to implement solutions to restore the environment in the area they mined gold.
Local authority also seized Ho Van Quang's mining tools.
Project on building a national brand for Vietnamese lacquer art approved
The Ministry of Culture, Sport and Tourism has just approved a project on promoting and building a national brand for Vietnamese lacquer art in the 2020-2030 period. 

The project will take implementation phases, including building logo, brand recognition and cues of Vietnamese lacquer art; launching the standards and quality criteria of lacquerware manufacturing process and its techniques and materials; developing the investment promotion strategy and planting area of Son (Rhus succedanea) tree in the northern province of Phu Tho to collect resin extraction that are decanted, purified and tinted used for waterpfroofing and smoothing wood surfaces, and gold-laminating craft villages in Bac Ninh Province.
The project of promotion and preservation is planned to be carried out in traditional lacquer craft villages of Ha Thai in Hanoi and Tuong Binh Hiep in the southeastern province of Binh Duong.
An international lacquer art festival is alss expected to be organized in coming time, according to the the Department of Fine Arts, Photography and Exhibition under the Ministry of Culture, Sports and Tourism.
HCMC education increases supervision on private schools
In its submission to HCMC People's Committee, the Department of Education and Training proposed supervision on non-public schools in the city.
According to the submission, many private schools located in the city offer differently extra activities. Lately, these special schools have done some activities which have damaged learners' right causing security disorders. Specifically, after impact of the coronavirus pandemic, some schools have activities to overcome the consequence; however, they have conducted activities without permission.
Additionally, some education divisions have not strictly managed these schools; therefore, some foreign-invested schools or those, which were allowed to pilot integrated program, have slowly transferred its activities as per the government decree 86/2018 taking effect on June 6, 2018 about international cooperation in the education field.
Accordingly, the Department proposed to increase supervision on private schools to dress the matters. Inspectors from the education, people's committees and unions in localities will pay visits to schools to check activities of non-public universities, preschools, foreign language centers regularly.
Local administrators will check license of private facilities and whether these facilities provide service as per the license. Educational facilities will receive penalties if they are found to organize unallowable activities causing security disorder affecting learners' rights.
Furthermore, local administrators must enhance management on daily nurseries especially these facilities offering extra services for children's safety.
Especially, foreign-invested schools and these institutions which are providing integrated program must transfer their activities according to the government decree 86/2018 in the academic year 2020 - 2021. The city People's Committee will report these schools which are slow in transferring their activities to the Ministry of Education and Training for complete settlement.
Doctors remove chicken bone lying in patient's bronchial tube for 2 years
Surgeons of the Ear-Nose-Throat Hospital in Ho Chi Minh City have just removed chicken bone lying in an old woman's bronchial tube for two years. 
According to the 62-year-old woman, she suddenly coughed badly while eating chicken rice porridge and then she turned pale experiencing breathing problems; from that on, she usually had prolonged cough.
She arrived at many infirmaries for treatment but she was diagnosed to have bronchial asthma or Gastroesophageal reflux disease. After taking drug, these problems abated little but they relapsed later.
Physicians of the Ear-Nose-Throat Hospital asked the woman to have scan for suspecting that she had strange item in the bronchial tube.
The scan has shown there was a strange item in the left of the woman's bronchial tube. Immediately, doctors carried out an operation to remove it. The 1x1,5cm chicken bone in her left bronchial tube was totally taken out.
The old woman was stable now.
Dr. Nguyen Thi Thanh Thuy said that the case is a difficult one because the bone was lying in the patient's bronchial tube for a long time; therefore, doctors mistakenly diagnosed with other disease.
Renovated ancient flagpole in HCMC opens to public
The Department of Construction and the Department of Architecture and Planning of HCMC held an inauguration ceremony of the renovation and embellishment of the Thu Ngu flagpole, a 156-year-old relic in District 1 on January 4. 

Attending the event were Standing Deputy Secretary of the Party Committee of HCMC Tran Luu Quang; Chairman of the municipal People's Committee Nguyen Thanh Phong; Chairwoman of the municipal People's Council Nguyen Thi Le; former Standing Deputy Secretary of the Party Committee of the City Nguyen Van Dua; Vice Chairman and Deputy Chairwoman of the municipal People's Committee, Le Hoa Binh and Phan Thi Thang.
The Thu Ngu flagpole was built in 1865 in Bach Dang Wharf in Nguyen Thai Binh Ward. It was used to give warnings and instructions for safe vessel operations.
The flagpole, along with the Bach Dang Wharf, Cau Mong Bridge and Nha Rong (Dragon House) Harbor are icons of the city that formed into a historical and cultural complex, witnessed the growth and development of HCMC over the past years.
The renovation project included providing a repair for flag hoisting, ceiling painting, installing the light system along with a park covering an area of 3,530 m2 around the flagpole.
The historical site is expected to offer to citizens a public spaces that will be used as an area for community's activities.
Gov't to support pig farmers in regions affected by African swine fever
Vietnamese government have issued a decision to support pig farmers in regions affected by the African swine fever (ASF) as well as give money for ASF prevention in 2020. 
Thereby, the government will give financial aid to individual pig farmers, farm owners, cooperatives, and small and medium enterprises that suffered losses because their pig were killed by the disease.
The government will provide money as compensation to farmers who have to cull their pigs due to the African swine fever. Farmers will receive VND10,000 – VND30,000 per kilogram for piglets and meat pigs while their peers receive VND12,000 – VND35,000 a kilogram for sows and boars.
Small and medium enterprises and breeding female farmers will be given VND500,000 per hog in order to improve biological solutions to protect the herd of hogs for re-population of boar after the disease is under control.
The People's Committee in Ca Mau Province yesterday directed related agencies to put the African swine fever in Le Van Nam's farm in Khanh Lam Commune in U Minh District under control as quickly as possible.
The Department of Agriculture and Rural Development in Ca Mau Province was asked to increase preventative measures to curb the spread of the disease in hogs.
Eleven pigs of farmer Le Van Nam tested positive for the African swine fever; therefore , local vets destroyed 11 pigs as well as spray chemicals to disinfect the neighborhood following the regulation.
Hanoi: masking up in public area is compulsory  
Capital residents and tourists are required to wear masks in public areas on the occasion of year-end and New Year celebrations.
Hanoi Steering Committee on Covid-19 Prevention released Notice No. 35 / TB-BCĐ on tightening anti-pandemic measures on the occasion of year-end and New Year celebrations. 
Capital residents and tourists are required to wear masks when riding public transport; visiting public places including parks, flower gardens, pedestrian streets, squares, bus stations, markets, supermarkets, shopping mall; and when taking part in public cultural, entertainment and sport events.
City's administrative bodies are required to enhance communication on the implementation of the "5K Message", including: Khau trang (Masks) - Khu khuan (Disinfection) - Khoang cach (Distance) - Khong tu tap (No gathering) - Khai bao y te (Medical declaration), in order to raise awareness among citizens in preventing pandemic.
In addition, Hanoi authorities are requested to enforce pandemic prevention and control measures during the New Year holiday and be ready to ensure absolute safety for the 13th National Party Congress.
Specifically, the districts of Hoan Kiem, Hai Ba Trung, and Nam Tu Liem are required to urgently develop plan to ensure safety at fireworks display places.
Hanoi Department of Transport is tasked with ensuring safety on public transport means and premises including pier, bus station and railway station. All passengers are required to wear masks when riding means of public transportation.
Hanoi Department of Culture and Sports is required to enforce anti-pandemic measures at venues of festivals, cultural, entertainment and sports activities during the celebrations of New Year 2021 and the traditional Lunar New Year of the Buffalo.
The Department of Tourism is assigned the work of ensuring safety for travelers and enforce anti-pandemic measures at tourist sites and accommodation establishments as well as strengthen inspection disease prevention in city-approved paid quarantine places.
The Department of Industry and Trade is required to ensure the safety in supermarkets, markets, the area where Spring fairs are held, among others.
The Department of Health is tasked with strengthening supervision and early detection of suspected cases in the community; implement the timely lockdown and quarantine in case new infection is detected; thoroughly handle disease outbreak; and ensure safety in both domestic and non-public health centers in the city.
The Capital High Command, in coordination with relevant agencies, continues to closely manage centralized isolation facilities, preventing cross infection in quarantine facilities.
Hanoi Municipal Police will strictly handle cases of illegal entry, as well as people flouting pandemic prevention and control; ensure security and order at quarantine facilities.
People's Committees of districts, towns, communes, wards and townships are required to supervise the prevention and control of pandemic in the area; focus on anti-pandemic prevention and strengthen inspection of anti-pandemic measures compliance at public spots and crowded entertainment activities.
The organizations and individuals who defy the quarantine measures as well as disease prevention protocol will be strictly sanctioned, the Notice stressed.
Vietnam starts construction of My Thuan – Can Tho expressway
With an investment capital of VND4.86 trillion (US$211 million) and six lanes, the 23-kilometer expressway will be completed within two years, allowing vehicles to run up to 100 kilometers per hours.
Prime Minister Nguyen Xuan Phuc today [January 4] attended the groundbreaking ceremony of the My Thuan – Can Tho expressway, which is a section of the Eastern North-South Expressway project.
The My Thuan – Can Tho expressway, along with other expressway sections of Ho Chi Minh City – Trung Luong, Trung Luong – My Thuan and My Thuan 2 bridge, would help complete an expressway from Ho Chi Minh City to the Mekong Delta city of Can Tho, in turn cutting short the travel time to nearly two hours from the current three to four and easing traffic congestion on Highway No.1.
With an investment capital of VND4.86 trillion (US$211 million) and six lanes, the 23-kilometer expressway will be completed within two years, allowing vehicles to run up to 100 kilometers per hours.
"Given its strategic significance, works on the expressway route of Ho Chi Minh City – Trung Luong – My Thuan – Can Tho should be finalized by 2022," stated Mr. Phuc.
The PM noted in the coming time, the Government will start construction of a number of transportation projects to boost connectivity in the Mekong Delta region and contribute to economic development for 20 million people in the area.
"Among major projects are the coastal road crossing Mekong delta provinces with total length of 400 kilometers," added Mr. Phuc.
In 2020, the Government allocated public funds to major transportation projects, including the expressway sections of Lo Te – Rach Soi, Trung Luong – My Thuan, the reparation of the surface of Thang Long bridge, and the Cua Hoi bridge connecting the provinces of Nghe An and Ha Tinh.
Over the years, although investment has been poured in infrastructure development in the Mekong Delta, the region's economic growth has not achieved the expected pace.
Prime Minister Phuc in April 2019 stressed the importance of improving infrastructure network in the region, with the Trung Luong – My Thuan – Can Tho expressway being the priority, in which the Trung Luong – My Thuan section should be completed in 2021.
Winners of Press Awards marking 75th anniversary of NA announced
The most outstanding works of the Press Awards that marks the 75th anniversary of the National Assembly were announce at a ceremony in Hanoi on January 4 night.
NA Chairwoman Nguyen Thi Kim Ngan was prominent among delegates at the award ceremony.
The contest, the second of its kind, was jointly held by the NA Office and the Vietnam Journalist Association, aiming to raise public awareness of the legislative body.
It attracted nearly 500 entries from 51 press agencies across the country, which covered different topics relating to activities of the legislature, and reflected aspirations and proposals of voters and people nationwide.
Journalists from the Vietnam News Agency (VNA) won two second prizes and a third prize./.
2021 Devotion Music Awards launched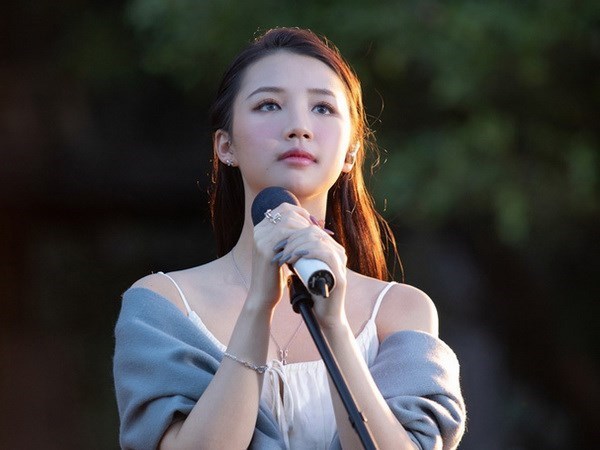 Young singer Amee is nominated for the "best singer" (Photo: yan.vn)
Nominees for nine categories of the 2021 Cong hien (Devotion) Music Awards were announced by the Vietnam News Agency's daily The Thao and Van Hoa (Sport and Culture) on January 4.
The annual award, the 16th of its kind, is voted on by culture and art journalists from different media agencies nationwide and based on various criteria, including creativity and the contributions of the singers and musicians to the diversity and development of the country's music.
The award categories include best producer, best song, best music video, best new artist, best new album, best series of music programmes, best show of the year, best composer, and best singer of the year.
Duong Cam, Touliver, composer Huy Tuan, Hua Kim Tuyen – TDK and Nguyen Huu Vuong – Luu Quang Minh are named nominees for "best producer".
Up for "Best song of the year" is "Con mua thang Nam" by composer Tran Lap and Tran Tuan Hung and "Hoa no khong mau" by Nguyen Minh Cuong, together with "OK" by Binz, "Sau nay hay gap lai nhau khi hoa no" by Rinnie Blue and "2 phut hon" by Phao.
Nominees for "best new artist of the year" include De Choat, winner of the 2020 Rap Viet contest; ICD, winner of the 2020 King of Rap; Tran Duy Khang and rapper Phao.
Meanwhile, the "best composer" award competitors include Nguyen Minh Cuong, Phung Khanh Linh, Sa Huynh - Bui Caroon duo, Vo Thien Thanh and Hua Kim Tuyen, while diva Thanh Lam, divo Tung Duong, Khanh Linh and young singers Amee and Nguyen Ha will vie for the "best singer"./.  
Ministry to assess Sa Pa airport project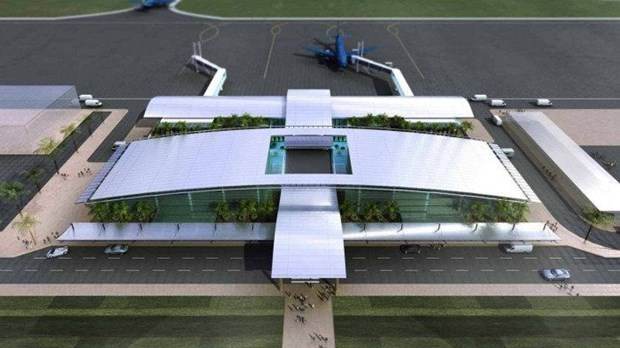 The design of the Sa Pa airport (Photo: baotainguyenmoitruong.vn)
The assessment of the Sa Pa airport project proposed by the northern mountainous province of Lao Cai has received the authorities' nod to kick off.
Deputy Prime Minister Trinh Dinh Dung has assigned the Ministry of Planning and Investment to assess the project and make relevant submission to the Prime Minister for his decision on investment policy.
In 2018, Lao Cai proposed building an airport in Sa Pa resort town at a total cost of nearly 5.8 trillion VND (252 million USD) to the Ministry of Transport.
Covering 371ha in Cam Con commune, Bao Yen district, the joint-use airport will be built in association with a runway and a two-lane road linking to the Noi Bai – Lao highway route. The entire project will last for 50 years, with the construction phase spanning four years under a public-private partnership.
According to a PM-approved aviation transport planning until 2020 with a vision toward 2030, the airport, once completed, will be capable of serving 3 million passengers per year.
Located on the economic corridor of Kunming – Lao Cai – Hanoi – Hai Phong, Lao Cai is an economic belt based on trade development among provinces in Southwest China.
Currently, the province's transport system incorporates only roads and railways. Therefore, an airport is viewed as crucial to improve local transport network, creating new engine for the development of Lao Cai and the northwest mountainous region at large./. 
Vietnam promotes women's participation in policy-making process
Vietnam targets 60 percent of women holding key positions in the state management agencies by 2025, and the figure is expected to rise to 75 percent by 2030 under a programme recently approved by the Prime Minister.
The programme on enhancing equal participation of women in leadership and management positions in policy-making process for 2021-2030 aims to promote women's potential and creativeness towards realising the sustainable development goals on gender equality and women's empowerment.
Accordingly, the percentage of women in the personnel planning scheme is envisaged at least 40 percent by 2025, and 50 percent by 2030.
Meanwhile, the country aims to have 75 percent of women in the personnel planning scheme receiving training by 2025, and increase the percentage to 90 percent five years later. In areas resided by ethnic minority groups, leaders must be ethnic people in line with the population structure.
A wide range of measures were outlined in the programme in a bid to realise the targets, including completing policies and legal framework, improving efficiency of implementation of policies on female leaders and female leader works, enhancing training, and raising public awareness of gender equality and the roles of women in the new period, among others./.
Philippines, Indonesia detect many more COVID-19 cases
The Department of Health (DOH) of the Philippines said on January 4 that the country reported 959 new confirmed COVID-19 cases, bringing the total number to 478,761.
The death toll climbed to 9,263 after six more patients died from the viral disease, the ministry said, adding that 26 more patients recovered, raising the total number of recoveries to 448,279.
Meanwhile, the COVID-19 cases in Indonesia rose by 6,753 within one day to 772,103, with the death toll adding by 177 to 22,911, the Indonesian Health Ministry said the same day.
According to the ministry, 7,166 more people were discharged from hospitals, bringing the total number of recovered patients to 639,103.
The virus has spread to all the country's 34 provinces.
Within the past 24 hours, Jakarta recorded 1,832 new cases, West Java 1,079, Central Java 1,037, East Java 709 and South Sulawesi 510.
No more positive cases were found in West Kalimantan province./.
Sa Pa resort welcomes 65,000 visitors during New Year holiday
The resort town of Sa Pa in the northern mountainous province of Lao Cai received approximately 65,000 arrivals over three days during the New Year holiday.
This is equivalent to 95 percent of the last year's figure, but is a good signal for recovery of the local tourism sector, Hoang Thi Vuong, head of the Sa Pa culture and information division said.
The occupancy rate at local hotels and guest houses was at 100 percent during the first days of the year.
To attract more tourists to Sa Pa, the resort town has worked with relevant companies to organise events promoting local tourism in numerous localities.
Located 350km northwest of Hanoi capital city, Sa Pa is 1,600m high above sea level, with the average temperature of 15-18°C. The whole town is dominated by the Hoang Lien Son mountain range, which is famous with Indochina's highest mountain of Fansipan at a height of 3,142m above sea level.
Discovered in 1903 by the French, Sa Pa has many natural scenic sites such as Ham Rong Mountain, Thac Bac (Silver Waterfall), Cau May (Rattan Bridge), Bamboo Forest and Ta Phin Cave. The hill town is home to six main ethnic minority groups, including Kinh, Hmong, Dao, Tay, Day and Xa Pho with various traditional festivals and unique cultural practices, especially the Bac Ha market and Sa Pa love market.
Sa Pa targets to welcome 3 million visitors this year./.
Can Gio - Vung Tau ferry service officially debuts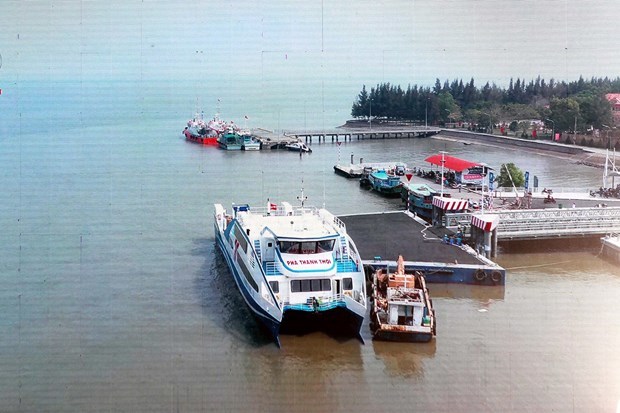 The ferry service connects HCM City with Vung Tau city of Ba Ria-Vung Tau province
A ceremony was held at Tac Suat Terminal in HCM City's Can Gio district on January 4 to officially launch a ferry service between the southern economic hub and Vung Tau city, the capital of neighbouring Ba Ria-Vung Tau province.
Addressing the ceremony, Chairman of the HCM City People's Committee Nguyen Thanh Phong said the launch is in line with the city's policies and plans to uniformly develop transport infrastructure, particularly inter-regional transport, in the southern key economic zone.
He also vowed to support all capable investors in helping the local government to develop transport infrastructure, particularly waterways.
The ferry had originally been scheduled to get started last April. It was then rescheduled to debut on September 2 to meet the growing travel demand over the National Day holiday, but was again delayed until October and then December due to COVID-19.
The ferry, 45 metres long and 10 metres wide, has a maximum speed of 43 km/h and is capable of carrying 250 people, 20 motor cars, 100 motorcycles, and cargo.
Tickets cost 70,000 VND (nearly 3 USD).
The 15-km trip takes half an hour, compared to two hours by bus from HCM City's city centre to Vung Tau.
According to the Ba Ria-Vung Tau Department of Transport, road infrastructure near the ferry terminal in the city will be improved.
The new ferry offers a convenient means of travel for local people and visitors between the two cities.
There is huge demand for travel from HCM City to Vung Tau, which is 120 km away.
Developing waterway transport to cut traffic pressure on roads, especially on weekends and holidays, is one of HCM City's major transport goals./.
Vietnam seeks widespread digital transformation
National digital transformation will not only be conducted at State and Government agencies but go far beyond, especially at enterprises, Deputy Minister of Planning and Investment Tran Quoc Phuong told a Government press conference on January 4.
The national digital transformation programme is a mission put forward within the upcoming 13th National Party Congress's draft documents.
Businesses restructuring in line with the application of digital technology is a crucial requirement for growth and a prerequisite to create a growth breakthrough in the time to come, he noted, adding that slow digital transformation could see Vietnam's economy lag behind.
When there are specific programmes and projects implementing the Party's resolution, he said, the National Assembly and Government will set forth measures suitable for each sector.
The Ministry of Planning and Investment has proposed the Government carry out a support programme targeting businesses, especially those of small and medium size, to help them catch up with digital transformation trends right from the beginning of 2021.
To build e-Government, e-economy, and e-society, Minister and Head of the Government Office Mai Tien Dung stressed the need for Vietnam to resolve issues relating to institutions, platforms, and human resources training, and to handle relations between State administrative agencies, between State administrative agencies and people and businesses, and between businesses and public service providers.
He proposed improving the operation of the national public service portal and intensifying non-cash payments./.
COVID-19: Cambodia relaxes restrictions, Singapore, Indonesia promotes vaccination plans
In contrast to some regional countries, Cambodia has begun easing restrictions imposed for the past six weeks that followed a COVID-19 outbreak last November.
On January 4, students wearing masks lined up for temperature checks and hand washing before being allowed to enter the Sovannaphumi primary school in the capital Phnom Penh.
While private schools have started reopening this week, students at public schools are due to return next week.
Cambodia has also reopened the Tuol Sleng Genocide Museum, a famous tourist destination in Phnom Penh.
In November, Cambodia put in place a range of restrictions after an outbreak of community transmission linked with a 56-year-old woman who had travelled to the country's two biggest cities since November 20.
Meanwhile, the Khmer Times reported that the Cambodian Government has announced the postponement of the 7th River Festival, scheduled to take place in Kampong Thom province, due to the pandemic and decided that the provincial administration should begin preparations for the next River Festival in 2022.
The 6th River Festival in Battambang province last year was held as scheduled despite fears over COVID-19.
In neighbouring Thailand, authorities warned on January 4 that the country could face a strict lockdown as infection numbers climbed, spurring it to declare 28 provinces high-risk zones.
The same day, Singapore said it will consider relaxing travel restrictions for people who have been vaccinated against COVID-19, including for those planning to visit the city-state for the World Economic Forum (WEF) in May.
The country has largely banned leisure travel because of the pandemic, and has limited business and official travel agreements with certain nations.
Last week, it became one of the first countries in Asia to embark on a national inoculation programme.
Singaporean Health Minister Gan Kim Yong said more vaccines are expected to arrive in Singapore in the next few months, including those by US firm Moderna and China's Sinovac.
He said in the parliament that there will be enough COVID-19 vaccines for Singaporeans and long-term residents of Singapore by the third quarter of 2021 if all goes according to plan.
The country received its first shipments of the Pfizer-BioNTech COVID-19 vaccine in December.
In Indonesia, a mass vaccination programme is set to start next week as about 700,000 doses of vaccines have already been widely distributed.
The nation has secured more than 329 million doses of COVID-19 vaccines, most notably from Pfizer and its partner BioNTech, and AstraZeneca. However, those to be used in the first phase are CoronaVac, the vaccine produced by China's Sinovac.
Budi Gunadi Sadikin, Indonesia's health minister, has said that the country needs to inoculate about 181 million people, or roughly 67 percent of its population. About 1.3 million health workers would be first in line for the shots, followed by public servants./.
Source: VNA/VNN/VNS/SGGP/VOV/NDO/Dtinews/SGT/VIR