VIETNAM NEWS NOVEMBER 25 (updated hourly)
Five new imported Covid-19 cases reported
The Ministry of Health has confirmed five new imported Covid-19 cases, including three Vietnamese men and one Indian and one Korean expert, taking the country's tally to 1,321 this evening, November 25.
Two of the Vietnamese men, aged 57 and 24, returned to Vietnam from South Korea on flight VN431 on November 23 and were put under quarantine after arriving at the Danang International Airport. The patients are being treated at Danang Lung Hospital.
The other Vietnamese patient is a 33-year-old man residing in Phu Thien District in the Central Highlands province of Gia Lai. He came back to Vietnam from France on flight VN5010 on November 11 and was taken to a quarantine center after arriving at the Tan Son Nhat International Airport in HCMC. He is currently under treatment at the medical center of Long Dien District, Ba Ria-Vung Tau Province.
Three other passengers on this flight had earlier tested positive for Covid-19.
The 37-year-old Indian expert and 23-year-old Korean expert arrived at the Tan Son Nhat International Airport from flight EK392 and KE68, respectively on November 21. The two men are being treated at Cu Chi field hospital.
Up to now, 1,153 Covid-19 patients in Vietnam have made a full recovery. Among the active cases, 30 people have tested negative for Covid-19 one to three times.
Vietnam, ADB sign deal on emergency grant to aid disaster response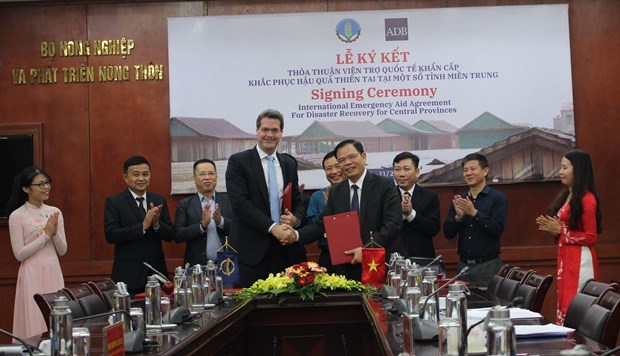 Minister of Agriculture and Rural Development Nguyen Xuan Cuong (front, right) and ADB Country Director Andrew Jeffries (front, left) at the signing ceremony on November 24
Minister of Agriculture and Rural Development Nguyen Xuan Cuong, authorised by the Government, and Country Director of the Asian Development Bank (ADB) Andrew Jeffries on November 24 signed an agreement on the bank's emergency grant of 2.5 million USD to help Vietnam address natural disasters' consequences in the central region.
The grant is allocated from the Asia Pacific Disaster Response Fund, which was designed to provide support to ADB's developing members affected by major natural disasters.
Cuong thanked ADB and Jeffries for assisting Vietnam in responding to natural disasters, dealing with their aftermaths, and reconstruction efforts, especially in the central region.
However, he noted, the re-construction of important infrastructure facilities and the settlement of natural disasters' consequences require stronger efforts by the Government, ministries, sectors, and the localities affected by storms and floods, as well as support from domestic and foreign organisations and individuals.
The Ministry of Agriculture and Rural Development and ADB are working together to consider proposing the Government approve an emergency loan for re-building infrastructure facilities, with priority given to important works, so as to swiftly recover socio-economic activities in disaster-hit central provinces, Cuong said.
For his part, Jeffries said after getting approval, that emergency loan from ADB will be used as part of the Government's budget to help the affected localities.
ADB hopes that the Vietnamese Government will issue the approval soon so that a loan agreement can be signed in March 2021, he added./
Over 20 kilogrammes of drugs found inside fast-delivery parcels
Customs and police officers in Ho Chi Minh City on November 24 found more than 20kg of drugs of various kinds when checking nine express delivery parcels.
More than 700 grammes of heroin were discovered in carton boxes registered as containing clothes for shipping to Australia from a person in the city.
The heroin was pressed thinly and placed inside the carton boxes. The address of the sender was verified as a fake one.
Concerning imported goods packages, methamphetamine and marijuana were found hidden carefully inside a foot massage machine and gift boxes containing personal stuff.
The case is under further investigation./.
Whitmore's disease kills four in Quang Tri
Quang Tri General Hospital announced the death of four people in just one month on November 24 after being they had become infected with Melioidosis, also known as Whitmore's disease, caused by bacterium Burkholderia pseudomalle.

A patient suffering from Whitmore's disease is receiving treatment at Hue Central Hospital
The sudden increase in the mortality rate caused by the illness comes following a period of typhoons and floods severely hampering the region.
Most notably, Hue Central Hospital has received 28 patients suffering from Whitmore's disease since October, with 50% of them coming from other central localities and the remainder were from a number of districts of Thua Thien-Hue province.
According to the details released by the hospital, almost all of the patients were hospitalised after reaching the later stages of the disease, resulting in them receiving ineffective treatment.
The rapid rise in the number of infected cases is cause for alarm due to Hue Central Hospital only witnessing 83 cases of Whitmore's disease between 2014 and 2019, along with 11 cases between January and September of this year.
Melioidosis is largely caused by the gram-negative bacteria Burkholderia pseudomallei and is an infectious disease that can be transmitted through coming into contact with contaminated soil or water. Symptoms of the disease include fever, pneumonia, abscesses, and inflammation of the brain and joints.
Vietnam-US defence policy dialogue held online
The virtual 2020 Vietnam-US defence policy dialogue

The 2020 Vietnam-US defence policy dialogue was held online on November 24, under the chair of Deputy Minister of Defence Sen. Lieut. Gen. Hoang Xuan Chien and US Principal Deputy Assistant Secretary of Defense for Indo-Pacific Security Affairs (IPSA) David F. Helvey.
The two sides affirmed that bilateral defence cooperation in the recent past has flourished in line with the Memorandum of Understanding on Advancing Bilateral Defence Cooperation in 2011 and the Joint Vision Statement on Defence Relations in 2015, contributing to the Vietnam-US comprehensive partnership.
In his remarks, Chien spoke highly of efforts and outcomes achieved by the two countries in surmounting the consequences of war, particularly in the implementation of a project to clean up dioxin at Bien Hoa Airport and another to support people with disabilities from Agent Orange/dioxin, overcome the aftermath of bombs, and search for the remains of missing soldiers.
They have efficiently worked together in helping Vietnam carry out UN peacekeeping operations and in raising the capacity of Vietnam's Coast Guard, he added.
For his part, Helvey affirmed that the US treasures the comprehensive partnership with Vietnam and hopes that the country will continue to thrive and play an increasingly important role in the region.
The US is to continue teaming up with Vietnam in promoting bilateral defence cooperation in existing fields, including maritime security, UN peacekeeping operations, humanitarian assistance, and disaster relief. It will continue paying heed to overcoming the aftermath of war, as it serves as a foundation for the countries' defence ties, the official noted.
He also expressed his gratitude towards Vietnam for helping the US search for missing soldiers, and pledged to further bolster mutual projects and cooperation activities in this regard./.
PM chairs first meeting of national steering committee for cyber security
The national steering committee for cyber safety and security made its debut and convened its first meeting in Hanoi on November 24 under the chair of 
Prime Minister Nguyen Xuan Phuc, who is also head of the committee.
The meeting also saw the attendance of Permanent Deputy PM Truong Hoa Binh, standing deputy head of the committee; Deputy PM Vu Duc Dam, deputy head of the committee; Minister of Public Security Gen. To Lam, deputy head of the committee; and members of the committee and the committee's office.
The steering committee reviewed the cyber safety and security situation and gave opinions to its working plans for 2020, 2021 and the next five years.
In his conclusion, PM Phuc asked members of the steering committee, the Ministry of Public Security in its capacity as the standing agency of the steering committee, the steering committee's office and relevant ministries and agencies to urgently take measures to ensure cyber safety and security as the country is preparing for the organization of the 13th National Party Congress and the election of deputies to the 15th National Assembly and deputies to the People's Councils at all levels for the 2021-2026 tenure.
He requested centrally-run provinces and cities across the country to soon establish their own subcommittees for cyber safety and security.
The government leader also pointed out several urgent tasks that must be dealt with immediately to meet requirements in the current situation.
Prime Minister stresses importance of law, institution building
Prime Minister Nguyen Xuan Phuc on November 24 stressed the importance of building laws and institutions in order to build a socialist law-governed state.
The Government leader made the statement while addressing a conference on law building and enforcement, which was held online with the participation of officials from the country's 63 cities and provinces.
He highlighted the responsibility of and coordination between relevant agencies in law building, saying more effort is needed to raise efficiency in law enforcement.
To ensure the quality of bills, it is necessary to follow the set process, the PM said, adding that laws need to ensure the power of the people.
He also underlined the requirement that domestic laws must match international laws, considering the country's intensive international integration and participation in a large number of free trade agreements (FTAs).
The PM asked the judicial sector to promote its role as the "conductor" in law building and enforcement, and ministers, heads of ministerial-level agencies, and chairpersons of provincial People's Committees to directly instruct law enforcement.
He said the Government has synchronously implemented a law-building strategy in combination with judicial reform, and has made significant achievements in this regard.
PM Phuc attributed Vietnam's successes in containing the COVID-19 pandemic and socio-economic development to its legal system, which he described as complete, uniform, transparent and feasible, as well as to the close coordination between the National Assembly and the Government.
He also pointed out limitations in law building work, however, such as the low quality of certain bills, delay in drafting bills, and ineffective coordination between ministries and agencies in the task.
The Government leader required ministers, heads of ministerial level agencies and chairmen of provincial level People's Committees to personally direct law building and enforcement work./.
Indonesian minister hails Vietnam's efforts to maintain positive growth
Vietnam and China are the only two nations in the world that have been maintaining positive economic growth so far this year despite adverse impacts from the COVID-19 pandemic, Indonesian Finance Minister Sri Mulyani Indrawati has said.
Speaking at an online press conference held by the Indonesian Government on November 24, Indrawati cited the World Economic Forum (WEF)'s forecast as saying that Vietnam is likely to achieve an economic growth rate of 1.6 percent in 2020 thanks to the government's efforts to successfully contain the COVID-19 pandemic.
Meanwhile, China is projected to post an economic growth rate of 1.9 percent this year, the minister said.
Though suffering heavy pressure from the pandemic since the second quarter of 2020, Vietnam's economy has been retaining positive growth while economies of American and European countries are predicted to see minus growth this year, she added.
Regarding Indonesia, Indrawati said the country's economy is forecast to post minus 1.5 percent growth in 2020 due to huge impacts from the pandemic.
National startup day for students held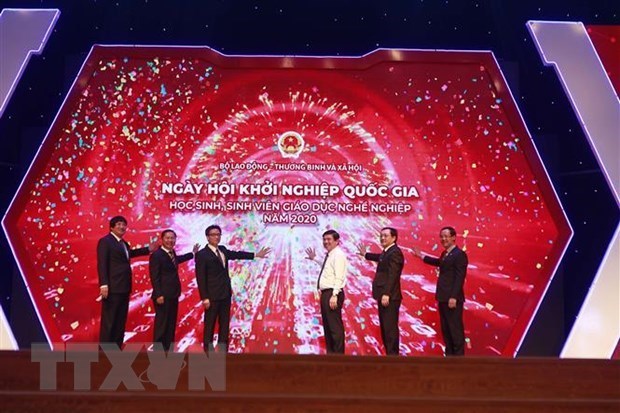 Delegates at the national startup day for students 2020
The national startup day for students 2020 kicked off in Ho Chi Minh City on November 23.
In his opening remarks, Deputy Prime Minister Vu Duc Dam spoke highly of efforts made by the Ministry of Labour, Invalids and Social Affairs and HCM City to create a helpful "playing ground" for students.
To make Vietnam a "dragon" of Asia, students should take the lead in doing something new that no one has done, and make new startup ideas.
Sharing the same view, Chairman of the municipal People's Committee Nguyen Thanh Phong said that startup models and support activities in the city are more diverse in different aspects of the socio-economic life.
Through start-up support policies, HCM City now has a safe, open and effective investment environment with 440,000 enterprises, accounting for 32 percent of the country's total number.
To carry out a project to support students in starting business until 2025, the city's high schools, vocational schools, colleges and universities add training programmes on startups.
The city has also organised many workshops on startup and job fairs, and worked to better the startup ecosystem, added Phong.
Vietnam attends virtual ASEAN Chief of Army Multilateral Meeting
Deputy Chief of the General Staff of the Vietnam People's Army (VPA) Lieut. Gen. Nguyen Van Nghia attended the virtual 21st ASEAN Chief of Army Multilateral Meeting (ACAMM-21) on November 24.
At the meeting, which was chaired by Brigadier General Haji Muhammad Haszaimi bin Bol Hassan, Commander of the Royal Brunei Land Forces, Nghia emphasised a variety of traditional and non-traditional security threats, such as sovereignty disputes, cross-border crime, terrorism, cyber security, natural disasters, water security, and diseases.
In particular, the security issue remains complex given that countries are attempting to cope with the COVID-19 pandemic, he added.
He took the occasion to share the VPA's experience in responding to the coronavirus outbreak and the recent flooding in central Vietnam, expressing a hope that ASEAN ground forces will promote solidarity and support so as to identify initiatives to strengthen cooperation for effective response to common emerging security threats for regional peace and prosperity.
Discussions at the meeting focused on ASEAN militaries' cohesion and responsiveness to settle regional security challenges in the new normal following COVID-19.
The ACAMM Chairmanship was then handed over to Myanmar./.
ASEAN cooperation in 2020 lays foundation for next stage: Vietnamese diplomat
Despite difficulties and challenges in 2020, ASEAN cooperation has obtained upbeat outcomes this year, forming a strong foundation for the bloc's development in the next stage, stated Deputy Foreign Minister and head of SOM ASEAN Vietnam Nguyen Quoc Dung on November 24.
He made the remarks at the Conversation with ASEAN Chair as part of the 4th ASEAN Media Forum (AMF), with the participation of the German Ambassador to Vietnam, representatives from the ASEAN Secretariat and regional and international media agencies. 
Dung acknowledged that the momentum in building the ASEAN Community has been maintained, all set goals and plans have been completed, and the bloc's central role has been consolidated.
He said such outcomes have contributed to sustaining peace, stability and recovery in the region.  
The diplomat stressed ASEAN has maximized the cohesive and responsive spirit in 2020. The bloc has joined hands in fighting the COVID-19 pandemic via the prompt implementation of regional initiatives like the ASEAN COVID-19 Response Fund, the Regional Reserve of Medical Supplies, and the ASEAN Strategic Framework for Public Health Emergencies.
Representatives from participating regional and international news agencies lauded Vietnam's 2020 ASEAN chairmanship, saying the country has led the bloc to overcome negative impacts of the pandemic and put forth priorities meeting demand of ASEAN member states and partners.
Participants shared the view that boosting economic and regional connectivity is also a highlight of Vietnam's ASEAN Chairmanship Year. The conclusion of negotiations on and the signing of the Regional Comprehensive Economic Partnership (RCEP) showed ASEAN's strong commitment to promoting an open and multilateral trade system based on rules. Meanwhile, measures to help ASEAN's capitalise on opportunities brought about by the 4th Revolution Industry were also implemented effectively this year.
Regarding regional and international affairs, Deputy Minister Dung reiterated ASEAN's stance on maintaining a Southeast Asian region of peace, security, neutrality and stability that promotes mutual trust, respects international law and pursues a balanced approach in partnerships. The stance was made clear in the statement issued by ASEAN Foreign Ministers on the occasion of the 53rd anniversary of the grouping, and has been firmly maintained in 2020.
He underscored that the theme of the 2020 ASEAN Year shows Vietnam's wish to build a cohesive ASEAN Community that is responsive to challenges and look forwards a complete recovery from the pandemic.
He also affirmed the importance of the 'think Community and act Community' concept for regional peace, prosperity and sustainable development.
Ha Tinh province welcomes launch of National Vovinam Championship
The 27th version of the National Vovinam Championship got underway in the central province of Ha Tinh on November 23, with the event involving the participation of 365 martial artists from 32 teams nationwide. 

Tran Van My, vice chairman of the Vietnam Vovinam Federation, said the tournament aims to uncover talented players capable of representing the national team at future international tournaments, including the 31st Southeast Asian Games in 2021. In addition, it also has the added bonus of helping to promote the traditional Vietnamese martial art to the world.
The federation is set to continue its support of technical training for ASEAN member states as they prepare for the 31st Southeast Asian Games in 2021 which will be held in the country, along with the 32nd version of the games, slated for Cambodia in 2023, he noted.
The 27th National Vovinam Championship will see competitors vie for 48 sets of medals in both combat and performance categories.
The tournament will also serve as the ideal platform in which to select quality martial artists who are capable of making the step up and joining the national team.
Vovinam was originally founded by late grandmaster Nguyen Loc in Hanoi in 1938 and has since grown to draw more than 2 million practitioners from approximately 70 countries globally.
National Taekwondo Champs 2020 attracts 300 players
The National Taekwondo Championships 2020 got underway in southern Tien Giang province on November 24, drawing the participation of more than 300 athletes from 32 cities and provinces nationwide. 

The athletes are competing in the individual and team divisions to select the best martial artists for the national team to prepare for the upcoming 31st SEA Games.
Many athletes who have experienced national and international competitions, such as Truong Thi Kim Tuyen, Tran Thi Anh Tuyet, Ho Thi Thanh Ngan and Bac Thi Khiem, are taking part in the tournament.
According to the Vietnam Taekwondo Federation, the week-long tournament aims to popularize the sport in society, particularly among young people and armed forces.
Taekwondo is the sport that attracts the largest number of athletes among sports in Vietnam.
Vietnam will play host to the 31st Southeast Asian Games (SEA Games) scheduled to take place in November 2021.
25th anniversary of Vietnam-US diplomatic ties marked in Da Nang
The Union of Friendship Organisations and the Vietnam-US Friendship Association in central Da Nang city, and the University of Foreign Language Studies at the University of Da Nang jointly held a ceremony on November 24 to mark the 25th anniversary of Vietnam-US diplomatic ties (1995-2020).
Nguyen Ngoc Binh, President of the union, recalled the establishment of bilateral diplomatic ties 25 years ago as well as the birth of the Vietnam-US Friendship Association - the first bilateral friendship association between Vietnamese people and foreign friends - in 1945.
Vietnam and the US have overcome difficulties and differences to keep the relationship strong in all spheres and at all levels, he said.
Vice Chairman of the municipal People's Committee Ho Ky Minh said Da Nang has set up friendly and cooperative ties with three US localities - Oakland (California), Pittsburgh (Pennsylvania), and Houston (Texas).
Da Nang has been a destination for many high-ranking US delegations, he said, citing visits by Senator Patrick Leahy and President Donald Trump in 2017.
He also highlighted the regular exchange of high-ranking delegations between Da Nang and US localities, which contribute to consolidating and enhancing mutual understanding and trust.
Da Nang has also witnessed cooperative activities between the naval forces of the two countries during annual visits by US vessels such as the USS Carl Vinson in 2018 and the USS Theodore Roosevelt in 2020.
In addition to political ties, economic and trade links between Da Nang and US partners have also made great strides forward, he said, noting that the US is one of the largest import-export markets of businesses in Da Nang.
One of the highlights of the cooperation between Da Nang and the US is humanitarian and development aid provided by US non-governmental organisations.
As of 2020, Da Nang had set up relations with 105 US NGOs, including the East Meets West Foundation, World Vision International, and Children of Vietnam, which have provided material support, shared experience, transferred technologies, and helped improve healthcare and education quality in the locality.
Minh said Da Nang and the US have great potential for further cooperation, and pledged that the city will create optimal conditions for US investors in tourism, high-quality services, seaports, aviation, logistics, and high-technology./.
Vietnamese, Chinese localities set to augment relations
Vietnamese Ambassador to China Pham Sao Mai met with officials of the Communist Party of China (CPC) in Chongqing city and Sichuan province during his working visits to the two Chinese localities on November 24.
He had meetings with Politburo member and Secretary of the Chongqing CPC Committee Chen Min'er, along with member of the CPC Central Committee and Secretary of the Sichuan CPC Committee Peng Qinghua.
At these events, Mai congratulated Chongqing and Sichuan on their recent achievements in socio-economic development despite numerous difficulties caused by the COVID-19 outbreak and serious floods.
He highly valued the two localities' important role in China's strategic plans on developing regional connectivity, voicing his belief that with their geographical, transport, and business advantages, they will strongly bring into play their role in connecting China with Southeast Asian neighbours, including Vietnam.
Noting the progress in relations between the two Parties and the two countries, the ambassador said amid the 70th anniversary of bilateral diplomatic relations this year, their leaders have maintained contact via flexible forms.
Connections in different areas have been fostered, especially economic, trade, and investment links which have sustained stable growth and become highlights of bilateral cooperation.
According to Chinese statistics, bilateral trade grew 16.2 percent in the first 10 months of this year to approximate 150 billion USD. In particular, trade between Vietnamese localities and Chongqing and Sichuan has been surging. Vietnam's exports to Chongqing soared by over 86 percent year on year in the first nine months to top 4.5 billion USD.
To further enhance Vietnam's ties with the two Chinese localities, and the southwestern region of China as a whole, Mai suggested both sides actively organise delegation exchanges once the pandemic is under control.
They should increase transport connectivity by promoting different means of transport like road, rail, sea, and air transport.
They also need to tap into their respective potential and advantages, optimise cooperation chances generated by important free trade agreements (FTAs) like the Regional Comprehensive Economic Partnership (RCEP), and facilitate bilateral trade so that more Vietnamese goods can reach China's western region and Europe and more commodities from Chongqing and Sichuan can enter Vietnam and Southeast Asia, the diplomat recommended.
He welcomed prestigious and capable businesses of Chongqing and Sichuan expanding investment in Vietnam, especially in hi-tech manufacturing and environmentally friendly industries.
Mai also asked the two localities to increase scholarships for Vietnamese students and bolster tourism and people-to-people exchanges when possible.
For his part, Secretary of the Chongqing CPC Committee Chen Min'er said as a centrally-run city with strengths in various spheres, Chongqing is ready to contribute to the China-Vietnam comprehensive strategic cooperative partnership.
The city views Vietnamese localities as its leading economic partners in Southeast Asia and wishes to step up transport and logistics connectivity; trade, investment, and industrial production cooperation; tourism links; and people-to-people exchange.
Chongqing also looks to join hands to make use of cooperation opportunities brought about by China's regional connectivity strategies and the FTAs of which both countries are members like the RCEP, Chen said.
Meanwhile, Secretary of the Sichuan CPC Committee Peng Qinghua emphasised that his province treasures and hopes to intensify its cooperation with Vietnamese localities.
He expressed his delight at the strong development of Sichuan-Vietnam trade, which grew 38 percent year on year to around 10 billion USD in the first 10 months.
As Sichuan boasts many favourable conditions for tightening economic and trade links with Vietnam, the two sides should capitalise on their potential to foster partnerships in logistics, trade, production, science-technology, culture, tourism, and locality-to-locality exchange, the official suggested./.
Four new imported COVID-19 cases confirmed
Vietnam recorded four new imported COVID-19 cases on November 24 evening, bringing the total number of infections in the country to 1,316.
The new patients, including two Vietnamese citizens returning from the Czech Republic and two Indian experts, have been quarantined in the Mekong Delta province of Vinh Long and the capital city of Hanoi since their arrival.
Of the total infections, 691 are domestically-transmitted cases, including 551 patients related to the COVID-19 outbreak in the central city of Da Nang since July 25, said the National Steering Committee for COVID-19 Prevention and Control.
The subcommittee for treatment reported that two more patients have been given the all-clear from coronavirus SARS-CoV-2, raising the total number of recoveries to 1,153.
Among the patients now undergoing treatment, six have tested negative for the virus once, 12 twice and 12 thrice.
The number of death related to the disease has been kept at 35 while there are currently no patients in critical conditions.
As many as 15,772 people who had close contact with COVID-19 patients or entered Vietnam from pandemic-hit regions are being quarantined across the country, including 201 in hospitals, 14,628 in concentrated quarantine establishments and 943 others at their residences./.
Vietnam News Agency joins int'l photojournalism exhibition on COVID-19
The Vietnam News Agency (VNA) is joining 46 news agencies worldwide at an international photojournalism exhibition on COVID-19, which opened at the National Museum of Korean Contemporary History in Seoul on November 24.
The exhibition is displaying 120 photos selected from 610 entries submitted. As part of the event, 3,000 photo books on the topic, each having 250 pages, will be given away to visitors.
The VNA brought to the exhibition a collection of photos taken by reporter Le Minh Son from the agency's multi-language online newspaper VietnamPlus. The photos captured military personnel and police on duty at a pedestrian area in Hanoi in a bid to prevent the spreading of the COVID-19 disease. The area was once popular among foreign tourists to the Vietnamese capital, but is now deserted due to the pandemic.

Lasting until March 1 next year, the event aims to share common COVID-19 difficulties facing people all over the world. The photos also reflect the reporters' dedication beyond the fear of being infected./.
Deforestation continues in Central Highlands province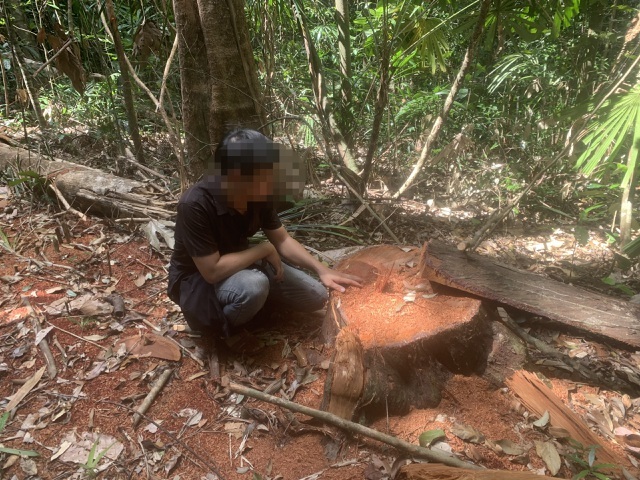 Many trees, including big ones, have been logged in the forest located at Ia Ba Commune, Ia Grai District
A large area of a forest in the Central Highlands province of Gia Lai has been destroyed for months, but local authorities have claimed that they knew nothing about the incident.
Many trees, including ancient ones, have been logged in the forest located at Ia Ba Commune, Ia Grai District. The area in which the illegal logging has occurred is around 10 kilometres from the Ia Ba Commune People's Committee.      
Just around 100 metres from the only road to the forest, it is easy to see dozens of trees felled. Going deeper into the core of the forest is the scene of lumberjacks' vehicle traces with tree limbs scattered; while their valuable trunks had been smuggled elsewhere by loggers.
Most of the trees with the diameters of between 60cm and one metre were the lumberjacks' target. However, some big old trees which have a diameter of up to nearly one metre are still there. It is possible that loggers did not have time to take them away due to the recent bad weather.
In just half a day, Dantri/DTiNews reporters found illegal logging in the forest at four spots. The reporters contacted Ia Grai District's forest ranger force for further information. However, Lam Van Long, head of the unit, said that he did not know anything about the incident, noting that he would cooperate with other concerned agencies for the inspection.
Le Ngoc Quy, chairman of Ia Grai District said that he instructed the inspection over the deforestation. Any violator will be strictly punished. He also emphasised that the responsibilities of local forest rangers must be clearly defined.
VNA to step up communications cooperation with Tra Vinh province
A delegation of the Vietnam News Agency (VNA), led by General Director Nguyen Duc Loi, had a working session with leaders of the Mekong Delta province of Tra Vinh on November 24 to discuss cooperation in communications for the 2021-2025 period.
Loi, who is also a member of the Party Central Committee, said the VNA is a Government agency that publishes the Party and State's official information and documents, provides information at the Party and State's request, and collect and disseminate information via different forms of journalism to serve mass media outlets and domestic and foreign readers.
It has bureaus in all 63 provinces and cities nationwide and in many important places around the world, an advantage that no other Vietnamese press agencies have, he said.
The VNA can cooperate with Tra Vinh to popularise the province's potential and strengths to domestic and foreign press outlets, Loi added.
At the meeting, Secretary of the provincial Party Committee Ngo Chi Cuong thanked the VNA for its good performance in covering socio-economic and security-defence aspects of Tra Vinh, helping to spread the province's image around the world.
He expressed his hope that the VNA will continue assisting Tra Vinh to report on its socio-economic achievements, outstanding results in implementing policies in ethnic minority and religious communities, as well as accomplishments in new-style countryside building and poverty reduction.
The official also suggested the VNA help introduce Tra Vinh's cultural identities, people, potential, and strengths to international friends.
Military plans to boost activities on women's advancement
Female staff in military units have more opportunity to improve their professional qualifications nowadays, proven by the increase in the numbers of female leaders in the past five years, the Military Women's Board under the Ministry of National Defence has said.
Colonel Phùng Thị Phú, head of the Military Women's Board, was speaking at a conference held yesterday to review the implementation of the action plan for servicewomen's advancement and gender equality in 2016-2020.
Phú said the percentage of female cadres in leadership in the military has increased from 2.43 per cent in 2016 to 2.97 per cent this year.
The average rate of women admitted to the Party has accounted for 9.11 per cent of total each year, and the rate of those participating in the Party Committees at all levels has reached 2.62 per cent.
Up to now, three out of 10 units are led by female cadres. Four female officers have been promoted to the position of general.
In labour and employment, the ratio of newly-recruited female labourers accounts for more than 50 per cent, and up to 47 per cent have been given a pay rise.
In the past term, all of the female cadres have held college or higher degrees and more than 40 per cent have post-graduate degrees.
The Ministry of National Defence has recruited 830 female citizens to the military in many fields such as military medicine, engineering, and logistics, creating high-quality female human resources for the military.
Phú said in 2021-2025, the units would focus on increasing the number of female cadres holding key positions in the military.
Speaking at the event, Senior Lieutenant General Lê Chiêm, head of the Committee for the Advancement of Servicewomen, hailed the achievements of individuals and units and asked them to continue implementing the instructions and resolutions of the Party, State and the Central Military Commission on military women and gender equality.
The committee has required the Military Women's Board to prepare for major missions in the next years. It should devise measures and direct its affiliates to implement the action programme to build a contingent of professional female cadres and raise the ratio of female cadres in the Party Committees at all levels.
To meet this end, affiliates of the Board for the Advancement of Servicewomen at all levels should renovate methods and forms of their activities while promoting their roles and effectively advising the Party committees and commands on military women and gender equality affairs. 
Experts raise warnings over Tam Dao urban planning
Many experts have raised warnings over the urban planning and high-rise buildings in Tam Dao Town in the northern province of Vinh Phuc which could badly affect the environment.
Tam Dao Town covers 124.87 hectares. There are 92 hotels and guest houses with 1,700 rooms. 80% of the local people work in the tourism industry. Statistics from Vinh Phuc Urban Planning Institute show that buildings with one to seven floors can often be seen in the town centre.
On July 12, 2013, Phung Quang Hung, chairman of Vinh Phuc People's Committee approved the adjusted urban planning which allocated more land for projects in the town centres while cutting the land for lakes and green spaces. The adjusted urban planning gave 6,876 square metres of land for hotels and 2,320 square metres of land for villas. The land for lakes and green spaces was reduced from 12,251 to 8,829 square metres. The town centre is only 21,530 square metres.
Afterwards, the Grand Victory Hotel Project was approved which covers 6,876 square metres. The hotel is a 13-story building invested by Tam Dao Tourism Services Company.
In the most recent urban planning for 2030 with a view to 2050, the amount of land and number of storeys for high-rise buildings continue to rise to make the town centre into a major tourism attraction in Vinh Phuc Province. It is hoped to attract 300,000 visitors a year. According to the plan, Tam Dao Town will be divided into nine areas and high-rise buildings with up to 15 floors will be allowed to be built into a specific area.
However, many experts said that the plan was impractical since Tam Dao is nearly filled with projects and there are few land lots left.
Dao Ngoc Khiem, vice head of Vietnam Urban Planning and Development Association, said, "30% of Tam Dao is expected to be turned into residential areas which, I think, is too much for an ecotourism town. Moreover, the new buildings must be in harmony with the existing French architecture there. In the past years, the development in Tam Dao has been very disorganised and public spaces have been largely narrowed down."
He went on to say that the local authorities should learn experiences from the urban planning of the Old Quarter in Hanoi or Hoi An Town.
"15-storey buildings are too high. I think the height cap for high rise buildings there should be nine floors so that surrounding landscapes, infrastructures, sewage and waste treatment activities won't be affected," he said. "People come to Tam Dao because of its nature and fresh air."
According to Khiem, the local authorities must understand the position of Tam Dao. Since the early days of the 20th century, Tam Dao has received special attention as an ideal resort and the French architecture is a highlight of Tam Dao that should be preserved.
Tan Son Nhat airport vows to tackle taxi operation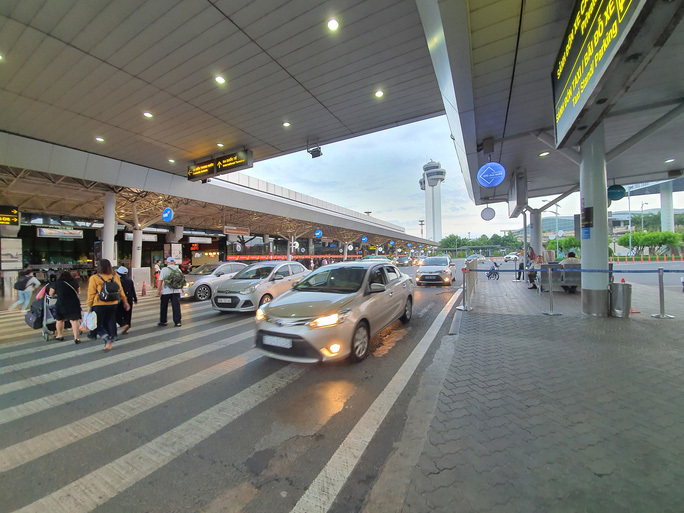 Tan Son Nhat International Airport in HCM City has further tightened rules on the operation of taxi service.
Tan Son Nhat International Airport in HCM City has further tightened rules on the operation of taxi service.
The management board of Tan Son Nhat International Airport has recently had a meeting with the HCM City Taxi Association and taxi firms which are allowed to operate at the airport on ways to improve service quality.   
According to the airport's regulations, taxi drivers have to wear a uniform and card and are only allowed to pick up and drop off passengers in regulated areas. They are required to behave appropriately with passengers.
Drivers are also banned from pestering and overcharging passengers as well as rejecting those who want a short ride from the airport.
Any violator will be suspended for operation between 1-2 months and the airport will stop the contract with firms which have violations.
Ta Hy Long, Chairman of the HCM City Taxi Association, said that the agency sent the regulations to its members.
Tan Son Nhat International Airport has adjusted the traffic to mitigate congestion, particularly at the domestic terminal area since November 14. Specific areas are regulated for different kinds of vehicles and pick-up and drop-off.
An open-air separate area is used for vehicles of more than 25 seats to pick up passengers.
Since the adjustment, traffic at the airport has improved.
Hanoi honours artisans and heritage workers
The Hanoi Department of Culture and Sports held a get-together on November 22 with artisans and heritage workers from across the city on the occasion of the 15th anniversary of Vietnam Culture Heritage Day (November 23, 2005-2020).
Hanoi is home to the largest number of tangible and intangible cultural heritages in Vietnam and also the most artisans to have been awarded noble titles, with seven People's Artisans and 69 Meritorious Artisans. The contingent of artisans and heritage workers, including those who directly look after relics, have contributed significantly to preserving, educating and promoting the value of the city's intangible cultural heritages.
At the meeting, the representatives of the Hanoi Department of Culture and Sports highly appreciated the efforts to conserve and promote the values of cultural heritages at the grassroots level made by the artisans and those directly involved in the work.
In 2020, the outbreak of the COVID-19 pandemic has posed difficulties to the work of managing, preserving and promoting the values of the capital's cultural heritages, with many relics and relevant units having been forced to temporarily shut down operations. Despite this fact, local heritage workers have exerted great efforts to promote the values of heritages, thus contributing in the implementation of Hanoi's commitment to UNESCO on maintaining and promoting world cultural heritages and intangible cultural heritages of humanity, as well as those on creative city building.
Director of Hanoi Department of Culture and Sports To Van Dong said that, in the coming time, the city would continue to effectively implement the municipal Party Committee's Programme No. 6 on developing socio-culture, improving the quality of human resources, and building elegant and civilised Hanoians in the 2021-2025 period, as well as the project to develop the culture industry in parallel with developing and perfecting the culture market.
At the meeting, artisans performed various types of intangible cultural heritages such as Ca Tru (ceremonial singing) and Chau Van (spiritual singing), which have been well-preserved by the city in recent times.
Bac Ha hosts first-ever winter festival
Thousands of visitors joined local residents at the opening ceremony of the first-ever Bac Ha Winter Festival in Bac Ha District, Lao Cai Province, on November 21.
The opening ceremony featured the reproductions of distinct cultural and spiritual practices of ethnic groups in Bac Ha District, including the 'cap sac' (coming of age) ritual of the Dao people, the traditional wedding ceremony of the Phu La people, the 'going to the field' festival of Tay ethnic people, and a rite praying for peace of the Nung people.
Themed 'Dance on the white plateau', the two-day event includes a cuisine festival, a panpipe performing contest, a street festival, a night market, and exciting tours to Hoang A Tuong Mansion, Bac Ha Flower Valley, community-based tourism villages and rose farms.
Booths showcasing typical agricultural products of Bac Ha District and a horse racing were also held on the occasion.
Hosted by the Bac Ha District People's Committee, the festival aims to honour unique cultural values of local ethnic groups while promoting the tourism potentials of the locality.
It is also among the series of activities hosted by the local authorities to rejuvenate tourism and lure more visitors to Bac Ha in the post-COVID-19 period.
Cultural industry facilitates creativity
The phrase "cultural industry" was first mentioned in Decision No. 581 / QD-TTg issued on May 6, 2009 which approved cultural development strategy up to 2020.
The document refers to the policy on rapidly developing the cultural industry, recommending many important cultural policies in Vietnam.
The cultural industry covers many creativity-related fields, such as publishing, architecture, fine arts, photography, and advertising.
Although it has been included in many legal documents, the cultural industry in Vietnam is a fledgling one as there have been several copyright infringement cases in art creation, movies, and media.
In addition, the public has not yet got a clear impression about the cultural industry. Many people think that intellectual property is the core value of the cultural industry, implying the creation of an environment for "products" to be transferred, exchanged, and purchased.
This thinking is correct, but not enough. In fact, there are many "products" which derive from the creative process which cannot be quantified in order that the creators can enjoy their reward.
For example, several localities and communities are benefited from being chosen as the locations for films. Filmmakers gain money through the box office while tourist agencies and travel businesses gain benefit directly from visitors to the filming places. In fact, tourists and travel agencies do not have to pay a dime for the advertising of the films or the filmmakers' artistic creations.
It is even more difficult to control and manage the copying of paintings and pictures, the rewriting of songs' lyrics, and adaptions in architecture, where original creators are not getting paid for their creativity.
Meanwhile, the cultural industry, as well as the sports industry and others are not unfamiliar concepts to people in the world. Tourist businesses in Thailand have established connections to equally share the benefits for those operating in a similar tourist destination. Several countries such as Japan and the Republic of Korea have paid due credit to their cultural industry.
Cultural industry has also been turned into a "soft power" in many countries in order to advertise to the world, having reaped many benefits from the spreading of this cultural value.
The policy of our Party is to develop the cultural industry in order to promote the potential and distinct values of Vietnamese culture; encourage the export of cultural products and contribute to advertising Vietnamese culture to the world.
Vietnam's global innovation index has continuously increased in recent years as the country is currently ranked 42nd out of 131 countries and economies worldwide. In particular we have taken advantage of our tourist potential to make Vietnam one of the 10 most attractive destinations in the world. The development of tourism and services has also helped us to mobilise resources to preserve and promote the value of our cultural heritage.
It is important for functional agencies to provide further support and sponsor creativity and innovation; increase communication and the dissemination of laws to prevent violations of copyright and intellectual property, thus making the cultural industry truly a trend across the world. In addition, the community needs to condemn acts of copyright infringement and imitation in creative products, particularly in the field of culture.
HCMC solves slow disbursement for public investment projects
Vice Chairman of the People's Committee of Ho Chi Minh City Vo Van Hoan asked investors of the public investment projects with slow disbursements in the first ten months of 2020 to urgently review and report to the People's Committee of Ho Chi Minh City over their difficulties, problems and solutions. 
Accordingly, the Department of Planning and Investment will be in charge of urgently working with the Municipal People's Committee to issue a decision about adjustment of the medium-term public investment plan for the period of 2016-2020 as well as the public investment plan in 2020.
The Office of the City People's Committee is responsible for reviewing, appraisement and soon submitting to the People's Committee of Ho Chi Minh City for promulgation of land price adjustment, compensation, resettlement plans and feed-back collection of people with land withdrawal in HCMC.
As for Nguyen Huu Canh Street Upgrading Project, the HCMC People's Committee assigned the Municipal Management Board on Traffic Work Construction Investment to study and propose working solutions together with technical requirements, which must ensure not to affect the neighboring areas and buildings.
Regarding the water environment improvement project in the basin of Tau Hu-Ben Nghe-Doi-Te canal in the second phase, the People's Committee of Ho Chi Minh City assigned the Management Board on Traffic Work Construction Investment of HCMC to form a detailed plan and determine the project completion time.
National Startup Festival for students and vocational students launched
The 2020 National Startup Festival for students andvocational students was officially launched by the Ministry of Labour, War Invalids and Social Affairs (MoLIS) in Ho Chi Minh City on November 23.
Speaking at the opening ceremony for the event, Deputy Prime Minister Vu Duc Dam appreciated the efforts made by the MoLIS in creating a useful playground for students and vocational students.
Ho Chi Minh City is always a locality with favourable and promising business environment for start-up ecosystem of Vietnam in the near future.
In order to raise Vietnam into a "dragon" of Asia in the near future, young people, especially students, should be pioneering forces.
Students should make best efforts and unify as well as connect with investors and enterprises to share their ideas and improve their skills, added the Deputy PM.
He also noted that Vietnam can only be rich and strong if the Vietnamese people uphold their patriotism and solidarity, contributing to the national construction and defence.
During the festival, a wide variety of other activities will be held including exhibition of start-up projects by students, the final of the 2020 start-up ideas for students and vocational students, and a seminar on connecting resources.
Deputy PM inspects COVID-19 response in southern provinces
Deputy Prime Minister Vu Duc Dam and his entourage inspected the COVID-19 prevention and control in the two southern provinces of Long An and Dong Nai on November 23.
Dam, who is also Head of the National Steering Committee for the Prevention and Control of COVID-19, inspected Le Quy Don High School, Long An TWG Obstetrical and Children's Hospital and Van An Hospital, during which he highly appreciated the units for strictly following the regulations on epidemic prevention, especially in the implementation of the safety criteria for hospitals against COVID-19.
The deputy PM also praised Long An in well implementing the instructions on disease prevention and control such as tightly controlling entries, arranging locations for receiving repatriated citizens and related cases in accordance with regulations, and promoting propaganda for people to understand and unanimously agree with the authorities to prevent and fight the epidemic.
He also urged the locality to stay vigilant and continue promoting and maintaining anti-epidemic achievements to coexist safely with the pandemic, while updating the anti-epidemic map with information on the local health facilities, schools, and accommodation establishments.
On the same day, Deputy PM Dam also inspected the disease prevention work in Dong Nai Province, during which he asked the province to continue to maintain rapid response teams in hospitals to prevent an outbreak of the epidemic from occurring in the community.
As Dong Nai has strong industrial development and a large population, so epidemic prevention and control, especially in industrial zones and factories, should continue to be paid attention, Dam stressed, suggested the province to implement strict isolation for foreign experts and repatriated Vietnamese citizens.
HCMC to begin truck weigh pads on NH1 as of Nov. 28
According to the Ho Chi Minh City Department of Transport (DOT), the Industrial and Civil Designing Consulting Joint Stock Company (IDICo) yesterday completed quality verification of vehicle weigh pads at An Suong – An Lac toll station on National Highway 1 after experimental period. 
The agency required the DOT Inspector, the Center for Urban Traffic Management Control, Road Traffic Infrastructure Management Center to coordinate with IDICo to check truck weight at the toll station on as of November 28.
Besides, the HCMC Road and Railway Traffic Police will cooperate with the DOT Inspector and relevant forces in the process of checking vehicle weight. 
The Binh Tan District People's Committee also directed functional forces to coordinate and support the above mentioned agencies in performing the task of ensuring public order and traffic safety during the implementation process.
HCMC authorities disapprove apartment projects in inner city districts
Authorities in Ho Chi Minh City will not issue construction permits for high-rise apartment projects in its inner city districts as series of licensed high-rise building projects overload both technical and social infrastructures.
The Department of Construction in HCMC said in its report on the project "Housing development program in HCMC for the 2012-2030 period" to the municipal People's Committee that technical and social infrastructure in some inner areas in the city is overloaded because infrastructure has not been upgraded corresponding to housing construction development.
Subsequently, the city administration decided not to issue construction permit to any high-rise apartment project as well as encourage housing developers to build house in areas near underground construction sites, rail lines.
Under the decision, in the next five years, authorities in districts 4, 5, 6, 11, Phu Nhuan which have witnessed reduced population within ten recent years will not give permits of construction for new high-rise condominium projects without plan for renewing technical and social infrastructure.
Meanwhile, districts 2, 7, 9, 12, Thu Duc and Binh Tan will prioritize new housing projects and high-rise condo projects along metro lines.
Apart from which, suburban districts Cu Chi, Hoc Mon, Binh Chanh, Nha Be and Can Gio will take heed of housing construction in village and rural residential quarters and areas with infrastructure connecting with major roads.
In these suburbs, local administrations will prioritize to develop ecotourism, new urban blocks and satellite urban blocks. Yet, no new apartment projects will be approved in these suburbs if without infrastructure construction plan.
Leaders of Government, HCMC celebrate Nam Ky Uprising anniversary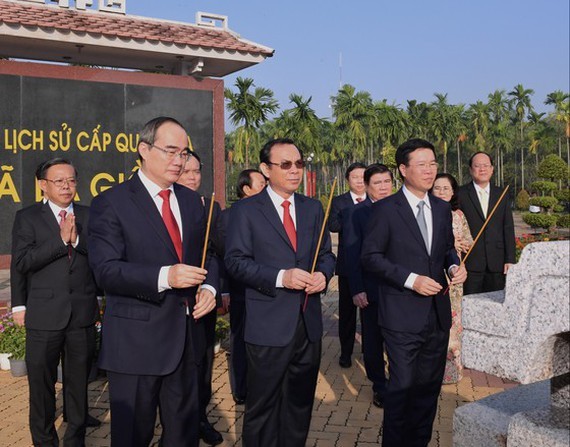 The leaders offered incenses at Nga Ba Giong War Martyrs Monument on November 23 (Photo: SGGP)
A delegation of leaders of the Government and HCMC led by Politburo member and Head of the Ho Chi Minh City delegation of National Assembly deputies Nguyen Thien Nhan on November 23 visited Nga Ba Giong War Martyr Monuments in Hoc Mon District to mark the anniversary of the Nam Ky Uprising (November 23). 
The delegation offered incenses to commemorate the late President Ho Chi Minh and martyrs who dedicated their lives to the nation.
Attending event were Politburo member, Secretary of the Communist Party of Vietnam (CPV) Central Committee, and head of the CPV Central Committee's Commission for Information and Education, Vo Van Thuong; Secretary of the Party Central Committee, Secretary of HCMC Party Committee Nguyen Van Nen; former Secretary of HCMC Party Committee, Le Thanh Hai; Chairman of the municipal People's Committee, Nguyen Thanh Phong; Standing Deputy Secretary of HCMC Party Committee, Tran Luu Quang;  Deputy Secretary of HCMC Party Committee and Chairwoman of HCMC People's Council, Nguyen Thi Le; Deputy Secretary of HCMC Party Committee and head of Commission for Organization of HCMC Party Committee, Nguyen Ho Hai; Chairwoman of the Vietnam Fatherland Front's Ho Chi Minh City chapter, To Thi Bich Chau.
Nga Ba Giong War Martyrs Monument covering on an area of around 10 hectares in Xuan Thoi Thuong commune in HCMC's Hoc Mon District was recognized as a national historical relic site in 2002. It was a place where the French colonialists executed 903 Party members and patriots who joined the Nam Ky Uprising, such as Ha Huy Tap, Nguyen Van Cu, Vo Van Tan, Nguyen Thi Minh Khai, Phan Dang Luu and others. The historic uprising, which broke out on November 23 run in the final weeks of 1940.
The event also marked the 75th anniversary of the Southern Resistance War (September 23, 1945 - 2020).
Suicidal depression increases in Vietnamese young people
According to UNICEF, around 8- 29 percent of Vietnamese teenagers have mental health problems or at least 3 million adolescents suffer the problem.
However, just a small number of people with a mental health disorder receive treatment whereas the remaining resort to alcohol, tobacco and drug as a self-medication for their health condition; as a result, their illness gets worse.
Nearly ten thousands Vietnamese people die by suicide annually. Worse, Dr. Huynh Thanh Hien from the mental Health hospital in Ho Chi Minh City said that rise in the number of Vietnamese women with mental health disorder is a worrisome problem.
Within one recent week, two women in the city died due to suicide. They have loads of things in common as they are both women who live alone in apartment condo and they are under treatment of sleep disorder.
According to Dr. Huynh Thanh Hien from the Mental Health Hospital in Ho Chi Minh City, there are several warning signs of those who commit suicide that their relatives should not dismiss their talk of suicide as just threats.
They dwell on the topic of death and dying; they take steps to prepare for death, they become withdrawn, avoids close friends and family, loses interest in activities and social events, and becomes isolated.
Dr. Hien said there's no cure for depression, but there are lots of effective treatments.
Ministry requests to cancel festivals if Covid-19 re-occurs
The Ministry of Culture, Sports and Tourism requested to cancel festivals if the locality where the event takes place to have Covid-19 outbreaks. 
Deputy Minister of Culture, Sports and Tourism Trinh Thi Thuy in her dispatch to people's committee in cities and provinces proposed local administrations to delay festivals in case that the coronavirus pandemic re-occurs with high risk of community transmission.
As Tet holiday ( the Lunar New Year) nears, localities in the country often organize festivals. Therefore, the Ministry urged local authorities to strictly follow its directions stressing that local administrations to constantly update the news of the disease and keep track on the development of Covid-19 to spread precise information to residents and tourists.
In the dispatch, the Ministry also wanted local administrations to stop superstitious activities at religious sites to earn profit which badly affects the country's culture and tradition. Moreover, local authorities should encourage residents not to practice the custom of burning votive papers.
In a Covid-19- related news, the National Steering Board for Covid-19 Prevention and Control yesterday evening announced one more imported Covid-19 case entered Vietnam on the flight VJ2527. The patient has been quarantined at a location in the Mekong Delta Province of Tien Giang.
Integrating traditional medicine into modern healthcare for patients' benefit
Alongside the development of modern medicine, the growing need for traditional Vietnamese medicine proves the effectiveness of the medicine in the old time; hence, integrating traditional medicine into modern healthcare will benefit patients much.
The approaches making up traditional medicine including acupuncture, physical therapy, and herbal products have been used by many people.
A 63-year-old man in District 12 Nguyen Van My arrived in the Ward of Traditional Medicine in Thong Nhat Hospital for treating complications of cerebrovascular accident that makes him left-sided paralysis. After a long time of treatment, he was discharged from the hospital as his illness abated.
He said; "Presently, my paralyzed left side is better and I can hold slight items and walk without my relatives' assistance ; however, I am taking physical therapy to get better. In addition to taking herbal drugs, he is using acupuncture to relieve discomfort and sauna, massage.
A 67-year-old woman in District 3 Nguyen Tuyet Nhung also decided to follow traditional medicine after she suffered paralysis as a complication of stroke. She shared young people can take western drugs but she can't because the drug will badly affect her liver and kidney if she uses for long time. Therefore, she has been taking traditional medicine, massage, acupressure points and physiotherapy in the medical center in the district.
Subsequently, she can now walk with a walking cane.
The most wonderful effectiveness of traditional medicine is that the medicine can improve the condition of a five-year-old girl with cerebral palsy due to disruption of oxygen supply during or around the time of birth.
The girl in District 2 couldn't roll over but lie still when she was nearly five years old. Her parents have taken her to many infirmaries for treatment but all to no avail.
When knowing that the Traditional Medicine ward in the Hospital in District 2 can treat the illness by traditional medicine, her parents took her three as last resort. It was a total miracle that after 10 months of treatment, the baby can roll over and sit. Everyday, the baby is taken to the ward where physicians massage and do acupressure points to stimulate her muscle nerve.
According to Dr. Musa Hanipha, Standing Deputy Chairman of the Traditional Medicine Association in District 5 said that not only easterners but people in the world started to use herbs as medicine or follow traditional medicine.
He added that oriental traditional medicine proves useful for people suffering chronic diseases complications due to stroke. After many years of following the medicine, Dr. Musa Hanipha realized that people who take traditional medicine rarely relapse; moreover, traditional medicine has little side effects ; hence patients can follow it for long time.
Head of Thong Nhat Hospital's Ward of Traditional Medicine Dr. Nguyen Van Dan said that integrating traditional medicine into modern healthcare will benefit patients much. Doctors use scan machine and X–ray to diagnose patients' illness and later they will use oriental traditional medicine for treatment.
According to the WHO, 65–80 percent of the world's healthcare practice involves the use of traditional medicine, commonly referred to as complementary and alternative medicine, in some way.
Exhibition of heritage aims to connect researchers, educators, historians
To connect researchers, educators and those working in the field of art who all pay attention to the country's history to develop value of the national history, the Archive Center under the State Records and Archives Department of Vietnam and the Department of Education and Training will jointly organize an exhibition. 

The event themed Di san voi hoc duong ( Heritage with schools) will take place tomorrow at Bui Thi Xuan High School in Da Lat Town of the Central Highlands Province of Lam Dong.
The exhibition organizer will apply technology to help visitors better understand the collection. Visitors will feel and watch the liveliest and best materials and images thanks to application of 360-degree video.
In addition to launching the domain name www.mocban.vn, the event organizer will also hold a meeting between researchers, artists, culturists such as historian Duong Trung Quoc, scriptwriter Ngoc Bich and director Ly Minh Thang to talk about issues relating to history.
The State Records and Archives Department of Vietnam is keeping woodblocks of the Nguyen Dynasty was recognized as documentary heritage of the Memory of the World Register 2009, the first Vietnamese heritage to make this list.
MIC hosts forum on national digital transformation
 
The Ministry of Information and Communications (MIC) yesterday hosted a forum themed 'Promoting the National Digital Transformation Proccess'.
In the forum, Minister of Information and Communications Nguyen Manh Hung stressed that information technology and digital technology have become a formal platform of the global society and economy at present.
However, since cyber security is the most concerned issue to all nations, they only accept to purchase a technology as long as it is an open source, which means they are able to master it. This especially applies to technologies related to national foundation platforms.
Vietnam at the moment is developing its 5G technology, which is also an open source, based on the Open Radio Access Network (O-RAN). That selection allows individuals and businesses to participate in the creation of new values.
This is a correct direction for a developing country like Vietnam to effectively speed up and become the leader in the future.
CMSC Data Exchange Platform formally launched
 
The Commission for the Management of State Capital at Enterprises (CMSC) yesterday cooperated with Vietnam Posts and Telecommunications Group (VNPT) to hold the conference 'Establishing an E-government and Performing Digital Transformation in Enterprises', along with the official introduction of the 'CMSC Data Exchange Platform'.
In the era of Industry 4.0, digital transformation is playing a critical role in various aspects from media, healthcare, to science. This process has become both an opportunity and a challenge for any nation and business.
Chairman of CMSC Nguyen Hoang Anh stressed that in order to boost performance among businesses in Vietnam, digital transformation is a must at present, and has to observe all content in Decision No.749/QD-TTg by the Prime Minister.
He added that CMSC will perform its responsibility to support enterprises in this process, especially regarding administration and task handling; to improve the quality of monitoring information and business performance evaluation; and to contribute to the establishment of an e-government in accordance with the E-government 2.0 Structure.
CMSC now has the role of preparing and then adopting suitable strategies, plans, and programs related to digital transformation for its member enterprises. Its 19 members are major corporations which are controlling important resources in the fields of agriculture, transport and logistics, energy harnessing, industrial manufacturing, finance, IT and telecoms. Therefore, it should be easier to begin the digital transformation process in these enterprises first to ensure the success of the national one.
In his speech, Mr. Pham Duc Long – Director General of VNPT – stated that the swift development of digital technologies has led to the forming of a digital economy with its specific principles. In the last few years, witnessing the significant growth of the digital economy in Vietnam, the Government and the Central Party has issued a range of policies to create a suitable legal corridor.
However, this growth displays an unbalance between different industries, different regions in the country, and even different business owners. Hence, state enterprises are assigned by the Government to become the guide for other private companies to enter the digital transformation process, in turn to boost the development of the Vietnamese digital economy.
CMSC's Vice Chairman Nguyen Ngoc Canh pointed out the two main roles of enterprises in the national digital transformation process. Firstly, they should immediately carry out this process to display their guiding role. Secondly, all CMSC's technological businesses must contribute to the digital transformation process in the Government and local authorities.
To fulfill these goals, member enterprises must be well-prepared as to proper digital infrastructure and capability; develop digital solutions in their own field and professional human resources. They are also recommended to become customer- and citizen-oriented so as to expand their market share, increase their revenues, and improve their performance.
In their business plan for next year and the period from 2021-2025, these businesses must include necessary steps to perform digital transformation, especially in the head quarters. A common platform, with shared databases and applications, should be developed to optimize investment and speed up the implementation of IT into operation activities of both CMSC and its members.
In the event, the CMSC Data Exchange Platform was formally introduced, co-developed by CMSC's Information Center and VNPT. It is based on the model of a level-II specific data transfer network, and is directly linked with the Vietnam Data Exchange Platform.
Using this platform, CMSC's 19 members are able to access the Document Management and 4-level Administrative Operation System nationwide.
The platform is especially helpful in file sending and receiving across CMSC's agencies and member businesses, greatly reducing cost and saving time for administrative tasks. It can also become an excellent illustration of technology implementation to create a paperless office.
Fishermen in Central Vietnam earn high profits from bumper tiny shrimp catch
Fishermen in the Central Province of Ha Tinh were delighted at boatloads of tiny shrimps on landing in fishing ports.
Lately, many fishermen in the coastal Central Province of Ha Tinh have taken advantage of favourable weather to fish around coastlines. Their labor was rewarded as they caught tons of the creature.
According to Mr Bui Tuan Son, Director of the Port Authority of Ha Tinh Province, from 30 to 50 vessels carrying 1-2 tons of tiny shrimps each every day anchor in Cua Sot fishing port. It has been bustling in coastal communes such as Nghi Xuan, Cam Xuyen, Ky Anh, Thach Ha as traders and fishermen have been busy at selling and purchasing tiny shrimp.
After the 13th storm, a large number of tiny shrimps have been seen in the waters off Ha Tinh province. Just three fishermen collected around 9 tons of tiny shrimps within three days, fisherman Duong Dinh Canh in Thach Lac Commune shared.
Traders offered to buy the creature at the prices ranging from VND 6,000- 8,000 per kilogram. Tiny shrimps are for the domestic consumption and for exports. Additionally, shrimps can be made into fish sauce and shrimp paste for year-round use.
Catching this shrimps generates high incomes as well as creates many employment for locals.
Hanoi speeds up upgrade of Huynh Thuc Khang street
The road is about 1.3 kilometers long, with a total investment of VND342 billion (US$14.7 million).
Hanoi is speeding up construction of extended Huynh Thuc Khang street in Dong Da district, Kinh te & Do thi quoted Vice Chairman of the district People's Committee Nguyen Hoang Giap as saying at a press conference on November 23.
According to Mr. Giap, the extended Huynh Thuc Khang route is one of the key infrastructure projects in Dong Da district, designed to reduce traffic congestion and improve local residents' life quality.
The project was approved by the Hanoi People's Committee, with the starting point being Nguyen Chi Thanh street, the endpoint at the junction of Voi Phuc (Kim Ma street). The road is about 1.3 kilometers long, with a total investment of more than VND342 billion (US$14.7 million).
Mr. Nguyen Hoang Ha, deputy director of the Board for Investments of Dong Da district, said that Huynh Thuc Khang street extension project is expected to occupy about 3.7 hectares of land, for which Dong Da district is responsible for site clearance by relocating 69 households and 14 organizations.
Mr. Ha confirmed that the construction of the road does not affect the historic sites in the area. "Work on the project started on March 8, 2019 and is expected to be completed in 2022," he said.
ASEAN summit statements reaffirm support for peace efforts on Korean Peninsula
Chair statements of the recent virtual summits of the Association of Southeast Asian Nations (ASEAN) have reaffirmed international support for efforts to foster lasting peace on the Korean Peninsula, the Republic of Korea (RoK)'s foreign ministry said.
The three statements were issued late last week after the RoK-ASEAN Summit, the ASEAN Plus Three Summit involving the RoK, China and Japan, and the East Asia Summit took place from November 12-14, all in the form of video conference.
The statements noted progress in the peace process on the peninsula, reiterated the importance of "sustainable" dialogue and called for the implementation of 2018 peace agreements between the RoK and the Democratic People's Republic of Korea (DPRK) and between the US and the DPRK.
The chairman's statement of the ASEAN Plus Three Summit laid stress on the importance of continued sustainable peaceful dialogue amongst all concerned parties in order to achieve peace and stability in a denuclearised Korean Peninsula.
It urged all parties concerned to resume peaceful dialogue and continue working constructively towards the goals of lasting peace and stability in a denuclearised Korean Peninsula.
The statement also reiterated the summit's commitment to the full implementation of UN Security Council resolutions and noted the importance of international efforts to bring about the "complete, verifiable and irreversible" denuclearisation of the peninsula.
The chairman's statement of the RoK-ASEAN Summit noted that ASEAN leaders welcomed the RoK's New Southern Policy Plus, an upgraded version of its signature regional foreign policy initiative designed to deepen economic and diplomatic ties with ASEAN and India.
Source: VNA/VNN/VNS/SGGP/VOV/NDO/Dtinews/SGT/VIR