VIETNAM NEWS NOVEMBER 30
National study reveals scale of abuse suffered by Vietnamese women
It is estimated that 32% of married women nationwide experience physical violence during their lifetime, with 10% enduring sexual violence, and 54% being subject to emotional abuse, according to the results of a national study conducted on domestic violence. 

This comes as the Women's Union based in the central city of Da Nang, in collaboration with the United Nations Entity for Gender Equality and Women Empowerment (UN Women) in Vietnam, held a conference on November 28 to review a community-based project to tackle violence against women and girls.
The study outlined that violence causes victims to suffer serious consequences, including physical trauma, dangerous reproductive health problems, depression, and even death or suicidal thoughts in some cases.
The implementation of the project since 2018 has attracted the involvement of over 8,000 people, 40% of whom are men, for the purpose of increasing capacity building for the wider community to champion the cause of violence prevention.
Hoang Thi Thu Huong, chairwoman of the Danang Women's Union, said that three years on from the project being implemented, the lessons learned and the success of the programme have served to significantly contribute to promoting policies and schemes set up to eliminate violence against women and girls.
Elisa Feznandes, chief representative of UN Women in Vietnam, expressed her great appreciation for the results of the programme which indicate that the project has become a pilot model for violence prevention in the country.
Ending violence against women and girls requires the active participation of men who are capable of creating changes that allow people in the community to gain a greater understanding of the harmful consequences of violence against women and children that is unacceptable, the UN official emphasised.
More than 210 Vietnamese citizens in Japan repatriated
More than 210 Vietnamese citizens came back home from Japan on a repatriation flight operated by VietJet Air on November 29.
The passengers included pregnant women, the elderly, children aged under 18, people with fatal diseases and others in extremely disadvantaged circumstances.
The Vietnamese Embassy in Japan sent its staff to the airport to assist them with boarding procedures.
In-flight safety and preventive measures against the COVID-19 pandemic were rigorously enforced to protect the passengers' health and prevent the spread of the disease.
Upon arrival at Can Tho international airport in the Mekong Delta city of the same name, all the passengers and crew members received medical check-ups and were sent to quarantine in line with regulations.
The repatriation of Vietnamese citizens in disadvantaged circumstances abroad will continue to be conducted in line with their wishes, the developments of the COVID-19 pandemic, and quarantine capacity in Vietnam./.
Inspectors, residents disagree over boundary of Thu Thiem New Urban Area project
The Government Inspectorate has affirmed that five quarters of the Binh An, Binh Khanh and An Khanh wards are within the approved boundary of the Thu Thiem New Urban Area project in District 2, while residents in these quarters are of a different opinion.
The Government Inspectorate yesterday, November 27, met with some 50 residents representing households in the five quarters, the local media reported.
Residents complained that land lots in the five quarters were outside the boundary of the Thu Thiem New Urban Area project, not only 4.3 hectares of land, as stated in the Government Inspectorate's announcement 1483 in 2018.
During an inspection into the project, a working team of the Government Inspectorate did not meet with the affected households and clarify the area of the reclaimed land in the three wards.
They proposed the prime minister establish a team to inspect the project and respond to their complaints.
According to the Government Inspectorate, the HCMC government had provided the inspectorate with some maps on the planning of the project, including one kept by then municipal chairman Vo Viet Thanh. These maps had been sent to the then prime minister to secure approval for the project.
These maps show that only some 4.3 hectares of land in Binh An Ward was outside the boundary of the project, while other disputed areas were inside.
In addition, before August 7, 2005, there were no regulations on the symbol system used in planning designs. Planning designs were not compelled to include information about approval decisions.
Therefore, the planning design for the Thu Thiem New Urban Area project did not include the signature and seal of the approval agency, which was in line with the law.
In January 1997, the Government issued a decision to establish districts 2, 7, 9 and Thu Duc. On March 18, 1997, the HCMC government set up District 2.
On November 5, 1998, the District 2 government issued decisions to establish quarters, residential groups and hamlets; and the area, position and boundary of the five quarters of the Binh An, Binh Khanh and An Khanh wards were identified.
According to the cadastral map of District 2, land lots in the five quarters were inside the boundary of the project.
At the meeting, residents provided the Government Inspectorate with a copy of a map from the National Archives Center and proposed the inspectorate prove the legality of the maps that it used to make conclusions on the boundary of the project.
Since 2006, this is the fourth time the Government Inspectorate and the HCMC government have held a dialogue with the Thu Thiem residents, other than dialogues between the HCMC delegation of National Assembly deputies and the municipal People's Council and residents in District 2.
The meeting had earlier been scheduled for May last year but was postponed until now due to Covid-19.
No first prize awarded at 2020 Miss Tourism Vietnam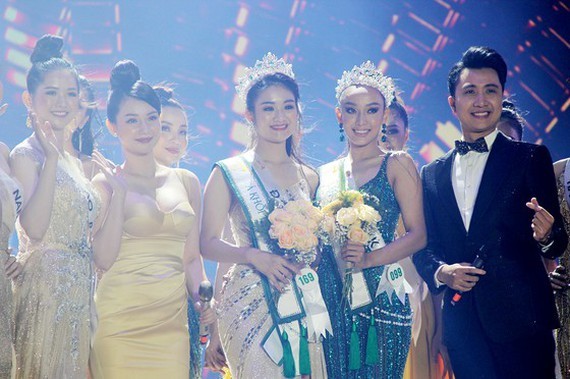 The first and second runners-up of Miss Tourism Vietnam 2020, Bui Minh Anh (L) and Ngo My Hai
The first and second runners-up of Miss Tourism Vietnam 2020 went to Bui Minh Anh and Ngo My Hai respectively while the first prize did not find its owner. 
Bui Minh Anh, from the Central Highlands province of Dak Nong who is a student of Ho Chi Minh City University of Technology (HUTECH) received a crown and prizes worth VND 1 billion (US$41,000). Ngo My Hai of the Central Highlands province of Dak Lak currently working as a model got prizes with the total cost of VND500 million (US$20,800).
The organization board also awarded minor titles, such as Miss Tourism to Phan Le Hoang An, Miss Ao Dai to Ngo My Hai, Best Traditional costume of ethnic minority to Dao Hoang Anh, Miss Eco to Phan Le Hoang Anh, Miss Talent to Bui Thi Thanh Thuy, Miss Photogenic to Dang Thanh Ngan, Best Answer to Bui Minh Anh, Best Body to Le Thi Thu Tam, Most Favorite Candidate to Nguyen Dang Trieu, Beautiful Face to Hoang Thi Ngoc Nhi, Miss Friendly to Bui Minh Anh and Beauty with a Purpose to Le Phuong Tuyet.
32 selected candidates competed at the climax night of the pageant in Gia Nghia City in the Central Highlands province of Dak Nong on November 28.
This year's contest themed "The Sounds of Earth" aims to promote eco-friendly costumes featuring the main colors of green and yellow and patterns of flowers and butterflies, aiming at raising people's awareness of environmental protection; and seek beauties who have a knowledge about culture, tourism and history of the nation as well as raise the young people's awareness on developing green tourism. The pageant is held for the second time since the first took place in 2017.
The event is part of the activities in the 2nd Brocade Culture Festival which is scheduled to take place from November 24-29 in the province.
Vietnam Digital Investor Club established
The Vietnam Digital Investor Club (VDI) was introduced this week in the framework of Techfest 2020.
This is the first club in Vietnam specialising in investment activities for digital start-ups, attracting several large corporations and technological investment funds.
Initiated by Vietnam Software and IT Services Association (VINASA), VDI aims to boost the establishment of the national start-up ecosystem. VDI's core members include technological business people and investors operating in Vietnam.
VINASA said there is still a "gap" in the current start-up movement as both funds and investors have paid much attention to financial support and economic capacity but not to capacity building and technology development consultancy.
VDI focuses on providing investment guiding and special consultation for technological start-ups so Vietnam can have a growing number of strong digital enterprises, contributing to the national digital transformation process.
Nguyen Dinh Thang, VINASA's vice chairman cum chairman of the club, said: "VDI wants to become an active organisation in both domestic and international innovative start-up ecosystems. VDI hopes to help young businesses take confident steps towards their sustainable development."
In the initial period, the club's members committed an investment of 6 million USD into start-ups./.
Vietnamese embassy chairs meeting of ASEAN Committee in Bern
The Vietnamese Embassy in Switzerland has recently chaired the fourth meeting of the ASEAN Committee in Bern (ACB) in 2020.
Addressing the meeting, held virtually, Vietnamese Ambassador to Switzerland Le Linh Lan briefed the committee on the major outcomes during the ASEAN Year 2020 when Vietnam holds the Chairmanship.
She highlighted initiatives and major achievements in fighting the COVID-19 pandemic, building the ASEAN Community, maintaining regional peace and stability, promoting connectivity, and stepping up socio-economic cooperation and partnership.
Despite challenges caused by the pandemic, Vietnam has successfully performed its ASEAN Chairmanship, with hallmarks in cooperation, the ambassador said.
The meeting reviewed milestones made by the ten-member group in enhancing economic connectivity, notably the signing of the Regional Comprehensive Economic Partnership (RCEP) Agreement.
Other participating ambassadors expressed their impression at the great efforts made by Vietnam to successfully organise many activities within the ASEAN Year 2020, significantly contributing to strengthening intra-bloc solidarity in order to effectively cope with COVID-19, ease its socio-economic impacts, and raise the bloc's position and centrality in the regional multilateral cooperation structure.
These achievements have helped ASEAN beef up cooperation, towards regional economic recovery, they said.
They agreed with Vietnam's initiative to organise more meetings, online or in-person when possible.
Vietnam is scheduled to handover the ACB Chairmanship to the Philippines in January 2021./.
Rapid response decisive to Vietnam's success over COVID-19: German newspaper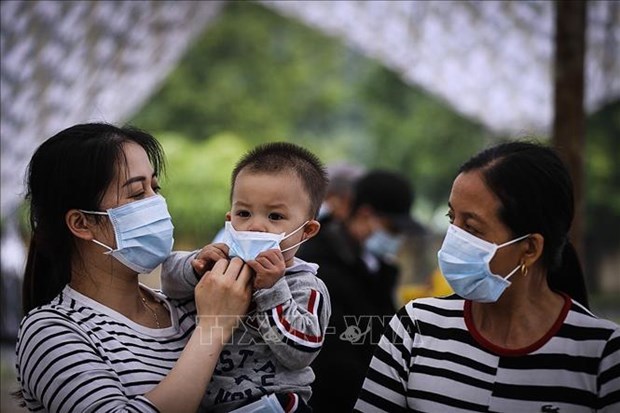 Rapid response decisive to Vietnam's success over COVID-19: German newspaper hinh anh 1
Illustrative photo.
German newspaper Neues Deutschland (New Germany) published an article on November 28 by Julia Behrens highlighting Vietnam's rapid response to the COVID-19 pandemic as well as the fact that the Vietnamese government has put the health of the people ahead economic benefits.
Vietnam has had no community infection cases of COVID-19 to report over the past three months, and that all new cases were imported. Clubs are open, major events are taking place, conferences are held face to face, market activity is unbroken, everyday life is almost the same as ever, the newspaper said.
It quoted Thirumalaisamy P. Velavan, Professor at the University Hospital Tübingen and Director of the Vietnamese-German Center for Medical Research (VG-CARE) in Hanoi, as saying that the rapid response to the novel coronavirus was decisive to the success of Vietnam.
Vietnam responded comprehensively and quickly to the pandemic, he said. From the beginning of the outbreak, the government has traced people in contact with infected persons, ordered compulsory quarantine and efficiently mobilized state institutions into the response efforts.
There was an immediate order for people to wear face masks, along with guidelines for hygiene measures, safe distancing and four-tier quarantine, he added.
According to Velavan, the Vietnamese government has prioritised people over economic benefits. The Vietnamese economy had also been severely affected by the pandemic, especially the tourism sector. Economic growth has declined, but remains positive.
The article also quoted Dong Huy Cuong from the Vietnam Union of Friendship Organisations, as saying that the government's clear strategy and the willingness of the people to stick to the strategy are crucial to Vietnam's fight against COVID-19.
Cuong also emphasised the government's success in communications, which was transparent and understandable for everyone, so that the people have realised that the measures were carried out for their own protection./.
Two more imported COVID-19 cases reported
Vietnam recorded two more imported COVID-19 cases on November 29, bringing the total number of infections in the country to 1,343.
The new patients, both Vietnamese, entered Vietnam from Japan on Flight VN5301 on November 14 and Flight VJ7837 on November 27, according to the National Steering Committee for COVID-19 Prevention and Control.
They have been quarantined upon their arrival at Can Tho International Airport in Can Tho city and Noi Bai International Airport in Hanoi.
The subcommittee for treatment reported that a total of 1,179 patients have been given the all-clear from coronavirus SARS-CoV-2 so far, while the number of death related to the disease remained at 35.
Among the patients undergoing treatment, six tested negative for the virus once, seven twice and 12 thrice. There are no COVID-19 patients in critical conditions.
As many as 15,375 people who had close with COVID-19 patients or entered Vietnam from pandemic-hit regions are being quarantined nationwide, including 178 in hospitals, 14,319 in state-designated establishments and 878 at their residences./.
Ha Giang marks 10th anniversary of UNESCO recognition of Dong Van Karst Plateau
The northern province of Ha Giang held a ceremony on November 28 night to celebrate the 10th anniversary of UNESCO's recognition of the Dong Van Karst Plateau as a global geopark and kick off the sixth buckwheat flower festival.
According to UNESCO, most of the Dong Van Karst Plateau's surface is limestone (about 60 percent). Its landscape is spectacular and unique having high mountains and deep canyons. The highest peak is Mieu Vac Mount (1971m) while Tu San is the deepest canyon (700-800 m deep).
The geopark is located at an extension foot mount East of the Himalayas. Geoheritages date from the Cambrian (about 550 million years ago) to the present in seven different stages and include palaeobiology, stratigraphy, geomophology, tectonics, karst, caves and also important faults. The geology in this UNESCO Global Geopark reflects important events in the Earth's history.
The geopark has two natural conservation areas rich in fauna and flora species such as conifers, Asian black bear, Southern serow (a solitary mountain goat) and many species of bird. Moreover, the unusual and mysterious Tonkin snub-nosed monkey is one of the 25 most endangered species of primate in the world. It is only found in Ha Giang province and was believed extinct until its rediscovery in the early 1990s.
It is home to 17 ethnic groups which creates the unique and rich cultural heritage of this area.
UNESCO's recognition has created new opportunities for socio-economic development in Ha Giang and four districts in the karst plateau area in particular.
Meanwhile, the buckwheat flower festival has been regarded as a highlight for years to promote local culture, said Nguyen Van Son, Chairman of the provincial People's Committee.
Speaking at the opening ceremony, Vice Chairman of the National Assembly Uong Chu Luu lauded efforts of Ha Giang's Party organisation, administration and people to overcome difficulties to bring the locality forward.
He urged the province to optimise its advantages in tourism and high-quality agriculture, step up regional connectivity, and strive to turn the geopark into a national tourist site.
Over the past years, Ha Giang has become an attractive destination for both domestic and foreign holiday-makers whose number increased 14 percent each year during the 2010-2015 period, and 14.6 percent between 2015 and 2020, contributing 8.8 percent to the local gross domestic product (GDP)./.
Two Vietnamese buildings win Dezeen Awards 2020
"The Red Roof" by Taa Design impresses the judges by the "nature at its heart".
(Photo: www.dezeen.com)
Two Vietnamese buildings have won Dezeen Awards 2020, which attracted 4,300 entries from 80 countries and territories competing in 12 different categories.
"The Red Roof" by TAA Design won the prestigious "Architecture Project of the Year 2020" and "Rural house of the year" category.
"The Red Roof" is a private home located in a small village in Quang Ngai province with a cascaded structure and its rooftop hidden by vegetables, trees and plants.
The stepped roof section allows for the growth of vegetables, which are shared with the local community. The lower levels of the house are a series of courtyards used as gardens, spaces for communal activities and playgrounds for children, according to Dezeen Awards website. The "Thang House" by Vo Trong Nghia Architects won the "Urban house of the year 2020" category. The house was built in the central city of Da Nang.
Dezeen Awards website said the house is organised into two parts: living spaces and the other spaces that have been conceived as its green lungs. The Living spaces are nourished with filtered air, diffused light and the aroma of grass and flowers that act as the green lungs. With this coexistence, the project is a successful attempt to integrate nature and renewable resources, while providing engaging communal spaces that connect back to nature.
People benefit from Green Annamites Project
Nearly 30,000 people have benefited from improved natural resource management and biodiversity conservation thanks to the Green Annamites Project in Quang Nam and Thua Thien-Hue provinces.
The project has been sponsored by the United States Agency for International Development (USAID) from 2016-2020.
It also reduced the amount of carbon dioxide released per year into the atmosphere by 11.6 million tonnes – 10 times the amount caused by Vietnam's airline industry.
Director of the Green Annamites Project, Daniel Lopez, said: "Over the past four years, the USAID Green Annamites project has invested 23.9 million USD to help the provinces of Quang Nam and Thua Thien-Hue to protect the region's globally significant biodiversity and help local and ethnic minority communities to diversify and improve their livelihoods."
"USAID has trained 15,254 people on sustainable landscapes and 9,669 people on natural resource management and biodiversity conservation; supported the improved natural resource management of 512,000ha of biological significant land; contributed to 13,387 people receiving livelihood co-benefits and 15,321 people receiving increased economic benefits from improved natural resource management and biodiversity conservation," he said.
The project had also mobilised 59.8 million USD in external investment for value chain development, women's economic empowerment, medicinal plants and handicrafts production, and forest restoration work.
Mission Director Ann Marie Yastishock said: "It has been a great honour for USAID to collaborate with partners from Thua Thien-Hue and Quang Nam to advance their commitment to strengthen the livelihoods of mountainous communities, conservation enterprise development, biodiversity conservation, and forest restoration and management."
"The success of the USAID Green Annamites project and the strong collaboration between the Quang Nam and Thua Thien-Hue People's Committees to implement this effort have contributed to the enhanced development co-operation between Vietnam and the United States," she added.
USAID will continue to support biodiversity conservation in the two provinces for the next five years through the recently awarded USAID Biodiversity Conservation and USAID Sustainable Forest Management projects.
These new projects will enable the continuation of the beneficial approaches developed under the Green Annamites Project, transferring positive benefits to other provinces and communities in Vietnam.
Chairman of the Quang Nam People's Committee Le Tri Thanh praised the success of the project, saying it had surpassed its goals in terms of carbon emissions, improved management, fundraising, livelihood benefits, biodiversity protection and climate change resilience.
"We would like to express our sincere thanks to USAID for the financial and technical assistance during the project's implementation over the past four years. It has helped improve the capability of our management staff, while creating sustainable livelihoods for the community and protecting natural resources," Thanh said.
"The project has also helped improve incomes for more than 17,000 people, while value chains for timber forests and medicinal herbs have emerged," he said.
Vo Danh Du, Chairman of Thua Thien-Hue's Forest Owners' Sustainable Development Association (FOSDA), said 1,500 forest owners – six times more than the initial partners – had got involved in sustainable forest development in the province.
He said many timber farm owners could earn 350 million VND (15,000 USD) per hectare, while protecting natural forests.
Le Ba Ngoc, Chairman of the Vietnam Crafts Export Association (VietCraft), said about 600 households in 14 rural mountainous communes across Quang Nam province had benefited from the Green Annamites Project.
"The project helped 150 households increase their incomes by 65 percent in just 13 months from farming sustainable medicinal herbs. 400 other households were trained in forestry processing and received technical assistance to cultivate 100ha of rattan," Ngoc said.
"Trade and craft production links were built between local ethnic groups with five businesses and eight shops in Hanoi and HCM City. Contracts worth a total of 2 billion VND (87,000 USD) for craft production and sale were inked between local people and those businesses," he said.
Ngoc said 721 households, of which 370 belonged to ethnic Cơ Tu women, had started sustainable crafts production as part of the project.
The project also helped revive traditional brocade weaving and rattan crafts while discouraging illegal hunting and logging.
Co Thi Ich, a Co Tu woman from Gary commune in Tay Giang district of Quang Nam province, said the ethnic group previously lived from forestry exploitation, but the project had helped change their lives for the better.
"Many members of our ginseng co-operative earn 70 million VND (3,000 USD) per year. We have been trained how to grow ginseng sustainably and create high value products," she said.
Ich said ethnic groups still needed assistance to classify and preserve ginseng seeds for longer crops.
The Green Annamites Project also helped Quang Nam province launch a new elephant conservation area in Nong Son district, while conduct biodiversity monitoring, and raise conservation awareness among locals./.
70th anniversary of Vietnam-Romania diplomatic ties celebrated in Hanoi
The traditional friendship and cooperation between Vietnam and Romania have been fostered continuously over the past years, and the bilateral relationship has seen progress in all spheres, President of the Vietnam Union of Friendship Organisations (VUFO) Ambassador Nguyen Phuong Nga said on November 29.
Nga made the remarks at a meeting held by the Vietnam-Romania Friendship Association in Hanoi to mark the 70th anniversary of diplomatic ties between the two nations, and Romania's 102nd Great Union Day (National Day) (December 1).
She highlighted relations between people and localities of the two countries, saying apart from the bilateral cooperation, Vietnam and Romania have coordinated and supported each other at multilateral organisations and forums, and joined efforts to address global issues.
Nga expressed her belief in a bright outlook of the time-honoured friendship as well as extensive and intensive cooperation between Vietnam and Romania in the time ahead.
Highlighting the diverse and effective cooperation between the two countries, Tong Van Nga, president of the association, recalled Romania's valuable support to Vietnam in the past, especially during the wars against French and US aggressors.
He also briefed participants on the operation of the association that has mobilised more than 500 million VND (21,600 USD) to aid Romania's COVID-19 combat.
Petrescu Razvan Victor Radu, Consul General of the Romanian Embassy in Vietnam, conveyed the message of Mihaela Rutjens, Chargé d'Affaires of the Embassy, in which she thanked members of the association for their efforts in promoting the bilateral relationship over the past time./.
Regional nations see rises in numbers of COVID-19 infections
Cambodia's Health Ministry on November 29 confirmed seven new COVID-19 cases, including a Cambodian-American woman who arrived in Cambodia on November 27 from the US via the Republic of Korea with other 56 passengers.
The woman did shopping at the Aeon Mall 1 in Phnom Penh on November 28. Later the same day, the Cambodian government decided to temporarily close down the mall and trace people who have connection with the woman.
The other six are a 56-year-old Cambodian woman living in Phnom Penh, her husband who is a senior official at the Ministry of Interior and her four family members, the Agence Kampuchea Press (AKP) reported.
The Cambodia news agency quoted Prime Minister Hun Sen as saying that these were the first cases of local community transmissions in Cambodia and he was concerned about high-risk areas such as Phnom Penh, Siem Reap, Banteay Meanchey and Mondulkiri provinces.
The PM said authorities have taken urgent measures by tracing those directly and indirectly involved in the case for quarantine. He also urged citizens not to panic and pay more attention to protecting themselves.
As of November 28, Cambodia has reported a total of 308 COVID-19 cases, 299 of which have recovered.
In Myanmar, the National Central Committee for Prevention, Control and Treatment for COVID-19 on November 28 announced to extend to period of preventive measures against the novel coronavirus to December 15.
According to the Ministry of Health and Sports, Myanmar reported 1,344 new infections with 22 more deaths in the past 24 hours.
As of the day, the number of COVID-19 cases has increased to 87,977 while its death toll has registered at 1,887, the ministry's figures showed.
Meanwhile, Indonesia reported its record daily rise in COVID-19 infections on November 29 with 6,267 cases, bringing the total to 534,266.
This was the third record high in a week for the Southeast Asian country.
Thai Son Nam win Futsal HDBank National Cup 2020
Thai Son Nam celebrate their HDBank National Cup 2020 victory
Thai Son Nam defeated their rivals Sanatech Khanh Hoa 5-4 after a penalty shootout on November 26, securing the championship title of Futsal HDBank National Cup 2020. 

It was a tit-for-tat game for Thai Son Nam and Khanh Hoa in the final clash of the tournament as they applied a pressing strategy in the first half, with each scoring 3 goals.
In the second half, they both played very cautiously and carved out no scoring chances, forcing them to enter the penalty shootout.
Thai Son Nam players, in their good form, overwhelmed their rivals to clinch the title.  
It was Thai Son Nam's double victory this year as they also won the National Futsal Championships 2020 in October.  
The Futsal HDBank National Cup 2020 started on November 22 with the participation of eight teams, namely Thai Son Nam, Thai Son Bac, Sahako, Sanatech Khanh Hoa, Kardiachain Saigon FC, Cao Bang, Quang Nam, and hosts Hung Gia Khang Dak Lak.
It was co-hosted by the Vietnam Football Federation and the Voice of Vietnam.
According to organisers, Futsal tournaments have attracted a large number of fans and professionals in recent years due to their increasingly high quality of expertise. The tournaments have been organized more professionally, helping elevate Futsal domestically and internationally.
"Run for the Heart" race to be held online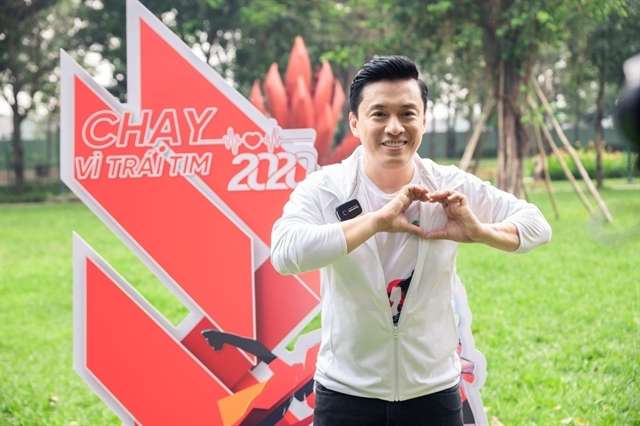 The 8th "Run for the Heart" race, an annual event to support disadvantaged children with congenital heart diseases, is taking place online this year. — Photo courtesy of Gamuda
Gamuda Land and Heartbeat Vietnam of the VinaCapital Foundation is holding the annual charity-run event called "Run For The Heart" from November 26 through January 7, 2021.
This is the eighth consecutive time the event has been held to raise funds for children with congenital heart defects. This year, the event will be organised in a new form with a variety of interesting activities. 
According to the organisers, the "race track" for the Run for the Heart 2020 will be held entirely in cyberspace to prevent the risk of a COVID-19 outbreak in the community.
The organisers have partnered with Vietrace365, one of the most popular online virtual race platforms in the running community in Viet Nam, to offer "the race courses" nationwide.
Racers just need to access and register through the link at vietrace365.vn/races/race-detail/chay-vi-trai-tim-2020.
To join, a racer must register and pay an entry fee of VNĐ150,000 (US$6.4), which will be donated to help children with heart diseases.
The participant can run at any time, and record the activity on a mobile app, with the results updated automatically. After completing a minimum of 30km, the participant receives one sport T-shirt and a medal.
The event is open for donations until January 7, 2021.
With the message "Heart to Heart – Raise Lives", Run For The Heart is a charity-run programme organised by Gamuda Land and Heartbeat Vietnam annually to raise funds for children who need heart surgeries. Its aim is to give them a normal, healthy life and a bright future.
Since 2013, the programme has raised over VNĐ32 billion (US1.3 million) to help more than 1,200 children receive free heart surgeries. 
Regular blood donations a top priority to ensure safe supplies
Health experts and scientists discussed their latest research in haematology and blood transfusions at a national conference in Hà Nội on November 26 and 27.
Speaking at the event, director of the National Institute of Hematology and Blood Transfusion (NIHBT) Bạch Quốc Khánh said that increasing the number of regular blood donors to ensure stable and safe blood supplies to meet emergency and treatment demands was among the key tasks of the haematology and blood transfusion sector in 2021. This would minimise shortages that often occurred between blood drives.
The NIHBT director said the number of regular blood donors in the country was low compared to many neighboring countries.
"Hà Nội has 200,000 regular blood donors every year. If each one (regular donor) donates blood once a year, the city would have at least 200,000 units of blood that would meet the city's demand for emergencies and treatment," said Khánh.
Khánh said 2020 had been a challenging year for the health sector due to the COVID-19 pandemic that had affected all aspects of social life. However, the NIHBT has been proactive and creative in mobilising blood donors and safely receiving and supplying blood, contributing to the overall success of the country's fight against COVID-19," said Khánh. 
"Under great pressure for both treatment and prevention of epidemics, haematology experts and health workers are constantly learning and researching to improve the quality of diagnosis and treatment of blood diseases and haematopoietic organs.  These efforts are reflected in the scientific research projects presented at the conference, with high practical value for blood transfusions and treatment, along with patient care," said Khánh.
At the annual event, delegates discussed new findings and exchanged expertise through nearly 100 scientific reports in the fields of clinical haematology, subclinical haematology, blood transfusions, stem cell transplants and genetics - molecular biology.
Participants heard that in 2020, the blood transfusion sector had implemented an overall nucleic acid testing method, increased the ability to control infectious diseases through blood transfusions and standardised the process of preparing blood products. The sector also improved blood transfusion efficiency and put forward the application of information technology for the management of blood donors and the quality of blood.
Many advances on targeted drugs in the treatment of blood cancer were applied successfully, bringing good quality of life with a long life span for the sick. An epidemiological survey on congenital haemolysis was also carried out nationwide in combination with a genetic screening programme, gradually reducing the number of children born with congenital haemolytic disease in Việt Nam. 
Wanted notice issued for gold smugglers
Police in the Mekong Delta province of An Giang on Sunday issued a wanted notice for two cross-border gold smugglers.
The women, Nguyễn Thị Kim Hạnh, 51 years old, and Lê Thị Bạch Vân, 54, are part of a group of people who were found transporting 51kg of pure gold by canoe on October 30 from Cambodia to Việt Nam.
One smuggler, Trần Văn Hải, was caught while three others gave themselves up to the police later.
Police started legal proceedings and have so far issued wanted notices for five people including two on Sunday and three others earlier.
Police on Saturday searched 15 locations related to the case including houses of the smugglers and gas stations. Documents and evidence was also seized.
According to the police, any information related to the wanted smugglers should be reported to An Giang Province's police office on Tôn Đức Thắng Street, Long Xuyên City or via phone on 02963.843.138. 
Better communication helps improve public health care
It was 3pm on Sunday afternoon when a group of youth union members in green uniforms in Hà Nội's Chương Mỹ District and women's union members gathered for a meeting where they could listen to the latest information on disease prevention and public healthcare.
"It's helpful for us," said 23-year-old Lê Thị Bảo Ngọc.
"Although the information about diseases is available on mass media, not many people clearly understand the symptoms as well as prevention measures," she said.
"Knowing about the symptoms, the causes and how to prevent common non-communicable diseases helps enhance our awareness, especially for hypertension."
By listening to the information, which was carefully edited by Nguyễn Đăng Minh, head of Tốt Động Commune health station, youth union members like Ngọc learnt about factors that can increase the risk of high blood pressure including health conditions, lifestyles and family history.
"Some of the risk factors for high blood pressure cannot be controlled, such as our age or family history. But we can take steps to lower our risks by changing the factors we can control. These include unhealthy diet, obesity, physical inactivity, and use of tobacco or alcohol," Minh said.
Đặng Thị Phương Hằng, Secretary of Tốt Động Commune Youth Union, agreed.
"After attending a similar meeting held last month, I got a lot of information on diseases such as hypertension and diabetes which are common nowadays."
"People suffering from hypertension are at high risk of strokes and heart diseases," she said.
Hằng said she had shared that information with her family members.
She also posted facts about the disease and preventive measures as well as posters relating to the disease on the commune's social network to raise people's awareness about public healthcare.
"Using social media helps spread information quickly and it's easy for people to access," Hằng said, adding that each family has two or three members using social media.
The initiative is part of the Citi Foundation's project for COVID-19-related community relief and economic recovery efforts globally.
The project is carried out by Microfinance & Development Center (M&D) in 10 outlying districts of Hà Nội, namely Mỹ Đức, Ứng Hòa, Phú Xuyên, Thường Tín, Sóc Sơn, Mê Linh, Ba Vì, Thạch Thất, Chương Mỹ and Thanh Oai.
The project concentrated on offering useful and timely information to the trainees. They were trained on information principles and how to produce news articles in different formats or how to communicate with people in information dissemination meetings.
According to Nguyễn Bích Vượng, director of the M&D, the commune's President of the Women's Union and the Secretary of the Youth Union were chosen for training as they represent two mass organisations which are prestigious and experienced in mobilising members to join social movements with great influence.
"With the communication knowledge and skills from this training activity, these leaders will become the communicators and trainers of the local Women's Union and Youth Union.
Thus, there will be a large number of people involving in communication, helping them perform better in the prevention work and healthcare," she said, adding that nearly 4,000 people have been trained since July this year.
Minh, head of Tốt Động Commune health station, said members of Tốt Động Commune Steering Committee for COVID-19 prevention and control were finding themselves busier than ever during the peak of the pandemic in March and July this year.
To enhance the joint efforts against the pandemic, the Committee has disseminated relevant information in all channels, including the commune's radio, printed bulletins, or handouts to each household.
Health workers gathered information from the portals of the Ministry of Health, announcements of the government, local authority, or the press. They made reports and broadcasted them through communal loudspeaker network.
This is the station's usual task but the difference is that this is now done daily instead of weekly or quarterly.
When asked about difficulties when it came to COVID-19 communication, Minh said arranging information dissemination meetings was a problem.
It was not easy to gather a large number of locals during the day because people are busy. Thus, meetings would usually be held at weekends, he said.
The commune has a population of 16,000 people. Most of them engaged in agriculture.
To provide information to every household, the Youth Union members use a mobile channel.
They drive motorbikes loaded with loudspeakers, travelling to every corner of the commune to broadcast the reports they have prepared.
"The communication on the COVID-19 pandemic is of utmost importance. Our activities have raised the effectiveness of the overall communication: 100 per cent of people in our commune are aware of the pandemic, know how dangerous it is, and know what to do to prevent it," Minh said.
Dissemination on disease prevention is also included in communal and village meetings, making the task more effective.
"Most people wear masks in public. They wash their hands regularly and complete health declarations after returning from high-risk areas, he said.
The feedback was also recognised by Ngọc, who works at the local kindergarten.
Parents advised their children to wear masks and use hand sanitisers before entering the classroom, she said.
"Particularly, parents follow the regulations of wearing masks and keeping a safe distance between people at the school enrollment held in late August."
Trà Vinh steps up measures to cope with severe saltwater intrusion forecast in dry season
The Cửu Long (Mekong) Delta province of Trà Vinh has taken a number of measures to prevent saltwater intrusion up rivers and canals in the upcoming dry season to ensure there is no shortage of water for irrigation and household use.
Trà Vinh is one of the delta provinces hardest hit by saltwater intrusion between December and April, a phenomenon that has caused severe damage in recent years.
The delta is forecast to face a water shortage, and localities in Trà Vinh are speeding up construction of irrigation works, dredging of canals and repairs to degraded irrigation works to store freshwater.
In areas where irrigation systems are not extensive, local authorities are encouraging people to build embankments and temporary dams.
They have made plans for careful use of water.
The Trà Vinh People's Committee has ordered the Department of Agriculture and Rural Development to closely monitor saltwater intrusion and inform the public so that people could proactively take preventive measures.
If there is severe drought and saltwater intrusion as forecast, water would be prioritised for household use, animal husbandry and high-value crops, it said.
The Department of Agriculture and Rural Development should instruct farmers to suitably organise their crops, aquaculture and animal husbandry, it said.
Farmers should follow the farming schedules put out by local authorities, grow rice varieties that are resistant to drought and saltwater and use advanced farming techniques and efficient irrigation to save water, it added.
It has ordered the Department of Agriculture and Rural Development and the Department of Construction to speed up construction of 12 clean water supply stations, install 130 km of new water pipes and more than 9,000 meters in households in the districts of Càng Long, Châu Thành, Cầu Ngang, Cầu Kè, Trà Cú, and Duyên Hải.   
Phạm Minh Truyền, director of the province's Department of Agriculture and Rural Development, said saltwater intrusion in 2020 - 21 was forecast to be greater than in 2015- 16.
Trà Vinh and other delta provinces had seen record levels of saltwater in 2015- 16.
In the last dry season the intrusion began early and was severe, causing losses of around VNĐ1 trillion (US$43 million) to the agriculture, according to the department.  
More than 25,800ha of rice, 270ha of fruit and dozens of hectares of vegetables were affected.
Thousands of households suffered from a severe shortage of water. 
Seminar discusses solutions to improve indoor air quality in urban areas
Experts discussed measures to improve indoor air quality in urban houses in efforts to tackle environmental pollution at an international seminar in Hà Nội on Saturday.
The event, entitled "Solutions to improve indoor air quality in urban areas", was organised by the Architecture Magazine of Việt Nam Association of Architects with an aim to propose possible solutions to tackle air pollution problems of Hà Nội and other cities in Việt Nam.
Speaking at the event, President of the Việt Nam Association of Architects and Chief Editor of Architecture Magazine, Phan Đăng Sơn said that air quality has become an alarming issue to human health in cities as a result of increasing population density along with emissions from living and movement of people and vehicles, especially from factories, medical and community service facilities.
"Hà Nội is one of the densest cities in Việt Nam with high population density in the inner city and rapid growth even in the suburbs. Therefore, improving air quality for indoor and outdoor spaces has become imperative, especially when the previous solutions are ineffective, unsystematic and uncertain on scientific and practical basis," said Sơn.
"Improving air quality is now more than just a natural solution, a traditional legacy or an architect's own design story, but also a natural-technology solution. However, technology solutions need to be cheap and useful, which is still a big question for systems we are using today," added Sơn.
At the event, participants focused discussion on solutions to improve indoor and outdoor air quality through various topics, such as urban and environment management solutions; green architecture and solutions to improve indoor air quality in urban areas.
Participants heard that air was polluted mainly from local sources, such as traffic vehicles, constructions, industrial production and incineration. Air pollution in Hà Nội often rises during peak hours and from 60 to 70 per cent of dirt generated from cars and motorcycles.
Experts said that improving indoor air quality required improvement of environment quality outside buildings and urban areas. Because the inside and outside air is always circulated regularly. In order to solve the problem, comprehensive planning and architecture measures are needed.
Naoki Kagi from the Faculty of Architecture and Civil Engineering, Tokyo Institute of Technology, Japan, said that indoor atmosphere was very important because people spend a lot of time indoors.
"We have paid a lot of attention to drinking water, but less concern to the surrounding air we breathe. For food and water, we have the right to choose what we like, but for the air, we have only one choice: breathing the atmosphere around us. Therefore, cleaning the indoor air was extremely necessary," said Kagi.
Kagi said that there are three main methods to clean indoor air, including not letting outside pollutants get inside; not placing things that generate pollutants inside; and removing indoor pollutants by using a ventilation system and air purifier.
Architect Nguyễn Tất Thắng, a senior expert from the Ministry of Construction, said that technology should be integrated into design solutions.
"Architects today often apply architectural solutions to improve air quality, but that was not enough. Because the outside air in some big cities is polluted. Therefore, the combination of architectural and technology solutions is necessary," said Thắng.
Architect Ngô Viết Nam Sơn said that technology solutions are needed to support people to live with dense populations and high building constructions.
"Natural light and ventilation as well as planting trees are still feasible but only for small urban areas. But, for big cities like HCM City and Hà Nội, we must have solutions from planning, architecture and interior design to naturally increase outdoor and indoor air quality," Sơn said.
According to a recent report of the WHO, Việt Nam ranked 15th in the list of 98 countries with low air quality, in which Hà Nội stood at level seven - equivalent to an alarming level. On September 3, AirVisual also ranked Hà Nội at the top of the list of the most polluted cities in the world with AQI 172. In 2019, the capital's air quality was repeatedly reported at a dangerous level. 
Veteran photographer's exhibition to raise funds for charity
A photo exhibition about Việt Nam and its people by veteran artist Lê Hồng Linh, who has 30 years of experience in the industry, is opening in HCM City's Youth Cultural House to raise funds for poor students.
The event, called Thấu Cảm – Chuyện chưa kể (Sharing - Untold Stories), features 108 black-and-white and colour photos highlighting rural women and children in daily life. Images displaying Vietnamese culture and lifestyle are also featured. 
The event includes a series of colour photos capturing famous landscapes and historic sites. 
"My love for my country and people has increased. Through his lens, Việt Nam is so beautiful," said Võ Quỳnh Trang, a student at the HCM City University of Law, who visited the exhibition. 
Linh and the event's organiser, the HCM City Youth Cultural House, hosted a photo auction last week to raise funds for the charity programme called Thư Viện Ước Mơ (Dream Library). 
More than  VNĐ1.6 billion (US$70,000) was donated from photo sales. The money will be used to build 25 libraries for students living in flooded areas in the central region. 
Linh hopes he will raise money enough to build 60 libraries for schools and cultural centres in remote provinces across the country. 
Thư Viện Ước Mơ began in 2014 and has built 36 libraries and reading areas for 18,000 students in nine cities and provinces. The programme's creators are working to encourage more organisers and individuals to become involved in the charity. 
To join the online auction, visit the programme's website empathy.vn. 
Linh is a mechanical engineer from the central Quảng Ngãi Province. He worked as a lecturer in engineering at several colleges in HCM City.  He has been awarded over 400 international photography prizes and medals, dozens of honorary titles, and was a jury member at international photography contests eight times.
His has organised solo and group exhibitions in 11 countries.
"I love capturing the happiness, sorrow, hatred, smiles, crying, worry and astonishment of children throughout Việt Nam, which I believe will fade away rapidly with urban modernisation and expansion," said Linh. 
The exhibition, Thấu Cảm – Chuyện chưa kể, is being held at 4 Phạm Ngọc Thạch Street in District 3. It will close on November 30.
Set of books on ethnic groups in Vietnam launched
The National Political Publishing House held a book exhibition and a book presentation ceremony at 19/12 Book Street in Hanoi on November 28 to introduce a series of books on the ethnic groups of Vietnam.
The event was held to mark the 75th anniversary of the National Political Publishing House and welcome the 13th National Party Congress.
Speaking at the launch ceremony, Acting Director and Editor-in-Chief of the National Political Publishing House Pham Chi Thanh said that the series of books on "Ethnic groups in Vietnam" comprises six books with Associate Professor, Dr. Vuong Xuan Tinh being the chief author.
This research for this work was conducted by the Institute of Anthropology from 2012-2015 and was edited and published by the National Political Publishing House from 2016-2018.
The book series won the B Prize at the National Book Award in 2019. In response to the requests of readers, the National Political Publishing House organised the second publication of the books in July 2020.
The book series "Ethnic groups in Vietnam" marks an important scientific event of the anthropology sector of Vietnam and also acts as a valuable information resource for leaders and managers to gain a deeper understanding of the characteristics of each ethnic group in Vietnam, then formulating appropriate ethnic policies, Thanh noted.
Festival offers unique experiences of Germany
A festival featuring a wide range of German products, activities, institutions and companies, that can already be found across the country, and especially in Ho Chi Minh City was held in the city on November 28. 
The event called "A Piece of Germany in Vietnam" aims to mark  the 45th anniversary of diplomatic relations between Germany and Vietnam and  the 30th anniversary of German reunification.
Speaking at the event, Deputy Chairman of HCMC People's Committee, Vo Van Hoan stressed that the Vietnam-Germany friendship and cooperation have continuously developed over the past 45 years in various fields, especially after leaders of the two countries signed the Hanoi Joint Declaration, upgrading bilateral relations to strategic partnership in 2011.
Germany is an important and reliable partner of Vietnam, and plays as a leading trade partner of Vietnam in the European Union (EU). Trade turnover between HCMC and Germany reached US$2 billion in 2019 and over US$1.4 billion in the first 10 months of 2020 in spite of the COVID-19 pandemic, he added.
Germany currently has 171 investment projects in HCMC in areas of processing industry, manufacturing, and more. The southern hub is also a destination of major projects of the two sides, such as Metro line 2, German House, and German International School, said the city leader.
The event was co-organized by the German Consulate General in Ho Chi Minh City, the Germany Business Association, Delegate of Germany Industry and Commerce in Vietnam and Deuth Haus HCMC.
Source: VNA/VNN/VNS/SGGP/VOV/NDO/Dtinews/SGT/VIR