TREA's president Chookiat Ophaswongse said Thailand may fall into the third position, while Vietnam would jump into the second position.
Vietnam hasn't had production cost problems and therefore, its rice price would be more competitive.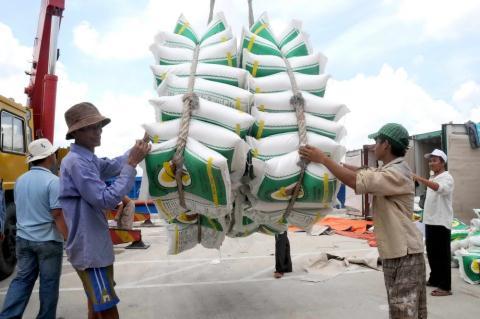 Vietnam may outstrip Thailand to become the second biggest rice exporter, but that is not a priority for exporters.

Duong Van Chin, director of Dinh Thanh Agriculture Research Center, an arm of Loc Troi Group, said the time for Vietnam to try to increase export volume is over.

"Vietnam doesn't need the first or second position. We'd rather be in the fourth or fifth position, and sell high-quality products at good prices," Chin said.

Vietnam has two major export groups of products – white long-grain rice and white fragrant rice. The former is sold at $350-400 per ton, which can compete with Thailand, India and Pakistan.

TREA, the association of Thai rice exporters, on February 12 said Thailand may lose its position as the second largest rice exporter when setting up the goal of exporting 7.5 million tons this year, a 7-year low.
Meanwhile, its white fragrant rice is now t as good as the products from other countries. Vietnam's white fragrant rice is sold at $600 per ton, while Thailand's is at $1,000 and India $1,200.

Chin thinks that Vietnam needs to improve the quality of fragrant rice by growing special varieties such as Loc Troi 28 and ST25.

The varieties have been recognized as the most delicious in the world. However, many things still need to be done to organize large-scale production and find markets.

First of all, the varieties need to be recognized by the Ministry of Agriculture and Rural Development (MARD) as official varieties. After that, the creators of the varieties need to cooperate with enterprises to multiply seeds and produce tens of thousand of tons of certified rice. About 1,000 enterprises with 3,000-4,000 hectares of material growing areas for each are needed.

Previously, export companies collected rice from different sources and the rice was cultivated in different fields. The quality of the rice and pesticide residues differed.

This needs to be changed. Enterprises have to control the farmers' cultivation process to provide high-quality rice for domestic market and export.

Regarding market development, Chin said Vietnamese enterprises should not focus on exporting products to China, because the market is unpredictable.

"There are nearly 200 countries in the world that can consume Vietnam's tropical farm produce," he said.

Chi Mai

Vietnam exported 560,000 tonnes of rice in January 2020, earning US$270.3 million, an increase of 12 per cent in volume and 39 per cent in value month-on-month, according to the General Department of Customs.  

Vietnam shipped 884.94 million USD worth of rice to the Philippines in 2019, a year-on-year rise of 92.58 percent, according to the General Department of Customs.