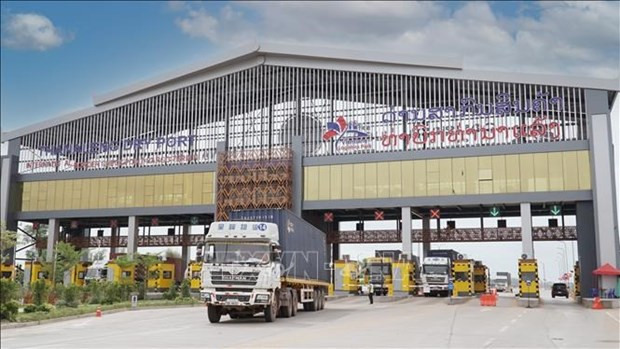 Thanaleng Dry Port (Photo: VNA)
Vietnam ranked third among Laos' export markets in January with a total value amounting to about 65 million USD, while China remained the top export destination for the country and was followed by Thailand, with 156 million USD and 128 million USD, respectively.
At the same time, Vietnam was also the third among the countries from which Laos imported the most with a total value of about 21 million USD. Thailand topped the list while China came second with 255 million USD and about 121 million USD, respectively.
The Laos' total trade value in the month amounted to 935 million USD, of which 461 million USD were exports. The country recorded a trade deficit of 13 million USD.
Laos' main exports included cassava, mixed gold and goal bars, copper ore, salt, paper and paper products, bananas, clothes, pulp and paper scraps, sugar, and iron ore.
The country's main imports included diesel, mechanical equipment, land vehicles, gasoline, auto spare parts, steel and steel products, plastic products, electrical wires and cables, electric appliances and electrical equipment, wood pulp and paper waste.
Bilateral trade between Vietnam and Laos reached 99.2 million USD in January, a year-on-year decrease of 27.3%.
Vietnamese shipments to Laos were valued at 27.8 million USD, down 35% from a year ago, while its imports from Laos reached 71.4 million USD, a year-on-year decline of 23.8%.
Two-way trade revenue between Vietnam and Laos in 2022 grew 24% year-on-year to reach some 1.7 billion USD.
Vietnam exported 656 million USD worth of goods to the neighboring country in 2022, up over 10%. They included mainly oil and gas, fertilisers, steel, machinery and accessories, and means of transport. Meanwhile, Vietnam's imports were valued at over 1 billion USD, a year-on-year rise of 35%, with main items including wood and wood products, fertilisers, rubber and corn./. VNA