Vietnam represents ideal destination for FDI attraction in high tech projects
Amid ever-increasing foreign investment, high-tech industrial projects are attracting large amount of foreign direct investment (FDI) capital into the nation, with the country widely viewed as an ideal investment destination.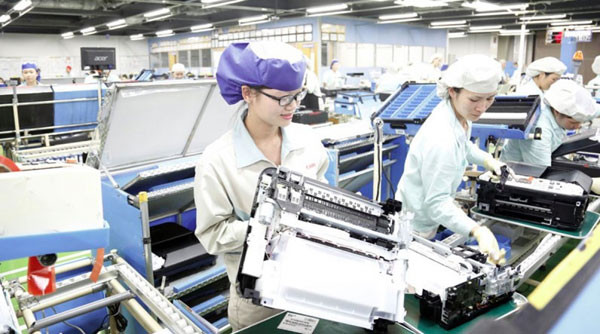 Increased investment capital in high technology
According to a recent report on the topic of foreign investment attraction provided by the Foreign Investment Agency under the Ministry of Planning and Investment, many projects relating to electronic and high-tech product manufacturing and production have been expanded to be done a large scale.
Do Nhat Hoang, director of the Foreign Investment Agency, said that a series of schemes in this regard include the Samsung Electro-mechanics Vietnam project in Thai Nguyen which has increased capital by US$920 million. This is in addition to projects on electronics, network equipment and multimedia audio product manufacturing in Bac Ninh, Nghe An, and Hai Phong, with respective capital increases of additional US$306 million, US$260 million, and US$127 million, as well as an electronic component manufacturing project in Phu Tho with investment capital increasing by US$163 million.
The Ministry of Planning and Investment said that last year the nation attracted US$38.85 billion in foreign investment, a rise of 25.2% on-year.
Most notably, of the three updated projects with capital exceeding US$1 billion, there is a high-tech project with a capital scale of over US$3 billion that has made important contributions to significantly increasing investment capital in the Vietnamese high-tech sector. In addition, it has simultaneously affirmed the tendency of foreign financiers keen to choose the Vietnamese market as their production base.
Within the framework of his recent visit to the United States, Prime Minister Pham Minh Chinh received leaders of a series of major groups, including famous names in the high-tech field, such as Intel, Apple, and Google. Affirmations from these corporations highlight that they are all targeting further investment in the Vietnamese market.
Intel has since completed its phase I investments and is in the process of preparing for Phase II. Meanwhile, according to Tim Cook, CEO of Apple, his firm strongly desires to expand the supply chain within the Vietnamese market.
Once Apple decides this, Foxconn, Goertek, Pegatron, and Winston are all likely to continue to expand their investment in the nation in the near future as these are product manufacturers for Apple.
Currently, although Apple does not have a direct manufacturing plant in the country, there are 31 factories of original equipment manufacturing partners across 14 provinces and cities with approximately 160,000 employees. The number is therefore projected to continue rising in the future, providing that Apple continues to choose the nation as a key investment destination.
Chance to be a "winner"
Foreign investment attraction is currently recording a positive trend. According to data recently released by the Foreign Investment Agency, during the first five months of the year, there was over US$11.71 billion of foreign investment capital registered in the nation, equaling 83.7% over the same period from last year.
The decrease mainly occurred due to the continued fall in newly-registered capital and too many large-scale projects.
However, both adjusted capital and investment capital through capital contribution and share purchases increased sharply. Specifically, newly-registered capital reached roughly US$4.12 billion, down 53.4%, whilst adjusted capital hit US$5.61 billion, up 45.4%, capital contribution and share purchase stood at more than US$1.98 billion, up 51.6% on-year.
"Despite the adverse effects of the COVID-19 pandemic, foreign investors still put their confidence in the economy and investment environment of Vietnam and make investment decisions on existing project expansion," stated the Foreign Investment Agency.
Furthermore, it is not only foreign investment managers who have made such optimistic assessments. At the Vietnam Industrial Real Estate Forum 2022, recently organised by the Investment Newspaper, reviews were very positive about the Vietnamese industrial real estate market, with open opportunities stemming from the trend of increasing foreign investment in the nation.
When referring to the trend of many investors moving production facilities out of China, despite the northern neighbour being the world's big factory, Bruno Jaspaert, general director of the DEEP C Industrial Park Complex, said that Vietnam is a country with a good position. Indeed, it boasts many advantages to become a 'winner' in receiving capital flows of the +1 China trend.
Meanwhile, Pao Jirakulpattana, vice president of Warburg Pincus Singapore Investment Fund, said that amid global uncertainties, ASEAN is being increasingly viewed as a good area for investment attraction, of which Vietnam is an ideal destination.
Source: VOV