Vietnam, RoK agree to upgrade ties to comprehensive strategic partnership
Vietnam and the Republic of Korea (RoK) have agreed to upgrade their ties to a comprehensive strategic partnership, President Nguyen Xuan Phuc told the press following his talks with RoK President Yoon Suk-yeol in Seoul on December 5.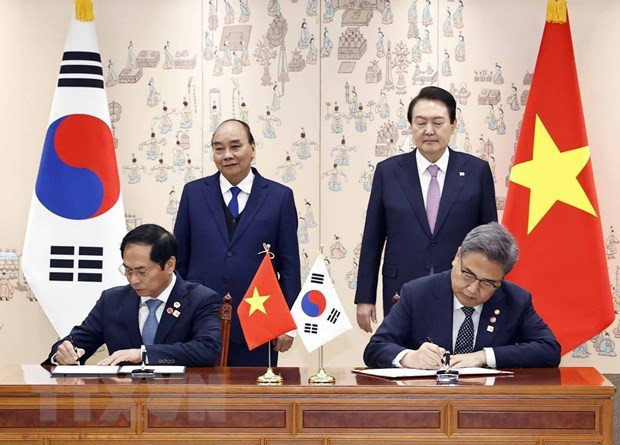 At the signing ceremony (Photo: VNA)

President Phuc expressed his belief that with the determination of leaders and people of the two countries, the comprehensive strategic partnership will bring bilateral cooperation to a new level of development for the benefit of their people, making positive contributions to peace, stability and development in the region and the world.

He said the two sides will continue maintaining regular exchanges of all-level delegations with diverse and flexible forms to discuss bilateral ties, regional and global situations.

They reaffirmed the goal of lifting two-way trade to 100 billion USD by 2023 and 150 billion USD by 2030 in a more balanced manner. Vietnam welcomes Korean investors who have poured 80 billion USD into Vietnam so far, to expand operations in the country and transfer technology in electronics, infrastructure, building of hi-tech and green industry complexes, and smart urban development.

The Vietnamese leader also thanked the RoK for providing aid and preferential loans for Vietnam in disadvantaged areas. Both also pledged to propel labour collaboration and help Vietnamese workers in the RoK and Korean workers in Vietnam to work safely and favourably in line with regulations.

Vietnam is committed to expanding cultural, educational and tourism exchanges to raise mutual understanding and trust among people from all walks of life, as well as offering support to each side's citizens. At present, about 250,000 Vietnamese people are living in the RoK and 200,000 Koreans are living in Vietnam. The RoK side vowed to support the establishment of the Vietnamese Cultural Centre in the RoK and help Vietnam develop its cultural industry, he said.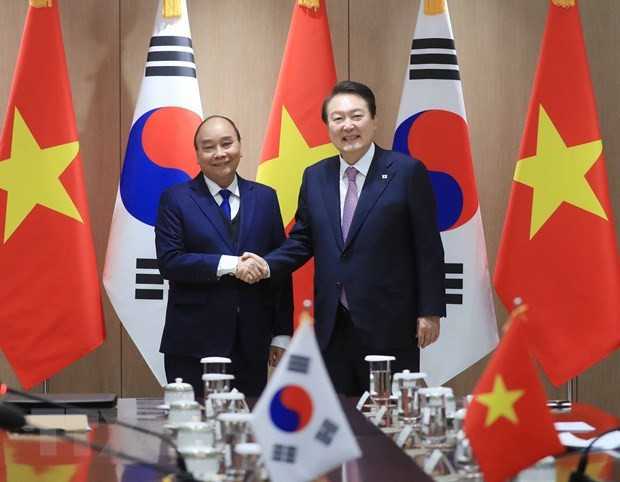 Vietnamese President Nguyen Xuan Phuc (L) and RoK President Yoon Suk-yeol (Photo: VNA)

Hailing the significance of the Vietnamese President's visit, President Yoon said it will be a new starting point for the Vietnam-RoK relationship, adding that the two governments will work closely together to launch cooperation plans as discussed.
Asking both sides to become priority trade and investment partners, Yoon promised to help businesses step up trade and investment.

Expressing his delight at the signing of cooperation agreements during the visit, he said the RoK wants to partner Vietnam in advanced technology via stabilising supply chains.

On sci-tech, healthcare and infrastructure, he said the operation of the Korea-Vietnam Institute of Science and Technology in Hanoi will play an important role in bilateral ties. The RoK will consider building an epidemic prevention and control centre in Vietnam, he said.

According to him, the two countries' leaders will facilitate people-to-people exchanges and Governmental-level cooperation to ensure the safety of the two countries' people. The RoK will also step up Korean language teaching in Vietnam's schools.

As Vietnam is a key country and cooperation partner in the RoK's Indo-Pacific strategy and initiative for cooperation with ASEAN, the Korean leader vowed to continue working with Vietnam to boost coordination between the RoK and ASEAN, and between the RoK and Mekong region./. VNA