However, the local cashew industry's future is uncertain as the cashew growing area is decreasing and the country's imports of raw cashews is skyrocketing.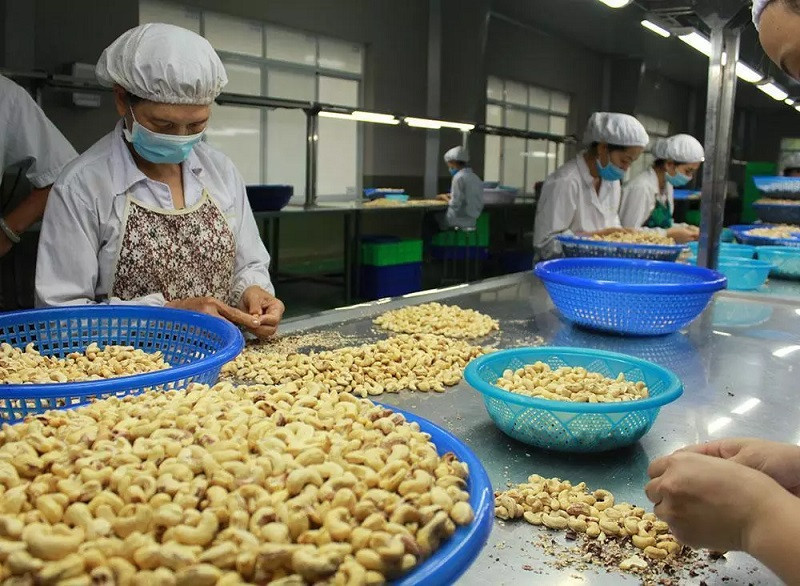 Trade deficit for first time
Vietnam's cashew nuts are exported to 90 countries and territories. Export turnover from this product has increased steadily over the years. In 2006, with export revenue of 520 million USD, Vietnam officially became the world's No. 1 cashew exporter. In 2010, cashew export turnover reached over 1 billion USD for the first time.
After that, from 2.84 billion USD in 2016, cashew export revenue skyrocketed to 3.34 billion USD in 2018. In 2019-2020, earnings from exported cashew nuts slowed down, but for the past 30 years, Vietnam's cashew industry had a trade surplus.
The US is the largest market of Vietnam's cashew nuts, accounting for nearly 33% of the total export turnover. It is followed by Europe, with over 24%, and China, with over 14%.
In 2021, despite the Covid-19 pandemic, Vietnam's cashew export revenue reached a record of 3.64 billion USD, up 12.9% compared to 2020.
However, according to the statistics of the General Department of Customs, in 2021, raw cashew imports hit a record of 2.87 million tons, with a turnover of more than 4.185 billion USD. In 2020, the figure was 1.5 tons, worth about 1.8 billion USD. Vietnam's cashew imports in 2021 increased by 98.3% in volume and 131.5% in value compared to 2020.
Vietnam started exporting cashews in 1990. After more than three decades of exporting this product and having a trade surplus, 2021 was the first year that Vietnam recorded a high trade deficit.
The suppliers of raw cashew nuts to Vietnam have also shifted from Africa to Cambodia. Cambodia became the largest cashew supplier to Vietnam in 2021, with 1.1 million tons, worth over 1.874 billion USD, up by 5.17 times in volume and 6.79 times in turnover compared to 2020.
The Ivory Coast ranked second with 0.69 million tons, worth 0.9 billion USD; followed by Ghana with 241,486 tons, worth more than 289,682 million USD; Nigeria with 226,130 tons, worth more than 274.881 million USD; and Tanzania with 174,716 tons, worth over 252,701 million USD.
Global cashew nut demand reached 9.94 billion USD in 2018 and is expected to hit 13.48 billion USD in 2024, with an average growth rate of 5.2% per year in the 2018-2024 period.
Vietnam's cashew industry is considered to have a lot of potential for exports, especially the EU market.
The warning
However, with the unusually high imports of raw cashew nuts, Vietnamese cashew producers are worried.
Mr. Pham Van Cong, Chairman of the Vietnam Cashew Association, said the biggest advantage of Vietnam's cashew industry is the world's most advanced processing technology. Currently, there are about 500 cashew processing facilities with a yearly capacity of about 4 million tons of raw cashew nuts.
The cashew growing area in the country has decreased gradually, from 440,000 hectares in 2007 to 302,500 hectares in the 2019-2020 crop year, with an output of about 339,800 tons. In 2021, the total cashew area was 297,000 hectares, equal to 99.7% of 2020, with a raw cashew output of 360,000 tons, up 7.8% over 2020.
The increase in imports of raw cashews makes it difficult for domestic cashew farmers to sell their products, and the price of fresh cashew nuts in the domestic market has fallen.
Mr. Vu Ba Phu, Director of the Trade Promotion Department (Ministry of Industry and Trade), said that Vietnam ranked No. 1 in the world in terms of cashew nut supply, but the country accounts for only 18% of the global cashew nut value chain.
In the global cashew nut value chain, Vietnam mainly exports low-value pre-processed cashew nuts, priced about 10 USD/kg, while finished cashew nuts are priced about 30 USD/kg.
At a recent conference on cashew industry development, Minister of Agriculture and Rural Development Le Minh Hoan advised businesses not to fall into the trap of being content with the world's No. 1 position.
Tam An