Vietnam's digital economy grows most strongly in Southeast Asia
The two-year pandemic changed Vietnamese shopping habits and boosted e-commerce.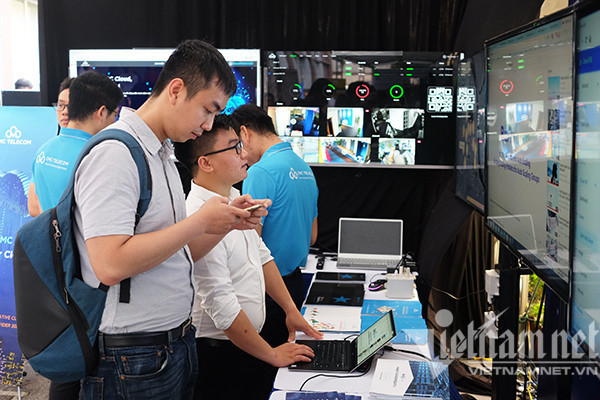 Online sales and livestream sales have attracted many consumers. Facebook posts attract tens of thousands of likes and shares, while many YouTube channels are seen by millions of subscribers.
Instead of going directly to shops, consumers now just order products online, from valuable items to daily-use ones.
Vu Dai Village, famous for its fish braising, is in Ha Nam province in the north, but villagers, thanks to the e-commerce, can now sell fish to consumers throughout the country, including southern localities.
The strong growth of e-commerce in Vietnam can be seen in the increase in the number of online shoppers (from 30.3 million to 54.6 million in 2021) and average shopping value per head (from $160 in 2015 to $251 in 2021).
Analysts estimate that the figures will rise to 57-60 million shoppers and $260-285, respectively, in 2022.
The Vietnam E-commerce Association (Vecom), which surveyed 6,582 enterprises in 2021-2022, in its reports on Vietnam's e-commerce business index, showed a gradual increase in the number of enterprises selling products via social networks, from 28 percent in 2015 to 57 percent in 2021.
The proportion of enterprises on e-commerce platforms also increased from 13 percent to 22 percent.
Enterprises have developed various business channels to boost sales. B2B e-commerce has become more popular, though it has developed less strongly than B2C.
The number of enterprises taking orders via e-commerce platforms surged from 13 percent in 2018 to 29 percent in 2020.
More than 88 surveyed enterprises confirmed orders via mobile sale apps in 2021 (it was 45 percent in 2018).
In 2021, 18 percent of enterprises used websites/e-commerce apps for their export activities (32 percent for large enterprises and 17 percent for small and medium enterprises - SMEs).
The proportion of enterprises using electronic signatures, contracts and voices has also been increasing year after year.
Strong growth in digital economy
Google, Temasek and Bain & Company have predicted that Vietnam will be the fastest growing digital economy in Southeast Asia in 2022-2025.
They believe that Vietnam's digital economy may have a value of $49 billion by 2025 and an average growth rate of 31 percent per annum for 2022-2025.
E-commerce value increased from $5 billion in 2019 to $14 billion in 2022, while it is expected to reach $32 billion by 2025 with a growth rate of 37 percent.
According to the Ministry of Information and Communications (MIC), the number of SMEs using digital platforms has exceeded 30 percent, while the ratio of added value of digital economy to GDP in 2022 was estimated at 14 percent, higher than the 12 percent in 2021.
The number of digital technology firms is estimated to reach 70,000, an increase of 6,200 enterprises compared with December 2021, or 0.7 firms per 1,000 people.
The government's Resolution 01 says that 2023 is "the year of digital data", "the year for creating and exploiting data to create new value".
Vietnam strives to have digital infrastructure at an advanced level in Southeast Asia and have 100 percent of communes covered with broadband internet.
New changes
According to the European Center for Digital Competitiveness (ECDC), in 2021, Vietnam made the greatest progress in thinking about digital transformation in East Asia and Pacific.
Vietnam was given 339 score, with the biggest improvement in both categories of indexes (ecosystem index increased by 139 and thinking index by 200)
Most of the countries which have made good progress in digital transformation have set ambitious goals and built comprehensive programs to reach those goals.
The Vietnamese Government approved the national digital transformation program, which targets that the digital economy would account for 30 percent of GDP by 2030.
Minister of Information and Communications Nguyen Manh Hung said that 2020 was the year to start digital transformation, 2021 was the year for digital transformation rehearsal, 2022 was the year of general offensive in digital transformation, and 2023 would be the year when digital transformation brings in practical values.
Lan Anh