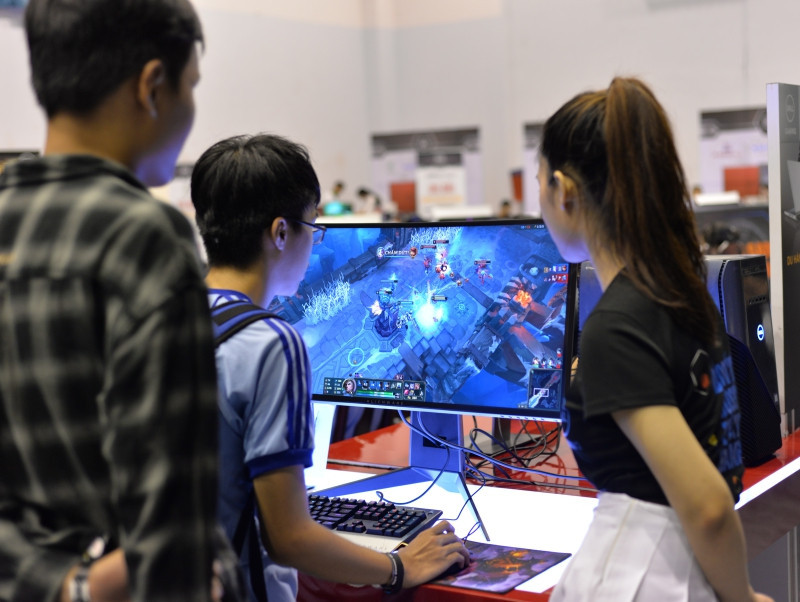 The Authority of Broadcasting and Electronic Information (ABEI) under the Ministry of Information and Communications (MIC) reported that as of the end of November 2022, 248 firms had been granted licenses to provide G1 online games (54 firms had stopped operation or their licenses had been revoked).
The number of electronic games that had content and scenarios approved reached 1,327 (856 games are in circulation, 471 are no longer in circulation)
The figures show that Vietnam's game industry is impressive with hundreds of firms and more than 1,300 games licensed. However, the current number of operational enterprises in the industry is small.
The golden days of Vietnam's online game were in 2006-2010, with the success of Swordsman distributed by VNG and the strong rise of VTC, FPT Online, Asiasoft, Deco, Sunsoft, Garena and Sgame. Later, Soha Games, Mecorp, CMN Online, Gamota and Funtap joined the market.
In its peak season, there were 20-25 firms in the industry.
However, in 2010-2012, management could not catch up with development, and online games were heavily criticized by society as the culprit causing many social evils.
Therefore, state management agencies decided to temporarily stop licensing new firms and new games. Meanwhile, some firms were involved in legal cases because of the lack of legal regulations. As a result, the game industry went downhill.
FPT Online, Asiasoft, Sgame, Sunsoft and Mecorp, one after another, gave up the game, while Deco and CMN Online shrank.
From 2012 onwards, the game industry has some familiar enterprises such as VNG, VTC and VE (which was Garena Vietnam in the past). Gosu, Soha games, Gamota and Funtab once emerged in the market, but the Covid-19 pandemic once again destroyed the game industry.
In 2022, both Gamota and Funtap had to cut 50 percent of their staff, while Gosu and Soha Games faced difficulties. Gosu tried to develop a blockchain-based game, but it succeeded for only a short time.
Though distributing thousands of games, the number of games that brought revenue and profits is modest, accounting for 5-10 percent.
Once hoped to be an important industry that could contribute to software and digital content, online games turned out to have to struggle to seek the way for development.
Pirated games damage market
Pirated games are also one of the causes behind the industry decline.
ABEI on March 23 reported that hundreds of thousands of games on Apple's AppStore and Google's CH Play are being distributed in Vietnam with revenue accounting for 30 percent of the total game industry (VND5 trillion).
The distribution is helped by domestic payment intermediaries such as e-wallets, telecom accounts, credit cards and app stores.
The representative of a game distributor said when distributing games via app stores with support of domestic payment intermediaries, a Chinese company has to pay only 15 percent in commission, while it doesn't have to pay tax.
Meanwhile, if selling copyright to a Vietnamese company to distribute, it would have to spend 24-28 percent, including value added tax (VAT), contractor tax, payment intermediary connection and licensing time (45-60 days). That is why many Chinese companies choose to distribute games via app stores.
The MIC has issued the strategy on developing online games in 2022-2027, aiming to turn online games into one of the driving forces to develop the digital content industry; promoting formulation of the online game industry with healthy entertainment characteristic; and encouraging production and distribution of Vietnam-built online games.
Many events have been organized to stimulate development of this. The Vietnam Game Festival 2023 will be held on April 1-2.
Le My