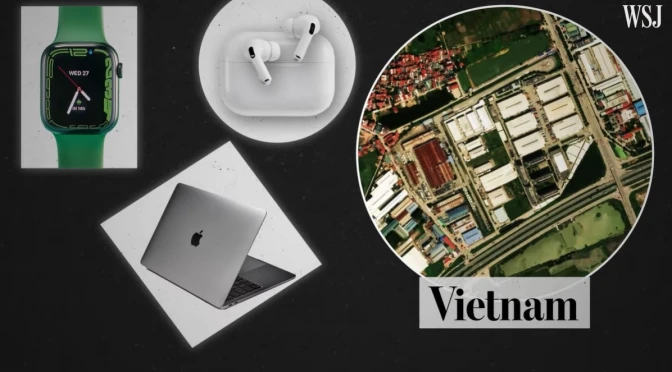 Among them are big names such as Advanced Semiconductor Engineering Technology, Lens Technology, LG Display, LG Innotek, Luxshare Precision, Murata Manufacturing, Samsung Electronics and Sharp.
Apple has not disclosed how much it pays to each supplier, and the list changes from year to year. The list includes contractors who assemble iPhones, iPads, watches, and wireless headphones, as well as suppliers of chips, glass, aluminum frames, cables, circuit boards and other components.
Previously, according to Reuters, in the five years up to 2019, China was a prime location for Apple's suppliers, accounting for 44 to 47%. The rate decreased to 41% in 2020 and 36% in 2021. At the same time, the rate increased from 2.2% to 3.7% for Vietnam.
Data shows that Apple and its partners are making effort to diversify investments in countries other than China, with Vietnam being a bright spot. According to DigiTimes, Vietnam is capable of producing 20% of iPads and Apple Watches, 5% of MacBooks, and 65% of AirPods by 2025.
In June 2023, Compal Electronics, an important iPad and Apple Watch manufacturing contractor, leased land in Vietnam to build a new factory.
According to the Thai Binh province portal, Compal Electronics Vietnam invested in a project that manufactures, processes, and assembles computers and computer peripherals, communication equipment, consumer electrical products, and electronic components in Lien Ha Thai industrial park. This project has a total registered investment capital of USD 260 million with an estimated revenue of about USD1.2 billion in 2029 and USD 6.8 billion in 2037.
Compal is producing Apple products at a factory in Vinh Phuc Province, Vietnam. Its major factories in China are located in Chongqing and Jiangsu, as well as Phetchaburi in Thailand, according to Apple's latest supplier list.
Meanwhile, Foxconn - one of Apple's largest contractors – has gradually implemented a plan to allocate iPad and MacBook production to Vietnam. Foxconn currently employs more than 60,000 workers in Vietnam. In 2022, it announced an investment of USD 270 million to establish a new branch in the country.
According to the latest information from Economic Daily News, Foxconn Industrial Internet (FII), a subsidiary of Foxconn, will exclusively supply made-in-Vietnam servers for Apple to train and test AI services.
Vietnam is also a relatively prominent consumer market for Apple products. In May, after the Apple Store online launched in Vietnam, CEO Tim Cook tweeted about the event. With the Apple Store online, Vietnamese users can buy iPhones and iPads from genuine stores and be cared for by a Vietnamese-speaking team.
In addition, Vietnam is also the third country in Southeast Asia with Apple Pay.
The news site Quartz reported that Apple is looking for growth in countries with young populations and that are digital savvy like Vietnam. It also cited data such as the estimated annual growth rate of Vietnam's digital economy at 40%, and the digital economic value in 2022 reaching USD 23 billion, according to reports from Google, Temasek and Bain & Company.
Du Lam