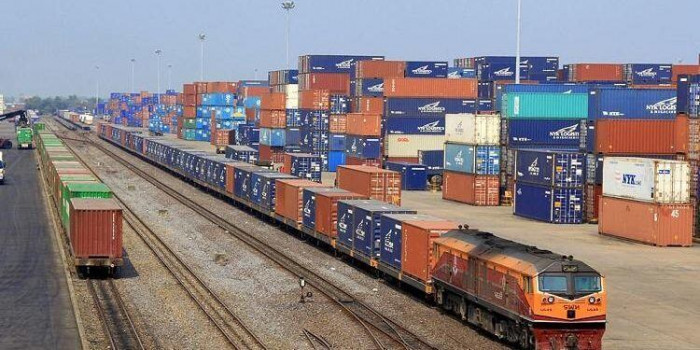 VRA Deputy Head Duong Hong Anh said the project on building a railway to Lach Huyen Port is under planning. It is expected to replace the existing railway to Hai Phong which cannot be exploited effectively because of urban traffic.
The new railway would have the departure point at Du Nghia Station and destination point at Tien Cang Station. Du Nghia Station will be upgraded, while Nam Hai Phong Station will be built anew.
The project has total investment capital of VND32.6 trillion. It is expected that the investment capital would be recovered after 25 years of operation and the loans returned after 30 years.
As for the Bien Hoa – Vung Tau railway project, an investment project has been planned which has received Ministry of Transport's approval for research results.
The railway is expected to have a total length of 84 kilometers, gauge of 1,435mm, run in parallel with Highway 51, and go through Cai Mep – Thi Vai and Ben Dinh – Sao Mai Ports. The investment capital of the project is VND56.8 trillion. The time needed for investment capital recovery is 19 years and for loan return 30 years.
VRA proposes calling for foreign investments under the modes of capital provision, cooperation, or technology transfer. Investors can also contribute capital to set up joint ventures, and buy shares.
Meanwhile, Bien Hoa – Vung Tau project has been added by MOT to the list of projects calling for investment under the BOT (build operate transfer) mode.
Nguyen Khanh Tung from MOT said that in order to attract investors, approval of developing projects is necessary. He predicted that in terms of new railway projects under the PPP mode, it would be difficult to persuade investors to spend huge capital to develop the entire projects, because it will take a long time to recover capital.
The State should invest in major infrastructure items to attract investors, and private investors could invest in locomotives, wagons or warehouses and yards.
Tung said under current law, the State only invests in major railways outside ports, while the railways within ports must be developed by private investors. This creates inadequacies when port companies don't invest, or intend to make an investment but there is still no specific timeline. If so, the main railway developed by the State is not exploited effectively because they do not connect to goods storehouses.
A representative of the Vietnam Port Association commented that the projects would be difficult to implement under PPP mode, especially in Cai Mep – Thi Vai area. The railway project to connect with Cai Mep - ThiVai would be more feasible if it is invested in by the State. 
Vu Diep

The total volume of goods traded between Vietnam and China going through the two border-gate railway stations of Lao Cai and Dong Dang reached more than 838,000 tonnes in the first nine months of 2021, up 43 percent year-on-year.

The Ministry of Transport has rejected a proposal of the Vietnam Railway Corporation (VNR) to import 37 train carriages manufactured from 1979 to 1982 from Japan, said Deputy Minister Nguyen Ngoc Dong.