Vietnam sees positive signs in health insurance coverage

Vietnam has made progress in its plan to increase health insurance coverage with some 90 per cent of the country's population participating in the scheme by the end of May, said Pham Luong Son, deputy director of Vietnam Social Security.
Health insurance - a lifebuoy for patients
Medical fees to rise for people without insurance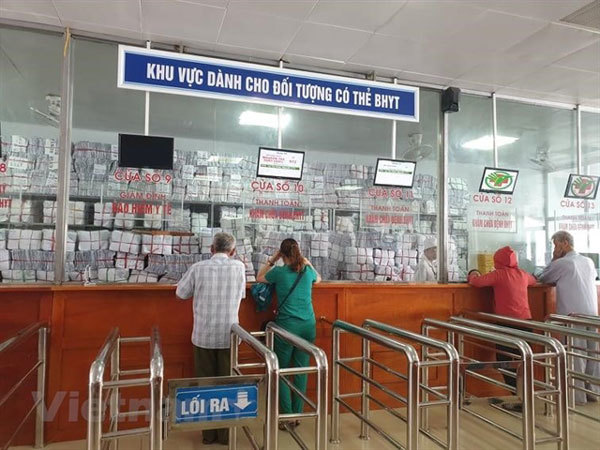 Citizens pay medical fees at a counter for those with health insurance cards at Vinh General Hospital in the central city of Nghe An. Vietnam aims to have 95 per cent of the population taking part in the health insurance scheme by 2025. Photo vietnamplus.vn
Statistics from VSS show 84.5 million people own a health insurance card by the end of May, accounting for 89 per cent of the population.
Almost 100 per cent of pensioners, people who have lost the capacity to work, and social welfare beneficiaries have joined the scheme.
Household members have also stayed active in paying health insurance with 17 million participating in the scheme.
Some 90 per cent of the country's working population is paying health insurance, which is a positive sign, said VSS's deputy director Son.
"These figures show the efforts that country's leaders put into persuading citizens and our people's interest towards paying health insurance," he told the Vietnam News Agency prior to the national health insurance day, which fell yesterday this year.
Pham Van Toan, deputy head of the Department of Health Insurance under the Ministry of Health, said: "The figures serve as an indicator that the health ministry's goals of having 90.7 per cent of the population join health insurance by 2020 and 95 per cent by 2025 are feasible."
"Right now the scheme is still missing some 10 million people, or 11 per cent of the population," he said, adding that most of them are members of agricultural households with average incomes, factory workers, and students.
The benefits covered under health insurance are getting better and more diverse, said Toan.
Access to medical services under health insurance has also been made easier for people, he added.
"For example, since 2015, people of ethnic minorities living in communes and districts have been able to receive full benefits even when they skip the district-level clinics and go straight to hospitals at higher levels," he said.
Health insurance premiums will not increase in the next few years due to residuals in the national health insurance fund, therefore the application of the scheme will not affect the State's budget and enterprises' revenues, he added.
The premium was increased from 3 to 4.5 per cent of a citizen's monthly income in 2009, resulting in residuals of VND52 trillion (US$2.2 billion) in 2015 and VND39 trillion by the end of 2017, according to the health ministry.
VNS